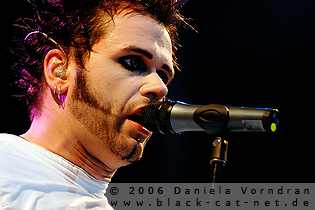 Leipzig, Germany
2nd June 2006 – 5th June 2006
WGT Day 3+4: Agonoize, XP8, Lola Angst, Metallspürhunde, Cephalgy, Oomph!, Proyecto Mirage, Dupont, Michigan, Beborn Beton, Frozen Plasma, Solitary Experiments, The Twins, Mesh, Deine Lakaien, Tactical Sekt, God Module, Feindflug, And One

The third day of WGT should be unfortunately the last day for some of us – so it was for me. Luckily the weather was a bit better than on the previous day and so we went to Parlbühne in a very good mood. It was a bit cold though but the music should heat us up enough. Sadly we cannot provide reviews of all of the bands. But at least we'll show you some pics and give you setlists of some shows. http://www.wave-gotik-treffen.de/



Day 3

Agonoize – Parkbühne [DV]

When Mike and Olli came together as 'Agonoize' in the early millennium it soon became obvious that they needed a good front man for a good stage presence. Chris joined the team and the band really started building up as a group – a group that splits the electro scene like not many before. Their musical routs can be found in bands like 'Klinik' or 'Suicide Commando'. The reactions to their first release were split, but to one fact all agreed: this is something for the dance floor.  The first full length album was released in 2004 and not long ago they brought the second one on the market. 'Agonoize' are: Chris L. (vocals), Mike J. (keyboard) and Oliver S. (keyboard). http://www.agonoize.de/ / http://www.myspace.com/agonoize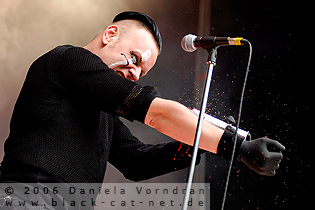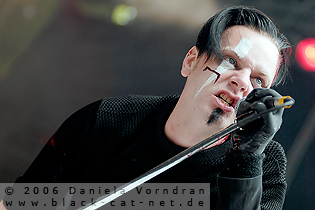 Music
'Agonoize' had the unthankful task to open the Sunday on the Parkbühne. But despite of t he show of Oomph! later there were not more people there during that day. A quarter past three the band started with full power and made the people dancing right away. Just with the third song 'bäng bäng goodbye' they surprised with e new song out of the - at that time - unreleased EP 'Ultraviolent Six' (release date 6th June 2006). The audience accepted the new song right away as they also celebrated older songs like 'Nekropolis' or 'Death, Murder, Kill'. The whole presented set was really fast – nothing to relax or only to listen to – it was pure dance music – as for example 'Chains of Love' out off the EP 'Evil gets an Upgrade'. With the track 'Koprolalie' they presented another track out off 'Ultraviolent Six' – a track with juicy beats, over-rolling sequencers and provoking lyrics - nothing for sensible people. The distorted Aggro-Electro of 'Agonoize' forces you to the dance floor.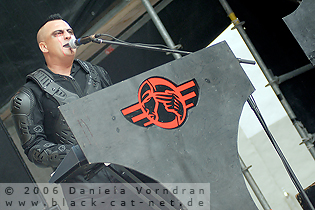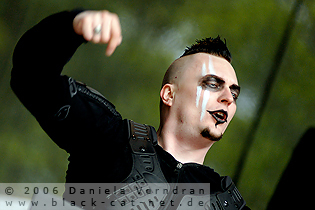 Performance

Even though 'Agonoize' are a typical electro formation with two men behind the keyboards and one singer the performance is something different and special. The whole stage was covered with foil and signs warned the people that there will be blood on the stage. First thing to remark is the facial paint of Mike and Olli while Chris has just some "blood" in his face. Like some might know it from earlier performances the band used a lot of artificial blood and sperm which was spread into the masses. Also blood bags were used which were busted by Chris. He also used and angle grinder on a metal plate mounted to his leg so that the sparks were flying. But those were things shown from the band before. 'Agonoize' wanted to present something special and unforgettable. So Chris took a knife for the last song 'Sacrifice' to slit his wrists symbolically and the blood was splashing all over the stage and into the pit. If you like it or not - this show surely creates a long-lasting impact.
Setlist

01. To paradise
02. Nekropolis
03. Bäng bäng goodbye
04. Death,murder,kill
05. God for sale
06. Chains of love
07. Koprolalie
08. Sacrifice
Rating

Music 6
Performance 8
Light – (daylight)
Sound 7
Total 7 (6.9)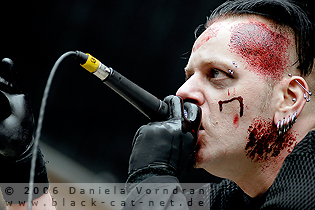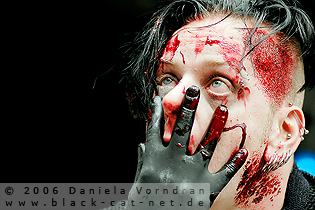 XP8 – Parkbühne [JU]
With XP8 there was one of very few Italian bands which played the WGT, and XP8 is one of the few EBM groups from the rather small Italian scene.
http://www.xp8.org/
/
http://www.myspace.com/xp8
Music
The three-piece from Rome & Bologna consists of singer Paul Toohill, Marko Resurreccion (programming/synths) and Marco Visconti (programming/synths). Front man Toohill has lived in Italy now for years but was in fact born in the UK, so 'XP8' is actually a British-Italian project. 'XP8' was born from another Italian music project called 'Retina' which was founded in the beginning of the 1990s. 'Retina' started Industrial and went Electro, Ambient and then Dance, Drum'n Bass. The three 'XP8' guys left 'Retina' to follow their own musical visions which are more straight Electro with elements from Industrial and Future Pop. After two albums, one EP and several compilation tracks they still wait for their breakthrough in the scene, despite many gigs around Europe.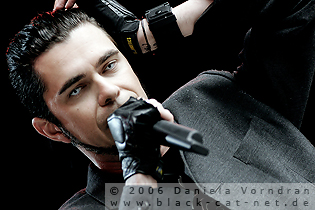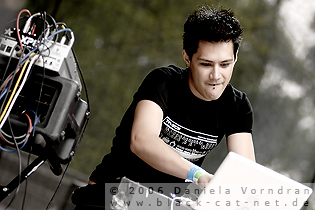 Performance
'XP8' uses the traditional live setup for an Electro band with two guys behind synths and one front man using the lot of space onstage. So they look like many other electronic acts on stage, and I'm afraid they also sound like many bands from the EBM/Electro scene. Their sound is quite upbeat, danceable and beat-driven but yet I missed a typical 'XP8' trademark and fresh and new ideas in their music. What you hear is what you see, so to speak, and most of the EBM-heads who stayed at the Parkbühne after the 'Agonoize' gig seemed to be pleased with 'XP8's' gig. For my taste I have seen similar young Electro bands too often, so I wasn't too impressed with the gig, to be honest. But the band gave their best and vocalist Toohill actually is a good front man! They still have to develop their sound a little further to distinct from the bulk of other Electro acts. Talking about 'Agonoize', Toohill remarked "my stage is full of blood!" – alluding to the mess 'Agonoize' left on stage after their spectacular performance. ;-) 'XP8' played a lot from their most recent album 'HRS:MIN:SEC' and finished their set with lacklustre cover version of 'Nitzer Ebb's' "Let Your Body Learn" – leaving a bad taste in my mouth, as the ruining of this classic gem left a bad mark on this otherwise okay-ish gig.
Setlist (unsorted)
01. Muv Your Dolly
02. Dreamt Of Blue
03. Das Licht 2005
04. Cuttin'n'Drinkin
05. Seed
06. Flatline
07. Let Your Body Learn XP8ed [Nitzer Ebb Cover from the album "Muscle and Hate"]
Rating
Music 4
Performance 5
Light – (daylight)
Sound 5
Total 5 (4.53)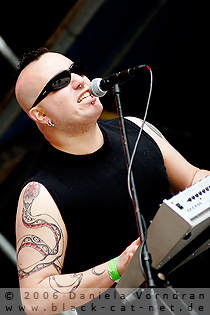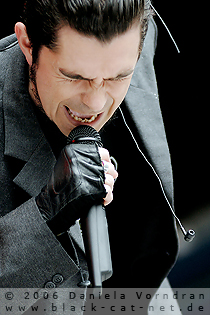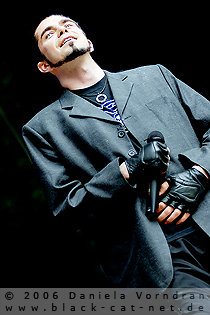 Lola Angst – Parkbühne [JU]
'Lola Angst' is a new Berlin-based project but its members are no strangers for Synth fans. The two masterminds of 'Lola Angst' are Reiner Schirner, ex-singer of 'Blind Passengers' and well-known producer, and Alexander Goldmann, former member of  'Kamikaze 52' and the Punk band 'Feeling B', DJ, performance artist and professional weirdo. The third member, so to speak, is an old, heavy church organ called 'Lola'. This all sounds a bit strange? The best reason to check them out!
http://www.lola-angst.de/
/
http://www.myspace.com/lolaangst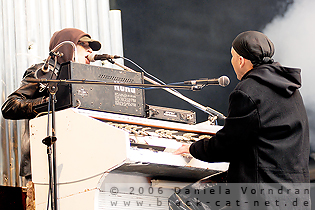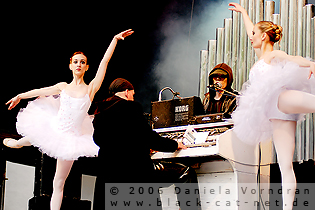 Music

'Lola Angst' is basically an electronic band. No surprise if you keep especially Reiner Schirner's background in mind. And it's no surprise too that 'Lola Angst's' style is quite varied, just as 'Blind Passengers' always have been and with Goldmann's more Punk-oriented roots as an added influence. But Punk is only recognizable in the free spirit of the band, musically they always lean towards well-crafted Electro Pop, with excursions into other musical fields like the self-evident Goth & Industrial stuff to dilly styles as even Hip Hop! A big part of 'Lola Angst's' appeal is the sense of humour and cynicism which is noticeable both in their lyrics and in their music, that is the way they arrange and combine things. This ironic and cynical attitude is most probably due to Goldmann's anarchic Punk roots. In their lyrics they often reflect in a quite funny and tongue-in-cheek way the Goth & Dark scene, which they are actually part of. Many song titles of their debut album 'Council of Love' resemble that: 'Children of the Dark', 'She's A Dark DJ', 'King of the Mad' etc. To avoid to be pigeonholed 'Lola Angst' created their own genre by calling their style "Electronic Body Punk". Listening to their two releases, the above mentioned album and the EP 'Am I Dead?', one can just hope that there will more Electronic Body bands with such a Punk attitude. 'Lola Angst' sounds fresh, startling and different. You have to check them out – especially if you have the opportunity to see them live!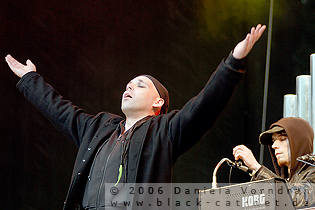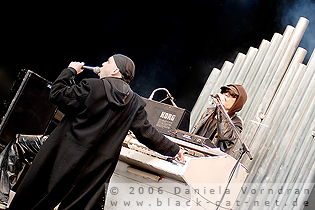 Performance

While most Electro bands look more or less the same on stage it just takes a glimpse on 'Lola Angst's' stage setup to notice that they are different! In the middle of the stage is 'Lola', the 150kg heavy old church organ. Well, do you know any other band that drags such a big organ onstage? Behind 'Lola', or rather above as there's a platform, there is Schirner's tower of gear including synths and samplers (some of them are connected with 'Lola' so that Goldmann can trigger the synths via his organ). Left and right from this setup are podiums, and at first it wasn't quite clear what they are for. The show started with Goldmann, wearing a headscarf and long black leather coat, sitting with his back to the audience and playing five minutes of classical church organ music. By the way, it took 4 or 5 songs into the set before Goldmann finally bothered to turn around to the audience! Schirner finally entered the stage and the set began, like their album, with the opener 'Children of the Dark' a high-speed Electro-Punk anthem. If this intro didn't tell you already that these guys are totally crazy, then probably the way they introduced themselves after the first track. Goldmann stated that they wanted to do a fireworks performance as well but the local fire department didn't allow it. So he chanted "Fuck the Feuerwehr! Fuck the Feuerwehr! Fuck the police!" – and he continued to do so between the other songs. He dedicated the next song to "sound god" Alan Wilder and commented that his former band 'Depeche Mode' would be "commercial, embarrassing crap" since Wilder left them. A marvellous, wonderful cover version of the 1984 'Depeche Mode' track "Something to do" followed, a great rework of this old tune every DM fan should give a listen – despite the harsh words Goldmann had for the British Synth Pop institution.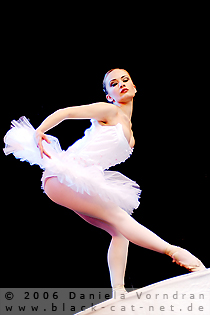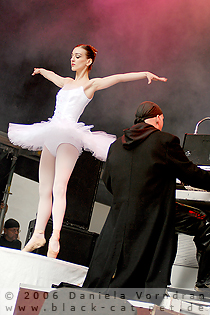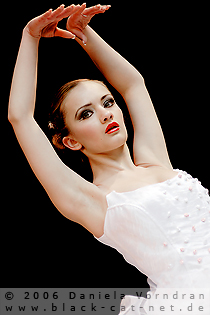 Meanwhile it became clear what the two podiums are for as two young ballet dancers entered them to dance synchronically to 'Lola Angst's' Electronic Body Punk. Another weird, unusual and therefore brilliant idea! 'Lola Angst' continued with tracks from their album, and along the way Goldmann demanded "more beer" from the stage hands. Well, those guys definitely had fun onstage and enjoyed impersonating the insane maniacs. ;-) The volume of the gig was incredibly loud but still perfect. 'She's a dark DJ' featured a Rap(!) part by Schirner which showed yet again that 'Lola Angst' simply do whatever they want to. There are no limitations, and they love to play with clichés. A highly entertaining show, never mind that they weren't allowed to use their fireworks. Before the last song Goldmann announced that the next song was made to take the piss out of 'And One' – and the title track of their EP 'Am I Dead?' followed, which actually does sound a lot like 'And One' and in fact is a funny take on Steve Naghavi's famous Synth Pop project from Berlin. Well, bands like 'Lola Angst' make the trip to a festival like the WGT worthwhile. While most bands on such a huge festival sound like the bands who played there last year or actually did play at the festival last year for the 20th time), a discovery like 'Lola Angst' is refreshing and inspiring for everyone looking for the unusual and obscure. And now go to Amazon and buy 'Lola Angst's' album! ;-)
Setlist
01. Intro: Präludium by Johann Sebastian Bach
02. Children of the Dark
03. Something to do
04. In Space
05. The Council of love
06. King of the Mad
07. She's a dark DJ
08. Cold hearted bitch 
09. Am I dead?
Rating
Music 8
Performance 9
Light 6
Sound 9
Total 8 (8.2)
Metallspürhunde – Parkbühne [DV]
Far back in the 80s Michel Frasse started to explore electronic music with his Atari. In 1999 the band released the debut album 'Metallspürhunde' and the reactions were quite positive. Later on they had appearances on several festivals what made them know to many more people. Several line-up changes followed and finally the band settled down in this line-up: Michel Frasse (vocals, music, lyrics), Patrick Sayer (guitars, music), Marion Altwegg (keyboard, lyrics) and Thomas Baumgartner (keyboards, music).
http://www.mshunde.ch/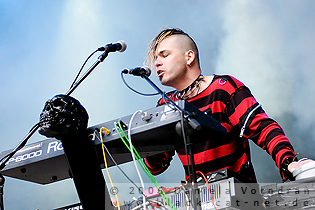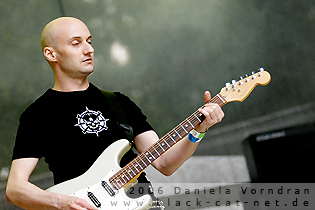 Music
The band whose name means metal hounds (dogs that were used to seek for mines in the Vietnam War) presents some kind of Electro-metal with German lyrics. The sound consists of expansive melodies, deep basses, some effects and distorted guitar riffs. Within their music the artists combine elements out of EBM, Metal, Industrial, 80s New Wave and Synth Pop. The vocals are quite monotone.
Performance
The band entered the stage in a nearly well-known electro line-up – a singer and two keyboarders. Everything is spiced up with an additional guitarist. Michel was wearing a straitjacket – something that other bands used before (like Oomph!). Also his facial expressions and movements were something I have seen before – to point it out it seemed a bit like a copy of Stefan Ackerman of 'Das Ich'. I am not sure if this effect was planned. Due to the fact it was the first WGT appearance for the band, all members were a bit nervous, what is quite understandable. The audience was celebrating the show anyway and somewhere even a Swiss flag could be seen. So the band was even playing an encore and had a lot of fun.
Setlist
01. Amokherz
02. Blut & Spiele
03. Fragmente
04. Metamorph
05. Der Weg zu zweit
06. Rattenfänger
07. Obszöne Neue Welt
08. Odyssee
---
09. Ganz Allein
Rating

Music 6
Performance 4
Light – (daylight)
Sound 7
Total 5 (5.47)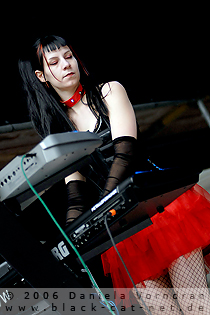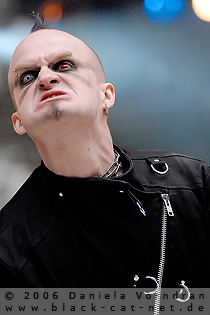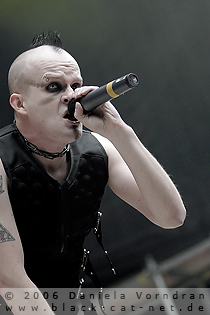 Cephalgy – Parkbühne [DV]
The German band 'Cephalgy' lend their name from the medical word for a certain kind of headache. They found a lot of fans with their debut 'Engel sterben nie' and also the second album 'Finde Deinen Dämon' found its lovers. This year's appearance at the WGT was the second one for the band – this time at the evening on Parkbühne.
http://www.cephalgy.de/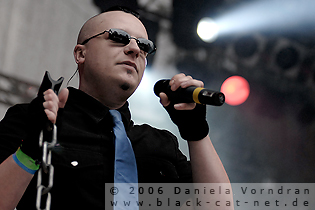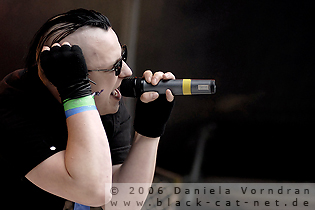 Music
The band is combining the opposed musical styles Gothic and Electro to a mix of dark and danceable sounds. Dark lyrics are combined with abysmal chant, droning electro beats and drifting sequencer-lines. Monumental EMB is meeting atmospheric Dark Wave. The lyrics are quite heavy telling about apocalyptical visions, libidinal anankasms and the longing for death. Those lyrics are underlined with impelling beats and after all catchy melodies. The stage line-up is after all that one of a pure electro band with just two keyboards and a singer. Stella, who is usually playing keyboard, was dancing this time only.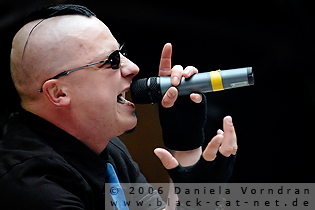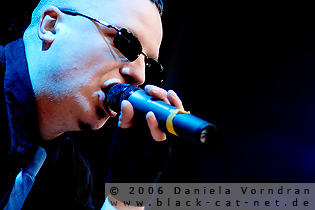 Performance
First ones on stage were Ronny and Christian – the eyes covered with dark glasses – who entered their placed behind the keyboards which were partly hidden behind metal grids. After the intro Jörg entered the stage and started the set with 'Wer bin ich'. As mentioned before, the band did something special for the gig at WGT with Stella not playing keyboard. She was dancing behind a wall of foil so you could only see her shadow. During 'From my Hands' she was ripping the foil apart and lolled erotically behind a grid. All over the show Jörg was asking the audience to clap along.
Setlist
01. Wer ich bin
02. Deine Tränen
03. From my Hands
04. Deine Seele
05. Erinnerung
06. Gott
07. Vater
08. Teil mit mir die Einsamkeit
09. Zum Abschied
10. Engel sterben nie

Rating
Music 6
Performance 6
Light – (daylight)
Sound 7
Total 6 (6.2)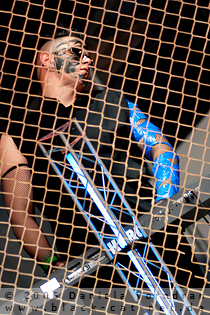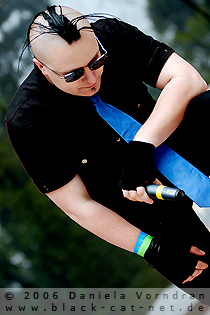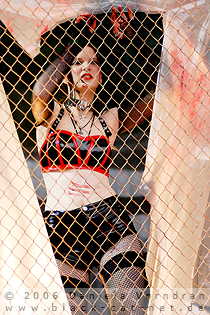 Oomph! – Parkbühne [DV]

Oomph! do not really need a big introduction anymore. Being in music business for more than 15 years now (foundation of the band in 1989), they had their first number one hit in German charts with 'Augen auf' what made them known to many more people and gained them a much bigger fan base - though not all of the old-school fans were happy with the band's development. The last appearance on WGT was in 2003 also at the Parkbühne – in heavy rain. This time the band and the audience had some more luck according the weather and it stayed dry for the last act at Parkbühne on that day. Oomph! are Dero (vocals), Flux (guitar) and Crap (guitar) + the additional live musicians Leo (drums) and Hagen (bass). http://www.oomph.de / http://www.myspace.com/musicoomph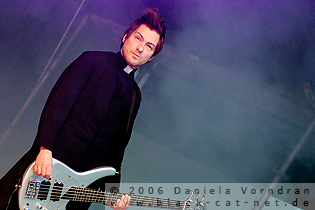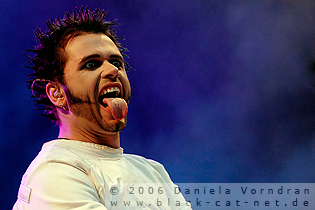 Music
The band combines heavy electronics (in the early years more than today) with hard Rock elements and harsh guitar riffs. It's powerful music with extremely varied arrangements. The music of the early years was often categorized as "Electro Metal", "Industrial" or "Metal Dance" – but none of those categories really fits the musical style. Oomph! always walks new paths. They say themselves: "If you just follow in footsteps of others you won't leave any traces!" So they developed and changed their style over and over again during the years. During the show at WGT, the band was in best mood even though they must have been quite tired because they just returned from a show in the Russian part of Europe. Dero had the well-known powerful voice that we love. It was pure fun to watch Flux maltreating his guitar and Leo hitting his drums. The setlist of course contained a lot of songs out off the recent album 'Glaube Liebe Tod'. But also some old-school pearls like 'Mitten ins Herz' were not missed out.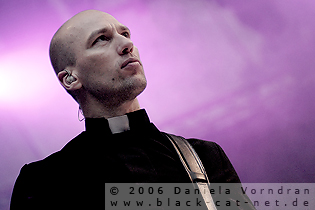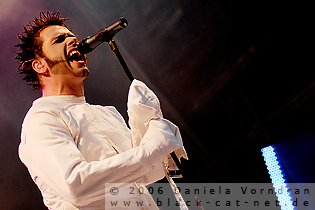 Performance
Dero, who entered the stage as we know it dressed totally in white, entered the stage in very good mood. The rest of the band was dressed up in black priest cowls. The first think Dero asked was who has been at the 2003 show at the same place. Later on he went back to the topic saying that it really could start raining now… Luckily it didn't. Not every show needs to take place in heavy rain. ;) He also was moaning about the mess 'Agonoize' caused at the stage in his well known black-humoured way. The space in front of the stage was totally packed and Dero just used the third song to surf the crowd (and of course this was not the only time he did). That's how we all love it. He's really the perfect front man, firing up the crowd for party. So, one could see people clapping all over the place or waving their arms when Dero asked for it. As first encore, two songs of the current album have been played – 'Gott ist ein Popstar' and 'Mensch sein'. People still did not have enough afterwards and so Dero presented the well-known a-ccapella version of 'Mein Herz' when he was beating the rhythm just with his microphone. This show was the perfect finish of the program on Parkbühne for that Sunday – also the band felt like this and Dero said goodbye with the words: "Leipzig, you're the greatest!"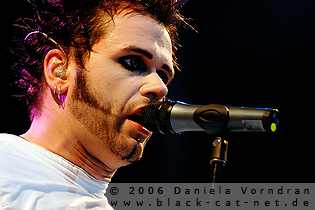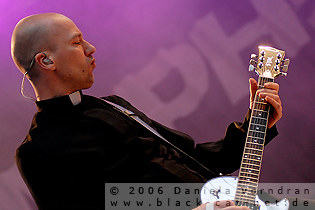 Setlist
01. Träumst Du
02. Unsere Rettung
03. Keine Luft mehr
04. Du willst es doch auch
05. Fieber
06. Wenn Du weinst
07. Die Schlinge / Spiel mir das Lied vom Tod
08. Sex hat keine Macht
09. Mitten ins Herz
10. Das letzte Streichholz
11. Mein Schatz
12. Gekreuzigt
13. Niemand
14. Augen auf
---
15. Gott ist ein Popstar
16. Mensch sein
---
17. Mein Herz (a-ccapella)

Rating
Music 8
Performance 9
Light 8
Sound 8
Total 8 (8.3)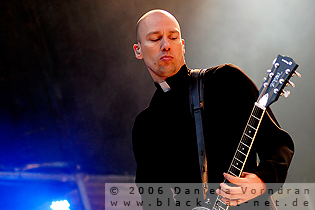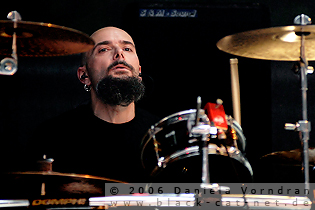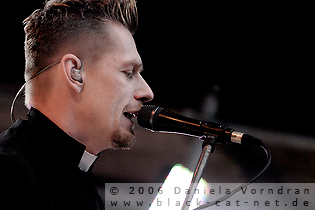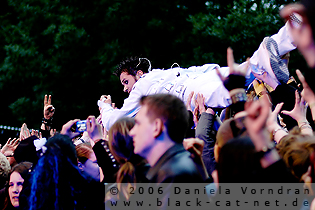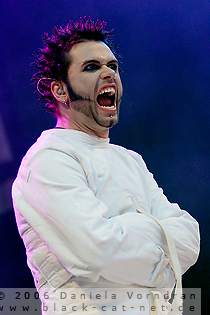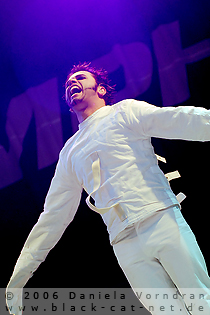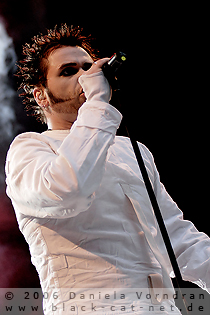 Proyecto Mirage - Werk II [KM]


Proyecto Mirage is a group from Madrid that was started by  Alicia H. Willen and Francisco Planellas. Their music may be described as a mixture of noise, techno, gothic rock and widely understood electronics. So far they've released five albums: Proyecto Mirage (1999), Electric Engine ( 2001), Two Tons Of Rubble (2001), Do Not Look At Me (2002), Gas Alarm!!! (2004) that prove them to be the biggest hope of "intelligent electronics". (
www.experimentaclub.com/data/proyecto_mirage/0index.htm#dis
). Proyecto Mirage are Alicia H.Willen and Francisco Planellas.
http://www.proyecto-mirage.com/
Music

When the concert of Proyecto Mirage began we'd already a bit overwhelmed by the power of machines, as Sunday in Werk II was devoted to all kinds of noise music.  I knew the band of their album of 2004 "Gas Alarm" and listening to their music at home always ended with bitter quarrels with my neighbours :) This time, however, I was given a chance to experience the noise punch with no risk of being murdered secretly and with no necessity to turn down the volume...That was a blast! The vocalist – Alicia Willen – was singing the songs via megaphone electrifying the crowd gathered by the bars. Well, singing is not the proper name for this particular kind of vocal – it was rather a rhythmical screaming, shouting of separate phrases with the voice modified and distanced, yet alarming with the beats of the incredible speed in the background. Complete knock-down!
Performance

The drill of the audience's bodies and brains that's what the concert was! Alicia appeared enfolded in great amounts of smoke and changing red-orange-blue-green light. She moved on the whole stage performing the music straight to the listener's brains, still I think the main stress of the show was put on the power of the words combined with the ear-splitting sounds and not on the performance itself. I think the concert could be entitled "A Communicate" rather than " A Show"; a vocalist standing alone on the stage surrounded by the changing colours and "singing" was like a big manifesto "look at me and listen" - it was an impressive scenic manoeuvre.  During this nearly 1 hour show  she was the captain and the audience acted as obedient, well-trained soldiers. That was the best attack on  ears I had that evening in Werk II.

Setlist

01. I love to collect
02. Big holly machine
03. You know....
04. Human Tax
05. Piercing Ring
06. Careless mistake
07. Don't be bad
08. Not my rules
09. Dígitos
Rating

Music: 9
Performance: 6
Sound: 8
Light: 6
General: 8 (7.5)
Dupont – Kohlrabizirkus [MN]
With last year's release of the album "Intermezzo", it became clear that the duo had moved a step forward and vitalized their strain of old school EBM music with an electro-pop flavour. A brilliant move, now it remained to see if they also had moved one step forward with their live performance.
http://www.dupont-online.net/
Music

With a change in musical direction and their 2005 album 'Intermezzo' firmly established in the Scandinavian Synth-scene, 'Dupont' are showing that their live interpretations are strong enough to fill dance-floors and gigs across Europe. Fusing slow powerful EBM beats with melodic keyboard lines and mood laden vocals they weave an atmospheric yet dynamic interpretation that is unique and distinctive. Welcome to the sound of an era...
Performance

Sweden's 'Dupont' was the first band to enter the Kohlrabizirkus stage on the Sunday, a large audience had turned out, even if it was only 4 o'clock in the afternoon. Playing a mix of tracks from 'Ukrania' and 'Intermezzo', vocalist Riccardo appeared more comfortable with performing live than before and drove the band members and audience in front of him. The duo performance with the second vocalist, Danucci, served only to increase the appeal and the addition of a drummer on stage added to the dynamics and brought an additional edge to the sound.
Setlist

01. Solid life
02. Ghostdance
03. Why must I die?
04. Money
05. Unknown Airspace
Rating

Music 10
Performance 9
Light 8
Sound 7
Total 9 (8.95)
Michigan – Kohlrabizirkus [DV]
http://www.michigan.se/
/
http://www.myspace.com/michiganmusik
Setlist
01. My Own Denial
02. Control of me
03. Red dawn
04. Sad queen
05. She's a god
06. Sorrows
07. The Collector
08. Hang on (Unreleased)
09. Domination
Beborn Beton – Kohlrabizirkus [DV]
http://www.bebornbeton.de/
/
http://www.myspace.com/bebornbeton
Setlist
01. Intro
02. Daisy Cutter (new)
03. She Cried (new)
04. Terribly Wrong (new)
05. Another World
06. Mantrap - A Wish Come True
07. Ambush
08. Im Innern Einer Frau
09. Mantrap - The Seduction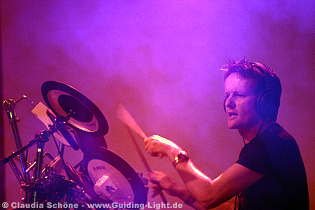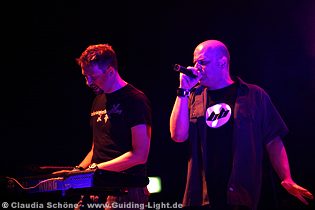 Frozen Plasma – Kohlrabizirkus [DV]
http://www.frozenplasma.com/
/
http://www.myspace.com/frozenplasma
Setlist
01. Intro
02. Crossroads
03. Generations of the Lost
04. War/Flashbacks
05. Condense
06. Hypocrite
07. Memories
08. Irony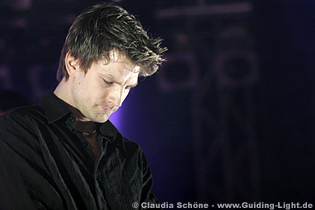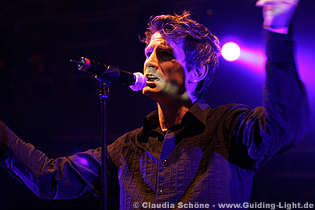 Solitary Experiments – Kohlrabizirkus [DV]
http://www.solitaryexperiments.de/
/
http://www.myspace.com/solitaryexperiments
Setlist
01. Odyssey of mind
02. Delight
03. Watching over you
04. Homesick
05. The edge of life
06. Miracle
07. Still alive
08. The dark inside me
09. Pale candle light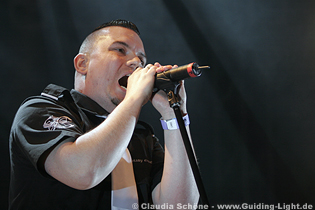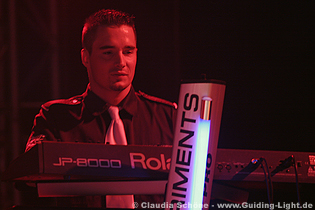 The Twins – Kohlrabizirkus [DV]
The WGT is noted for digging old 80s Pop heroes to put them on their bill of bands. 'Soft Cell', 'Anne Clark', 'Alphaville' and 'Heaven 17' are some examples. Nevertheless I was surprised when I saw 'The Twins' announced for the WGT 2006, as there are neither "Wave" nor exactly "Gothic" but rather 80s Italo Dance Pop.
http://www.the-twins.de/
Music
'The Twins' were formed in 1980 by Sven Dohrow and Ronny Schreinzer. Despite the band's name the two Germans are NOT twins, the project's name just should express how close and intensely the duo works together. They were influenced by early Synth Pop pioneers like 'Tubeway Army', 'Gary Numan', 'OMD' and 'Depeche Mode' but soon went a more lightweight, dance-oriented route. After a few hits in the Italian charts (Italo Pop, I told you! ;-) ) they had their worldwide breakthrough with the single 'Ballet Dancer' in 1984. More chart hits followed, as well as tours which even lead them to the Soviet Union. The late 1980s saw the decline of 'The Twin's' story of success, although they tried a comeback in 1991. Several re-releases, greatest hits compilations and a remix album followed, and 'The Twins' continued to play live every now and then with their new live band.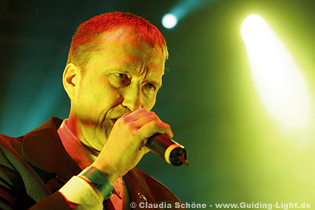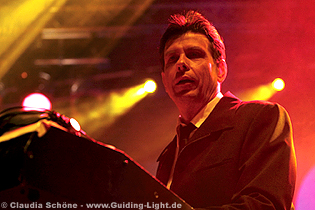 Performance

Unfortunately I missed the first few songs of the show thanks to the public transport in Leipzig and the fact that the Kohlrabizirkus is quite in the outskirts of the town. I was surprised how many people came to see 'The Twins' and the audience was already in party mood. The duo is on stage backed up by a complete band including two keyboard players, two female background singers and two drum kits! This setup delivers their 80s Pop, which has always sounded a bit too trivial and poppy for my taste, with much more energy. I'm only familiar with the few big hits of 'The Twins' but obviously they had a lot of fans at the Kohlrabizirkus who were familiar with all their stuff. Highlights were, of course, their big eighties hits 'Ballet Dancer' and 'Love System', and the band was celebrated by the audience. I didn't expect much but I have to admit that I quite enjoyed the gig and was surprised by the feedback 'The Twins' got! The duo may look like a strange fish in the line up of the Wave Gotik Treffen but they definitely had their own audience at this show. After all, there were many thirty-somethings at the WGT who grabbed the chance to see this band, who probably delivered the soundtrack to their adolescence. ;-) Nice one!
Setlist
01. Intro/Game of chance
02. Time will tell
03. Medley:
04. Automatic Man
05. Satellite City
06. New Days, New Ways
07. Night, Lights and shadows
08. Desert Place
09. Love System
10. Ballet Dancer
11. Not the loving kind
Rating
Music 5
Performance 7
Light 7
Sound 8
Total 6 (6.4)
Mesh – Kohlrabizirkus [JU]
Mesh is yet another Pop act at the Wave Gotik Treffen. Especially in Germany, the UK trio gained a lot of success, in particular among 'Depeche Mode' fans who yearn for more excellent Synth Pop, and 'Mesh's' latest album 'We Collide' is yet another milestone in the long successful career of the band from Bristol.
http://www.mesh.co.uk/
/
http://www.myspace.com/meshwecollide

Music
I guess most RoD readers are familiar with 'Mesh' so they need no further introduction. The catchy synthesized Pop of singer Mark Hockings and the two keyboarders Neil Taylor and Richard Silverthorn made their band 'Mesh' one of the most popular bands of the scene and even achieved some airplay on German radio & music television. The album 'We collide' and the club single 'Crash' continued the story of success and polished the sound of the three boys, introducing some new elements as by the increased use of guitars while perfecting the sound they developed since 1994. After a long tour in spring accompanying the release of 'We Collide', a stop at the Wave Gotik Treffen just seemed compulsory for 'Mesh'. The Kohlrabizirkus is a venue with not only a strange name ("Cabbage Turnip Circus" – WTF??) but that also looks strange. It's in fact built like a huge (very huge!) circus tent, with a pretty high ceiling – which gets a little difficult when it comes to the acoustics during a concert. But the technicians managed to control all problems so that the sound was fine.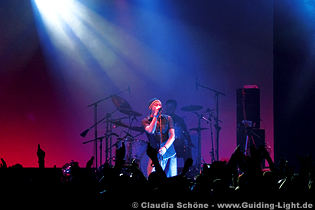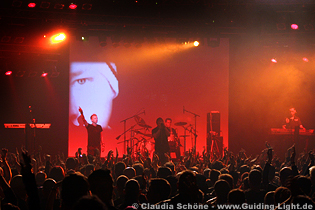 Performance

 'Mesh' performed a little shortened set of the 'We Collide' tour and started with the wonderful 'Petrified'. Again they were visually backed up by stunning videos on a large screen, just like at their spring tour. This time they were reasonable enough to not over-use the fog machine so that you could actually see the videos. ;-) Despite its huge size the Kohlrabizirkus was quite packed with fans, and the mood was quite good in the crowd. 'Mesh' first played material from their latest album and then delivered a collection of old hits like 'Leave You Nothing' or even 1994's 'Fragile'. A very experienced performance, still very nice and enjoyable. But if you saw 'Mesh' on their spring tour you didn't miss much when you couldn't see them at the WGT. The band finished their set with their latest single 'My Hands Are Tied' and the club hit 'Crash' and unfortunately came back for one song only as encore, 'From this Height'. A wonderful choice though, and all in all 'Mesh' once again proved their qualities as a live act, although there weren't much surprises for people who already saw them a few times.
Setlist
01. Intro
02. Petrified
03. What Are You Scared Of?
04. Step By Step
05. Leave You Nothing
06. Fragile
07. This Is What You Wanted
08. Little Missile
09. Friends Like These
10. Can You Mend Hearts?
11. My Hands Are Tied
12. Crash
-----
13. From This Height
Rating
Music 8
Performance 8
Light 7
Sound 7
Total 8 (7.7)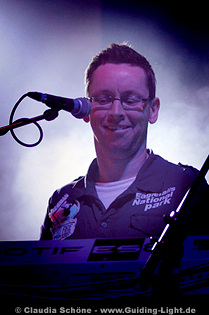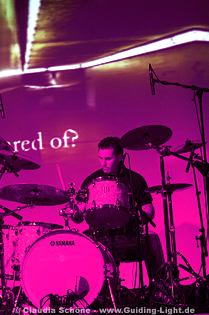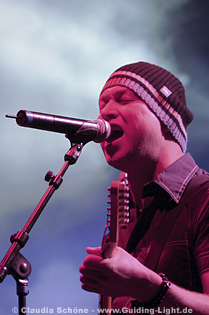 Deine Lakaien – Agra [KM]
The German band was the second last on this Sunday night in the Agra. For the biography please have a look in our band info.
http://www.deine-lakaien.com/
/
http://www.myspace.com/deinelakaienfans
Music
A 'Deine Lakaien' concert in the sea of harsh electronic sounds made me think of a rose on the field of barbwire. Soothing, hypnotizing, appealing and yet delicate melody and the warm, deep, moving vocal that reaches freely all the areas the voice can go to scope the listener's attention is a complete knock down once someone decides to open his/her ears to softer sounds. The choice of the songs the band had made for this particular concert was like a spectrum of their rich artistic output – the new songs like "Over and done" among the old ones i.e. 'Dark Star'– all set to make the fans remember that the artists are still developing, changing and improving their music. To describe what I heard that evening I'd say this was not the kind of flashy music, it didn't strike the listener with experimental tricks: the quality that is most extinguished in 'Deine Lakaien' creation is the music itself and I think the strength of it lies in its classical tinge and combination of soft voice and instruments that constitute the background for the story Alexander Veljanov's voice unfolds for the listeners.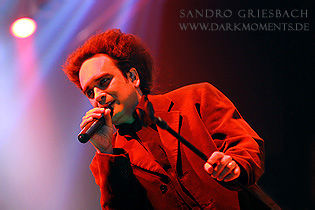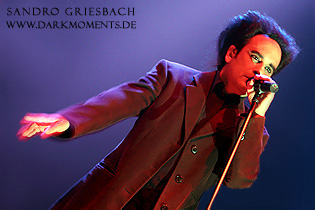 Performance

I've an impression that 'Deine Lakaien' is that sort of band that doesn't bother about the special effects that are usually described as 'the show' that much. My feeling is that the artists do not try to distract the audience's attention but rather scope it on the music itself and on experiencing the sounds and emotions evoked by it. I like that kind of the artistic output that is not only perceived by the senses but it makes itself remembered, what's more this kind of music is the one that goes further, touches those deep layers of soul and plunge it and rip it until one gets to remember there's a part in him/her that is (or used to be) home to emotions. And so is the performance of 'Deine Lakaien'; of course it is very elegant and organized, but its quality is the one of a theatrical, moving, well-arranged spectacle where every actor has its part rather than something what is generally understood as 'show'. Nobody is running, jumping, tearing his/her clothes apart, presenting complicated acrobatics with the instruments or extravagant image or shocking performance, and yet what happens on the stage catches one's eyes. Ernst Horn is hidden behind his equipment, the band: the violinists and the cellist play very dynamically, and the clash between their vehement behaviour (that of the pupils finally let go after lessons) with the instruments they actually play (associated rather with classical music) is really fine; Alexander Velianov acts like the master of marvels or a conductor – his voice is kind of a binder of all the elements. All this together is the reason why listeners cannot set free from the charm of the melody and the image presented to him during the 'Deine Lakaien' concert. The audience was hypnotized by the music, changing colours and the theatre of images moving in front of the delighted eyes. Beautiful concert rewarded with huge bravos and enormous appreciation.
Setlist
01. Over And Done
02. Secret Hideaway
03. Don't Wake Me Up
04. Dark Star
05. Generators
06. Return
07. Through The Hall
08. Slowly Comes My Night
09. A Heart Made To Be Mine
10. Colour-Ize
--------------------------
11. Where You Are
12. Love Me To The End
Rating
Music: 10
Performance: 9
Sound: 8
Light: 9
General: 9 (9.3) 
Day 4
Tactical Sekt – Kohlrabizirkus [DV]


http://www.tactical-sekt.com/
/
http://www.myspace.com/uktacticalsekt
Setlist
01. Capital Fallacies
02. Soulless
03. The Enemy within
04. Bring me Violence
05. Waiting for the world to end
06. Awaken the Ghost
07. Its not going to work that Way
08. Damage Limitation
09. Xfixiation (SITD REMIX)
God Module – Kohlrabizirkus [DV]
http://www.godmodule.org/
/
http://www.myspace.com/godmodule
Setlist
01. Lucid
02. Inside Out
03. Illusion
04. Reverse Inversion
05. False Pretence
06. The Source
07. Still So Strange
08. Telekinitic
09. Ressurection Ressurected
Feindflug – Kohlrabizirkus [DV]
http://www.feindflug.info/
/
http://www.myspace.com/feindflug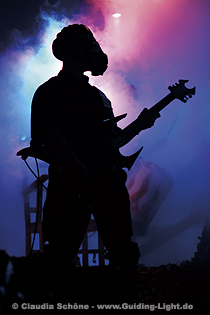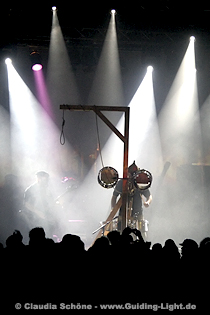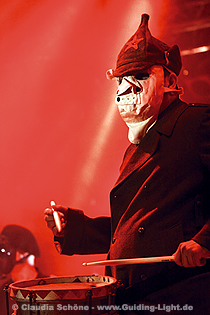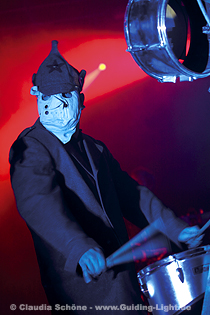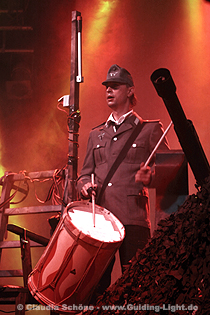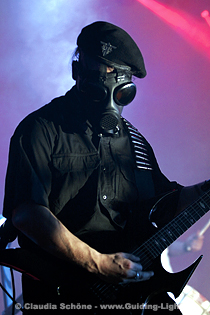 And One – Kohlrabizirkus [DV]
http://www.andone.de/
/
http://www.myspace.com/andonemyspace
/
http://www.myspace.com/andoneofficial
Setlist
01. Intro + Traumfrau
02. Military fashion show
03. Für
04. Metalhammer
05. Body nerv
06. Speicherbar
07. Body company
08. Enjoy the unknown
09. Panzermensch
10. Get you closer
11. Deutschmaschine
12. Fernsehapparat
13. Strafbomber
14. Take some more
15. Krieger
16. The walk
17. Sometimes
18. Techno man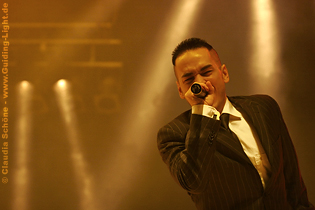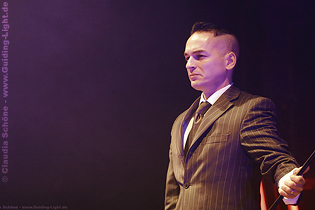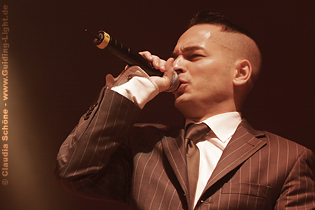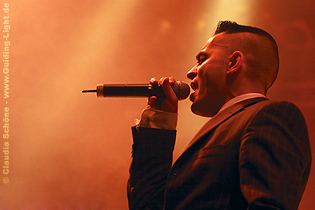 More pics on Black-Cat-Net
{jos_sb_discuss:18}Reviews:

Daniela Vorndran [DV]
Jörg Uhlenbruch [JU]
Karolina Moszkowicz [KM]
Mattias Nordgren [MN]
Pictures:

Daniela Vorndran (Agonoize, XP8, Lola Angst, Metallspürhunde, Cephalgy, Oomph!)
Claudia Schöne (Beborn Beton, Frozen Plasma, Solitary Experiments, The Twins, Mesh, Feindflug, And One)
Sandro Griesbach (Deine Lakaien)