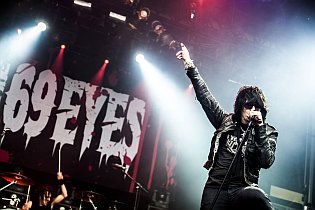 Zitadelle, Berlin, Germany
15th -16th June 2012
Zita Rock Festival Day 2: Staubkind, Zeraphine, Mono Inc., Saltatio Mortis, The 69 Eyes and ASP

The second day of Zita Rock Festival 2012 started with a lot of rain and there was no sun in sight – but after some coffee and a piece of pie, the rain slowly disappeared and STAUBKIND opened the second festival day while the last raindrops came down. The day promised some fun with more bands to come. So, let's start the second day of Zita Rock Festival 2012!



Staubkind (Anne)

STAUBKIND hails from Berlin and is led by singer Louis Manke who started STAUBKIND as a solo project in 2003. In Chris Pohl (of BLUTENGEL fame) he found a mentor for his musical visions and the singles and the debut album, titled 'Traumfänger', were all released on Chris Pohl's own label Fear Section Records. STAUBKIND soon evolved to a fully-fledged four-piece band, released a few more singles and a second album, 'Zu Weit', in 2007 and toured as a support of acts like BLUTENGEL, UNHEILIG, ZERAPHINE and ASP. 'Zu Weit' was the last release of STAUBKIND apart from several compilation appearances and remixes for other bands. STAUBKIND just released the single 'Kannst du mich seh'n'. The current line-up of STAUBKIND is Sven 'Louis' Manke (vocals), Rico Meerheim (guitar), Friedemann Mäthger (drums), Sebastian Scheibe (bass) and Henrik Böhl (piano and keyboard). www.staubkind.de / www.myspace.com/staubkindsite / https://www.facebook.com/Staubkind.Music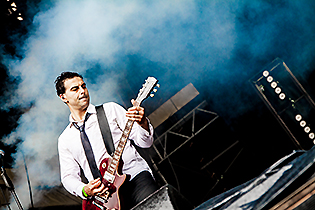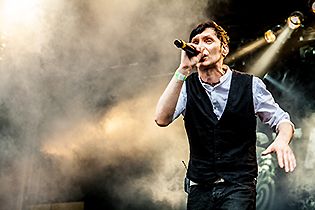 Music & Performance
STAUBKIND opened the second day of the Zita Rock Festival and did not get everyone in the audience to dance along. This might be due to the rain that was still coming down because music-wise the band really showed Goth rock that was pleasing to my ears. Nice guitar sounds combined with Sven's great voice let me forget about the rain. Sadly, only a little group of people made it in front of the stage and therefore, the mood wasn't really as great as it should have been if you ask me. The band did a fabulous job on stage and proofed that their music is anything but dry (like their band name could imply). Also, a new member, Henrik Böhl, introduced himself on the keyboard by playing the well-known German advertisement-jingle of the Telekom and made everybody laugh which was quite a good start with the new band.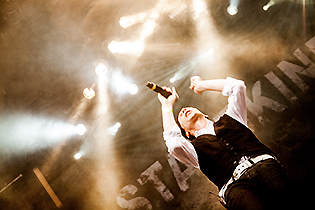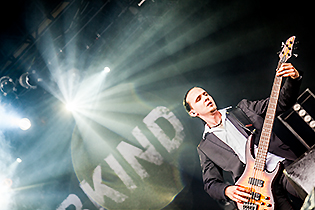 STAUBKIND played a mixture of harder and more ballad-like songs, showing older and newer material. Of course, the singles from the upcoming album 'So nah bei mir' and 'Kannst du mich seh'n' were played as well and seemed to find an echo among the people standing in the rain. Summarizing, there is nothing really bad to say about the band's performance. The weather wasn't perfect but the music really made up for that.

Setlist
01. Königin
02. Rette mich
03. Viel mehr
04. Dein Engel schweigt
05. Zu weit
06. Meine Lügen
07. Mein Herz
08. Kannst du mich sehn
09. Ein Traum der nie vergeht

Rating
Music: 9
Performance: 9
Sound: 8
Light: 8 (and daylight)
Total: 8.5 / 10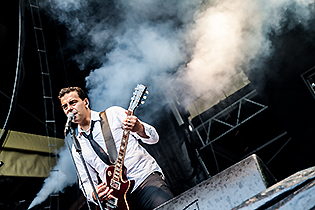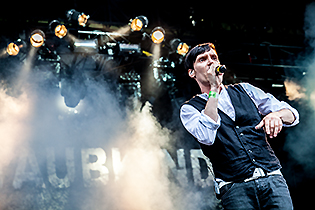 Zeraphine (Anne)

ZERAPHINE has been formed by Norman Selbig and Sven Friedrich after their former band DREADFUL SHADOWS quit in 2000. Together with producer Tommy Hein, the first album 'Kalte Sonne' was recorded and then released in 2002. It was completely sung in German, contrary to second album 'Traumaworld' comprising of mixed German and English lyrics and a nice cover of the DEPECHE MODE track 'In Your Room'. The third album 'Blind Camera', released in 2005, left confided territory and turned to heavier guitar riffs and harder arrangements, still the dominating factor was Sven's charismatic voice. Their fourth and current album 'Still' was the first album, release by their own label, which the band founded after their previous record deal ended. 'Whiteout' is the name of ZERAPHINE's latest album, released in June 2010. ZERAPHINE is Sven Friedrich (vocals), Norman Selbig (guitar), Manuel Senger (guitar), Michael Nepp (bass) and Marcellus Puhlemann (drums). http://www.zeraphine.de / http://www.myspace.com/zeraphine / https://www.facebook.com/ZeraphineBand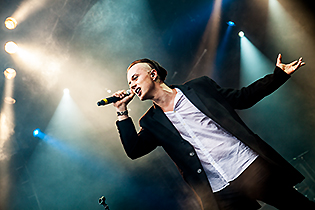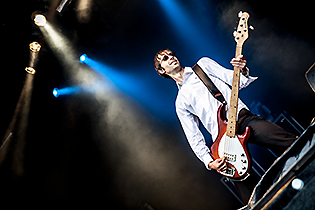 Music & Performance
Unfortunately, the rain was still coming down but that didn't change the fact that ZERAPHINE did a great job on stage. Sven (vocals) seemed to be in a good mood and got the first rows going. The setlist featured older and newer songs, ranging from 'Louisa' to 'Die Wirklichkeit'. Of course, maybe also due to the rain, their hit-single 'Be my rain' lead to choirs within the audience. Sven and the other band members are a big part of the German gothic scene and one might think that their performances are just a routine but every concert seems to be special to the band and to the fans as well. Since Sven is also part of other bands such as DREADFUL SHADOWS or SOLAR FAKE there were not many tour dates for ZERAPHINE in the past years. So I was even happier that they were part of the line-up this year.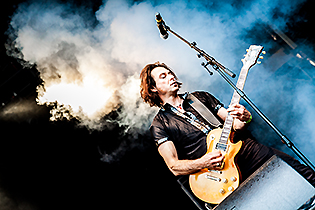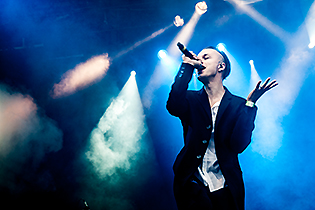 Unfortunately, the microphone didn't work during the first song and so, the fans had to sing along since Sven wasn't audible. This problem was fixed during the third song which took a little too long if you ask me. As that problem was finally fixed, the band went on with their performance. Since ZERAPHINE's songs are more gently, there is not really a point to "break out". Therefore, the mood among the audience was good but not astonishing which was quite a pity.

Rating
Music: 8
Performance: 8
Sound: 6
Light: 8 (and daylight)
Total: 7.5 / 10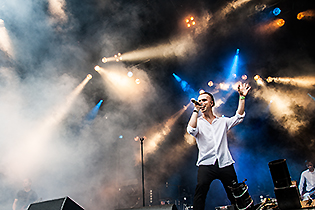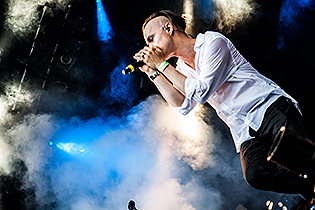 Mono Inc. (Anne)

MONO INC. formed as MONO69 in 1998, beginning of 2003, Manuel Antoni fills in the vacant position as bassist and hence completes the line-up. The self-released debut 'Head under Water' followed then in autumn 2003. The year 2006 brought one of the worst surprises a band is able to encounter. The departure of their former singer, however a proper replacement was to be found quickly with drummer and songwriter Martin Engler. Katha Mia would take over drum duties for him from there on. As it turns out, the idea to put Martin to the front wasn't a bad one at all; ever since the band has grown more popular than ever expected. 2007 sees the release of the next record 'Temple of the Torn' to be followed only one year later, exactly in June 2008, with the third album 'Pain, Love & Poetry'. The band's newest album is named 'Viva Hades' and was released in March 2011. MONO INC. is Martin Engler (vocals), Manuel Antoni (bass, vocals), Katha Mia (drums) and Carl Fornia (guitar, vocals). http://www.mono-inc.com/ / http://www.myspace.com/monoincmusic / https://www.facebook.com/monoinc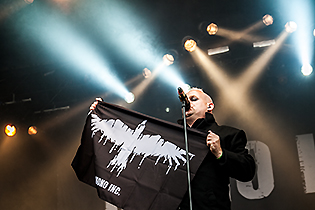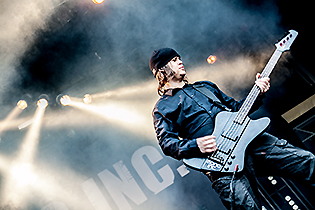 Music & Performance
It was the second time in only a few weeks that we saw MONO INC. perform at a festival. After their performance at this year's WGT, I was anxious to see if their performance would differ on some kind of level. Well, let's just say... it didn't, unfortunately. The concert was exactly the same as it was at the WGT. One might say that this might be due to the fact that both shows were held at a festival. However, it is quite boring when you can predict what is going to happen next and also be right about it. Nevertheless, one cannot deny that the band does on a good job on stage and that the music is quite catchy. Songs with heavy guitars with Martin's great voice clearly stick in your head. The drumming is rather simple and easy but matches the music. One new track was played, as well as well-known songs like 'Get some Sleep', 'Symphony of pain' or the ballad-like 'Gothic Queen'. The mood in the audience and on stage was great. The people standing in front of the stage seemed to be getting more and more as the concert was going on. An incredibly big amount of people were dancing and singing along, enjoying the concert. If you ask me, MONO INC.'s music is quite simply yet catchy and attract a lot of people. However, some change would be nice as well. Of course, one just doesn't just change a running system but a little more risk would spice things up in my eyes.

Setlist
01. Revenge
02. Gothic Queen
03. Symphony Of Pain
04. Viva Hades
05. The Passenger
06. After The War
07. Voices Of Doom
08. This Is The Day

Rating
Music: 7
Performance: 8
Sound: 8
Light: 7 (and daylight)
Total: 7.5 / 10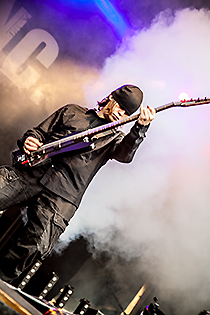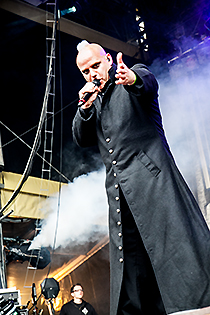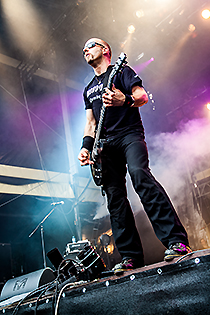 Saltatio Mortis (Anne)

SALTATIO MORTIS is one of the many (and popular) German Medieval Metal bands, and they are surely among the leading bands of this genre. SALTATIO MORTIS define their style as "medieval Punk" though, to differentiate from the rest of the genre. Their name is by the way Latin and means "dance of death". Formed in 2000, it was SALTATIO MORTIS' second album 'Das zweite Gesicht' (2001) that was causing a wave of popularity that spread even beyond the boundaries of the medieval genre and people would name them in one breath with big names such as IN EXTREMO or SUBWAY TO SALLY. For a certain period of time, the band was incorporating synthesizer sounds into their music; but has abandoned those elements later to veer into more rock oriented territory with older tracks now being performed in the new sound as well. In October 2006, it was announced that four members of the band would leave the line-up, luckily for the band they quickly found some new minstrels. After the line-up changes, SALATIO MORTIS pushed their popularity with the album 'Aus der Asche' in 2007. Last year the band released 'Wer Wind Saet', to many fans their best album to date and actually a Top 10 hit in Germany, followed by the live album 'Manufactum II'. Their last CD is called '10 Jahre wild und frei' celebrating the band's 10th anniversary. They also released a CD/DVD combination called 'Sturm aufs Paradies'.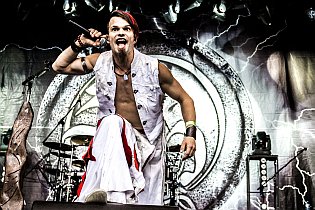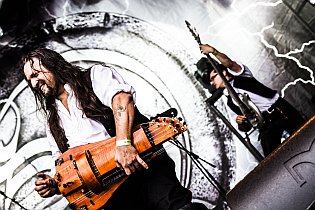 SALTATIO MORTIS is Alea der Bescheidene (vocals, bagpipes, shawm), Falk Irmenfried von Hasen-Mümmelstein (bagpipes, shawm), Lasterbalk der Lästerliche (drums, percussion), Magister Flux (modern equipment), El Silbador (bagpipe, shawm, flute), Mik el Angelo (guitars, flute, cittern), and Bruder Frank (bass). http://www.saltatio-mortis.com / http://www.myspace.com/mittelalterpunk / https://www.facebook.com/saltatiomortisofficial

Music & Performance
Considering the old walls the Zita Rock Festival is taking place, a band like SALTATIO MORTIS has to be part of the billing as well. Being known for their great and happy mood, the band entered the stage and immediately grabbed everyone's attention. The music is always quite fast and accompanied by many, sometimes unusual, instruments and, of course, Alea's quite special voice. Many people do not like the way he is singing (and sometimes I consider myself being one of those people). However, one cannot deny that it gives a special touch to the music that is driven by a mixture of guitar sounds with older instruments such as the bagpipe or shawm. Everyone who has seen SALTATIO MORTIS will know that especially Alea is also a guy who moves around a lot and even jumps high up in the air, showing everyone his well-trained body. This day, however, he still jumped around but he didn't seem to be on his highest level. This didn't change the fact that besides that, the band did a fabulous job. Music-wise the band concentrated on the recently released album 'Sturm aufs Paradies' – but also classics like 'Prometheus' or 'Koma' made their way on to the setlist. Summarizing, one can say that SALTATIO MORTIS really used their little spot for middle age music and convinced with a nice mixture of different instruments in combination with Alea's unique voice.

Setlist
01. Ode an die Feindschaft
02. Habgier und Tod
03. Hochzeitstanz
04. Halt mich fest
05. Koma
06. Prometheus
07. Eulenspiegel
08. Spiel mit dem Feuer
09. Falsche Freunde
10. Spielmannsfluch

Rating
Music: 8
Performance: 9
Sound: 8
Light: 7 (and daylight)
Total: 8 / 10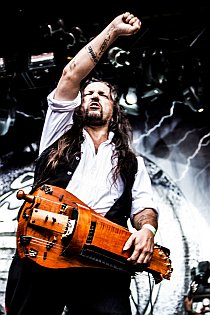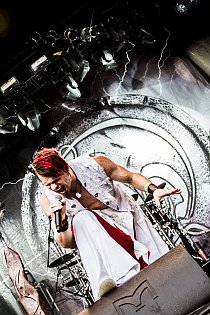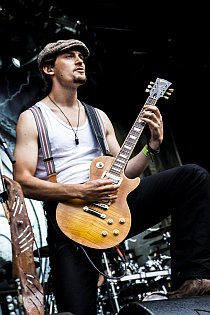 The 69 Eyes (Florian)

THE 69 EYES are a multi-platinum selling Finnish gothic rock band. They are currently signed to EMI Finland. The band's albums are now distributed worldwide. The End Records acts as the band's official North American distributor, as Nuclear Blast Records provides distribution in Mainland Europe, Ireland and the UK. Australia will be handled by AmpHead Music. All Asian and Latin American releases are handled by EMI affiliates. Initially, THE 69 EYES ' music style was of glam metal and sleaze rock. However, they began to incorporate more influence from gothic rock bands such as The Mission and, The Cult and The Sisters of Mercy. Their sound was described as a mix of the gloominess of gothic rock with guitar-powered Rock'n'Roll. Their current album is called 'Back in Blood' but the band is in the studio at the moment, recording their new CD. http://www.69eyes.com/ / http://www.myspace.com/theofficial69eyes / https://www.facebook.com/the69eyes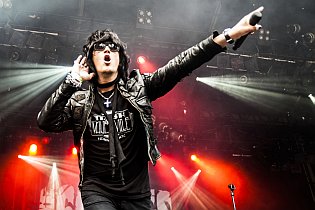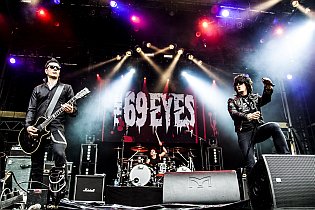 Music & Performance
The year 2011 brought us Finland's most classical boy group APOCALYPTICA and another representative of that country was co-headlining this year's festival. Although THE 69 EYES do exist for over 20 years now, they proved that day that they are by no means on the scrap heap. I have to admit I assumed that for the past years since their music progressively diverged from the Goth rock they used to play on their milestone records 'Blessed Be' and 'Paris Kills' to some kind of sleaze rock type of music, which moved along the verge of pettiness. This trend apparently is unstoppable but they still know how to play a show to please all of their fans. It was noticeable that the setlist mostly consisted of singles, which always is a good strategy for festival gigs. With his usual sunglasses and leather outfit (which always somehow reminds me of Alice Cooper) front man Jyrki joined his colleagues which intonated the first chords of 'Devils' to start their roughly one hour show. It was apparent that either the spark couldn't fully jump across or the audience was enjoying the concert with restraint but the band also took it slowly. Anyhow the following songs got them going and I was pleasantly surprised that a fair amount of songs of the above-mentioned albums made it into the set, so at least I had a good time.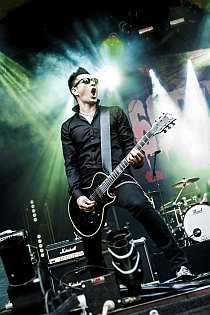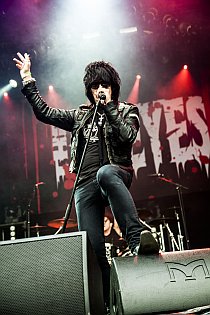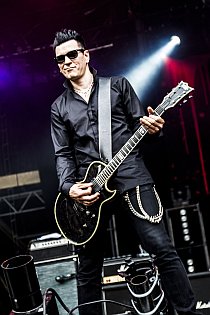 At the latest with all-time classics like 'Gothic Girl' or 'Brandon Lee' the fans were charmed. The song 'Feel Berlin' was mandatory and luckily also considered by the band. In the end they rocked the stage with their 2004 hit 'Lost Boys' and proved, as the lyrics state, they wanna rock and nothing's gonna make them stop. I hope for the best since their 10th studio album entitled 'X' will be released in September.

Setlist
01. Devils
02. Perfect skin
03. Dance d'amour
Framed in blood
04. Gothic girl
05. Stolen season
06. Betty Blue
07. Dead girls are easy
08. Wasting the dawn
09. Feel Berlin
10. Never say die
11. The chair
12. Brandon Lee
13. Lost boys

Rating
Music: 8
Performance: 7.5
Sound: 9
Light: 9 (+ daylight)
Total: 8.4 / 10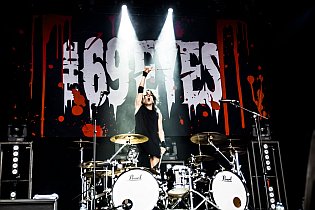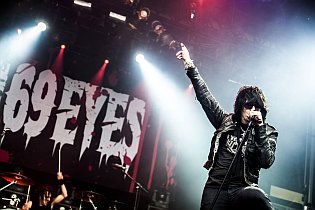 ASP (Anne)

ASP is a rock band from Frankfurt / Main which was founded in 1999 and has their origin in the black scene. The band name is based on the nickname of the singer, Alexander "Asp" Spreng. The band above all was known by the fifth-hasty cycle around the 'Schwarzer Schmetterling'. Their most successful album up to now was the album 'Zaubererbruder - Der Krabat-Liederzyklus', published in 2008, which reached place 13 of the German album charts. In early 2011, the split with guitarist and producer Matthias Ambré was announced. From that point on, guitarist Lutz Demmler (UMBRA ET IMAGO) is replacing him, completing the line-up consisting of Alexander "Asp" Spreng (vocals), Andreas "Tossi" Gross (bass), Oliver "Himmi" Himmighoffen (drums) and Sören Jordan (guitar). In 2011, the band's 7th studio record was released which introduces fans to a new chapter in their history entitled 'Fremd'. http://www.aspswelten.de/ / https://www.facebook.com/AspsWelten

Music & Performance
Some days before the festival, we received an Email telling us that we were not allowed to shoot ASP during the concert from the pit and not even during their autographing session. This is quite strange for a band such as ASP that is usually giving some nice material to shoot due to Alex' (vocals) make-up and the whole setting of the stage. Well, this year everything was different… even Alex' hair which was quite a surprise due to his lack of hair… or apparently just choice of haircut.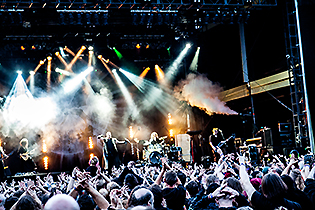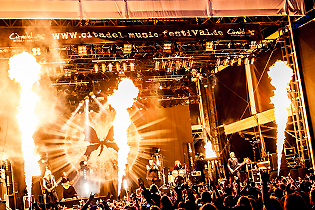 The band entered the stage and the concert began with 'A Prayer For Sanctuary' and an impressive amount of fire and all kinds of pyro techniques one can think of. Usually, only bands that need to cover their lack of musical talent use that much of stuff that distracting the audience from the band's performance. ASP is, however, not a band like that and that is why I wonder why they used so much technical stuff on stage. The band even made it snow in June which is quite an accomplishment if you ask me… and maybe a little redundant as well. During 'Und wir tanzten…' a huge amount of fake snow was blown onto the audience. Nevertheless, the band did it again and delighted probably everyone who was still there at the Zita Rock Festival. Music-wise there is nothing really bad to say about the band. They mixed their setlist with older songs such as 'Ich bin ein wahrer Satan' or the most popular one 'Ich will brennen' (which again was accompanied by a lot of singing coming out of the audience) and newer ones like the current single 'Wechselbalg'. Summarizing, one cannot deny that ASP was the best choice to end the ZITA ROCK FESTIVAL 2012. The mood was great and the band really heated up the place. Nicely done, ASP!

Rating
Music: 9
Performance: 9
Sound: 9
Light: 9
Total: 9 / 10

Pictures by Anne Kuhfuß (Staubkind, Zeraphine, Mono Inc., ASP) and Florian Schürmann (Saltatio Mortis, The 69 Eyes )