Page 1 of 2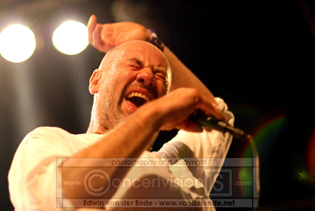 Schollenpop, Scheveningen Beach, The Hague, The Netherlands
August 5th 2006
Fish and Nailpin


It was supposed to be a bright and shiny day, like the weather forcast announced, but the dark clouds above the festival ground on the beach proved the opposite. Nevermore a group of die-hard fans had gathered themselves in front of the stage to see Nailpin.



Nailpin

"White Lies & Butterflies" is Nailpin's long-awaited second album. Exactly two years after their debut album, "12 To Go" was released, this Belgium band who hail from Sint-Niklaas has never sounded so tight. "White Lies & Butterflies" was once again in the competent hands of top producer Oscar Holleman (see also Krezip, Within Temptation, Heideroosjes...). With their second album, Nailpin has shown themselves to be stayers. Tours in Japan, the USA and Holland have matured them and the time has come to put Nailpin in the category 'worth watching'.


Music
You may have heard about Nailpin from the MTV show 'Road Rally' where they battled against DI-RECT. In this show they performed a couple of times and they proved themselves to be good and energetic live artists. Their music can be described as punk rock. Nailpin enters the stage in a rush of energy on 'Endless Conversations 'and the front audience got wild. Sean (vocals) runs and jumps from one side to the other and still he keeps his voice steady and strong. Todts (bass), Shaun (guitar) and Dave (guitar) set a very strong and rough sound without letting the sound overrule. Shaun shows everybody his second talent; not only can he sings, he's also an excellent drummer. During 'Cheater' he drums and sings while the other and real drummer holds his mic in front of him.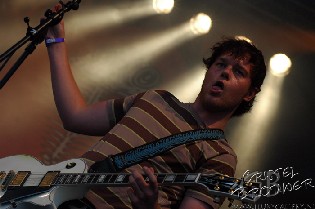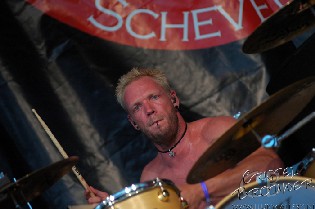 Performance
Though the fact that the band is not that famous in The Netherlands yet they already have gathered a group of fans of their own. Sean (vocals) gave a lot of special attention to the fans by making fun with them and by reacting to their request, for example to the request of 'show me your tits!', 'Show me yours and I show you mine'. Dave (guitar), Todts (bass) and Shaun (guitar) enjoyed themselves on stage by making fun of eachother, jumping at eachother and playing eachother's instruments. Too bad the lightshow was not really to be seen, because of the daylight. Sometimes there was smoke used, but that was only on the right side of the stage. With a performance like this Nailpin proves themselves to be a successor to DI-RECT. We will be hearing more from this band in future times.
Setlist
01. Endless Conversations
02. Don´t Let Go
03. I´m Sorry
04. Together
05. Worn Out
06. They Don´t Know
07. Cheater
08. White Lies
09. Mismatch
10. Runaway
11. What Are You Wathing For
12. Faults and Failures
13. All New Dreams
14. This Coma
15. Open Your Eyes
16. Movin´On
Rating
Music 7
Performance 7
Sound 6
Light 6
Total 7 (6.5)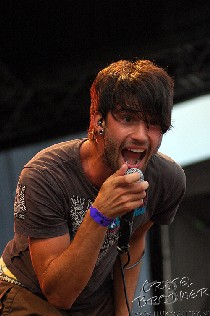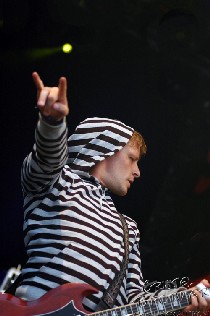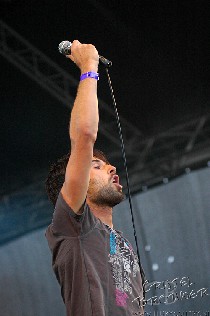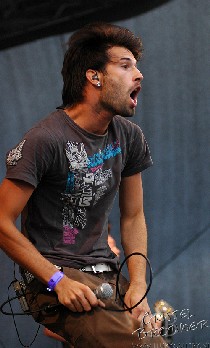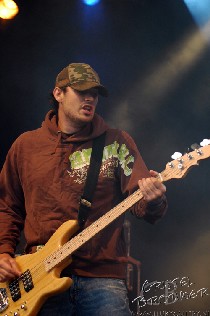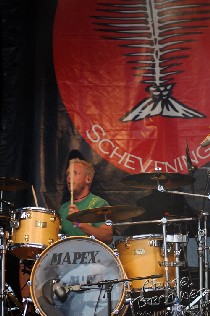 Fish
A festival names after a fish, a backdrop with the logo in the back, and the sea at less than 100m from the stage, a perfect place for Scottish singer Fish to headline the free festival. The sand right in front of the stage was filled with fans but it was clear that many of the volunteers were fans as well, or perhaps they just sing along with every band...
Music
What can one expect of a man like Fish at a festival? Well apart from three solo songs he decided to play the entire Misplaced Childhood and 2 other Marillion songs across the sandy beach of Scheveningen. A wise choice because many of the people are still rather unfamiliar with his solo work, this way the setlist got and kept the crowd going. Fish was doing his very best to struggle against the elements at this festival. And eventhough there wasn't any wind blowing him off his feet the technical problems almost did. The sound mix was just way off, in front of the stage the guitars were outpowering everything and all over the beach the voice of Fish was rather underpowered. With all due respect, this man's voice should be the main dish in the mix, too bad because many people missed out on great lyrics and a passionate interpretation of those by Fish. The band played a solid set with a few hick-ups which might as well have been due to technical problems, at least at times faces just changed from bright to stormy in a split second. The band and Fish could sure use a bit of distraction, somebody would take care of that!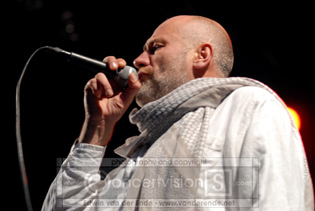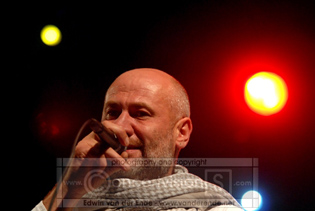 Performance
With an impressive carreer so far Fish has succesfully managed to combine his singing and acting talents during his shows. When Fish is singing it feels like he is reliving all those moments that lead to writing the song. Closed and timid at one time and cheering up the crowd just seconds later, everything is possible with Fish as long as it suits the music. It's one of those important things at concerts: interaction. And when it comes to interaction Fish and his band manage to do so very well, both amongst each other as with the audience. The audience, in appreciation, threw dutch waffles on the stage just when Fish was reliving the dark moments eased with wine. This totally caught the band by surprise and even managed to get Fish distracted from his acting. With a very vivid singer it's always hard to have the lights set right, and in this case they did a partially good job. The lights were nice when Fish was centre stage but just bits to the side he was in the shades. Too bad because being able to see his emotions sure adds to the fun of his concerts. Fish quite liked the idea of playing close to the sea and maybe we should all go for a swim, after all "you Dutch do anything to get naked". We don't have photos of this event, unfortunatelly it never took place... could have been fun.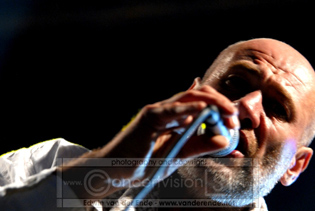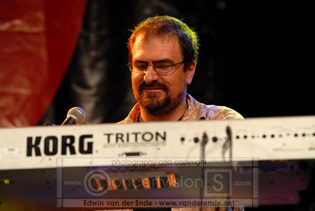 Setlist
01. Innocent Party
02. Long Cold Day
03. Credo
04. Pseudo Silk Kimono
05. Kayleigh
06. Lavender
07. Bitter Suite
08. Heart of Lothian
09. Waterhole
10. Lords of the Backstage
11. Childhood's End
12. White feather
---
13. Incommuncado
14. Market Square Heroes
Rating
Music: 8
Performance: 9
Sound: 5
Light: 6
Total: 8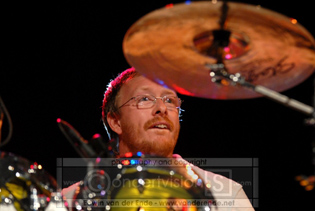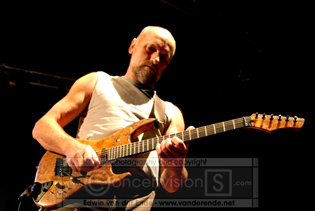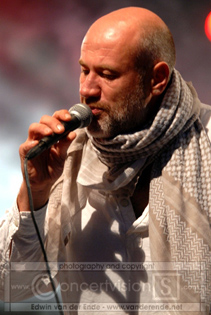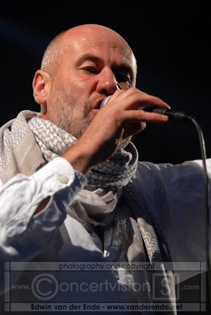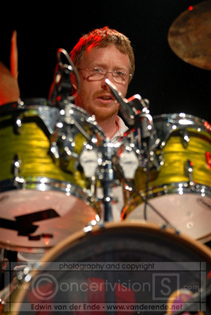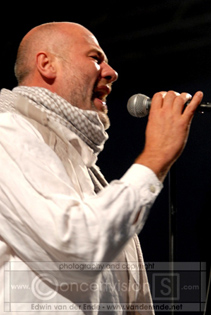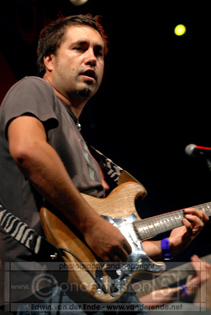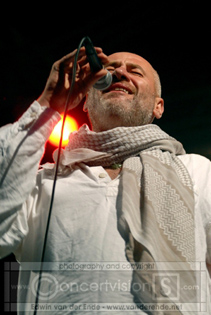 More photos on page 2
{jos_sb_discuss:17}