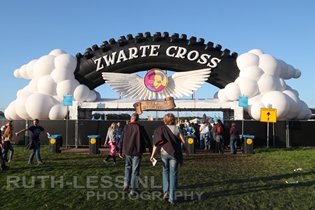 Lichtenvoorde, The Netherlands
20th to 22nd July 2012
Zwarte Cross Festival Day 1: Exodus, The Hives, Pain, Within Temptation

Over the years, the Zwarte Cross or "Black MotoCross" festival grew out to be the biggest festival in The Netherlands and the biggest motor cross festival in the World with over 152,500 visitors in 2011. The festival is a mixture of motocross sports, music, camping and bizarre stunts. This year's 16th edition of the festival was held from 20th to 22nd July. Having little time and being the only RoD reporter, I had to do some serious cherry picking in the program with over 100 national and international acts performing on 20 stages. Artists range from rock, pop, blues, hard rock, "tear-jerkers", even Schlager, folk music and Rock 'n Roll. In addition, there are several DJ's and theatrical acts. With the presence of a metal stage though, a choice was easily made. And before I forget; muchas gracias to the great guys who provided me with a superb bicycle taxi ride to the main entrance on Friday, saving me a 25 min walk!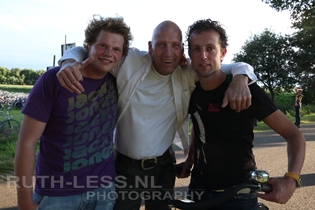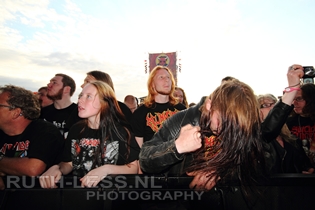 Exodus

EXODUS is an American thrash metal band formed in 1980 in Richmond, California USA. Spanning a career of over 30 years, Exodus has gone through numerous line-up changes, two extended hiatuses, and the deaths of two former band members. Guitarist Gary Holt remains the only constant member of the band, appearing on all their releases. Drummer Tom Hunting is one of the founding members, and departed from the band twice, in 1989 and 2004, but rejoined in 2007. To date, Exodus has released ten studio albums, two live albums and one compilation. The band had particular success in the late 1980s. Their first three albums, 'Bonded by Blood', 'Pleasures of the Flesh' and 'Fabulous Disaster', cemented EXODUS' reputation as one of the most successful thrash metal bands. The critical praise given to Fabulous Disaster garnered attention from major labels, including Capitol Records, with whom Exodus would eventually sign in 1989.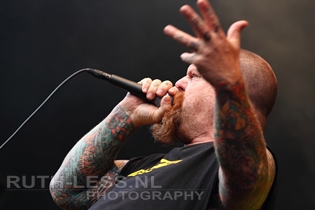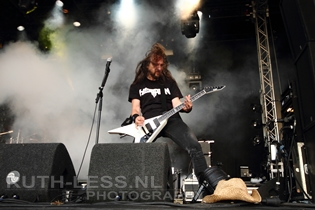 Exodus released two more albums, 'Impact Is Imminent' and 'Force of Habit', before disbanding in 1993. After a temporary return in 1997-1998, EXODUS reformed for a second time in 2001, and since then they have released five more albums, the most recent being 2010's 'Exhibit B: The Human Condition'. EXODUS is Rob Dukes (vocals), Gary Holt (guitar), Lee Altus (guitar), Jack Gibson (bass) and Tom Hunting (drums). [Source: Wikipedia] http://exodusattack.com/ / http://www.facebook.com/exodusattack

Music & Performance
Singer Rob is quite demanding right from the start of their show, which didn't really work for the Dutch motocross audience. First play, then ask for a bloody moshpit is the general attitude of the crowd. The men of EXODUS really have to work for it as the audience clearly needs a bit of conviction (or just a couple more beers). Rick Hunolt (replacing Gary Holt on guitars this summer, as he is touring with SLAYER) already bought himself a nice Zwarte Cross shirt to show his devotion to the festival. After a couple of songs EXODUS definitely gives the audience what they came for, and soon the first heads start banging and fists rise up in the air.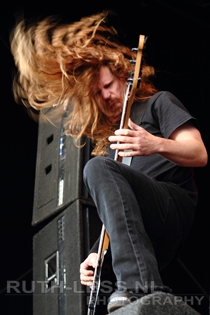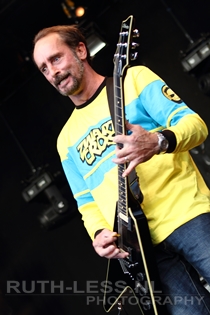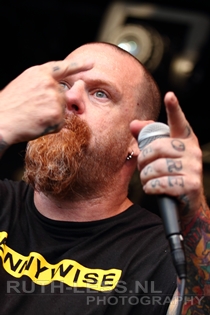 EXODUS brings loud, aggressive and in-your-face trash metal the way it is meant to be. No energetic jumping around on stage though, their stage performance is a little static. EXODUS' set is built up with songs from their most recent work 'Exhibit B: The Human Condition' as well as some oldies, but it seems that not many people in the crowd are familiar with those (and neither am I). Near the end of their set, Rob invites two little kids on stage and it's touching to see the big angry tattooed guys soften up all over. The little boy beams with pride as he gets to 'play' Lee Altus' guitar, while the girl instantly starts crying. Singer Rob apologises to her (which didn't really help) and thanks the crowd before they finish their show. "If the crowd doesn't go berserk, then we will" must have been the credo of EXODUS. The gig ends with a modest moshpit but a big angry sing along on stage with numerous members of the other bands on the metal stage. Proper nice!

Rating
Music: 7
Performance: 7
Sound: 6
Light: 7
Total: 6.8 / 10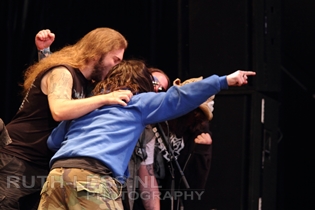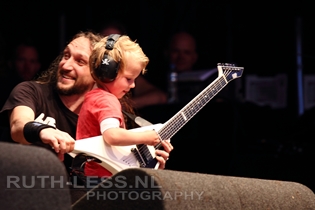 The Hives

THE HIVES are a Swedish garage rock band that first garnered attention in the early 2000s as a prominent group of the garage rock revival. Their mainstream success came with the release of the "greatest hits" album 'Your New Favorite Band', featuring their most well-known song 'Hate to Say I Told You So'. THE HIVES are known for performing in ever-changing, matching black-and-white suits. The band puts emphasis on their energetic live shows, notably with lead vocalist Howlin' Pelle Almqvist's engaging onstage banter and his guitarist brother Nicholaus Arson's crazy stage antics. THE HIVES have released five studio albums: 'Barely Legal' (1997), 'Veni Vidi Vicious' (2000), 'Tyrannosaurus Hives' (2004), 'The Black and White Album' (2007) and 'Lex Hives' (2012). THE HIVES are Howlin' Pelle Almqvist (vocals), Nicholaus Arson (guitar), Vigilante Carlstroem (guitar), Dr. Matt Destruction (bass) and Chris Dangerous (drums). [Source: Wikipedia] http://www.thehivesbroadcastingservice.com / https://www.facebook.com/hives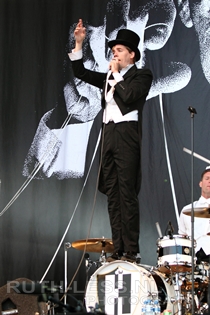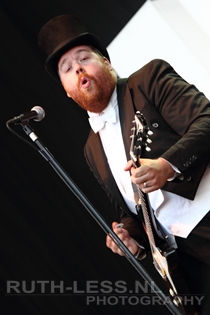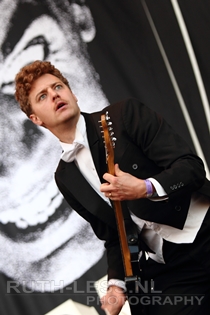 Music & Performance
THE HIVES are as well known for their attitude as for their most energetic shows. A bunch of ninja's prepares the stage and a bit later than planned, they finally take off. All suited up, singer Almqvist starts addressing the crowd as if he's in a huge theatre: "Ladieeees and Gentlemennnn!" As the crowd continuously forgets to give the right response, the band somewhat disappointed ignores them and takes off with their show. Without tempered enthusiasm, Almqvist starts jumping and plays with his microphone while guitar player Arson is making his signature weird faces. THE HIVES' music originates from garage rock but produces bite sized rock that makes you want to jump. As the band demands from the audience to be more active, sing along and jump along, the crowd behind us in the photo pit seems only moderately enthusiastic. During their show, motor crosser Martins Alexandrovitch jumps over the main stage which is a unique and fascinating sight.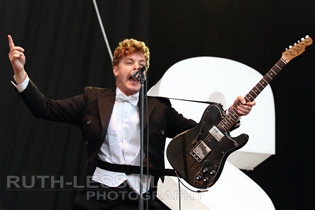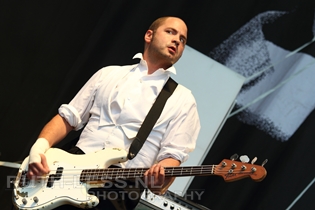 Although it's not really my cup of tea, I must admit that The Hives are just very good at what they do, so they can get away with their enormous attitudes. Tirelessly they keep addressing and cheering up the crowd, who in the end finally start showing some signs of enthusiasm. Life is tough!

Setlist (incomplete)
Take back the Toys
Hate to Say I Told You So

Rating
Music: 7
Performance: 9
Sound: 8
Light: 7
Total: 7.7 / 10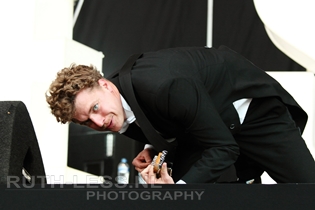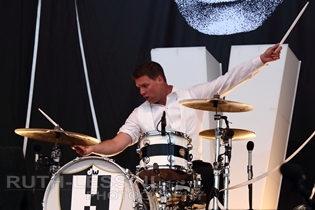 Pain

PAIN is a musical project from Sweden that mix heavy metal with influences from electronic music and techno. The project was initiated by front man Peter Tägtgren, also the vocalist/guitarist of HYPOCRISY and producer of his own The Abyss studios. Since their self titled debut in 1997, PAIN has released five more albums and a DVD. Most of their albums have even made the Swedish charts, thanks in large part to hit singles such as 'End of the Line', 'Shut Your Mouth', and 'Same Old Song'. Currently, PAIN is under the Nuclear Blast Records banner. In 2008, PAIN was on tour as a supporting performer for the Finnish symphonic power metal band NIGHTWISH. A year later PAIN also supported them on the second half of their Dark Passion Play World Tour, along with Finnish pop rock band INDICA. PAIN released their seventh album, 'You Only Live Twice', in June 2011 via Nuclear Blast. PAIN is Peter Tägtgren (vocals & guitar), David Wallin (drums), Michael Bohlin (guitar) and Johan Husgafvel (bass). [Source: Wikipedia] http://www.painworldwide.com/ / http://www.facebook.com/OfficialPain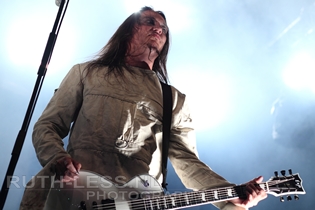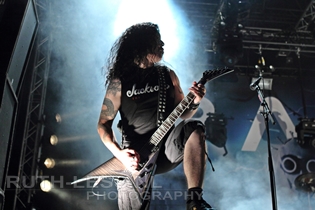 Music & Performance
As smoke is filling the stage, I am curious about what's next, since I'm not familiar with PAIN's music. In a sort of straitjacket, singer Tägtgren enters the stage and takes off with a song from one of their first albums called 'Rebirth'. PAIN pleasantly surprises me with their TYPE O NEGATIVE meets RAMMSTEIN sound, which has a very gloomy/doomy feeling to it and is somewhat cruelly cheerful at the same time. Their connection with the audience is a little hard to establish though, and while people obviously seem to appreciate what they hear, the crowd remains almost static. PAIN takes us through their entire repertoire with some very old songs like 'Dark fields of pain' (1999), 'Nailed to the ground' (2007) to their most recent work from the 2011 album 'You only Live Twice'. As Tägtgren announces the single 'Dirty Woman' from their latest album, he asks whether there are any dirty women in the crowd. But unfortunately no, only mud-covered drunk men…Nevertheless, the crowd starts moving around on this bite-sized heavy metal song.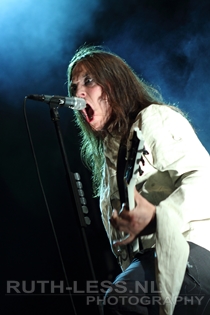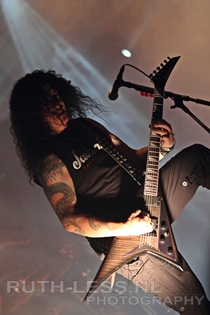 As PAIN announces the last song of their set Tägtgren invites Rob Dukes from EXODUS to the stage. Unfortunately, I already have to make my way to the main stage for tonight's last band: WITHIN TEMPTATION.

Setlist
01. Crashed
02. Walking on glass
03. I'm going in
04. Monkey business
05. Dirty woman
06. Dark fields of pain
07. Don't care
08. Feed the demons
09. Bitch
10. Nailed to the ground
11. Stay away
12. The great pretender
13. Some old song
14. On and on
15. Shut your mouth (with rob dukes from EXODUS)

Rating
Music: 8
Performance: 7
Sound: 7
Light: 8
Total: 7.5 / 10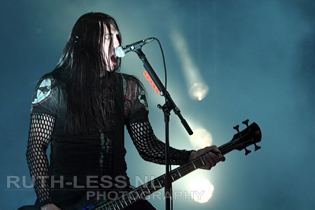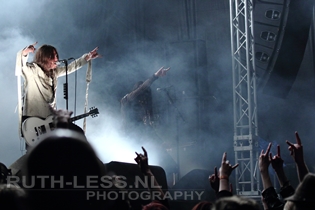 Within Temptation

WITHIN TEMPTATION is a Dutch symphonic metal band founded in 1996 by vocalist Sharon den Adel and guitarist Robert Westerholt. Their music is described as symphonic metal, although their earlier material, such as Enter, was gothic metal. After the release of their first album Enter, WITHIN TEMPTATION became prominent in the Dutch underground scene. It was not until 2001 that they became known to the general public, with the single 'Ice Queen' from the album Mother Earth, which reached #2 on the Dutch charts. Their next albums 'The Silent Force' and 'The Heart of Everything' debuted at #1 on the Dutch charts. The band's fifth studio album 'The Unforgiving' was released in March 2011, alongside both a comic book series and a series of short films that together encompass a story. In that same year, Robert announces that he will be taking a step back from live performing and focus on writing new music, producing shows, the comic and future movies. Guitarist Stefan Helleblad joined Within Temptation after having worked with the band behind the scenes for years. WITHIN TEMPTATION is Sharon den Adel (vocals), Ruud Jolie (guitar), Stefan Helleblad (guitar), Jeroen Van Veen (bass), Martijn Spierenburg (keyboards) and Mike Coolen (drums). http://www.within-temptation.com/ / http://www.facebook.com/wtofficial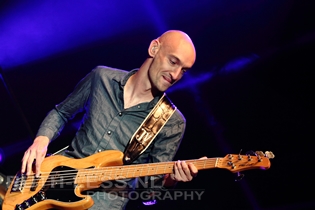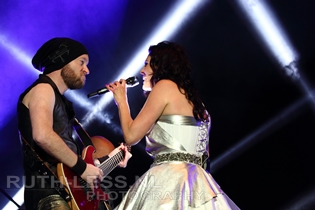 Music & Performance
I remember seeing WITHIN TEMPTATION for the first time at the Lowlands Festival about 12 years ago and times have changed, or have they? We still have dresses and an impressive dramatic stage setting, although I'm happy to conclude that their last two albums have a more powerful rock sound compared to their earlier work which was mainly focused on the classic opera & grunts combination. Their latest album 'The Unforgiving' is build around a comic book with a sinister story about a dark angel seeking revenge. Their show starts with a long, long, long intro movie on this album which is not really a positive add on for those who are not a big fan of their work. It is the last show for today on the main stage and the crowd gets a little impatient for the show to get going. Fortunately, all is soon forgotten as Sharon enters the stage with her sparkling presence and recognizable voice. After a couple of songs from their latest CD, WITHIN TEMPTATION goes back in time to the album 'Mother Earth' with 'Ice Queen', which is sung along by the crowd enthusiastically. The remaining part of their set focuses mainly on their most recent album. Only at the encore dares WITHIN TEMPTATION to present another oldie with 'Mother Earth'.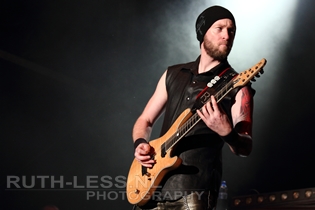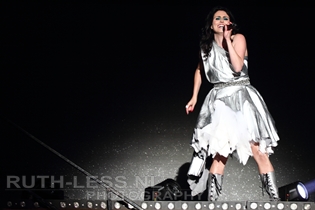 As expected, the WT show is a decent one with a well thought through set list and impressive stage set up with the screens and risers. I'm a big fan of placing band members who are usually in the back (like drummers and keyboard players) on risers, though it's quite a pity that the light technician forgot to shine a little light on them… Overall a proper ending of this first day at Zwarte Cross festival. As I'm leaving the main stage area through the sticky stinky mud, I'm already looking forward to tomorrow!

Setlist
- Mother Maiden (intro Movie) -
01. Shot in the Dark
02. In the Middle of the Night
03. Faster
04. Fire and Ice
05. Ice Queen
06. Our Solemn Hour
07. Stand My Ground
- Sinéad (Movie) -
08. Sinéad
09. What Have You Done
10 Iron
11. Angels
12. The Heart of Everything
---
13. Never-Ending Story
14. Mother Earth
---
15. Stairway to the Skies

Rating
Music: 8
Performance: 8
Sound: 8
Light: 7
Total: 7.7 / 10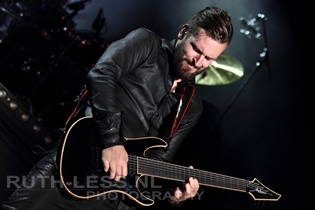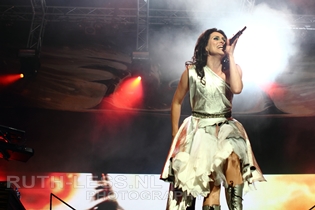 All pics by Ruth Mampuys (www.ruth-less.nl)




See also (all categories):