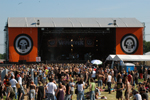 Waldrock, Burgum, The Netherlands
July 1st 2006
Shaboon, Bloodsimple, Trivium, Born from Pain, Stream of Passion, Stone Sour, Kamelot, Alice in Chains, After Forever, Nile, Soulfly, Helloween, Motorhead

This years edition of Waldrock was a bit later then we are used to. Instead of June, this year the first of July the gates of Waldrock would open and treat about 5000 visitors to a traditional metal festival like were used to. First of all: de big difference with the past.. well.. eleven years: the weather. This weekend the temperature rose over 30 degrees Celsius. That means dust, sweat and brining a lot of sunscreen. Together with a lot of great bands the perfect ingredients for a great festival.
Shaboon

The opener this afternoon was Shaboon. They had won the 'Slag om Waldrock'. It was tradition that the opening act, that's always Friesian, was chosen by the organization. This year they decided on a different approach. They made it a battle. Different bands tried, and Shaboon came out as winner. Shaboon had 20 minutes to show what they got. So at 12.30 they went for it.
Music
This new metal band has three singers, that will rap scream and grunt. I cant really name a band that's quite like them, you might find some stolen riffs and the lyrics aren't very original. Having 3 singers gives them something new, and the energy and diversity in the music makes a not-your-average new metal band. If you're kinda into new-metal with brains, check this out.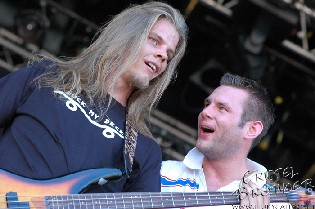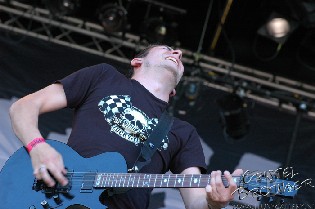 Performance
The members of this band seem to have a lot of stage experience. They use the whole stage, which is quite cool, and the seven members can play the audience like a band should do. They try to keep their performance light and funny, most people who came to watch seem to be amused by the band. Their performance is very energetic, during the songs the singers are working very well together. Sometimes they switch so fast I don't even know who's singing. That's a talent too, you know!
Rating
Music: 7
Performance: 7
Sound: 6
Light: daylight
Total: 7 (6.6)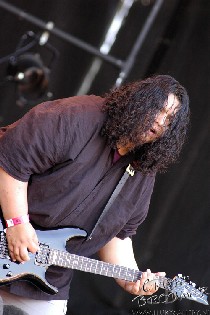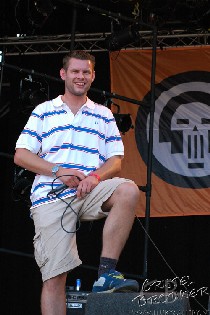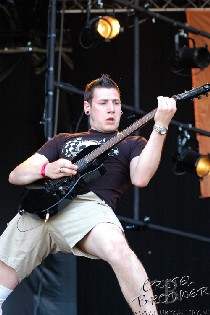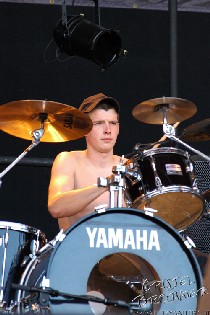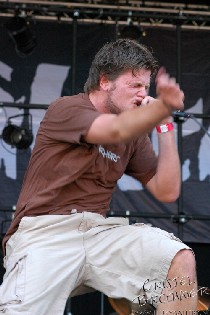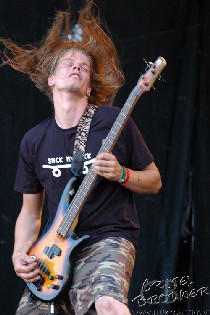 Bloodsimple

After 20 minutes of Shaboon it was time for the first band in the tent. From the ashes of Vision of Disorder, Bloodsimple emerged and is ready to take over once again. Performing with band like Alice in Chains, and Guns & roses, I was expecting quite a lot from this band. Most people in the audience were exited as well.
Music
Their intro is musical and quite slow. That changes once the singer comes on stage and the band really starts to play, the stomping thrash metal and screams of the singer slams you in the face. In the ears to be exact, even with my earplugs in I nearly got blown away and my ears hurt. That was a shame. The reach of Tim Williams is quite amazing, though, its good to hear vocalist still aren't afraid to fuck of their voice every now and again. Too bad the bass was too loud in the tent. It got worse as the gig progressed. Overall it rocked!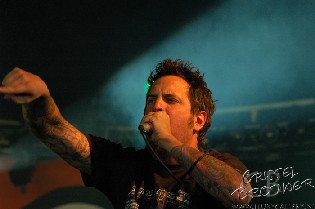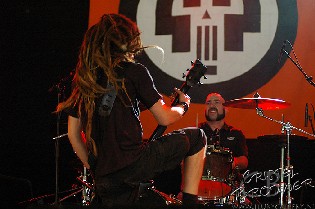 Performance
On stage the members were all very energetic. The singer was constantly urging the audience to participate in what they were doing. As a result more people were starting to dance and starting mosh pits. The show itself is very smooth, it all goes by itself, and that's good. De bass players had an enormous amount of dreadlocks on his head, during the day I saw these dreads walking around on festival/backstage. A real trademark. The lights were adjusted to the show so they gave a nice effect, in mainly green and blue (plus the sunlight from outside) the band had a cool vibe over it.
Rating
Music: 7
Performance: 7
Sound: 6
Light: 7
Total: 7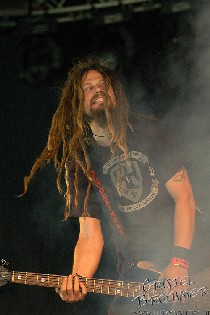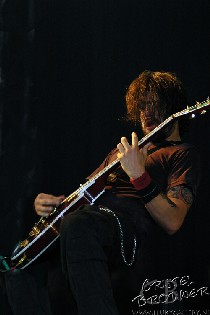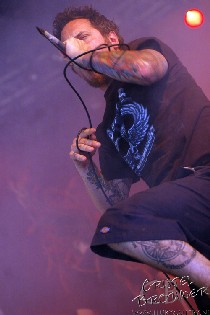 Trivium

These young men from Orlando, Florida have vested a pretty big fan base in Holland in just a few years. They are becoming more and more known for energetic music, great lyrics and ofcourse, their age. A real festival band, that will be performing with Iron Maiden. Seeing them before in Haarlem with Arch Enemy, I was looking forward to seeing them again.
Music
De strong thrash metal of Trivium is best played with the volume wide open. De musicians were all ready to rock and played very well. Matts voice is strong and raw, and blows out the energy you feel in the music. The new songs they play, like 'Dead Nation', also have some death metal influences, They are a bit different from the older ones. They were hardly played before live, it was good to hear them. The band has grown. The sound wasn't amazing, the bass again. During playing 'Inferno' everybody was singing along.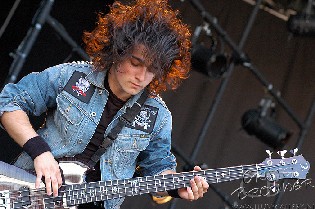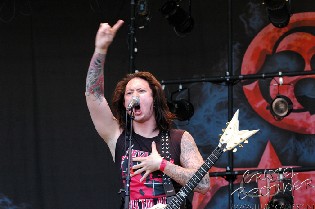 Performance
In contrary to the songs, the performance wasn't as energetic as I had expected. It was probably to warm for that. The same thing happened with the audience. A few in the audience tries to start a circle pit which ended quite fast when somebody got run over. There wasn't much of de lightshow, they were performing midday in the bright light. A big backdrop with the Trivium logo, stood out. Also: one of the band members was wearing a denim jacket, I remember seeing it, and my jaw dropped. Its so warm!
Rating
Music: 8
Performance: 7
Sound: 6
Light: daylight
Total: 7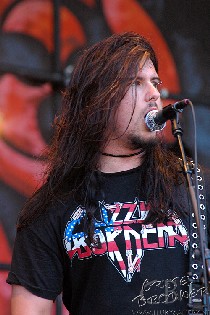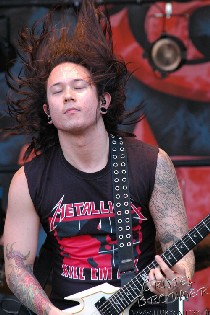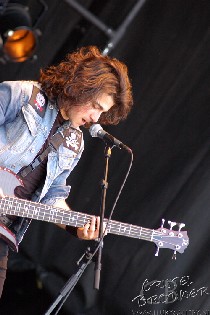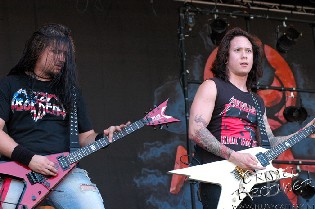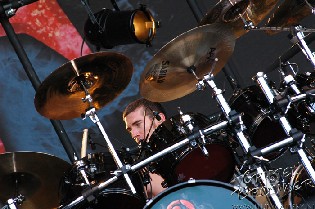 Born From Pain

According to the booklet, at 14.00 a surprise act would perform. The website stated that at 14.00, Born from Pain would perform in the tent. So, even I could make THAT link, and at 14.00 hours I was in the tent to watch one of Hollands better bands: Born from Pain. They were booked at the last minute, and the tent was pretty much packed.
Music
Born From Pain started their Hardcore-metal set with a classical intro. This didn't last long, before the singer would come on stage the rest of the band played a song. This already set the tone for the rest of the gig. It was raw and energetic, and as soon as Che hit the stage both the band and the audience went wild. You can hear different influences in these songs, which give it a original twist, and the songs are well balanced.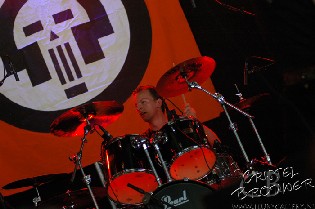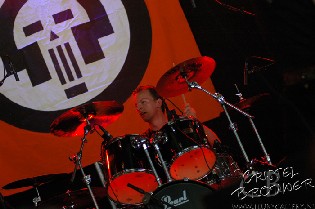 Performance
The performance is energetic and raw; the band is really going for it. The moves seem to be spontaneous. Lights are adjusted to the show, but they don't synchronize completely. It gives the performance a bit more chaotic image, and the fact that the bass is too loud (once again), I had too leave halfway during the gig, my ears hurt too much. The overall performance was awesome though. I wish I had the chance to see all of it.
Rating
Music: 7
Performance: 8
Sound: 6
Light: 7
Total: 7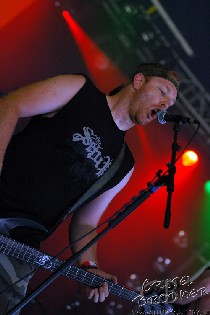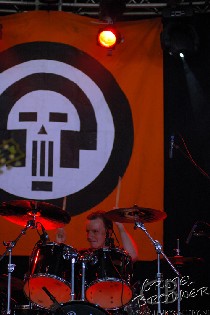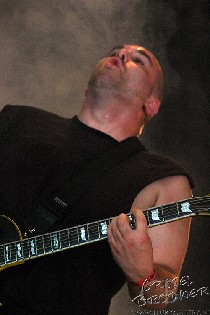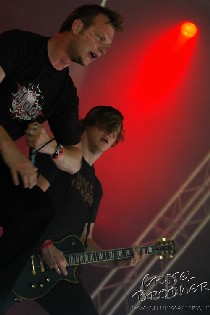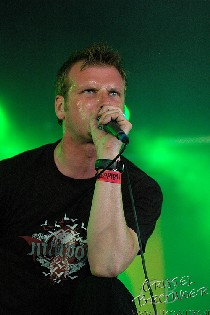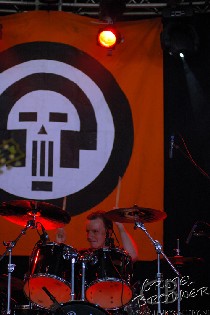 Stream of Passion

Stream of passion is another project from one off Holland's best musicians, Arjen Lucassen. Star one and Aryeon it was time for something new. Knowing the quality of his work, I was expecting quite a lot.
Music
The Music from Stream of passion doesn't vary a lot from what I've heard before. They6 played a few songs of SoP, these songs seem as bit more down to earth compared to Aryeon. A lot of songs from Aryeon were also played. Even though this project comes out of the same brain I think that really is too bad, why start a new project if you are playing older songs? Besides that I thought the Marcela wasn't very good in the beginning. She didn't sing well, and didn't really seem to know what to do with herself on stage. People were walking away after a while. The sound and singing became better as the gig progressed, but it wasn't one of their best gigs.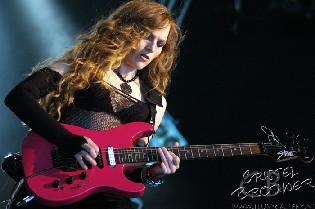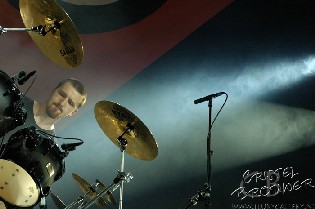 Performance
After a sort intro featuring only the Alejandro on keys, the drums joined in and also the bass player participated. I knew the bass player from somewhere, even though I couldn't quite put my Finger on it. Now I know, he's in Ratcom, too. This is an Rage against the Machine cover band. He was a pleasure to watch, very jumpy and really enjoying himself on stege. The lead guitar is played by Lori, a Swedish woman. She knows her way with that guitar! Every now and again she seemed to have a bit of trouble with the sound, but it didn't seem to really disturb her. Marcela in the beginning made a grand entrée, but after that seemed a bit insecure. It got better as she got more into the music. Arjen was being the daddy off all, as he should. Every now and again the background singer (who was literally standing in the background) came upfront to do a duet. All were dressed same style, black, bit Goth like. They had a few simple moves on stage, but it seemed like sometimes Johan (bass) would forget to run upfront.
Rating
Music 8
Performance 6
Sound 5
Light 7
Total 6 (6.3)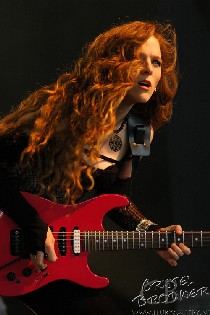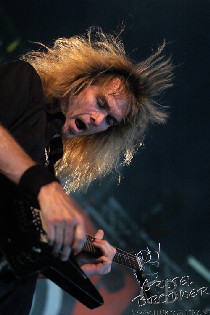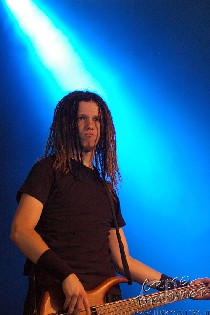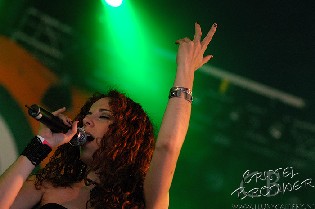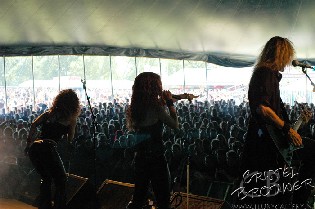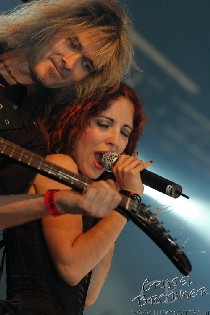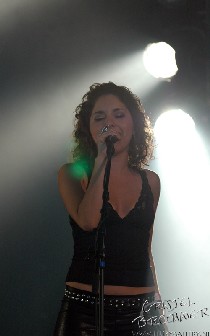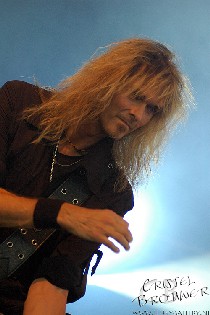 Stone Sour


"The intensity. The drama. The emotion. The colors. The darkness. The melodies. The anger. The honesty. The drive. The new. All of the above and more." According to Stone Sour frontman Corey Taylor, those are the things that define Stone Sour's passionately pulsing second album, Come What(ever) May (Roadrunner). Stone Sour's first album in four years finds the band firing on all cylinders, and primed to capture the attention and the hearts of the rock 'n roll masses.Stone Sour's self-titled debut was twice Grammy-nominated and RIAA Certified Gold. It was an eclectic album, propelled by the band's busy tour schedule, the contemplative smash single "Bother," and a series of groovy, melodic metal numbers. In 2002 and 2003, Stone Sour established itself as a multi-faceted hard rock force of nature.While Taylor is one of the most recognized figures in rock music, thanks to his role as the frontman for Slipknot, a Grammy winning, multi-platinum act, Stone Sour is anything but a side project. It's a full-time band that all members are fiercely dedicated to.
Music
We all know Corey Taylor (vocals) as the singer of the metal band Slipknot, but with his other band Stone Sour he heads in a very opposite direction. Today on Waldrock Stone Sour emphasized their new album 'Come What(ever) May' which had just been released. The new songs were received very well by the audience and some of fans already knew the lyrics to them and they sang along loudly. In between Stone Sour headed back to songs of their first album 'Self titled', so the band gave their fans a very alternated setlist.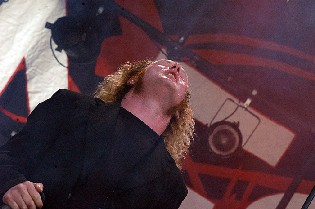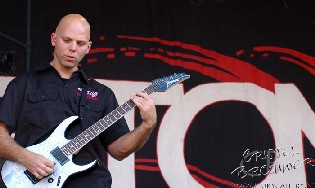 Performance
Corey (vocals) knew very well that he was the 'audience sweetheart'; boys think his is cool and sturdy, girl seem to love him for his looks. Cory (vocals) interacted a lot with the audience by 'involving' them in the show. He came up to the front stage a lot and by this certain look he gave the audience, with the effect of driving them crazy; screaming girls and grunting boys. The rest of the band had a lot of fun too and interacted with the audience and among eachother as well.
Rating

Music 8
Performance 8
Sound 8
Light daylight
Total 8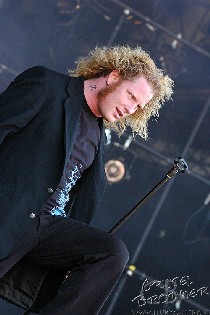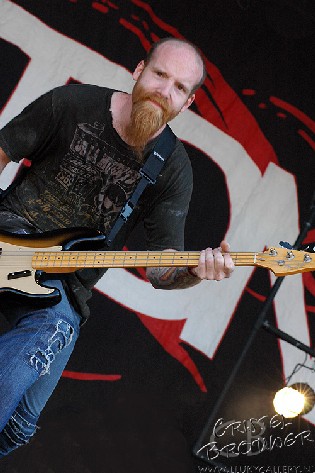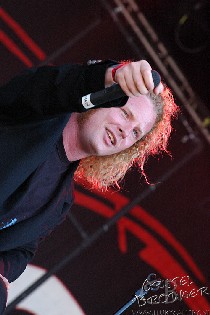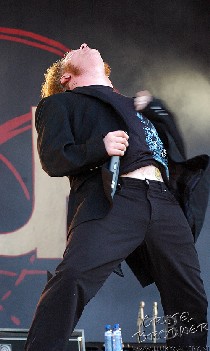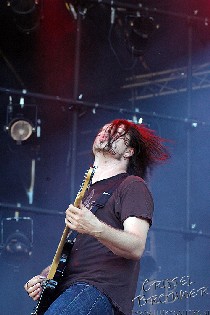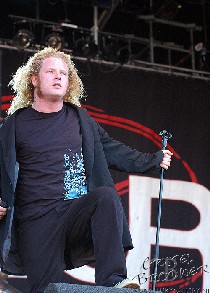 Kamelot


Kamelot signed a recording contract in 1994, releasing their debut, Eternity , the following August. The press praised the album as one of the most promising first offerings ever. 1996 saw the arrival of Dominion , an album that sounded even more varied and diverse than its predecessor. In spring 1997 Kamelot found Casey Grillo and the former Conception vocalist Khan, who joined the group during the production of Siege Perilous . In autumn of the same year, the new line-up embarked on an extensive European tour and returned to the Gate studios in Wolfsburg twelve months later to work on the album that set a new standard for the band; The Fourth Legacy. In summer 2000, Kamelot's first live album was recorded during the New Allegiance tour, which took them through Germany, Austria, Switzerland, the Netherlands, Belgium, Italy, Greece and Spain. Only a few months later, Khan, Youngblood, Grillo and bass player Glen Barry presented their fifth studio cut, Karma , and embarked on a European tour. Epica arrived in 2003, followed by another tour as Headliners in Europe, Japan, Mexico and the US as well many top Festival appearances. The Black Halo adds another exciting and epic chapter to the band's brilliant history. (source: kamelot.com)

Music
When I think of Kamelot, I think of the band with one of the most impressive singers ever heard. Today Roy Kahn (vocals) again proved that I'm certainly not exaggerating by thinking this. Every song he sang was with a very clear voice, as well the really high parts as the lower parts) and really not out of tune once. Glenn (bass) and Thomas (guitar) carry the voice of Kahn very well with their catchy bass lines and strong guitar play. Casey (drums) and Oliver (keys) must not be overlooked, because with their rhythmic drums parts and beautiful key parts the music altogether really stood it's ground today. The part in which Simone Simons (Epica) appears in 'The Haunting' was sung by Kahn's wife this time. She proved herself to be a great replacement!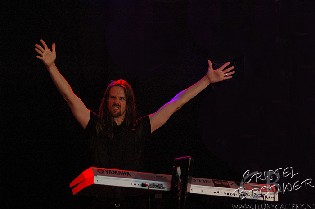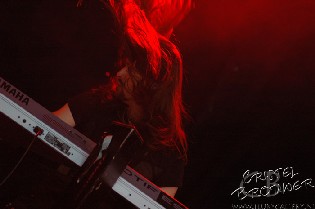 Performance
In the beginning Roy Kahn (vocals) wore black sunglasses, which to my opinion made his appearance a little impersonal. After 3 songs the sunglasses disappeared from his face and you could see that he was enjoying himself and made a lot of contact with the audience. Also the rest of the band made a lot of contact with the audience and with eachother. Oliver (keys), the newest band member, tried to live up the audience here and there, but he was just a little bit too far away on stage to reach them. It really shows his enthusiasm!
Rating
Music: 8
Performance: 7
Sound: 7
Light: 8
Total: 8 (7.5)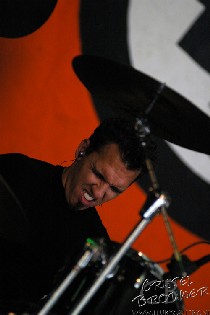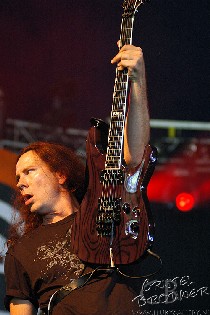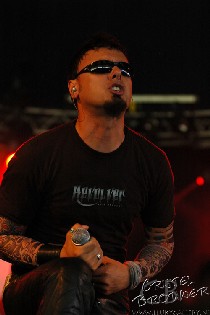 Alice in Chains

Alice in chains isn't dead. They were very alive actually. After the death of Layne Staley, most people thought there would not be another singer in the world that could take over his place. They have found a new one though. Although he looks like Jimmy Hendrix (who was also extremely talented, but that's a whole different story) he has this voice, this voice can give you the creeps and makes you love him at the same time.
Music

This hard rock band is from Seattle back together after some time of. There music hasn't become any less because of it. Noticing the audience around me, the sun, and having 'Grind' slammed in my face, I can tell you that grunge is not dead. And even the sound was good!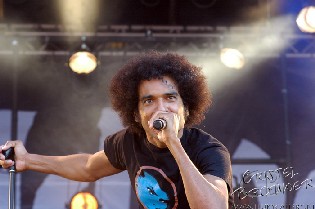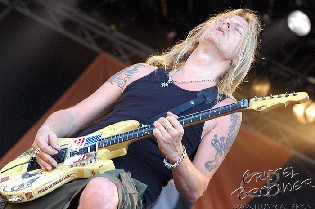 Performance
Performance was very smooth; these guys know how to act on stage. They use whatever room they need and seem to play like they were born with mic. and guitars. The new singer was incredibly good, and stood there, basically being God.
Rating
Music: 8
Performance: 8
Sound: 7
Light: Daylight
Total: 8 (7.7)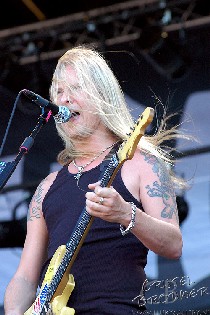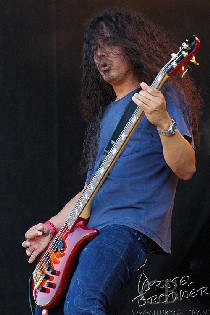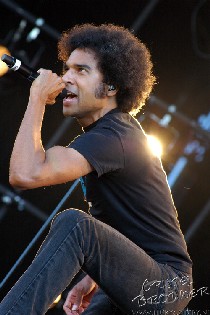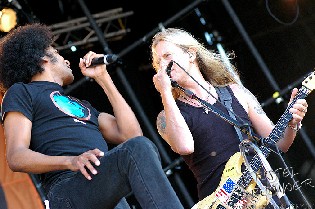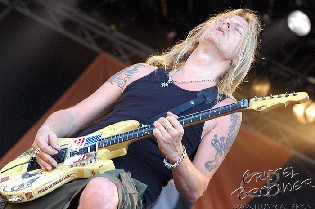 After Forever


After Forever back on Waldrock grounds again. Originally Dragonforce would be performing, but since they got a better offer (I mean, headlining Ozzfest!) they cancelled. After forever was happy to take their place and with that set foot on Waldrock ground again since 2002.
Music
In the past 11 years After Forever has grown from a Goth metal band to a progressive rock band. With line up changes the music changed as well. The opener of this show was 'Come Join', one of Remagine. The sound was mixed quite well, which really cheered me up. The played a pretty well balanced mixture of older and newer songs, mostly singles. They ended with their cover of Europe's 'The Final Countdown'. Technical After Forever is a well oiled machine, they are very natural on stage and change their set lists often enough to keep it real. Floor her voice was as usual very good and very pure.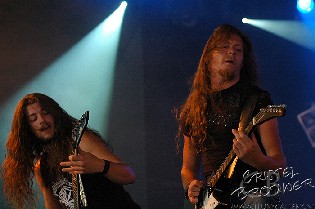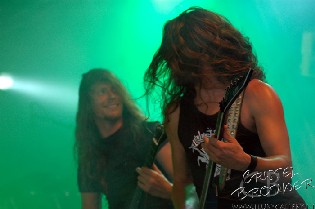 Performance
The performance went very smooth, except for a few errors. They did most of their usual moves. I notice while watching this, it wasn't very renewing; I have seen these tricks before. But hey, the audience was having a blast, and the band was having fun as well. The lightshow was synchronized with the music. They had a small stage on the stage where Andre and Joost were on, so you can see them well. Overall was it a smooth gig, like it should be.
Rating
Music: 8
Performance: 8
Sound: 7
Light: 8
Total: 8 (7.9)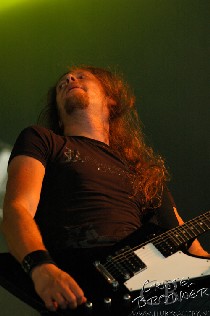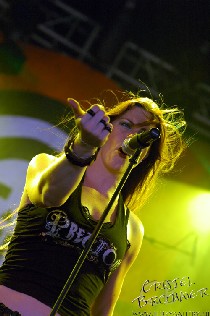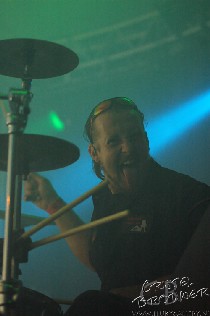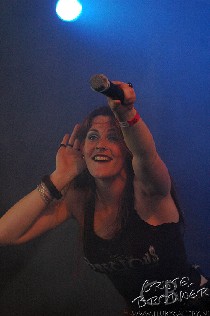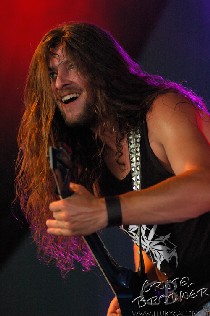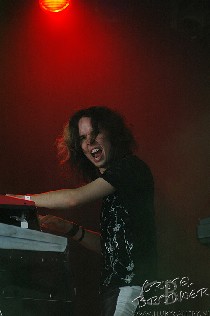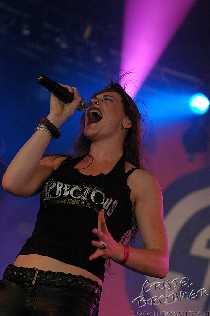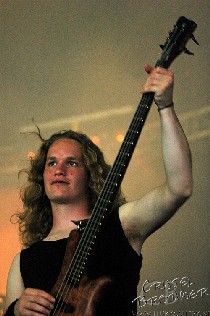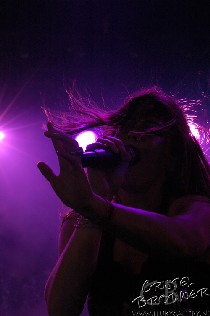 Nile


With the release of Annihilation of the Wicked, NILE has proven themselves peerless in the modern day extreme metal world. Inarguably their strongest and most creative work to date, Annihilation sets the stage for NILE to once again bring their searing live show to stages the world over. The addition of drumming sensation George Kollias to the existing NILE base of Karl Sanders and Dallas Toler-Wade strengthens an already stellar lineup of musicians. A pre-release U.S. co-headlining tour with KING DIAMOND will allow fans a glimpse at what Annihilation of the Wicked has in store and the band will remain on the road for the duration of 2005, proving night in and night out that every accolade heaped upon them is more than justified. Prepare.


Music
Nile must be really one of the loudest bands of the festivals. Not even my earplugs could mute the sound of this loud band. Mixing Egyptian tunes with technical Death Metal elements and thus creating a very unique style, NILE rank among the elite of the brutal riff league, as masterpieces like "In Their Darkened Shrines" or last year's "Annihilation Of The Wicked" impressively show. Too bad that sometimes the sound was a bit too blurry. Experiencing Nile was really impressive this once, but it's not really my cup of tea.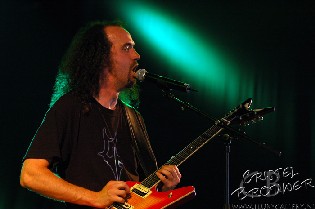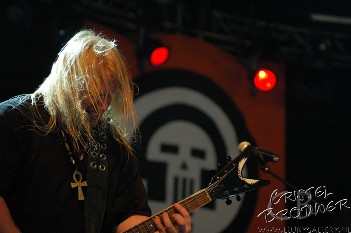 Performance
Between the heavy guitar riffs and double bass parts the band took some time to interact with the audience and having fun with eachother. In the audience a big pit had arisen and they went totally crazy. Nile enjoyed the effect they're having on the audience. A lot of green was used during the lightshow, which suited the band very well.

Rating
Music: 7
Performance: 7
Sound: 7
Light: 7
Total: 7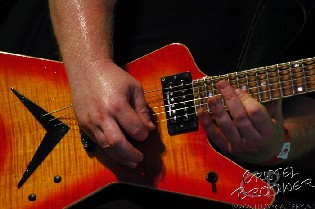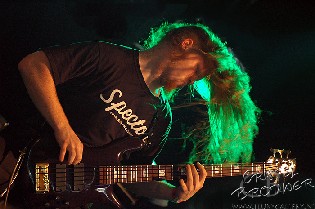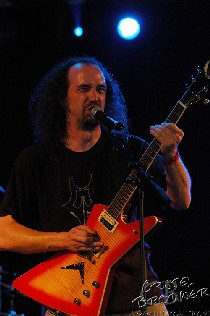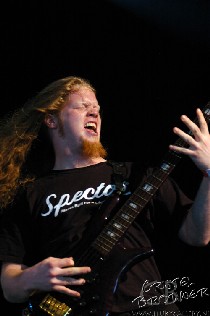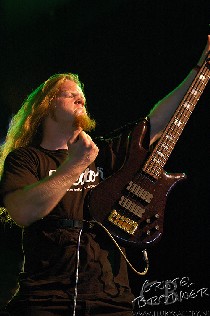 Soulfly


Soulfly provokes. It's metal for the daring.
Dark Ages
assaults as much as it does redeem. As Cavalera contends when he approaches Soulfly songs and albums, "I think more about a landscape of a movie" - always creating a sonic journey. Never safe and always engaging, Soulfly delivers another compelling album. Dark Ages is fierce and unrelenting, heavy and foreboding. Yet within the darkest depths, beauty exists.
Music
Max Cavalera was formerly known as 'The Singer of Sepultura', but that was a long long time ago. Meanwhile he proved himself to be a great musician of his own. With Soulfly he has played a lot of festivals and shows, with his own songs and Sepultura oldtimers like Roots. Today he played Waldrock. Soulfly had gathered a lot of fans of its own and the audience loudly sang along with each and every one of the songs.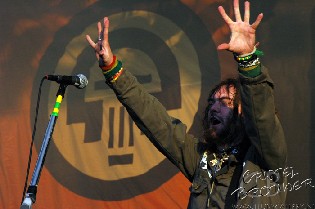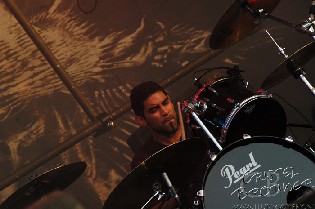 Performance
Max Cavalera and band were in a good mood and challenged the audience a lot to jump and sing along. The audience screamed a jumped and started to throw beer sockets to make the party complete. Bobby (bass) seemed to enjoy that a lot and came up front now and then, making faces at the audience to challenge them to throw. Although the Soulfly members had a really good time onstage, there wasn't a lot of contact among eachother on stage.
Rating

Music: 8
Performance: 8
Sound: 8
Light: daylight
Total: 8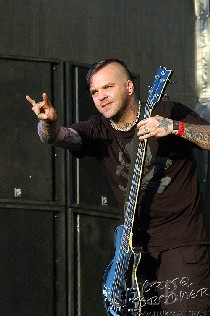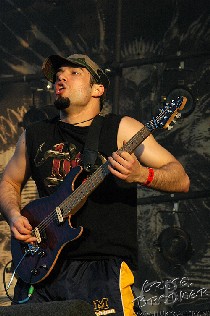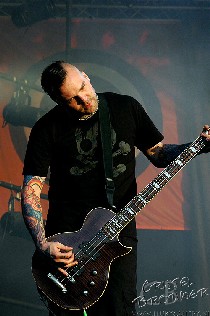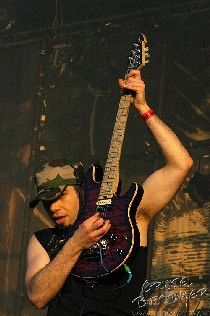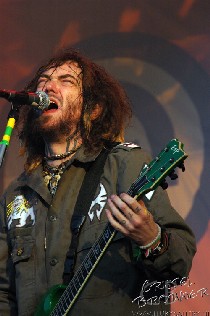 Helloween


Helloween, the band who invented the happy metal was in Holland again. Last year they released 'The keeper of the seven keys – The legacy'. With that they played in Hardenberg in December of last year. Now they were back, and as the last band in the tent, they were ready to rock.
Music
Like said before, happy metal. Is power metal with its typical dreamy edge to it. Singer Andi Derris, looked good, and sang very good as well. I still amazes me, what that man can do with that voice. The sound this time was horrible, it was just too loud and the bass made my ears hurt. The music has a lot of body and this did come out very well. The full tones and singing blew me away. I know they are good, but this good! To bad only, all the keys are on tape. I would have liked to actually see a keyboard on stage then. A few hits were played and also a few songs from the last album.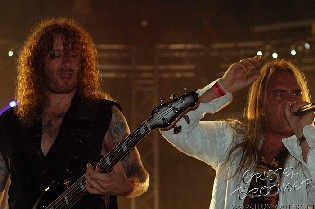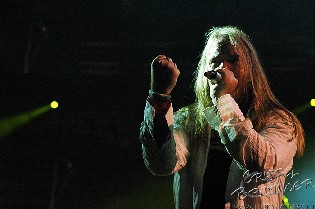 Performance
First of all, the stage looked awesome, all dressed up, 2 big backdrops, featuring the Keeper and a robotwomanthing (you know…). Also a lot of pictures were hanging to make the stage look pretty. The lights in the show were used very very well. When the intro started, the whole stage was filled with purple lights, like it wants you to wander off to your dreams world. The lights and music were synchronized. The Band itself was moving a lot a lot on the stage, mainly standing there as… well… knights of power metal. Andi itself was really enthusiastic trying to get the audience to participate in the songs, and it worked, they were all cheering for him. He makes these typical moves when he is singing, like he is trying to explain to you the lyrics. The band members were all dressed uo nicely. From a girls oint of view, Sascha looked hot!
Rating
Music: 8
Performance: 8
Sound: 7
Light: 8
Total: 8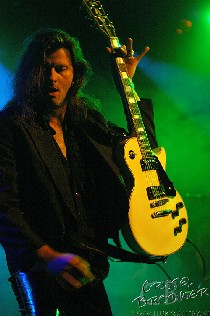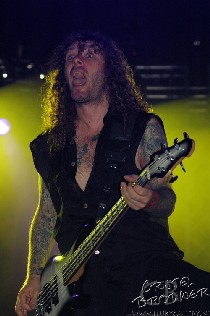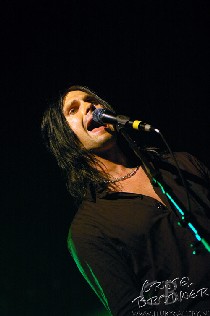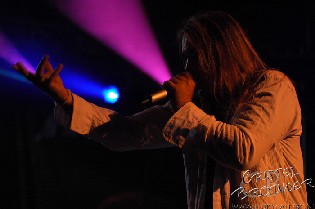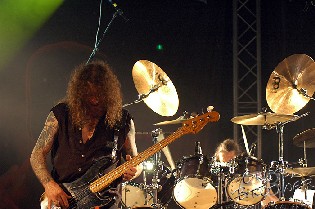 Motorhead


Headliner of this year, and several years before, Motorhead. Turns out Lemmy loves Frisian. He wants to come back any time he can, and he probably knows more about The Netherlands then your average Dutchie. They played for about 90 minutes, to close off this years edition of Waldrock.
Music
´We are Motorhead, and we make Rock ´n Roll´. Well that about wraps it up then. The edgy sides to the music are still there on the new songs from the album 'Kiss Of Death' which will be released on 29th of august. Yes they played the favorites, like 'Sacrefice' as well. By the time I heard ´Ace of Spades´, I was walking around with a big box of After Forever merchandise. No, the life of a journalist is not an easy one, we have to work hard and tow boxes around drunken people in the middle of the night! Back to the music. The sound was balanced quite well, and became louder and louder during the gig. Lemmy probably thought the campground is NOT a place to sleep. After every song he would ask the sound engineer to turn up the volume. I remember in 2002 we could hear them in the car while driving away, for a few kilometers.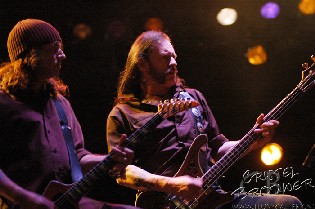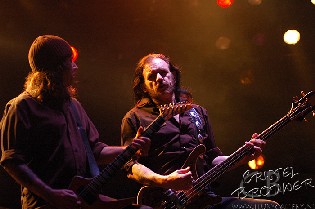 Performance
The performance was as it always is, a bit boring, you want to watch for a bit, to make sure they are still alive, and then you just have to dance, or lie down in the grass and listen. All on stage, all 3 of them have their own spot and hardly move, every now and again they will stick their hands up in the air, or both guitarists will walk to the front of the stage for a solo. Besides that it's all the same. Lightshows was done quite well, and matches the sound, main colors were white yellow and red. Very bright. They also played a song for the Ramones, how nice of them.
Rating
Music: 8
Performance: 6
Sound: 7
Light: 7
Total: 7 (7.1)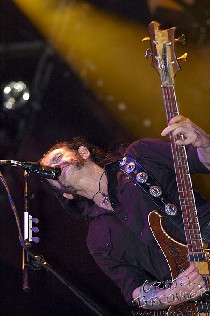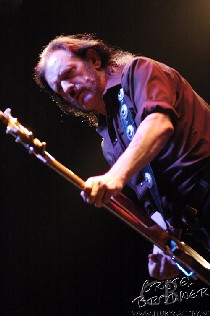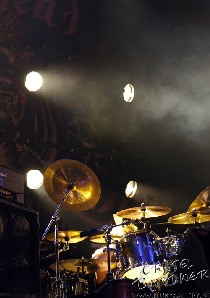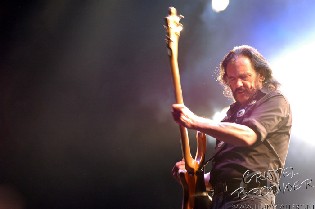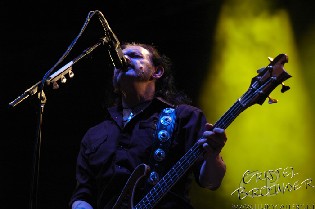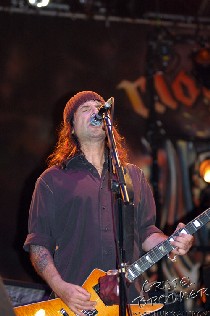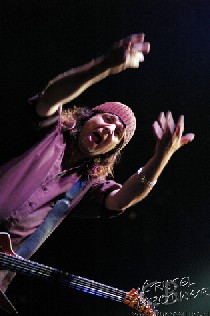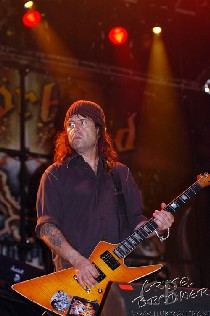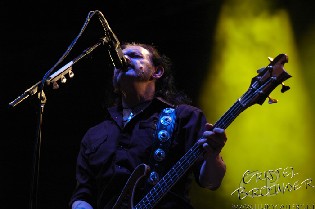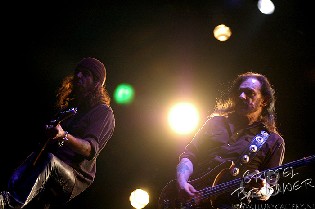 Waldrock was a success once again. After the last band, some people would hang around at the festival area, and some went back to the campground to drink some more beer, and party through the night. I went home, and I'm looking forward to next year.
More pictures can be found at
http://www.llukygallery.nl/
{jos_sb_discuss:18}