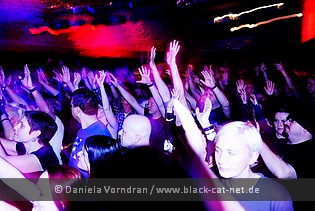 Moritzbastei, Leipzig, Germany
11th January 2013
Planet Myer Day 11: Jennifer Touch and Porkfour, Synnack, Asche, Necro Facility and DSTR

As every year in early January, Planet Myer Day called fans of electronic music from all corners of the world to Moritzbastei in Leipzig to spend a fun evening with good music. The line-up was led this year by Daniel Myer's project DSTR (previously DESTROID) performing together with Lennart Salomon of SONO. Besides DSTR, also Swedish NECRO FACILITY are surely a highlight of the evening. On a second floor, the FROST technoid event took place with i.e. Paul Kendall who lately was on the road together with RECOIL.



Jennifer Touch and Porkfour

Jennifer Touch is a very new project from Leipzig/ Germany, that Daniel Myer once saw live on stage and was impressed that much that he invited the band to play at his Planet Myer Day 11. And what shall I say, he was right inviting the duo presenting a nice minimal mix of 80s Pop / Wave and Electro. Jennifer Touch, that's a name sounding as you might have heard it a thousand times before. And a similar feeling you might have when listening to the music bearing the spirit of the 80s, just enhanced and being presented in high-definition but still having the charm of the good old analogue sounds. On stage, Jennifer was supported by Porkfour, aka Michael Kohl, being a digital sound designer an DJ. His work is very influenced by modular synthesizers with polyrhythmic structures and the love of extreme sound morphing. On stage, he was responsible for most of the musical part while Jennifer delivered vocals along with keyboard lines. The duo was a nice little surprise for me and even if the stage performance still was a bit introverted, the sounds really caught me. Surely a project to keep an eye on in future! https://www.facebook.com/touch.jennifer / http://www.soundcloud.com/jennifertouch / https://www.facebook.com/pages/PorkFour/205403502841510

Rating
Music: 8
Performance: 6
Sound: 8
Light: 7
Total: 7.5 / 10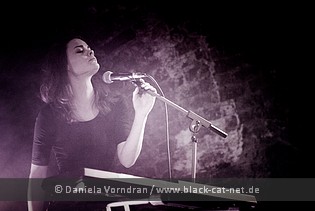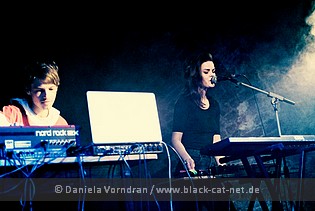 Synnack

SYNNACK, that's Clint Sand who combines experimental/ IDM/ Glitch electronic music with art installations & new media performance mediums. And so, his set at Planet Myer day was combined with arty videos being shown on a big screen, run by his female partner in crime Jennifer McClain, while Clint himself was of course responsible for the musical part of the show. He creates his sound using custom software environments, with analog modular synthesis to manipulate audio and video into sensory experiences ranging from visceral to cerebral. Most impressive within his live performance, if you can call a man standing behind his desk with technics, is the club-inspired mixing technique. Even though the show was enhanced by the artistic videos, all in all I always get a little bored by such electronic performances and prefer listening to such music at home.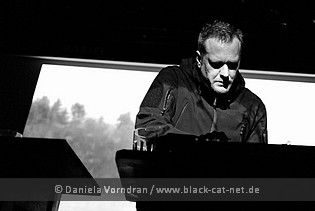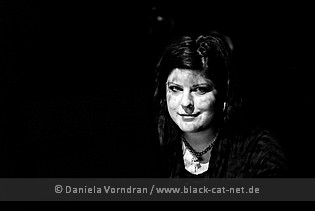 Towards the end of the set, Clint spotted Daniel Myer in the audience, pointing at him and saying "Ok, let's play an ARCHITECT song, yeah!", and following presenting the SYNNACK remix of ARCHITECT's 'So I went out'. http://www.synnack.com / https://www.facebook.com/synnack

Setlist
01. Heiroglyph (unreleased from v3)
02. Rize (from V2)
03. A Cain in the Brain (synnack remix - Architect cover)
04. Nauvoo (from V2)
05. Thorium (unreleased from v3)
06. Underneath Outside (from v2)
07. L3D (updated version of track from v2)
08. So I went out (synnack remix - Architect cover)

Rating
Music: 7
Performance: 6
Sound: 8
Light: 7
Total: 7 / 10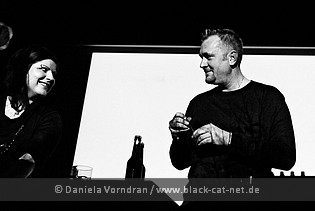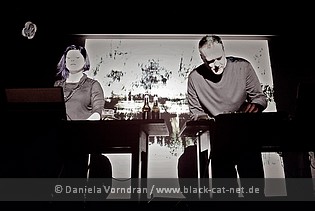 Asche

Andreas Schramm is initiator, founder and member of several industrial music bands and projects. With ASCHE, he realized a Rhythm 'n' Noise solo project. This German project which encompasses the spectrum of noise, power electronics, and droning ambient is signed to Germany's industrial and power noise record label, Ant-Zen. "Asche" is German for "ash", but the project's name is also derived from the artist's name since he is often credited as A. Schramm. Just like the project playing before, there was only a desk on stage and a big screen presenting various videos along with the songs. While previous SYNNACK was completely instrumental, ASCHE also was using some intense vocals. And unlike SYNNACK, Andreas was much more vivid on stage and the charismatic artist impressed especially with this strong mimicry.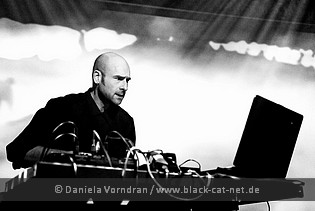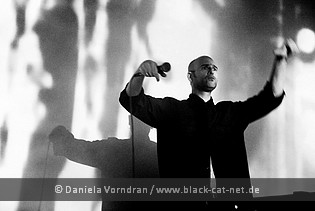 Also musically he convinced the audience with heavy distortions, dominant beats, pushing rhythms and bloodcurdling vocals while moving between industrial rage, complex power noise and calmer moments, anything with brilliant sound and perfectly supported by videos. I was totally convinced by his performance! https://www.facebook.com/pages/Asche/128072157280988

Setlist
01. Another prig
02. Something evil
03. Last words
04. Knee chopper
05. More than a dream
06. 100blumen rmx
07. Count, suckers (I &II)
---
08. Another monster

Rating
Music: 9
Performance: 8
Sound: 8
Light: 7
Total: 8 / 10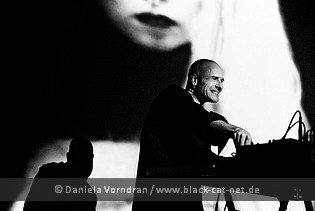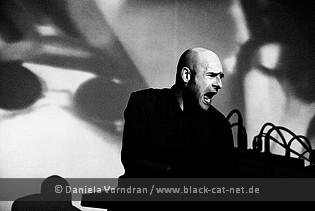 Necro Facility

With NECRO FACILITY, another electronic band followed on the main stage. The band gained a lot of attention with the extraordinary production skills they display on their debut 'The Black Paintings'. Anybody who loves dark Electro of a more complex nature in the vein of US- and Canadian heroes like MENTALLO & THE FIXER, FRONT LINE ASSEMBLY and especially SKINNY PUPPY will enjoy the well-crafted debut of this young Swedish duo, consisting of Oscar Holter and Henrik Bäckström. Their main influence is quite obviously SKINNY PUPPY but they are not just a copycat of the old legend from Vancouver. NECRO FACILITY's tracks are not instant hits but the complexity of their music makes them all the more interesting. Together with COVENANT, they released the EP 'Lightbringer' in October 2010. The latest album of the Swedes, 'Wintermute', was released in May 2011 via Progress Productions. NECRO FACILITY is Oscar Holter and Henrik Bäckström. http://necro.e-prom.se / www.myspace.com/necrofacility / https://www.facebook.com/NecroFacility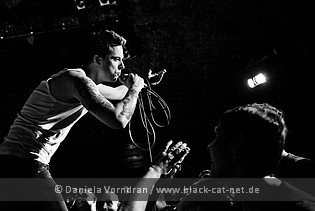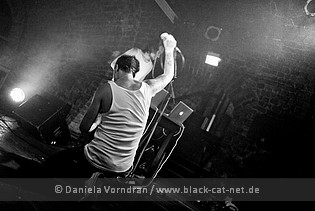 Music & Performance
When NECRO FACILITY entered the stage, I realized that both guys still looked the same as in 2007 when I saw them last time playing at M'er a Luna Festival. When you hear their music, you probably expect some black-clad gloomy guys but you get two youngsters, just a little drunk but still getting the party going. And they did with full force and a lot of power. Especially Henrik is constantly running across the stage, throwing and playing with the microphone stand, jumping onto the front speakers or even into the crowd. Oscar instead is mostly standing behind his keys, but in the middle of the set he even came to the front together with Henrik to fire the audience up who was willingly following, dancing and singing along. It is a rare thing seeing NECRO FACILITY in Germany and so, people were really excited about this concert and the hall was packed. There were no videos needed to support the show, it was just Henrik all eyes were on. Cool show, I enjoyed it!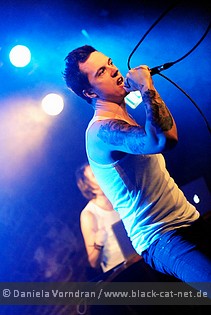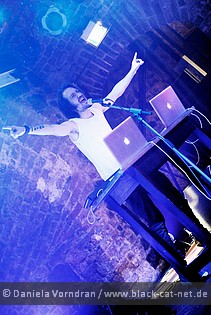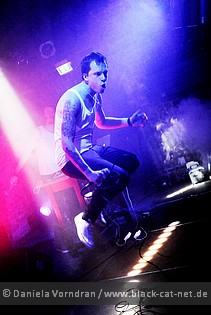 Setlist
01. You want it
02. Explode
03. Cuts
04. Ignite
05. Why the fuck (Demo, working name)
06. Do you feel the same
07. Fall apart
08. Nursed
09. All that you take
10. Supposed
11. Skrik

Rating
Music: 9
Performance: 8
Sound: 8
Light: 7
Total: 8 / 10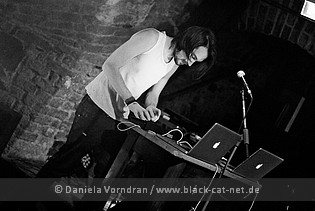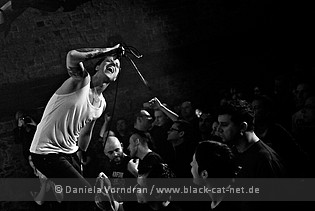 DSTR

The Leipzig based Electro act DSTR (formerly known as DESTROID and re-named end of last year) is Daniel Myer and Sebastian Ullmann, who started the project together with former member Rinaldo "Ribi" Bite in 2004. As you will know, Daniel Myer is also busy with lots of other projects like HAUJOBB, ARCHITECT, LIEBKNECHT, his new project, and until December 2012 also with COVENANT. Nevertheless he found enough time to produce three CDs and to play numerous shows with DSTR. DSTR is quite a mixed bag. Not in terms of quality, which is always top, but in terms of styles. The ingredients of DSTR range from hard-hitting EBM, especially on the first release, to Synth Pop and Future Pop to Dance and Techno with the odd ballad thrown in. Daniel Myer is of course first and foremost known for his involvement in HAUJOBB and COVENANT and a list of musical activities which seems almost endless. DSTR seems to be a nice playground for him and his partner in crime, Sebastian Ullmann, to toy around with ideas for sounds and songs. At least DSTR is Myer's only project for something rather unusual for him - cover versions! https://www.facebook.com/dstrmusic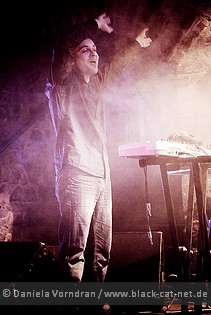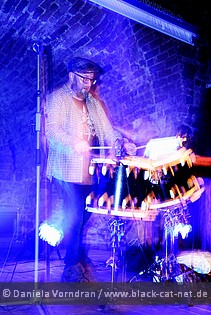 Music & Performance
It was nearly midnight when finally the Daniel Myer project of the evening, DSTR, entered the stage. For their show, Daniel and Sebastian had a prominent guest on stage: Lennart A. Solomon from SONO, who also wrote some of the new songs being presented during the show. One of the new songs, 'Almost There' was presented as very first song and well received by the audience. During the now following songs, Lennart did not only contribute guitar lines for new and old songs, but also some electronics every now and then. Constantly, Daniel was checking with him if anything is ok – you need to know they rehearsed for the first time together only the evening before the show – and anyone on stage was laughing a lot. It was pure fun! With i.e. 'Birth of Prey' pr 'Friend of Foe', several songs from the 'Loudspeaker' album followed. 'I Walk Slow', a song that Lennart used to call "Power Ballad" was presented as a remix version and was not that balladry anymore. Then it was time for another new song, as Daniel explained it was written by Lennart. Daniel had printed the lyrics but the print was so small, he explained, that he has to hold it close to his eyes… because he is old. Sure anyone laughed about it. Anyway, the song was really promising and some might know already the demo version of 'Making That Sound' being available on the band's YouTube profile.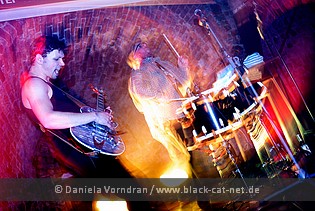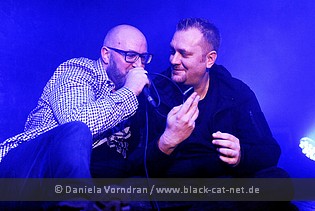 With 'Silent World', the show was coming closer to the and when Daniel suddenly stopped the backing tape to check both front speakers. Seems one of them was not working. He commented: " We are a stereo band!" Asking the audience if they should go on playing anyway, people in the hall all agreed loudly. So, they moved on with the songs starting with the break. When the song came to the end, Daniel again turned off all electronic sounds so you could only hear Lennart playing the guitar and people clapping along and a few seconds later, Daniel just sung the lines "There is always something missing…" from SONO to honour the artist currently playing. With another yet unreleased song, 'Nothing to Say', the main set ended and the band left stage. The encore bloc started with a cover version of SISTER OF MERCY's 'Lucretia My Reflection' and there's a funny story about this song to tell. When DSRT played in Montreal, SYNNAK (alias Clint) was playing with the band. And he hates DSTR's cover version of this certain THE SISTERS song. So, he denied playing it and just was sitting down at the stage. Today, Chris was in the audience when Daniel told this story and as he know very well how to sit on stage, he was invited to join DSTR just to do this: sit on stage during this song.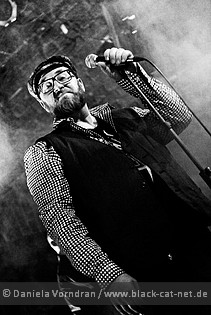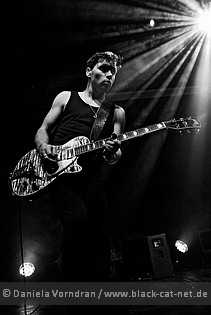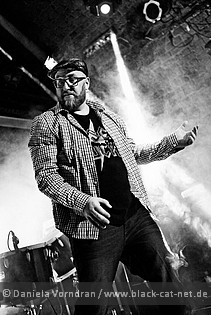 Sebi's time finally came for the very last song, 'Judgement Throne' from the 'Future Prophecies' album. For this "hit", he had to wave arms and so did the audience. What a great final of the evening!

Setlist
01. Almost There
02. Bird of Prey
03. Friend or Foe (The Betrayal)
04. Run and Hide
05. Mourn
06. I Walk Slow (Remix)
07. Making That Sound
08. Leaving Ground
09. Into the Deepest Dark (Remix)
10. Silent World
11. Nothing to say
---
12. Lucretia My Reflection (The Sisters of Mercy cover)
13. Judgement Throne

Rating
Music: 9
Performance: 10
Sound: 8
Light: 8
Total: 9.5 / 10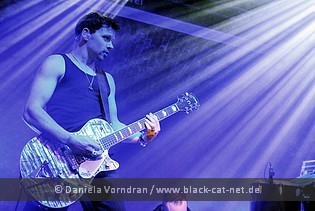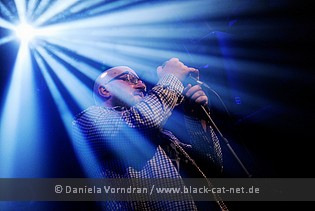 After DSTR finished the set, the evening was not over yet. There was still the FROST floor with high-class technoid music presented by Paul Kendall (Recoil/Mute), Cute Heels (Black Leather Rec), DSX (Basic Unit Productions/Haujobb) live performance with Martin Sax of EkoBrottsMyndigheten & T.W.A.T., Santini (Senior Bass Inc.) and Square 7(Senior Bass Inc).

All pictures by Daniela Vorndran (http://www.vorndranphotography.com / http://www.black-cat-net.de/ / http://www.myspace.com/vorndranphotography / http://www.facebook.com/blackcatnet)