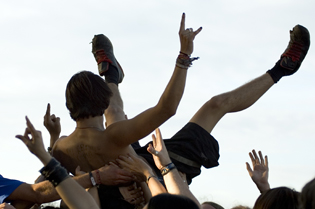 Summer Breeze, Dinkelsbühl, Germany
17th – 19th August 2006
Summer Breeze Day 2: Apostasy, Excrementory Grindfuckers, Leng Tch'e, The Ocean, Trail of Tears, Potentia Animi, Rebellion, One Man Army and the undead Quartet, Exilia, Turisas, Amorphis, Heaven Shall Burn, Liv Kristine, Lacrimosa, Deathstars

The second day began with rain – not again! Fortunately the showers were still empty, clean and warm. So I was prepared for a day filled with metal music. The line-up was very straight and there were only 5 minutes between the concerts, so I needed a coffee first.



Apostasy

The first ideas to form a band were set in 2000 in Sweden, but just in 2002 Apostasy recorded their first demo. They got a record deal with Black Mark in 2003 and released their debut album "Cell 666". Their second album "Devilution" was recorded in 2005. http://www.apostasy666.tk/

Music
They call their style "Dark-Symphonic-Death-Metal" and that's maybe the perfect name for the mixture. It is Death Metal with the typical vocals and guitars, but there are also some keyboard sounds which add the symphonic-parts.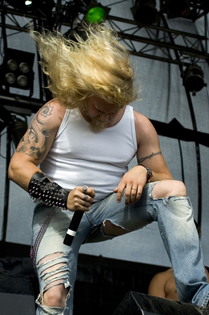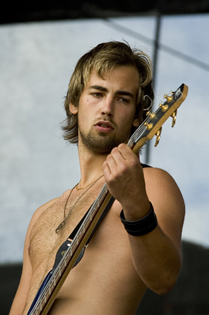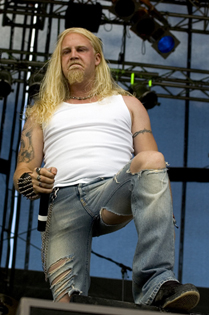 Performance
They were the first band on Saturday and singer Frederic told us of his fear that there will be nobody in front of the stage. He was wrong. Although it was a little bit rainy, cold and just 11 in the morning, there were not only some fans from Sweden. The band played only 25 minutes, but they gave everything. Frederic sang and shouted and growled. They left a good impression.

Setlist
01. Beneath The Lies of Prophecy
02. Malignant
03. Sulphur Injection
04. Virus
05. Suicide Breeze

Rating
Music 5
Performance 5
Light –
Sound 6
Total 5 (5.2)


Excrementory Grindfuckers

Unfortunately I can't translate the German band info here. It would loose the humour of it, but let me say: This is not a band – it's a project. They are on their way to overturn the German music business. Watch out. They found each other in 2001 and recorded just for fun the album "Guts Gore Grind". Their second release "Fertigmachen:Szeneputzen" came out in 2004 and they went on tour with Die Apokalyptischen Reiter. In 2005 and 2006 the band line up changed and the former guitarist Rufus became the singer. http://www.excrementory.de/

Music
What's that? They are making Grindcore by using every well-known pop- and radio hit. Every song is so short and fast, I just had no time to guess what the original song would be. It's strange, but very funny. The funniest one is surely their version of "I've been looking for freedom" (David Hasselhoff). Sometimes I thought they were just making the lyrics while singing the songs.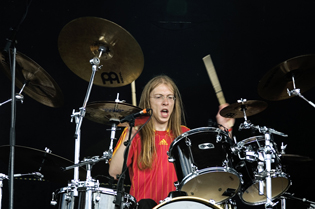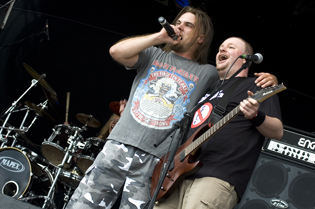 Performance
Matching to their strange music they are just making fun on stage. There is no special outfit like TURISAS or other ones. They are kidding the whole time and the audience liked it. Even it was really early there were many jumpers and head-bangers in the crowd.

Rating
Music 4
Performance 7
Light –
Sound 7
Total 6 (5.6)


Leng Tch'e

"LENG TCH'E aka death by a thousand cuts, is an ancient Chinese torture ritual where the victim has been doped up and is being cut into bits. The victim doesn't feel a thing of this procedure until it is far too late and death is unavoidable." (band-info) This Belgian band was formed in 2001. They call their style "razorgrind", which is a mixture of Grindcore, stoner rock and hardcore. After some changes, the line-up is now set as Sven (drums), Boris (vocals), Nikki G (guitars), The Spleenventer (guitars) and Nicolas (bass). http://lengtche.deathmetal.be/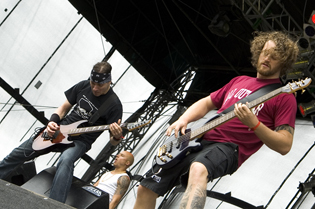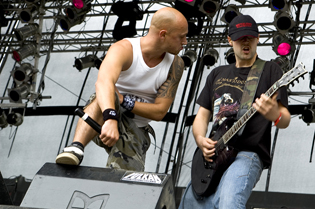 Music
Aha – that's Grindcore. It's loud, hard and fast. The boys knew their instruments and so this was nevertheless melodic.

Performance
They didn't fit together optical, but this did not matter. Singer Boris wore shorts, a white t-shirt and a golden chain. He made some funny faces and animated the audience to jump and bang. The crowed seemed to like them.

Rating
Music 4
Performance 5
Light –
Sound 7
Total 5 (4.9)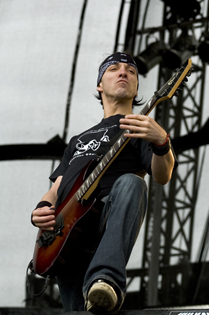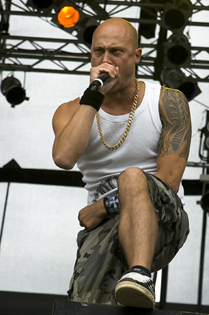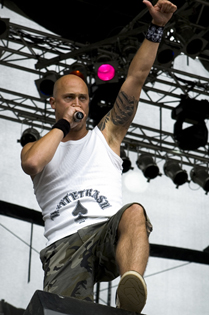 The Ocean

The early beginnings were in 2000 when guitarist and songwriter Robin Staps searched for other musicians. He wanted to create music which is orchestral and heavy. They got a record deal in 2003 and released their first album "Fogdiver". They changed to Metal Blade Records in 2005. Their last album "Aeolian" came out in 2005. http://www.theoceancollective.com/

Music
They were the first Metal band this day. They worked with two drums and so their music was very energetic. Normally they work with three guitarists, here they played only with two, but this was no problem.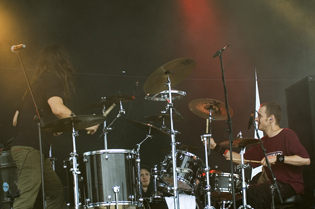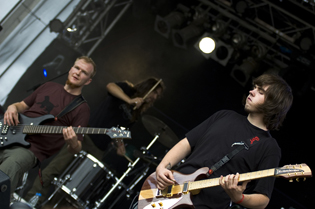 Performance
The very tattooed singer animated the audience and the whole band was making pressure. The audience liked this concert a lot.

Rating
Music 4
Performance 5
Light –
Sound 7
Total 5 (4.9)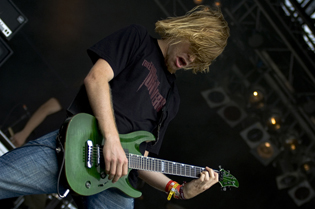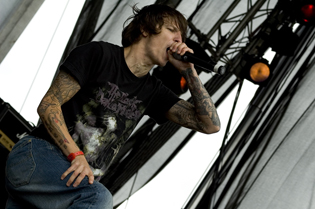 Trail of Tears

The Norwegian band was originally formed in 1994 as NATT. They changed their name in 1997. First, their music was based on the opposite of soprano vocals and death grunts. Later they changed the soprano sounds into tenor vocals. Their last female singer left the band in 2003 and Kjetil Nordhus joined the band as a male vocalist. Together with Ronny Thorsen they now have two male singers. Since their demo, they released four fulltime albums. http://www.trailoftears.no/

Music
I don't know them with a female singer, but there was enough diversion with two male singers. Kjetil Nordhus added the melodic voices while Ronny Thorsen did the grunts. Together with some very well arranged Synth-samples this was a good mixture.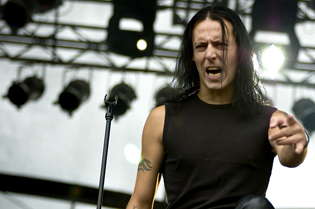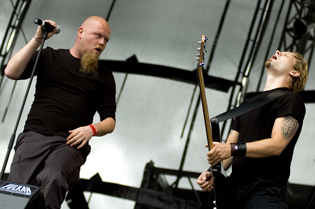 Performance
The teamwork of the two singers matched perfectly and the other band members supported them with head banging and making faces. Although it got really cold during the concert and the weather was changing, the audience stayed and partied.

Setlist
01. Ecstatic
02. A Fate Sealed In Red
03. Splendid Coma Visions
04. Watch You Fall
05. Carrier of The Scars of Life
06. Cold Hand of Retribution

Rating
Music 5
Performance 6
Light –
Sound 7
Total 6 (5.7)


Potentia Animi

The former drummer of The Inchtaboktables formed a new band: Potentia Animi. All band members appear as unholy monks and the current line-up is Brother Liebe (drums - alias Titus Jany), Brother Nachtfraß (cittern, guitar - alias Mario Gericke), Brother Schaft (bagpipes, shawm - alias Phaedro T. Fedrowitz), Brother Schlaf (bass - alias Karsten Grabo) and Brother Schnabausus Rex (violin - alias Hansi Noak). They released two albums yet. http://www.potentia-animi.de/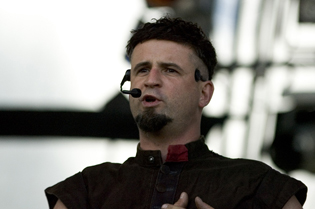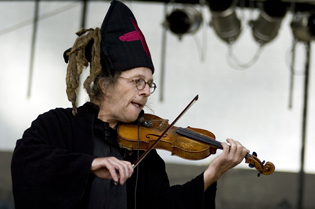 Music
Their strange mixture of rock, medieval and sacred sounds is always interesting. They announced every song with a little anecdote of their monastery life and their way to forgiveness. This was very funny.

Performance
They entered the stage with masks. That looked really strange, but they threw them away for the first regular song. They supported the whole concert with sacred prayers, stories and a strong "Halleluja" behind every song. The audience was impressed and they soon added the "Halleluja".

Rating
Music 5
Performance 8
Light –
Sound 7
Total 6 (6.4)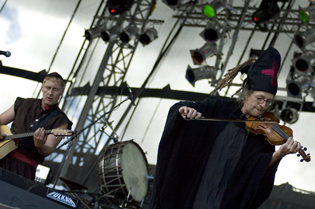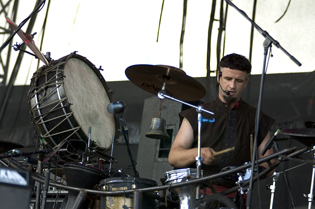 Rebellion

The band was founded in 2002 by Uwe Lulis (guitar) and Tommy Göttlich (bass). They were former members of Grave Digger, but they left them because of some discussions about the musical future of the band. Their first album - "A tragedy in steel" - based on Shakespeare's Hamlet. Their last album - "Sagas of Iceland" - (2005) shall be the beginning of a trilogy. http://www.rebellion.st/

Music
They told a story of Vikings and the north. It was melodic and catchy. Good riffs and the voice of Michael Seifert completed the good concert.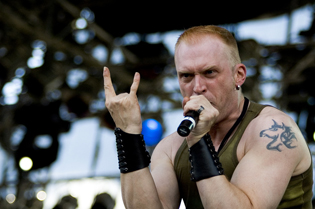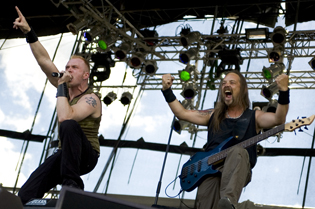 Performance
They were the only band with a female musician except LIV KRISTINE or LACRIMOSA. They all did a good show, made faces and were banging their heads. It was shown that some of them are really a long time in the metal scene, but this all created a good conceived concert.

Rating
Music 5
Performance 7
Light –
Sound 7
Total 6 (6.1)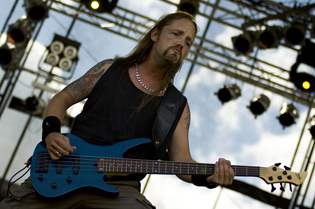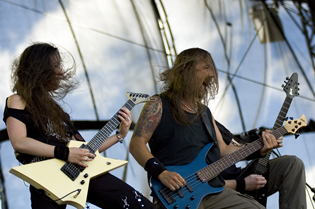 One Man Army and the undead Quartet

After being singer of The Crown, Johan Lindstrand founded a new band in 2004. They got a record deal by Nuclear Blast and released their debut album "21 Century Killing Machine" in 2006. http://www.onemanarmy.tv/

Music
Nearly all musicians mark Metallica's "Master of Puppets" as their favourite album and this is heard. They are faster and more angry than Metallica, but still on their direction. All members have long-standing experiences in other bands and so they knew their instruments very well.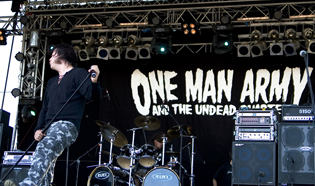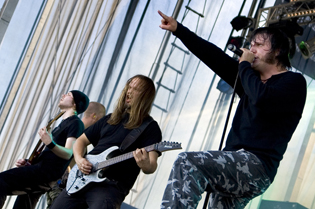 Performance
Although singer Johan is an impressive appearance, the show is a typical metal show – head banging and bad looking, simple and working.

Rating
Music 4
Performance 4
Light –
Sound 6
Total 4 (4.4)


Exilia

The Italian band was formed in 1998. With the single "Underdog" they made their way out of the underground into major play lists and music television. Their last album "Nobody excluded" came out in 2006. After a changing at the drums, the line up is now set with Masha (vocals), Elio Alien (guitar), Random (bass) and Ale (drums). http://www.exilia.de/

Music
It doesn't matter whether this is Nu-metal, Crossover or Alternative. It is a matching mixture of so many styles. Their powerful but always catchy songs are working. They didn't concentrate on their actual album. They played songs of every release. The crowd was getting nuts and even Brother Schnabausus Rex (Potentia Animi) was seen in the audience.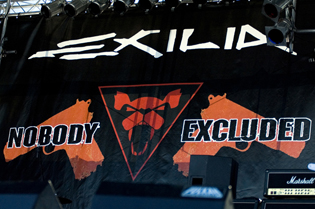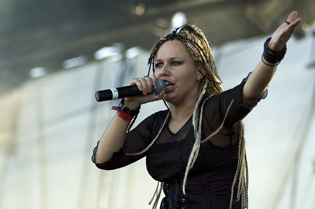 Performance
Masha is truly the most impressive female singer on German stages. Even at a metal festival she beat the male singers. She jumped and fought through every song. For the last song "Kill me" (new single) she entered the stage in an orange suit, which is used for prisoners. So she wanted to denounce the situation of the prisoners in Guantanamo.

Setlist
01. Nobody Excluded
02. Underdog
03. Destroy My Eyes
04. In A Coma
05. Day In Hell
06. Coincidence
07. Stop Playing God
08. Where I Broke
09. Kill Me

Rating
Music 7
Performance 9
Light –
Sound 8
Total 8 (7.9)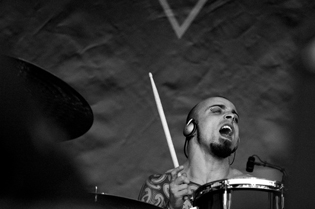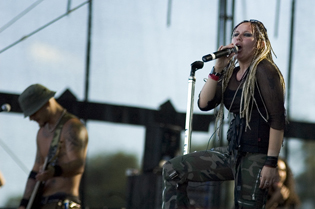 Turisas

The Finnish band was formed in 1997 and is named after a god of war. They recorded their first demo in 2000 and released their official debut album "Battle Metal" in 2004. Actually they are going on tour with LORDI. http://www.turisas.com/
 
Music
They are playing a strange mixture of Viking metal, humppa (Finnish traditionals), folk music and power metal. Their violin player is impressive. Although he seemed to be very young he had a very deep voice. They also used keyboards and an accordion.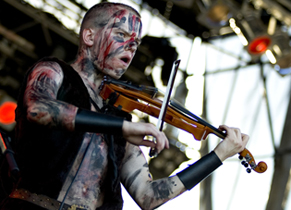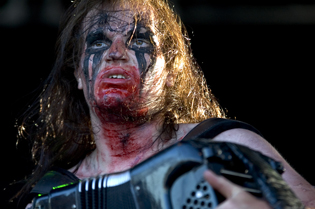 Performance
That's a strange band again. They all wore some furs and were covered with red and other paints. Some of the musicians were also barefoot and they made a really strange looking show.

Setlist
01. Victoriae & Triumphi Dominus (Intro)
02. As Torches Rise
03. The Land of Hope And Glory
04. Sahti-Waari
05. One More
06. Violin Solo
07. Rex Regi Rebellis
08. Battle Metal

Rating
Music 5
Performance 8
Light –
Sound 7
Total 6 (6.4)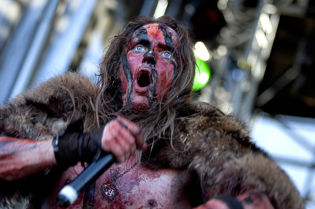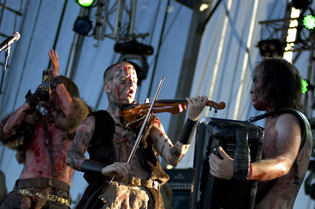 Amorphis

The Finnish band was formed in 1991. They changed and developed their style during the last years. They released seven albums and even some singles. The last album "Eclipse" came out in 2006. http://www.kingfooentertainment.fi/subsites/amorphis/main.php

Music
They got criticised in the past when they played some more folk sounds. They found their way back to the metal basics and are playing now with all elements. The new singer Tomi Joutsen did a very good job. He sang the fast and the slowly parts very well. I can't understand why he shouts so much although he is a really good singer.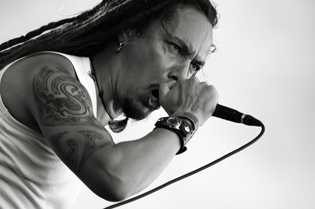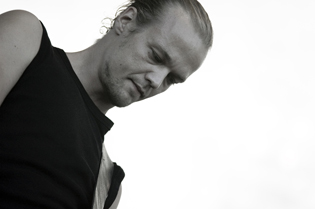 Performance

There were many fans of the band who did a very powerful show. They swept away the crowd and Tomi Joutsen convinced everybody. Even after ten metal bands they surprised with other sounds and melodies. It was a pleasure to watch them.
Rating

Music 7
Performance 7
Light –
Sound 8
Total 7 (7.2)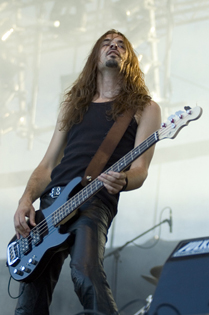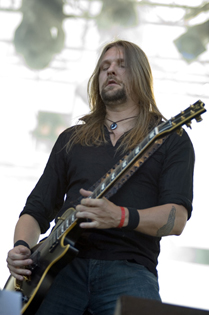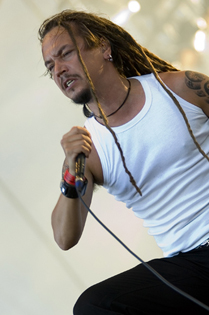 Heaven Shall Burn
The band was formed in 1996 in Germany. They actually released their last album "Deaf to our prayers". Their lyrics are based on their fight for anti-racism and against social injustice. The current line-up is Matthias Voigt (drums), Maik Weichert (guitar), Alexander Dietz (guitar), Eric Bischoff (bass) and Marcus Bischoff (vocals).
http://www.heavenshallburn.com/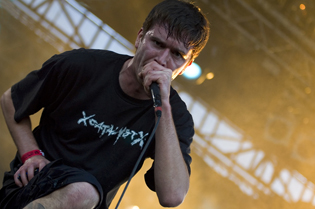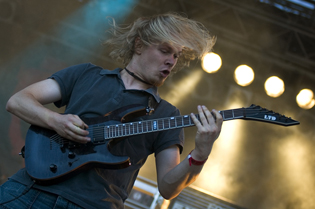 Music

That was metal in maybe the heaviest way. They mixed heavy, sawing guitars, fast drums and a very angry singing to hard and energetic songs.
Performance

Their audience was jumping, banging and there were lots of crowd surfers. The highlight for the band and the fans was the new song "Counterweigth".
Rating

Music 5
Performance 6
Light –
Sound 7
Total 6 (5.7)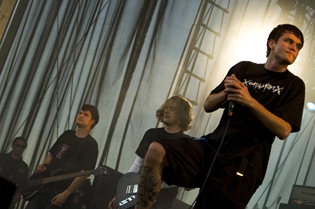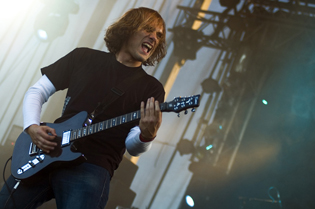 Liv Kristine
The graceful woman from Norway is married to the singer and producer Alexander Krull (Atrocity). After getting fired from Theatre of Tragedy she founded Leaves´ Eyes together with her husband. Even during her work with Theatre of Tragedy she made a solo album "Deus ex machine" on which she worked with Nick Holmes (Paradise Lost). She released a new album "Enter my religion" in 2006.
http://www.livkristine.com/


Music

It was the complete opposite to all of the other bands at this day. With her pop and rock influenced songs she calmed down the crowd. Even some of the hardest metal heads had fun with her music.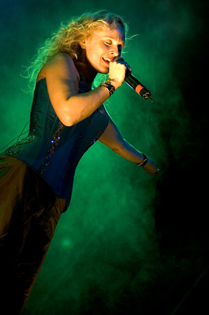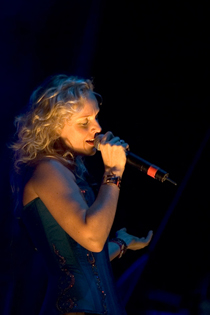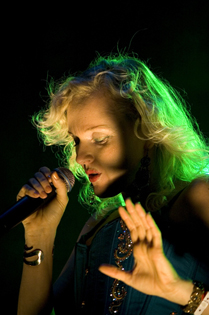 Performance

There was a little orchestra especially for the audition at the festival. Together with her lovely outfit and the good mixed light-show she marked a special experience at this festival. It was different from all the other bands this weekend, but in direct comparison with the hard and fast metal stuff kind of relaxing.
Rating

Music 6
Performance 7
Light 7
Sound 8
Total 7 (6.8)
Lacrimosa
Since 1990, Tilo Wolff is the head of Lacrimosa. In 1994, Anne Nurmi joined the band. They released nine fulltime albums and took part of many compilations. The band is based in Switzerland although Tilo Wolff is German an Anne Nurmi is Finnish.
http://www.lacrimosa.com/


Music

Even though the band is known for their symphonic, emotional and pompous songs they concentrated on the harder and more metal matching songs. Tilo made his typical show and did a good job. Only Anne was as usual not that good singing her song "Only pain hurts".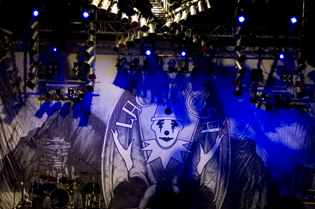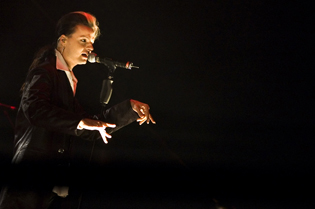 Performance

I've been sure this was going to be a disaster - Lacrimosa playing at a metal festival. It wasn't as bad as I had expected though. There were some bad reactions in the audience, but mostly all were watching the concert. There were many guests with one day tickets just for this concert. Especially the encore "Copycat" matched to the metal crowd.
Setlist

01. Ich bin der brennende Komet
02. Letzte Ausfahrt: Leben
03. Flamme im Wind
04. Alles Lüge
05. Not Every Pain Hurts
06. Kelch der Liebe
07. Lichtgestalt
08. Siehst Du mich im Licht
09. Vermächtnis der Sonne
10. Stolzes Herz
11. Copycat
Rating

Music 6
Performance 6
Light 7
Sound 8
Total 6 (6.4)
Deathstars
The Swedish band was formed in 2001. They released two albums and the current line up is Andreas "Whiplasher Bernadotte" Bergh (vocals), Emil "Nightmare Industries" Nödtveidt (guitars, keyboards), Jonas "Skinny" Kangur (bass, backing vocals), Ole "Bone W Machine" Öhman (drums) and Eric "Cat" (live & session guitars).
http://www.deathstars.net/


Music

This was the metal style with mostly pop influences. It was catchy, melodic, but still loud, fast and angry. Especially the bass player Skinner did a very good job. Together with the power and stage appearance of singer Whiplasher he attracted everyone's attention.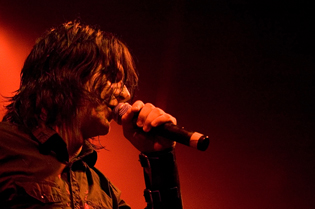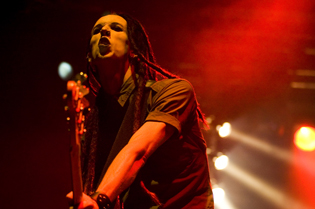 Performance

They did the best show of the day and they got the most reaction of the audience. Not only female visitors went crazy. Their big hit "Blitzkrieg Boom" was an amazing success. At this time only a few knew already about the suicide of Jon Nödtveidt (Dissection), the brother of the guitarist.
Rating

Music 7
Performance 8
Light 6
Sound 8
{jos_sb_discuss:18}