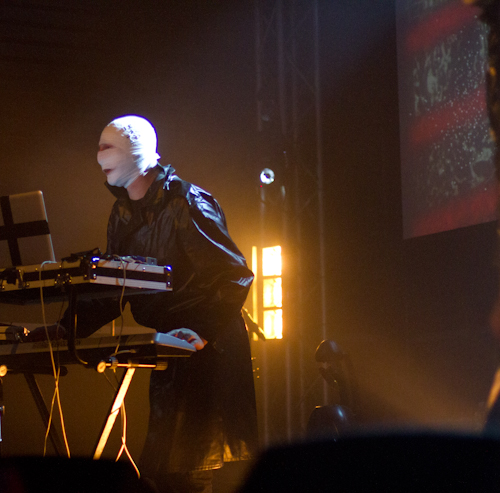 K17, Berlin, Germany
1st to 3rd March 2013
Out of Line Weekender Day 2: Dear Strange, KieW, Rummelsnuff, The Klinik, Kirlian Camera

It's the first weekend in March and the second Out of Line Weekender was well-prepared to welcome guest from near and far. Berlin's K17 was the festival area for so many Out of Line bands this year. Three days of electronic music from soft to hard were organized to surprise the audience with really different bands.


Dear Strange
The duo DEAR STRANGE who has not published any album yet was the opener for the second day of Out of Line weekender. Interesting synthesizer sounds and a great singing voice make this Berlin duo really special. If you like electronic beats, a soft singing voice and melodic synthesizers this band could be a tip for you. The audience liked the band though I had the impression no one had heard of them till that evening. // www.soundcloud.com/dearstrange / www.facebook.com/DearStrange // Setlist: 01. Hysteria / 02. Dragonfly / 03. Between the sunset / 04. The Unicorn / 05. sweeter Than This / 06. Lonely Heroes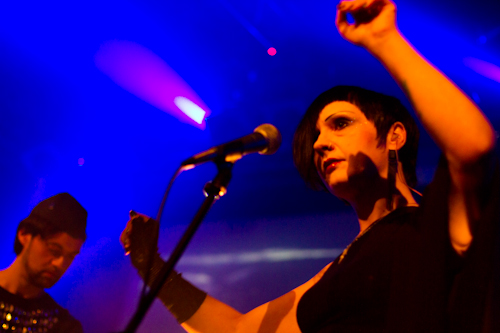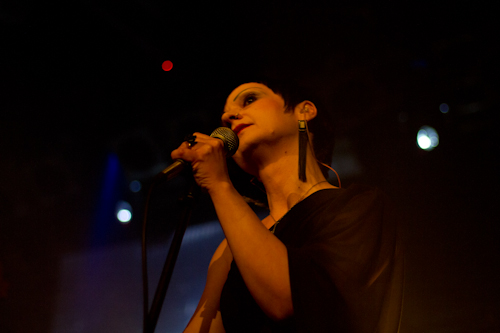 KieW
Since 1990 KIEW is producing electronic music from Lüneburg, lower Saxony. Most people interested in electronic music know this band really well but confirm that they have never seen this band live. This changed at Out of Line Weekender. Consisting of four member the band really got the party started with songs like 'dcdisk' or the fan fave 'Feierabend in Kiew'. People really enjoyed the show and were pretty thankful to see these guys live. // www.facebook.com/kiewofficial / www.kiew.org // Setlist: 01. Melancholie / 02. Graograman / 03. Käferfrühstück / 04. Therapiegespräch / 05. Zimmer 72 / 06. Dcdisk / 07. Feierabend in Kiew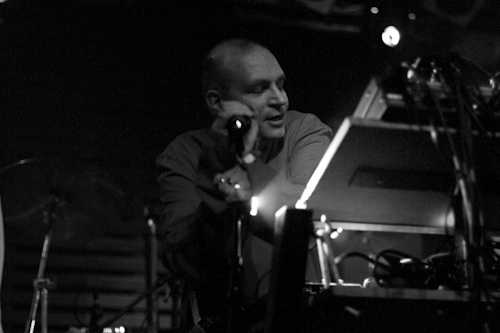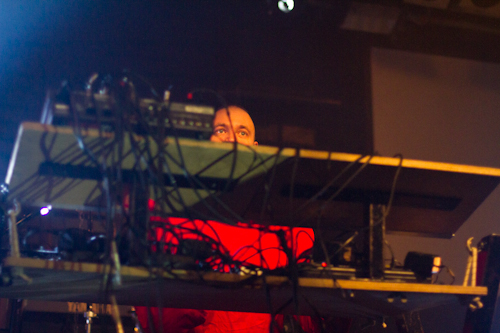 Rummelsnuff
Berlin-based Roger Baptist is RUMMELSNUFF, a combination of body building aesthetics and maritime romanticism, he always creates a strange, but really fascinating atmosphere on stage. And so he did at K17. Being celebrated on the stage, Roger Baptist aka Käptn Rummelsnuff and his dear Häusi played a show consisting of funny, thoughtful and heart-entering songs with maritime electronic touch. After being totally electrified by KIEW the audience really liked the slower but pub-like atmosphere the band created. A lot of people began to sway to the music when the band sang their well-known song 'Der Heizer', got lost in the sounds when 'Brüder' was played and sang along with the likable RUMMELSNUFF and Häusi. // www.rummelsnuff.com / www.facebook.com/Rummelsnuff // Setlist: 01.Stalinallee / 02. Der Heizer / 03.Donnerbolzen / 04. Trägt die Woge dein Boot / 05. Pumper / 06. Mongoloid / 07.Machen wir den Tanz / 08. Vollnarkose / 09. Salzig schmeckt der Wind / 10. Brüder / 11. Halt durch!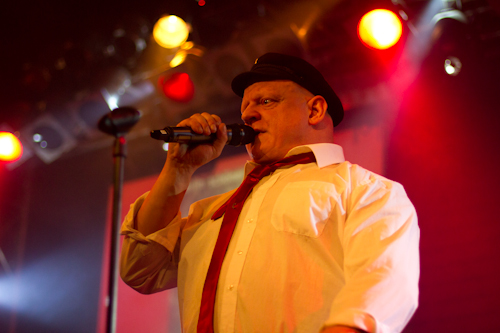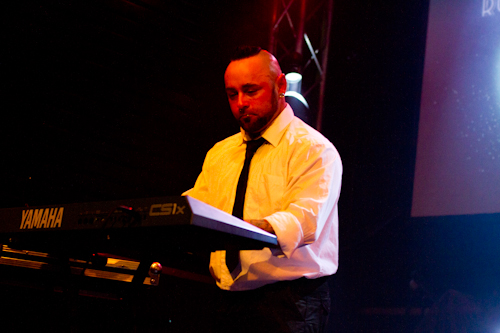 The Klinik
A legendary band returned to the stage with songs of their new album. THE KLINIK, formed nearly 30 years ago by Marc Verhaeghen and Dirk Ivens, entertained the audience at K17 with new songs like 'Nothing you can do' and fascinated with older songs such as 'Black Leather' or the classic 'Moving Hands'. Being supported by their new Member Peter Mastbooms aka Borg and the typical KLINIK sound with harsh sequencers and rhythms, the band created a show for their fans and definitely won new ones by being innovative, rough and typically KLINIK. // www.facebook.com/TheKlinikDiveSonarAbsoluteBodyControl // Setlist: 01. Nothing you can do / 02. Bite now Bite / 03. Hours and Hours / 04. Black Leather / 05. Mindswitch / 06. In your Room / 07. Pain and Pleasure / 08. Obsession / 09. Stay / 10. Moving Hands / 11. Momories / 12. Those / 13. Braindamage / 14. Go Back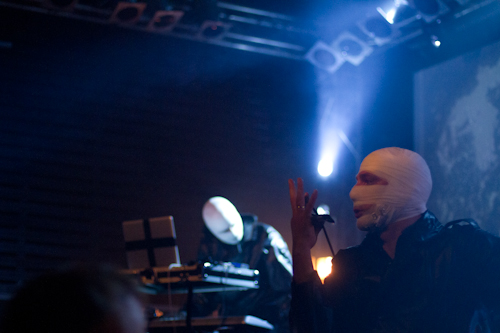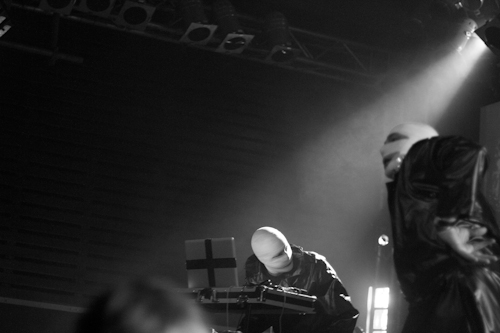 Kirlian Camera

Italian band KIRLIAN CAMERA, founded by Angelo Bergamini as far back as 1980, is one of the most controversial bands of the dark scene. In the past they were often accused of promoting right-wing aesthetics and ideologies. Which is, frankly, utter nonsense. KIRLIAN CAMERA combine danceable and tranquil moments, poppy and experimental tracks. The music sounds very spacious and clear and contains a great deal of moody electronics with a very clear sound. Experimental structures, yet pleasant to listen to. Darkness is a very prominent feature in the atmosphere of their sound, in fact I would regard KIRLIAN CAMERA as one of the most apocalyptical and gloomy acts on the scene. But it's no hollow attitude; all this darkness inherits a certain kind of graveness and seriousness. Lyrically they also touch the darker sides of existence most of the time, and they obviously have a certain interest in apocalyptic visions, paranormal phenomena and psychology. Over the last few years, KIRLIAN CAMERA's sound has become somewhat lighter and dancier, perhaps as a result of Elena Fossi's work with all-female Pop project SPECTRA*PARIS.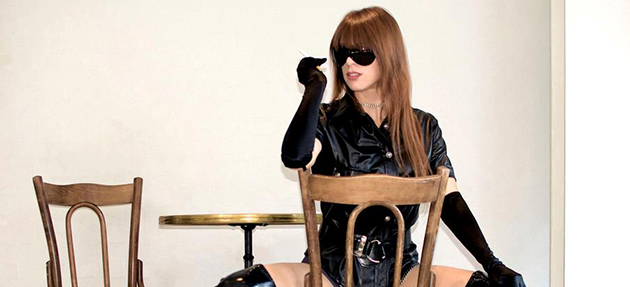 KIRLIAN CAMERA surely creates at every show their very own sound world having music from minimalistic beats to acoustic Neo Folk ballads to Dance songs with the sweet voice of Elena Fossi ( Lead singer of Spectra*PARIS). Sure that evening the band was the very highlight, not only because of being headliner but also because of Elena's absolutely stunning look. Leading the audience from minimal sounding music to really danceable songs, the people there were fascinated by the gorgeous looking Elena. With her powerful voice and the mixture of dark songs and danceable music the band gave the second festival day a worthy ending. // http://www.kirliancamera.com / http://www.myspace.com/kirliancamerafront / https://www.facebook.com/kirlian.camera //

Line-up
ELENA ALICE FOSSI : lead vocals
KYOO NAM ROSSI : electric and acoustic guitar
ANDREA ARTUSI : bass guitar
ANGELO BERGAMINI : synth
PETER MASTBOOMS: sound

Setlist
01. INTRO: NEITHER HONOUR NOR GLORY (Fossi) 3:07
02. WINGED CHILD... (Fossi-Bergamini) 5:03
المادة السوداء03. (MATERIA OSCURA) (Bergamini-Fossi) 4:26 * new song taken from "Black Summer Choirs"
04. NIGHTGLORY (Bergamini-Fossi) 3:27
05. IMMORTAL (Bergamini-Fossi) 5:47
06. FAREWELL ROAD – acoustic version (Bergamini) * new song taken from "Black Summer Choirs"
07. ASCENSION (Bergamini) 6:...
08. K-PAX (Bergamini-Fossi) 4:15
09. COMFORTABLY NUMB (Gilmour-Waters) 6:31
10. SIZE ZERO (Fossi-Love) 5:43 *SPECTRA*paris song
11. BLUE ROOM (Bergamini) 5:00
12. HELDENPLATZ (Bergamini) 4:35
13. I'M NOT SORRY (Bergamini- Fossi) 5:44


Full Gallery


Warning: No images in specified directory. Please check the directory!

Debug: specified directory - https://www.reflectionsofdarkness.com/images/concert/2013/march/ool20130302
All pictures by Simon Hönscheid except Kirlian Camera (promo photo)