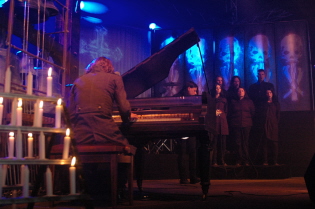 Gothic Festival, Waregem, Belgium
19th of Augustus 2006
Lacrimosa, Haggard, Garden of Delight, Rosa Crux
With the occasional rain and drought the weather was not that bad today. Luckily it wasn't because you had to come out for air in between bands. The temperature was rising and rising all day long. Outside there were some food stands and inside you could get drinks, though many walked to the near by super market as well. It was hard to park the car, there was a parking lot but it was closed! During the day the venue got busier, some even came only to see Lacrimosa.

Rosa Crux

Rosa Crux was the opening act of the day, which many did not know. If so I think there would have been more people to see them, and some have just missed a very pleasant surprise. While they old gym that was the venue for the evening filled up Rosa Crux finished setting their stage.
Music
The sound check was obliviously not extensive enough because the volumes of the different elements of the music differed in volume during each song, there was no balance in the sound. Sometimes things were hardly audible, other times they were too loud. Besides that Rosa Crux played a great set. Sung full of passion, supported by the choir which at times provides a more musical than vocal sound. The only thing missing was the double bass played by Armelle Payen but later that evening I heard their ways have parted. Rosa Crux will always keep amazing me I think, this music is something else.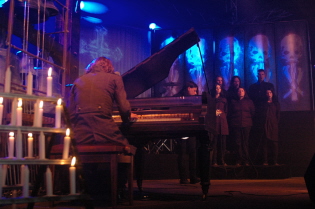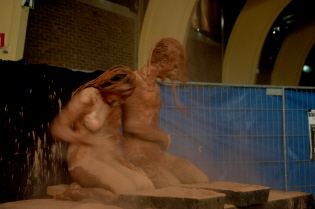 Performance
Rosa Crux had some special acts for us today. They started with four people waving flags during 'Invocation'. Three of them were on stage and one was on a small stage at the side of the venue which they build themselves. They even climbed up on the roof themselves to darken the venue so the show would look better during these daylight hours. When Eli-Elo started I knew it was time for the 'Dance de la terre', the dance of the earth. Two dancers took place on the small side stage, two others were on top of a cart driven by two man… in the audience. You had to run not to be hit, excitement buzzed through the venue. The light was well done, a touch of blue to the normally white light added darkness and mystique to the show. A little less strobes would have been nice and at times there was too much smoke, though it could also make the stage look magnificent.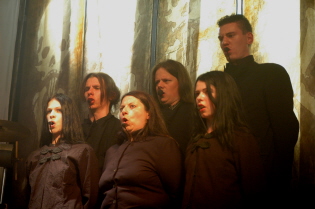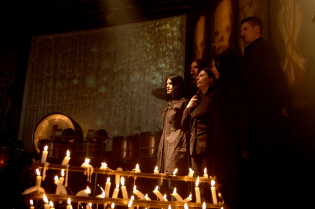 Set list
01. Invocation
02. Abbrasax
03. In Tenebris
04. Terribilis
05. Hel Hel
06. Tonitrvi
07. Aglon
08. Venite
09. Omnes
10. Qvi Non
11. Vil
12. Eli-Elo
13. Incendere
Rating

Music: 9
Performance: 9
Light: 8
Sound: 5
Total: 8 (8,3)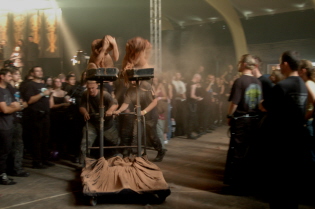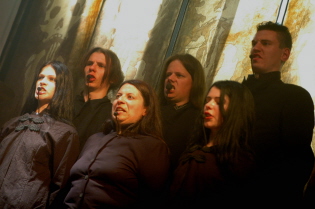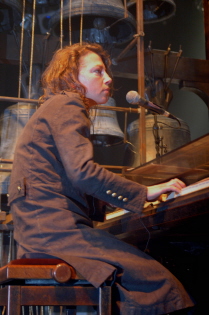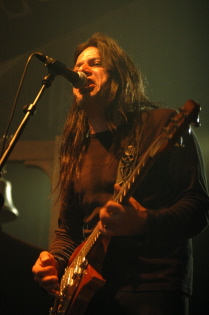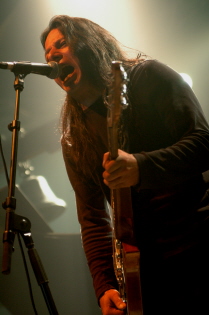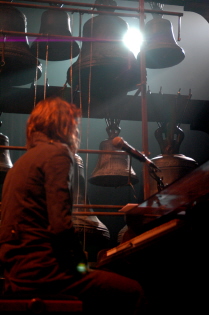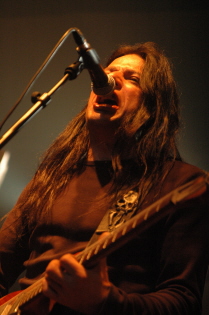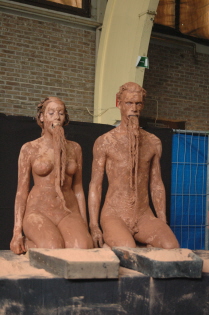 Garden of Delight

Their first album was released in 1991 and they are still here, their latest album 'Lutherion III' was released in 2006. There have been many line up changes but today the band is formed by: Artraud Seth (vocals), Jawa Seth (bass) and Niels Herbig (guitar).

Music
If you like rock with a great danceable beat, go and see this band. Artraud uses both grunts and clean vocals. Both guitarists were beside Artraud and played their guitars very relaxed, the drums were added by using a drum computer. Even though usually it sounds better with a live drummer, I do believe today it was in their advantage because of the bad sound quality of the venue. Some times during the performance soft female vocals joined in, which was a great addition to their sound, unfortunately it was a bit too soft in the sound mix. Then the silence was broken by the beats joining in and the crow started moving again.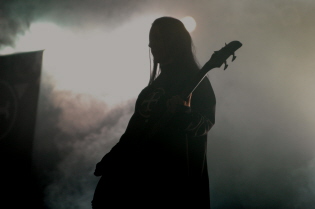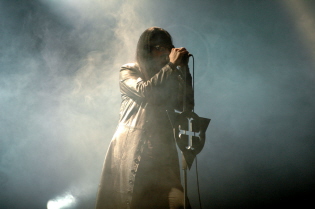 Performance
On stage there were 2 front drops. They also had three flags in the middle of the stage with their band logo on it. These were used during the show, being waved and held by Artraud in a very theatrical way. They also fell down but were put up again later, no fuss. Their logo was not only on the flags, the band members wore t-shirts with the logo on it as well and there is a logo on the microphone standard of Artraud. The stage was often covered in smoke and flashes so it was hard to see the band. Still this also added to the atmosphere of the performance, it was dark and mysterious. Artraud used the lights that were there well, for instance by sticking his hand out in a beam of light so he could put his entire story telling in to this hand. He had a theatrical presentation, for instance while doing a spoken intro he sat on the ground, next to the flags speaking to the audience, silence before the storm that was about to be unleashed.

Rating
Music: 7
Performance: 7
Light: 6
Sound: 6
Total: 7 (6,7)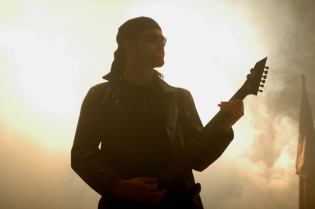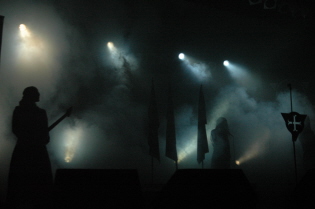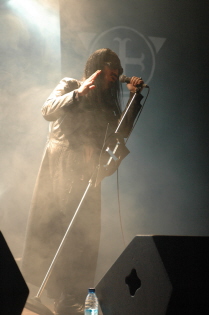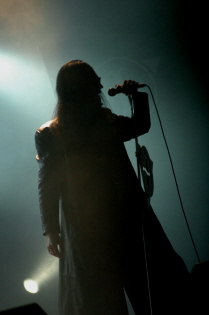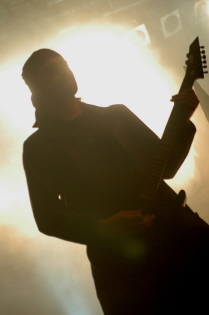 Haggard

It is always fun to see Haggard build up their equipment on stage. They have so many people, music standards, instruments it is as if an orchestra is about to play. Which is actually the case for they usually play with 16 musicians and Asis is their leader, organising everything until it is perfect. While sound checking they sung 'Brother John' in English, German and French and the audience joined in. After a long sound check with some technical problems the show could start.
Music
Besides the fact that it is a wonderful sight to see such a big band on stage, it is even more wonderful to hear them play. They perform a mixture between metal, classical music and folk, both existing songs such as 'Herr Mannelig' which is for instance also played by In Extremo. As their final song they played 'Eppur Si Muove' but since the audience was so enthusiastic and wanted more they closed the show with 'Awaking the Centuries'. The band has wonderful musicians and great singers but there are differences inside the band. Susanne is very relaxed while singing it seems as if she has no trouble doing the most difficult parts while their other soprano has more trouble with her difficult parts.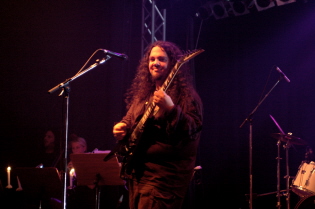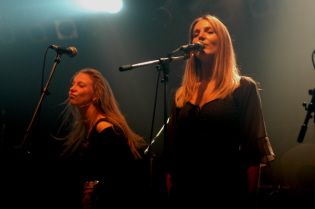 Performance
Asis is constantly checking if everybody is ok, musically. The other band members are all concentrated on their instruments and if they can hear their selves in the monitors but besides this there is a lot of fun and laughter on stage. The stage is full but it is very cosy up there. There is great interaction with the audience, we had to clap along many times but it was so much fun to do everybody joined in. During 'The Final Victory" we all had to sing along, Fiffi showed us how. All in all it was a great show to headbang, clap your hands, and shout out as loud as you could.
Rating
Music: 9
Performance: 8
Light: 7
Sound: 6
Total: 7 (7,1)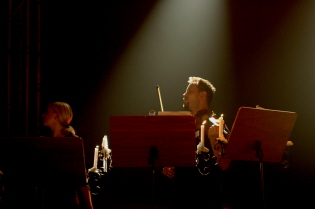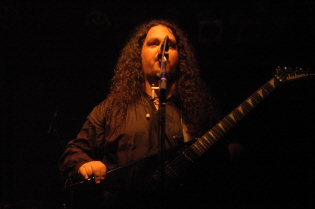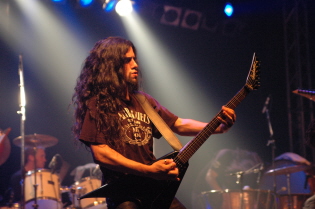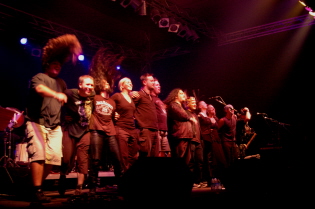 Lacrimosa

Then it was time for the heroes of the evening, some even had bought a ticket just to see Lacrimosa. The venue was much fuller when they played. At the back of the stage a big backdrop was placed with their pierot with bat wings.
Music
Lacrimosa is of course a very well known band within the gothic scene, Tilo might just have one of the most recognisable voices in this scene. When he sings he does this full of conviction, he knows just how to use his voice and sounds just as perfect as he does on cd. The sound was better than during the rest of the day but it was still clear that this hall was not build for concerts. Tilo and Anne change places every once in a while, they are both multi talented. While she sings she directs the music with her hand. She has a very versatile voice, at times she has tears in her voice. Her voice and Tilo's fit great together. At one point during the show both the singers and musicians sung together, a capella, a very special treat.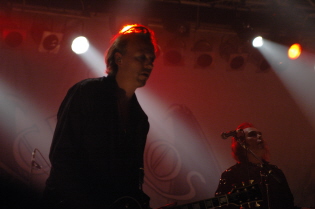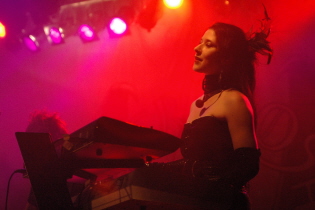 Performance
This band was certainly the sharpest dressed band of the evening. Tilo wore a wonderful suit and Anne wore feathers in her hair. Even the light seemed sophisticated, wonderful colours transforming in to the next, no sudden changes. In the audience there were a lot of people thoroughly enjoying the concert but there were also many people sitting at the side, tired of such a long day standing, dancing, watching and listening. For some songs though even these people get on their feet. Tilo also dances, with his arms, he has very specific and recognizable movements, he is a charismatic singer. The other musicians were very focussed on their instruments, concentrated. Lacrimosa knows how to perform, knows how to sound fantastic, but I did miss the true contact with the audience, there was a distance between the crowd and the band.

Rating
Music: 9
Performance: 9
Light: 8
Sound: 8
Total: 9 (8,7)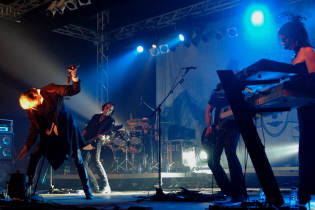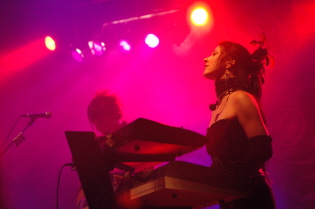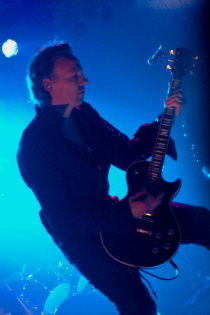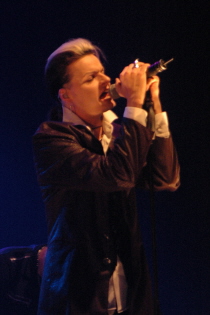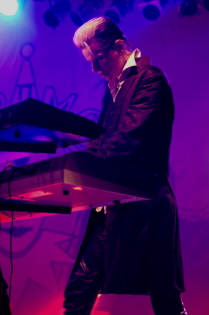 Photography and copyright: Monica Duffels