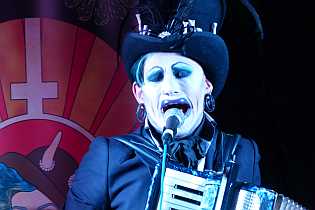 Britannia Boat Club, Nottingham, England
21st to 23rd June 2013
Dark Waters Festival Day 3: Scandacross, Arcane Winter, Joe Black, The Last Cry, Tenek

The final day of this year's Dark Water Festival has a rather shaky start for me, as the earlier opening time seems to have passed me by, resulting in a missed opportunity to see first band SCANDACROSS. Slapped wrist. Apologies to them, then, for being omitted here, I will include their bio instead and wish them all the best.



Scandacross

"Bio - SarahJane ( Novus UK/Faithful Dawn ) makes a long overdue return to her beloved post-punk/gothic roots. Music designed to delight the dark at heart. Once again, SarahJane straps on her bass guitar to drive her songs and vocal melodies along." https://www.facebook.com/Scandacross


Arcane Winter

The band's name evokes images of waif-like singers in flowing dresses, dancing nimbly through fields of mushrooms, or something. Surprise, then, to see the imposing figure of Trevor Bamford on guitar duties, and a singer who looks and has the speaking voice of a gothic David Brent from The Office. But no matter. The band play a fiery brand of highly charged political Pprunk (I think I've just invented a genre) and the sound is huge. Actually a bit too loud, sound levels possibly a bit high, but as more people arrive, they seem to soak up the sound and things improve.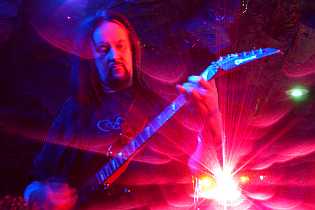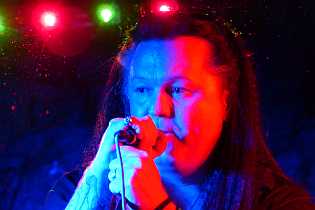 Vocalist Piers Sixx is a gentle and genial host between songs, he dedicates one song to the protesters out on the streets of Brazil, and worries himself sick trying to sell some ARCANE WINTER product "like a Capitalist whore". The music has flashes of early KILLING JOKE and THE DEAD KENNEDYS, and the lyrics have no fear of shying away from controversial topics. Refreshing, it has to be said. Highlight of the set is the frankly terrifying stomp 'Wolf In The Sheepfold', snarling and biting its way across a classic post-punk riff, words spat menacingly, a rumble and a grumble that's sadly lacking in many so called political bands these days. Good stuff. https://www.facebook.com/pages/Arcane-Winter/233160986794038


Joe Black

To be honest, I haven't relished writing this part of the review. Because you just can't sum-up JOE BLACK. It's that awful cliché, "you had to be there". There's nothing quite like him, and in amongst the Goth and the rock, the politics and the passion, struts this small, painted, utterly camp comedian to shake everything up a bit, and achieve one of those rare things – make Goths laugh. He is mesmerising, filthy, intelligent and hilarious, his choice of songs to cover inspired. Perched at a keyboard and trawling through 'The Diary Song', the laughter starts – a bit too much for the three long-hairs sat in front of me, they leave in either disgust or worry they may actually enjoy this – and never really stops.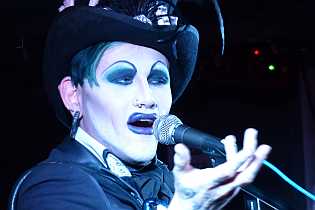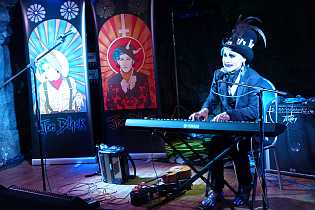 We get 'Jolene' in a version that would make Andrew Eldritch blush and 'You Are My Sunshine' is expertly slaughtered on the accordion. 'Missed Me' by THE DRESDEN DOLLS is a good choice as there's quite a similarity to the cabaret theatricals of Amanda Palmer, and 'Creep' by RADIOHEAD is also wonderfully airbrushed on ukulele. He introduces one song as "by the greatest living American singer/ songwriter who has inspired a generation" which turns out, of course, to be BRITNEY SPEARS, and a kazoo becomes a source of mirth as he mingles briefly with the audience. Comedy asides like the inspired microphone-stuck-in-the-mouth routine are just a delight to observe, and by the close of his act there is a huge roar from his audience, as briefly we are definitely his. An absolute triumph, then, and a clever choice of Performer to be included on the bill. Time for a gin. https://www.facebook.com/misterjoeblackmusic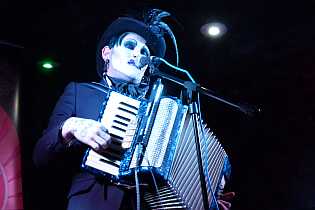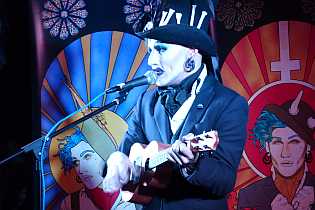 The Last Cry

An intro tape and a lot of expectation beckon THE LAST CRY to the stage, a well-known and respected band I have managed to nearly see several times. They look good, Tim Green and Chris Carey on guitar and keyboard duties, and the commanding presence of vocalist Andrew Birch at the front, a band who want you to take them very seriously indeed, and have the big songs to match that brief. The venue is pretty full as they power through an opener that sees Mr Birch get into character, a manic preacher-man, eyes screwed shut, arms outstretched, utterly immersed in the song and in the moment. And he's another spellbinding frontman, with more gestures and facial contortions than a Tourette's convention, using the stage and including the audience, intense and committed. The band give him all the room he needs, sensing that the focal point is always going to be on a singer with this amount of charisma.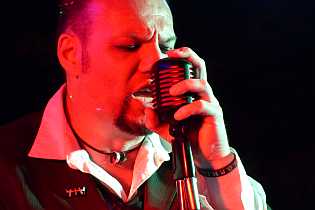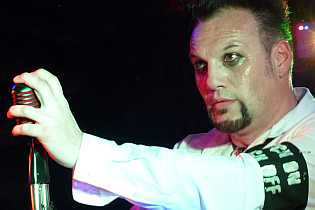 A bit too low in the mix initially, things improve vocally after the first couple of songs. Which is a good thing as his stately, angst-ridden singing is a huge asset and on 'No Resistance' the full force of that voice is apparent. A towering, pounding song, it's almost too big for the venue, and the audience love it. It has a DEPECHE MODE 'Barrel Of A Gun' feel to it, but one that's been let off its leash and pushed as far as it can go. 'Haunting Me' is another thunderous epic, and there's no sign of Mr Birch tiring as he whips himself into a frenzy again and loses himself in the song. A one-off coupling with TENEK, admittedly a treat for fans of both bands, does slightly interrupt proceedings, THE LAST CRY are a band best left alone to deliver what is essentially a performance rather than individual songs, but this is a small gripe. By last song 'Walking To The Edge', we're engulfed by a squally punk maelstrom that sounds like the end of the world, the howling "Can't take this anymore" lyric seeming to confirm this. And then it's over. What a pity. But always leave your audience wanting more, and that's exactly what THE LAST CRY did tonight. https://www.facebook.com/pages/The-Last-Cry/112348155471541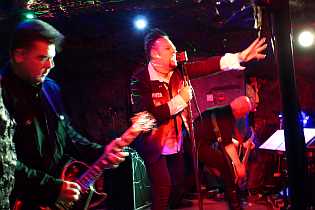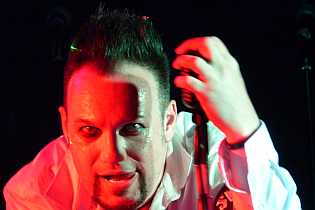 Tenek

Formed in 2007, Brighton based duo TENEK ( joined onstage by a live drummer tonight ) make an excellent choice for the closing ceremony. Unashamedly touting their influences as 80's, '90's and 00's they do seem to have taken on the former decades persona. It's like a grinning Andy Bell from ERASURE facing off against one of the twins from BROS. Musically, they are much better than that sounds, and the crowd are up and dancing from almost the first note. There are big beats, slabs of sparkly guitar, whooshes of synth, and some very catchy melodies, and there's a definite party mood going on. This is helped by encouragement from the stage, an infectious energy swirling around the place and a boyish, bouncy playfulness that is best showcased on huge, monster song 'Submission'. Equally impressive is 'Another Day' from the EP of the same name, the "move on, move on, move on" refrain like every good chorus the 80's ever threw at us. At times things get too twee, cheesy even, and there's only so much happy, clappy FLOCK OF SEAGULLS you can take.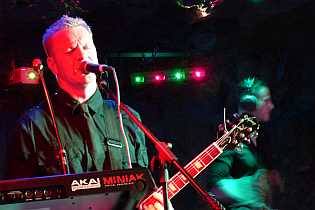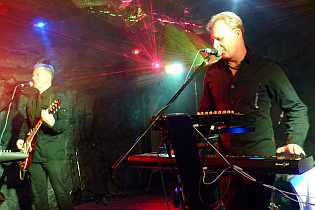 But when they get more experimental, harsh even, they can sound like HURTS doing THE BIRTHDAY MASSACRE (now that would make an interesting project), Ibiza synths sexed up with raw guitar and a slower, meaty backbeat. 'Synchronise' is awesome, for example, it bounces like an idiot, but has an industrial edge, the call and response "Synchronise – Hey!" making it an obvious crowd pleaser and floor filler. It's the best song of the night, and they seem to know it, enjoying every minute and grinning like fools at the end. And considering there must be many tired feet by now, the dancing was consistent throughout, everyone, including TENEK, sensing that this is the last throw of the party dice before the festival winds down. And there's no doubting the success of this closing act, leaving an audience happy and satisfied. Not the most original or innovative band around, but TENEK definitely know how to play to their strengths, and can read an audience expertly. A definite success. https://www.facebook.com/tenekinfo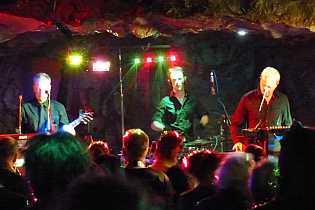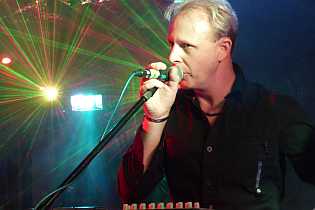 And so, off into the night we all trudge, after a hugely enjoyable festival. An expertly crafted mix of styles and performers in an unusual but perfectly suited venue, huge credit must go to all the team who organised and promoted this festival. Long may it run into the night!

Photography by Stephen Kennedy and Stefanie



See also (all categories):