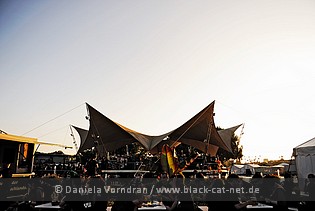 Tanzbrunnen, Cologne, Germany
20th to 21st July 2013
Amphi Festival 2013 Day 1: FabrikC, A Life Divided, Xotox, Stahlmann, Frozen Plasma, Solitary Experiments, Faderhead, Wesselsky, Funker Vogt, Dunkelschön, Tanzwut, Grendel, Escape with Romeo, Agonoize, De/Vision, Rome, Phillip Boa & The Voodooclub, Suicide Commando, 20 Years Welle:Erdball, VNV Nation, Atari Teenage Riot, Alien Sex Fiend plus lectures by Christian von Aster and Dr. Mark Benecke

Cologne, the German city harbouring that famous little cathedral, called all dark creatures back to the Rheinpark grounds again for the 9th Amphi festival. Also in 2013, the organizers have thought of a diversified line-up. VNV NATION and FIELDS OF THE NEPHILIM surely are names to mention here first. But there are so many more to mention…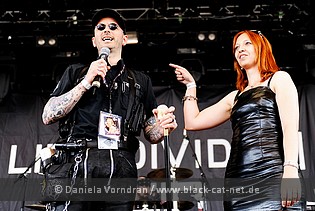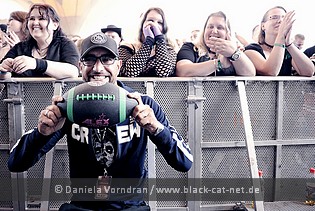 With its incredible live-programme, stylistic diversity and high standard in organization and the Tanzbrunnen Cologne as one of Germany´s most sophisticated open air venues, the Amphi Festival always stood out in terms of comfort and elegance! A fan once summed it up nicely, stating: "Amphi is the S-class among the festivals!", while author Christian von Aster formed the legendary phrase "Alles wird Amphi (All is Amphi)". Saturday noon welcomed us with lots of sunshine and really hot weather – thanks there were several spots where you could get free drinking water. The program on Saturday offered VNV NATION as headliner, but also many bands from electro to Goth, acoustic programs and lectures…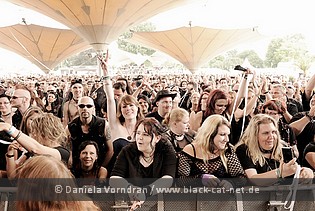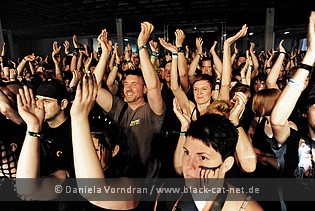 FabrikC – Staatenhaus [SK]

Just before noon is an unusual time to be watching any live band, but at least in the sweltering confines of the Staatenhaus the darkness creates the illusion of a late-night club somewhere, albeit one the size of an aircraft hangar. The light show alone is worth venturing in here, and FABRIK C take to the stage to open events here bathed in harsh light. So, is just before noon a bit too early for the intensity of what follows? It would appear not. The manic, twisting, gyrating dancing gets going on the periphery as soon as the first beat is sounded, and there is no sign here that anyone has only been out of bed a couple of hours. It's a full-scale party. There are samples a-plenty to go with the huge, pounding beats, a hypnotic pulsing that seems to draw the layers of synths in and then spit them out again.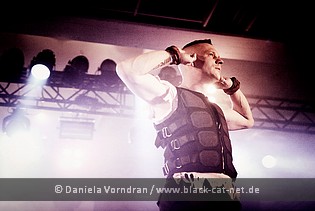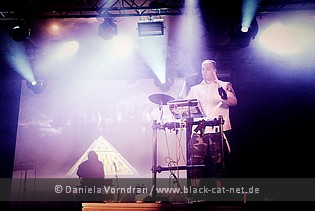 The sound is excellent, although barking like a rabid dog between songs seems unnecessary, his harsh vocals best kept for the meaty and deliberately distorted music. It's compelling stuff, the glow-sticks doing their thing down at the front (time these things ran out of batteries, surely?), the relentless drive to push things to the maximum a credit to the band. And in a club, this is perfect. Here, if you don't want to join the dancing hordes it all starts to get a bit monotonous. Good stuff on the whole though, certainly an interesting and in-your-face start to the day. // http://www.fabrikc.de / https://www.facebook.com/fabrikc // Setlist: 01. 89% Pure Junk [unreleased yet] / 02. Chinese Food / 03. Cherubim / 04. Zu Laut / 05. Independent Riot Corps [unreleased yet] / 06. Electric World [unreleased yet] / 07. 100% Elektronik / 08. Tempus Fugit / 09. Teen Spirit [unreleased yet] // Rating: 7 / 10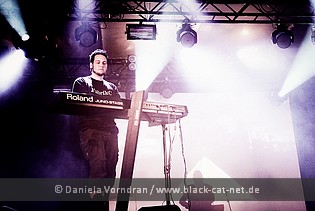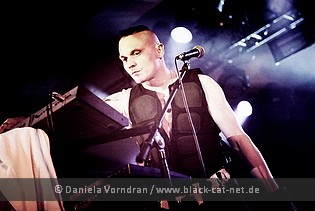 A Life Divided – Main Stage [JS]

The ships have been called to port and we were welcomed not to the main stage of IX Amphi Festival 2013! The electro-rockers around front man and EISBRECHER guitarist Jürgen Plangger launched their brand new album 'The Great Escape' on 18th January and picked the opportunity to open the Amphi Festival 2013. Introduced by Dr Mark Benecke the band started their gig and set our hearts on fire. They performed lots of songs, including their first single, called 'Last Stand', from their new album. Alex Wesselsky [EISBRECHER] was standing in front of the PA watching their show. During their last song there was lots of lingerie thrown towards the band members. The show was energetic and gave you a memorable beginning of the festival weekend! // http://www.a-life-divided.de / https://www.facebook.com/alifedivided // Setlist: 01. Intro / 02. The Lost / 03. Hey You / 04. Words / 05. Perpetual (VNV Nation Cover) / 06. The Last Dance / 07. Heart on Fire // Rating: 6 / 10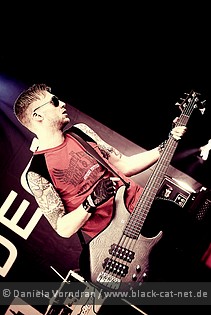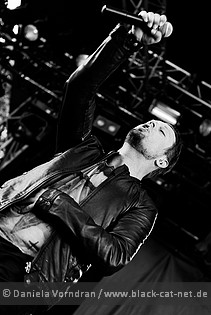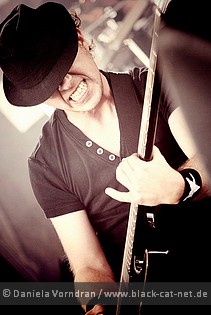 Xotox – Staatenhaus [SK]

Cyber Goth heaven no doubt. A project first conceived back in 1998 by Andreas Davids, the more bizarre aspects of the audience are once again up and off at the edges, dancing jerkily and clearly intent on skipping lunch. A visual backdrop is on show throughout, and things get going with a masked woman holding up two light sabres in an X. As you do. X for XOTOX presumably, but it all got a bit lost on me, any attempts to be conceptual buried immediately once the shouting started. And there is lots of shouting here over the extremely harsh, spluttering industrial Hualp (a word invented just now to describe that sub-bass feeling that eats you from the floor upwards).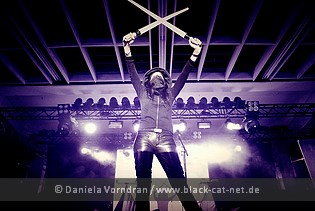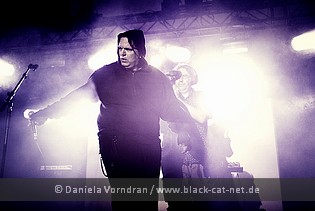 At times, and without wanting to sound like someone's grandparent, it's just a noise, a rather pointless one going nowhere at all but at a break-neck pace. There's too little variation, although at one point the spectre of APHEX TWIN raises an ugly paw, a 'Come To Daddy' sinister blast, horrific and nightmarish, a truly frightening soundtrack. More of the same please! However my time here is done, as I have to make a dash to the main stage to catch STAHLMANN. There's no rest here you know. Not even lunch. // http://www.xotox.info / https://www.facebook.com/xotoxmusic // Setlist: 01. Intro (Kampf um´s Licht) / 02. Slå Tillbaka / 03. Ewig / 04. Notwehr / 05. Eisenkiller / 06. Revolution doesn´t happen on the Weekend / 07. Schwanengesang / 08. Alte Muster / 09. Revolution non-stop / 10. Mechanische Unruhe // Rating: 5 / 10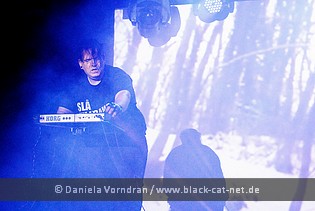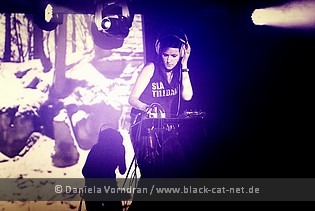 Stahlmann – Main Stage [SK]

Starting slightly late, and apologising for having to get things going quickly, Germany's STAHLMANN waste no time in getting stuck into their set. There is no escaping the lazy comparisons to RAMMSTEIN here, albeit a slightly less brutal version, but no-one seems to mind and at least they have a trademark look about them, faces painted silver, striking against the black. The crowd, sizeable for the relatively early time-slot, desperately clings to the shade but show their appreciation with fist pumping and the odd devils-horn. And because the stage is well-shaded, it's easy to build up an atmosphere, the smoke and the lights impressive. Musically, it's a bit one-dimensional, the growly, snarly vocals rarely going anywhere exciting, although the occasional "Hey" lifts it, and the crowd go mad when "Down on your knees" sounds like the dirtiest thing ever uttered from a stage. And the song 'Stahlmann' is a real stomper, try keeping your feet still to this one.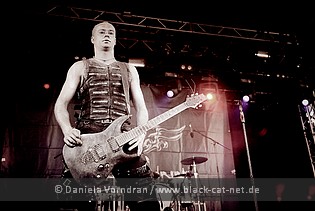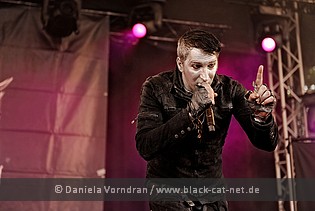 They know their way around a chorus too. 'Spring' is a total crowd-pleaser, the band moving freely around the stage now, and there are hands-in-the-air moments throughout. And it seems whenever it gets a bit too sludgy or menacing, there is always another killer chorus bouncing its way into the hot and sticky air. There's nothing original here, but STAHLMANN are a band who know their audience, and give them exactly what they want. Which is no bad thing! // http://www.stahlmann.tv / https://www.facebook.com/pages/Stahlmann/138756019513864 // Setlist: 01. Willkommen / 02. Adrenalin / 03. Stahlmann / 04. Hass mich / 05. Teufel / 06. Stahlwittchen / 07. Süchtig / 08. Spring / 09. Schwarz / 10. Tanzmaschine // Rating: 7 / 10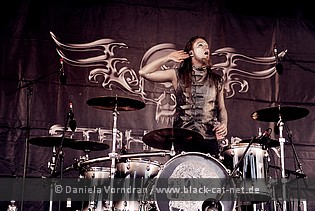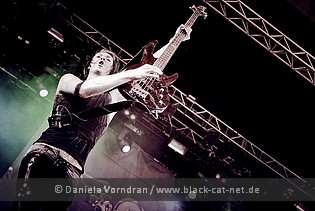 Frozen Plasma – Staatenhaus [JS]

Singer Felix Marc and producer Vasi Vallis released very successful albums and sold out singles. Now there are back and wanted to play for us at the Tanzbrunnen. They started their gig with 'Generation of the Lost' and Felix was expected to do good posing for the photographers. Obviously Vasi and Felix were quite nervous and had problems to get into their job today. Felix was forced to look at the song lyrics, either during songs like 'Earthling' which were played lots of times in the past. This uncertainty lasts until they played their new track called 'Herz' for the very first time. You can download this song for free at their homepage. It smells like fish - because the artist NEUROTICFISH programmed and arranged this song. At this time finally Felix began to feel good and delivered an energetic show, as we know it from him. Also the folly songs were performed as good as they've never been away from stage. // http://www.frozenplasma.com / https://www.facebook.com/pages/Frozen-plasma/119865398065719 // Setlist: 01. Generations of the Lost / 02. Earthling / 03. Hypocrite / 04. Irony / 05. Herz (new song) / 06. Murderous Trap / 07. Tanz die Revolution // Rating: 5 / 10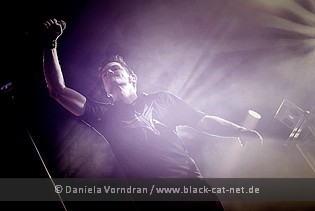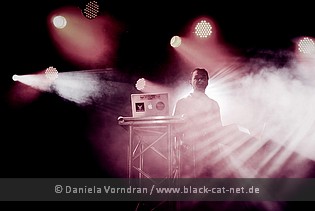 Solitary Experiments – Main Stage [JS]

As I came back there were 20 minutes left for me to see SOLITARY EXPERIMENTS on the main stage. And I noticed that it has gotten very full this time at the Tanzbrunnen Cologne. But the good thing was that I got right there as they played one of my al time favourite songs 'Delight'. You know... and nothing else matters. I remember as they played their Amphi debut in 2010 in the Staatenhaus the last time and now it was their first time on the main stage. One of their very last songs they performed was their new single 'Trial and Error'. I recently did a review of this limited EP and I must say it also works very well at live performances. I was surprised that the audience really did know the song text of the new song and was quite happy for them that this song works.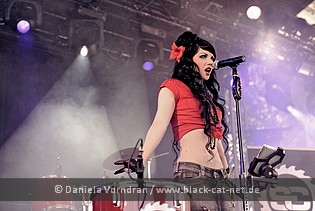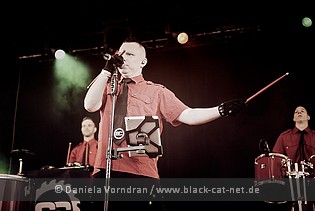 Also worth mentioning is that the new album of SOLITARY EXPERIMENTS entitled 'Phenomena', from the simple CD to exclusive limited fan box, is going to be released in September, when the "Tour De Phenomena" 2013 in Germany begins. As I heard after the show, the band had a very special surprise for the audience at the beginning. Not the band itself was entering the stage for first song 'Stars', but four models playing as the band members. Was surely quite entertaining I guess, too bad I missed that. // http://www.solitaryexperiments.de / https://www.facebook.com/solitaryexperiments // Setlist: 01. Stars / 02. Pale Candle Light / 03. Immortal / 04. No Salvation / 05. Delight / 06. Rise and Fall / 07. Trial and Error / 08. Rush (Rush for you) (Depeche Mode cover) // Rating: 6 / 10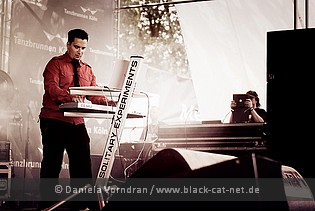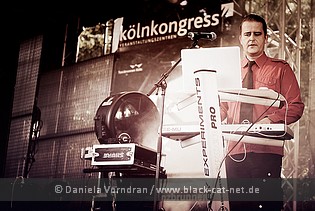 Faderhead – Staatenhaus [SK]

A slight change of styles for me next in the Staatenhaus, FADERHEAD drifting in sound from EBM to electro to synth-pop, and there's a steady crowd in attendance. For every group leaving, there is fresh blood sifting in, perhaps escaping the rather fierce sunshine outside, or deciding to let a bit of partying into their souls. Hard to know what to make of them... with song titles like 'Fistful Of Fuck You', 'Electrosluts Extraordinaire' and 'Take Your Fuckin' Meds' this should clearly be an exercise in extremism. But it's not. In fact at one point, the sight of four grown men bouncing up and down in perfect unison like a rejuvenated TAKE THAT makes me think I'm at the wrong gig. There's some bad rapping, some rather bland and non-descript singing, and on the whole not a lot to hang onto.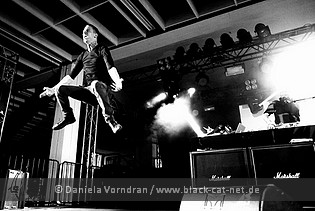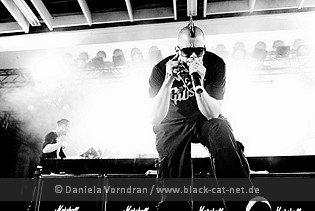 Things improve when the pace changes, and the more manic, beat-heavy and intense sound replaces the incessant energy and endless bouncing. It's a varied set, but it feels so, more because of indecision than an attempt to successfully fly the flag in several camps. But there really is no knocking their infectious enthusiasm. The question is, again, for those not wildly dancing and throwing impossible shapes, is this one big party in The Staatenhaus, or an endurance test. Me? I'm craving a bit of sunshine. And maybe a guitar… // http://www.faderhead.com / https://www.facebook.com/faderhead // Setlist: 01. Intro + Way To Fuck God / 02. Houston / 03. Join Us / 04. Electrosluts Extraordinaire / 05. Fistful Of Fuck You / 06. Dancers / 07. Dirtygrrrls / Dirtybois / 08. Take Your Fuckin' Meds / 09. Destroy / 10. TZDV// Rating: 5 / 10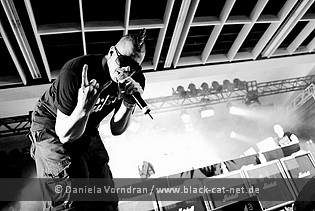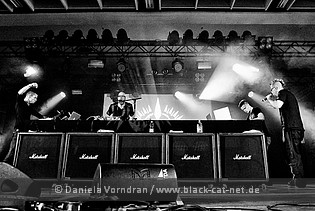 Wesselsky – Main Stage [JS]

He was the last announced artist for this year's Amphi. Alex Wesselsky formally known as EISBRECHER – well, not totally, he was performing a solo show, accompanied by some well-known friends. And as I do not know him personally I want to use this nice description of this picture of a man. "Disarming charm, a fine sense of humour and a unique voice let him become one of the most charismatic personalities of the German entertainment scene. As the frontman of his main band EISBRECHER, the mega-heart with the big mouth rocked the album charts after hitting a remarkable third place. Alongside female race driver Cyndie Allemann the former "Checker" also currently hosts the show "Auftrag Auto" (loosely translated "Assignment: Cars") on the German TV-station Sport 1. His name: Alexander Wesselsky! His call: rock-god and "motör"-professional!"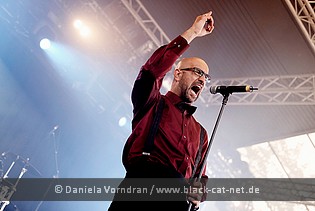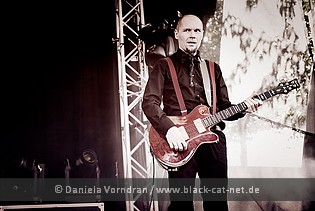 Now he was performing as a solo artist with WESSELSKY. A band without using electronics, just hand-made music This was meant to be a festival show extraordinaire- in short, special songs for a special audience on a special day. Alex played songs from earlier days, rarely played songs, songs of his works before EISBRECHER which haven´t been played for a long time because of political reasons, and one and the other cover of MEGAHERZ songs. I enjoyed the show, as many, many others did, too. What a pity that this was probably a unique show. // https://www.facebook.com/wesselskyband // Setlist: 01. Jordan (Megaherz Song) / 02. Hurra – Wir leben noch (Megaherz Song) / 03. 5. März (Megaherz Song) / 04. Windkind (Megaherz Song) / 05. Herzblut (Megaherz Song) / 06. Wir sterben jung (Megaherz Song) / 07. Wer bist Du? (Megaherz Song) / 08. Auf der Flucht (with Timur Karakus from Schöngeist) / 09. Glas und Tränen (Megaherz Song) / 10. Müde (Megaherz Song) // Rating: 8 / 10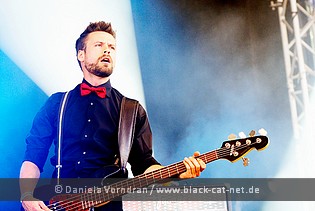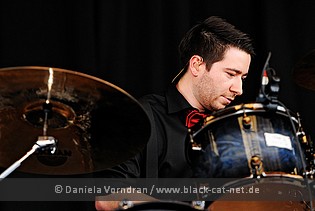 Funker Vogt – Staatenhaus [SK]

It's time for German electro / future pop noiseniks FUNKER VOGT to take the stage. Formed in the mid-nineties, their industrial and militaristic sound attracts the more uniformed element of the festival, and indeed most of the songs revolve around a theme of war – although their stance is very much anti-conflict and pro social justice. The gentle introduction to 'Arising Heroes' belies the dark heart of the song, and it's a gripping opening, emotionally packed, like early VNV NATION, melodic but icy cold. Similarly, the synthy sweep mid-section of 'The Firm' recalls VNV although the rest of the song is very much their own. It's busy and hyperactive, not just great to dance to, but a well-constructed dark pop song. When the crowd joins in to sing "I will go the way of the warrior" it's a powerful moment. There is plenty of aggression too, not least on 'Mein Weg', a stop-start aural assault. "Hey, Fuck you!" is spat out menacingly and the whole of the venue, which has almost filled by now, seems to be swaying in unison.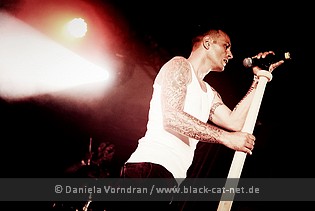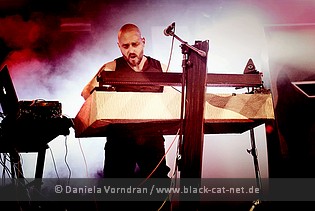 There are some strong melodies over the impossibly huge beats at times, and FUNKER VOGT certainly knows how to get the crowd going. It's not just dancing on the periphery anymore. Perhaps it's the variation on offer, as well as simply stronger songs, but there feels like a real sea-change while watching them. More accomplished than similar genre acts, by the time of the moving 'Tragic Hero' there's a real celebratory feel in the Staatenhaus, and FUNKER VOGT definitely covered themselves in glory during a memorable set. // http://www.funkervogt.de / https://www.facebook.com/funkervogt.de // Setlist: 01. Arising Hero / 02. Mein Weg / 03. Gott noch nicht / 04. Gunman / 05. The Firm / 06. Date of Expiration / 07. Six feet under / 08. Maschine Zeit / 09. Hard Way / 10. Tragic Hero // Rating: 8 / 10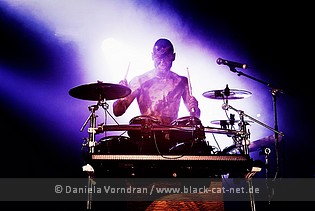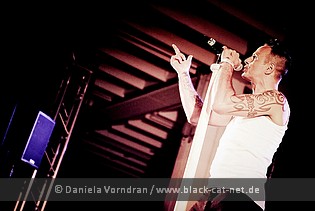 Dunkelschön (acoustic) – Theatre [DV]

Before the concert program in the theatre started with DUNKELSCHÖN's acoustic show, there were two lectures at early noon… First Christian von Aster was reading from the first edition of 'Schwestern der begrenzten Barmherzigkeit' causing quite some laughs. Afterwards, Dr Mark Benecke was presenting another one of his highly teaching forensic lectures. After those two lectures, finally the first concert of the day took place at the theatre, the acoustic show of Celtic-Medieval-Folk-Rock band DUNKELSCHÖN. As I heard later, it was a really nice concert. Sadly we had no chance to see it because of the overlappings in the schedule. // http://www.dunkelschoen-musik.de / https://www.facebook.com/DunkelschoenOfficial // Setlist: 01. Aeris / 02. Ros Maris / 03. Lacrima / 04. Iddadh'n'duir / 05. Moni Solo / Zauberwort / 06. Spielmannsreim / 07. Es war / 08. Dornenweich / 09. Tri Martolod / 10. Liebster / Encore: 11. Ai Vis Lo Lop


Tanzwut – Main Stage [SK]

Translating as "Dance-Rage", TANZWUT have serious pedigree. Originally started as a side-project for members of CORVUS CORAX, they have become successful in their own right, and have a striking front man in Mike "Teufel" Paulenz. Indeed the devil really does take to the stage, a pair of nifty horns adorning his bald head. However, disaster strikes during the opening song, as no vocals can be heard, and despite what seems to be several microphone changes, the problem isn't solved for quite some time. The crowd try and buoy things along, but it's dead in the water by the end and a real shame for the band. There's a good natured "life is life" shrug once the sound is restored, and it has to be said the barrage of bagpipes carried on unabated for the whole fiasco, proving that the show really must go on. Everything is fine for the rest of the set, and the crowd explode when they are told "you wanted fun, you'll get it!" And there's good variation here, at one point it's THE LEVELLERS doing Ska with Beelzebub on vocals, on 'Phonix Aus Der Asche' a metal chugga-chugga riff compliments the growling and by 'Meer' the obedient crowd are singing along and having fun in the sun. And there are bagpipes of course... lots of bagpipes.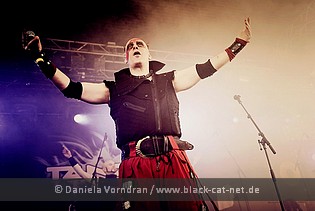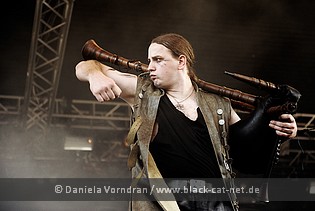 It's an earthy performance, and despite the vocals getting lost at times, and the dry-ice all but obscuring them at others, this is lively and spirited stuff. The cover of 'Bitte Bitte' by DIE ÄRZTE goes down a treat, "Please, please, let me be your slave" wonderfully and sleazily sung. And the bagpipes are back again for 'The Watchman', the refrain slightly overfamiliar by now it has to be said. But it's a towering song, a slow beat at first, then everything building to a satisfying climax. There's time for one last round of hand-clapping, and the set is cut short due to strict time curfews. But no matter, TANZWUT did a good job here, and no amount of technical problems or time constraints dampened the mood. // http://www.tanzwut.com / https://www.facebook.com/TANZWUTmusic // Setlist: 01. Weiße Nächte / 02. Ihr wolltet Spaß / 03. Phönix aus der Asche / 04. Meer / 05. Merseburger / 06. Gift / 07. Rockgratreisser / 08. Bitte Bitte (Die Ärzte Cover) / 09. Wächter / 10. Folge deinem Herzen / 11. Bretonischer (Planned Encore, but not played) // Rating: 7.5 / 10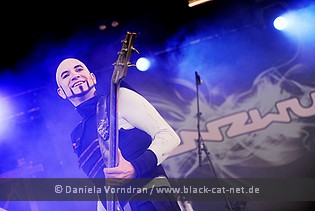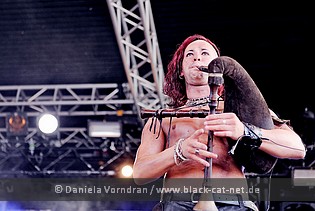 Grendel – Staatenhaus [SK]

From Holland, with love, comes aggrotech outfit GRENDEL. Now, as an Englishman, not terribly well-versed in the finer points of aggrotech, EBM, and industrial dance, this is all beginning to sound worryingly similar to me. Perhaps I've been stuck indoors too long on this fine Saturday afternoon, the endless thunk-thunk beats, strobe lighting and synth-stabs finally getting to me, perhaps it's seeing too many people bouncing around on a stage with only a microphone for company or hunched over a laptop, pressing buttons or whatever it is they do. But jaded and tired of it I certainly am, as GRENDEL serve up more of the same. There's also a significant emptying from the back, implying FUNKER VOGT perhaps deserved this later time slot. Is it that the relentlessness has finally got to even the hardcore fans, shuffling off for a pizza and a cold beer?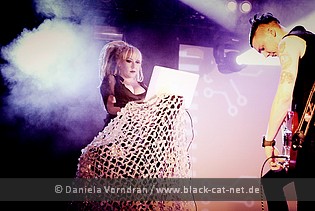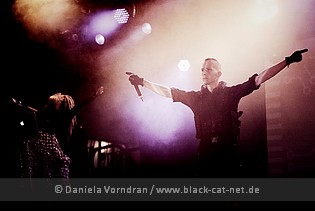 Evidence at the front suggests not, and to be fair, if this is your thing, it's delivered with aplomb. 'Harsh Generation' and 'Timewave Zero' are hard to argue with, and there's enough handclapping, energy, endless samples and impressive light displays to keep everything moving. And the place seems to melt for final tune 'Zombie Nation', so who am I to judge? A stroll around the stalls and cafes seems to be a good idea right now, some sunlight and an escape from the march of the glow-stick. // http://www.grendel-base.com / https://www.facebook.com/grendel.music // Setlist: 01. Intro / 02. Harsh Generation / 03. Conflict Instigation / 04. Chemicals & Circuitry / 05. Soilbleed / 06. One.Eight.Zero / 07. Timewave Zero / 08. Hate This / 09. Dirty / 10. Shortwired / 11. Zombie Nation // Rating: 5.5 / 10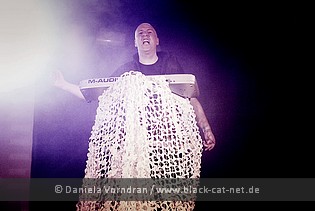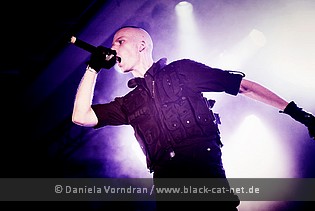 Escape with Romeo – Theatre [JS]

Formed in 1989 as Thomas Elbern divorced from PINK TURNS BLUE, ESCAPE WITH ROMEO started their career as a post punk meets modern electrical band. Oh yes, I was so much looking forward to see the dark wave legend ESCAPE WITH ROMEO. I described their last album 'Samsara' as one of the best albums released so far this year. And so I expected to hear some of their new songs in the theatre at the Tanzbrunnen. They played several songs from the last album 'Samsara' and some older ones like 'Here comes the Night', 'Glitter On The Snow', or 'Somebody', as within this song nearly all people in the audience stood up for standing ovations.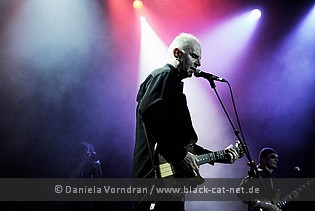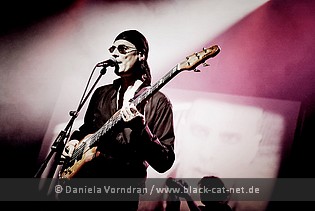 I come to the point that it isn't that bad to see a concert at the theater, because the light effects were able to see (instead of these on the main stage) and it creates a certain atmosphere as all people sit there listening to the beautiful thing which is going on there on the stage. It felt very private and intimate. And before I come to the next band I want to highlight the absolutely amazing large instrumentals that EWR delivered and they played a new song called 'Where Are You Now'. I left the theatre very satisfied and headed over to something totally different, AGONOIZE on main stage. // http://www.escapewithromeo.de / https://www.facebook.com/escapewithromeospain // Setlist: 01. Helicopters in the falling rain / 02. Everyone against everyone / 03. Where are you now? / 04. Here comes the night / 05. Glitter on the snow / 06. Ground control / 07. Somebody / 08. Tears of Kali / 09. Sie liebt dich (nicht) // Rating: 9 / 10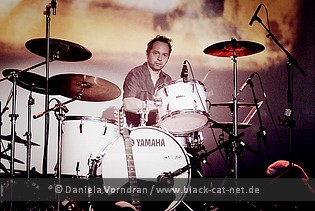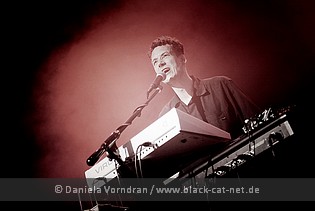 Agonoize – Main Stage [JS]

Celebrating 10 years of AGONOIZE I expected a wild show with lots of blood and nasty things on it. And I did not get disappointed. After a long heroic intro like u know them from medieval battle films, AGONOIZE' Chris "flew" or better "floated" on the stage by coming down by a rope. Just for the first song, singer Chris had female accompany who did very strange things like sticking piercing needles through her cheeks and stuff like that. She was dressed in black lack and had fun with the front man, who afterwards had lots of fun spraying many litres of fake blood into the front rows. I guess this was a big problem for all the photographers and their expensive equipment... But nobody seemed to care, or just knew what was coming up and moved to the sides in the photo pit to be safe.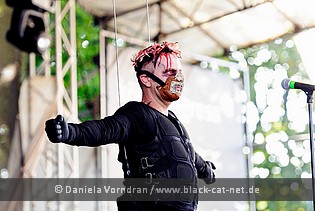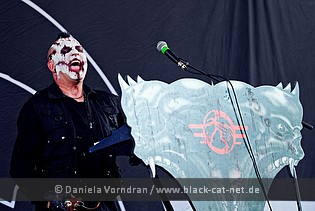 I had lots of fun after the show as I saw the people who were standing there in the front row and got all the blood on their bodies. I left the main stage before AGONOIZE ended and so I don't know if there happened any other highlights. But I had a good reason for leaving... DE/VISION were agaiting me at the Staatenhaus. // http://www.agonoize.com / https://www.facebook.com/pages/AGONOIZE/275733936009 / https://www.facebook.com/ChurchOfAgonoizeOfficial // Setlist: 01. Intro / 02. Pavillon 5 / 03. Bis das Blut gefriert / 04. Fight for your Right (Beastie Boys cover) / 05. Alarmstufe Rot / 06. Schaufensterpuppenarsch / 07. Koprolalie / 08. Femme Fatale / 09. Rituale Romanum / 10. Sacrifice / 11. Glaubenskrieger / 12. Gottlos / 13. Blut, Sex, Tod / 14. Staatsfeind // Rating: 7 / 10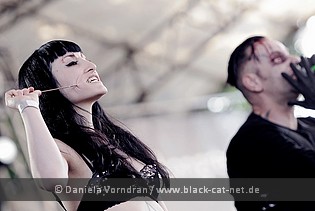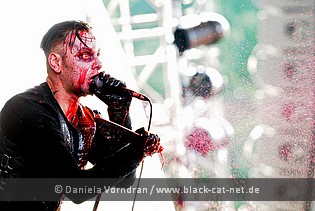 De/Vision – Staatenhaus [JS]

A band that doesn't really need to be introduced, DE/VISION, are one of the milestones of Synth Pop in their native Germany and worldwide. They have begun their journey in the remote 1988 this year is , DE/VISION's 25th Anniversary. My highlight so far was ESCAPE WITH ROMEO but as I said they played in the theatre, I wasn't able to dance to them since it was a seated show. And now there was the chance for me to dance finally... dance along to the beautiful voice of front man Steffen Keth. As always, the track 'Your Hands On My Skin' was my personal highlight. But they played a nice mixture of old and new songs like 'Try to forget', 'I regret', 'mAndroids' and 'Rage'. They also introduced us to a brand-new song called 'Brothers in arms' which I found very catchy and melodic. Nice thing.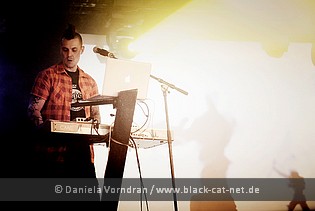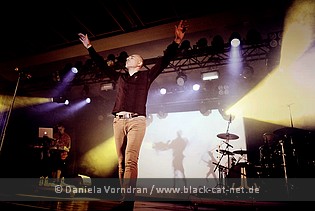 The crowd rocked, the band rocked, the Staatenhaus rocked! It's also very pleasant to see that, over the last tours, the band managed to have its latest releases becoming classics of their sets: 'What's Love All About', 'Time To Be Alive', 'mAndroids', 'Rage' or 'Flavour Of The Week' are as well received as past classics. And keep in mind and they are on DE/VISION "25 Years Best of Tour". // http://www.devision-music.de / https://www.facebook.com/pages/DEVISION/24741337633 // Setlist: 01. Binary soldier / 02. mAndroids / 03. I regret / 04. What's love all about (KantKino Live version) / 05. Time to be alive / 06. Try to forget / 07. Rage / 08. Your hands on my skin / 09. Brothers In Arms (new Single) / 10. Flavour of the week // Rating: 9 / 10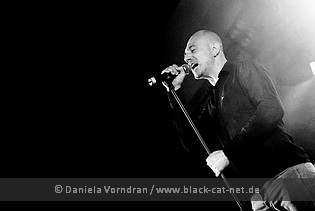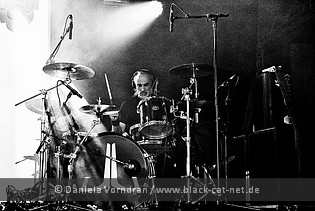 Rome – Theatre [DV]

While DE/VISION were entertaining the crowd at the Staatenhaus and lots of blood and other body fluids were spread at the main stage, things were calmed down at the intimacy of the theatre where apocalyptic folk / neo folk band ROME was playing a magnificent show. The Luxembourg based band around Jerome Reuter impressed with extraordinary arrangements and lyrics that enchanted the audience. Melancholic, apocalyptic and particularly intense were the songs being presented. ROME delivered a fantastic show that I loved to see in full. But there was Mr Boa calling at the main stage soon. Too soon… http://www.jeromereuter.com / https://www.facebook.com/romeproject // Setlist: n./a. // Rating: 8 / 10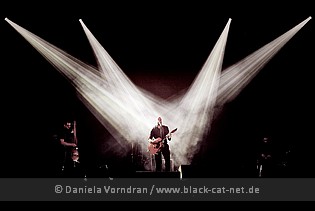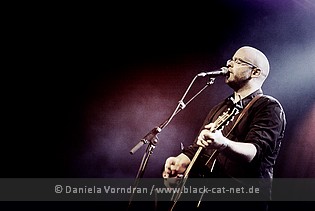 Phillip Boa & The Voodooclub – Main Stage [SK]

By the time Phillip Boa and co take to the main stage, the audience has really swelled, and it's a good humoured atmosphere despite the still intense heat of the late afternoon. They are the perfect festival band really. Quirky, inventive, oozing with cool, and with the songs to justify their position as second on the bill today. And with a black suit, white shirt and black tie, the singer looks refreshingly different, a sweet smelling breath of air after the pungent, bare-chested unwashed bagpipe brigade. It's all about contrasts, and that's what makes Amphi Festival so special. 'Fine Art In Silver' gets things going, but it's the male and female vocal interchange in several songs that really spices things up. The cutesy singing cleverly disguising the murky slink of the song, discordant violins breaking up the melody. It's reminiscent of THE PIXIES, a theme carried over into next song 'Want'. The bouncy vocals, crowd hand-clapping and B52'S style vibe make this an essential feel-good festival song. Even the most hardened trad-goth will have had a boot tapping to this one. For 'Diamonds Fall', Mr Boa is nonchalantly sat at the front of the stage as though about to read to a group of children.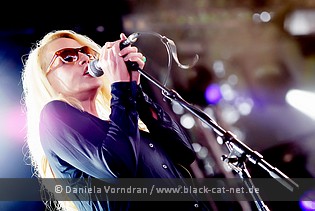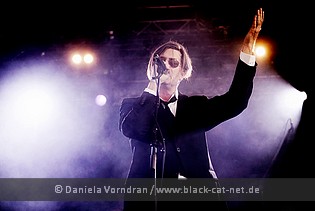 His slightly reedy singing lets this one down a touch, although it rolls along nicely, like some bizarre sea-shanty, a strange little song that's hard to pigeon-hole. This is certainly never a boring performance, odd time-changes mid-song keeping everyone on high alert, a short blast of metal getting an almighty cheer, some hazy, lazy and swirly guitar work sounding very much like CAPTAIN BEEFHEART. And then it's out with the big guns. Well known anthems 'This Is Michael' (something TALKING HEADS would have been proud to write I imagine) and 'Container Love' (the song that broke them, at the back end of the Eighties) go down a storm, and huge singalong 'And Then She Kissed Her' concludes the set admirably. It's back on for a finale of 'Kill Your Idols', surely their best song, and for someone with the look and swagger of a real icon, a wonderfully arch and tongue in cheek way to encore. An excellent set, then, well-crafted and perfectly balanced. // http://www.phillipboa.com / https://www.facebook.com/phillipboaandthevoodooclub // Setlist: 01. Fine Art in Silver / 02. Annie flies the Lovebomber / 03. Want / 04. Diamonds fall / 05. Love on Sale / 06. Albert is a Headbanger / 07. Speed / 08. Deep in Velvet / 09. This is Michael / 10. I dedicate my Soul to you / 11. Container Love / 12. When the Wall of Voodoo breaks / 13. And then she kissed her / 14. Kill your Idols // Rating: 8 / 10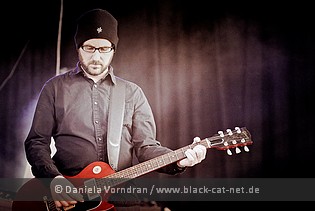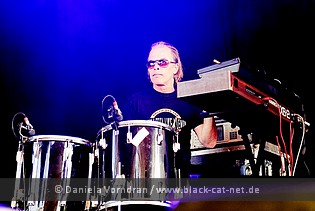 Suicide Commando – Staatenhaus [JS]

I've seen Johann van Roy in the audience during the performance of SOLITARY EXPERIMENTS and was now happy to have him on stage with his SUICIDE COMMANDO. Although there was no good air condition the Staatenhaus was very full and the audience expected a good performance of the band. The stage show was superb, the light even more. There were two puppies on each side of stage hanging at the gallows and Johann was in a good mood. The people danced along to the sound of SUICIDE COMMANDO and seemed to have lots of fun. I did so, too, but I had to leave soon as I wanted to get a good place at the main stage for the headliner outside. // http://www.suicidecommando.be / https://www.facebook.com/IIXIII // Setlist: 01. Feeding my inner Hate (intro) / 02. My Blasphemy / 03. When Evil speaks / 04. God is in the Rain / 05. Cause of Death: Suicide / 06. Dein Herz, meine Gier / 07. Monster / 08. Attention Whore / 09. Love breeds Suicide / 10. Unterwelt / 11. Die Motherfucker die / 12. Bind torture kill / Encore: 13. See you in Hell // Rating: 7 / 10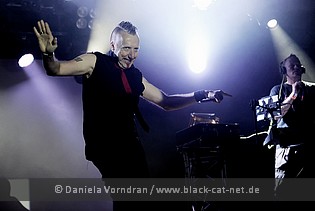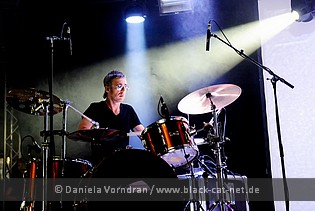 20 Years Welle:Erdball – Theatre [DV]

While SUICIDE COMMANDO were playing at the Staatenhaus, WELLE:ERDBALL had prepared something special for their fans. They presented their 20 years best-of DVD at the theatre while band and crew were present as well. During the last few days, there were some troubles about the band since Fräulein Plastique just had left the band due to private reasons. Nonetheless, the band is looking back to a 20 years lasting career whereof she was eight years part of it. After the DVD presentation, the band performed one song, 'Sternenkind', live as trio. http://www.welle-erdball.info / https://www.facebook.com/WelleErdball // Setlist: Presentation of DVD "20 Jahre – Best of" + Live presentation of the song 'Sternenkind'.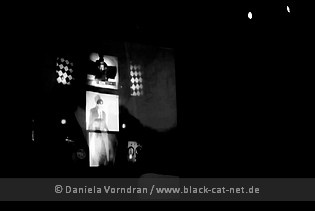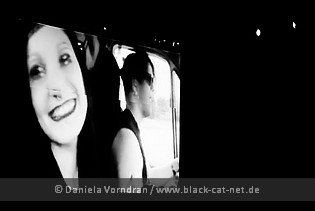 VNV Nation – Main Stage [JS]

First headliner of this year's Amphi was no other than VNV NATION. After their latest appearance at the Amphi in 2010, it is long overdue to welcome the well-known scene band, whose name means "Victory Not Vengeance", back in Cologne. I guess there's no need for a further, detailed introduction, as I know that many of us do know Ronan Harris and his drummer Marc Jackson very well. This is surely because of over 20 years of stage experience and their unique recipe of irresistible melodies, as well as the remarkable voice of mastermind Ronan Harris. This overwhelming mixture turned songs like 'Beloved', 'Illusion', 'Where there is light', and 'Epicentre' (just to name a few of a lot more breath-taking songs) to my all-time favourite songs ever. Personally I've seen them several times and I must say that every single show was an absolute blast. It makes no difference if they're playing a concert or a festival gig. It's pure energy! Due to this it was clear that I was really, and I mean really looking forward to this performance.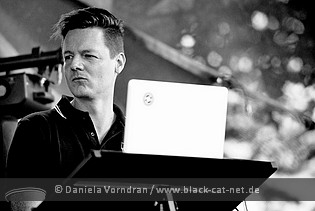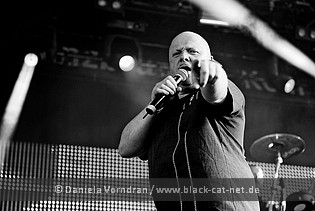 Ronan entered the stage and had the audience in his hand. They were singing along every single song. To the slower songs the people did the "Depeche Mode Wave"... I hope you've been there so that you might know what I mean, or at least to one of the Delta Machine concerts recently (as I). Also Ronan dedicated 'Further' to a couple of L.A who met each other to this song and were now married for exactly 6 years. But not enough, Ronan also talked about a young woman he met earlier this day, who is going to name her baby boy Ronan. These are the very personal things that u might explore at a VNV concert. Ronan is very well known as a grandiose entertainer and as well a person who attaches importance to interactivity at his concerts. Much appreciated, Ronan! And as Ronan tried to describe the feeling as he said "FUCK"... I do not want to add any single word :) // http://www.vnvnation.com / https://www.facebook.com/VNVNation // Setlist: 01. Chrome / 02. Space & Time / 03. Tomorrow never comes / 04. Illusion / 05. Standing / 06. Honour / 07. Nemesis / 08. Further / 09. Epicentre / 10. Resolution / 11. Control / Encores: 12. Nova / 13. Where there is light / 14. Perpetual // Rating: 9 / 10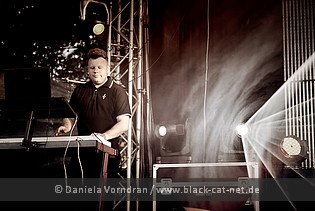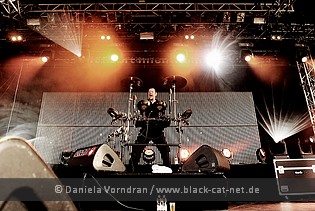 Atari Teenage Riot – Staatenhaus [SK]
A curious addition to the day's line-up, there was certainly nothing similar on offer at Amphi Festival this year. Berlin-born digital hardcore band ATARI TEENAGE RIOT can boast quite spectacular album sales from their heyday, tours with everyone from NINE INCH NAILS, WU-TANG CLAN and RAGE AGAINST THE MACHINE, and many successful headline appearances over the years. Highly political, they formed to fuse anarchism and punk, with anti-fascist lyrics and German techno. No mean feat. First up, they are loud. Very, very loud! And this is not a good thing when the first ten minutes of your performance consist of a barrage of yelped "We are Atari Teenage Riot!" over what feels like the longest intro in history. More yelping of "Are you ready?" over and over again… clearly we all now know quite clearly who they are, and we are indeed, ready… and finally it feels like the show gets underway. The venue is only half full, and there are some seriously bemused faces as the huge whoomp of Dubstep throbs through the floor. It's a weird mix, shouty rap, recalling THE BEASTIE BOYS at their most visceral, over stop-start beats and yet more shouts of "Are you ready?" Maybe I'm just getting too old for this. Those who like it, really like it, and there's plenty of movement at the front, with a huge roar when told to make some noise.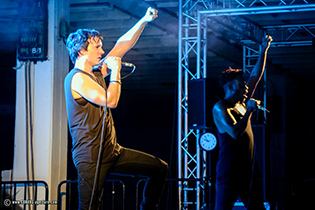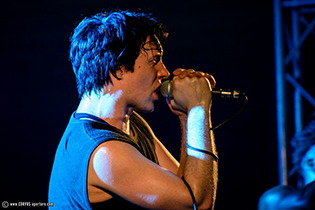 But it's neither dancey enough for those who've made The Staatenhaus their home for the day, or Goth, rock or any other genre for the rest. Another huge Dubstep beat rolls in, over a deafening jittery onslaught, but again, it seems to sound unfinished. Sometimes there are ten speeds in one song, and it makes for exhausting listening. There's more bouncing up and down going on too, something that's becoming a pet hate of mine. Sometimes it's gripping, a nasty PRODIGY sound-alike really standing out, and when the female vocals fill every inch of the venue it's obvious where CRYSTAL CASTLES got some of their ideas from. We get long, angry political speeches (they predicted governments would spy on us a few years ago and no-one believed them. But look now! They were right! All hail the saviours of the future! ) Politics in music is a good thing, but they end up simply sounding pompous. A mass sing-along at the end, and there is no doubt that a small section of the audience really took to ATR. But to me they were woefully out of place and hogging a good slot on the bill that could have been much better filled. // http://www.atari-teenage-riot.com / https://www.facebook.com/Atari.Teenage.Riot.ACTIVATE // Setlist: n./a. // Rating: 5 / 10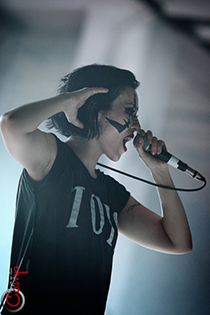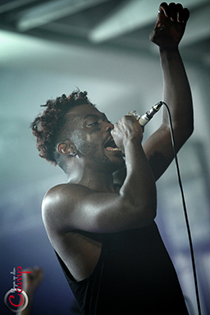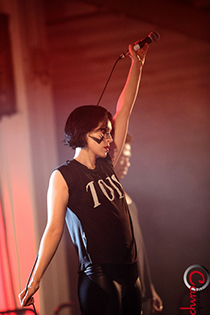 Alien Sex Fiend – Staatenhaus [SK]

UK band ALIEN SEX FIEND (ASF) have become something of an institution. For thirty years now Nik and Mrs Fiend, plus touring band, have belched forth their unique brand of horror-punk, gothabilly and theatrical rock at venues and festivals around the world. It's hard to imagine a time before ASF, and they seem as omnipresent now at big events as VNV NATION. And out of the thick smoke stoops the cadaverous Mr Fiend, taking the stage rather late. The usual props are in place, skulls, and thick cobwebs, and the ghostly lights give the impression of a rather swanky morgue. The show begins with a dedication to Lux Interior of THE CRAMPS, who died in 2009. But it's a poor choice of openers. Hidden away as a bonus track on the 'Curse' album, THE CRAMPS cover 'Mad Daddy Drives A UFO' is a dirge, and not a good introduction to the band. It eventually morphs into the more familiar 'E.S.T (Trip To The Moon)'. It's particularly out of tune, and takes an age to get going, and this is one of the problems tonight. Three quarters full at the start, the venue starts to empty at an alarming rate.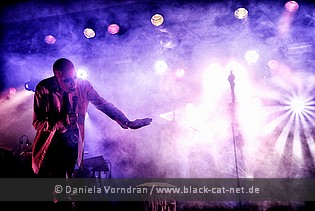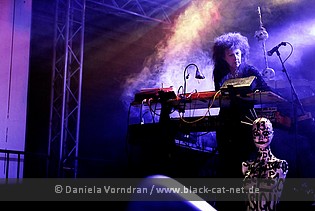 There's no doubting Nik Fiend is one of the most visually arresting frontmen around, and he's certainly one of the best shouters in the business, but there's laziness here tonight. It's theatre but without the drama. Big gaps between songs and patches of pointless noodling all add to a disjointed and strangely empty affair. Which is a pity, as the ASF world is a rarefied one, and usually wonderfully immersive. Here, it just feels like lots of arsing around. Things kick off finally with 'Ignore the Machine' (although it seems to go on forever) and the shotgun attack of 'Hurricane Fighter Plane' which really has a kick to it. There's still a mass exodus though, the set-list simply not tight enough to maintain interest to all but the hardcore fan. 'Now I'm Feeling Zombified' is another killer song, once it splutters from the starting blocks, and the theatre is in full swing by now, Nik Fiend parading around his strange little world distributing skulls and looking mightily pleased with himself.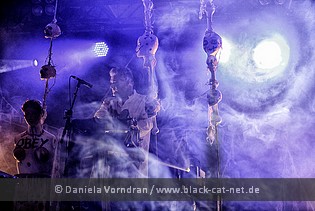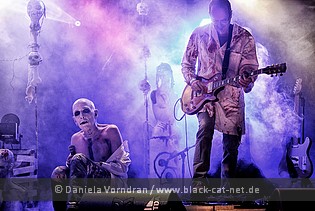 'I Walk the Line' is the clear favourite tonight though, it's hard to argue with a song this good, even if it is played at ear-splitting levels. Which just leaves an encore of 'Smells like Shit', which in some ways, is rather apt. It seems ASF have gone off somewhat, perhaps a victim of their own monstrous creation. Or the endless touring of pretty much the same setlist finally jades them. Whatever, a nine song performance from a headline band is pretty shoddy, and it feels, finally, after thirty years, that ALIEN SEX FIEND need to either reinvent themselves, or hang up their ghouly boots and retire. // http://www.asf-13thmoon.demon.co.uk / https://www.facebook.com/AlienSexFiendOfficial // Setlist: 01. Mad Daddy Drives a U.F.O. / 02. E.S.T. (Trip to the Moon) / 03. Ignore The Machine / 04. Hurricane Fighter Plane / 05. Attack!!! / 06. Now I'm Feeling Zombiefied / 07. Dance Of The Dead / 08. I Walk The Line / Encore: 09. Smells Like... // Rating: 6 / 10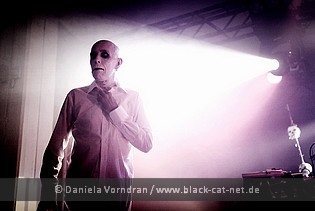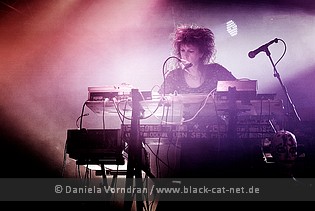 After the last concert of the day was finally over, many people switched over to the theatre for the after-show party. But since it was very hot and exhausting during the day, we decided to return to the hotel, have a shower and one final beer and have some sleep since the next day probably would be equally exhausting.

Written by Janine Szakacs [JS], Stephen Kennedy [SK] & Daniela Vorndran [DV]
All pictures by Daniela Vorndran (http://www.vorndranphotography.com / http://www.black-cat-net.de/ / http://www.facebook.com/blackcatnet) except Atari Teenage Riot by Roger op den Camp (pics 3-5 / http://www.rogerphotographics.com) and 「 CORVUS 」 aperture (pics 1-2 / www.corvus-aperture.com)



See also (all categories):