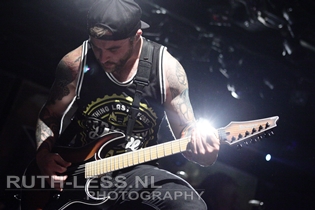 Tivoli, Utrecht, The Netherlands
11th October 2013
Impericon Never Say Die! Tour 2013: Emmure, Carnifex, I Killed The Prom Queen, Betraying the Martyrs, Hundredth, Northlane, Hand of Mercy

This year's edition of Impericon's Never Say Die! Tour takes place at Tivoli in Utrecht and as usual, the organisation put together a brutal line up of hardcore, metal and metalcore. Earlier editions of this tour featured names such as COMEBACK KID, PARKWAY DRIVE and STICK TO YOUR GUNS. This year American death core band EMMURE will do the honours of literally taking your breath away as headliner of the evening. But that's not all. A fine selection of Australian and American hardcore bands will get ready to warm you up: Carnifex (USA), I Killed The Prom Queen (AUS), Hundredth (USA), Northlane (AUS), Hand of Mercy (AUS). European flavours will be provided by the French Deathcore band Betraying the MartyrS.



Hand of Mercy

HAND OF MERCY are a five piece Mosh/ Hardcore band from Sydney, Australia. Starting out in 2007, it took some time for the band to get going, but as off now, they have toured with hardcore heavyweights The Amity Affliction, A Day To Remember, The Ghost Inside, August Burns Red and Parkway Drive. The band has released two EPs (Trash The Party, 2007 and Scum of The Earth, 2008) and one album (The Fallout, 2010), self-funding everything including recording, film clips and everything in between. Their latest album 'Last Lights' dates from 2012 and is indicated by the band as "by far the heaviest album we have created and something we can see people throwing up their horns and banging their fucking head to". HAND OF MERCY are Scott (Vocals), Adam M (Guitar), Josh (Guitar), Dawson (Bass), and CJ (Drums). http://www.facebook.com/handofmercy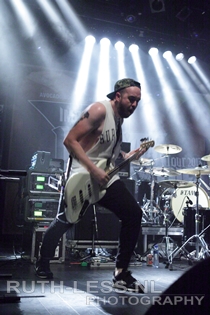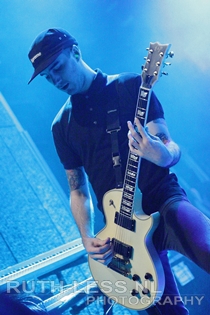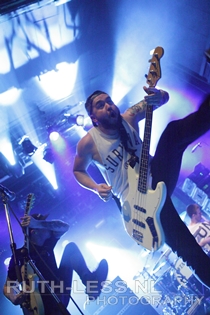 Music & Performance
With an opening at 6:15, I didn't expect many people to show up to see the opening band but Tivoli is already moderately filled when HAND OF MERCY takes off. Scott, Adam, Josh and Dawson didn't seem bothered by that and they go into it with loads of energy. The focus of their set list is of course on their album 'Last Lights' from last year. Their style has a bit of PARKWAY DRIVE flavour. It's definitely too early for some real audience action, but the first heads start moving and a few individuals start warming up in the empty pit. All in all a proper opening act. Then again; I did have some difficulty to find what distinguishes HAND OF MERCY as a band, something that sticks.

Setlist (incomplete)
Rumble in the Grundle
Last Lights

Rating
Music: 7
Performance: 7
Sound: 6
Light: 3
Total: 5.8 / 10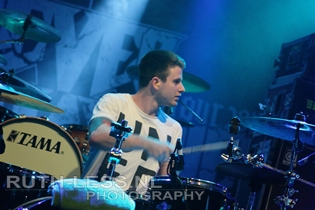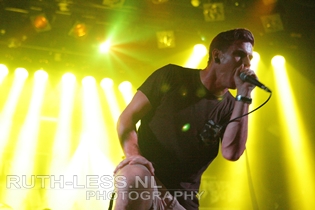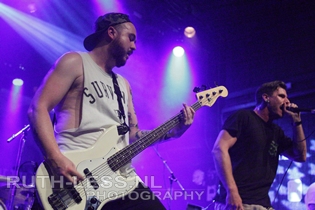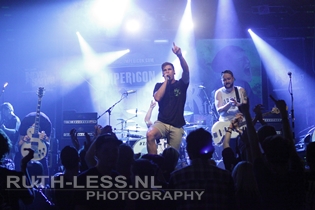 Northlane

NORTHLANE is an Australian metalcore band from Blacktown, New South Wales, formed in 2009. As of 2013, NORTHLANE has released two full-length albums, Discoveries and Singularity, and an EP, Hollow Existence. Relatively unknown at the time of their first release, NORTHLANE have gone on to become one of the biggest metal / hardcore bands in their home country Australia. NORTHLANE are Adrian (Vocals), Jon (Guitar), Josh (Guitar), Alex (Bass) and Nic (Drums). www.facebook.com/northlane / http://northlanemerch.com

Music & Performance
Judging by the cheers from the audience, NORTHLANE already gathered a few fans here at Tivoli. The boys take off with 'Genesis' and 'Scarab' from their latest album 'Singularity'. As young as they seem, their sound is quite mature and can be described as a mix of metalcore, progressive and experimental metal.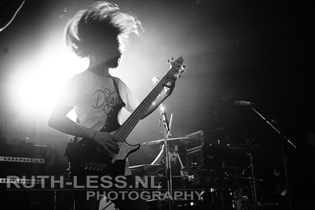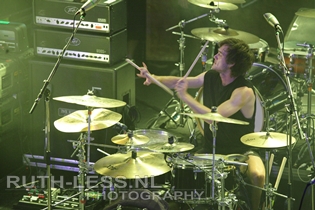 The combo of heavy pounding drums and bass, brutal vocals combined with the fine guitar work of Jon and Josh works quite well. Singer Adrian takes his time to interact with the audience between the songs of their short set list. The front row sings along loudly and the energy in the pit starts to build up. As with the first band, the sound is still a little so so, making it difficult to distinguish between all the layers in their music. Clean vocals suffer from this as well. The quality of the second band of this evening sets the bar high for what's still to come!

Setlist
01. Genesis
02. Scarab
03. Worldeater
04. Quantum Flux
05. Dispossession

Rating
Music: 7
Performance: 7
Sound: 7
Light: 3
Total: 6 / 10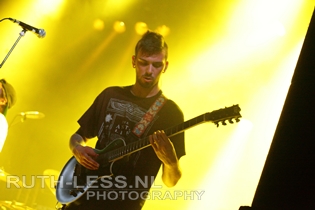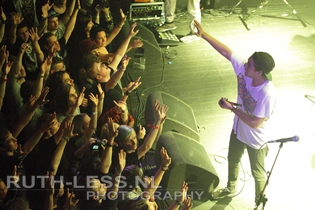 Hundredth

HUNDREDTH (formerly The Hundredth) is a melodic hardcore band from Myrtle Beach, South Carolina, that formed in 2008. HUNDREDTH formed in 2008 when a previous band called THE HUNDREDTH split. Their debut record 'When Will We Surrender' was released by Mediaskare Records on March 30, 2010. Their sophomore album, 'Let Go', was released one year later. HUNDREDTH are Chadwick Johnson (Vocals), Blake Hardman (Guitar), Andrew Minervini (Guitar), JP Gressman (Bass) and Matt Koontz (Drums). www.facebook.com/HUNDREDTH / http://hundredth.us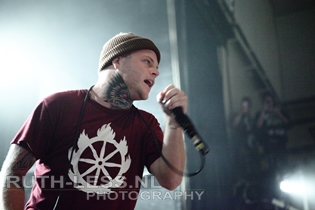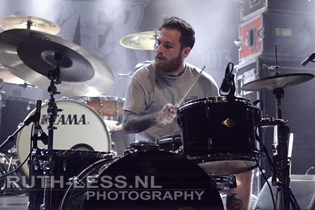 Music & Performance
Hundredth is loud, angry and in-your-face is what has to be said first of all. The speed is up and the first jumpers start climbing the stage, encouraged by singer Chadwick. Songs from their 2011 album 'Let go' pass along as the audience gets quite enthusiastic, and so do the men on stage. HUNDREDTH takes us a few years back with 'Desolate' from their first album 'When will we surrender'. Sound is getting a little better, but backing vocals where getting snowed under, which isn't always a pity with these hardcore bands. Nothing much left here to say except for HUNDREDTH: go check them out!

Setlist (incomplete)
Let go
Weathered town
Carry on
Desolate

Rating
Music: 8
Performance: 7
Sound: 7
Light: 3
Total: 6.3 / 10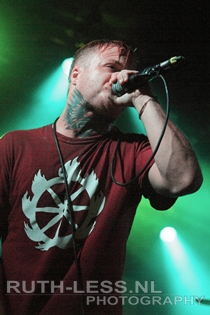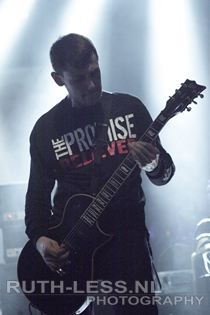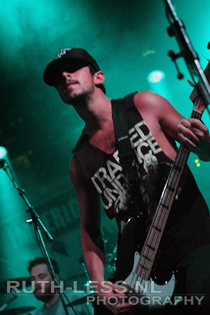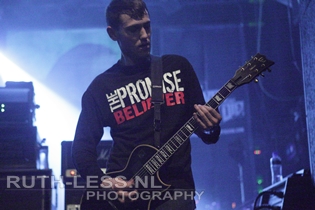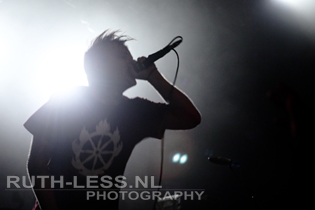 Betraying the Martyrs

BETRAYING THE MARTYRS is a 6 piece Metal/ Hardcore band from Paris, France with an acclaimed new and refreshing attitude to modern metal. The original line up, established in December 2008 consisted of a group of open minded individuals, who's only goal was to write punishing tracks, deliver an astounding live performance, and portray a good image with a new message of positive thinking and good morals. The first EP 'The Hurt, The Divine, The Light', (2009), received great response and allowed the band to tour the UK, France, Belgium, Luxembourg and Switzerland further promoting their music. After some changes in line-up (guitars and vocals), the band released 'Breathe in Life' (2011) and has been touring extensively in different continents in the course of 2012. In 2013, a new album is forthcoming. BETRAYING THE MARTYRS are Aaron Matts (Vocals), Victor Guillet (Keyboards/Vocals), Baptiste Vigier (Guitar), Lucas D'angelo (Guitar), Valentin Hauser (Bass) and Mark Mironov (Drums). www.facebook.com/WeAreBetrayingTheMartyrs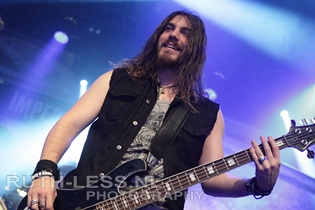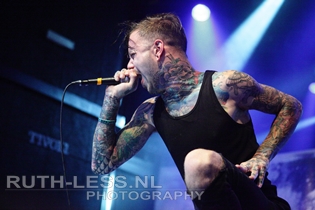 Music & Performance
A keyboard is added to the stage, as well as a few risers and banners. The front of the stage gets rather crowded with cute emo girls so I'm expecting some ditto boys to appear on stage by the name of BETRAYING THE MARTYRS. To a certain extend this fortunately turned out not to be true. BETRAYING THE MARTYRS is a 6-piece modern/metal hardcore formation from France, and quite energetic which becomes clear as they enter the stage and take off with their set. Singer Aaron attracts the attention with his distinctive growls and his contact with the audience as he crawls over his riser towards them. Unfortunately, clean vocals by keyboard player Victor where not that 'clean'. BETRAYING THE MARTYRS puts up quite a show and their set list is varied, making it a pleasure to watch and listen to. Most songs on the set list originate from their 2011 album 'Breathe in Life' but Aaron also tells the audience the band is working on a new album. They were planning to treat us to a new song, but this was not possible because their drummer got stuck in Russia due to visa problems. Too bad.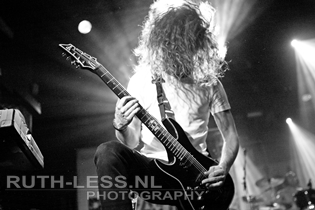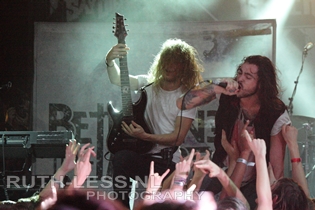 The keyboard player moves around on stage with either a keyboard or a microphone in his hand, which is a positive point as keyboard players usually are stuck on stage behind their instrument. But still, I find keyboards quite annoying and out-of-place in hardcore formations – they get that inevitable emo-flavour which I'm not that fond of. Still, an enjoyable set by a remarkable energetic band!

Setlist (incomplete)
Because of You
Life Is Precious
Love Lost
Man Made Disaster

Rating
Music: 7
Performance: 7
Sound: 7
Light: 7
Total: 7 / 10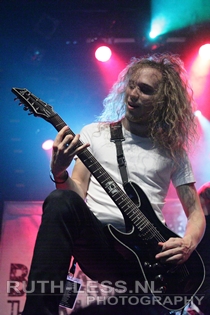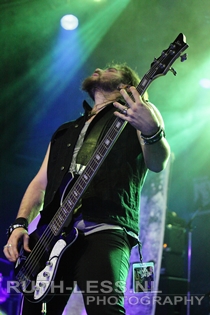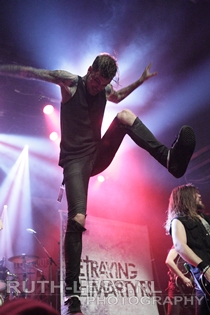 I Killed The Prom Queen

I KILLED THE PROM QUEEN is an Australian metalcore band which formed in 2000. Jona Weinhofen is the only remaining original member, as JJ Peters departed from the band in March 2013 to concentrate on Deez Nuts. The band featured prominently on the Australian live music scene and toured the USA, Japan and parts of Europe several times. They issued two studio albums, 'When Goodbye Means Forever...' (2003) and 'Music for the Recently Deceased' (2006) – the latter reached the top 30 on the ARIA Albums Chart. The group split up in April 2007 when Weinhofen joined United States band Bleeding Through and Peters founded Australian hardcore punk group Deez Nuts. I KILLED THE PROM QUEEN reformed to play a farewell tour in mid-2008 and released a live album and DVD, Sleepless Nights and City Lights, which peaked in the top 50.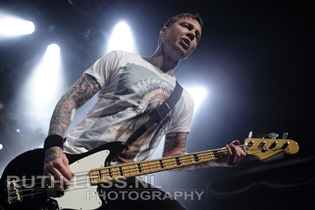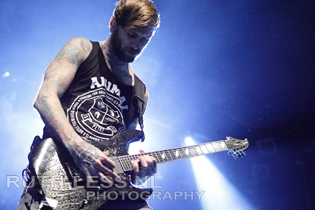 In May 2011, the band reformed for the Destroy Music Tour and indicated plans to work on a third studio album. I KILLED THE PROM QUEEN are Jona Weinhofen (Guitar, Vocals), Shane O'brien (Drums), Kevin Cameron (Guitar), Sean Kennedy (Bass) and Jamie Hope (Vocals). www.facebook.com/iktpq / http://ikilledthepromqueen.bigcartel.com

Music & Performance
Up next are another band from down under: I KILLED THE PROM QUEEN. These guys have been around since 2000, split up and reformed again a few years ago. With quite a name in the scene, expectations are high. As Jona, Shane, Kevin, Sean and Jamie take off with 'Your Shirt Would Look Better With a Columbian Neck-tie' the audience seems a bit tame. Perhaps they're still recovering from BETRAYING THE MARTYRS? 'Memento Vivere' is the first official song that has been released since their last album from 2006. This evening, we get another sneak peek into their new work with 'To The Wolves'.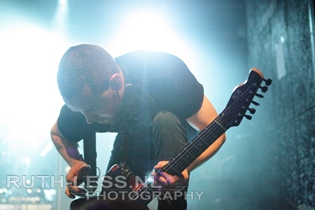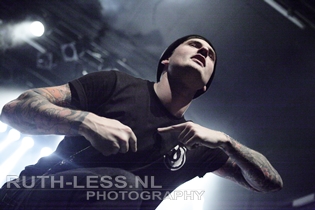 Since their reform, the band has known several lineup changes which most likely disturbed the plans for recording their next album. On stage this is hardly noticeable though, as the band members seem to be having a great time on stage together. And so do I.

Setlist
01. Your Shirt Would Look Better With a Columbian Neck-tie
02. Memento Vivere
03. Say Goodbye
04. To The Wolves
05. Sharks in Your Mouth

Rating
Music: 8
Performance: 8
Sound: 8
Light: 7
Total: 7.7 / 10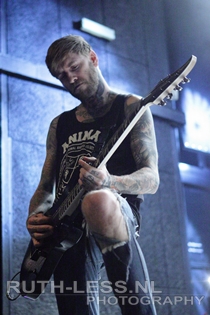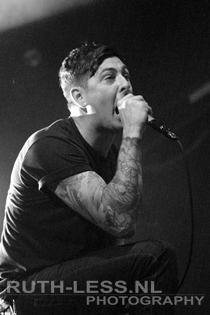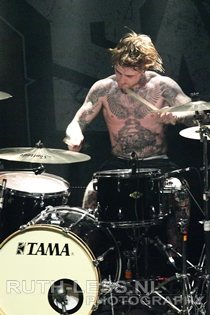 Carnifex

CARNIFEX is an American Deathcore band from San Diego, California. Formed in 2005, they are currently signed to Nuclear Blast after having been signed to Victory Records and have released four full-length albums and one EP. The name of the band is derived from the Old English Latin word äúexecutioner; literally meaning, "executioner". CARNIFEX play an extreme metal musical style known as Deathcore, which is a hybrid of the genres death metal and metalcore. The band cites DYING FETUS, DARK FUNERAL, THE BLACK DAHLIA MURDER, CANNIBAL CORPSE, DISSECTION, IN FLAMES and CARCASS as their main influences. CARNIFEX are Scott Lewis (Vocals), Shawn Cameron (Drums), Jordan Lockrey (Guitar), Cory Arford (Guitar) and Fred Calderon (Bass). http://www.indiemerch.com/carnifex / www.facebook.com/CarnifexMetal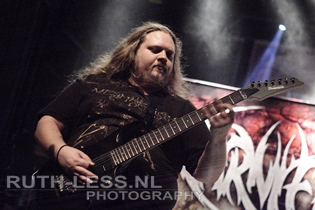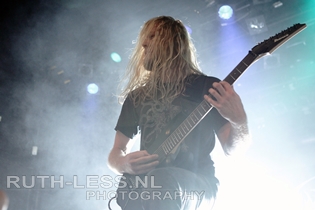 Music & Performance
This edition of Never Say Die has a great line-up for those who can appreciate a little variation in styles – at least I do. From the French show hunks and the hotties from down under, we move on to DEATHCORE formation CARNIFEX from California, USA. This American band brings us raw, uncompromised Deathcore with a hint of black metal. The set starts with some earlier work; 'In Coalesce With Filth and Faith' from their 2008 album 'The Diseased and the Poisoned' and 'Slit Wrist Savior' from CARNIFEX debut album. It's amazing to see how drummer Shawn manages to helicopter his long hair while pounding his drums at a sickening pace. About halfway their set, singer Scott announces a new song 'Die Without Hope' that will appear on their upcoming album.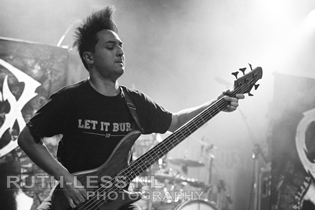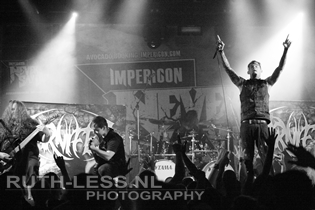 Judging by the steaming pit and the number of stage divers, CARNIFEX seems to be more than appreciated by tonight's audience.

Setlist
01. In Coalesce With Filth and Faith (The Diseased and the Poisoned, 2008)
02. Slit Wrist Savior (dead in my arms, 2007)
03. Dead But Dreaming (until I feel nothing, 2011)
04. Die Without Hope (New Song)
05. The Diseased and the Poisoned (The Diseased and the Poisoned, 2008)
06. Until I Feel Nothing (until I feel nothing, 2011)
07. Lie to My Face (dead in my arms, 2007)
08. Hell Chose Me (hell chose me 2010)

Rating
Music: 7
Performance: 6
Sound: 7
Light: 5
Total: 6.3 / 10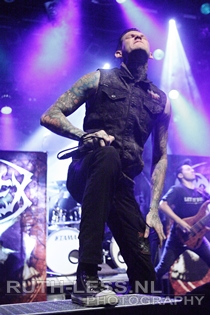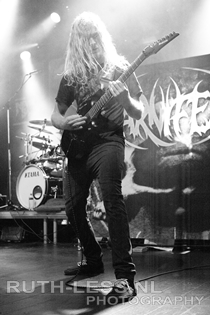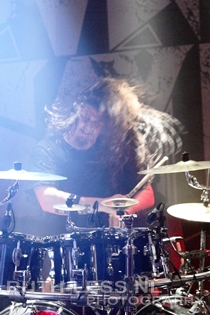 Emmure

EMMURE is an American Deathcore band formed in 2003. Originally based in New Fairfield, Connecticut, but now residing in Queens, New York. With their two demos entitled 'Nine Eleven Zero Four' and Demo 2005 they attracted the attention of This City Is Burning Records through which the band released their debut extended play 'The Complete Guide to Needlework'. Victory Records took notice of the band after this release and signed them. They released their first full-length album 'Goodbye to the Gallows' in 2007. Their second, third and fourth albums 'The Respect Issue' (2008), 'Felony' (2009) and 'Speaker of the Dead' (2011) were all distributed through Victory. After the band's initial four-album contract with Victory expired, they signed again with Victory to distribute their fifth studio album 'Slave to the Game' (2012) as well. EMMURE keep it simple and straight-forward, but this coupled with vocalist Frankie Palmeri's brutal openness and honesty connects to people on a level that few others can. Everyone has demons and dark sides to their lives, but this group shows that everyone deals with these types of issues and that there are productive ways to let it all out. ms.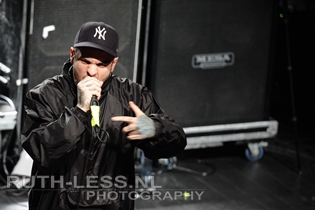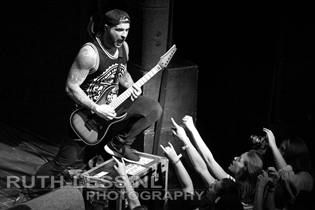 EMMURE have gained the loyalty of the metal community and legions of rabid fans, but make no mistake if you disrespect them you will be left sleeping with the fishes. EMMURE is Frankie Palmeri (Vocals), Jesse Ketive (Guitar), Mike Mulholland (Guitar), Mark Davis (Bass) and Mark Castillo (Drums). www.facebook.com/emmure / http://www.emmuremerch.com

Music & Performance
When it comes to angry, there is hardly any other band that can top EMMURE. EMMURE is by the way no newcomer at the Impericon Never Say Die tour. The band also joined the 2010 edition. Their latest album 'Slave to the Game' dates from 2012 and the next one is to be expected somewhere next year. Like I said before in another review: EMMURE is simply good at what they do and puts up a show like a sledge hammer. Different from the last show, guitarists Jesse and Mike interact with the audience a lot more, which makes their live performance more dynamic. Frankie is stoically as always, I only caught him smiling about one time and giving some stage diver a dirty look.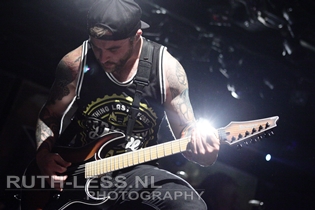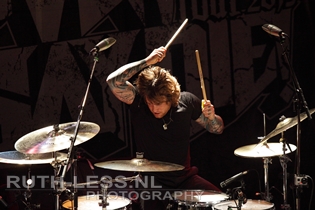 Most of the time, he spits out his lyrics and bounces on the brutal bass and breaks in between. EMMURE's wall of sound seems to please the audience, as the mosh pit becomes bigger, harder and faster. Sound is more balanced than last time I saw them and the layers in their music were drowning in the drum sound. I could feel my organs only shuffling only moderately, which is much appreciated. This is the 4th time I've seen these angry guys play live and I'm starting to like them more every time! All in all, the Impericon Never Say Die tour 2013 can be called a success and has without any doubt overtaken last year's edition. A more mature line-up is one of the main reasons for this fact. The other one is the diversity of the bands this evening. On to the next edition!

Setlist
01. 4 Poisons 3 Words
02. Solar Flare Homicide
03. Protoman
04. Sunday Bacon
05. I Thought You Met Telly and Turned Me Into Casper
06. Demons With Ryu
07. Drug Dealer Friend
08. Dogs Get Put Down
09. R2Deepthroat
10. Children of Cybertron
11. 10 Signs You Should Leave
12. MDMA
13. When keeping it real goes wrong

Rating
Music: 8
Performance: 8
Sound: 8
Light: 8
Total: 8 / 10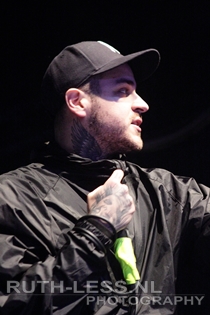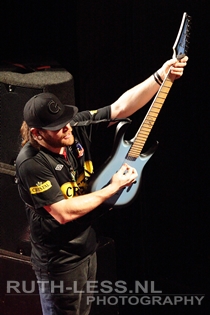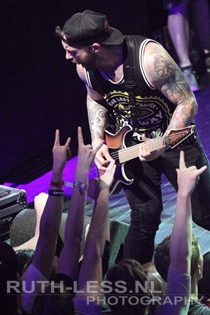 All pics by Ruth Mampuys (www.ruth-less.nl)