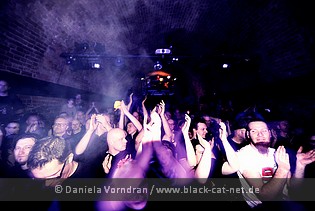 Moritzbastei, Leipzig, Germany
12th January 2013
Planet Myer Day 12: S'Apex, Binary Park, Hecq, Klangstabil, Haujobb

It is kind if tradition – not only for me – to travel to Leipzig beginning of a new year for the Planet Myer day, taking place for the twelfth time already. People who did not buy a ticket in advance were really unlucky this time since the event was sold-out and the venue turned out to be really packed already for the first band, Daniel Myer's project A'APEX. Today, there was no second floor and five bands were up to deliver high-class electronic music.



S'Apex

As already mentioned, first up this evening was the Myer project S'APEX. So far, Myer has released an album, 'Audiodesign' (1997), and two EPs, 'Out There Back On / Procedure#1' (1999) and 'Henryk', with this project. For a long time, it way disbanded, but now, Myer is working on a re-master of the 'Audiodesign' album which will be released very soon. If you are interested, just listen to a first, unfinished master of 'Out there, back on' on YouTube. When the show started, Myer entered the stage for a little announcement. He had a little accident the day before where he, among other minor injuries, also broke one finger. And since he was not feeling too well and had to play with HAUJOBB later on, his friend, DJ Booga, jumped in to present his music. So we were delivered twenty minutes of fine electronic sounds, getting you in the right mood for the evening. // http://www.discogs.com/artist/11214-Sapex / https://www.facebook.com/deejay.booga // Rating: 7 / 10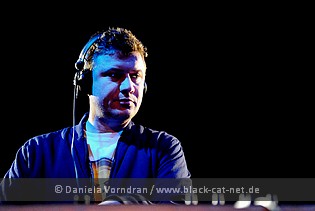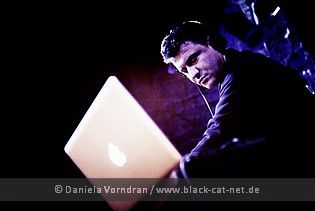 Binary Park

After a very short break, BINARY PARK were entering the stage. I already saw the band last year at Nordstern Festival. Just like on that day, BINARY PARK were playing as a duo of Torben and Alfred whereas normally the band consists of Huw Jones (voice, lyrics), Alfred Gregl (music) and Torben Schmidt (music). Missing the vocalist it was clear that we were presented an all-electronic instrumental show, except a view voice samples. Both musicians were once more placed on a big desk in the middle of stage with all the technical equipment on it. Sounds quite boring, huh? But to spice things up, the band brought nice video animations with them, giving a nice visual background to the music. The danceable beats were perfectly meeting the audience's taste and people were starting to dance and the mood in the tube was increasing. Nice little set, but I still miss some vocals. // https://www.facebook.com/binarypark // Setlist: 1. Intro / 2. Industrial Pop / 3. Worlds Collide / 4. Lick the Blade / 5. Wodkachaos (BP Remix) / 6. Sawhead / 7. Machine Core // Rating: 7 / 10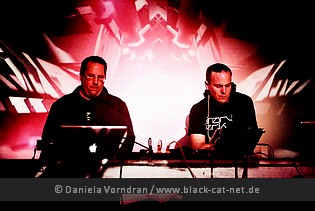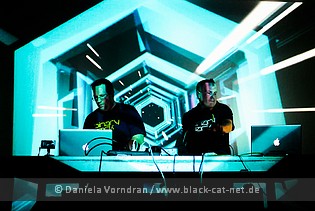 Hecq

With HECQ, we move on with a pure instrumental set. Since his first release 'A Dried Youth' back in 2004, it was clear that no ordinary artist was controlling the machines and with every new album that appeared he evolved in his way of dealing with music technology and that he's not willing to sound like anyone else. Many people might also know him for his works, called the 'Hecq Destruxxions', he did for the last two albums of IN STRICT CONFIDENCE and the last PSYCHOBITCH album. 2007 saw the release of '0000', followed by 'Nightfalls' that marked kind of turning point with its orchestral direction. Several more albums followed, with 'Restive' in 2012 being the last one. Afterwards, the 'Enceladus' EP followed. Once more, with HECQ we had an artist on stage being laced behind a desk only and turning the knobs. Not even visuals this time. Again sounds boring and in fact, the performance itself is not really interesting. The interesting and special thing is the music Mr. Boysen presents. To get the people moving more, HECQ presented mostly beat-driven pieces from his back-catalogue. The audience was excited in big parts, for my taste I prefer listening to HECQ's music at home. // https://www.facebook.com/HecqOfficial / http://www.hecq.de/ // Rating: 7 / 10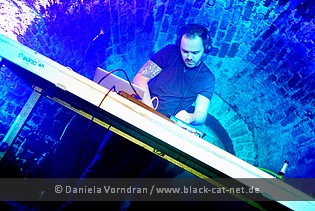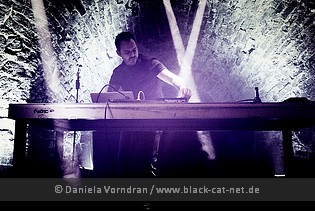 Klangstabil

It is no secret that I am a big fan of KLANGSTABIL's works and so I was very much looking forward the show of Maurizio Blanco and Boris May who formed the band in 1994. Soon the duo started producing material, first without the intention to release something. But releases came and we are happy about that. Over the years, KLANGSTABIL carved out a very own niche in alternative electronic music by taking elements of its very beginning adding to it a contemporary, sometimes experimental edge. October 2008 saw the release of the duo's conceptual work 'Math & Emotion, followed up by the 'Vertraut EP'. The newest output is the 'Shadowboy' album from November 2013, available as box with an additional book written by Christian von Aster. With KLANGSTABIL, again we have the desk in the back… but we also have front man Boris, as always performing barefoot, who acts so emotional on stage that it really catches you. He shouts the vocals passionately instead of really singing like he does on the album.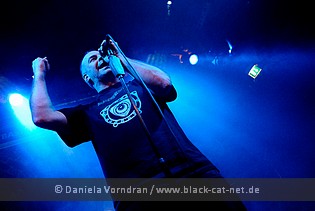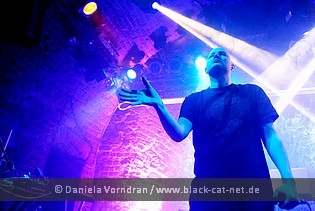 Besides him, Maurizio is taking over vocal duties for some songs, for instance 'Perdere per Vincere'. The band had one hour time and it was an intense hour. Of course there were songs out of the new album plus some old gems. One of them was really special. It was 'Wir sind ganz zusammen' where the band got some help on stage. As Boris told us, they got a message on Facebook where they were asked by a fan if he could do a song together with them on stage. The band agreed and so, Marco joined them on stage. Together with Maurizio, he delivered the intense vocals of the song and was rewarded with huge applause. Brave thing he did! And he did it well. Much too soon, the hour was already over and KLANGSTABIL said goodbye with the intense 'Lauf, Lauf', always one of my favourites during their gigs. If you missed this show, you soon have the chance to see KLANGSTABIL during several dates in Germany. // http://www.klangstabil.com / https://www.facebook.com/pages/Klangstabil/7403019660 // Setlist: 1. Pay with Friendship (remix version) / 2. 1 of 100 / 3. Cinecittà / 4. Math and Emotion / 5. You may start / 6. Perdere per Vincere / 7. Love has too much audience / 8. End of us / 9. Schattentanz / 10. Wir sind ganz zusammen (feat. Marco) / 11. Push yourself / 12. Lauf, Lauf // Rating: 9 / 10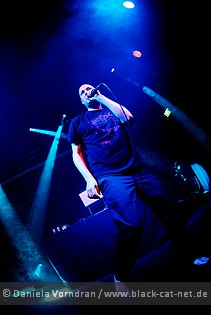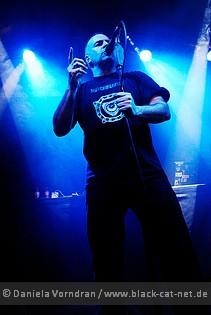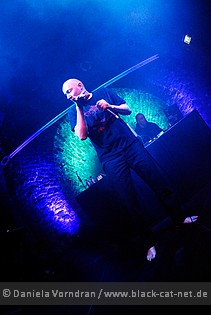 Haujobb

As already mentioned in the beginning, Daniel Myer, front man of HAUJOBB, was injured. So his show turned out a little different than usually. First of all, the band had to shorten the planned show a little. But anyway the show should turn out as a perfect gig with much intensity and an audience really going mad! HAUJOBB, the project of Daniel Myer and Dejan Samardzic, extended live by Manuel G. Richter, was started in 1993 and their first albums with hits like 'Eye Over You' or 'World Window' the then Bielefeld-based band quickly became a success in the EBM and Industrial scene. After several albums being very popular in the scene, HAUJOBB gave a farewell show at the Amphi festival in Cologne in 2008. But this was not the end of the band; HAUJOBB returned in 2011 with a brilliant new album, 'New World March'. Planet Myer Day always sees one of Myers projects headlining the evening. This year once more presented HAUJOBB which I call his main project and also best known one.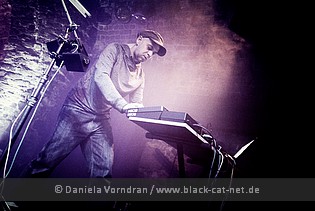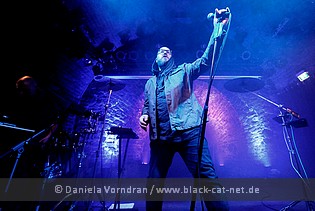 The set was opened with 'Subsonic', followed by the smasher 'Let's drop bombs', one of the really big songs out of the latest album. When the next song was up to start, poor Dejan had a little problem with his Windows computer… this fact being not unmentioned by Myer… and so, the set was quickly changed and went on with 'Crossfire', followed by the originally planned 'Renegades Of Noise'. People in the hall were dancing heavy, not without any heavy pogo. Usually, this does not harm anyone, but there was one person in the crowd heavily pushing others and hurting them, not listening to anyone. Soon, he lost his shoe, Myer stopped the show and when the shoe was found, the show went on. But not for long because after a few minutes Daniel had to stop the show again, telling the heavy pogoing person to calm down, there were girls standing in front and also his mother to watch the show. Rest of the audience agreed and soon, the troublemaker went back and people in front were enjoying the dancing and jumping… without hurting anyone.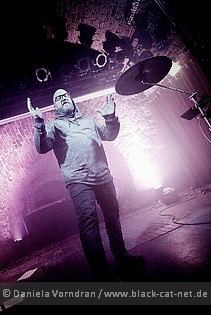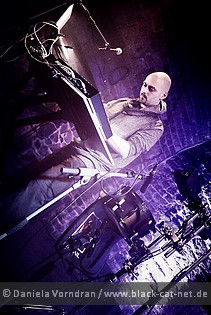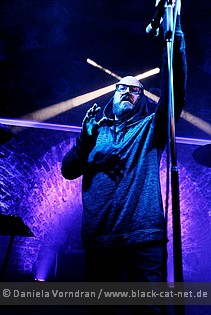 Mood was on a top level and Daniel performed on stage as if he did not had an accident the day before. But I guess it was hurting anyway and not too easy to operate the technics with his broken finger. Another little break in the show followed a little later when Myer told people that Manuel was celebrating his fortieth birthday the day before. Needless to say he got a spontaneous birthday song from the audience. Very emotional and Manuel was really excited. With some high-class songs, the set went on, but ended much too soon with 'The Noise Institute'. Due to his injury, Myer had to shorten the set and so, some songs could not be played… and they did not play two songs I really love, classic 'Eye Over You' and 'New World March' from the new album. Very sad, but understandable. Anyone was happy that the band played such an energetic set at all. And yet, the set was not totally over since there were a few encores to play. My favourite of them was 'World Window', one of the old gems the band has to offer.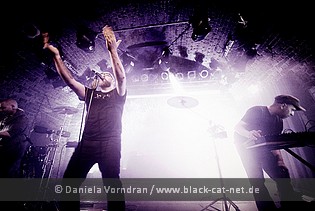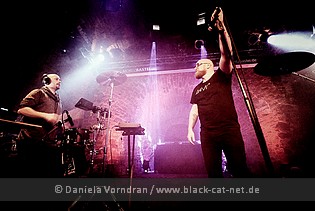 'Dead Market' finally ended the show. People were happy, sweaty and exhausted. What a great evening. HAUJOBB really should hurry up with a successor of their great last album! // http://haujobb-music.com / https://www.facebook.com/haujobbmusic // Setlist: 1. Subsonic / 2. Let's drop Bombs / 3. Crossfire / 4. Renegades Of Noise / 5. Machine Drum / 6. Penetration / 7. Dream Aid / 8. Little World / 9. The Noise Institute / Encore I: 10. Letting the Demons sleep / 11. World Window / Encore II: 12. Dead Market // Rating: 9.5 / 10

After the concerts, there was no real after-show party today, but there still was time to have some drinks at the Moritzbastei and to meet the bands outside. Especially KLANGSTABIL spent a lot of time at the merch to meet fans and to "pay with friendship".

All pictures by Daniela Vorndran (http://www.black-cat-net.de / http://www.myspace.com/vorndranphotography / http://www.facebook.com/blackcatnet)



See also (all categories):