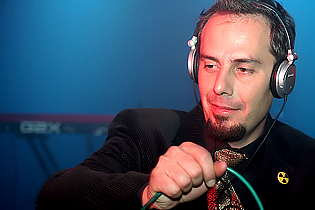 Funaberia 2,
Lodz, Poland
4th November 2006
Gothic Festival 3: Empire in Dust, Controlled Collapse, Agonised By Love, Head-less, Covenant


Gothic.pl Festival has been organized for three times so far and it commemorates launching of the portal Gothic.pl. The first Fest took place in the club Przestrzen Graffenberga in Warsaw on 11th Sept. 2004 and it attracted 250 people. The line-up of the first edition was as follows: Miguel And The Living Dead, The Act, No Signal Detected, Agonised By Love, Torhaus. The headliner was the Slovakian artists Lahka Muza. In 2005 the fest was located in Proxima in Warsaw on 2-3rd Oct. and the line-up covered totally 12 bands i.e. Diary Of Dreams and Diorama. Additionally there were: Painbastard (de), Rumours About Angels, Silence (Slovenia), Deathcamp Project, The Act, Miguel And The Living Dead, D'archangel, No Signal Detected, Carnal, Eve Of Destiny (jp). Above 500 people participated in the fest.
http://www.festival.gothic.pl/
So much for the history... Though the Third Edition is already history, too, the impressions are still vivid. On 4th November we had pleasure of participating in the event of a fantastic line-up. Covenant as a headliner and supporting bands: Head-less, Agonised By Love, Controlled Collapse and Empire in Dust.
The venue where the whole thing took place was an old theater Funaberia 2 in Lodz, a noisy city of industrial landscapes. It was cold, true, so no fashion show could've taken place, still I believe most of the people managed to survive somehow thanks to the energetic, ravishing music and splendid atmosphere (cause definitely not thanks to the variety of alcohols offered by the bar...:) ).
Empire in Dust


Empire in Dust - Dark Electro and -Wave, EBM, Psychedelic Trance, Dark Pop and Industrial band was founded in 2000 in Cologne by Manuel and Alina. Their music is created on highly spiritual and philosophical basis with a danceable, rhythmical music background.
http://www.empire-in-dust.de/
Music

The music played by Empire in Dust in kind of electro/EBM – a dynamic and energetic cocktail seasoned with rather soft, warm Manuel's vocals, supported from time to time by a feminine, innocent one by Alina. In Lodz, the band's music served as a warm-up (metaphorically and literally - it was indeed very cold in the place) and I think it did very well. Though at the time they played there were still not many people, those who were present reacted to the show positively, dancing and even singing at times. For me the music of Empire in Dust is of classic quality, rather stable melodic line, deprived of musical experiments or tricks, shocking changes of pace and rhythm or deafening passages - I'd say it's of a traditional electro genre.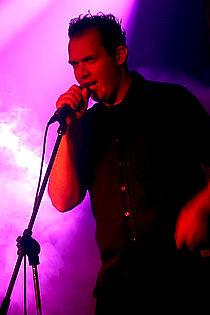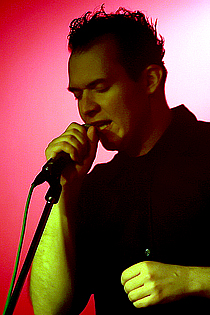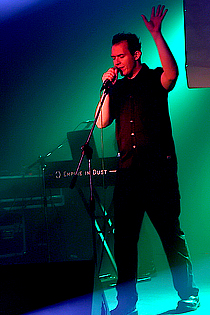 Performance

Performance was both: artists and light - the vocalist moved and encouraged the audience to dance with him; the keyboard player was invisible for the first part of the concert as she was completely wreathed in smoke; luckily after 20 minutes or so the smoke dispersed and we could see Alina. The lights were red, orange and yellow and created a nice background for the musicians. All in all, it was a rather moderate performance still a certain dose of emotions and engagement that we could see on Manuel's face, their friendly manner and attempts to establish contact with the audience were definitely the plus for the show.
Setlist

01. Quiet Troops (Intro)
02. Fusion
03. Against Reality
04. Bliss and Starvation
05. In the Flow
06. The Glade
07. Always Blue
08. Silent World
09. Meaningless
Rating
Music: 6
Performance: 5
Light: 6
Sound: 6
Total: 5.7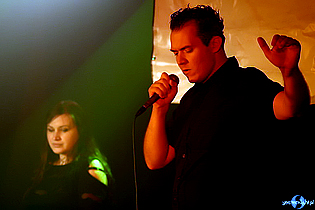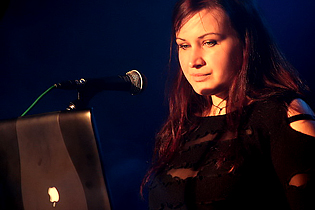 Controlled Collapse


Controlled Collapse was established in 2003 by Wojciech 'kr-lik' Król. First material - a 4 track demo "d3m0" - was inspired by Hocico and VNV Nation, then in 2005 a limited edition (50 copies) CD-R EP called "HUMANIZATION DEMO" followed. CC gave several concerts i.e. during Summer Darkness 2005. An upcoming debut album called "Injection" is set to be released somewhere around 2nd or 3rd quarter of 2006. http://www.controlled-collapse.com/


Music

Controlled Collapse is definitely most aggressive of Polish electro projects and their artistic output could be categorized as kind of hard blend of Combichrist and Suicide Commando mixed in an individual way of the band. It's definitely very harsh, overpowering music comprising of dirty, crunchy sounds, jabs of noise and dark adrenaline driven soundscapes. You won't find any pop arrangements here - the music of Controlled Collapse is to irritate, smash and torment your sense of hearing and wrack the brain.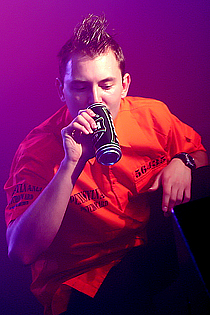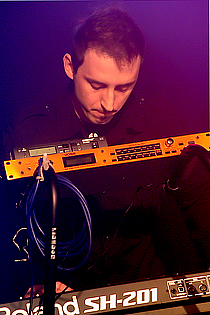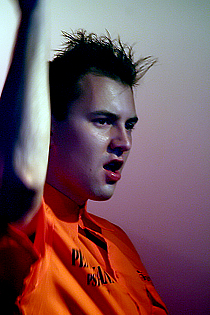 Performance

First thing I noticed: there was far too much of smoke. For the majority of the show two artists standing in the background and even occasionally the front man were practically invisible. Next thing - it was one of most energetic concerts of the whole Festival - kr-lik, I believe, understands that electro music concerts cannot be associated with church choir practice so he moved energetically, mimicked and sang in a way that proved the fact the show had really been polished beforehand. At least that's the way I saw it - image in fact is important and so is the dynamic behavior on the stage once someone plays electro or industrial music - otherwise it's completely unconvincing - a simple fact so many artist seem to skip out or neglect. I liked the concert - it was the first to scope my attention for so long.
Setlist
01. Intro
02. Insane asylum
03. Trust
04. Liar
05. Inject
06. Notice
07. Guidance
08. Dreams
09. Destiny
Rating

Music: 7
Performance: 7
Light; 6
Sound: 6
Total: 6.7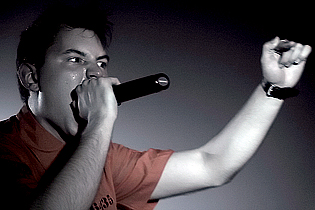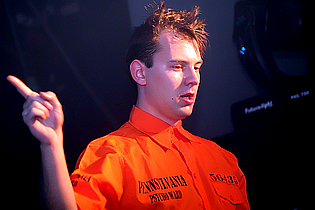 Agonised By Love


ABL's music is similar to Deine Lakaien, Diary Of Dreams, Diorama and related. So far they've released the EPCD "Close Behind You" and a CD "All Of White Horizons". The band: Rafal Tomaszczuk (vocals) and Mariusz Gryciuk (keyboards).
http://www.agonisedbylove.art.pl/
/
http://www.myspace.com/agonisedbylove
Music

The musicians claim they sound like Diary of Dreams or Deine Lakaien. Well, for me their music is more energetic and dynamic; the subtle, melancholic soundscapes do not prevail in their music. Though their lyrics seem to be about emotions and feelings the background for them is definitely harder with a rock and not gothic tint to it. At least for me. The electronics blend there very nicely with guitar sounds and engaged warm voice of Rafal. Though in the past their music seemed to me a danceable dance-floor filler now I sense a more hard turn it has taken and I suppose it adds positively to the general composition of their output.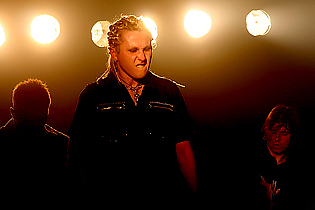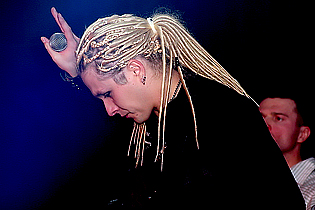 Performance

Since I saw them the last time the image of Agonised by Love has definitely changed. Rafal - the vocalist - changed his hairstyle to fair blond bunch of braids which look very stylish indeed, they also got a new band member - Harry - who is most known as a one of the best DJs in Poland. Their performance on Gothic Festival 2006 had strong marks of engagement and also could pretend to stardom even, if it wasn't for the poor sounding. I don't know who did them such a nasty trick, but no matter where I stood - first or last row I could hear the instruments and vocals running wild with no connection whatsoever. What a shame - otherwise that could have been a good concert in all aspects as the musicians are becoming better and better performers and their scenic manner more confident and open. I hope they keep moving into that direction. Their contact with the audience and emotional load presented on the stage were excellent.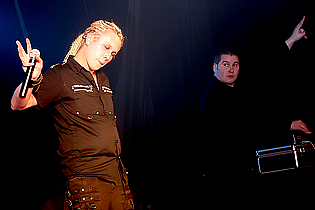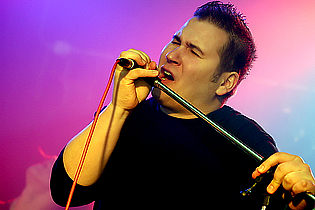 Setlist
01. Close behind you
02. Cover my world
03. Magnolia
04. My sweet November
05. Shelter
06. Just perfect sin
07. Lorelei
08. Silent war
09. Metal man
Rating

Music: 6
Performance: 7
Light: 6
Sound: 4
Total 6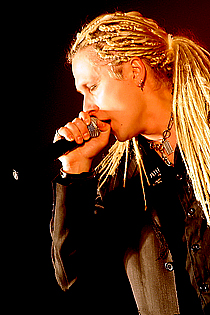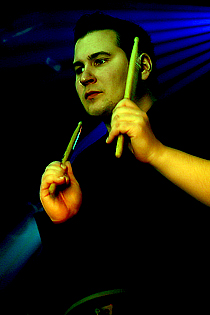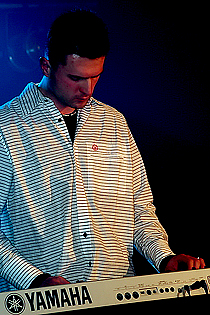 Head-less


Head-less are René Hentzschel (vocals, lyrics), Matthias Marko (prog., synth) and Markus Otto (samples, manag.).The band started in 1995 and its main inspiration is electronic of various kinds, still the stress is always put on the danceable quality of their music.
Music

It was the first time I saw Head-less, though they performed in Poland in the past. Their music is very danceable and influenced the fans in the nice way: people moved and danced. A bit hoarse vocals and the music that was running smoothly and dynamically to change into the one marked by a beating, pounding sound made a very good impression. In general it was electro music of good quality that appealed to quite a part of the listeners.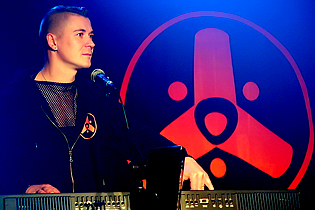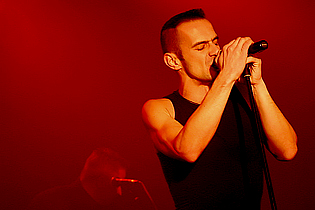 Performance

When I think of the Head-less concert, what first comes to my mind is: one great party with the fans. And though the artists were on the stage and we right beside it, it was indeed a great time. They had certain technical problems, but I believe it didn't disrupt the whole which was energetic, smooth show. René is very good in establishing contact with the audience and managed to engage the audience in his concert. Highly charismatic person knew how to deal with those little breaks caused by moments of "rebel of the machines". Very good, danceable show.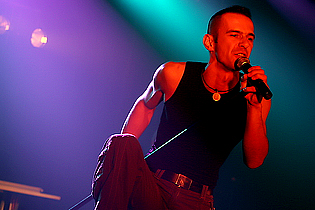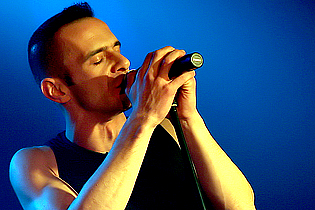 Setlist
01. Yes I Am
02. Triebjagd
03. Licht im Grau (break)
04. Catch A Bitch
05. It's Enough
06. Ship Of Agony
07. Einwegpassagier
08. Seelensturm
09. Friendship
Rating
Music: 7
Performance: 6
Light: 6
Sound: 6
Total 6.4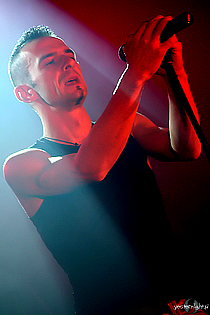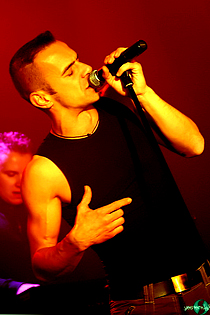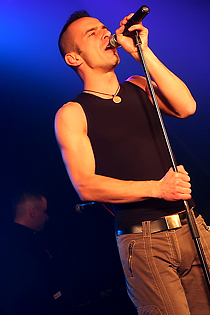 Covenant

For the biography check here. http://www.covenant.se/


Music

Yeah, the "s" word is on the tip of my tongue and yes, in fact I'm not afraid of saying it - it was superb concert! My impression concerning Covenant's music consists of several things - one is my utter admiration of their artistic output, second: it always moves me in an unbelievable way and third - for the first time I had a chance to listen to it live. All this together made me enjoy the concert very much. The blend of old, perfectly known songs which were sung both by the band and the audience (or even only the audience) to the new ones of the album "Skyscraper": they all hypnotized, mesmerized, electrified and enchanted those gathered in Funaberia 2 at that night. OK, there were some problems - I won't keep it secret that for some people these were so crucial that they claimed they ruined the whole concert, but from what I could see during the show the people were ravished and completely lost in the heat of the moment the energetic and fantastic music created. And yes, I may only speak for the first rows - the place was so packed I couldn't look behind so I only saw enthusiasm and admiration of those who stood around me. For me personally - the music we could listen to on that concert was marvelous.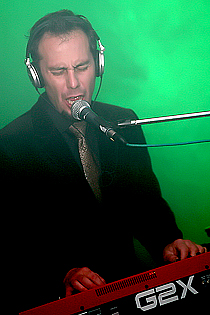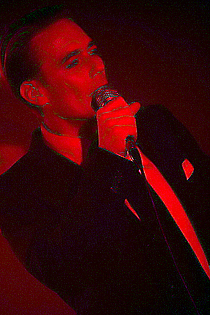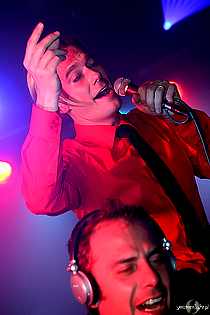 Performance

Covenant are the masters of building the tension up. Before they appeared on the stage we were standing in the thick masses of smoke, staring at the stage that was dark; only the dim red/green light shimmered and lightened the image. The music that announced the coming of the band lasted for about 10 minutes and it was a pounding, promising sound... Yes, definitely most of the people who came to Lodz on that day came there for Covenant that in fact was to perform in Poland
for the very first time. When the repeating screams for the band changed into a one stable, laud call they finally appeared on the stage and the show began...Cause it is to be called a real show - Eskil, Joakim and Clas started in a calm way, to run wild at the end - jumping on the sound equipment and the whole stage, Clas and Eskil singing together, running all over the place, looking into the fans faces, disappearing in the smoke from time to time to appear again.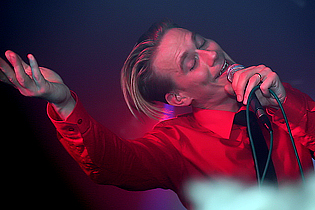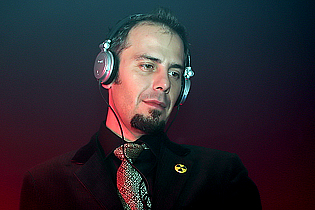 When they finished one loud ask for encore started arising and call "Covenant" plus stamping of the fans on the wooden floor made them come back for two times. Well, that was one part of the show: Spectacular dance, energy, great contact with the audience and magnificent collage of music and movement. The other part was the constant fight of Joakim with his equipment -don't know who won in the end, I believe it was the technical stuff who finally managed to pacify both: a man and the machine... Like I said it was the first concert of Covenant in
Poland and the opinions concerning it vary. One thing is sure it will be remembered for long...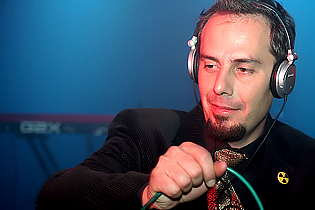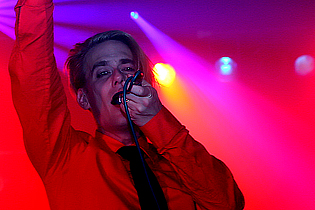 Setlist

01. Bullet
02. Tension (Remix)
03. Tour De Force
04. Invisible & Silent
05. The Men
06. Feedback
07. We Stand Alone
08. Ritual Noise
09. Stalker
-------------------------
10. Theremin
11. Brave New World
-------------------------
12. Happy Man
13. Call the Ships to Port
14. Dead Stars
-------------------------
15. One World One Sky
Rating

Music: 10
Performance: 8
Light: 9
Sound: 7
Total 8.8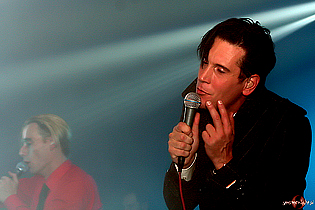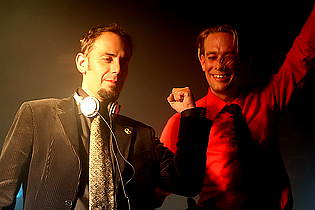 My Festival ended up here I didn't participate in an after party, but I believe it became a bit warmer when the DJs started to play. All in all it was a perfectly organized show, despite some minor/major technical or so-called technical problems the bands had on the stage...
All pics by yesternight.pl
{jos_sb_discuss:18}