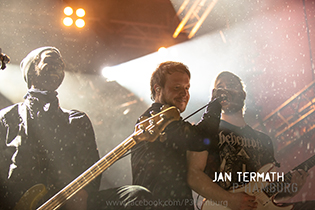 Hafen Rock @ 825th Hafengeburtstag, Hamburg, Germany
9th to 11th May 2014
Hafen Rock Day 2 with Idgy, Vivie Ann, Châlice, 5th Avenue, Bon Scott, Dark Age and Emil Bulls

So day two of the 825th birthday of the harbour of Hamburg started. At the Hafen Rock Stage the program began again at the midday time. Today the United Elb Choir opened the show. There were many more visitors than the day before and also at the fish market terrain it was better filled at this early time. No storm warnings, but still not so nice weather, so this was another point why the stampede was greater.
Idgy & Vivie Ann

Coming from the Popkurs Hamburg, two students entered the stage. IDGY was first in line - consisting of a female and a male guitarist presented some of their own songs and had an explanation to almost every one. It was a mix of soft rock and pop sounds and more for listening for some while. But they got some loud applause from the audience, who watched them. IDGY played one long hour eight songs, even gave one little encore 'Push & Pulls', before they gave the stage free for their fellow student.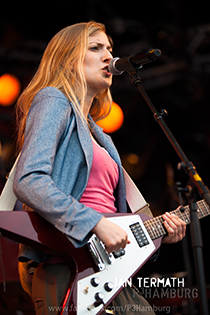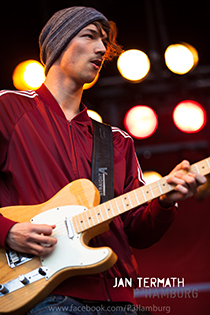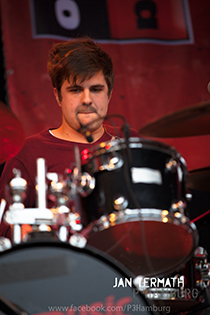 VIVIE ANN had next to own songs some cover versions like 'Let Her Go' by PASSENGER, and interpreted it very emotionally. She also had one hour time and that was enough for nine songs. She was also changing instruments: acoustic guitars, keyboards and xylophones came to use, and all of them were played by the singer herself. But she had also the support of a little band. Unfortunately, the music from another stage was way too loud, so that VIVIE ANN had problems to drown it down. During both artists' shows, no real fans were recognizable. Some people stayed the whole show to watch it, but mostly they only walked by.
http://popkurs-hamburg.de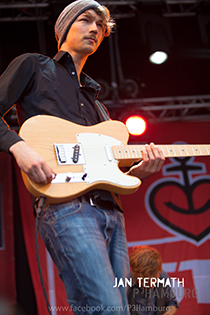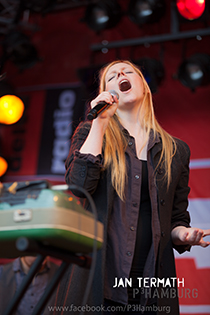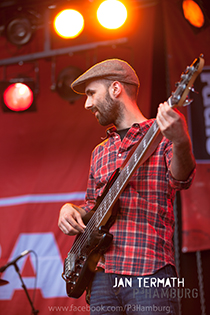 Setlist IDGY
01. Katsching
02. Looking For
03. Fountain
04. Lay Down
05. Down By The Water
06. Why
07. Settle Down
08. Kleine Brötchen
09. Push & Pull
Setlist VIVIE ANN
01. Inner Feelings
02. My Sweet Love
03. No Place
04. Charlie Darling
05. Let Her Go
06. Flowers & Tigers
07. Headlock
08. Mister Mister
09. Pictures
Rating

Music: 7
Performance: 7
Sound. 7
Light: - (daylight)
Total: 7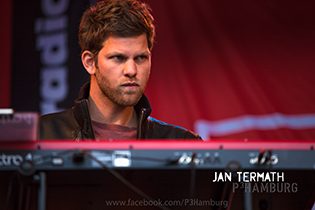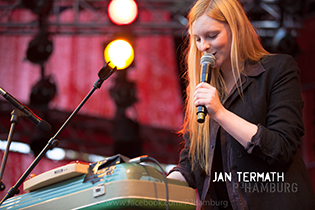 Châlice

With the next band, a little break happened. After those both students, now a real Hard Rock band entered the stage. CHÂLICE, now for 22 years in the business being support band of sizes like DORO or DEEP PURPLE, wanted to show that the Astra Hafen Rock Stage is its name more than worth. Five men of the older semester, singer Gino Naschke, Oliver Scheer as guitarist, Steve Lagleder for the bass guitar, Michael Mehl at the drums and keyboarder Axel Hoffmann, brought along the first fans for the day. Other interested people joined and the crowd slowly grew bigger and bigger. Meanwhile, it was in the later afternoon. CHÂLICE's 7th album is now in progress – so if you do not know them yet, you've got to catch up some LPs. They're absolutely worth it!
http://www.chalice.de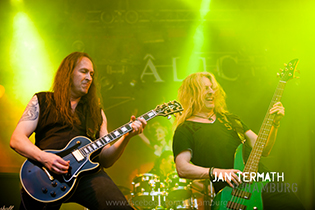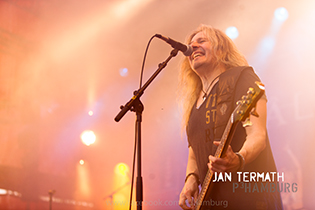 Setlist
01. You Better Get Used To It
02. Overyears Sensation
03. Taste It
04. Chasing The Wind
05. All About Your Love
06. Turn Away
07. Hollywood Daze
Rating

Music: 8
Performance: 8
Sound: 9
Light: - (daylight)
Total: 8.3 / 10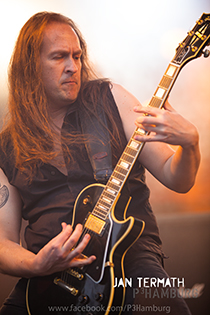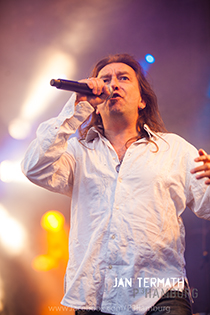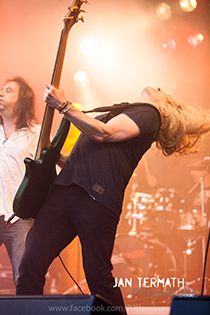 5th Avenue

In the early evening hours, the terrain was filling more and more with people. Now, at 6 o'clock, it was time for 5TH AVENUE. It was the first gig of the band since a longer lasting break of in whole 17 years, and the last concert on the Hamburg harbour birthday dates back to 1994. In this year, the guys are celebrating their comeback with the topic "Selbe Stelle, selbe Welle" ("Same place, same wave"). Like riding bicycle, 5TH AVENUE did not unlearn how to entertain. The songs are a seamless transition. Seems knowing good old Birgit, the singer asked her if she knows what women want – 'She wants everything' comes on as next song. Also played was a song named 'Rough Affair', which ensured some incidents in the past, but on this point I better do not want to elaborate on. For this time, 5TH AVENUE got on stage a female dancer, who lifted the mood of band and crowd.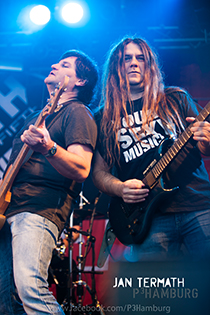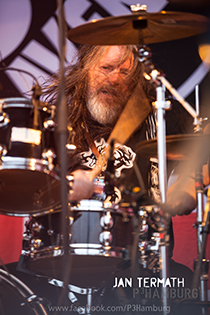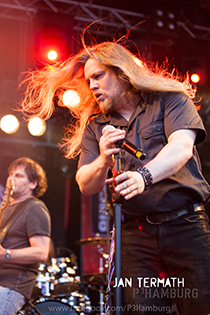 At the end, there was even time of an encore, something only a few bands managed to do with their mostly short time of one hour. So 5TH AVENUE quit their show with 'The face' and a loud applause. For fans of old-school rock, this was a real experience at the second day of the Hafen Rock.
http://www.5thavenue-hamburg.de/
Setlist

01. Civilized
02. Save the Day
03. Mrs. Strong
04. Ocean
05. Luka
06. Separate Ways
07. Postman
08. She wants it all
09. I'm insane
10. Rough Affair
11. Satellite
12. #Love...Hate
---
13. The Face
Rating

Music: 8
Performance: 9
Sound: 9
Light: 8
Total: 8.5 / 10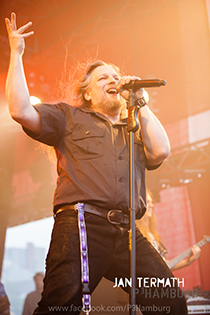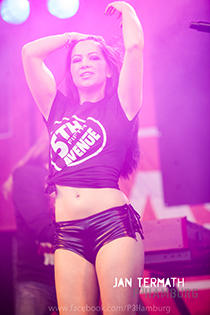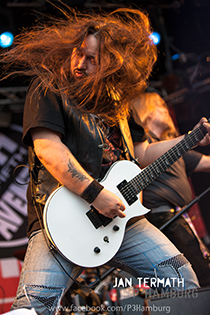 Bon Scott

BON SCOTT continued the music style of the day and increased the mood of the crowd a lot with AC/DC cover versions, before the two headliners would start in that evening. BON SCOTT is a tribute band of AC/DC, named after the deceased singer Bon Scott in 1980. Five years after his death, the guys from Hamburg decided to found this band and let the old hits relive. You could see how people, who just wanted to walk by, stopped and watched the show, not only because of a lot of guitar solos. In the first rows, you could find real AC/DC-fans, which had no shy to yell out their song wishes. With the words "Stop that yelling, this is a serious rock concert!" came back "Shut up, old boy!" always with beer in the hand and a smile on the face. Songs everybody has to know like 'Back in Black' and 'Highway to Hell' but also songs for only real fans like 'Long Way' and 'Rosie' were played.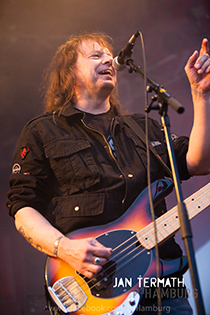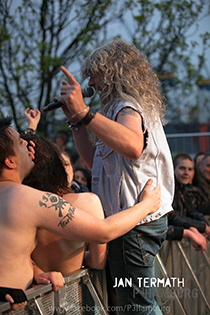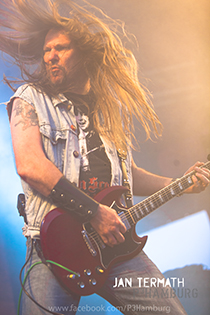 At the first encore, 'Thunderstruck', singer Kay Carstens even left the stage and jumped into the crowd to sing along between all the people. After one hour and 14 songs, the crowd now was ready enough to enjoy the headliners.
https://www.facebook.com/pages/Bon-Scott-Tribute-to-ACDC-Hamburg/183570518352714
Setlist

01. Dirty Deeds
02. TNT
03. Sin City
04. Back in Black
05. Bad Boy Boogie
06. Long Way
07. Rosie
08. Jack
09. Hells Bells
10. Highway to Hell
11. Stroke me
12. Let there be
---
13. Thunderstruck
14. High Voltage
Rating

Music: 8
Performance: 8
Sound: 9
Light: 8
Total: 8.2 / 10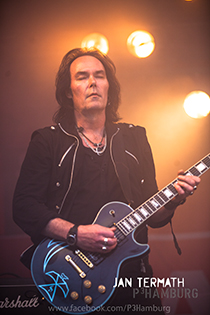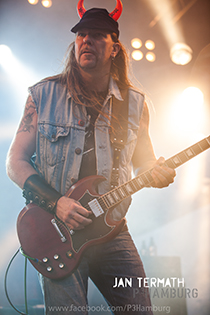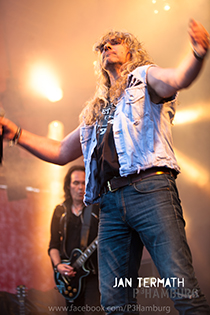 Dark Age

The first of the two headliners of the Hafen Rock begins with a fast start with loud guitars and much light. After a nice intro, the Melodic Death Metal guys from Hamburg went on with 'Out of Time' - and stopped after a few seconds. "We practiced this song many times, but I won't play with a guitar which is out of tune! That's past." and guitarist Jörn Schubert tuned it up right on stage, not considerate to losses. After that, the song started again and now was really played, too. Despite the weather now almost was like on day one, full of rain and with very cold temperatures, the fans got hot in the crowd. DARK AGE filled the place of the fish market completely, and the metal heads were enthusiastic. Singer Eike Freese was visibly thrilled, even though kind of sad because there was only beer and no tea on stage because of the cold. Not very metal.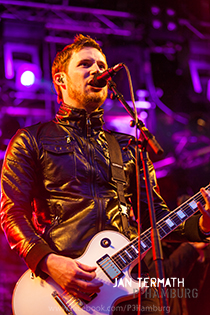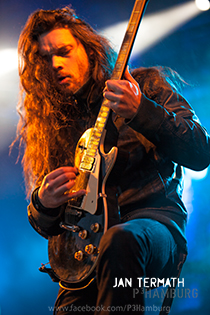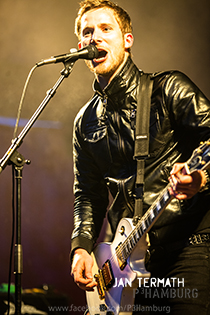 In half an hour, DARK AGE were rushing through their metal sounds, and the fans thanked them with a extremely good mood with mosh pits, head banging and stage dives in the crowd. Between 'Zero', 'Afterlife' and 'Neon Gardens', they put another AC/DC cover into the setlist. Because of BON SCOTT playing right before them, nobody who was there since the last band really had any joy of listening to another AC/DC song. But DARK AGE did a really perfect Death Metal version of 'Hells Bells' that the initial unpleasant mood was gone as fast as it was there. After 14 songs, sadly DARK AGE passed with 'My Saviour' and had to leave the stage with no encore since there was just no time left. During the concert, Freese was wondering what DARK AGE is doing here, on this stage, on harbour birthday "because Metal and Hafen Rock? Does it even match?" Hell yeah! It does!
http://www.dark-age.de/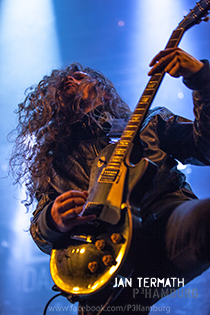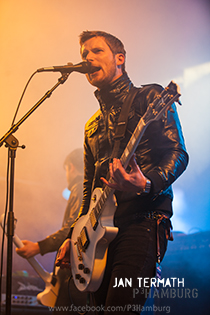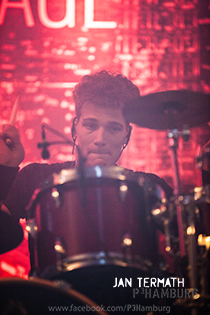 Setlist

01. Out of Time
02. Neon Gardens
03. Kingdom Nevercome
04. Zeitgeist
05. Dying Art
06. Zero
07. Outside the Inside
08. Bellz Medley
09. Devote Yourself
10. Seven
11. Afterlife
12. Nero
13. Fight
14. My Saviour
Rating

Music: 10
Performance: 9
Sound: 9
Light: 10
Total: 9.5 / 10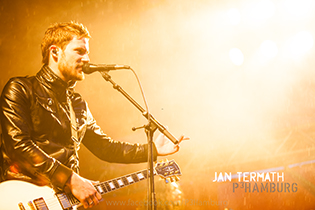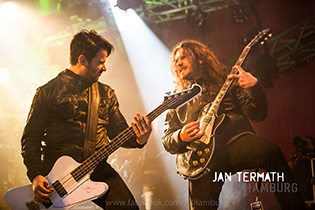 Emil Bulls

It took 20 minutes, then the main act stood on stage. EMIL BULLS, a Nu Metal band exceptionally not from Hamburg but from Munich, who was recording for their first DVD. Singer Christ von Freydorf gave this information right at the beginning to the crowd, which gave everything until the last rows. With 'Fire', they opened the show. While the weather got even worse and worse as it was at Dark Age, the crowd seems to get more powerful. Christ stated according this phenomenon: "When it is raining so heavy, we must be lucky that anyone is here at all". EMIL BULLS played their best songs across their whole discography, from their first single 'Smells like Rock'n'Roll' to new ones like 'Not tonight Josephine', but all in all mostly the singles and not so much the songs you can only find on their long-players. But all for the DVD and the crowd was not mad at all. Like them, Christ and his guys jumped across the stage, talked much about their past, especially band intern information with the predicate "I did not wanted to know it THAT well", but Christ did it in a very funny way.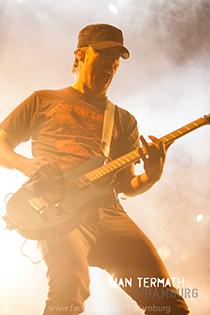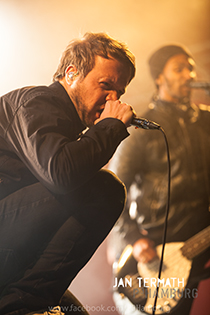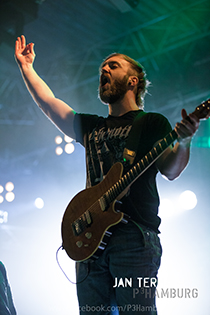 Only after a bit over an hour, all the fun was over. EMIL BULLS left, and let behind a totally powered out crowd. A successful night, I think it could have been not better, certainly not for the DVD. But the people would also have rocked everything out even without being extra strong for recording.
http://www.emilbulls.de/
Setlist

01. Fire
02. Most evil spell
03. Battle Royal
04. Not tonight Josephine
05. Jaws of oblivion
06. Wolfs ad infinitum
07. Between the devil and the blue deep sea
08. Time
09. Leaving you with this
10. Smells like Rock'n'Roll
11. Nothing in this world
12. Worlds apart
13. Belong
14. All systems
15. When god was sleeping
Rating

Music: 9
Performance: 10
Sound: 6
Light: 6
Total. 7.8 / 10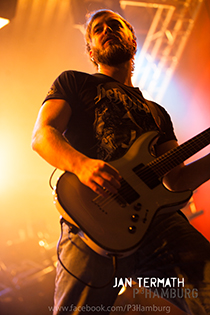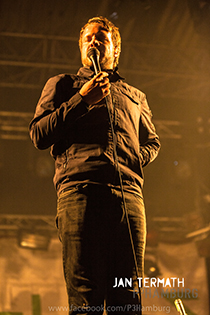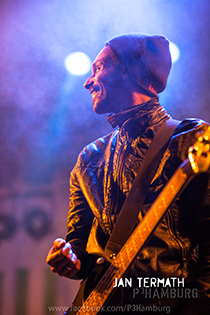 Full Gallery

All Pictures by Jan Termath (
http://www.profound-passion.com/
)