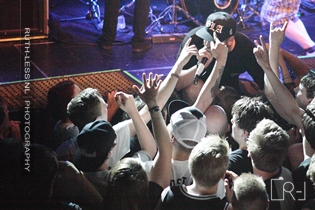 Melkweg, Amsterdam, The Netherlands
20th May 2014
Impericon Progression Tour 2014 with The Ghost Inside, Caliban, The Devil Wears Prada, I Killed The Prom Queen, Breakdown of Sanity

Impericon presents the Progression Tour 2014 with an impressive international line-up: THE GHOST INSIDE, CALIBAN, THE DEVIL WEARS PRADA, I KILLED THE PROM QUEEN and BREAKDOWN OF SANITY. The Dutch edition takes place at the Melkweg ('Milky way') in Amsterdam.
Breakdown of Sanity

BREAKDOWN OF SANITY is a Metalcore band formed in 2007 in Bern, Switzerland. The band's name is intended to reflect the aggression of the music and the gloomy zeitgeist of today's society. BREAKDOWN OF SANITY is one of the DIY movement in the typical Hardcore punk bands of the early years. February 2009, BoS published their first self-produced LP 'The Last Sunset' in February 2009. BREAKDOWN OF SANITY is Carlo (vocals), Oly (guitar), Gygax (guitar), César (bass) and Tom (drums).
www.breakdownofsanity.com
/
www.facebook.com/breakdownofsanity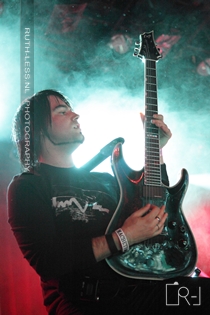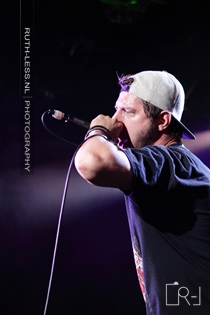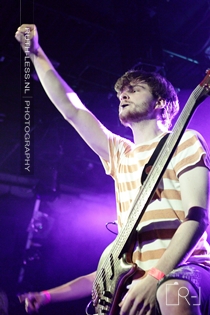 Music & Performance

Apparently due to limited ticket sales, the gig was moved to the old stage at Melkweg, which definitely has more atmosphere than the bigger stage 'The Max'. On the other hand though, the old stage is quite small, especially with two backlines and a bunch of overly energetic band members who love to run and jump around. Despite the early hour, BREAKDOWN OF SANITY takes off as if the venue is already loaded. Being the youngest bunch in this evening's pack, they bring a surprisingly mature sound and show - tight drums and guitars with the angry growls of front man Carlo. Their set list compiles work from their album 'Perception' as well as some of their earlier work. The weather has been great today and most of the audience have probably been sitting outside having a beer or two, but now it's time to wake up and BREAKDOWN OF SANITY is here to make sure you will!
Setlist (incomplete)

Exordium
Crumble
Hero
The writer
Rating

Music: 8
Performance: 7
Sound: 6
Light: 1
Total: 5.5 / 10
I Killed the Prom Queen

I KILLED THE PROM QUEEN is an Australian Metalcore band which formed in 2000. Jona Weinhofen is the only remaining original member, as JJ Peters departed from the band in March 2013 to concentrate on DEEZ NUTS. The band featured prominently on the Australian live music scene and toured the USA, Japan and parts of Europe several times. They issued two studio albums, 'When Goodbye Means Forever...' (2003) and 'Music for the Recently Deceased' (2006) – the latter reached the top 30 on the ARIA Albums Chart. The group split up in April 2007 when Weinhofen joined United States band BLEEDING THROUGH and Peters founded Australian Hardcore punk group DEEZ NUTS.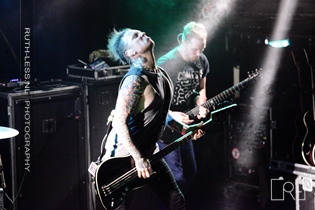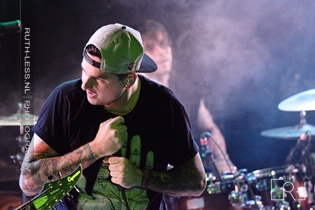 I KILLED THE PROM QUEEN reformed to play a farewell tour in mid-2008 and released a live album and DVD 'Sleepless Nights and City Lights', which peaked in the top 50. In May 2011, the band reformed for the Destroy Music Tour released a new album this year called 'Beloved'. I KILLED THE PROM QUEEN is Jona Weinhofen (guitar, vocals), Shane O'brien (drums), Kevin Cameron (guitar), Benjamin Coyte (bass) and Jamie Hope (vocals).
www.facebook.com/iktpq
/
http://ikilledthepromqueen.bigcartel.com
Music & Performance

The boys from down under are up second at the Impericon Progression tour schedule. With no photo area in front of the stage I found myself a nice spot on the balcony to see what I KILLED THE PROM QUEEN brings us this evening. They play amongst others 'To The Wolves' from their latest album 'Beloved' as well as several older songs.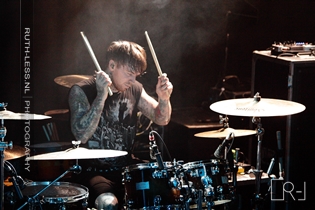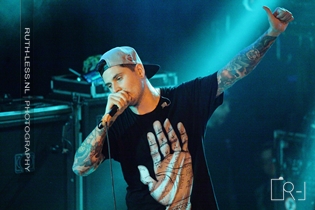 Unfortunately, I'm not exactly impressed by their show tonight, drums and guitars are not in balance and the backing vocals hurt my ears more than once. The fact that stage lighting is still basically non-existent doesn't exactly improve my overall mood either.
Setlist (incomplete)

To The Wolves
Sharks in Your Mouth
Brevity
Say Goodbye
Rating

Music: 6
Performance: 8
Sound: 6
Light: 1
Total: 5.3 / 10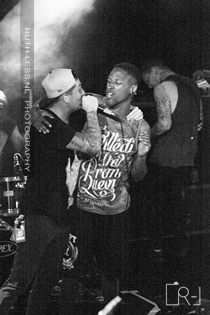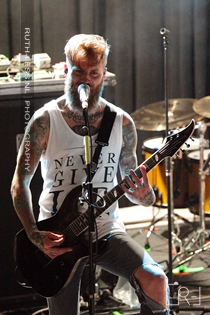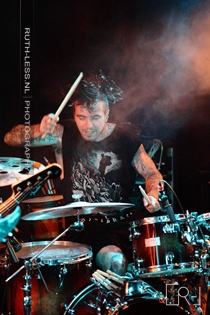 The Devil Wears Prada

THE DEVIL WEARS PRADA is an American Christian Metalcore band from Dayton, Ohio. To date, the group has released five full-length albums: 'Dear Love: A Beautiful Discord' (2006), 'Plagues' (2007), 'With Roots Above and Branches Below' (2009), 'Dead Throne' (2011) and '8:18' (2013) as well as one DVD, one EP, thirteen singles, and ten music videos and are currently signed to Roadrunner Records. THE DEVIL WEARS PRADA is Mike Hranica (vocals / lyrics), Chris Rubey (guitar), Jeremy DePoyster (guitar / vocals), Daniel Williams (drums) and Andy Trick (bass).
www.facebook.com/tdwp
/
www.tdwpband.com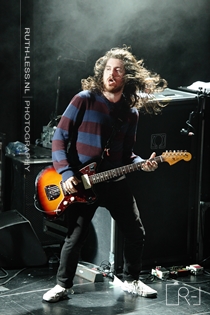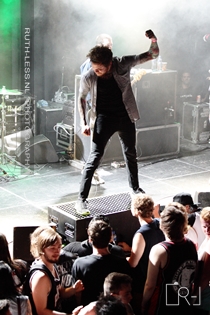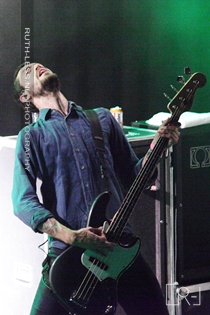 Music & Performance

Up next is THE DEVIL WEARS PRADA and I admit I've been looking forward to seeing these guys play live for some time now. They take off with 'Gloom' from their latest album '8:18' before going back in time with 'Escape' from their 2010 EP. Vocalist Mike sounds painfully hoarse when he addresses the audience between songs but fortunately this doesn't really seem to influence his grunts and screams during the show. There are not many Metalcore bands with live keyboard players, and even less bands that can pull this off. Although I like the sound layers that are added, Jonathan doesn't really add anything to their live performance imho.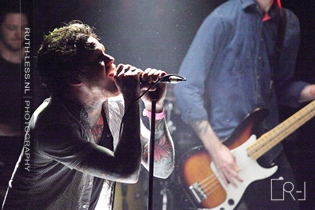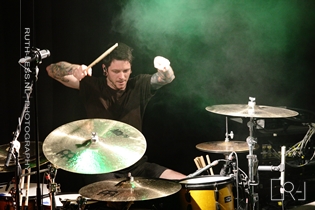 My photography heart made a little jump as three risers were placed on stage before the show, but that doesn't really add anything either if the light technician has no clue what to do. I don't care that most Metalcore bands prefer crap light: I'd be simply ashamed if I were the light technician for this show. Musically this show lives up to what one would expect from the main attractions on the Progression tour. This was a proper show - loud, angry and in-your-face, looking forward to seeing these guys once more in NL!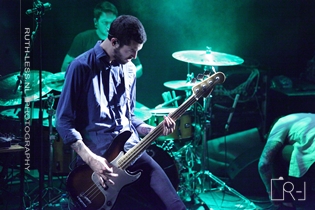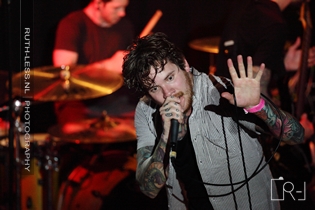 Setlist

01. Gloom
02. Escape
03. Assistant to the Regional Manager
04. War
05. Born to Lose
06. Danger: Wildman
07. Mammoth
Rating

Music: 8
Performance: 7
Sound: 7
Light: 2
Total: 6 / 10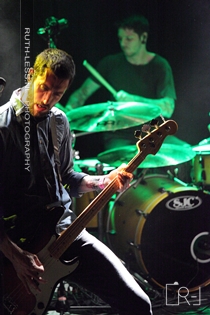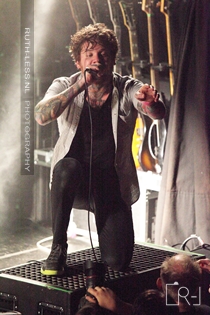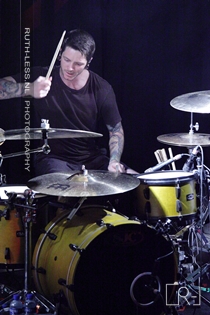 Caliban

CALIBAN is a German Metalcore band that was formed in 1997 under the name NEVER AGAIN. They are one of the few German bands who managed to build up an international status in recent years. In North America they toured with label mates GOD FORBID, THE RED CHORD, I KILLED THE PROM QUEEN and many more and also stopped at North American Festivals such as Hellfest (Syracuse) and New England Metal and Hardcore Festival. They toured Japan with KILLSWITCH ENGAGE and SHADOWS FALL, played the Beast Feast as well as visited Indonesia, Malaysia and last, but not least Australia as part of the Gigantour with MEGADETH, SOULFLY and ARCH ENEMY.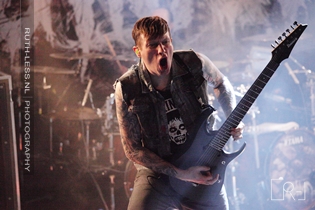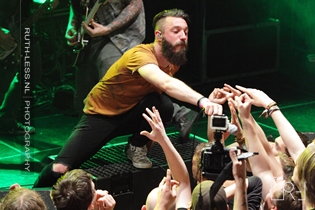 Apart from several headline runs they were part of numerous European tours with bands such as IN FLAMES and DEVILDRIVER, MACHINE HEAD or KREATOR. CALIBAN has played on countless European festivals such as With Full Force Festival (D), Graspop Metal Meeting (B), Summerbreeze (D), Rock am Ring/Rock im Park (D), Wacken Open Air (D) as well as the prestigious Nova Rock (A) and Download Festival (UK). Recently they supported MACHINE HEAD and their acquaintances KILLSWITCH ENGAGE on selected shows. CALIBAN is Andreas Doerner (vocals), Marc Goertz (guitar), Patrick Gruen (drums), Denis Schmidt (guitar & vocals) and Marco Schaller (bass).
www.calibanmetal.com
/
www.facebook.com/CalibanOfficial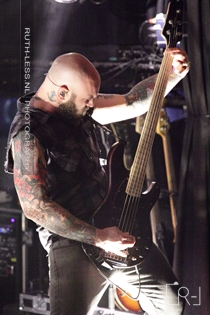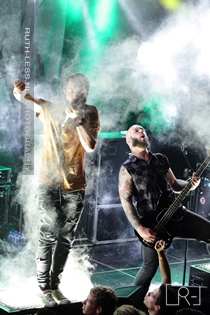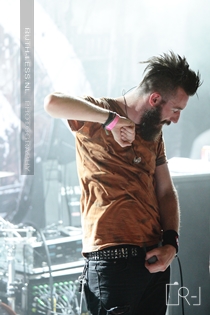 Music & Performance

It doesn't take long for CALIBAN to win the audience at Melkweg this evening, and they easily could have been headlining tonight. In the meantime, the crowd has woken up enough to start moving around and requests by the band for a pit are answered enthusiastically. Besides 'King' from their 2014 album Ghost Empire' the band also treats us to several older songs. Great show, tight drums and guitars. Furthermore, front man Andreas proves to be an entertaining host on stage. During one of the songs, vocalist Carlo from BREAKDOWN OF SANITY joins CALIBAN on stage for some extra vocal power. Only minus would be the somewhat over-abundant extra layers on tape that attract more attention during their live performance than they should.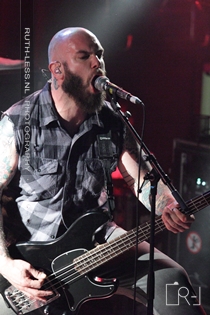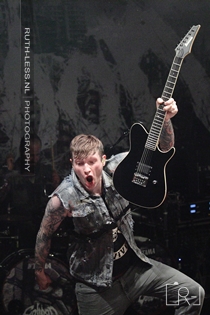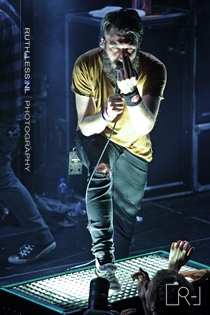 A change of light technician appears to be a slight improvement as we finally get some lights focused on the risers. It's notable that all bands play a relatively short set, which keeps the evening very dynamic and diverse. CALIBAN puts up an awesome and convincing show, which will be a challenge for THE GHOST INSIDE to top off.
Setlist (incomplete)

King
We Are the Many
Devil's Night
Nebel
I Will Never Let You Down
Davy Jones
The Bogeyman
Rating

Music: 8
Performance: 8
Sound: 8
Light: 6
Total: 7.5 / 10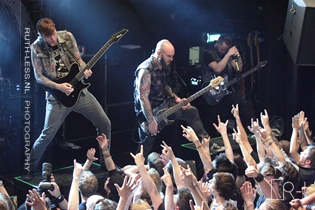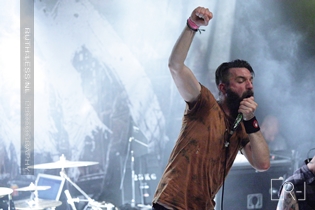 The Ghost Inside

THE GHOST INSIDE (formerly A DYING DREAM) is an American Hardcore band from Los Angeles, California, formed in 2006. As A DYING DREAM, the band released one EP 'Now or Never' at Mediaskare Records. Soon after, they changed their name and released their debut album as THE GHOST INSIDE called 'Fury And The Fallen Ones' in 2008. Intensive touring followed, spreading their name and fame in North America. The band toured with bands such as BRING ME THE HORIZON, EMMURE, PARKWAY DRIVE and THE DEVIL WEARS PRADA and became known for their energetic live shows and aggressive yet melodic Hardcore sound. Being on the road for over a year took its toll and resulted in several changes in line up.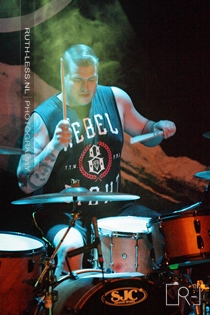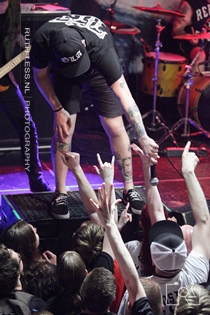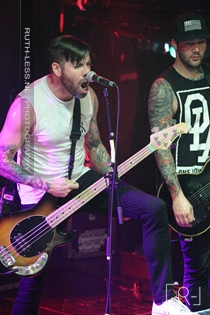 After another year of intensive touring in North America and Australia, THE GHOST INSIDE gathered new material and recorded their second album 'Returners' which was released in 2010. At the start of 2012, it was announced that THE GHOST INSIDE signed with Epitaph records, a new album expected in 2012. THE GHOST INSIDE is Jonathan Vigil (vocals), Aaron Brooks (guitar / vocals), Zach Johnson (guitar), Jim Riley (bass / vocals) and Andrew Tkaczyk (drums).
www.theghostinside.com
/
www.myspace.com/theghostinside
Music & Performance

Tonight's headliner is THE GHOST INSIDE from LA, CALIFORNIA and I already know from previous shows that these guys will probably break down the house. Jonathan Vigil soon announces that he's quite pleased the absence of a barrier and he invites the audience to come up onto the stage. He also welcomes Chris Rubey from THE DEVIL WEARS PRADA, as he will replace Aaron brooks this evening.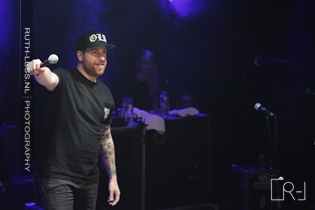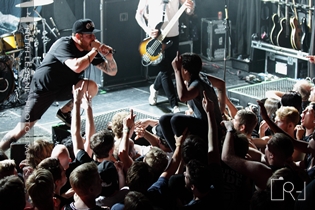 With the introductions done, THE GHOST INSIDE gives Melkweg what they came for. Of course, they play several songs from their 2012 album 'Get what you give' such as 'Engine 45' and 'The Great Unknown'. The audience finally starts some proper mosh pits, climb on the stage, some crowd surfing goes on and shoes & beer fly through the venue. Jonathan only has to reach out his microphone towards the audience to get some vocal empowerment. Later on, vocals are even taken over completely by two enthusiastic fans. With a short encore, this edition of the Impericon Progression tour at Melkweg Amsterdam comes to an end. See you next year!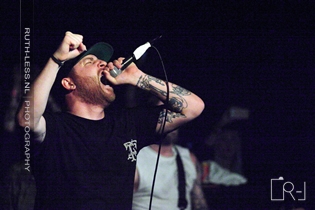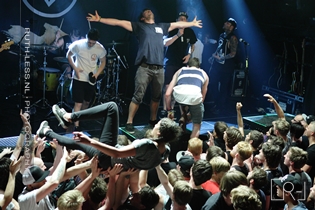 Setlist

01. Engine 45
02. Unspoken
03. Chrono
04. The Great unknown
05. Between the Lines
06. Sacrifice
07. Outlive?
08. Greater Distance
09. Provoke
10. Faith or Forgiveness
Rating

Music: 8
Performance: 8
Sound: 7
Light: 6
Total: 7.3 / 10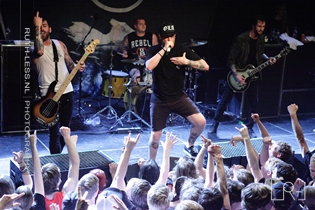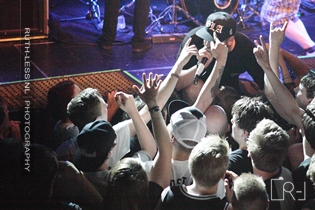 All pictures by Ruth Mampuys (
www.ruth-less.nl
)