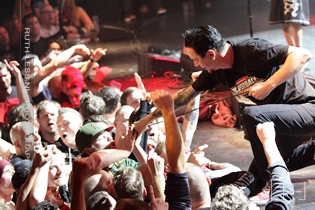 Tivoli Vredenburg, Utrecht, The Netherlands
19th January 2015
EMP Persistence Tour 2015 with Sick of it all, Ignite, Walls of Jericho, All for Nothing, Turnstile, Ryker's, Broken Teeth

This years' edition of the EMP Persistence Tour takes place at the new Tivoli Vredenburg venue in Utrecht. Headliner of the Hardcore festival is no one less than legendary New York Hardcore band SICK OF IT ALL. These guys have been rocking the stage since 1986 and in 2014, SICK OF IT ALL released their 11th studio album called 'The last act of defiance'. The complete line-up of the tour consists of SICK OF IT ALL, IGNITE, WALLS OF JERICHO, RYKER'S, TURNSTILE, ALL FOR NOTHING and BROKEN TEETH. Unfortunately, because of parking perils and the early start of the concert, I missed out on the opening act BROKEN TEETH.
All for Nothing

ALL FOR NOTHING is a Hardcore band from Rotterdam, the Netherlands that started out in the mid 00's. They play "high energetic Hardcore songs with sing-a-long choruses, punishing beat-down passages and melodic riffs based on various influences". ALL FOR NOTHING's trademark are honest, to-the-point songs to vent their views and frustrations on personal and global issues. The albums 'Miles & Memories' (2009) and 'To Live and Die For' (2012) brought them numerous headline and support shows across European and Asian venues and festivals. ALL FOR NOTHING released a new album in 2014 titled 'What Lies Within Us'. ALL FOR NOTHING is Cindy van der Heijden (vocals), Ernst-Jan Smits (guitar), Arjan Boertje (guitar), Jim van de kerkhof (drums) and Joost van Laake (bass).
www.facebook.com/allfornothinghc
/
allfornothinghc.bigcartel.com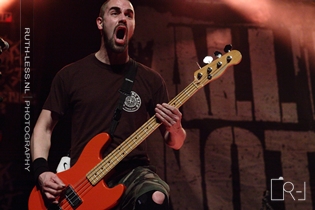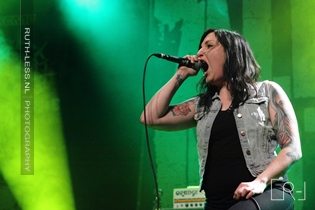 Music & Performance

The Persistence tour takes place on the third Monday in January, a.k.a. Blue Monday: supposedly the most depressing day of the year. It's still early and the venue is quite empty, even with the balcony closed. Fortunately, ALL FOR NOTHING doesn't give a shit about all this pseudoscience and they don't hold back while kicking off their show. They start off with 'Luctor et Emergo' from their 2014 record 'What Lies Within Us'. ALL FOR NOTHING has an old school Hardcore sound with a juicy punk flavour all over it. Female vocalist Cindy has a brutal sound that for sure measures up to her male vocalist colleagues. More importantly, she is confident and outgoing on stage with just the right amount of 'don't care' attitude. The audience seemed moderately enthusiastic, while sipping away a few Monday evening beers, and the pit remained empty. So Cindy appoints a few people in the crowd to set the example and the problem is solved. People get a move on, and we get a first few group shouts in front of the stage.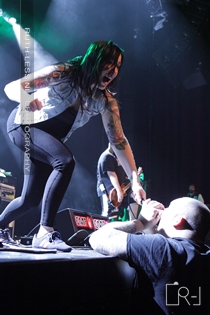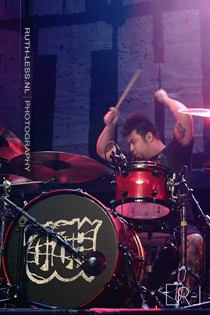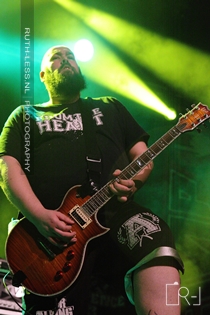 Their setlist is comprised of various songs from their repertoire with amongst others 'Poison To My Soul' from their 2014 album, 'Beat You to the Punch' from 2009 'Miles & memories' and 'I will arise' from their first EP 'Can't Kill what's inside'. On stage, drummer Jim keeps a wicked pace and guitarist Joost does a little air guitar 2.0 showing off some impressive jumps. A proper warm-up for the evening, and I'll definitely keep an eye on ALL FOR NOTHING in the future!
Setlist (incomplete)

Luctor et Emergo
Poison To My Soul
Overhaul
Point of View
Beat You to the Punch
Five Leaf Clover
Dead to Me
Rating

Music: 7
Performance: 8
Sound: 8
Light: 7
Total: 7.5 / 10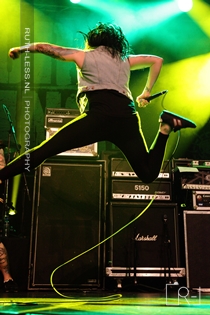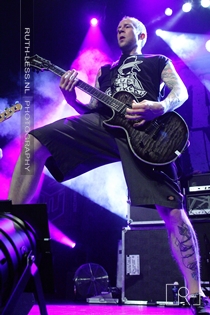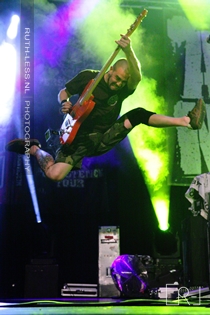 Turnstile

TURNSTILE is a Hardcore band from Baltimore, with members hailing from DC and Ohio as well. The band features past drummer of TRAPPED UNDER ICE, Brendan Yates, on vocals. TURNSTILE is heavily influenced by old-school New York Hardcore bands such as MADBALL and BREAKDOWN. They have shared the stage with bands like BANE, TRAPPED UNDER ICE, TITLE FIGHT, BACKTRACK, and many more. The band is currently signed to Reaper Records and has released two EP's: 'Pressure to Succeed' (2011) and 'Step 2 Rhythm' (2013) and as of January 2015 their first full-length 'Nonstop Feeling'. The record was recorded in Baltimore with Brian McTernan (Circa Survive, Hot Water Music, Thrice). TURNSTILE is B-rady (guitar), Sean Coo (guitar), Freaky Franz (bass), D-Fang (drums) and Brendan Yates (vocals).
www.facebook.com/turnstilehc
/
www.turnstilehardcore.com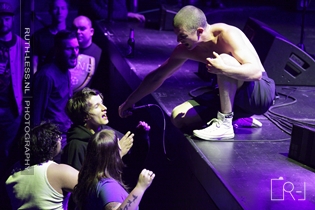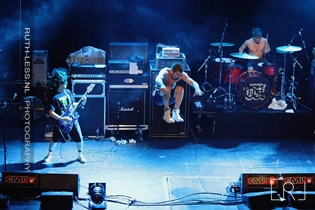 Music & Performance

As TURNSTILE hits the audience with some ferocious first beats, I gaze at the stage and wonder: who gave these kids (unlimited!) access to caffeine? Their energy is raging, kicking, jumping and it's almost impossible to stand still while looking at them. Some of the audience are clearly familiar with Brendan Sean, Brian, B-rady and Freaky Franz, and they get going in the spacious pit. Musically, I can hardly believe this is the same band I checked out online before the show… such a big difference. It doesn't take long for Brendan to get some vocal enforcement from the crowd as they eagerly take over some screams. TURNSTILE is raw and unbridled, their live performance like an explosion of emotions that have been held inside too long.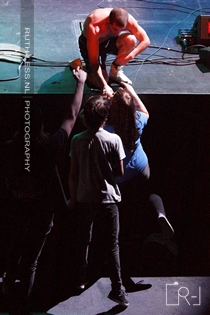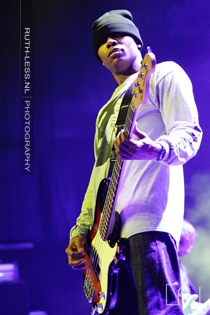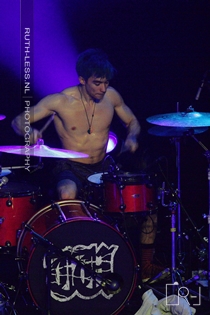 Of course, their setlist includes songs from their freshly released album 'Nonstop feeling' but their earlier work is not forgotten either with '7' and 'The things you do'. In my opinion, their (live) music is a little bit to raw for me to process, but their performance is simply insane!
Setlist (incomplete)

Gravity
Pushing Me Away
The Things You Do
7
Keep It Moving
Rating

Music: 6
Performance: 7
Sound: 7
Light: 5
Total: 6.5 / 10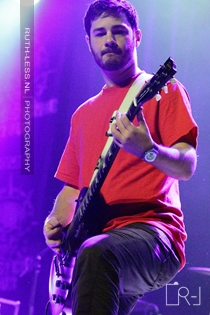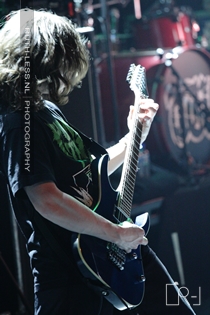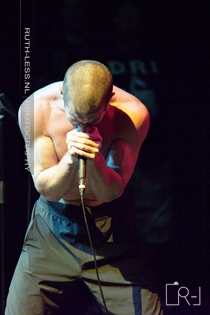 Ryker's

RYKER'S is a Hardcore band from Kassel, Germany founded in 1992. Their style is influenced by bands like THE CRO-MAGS and AGNOSTIC FRONT. They quit in 2000 and gave their final concert at the With Full Force festival in 2003. Their reunion plans in 2008 where cancelled but years later, the band announced another reunion in 2013. First concerts were held in Athens and Lisbon in spring. In January 2014, the band announced a new album. So far, RYKER'S have made six studio albums and twelve singles / EPs. Their 2014 comeback album titled 'Hard to the Core', contains eight new songs and was released by BDHW Records. RYKERS is Chris Luft (bass), M. Grobi (guitars), Fusel (guitars), Kid-D. (vocals) and Flo (drums).
www.facebook.com/rykershardcore
/
www.rykershardcore.com/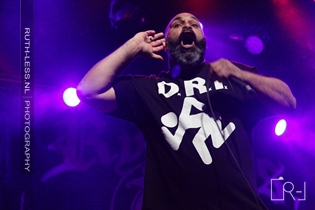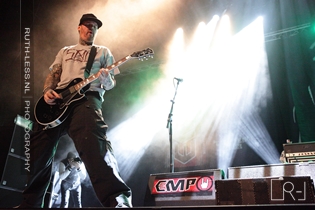 Music & Performance

At the start of RYKER's show, we get a little taste of that typical Dutch audience attitude, standing at the back with their arms crossed, leaving the pit uncomfortably empty. Not exactly a warm welcome for Chris, Grobi, Fusel, Kid-D and Flo. Yet, Kid-D is imperturbable and keeps inviting them to get a little closer for a taste of RYKER's old school Hardcore. After almost 10 years of recording and playing gigs, they've been on a break for over 10 years, gotten a little older and bigger. But tonight proves that the Hardcore spirit is still in there. We get some old RYKER's with amongst others 'Beg to differ' from their debut record and 'True Love' from their 1999 album 'Life's a gamble…'.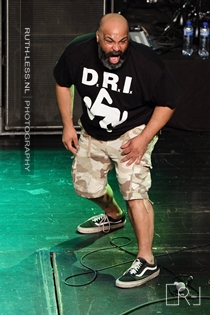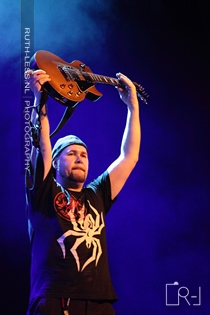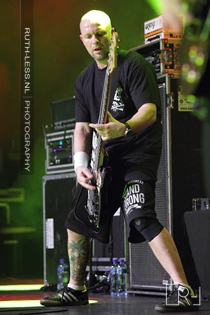 And there's some new material from the album 'Hard to the core', released in 2014 as well with 'The world as I see it today' and the title track 'Hard to the core'. Also, we get a nice cover with Slayer's 'Raining blood'. RYKER's seemed to have grown on the audience, from standing in the back to a proper mosh pit in the end.
Setlist (incomplete)

The World as I See It Today
Lowlife
End of Line
Justice
Raining blood (Slayer cover)
Beg to Differ
Hard to the Core
True Love
Rating

Music: 6
Performance: 7
Sound: 7
Light: 7
Total: 6.8 / 10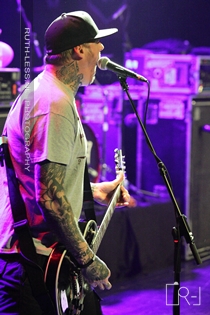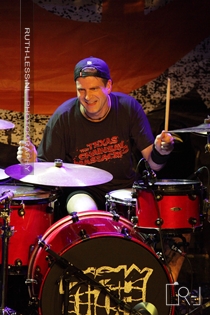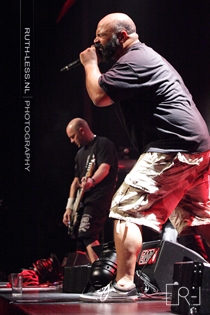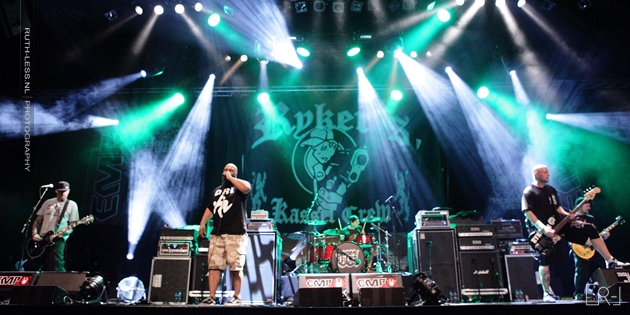 Walls of Jericho

WALLS OF JERICHO is an American Metalcore band from Detroit, Michigan, formed in 1998. The band was formed after the demise of EARTHMOVER (featuring members Mike Hasty (guitar) and Wes Keely (drums)) and UNIVERSAL STOMP (featuring Aaron Ruby (bass). Both bands fizzled out at around the same time prompting the friends to start a new band. Soon after, Candace Kucsulain (at the time singer at APATHEMY) successfully auditioned with the band. The line-up of WALLS OF JERICHO was completed with the addition of close friend Chris Rawson. In 1999 they released their first EP, followed by intensive touring (with amongst others IN FLAMES, SKINLAB and EARTH CRISIS) and settling their name in the American Hardcore scene. With Wes Keely moving house, and Candace doing an apprenticeship in body piercing, WALLS OF JERICHO was put on the backburner for a couple of years. The band reformed in 2003 with new drummer Alexei Rodriguez (CATHARSIS) and released 'All hail the dead' in 2004.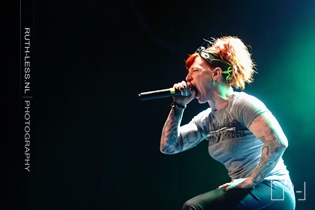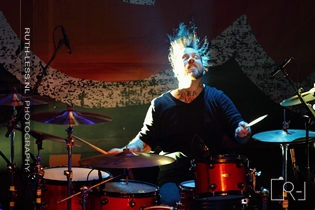 Extensive touring with MADDBALL, HATEBREED and SICK OF IT ALL followed, as well as their own headlining shows. In the meantime, Rodriguez was replaced by current drummer Dustin Schoenhofer. More gigs and big festivals in the US as well as EUROPE followed in the upcoming years, their fan base growing steadily. In 2006 they successfully released 'With devils amongst us all', soon followed by an acoustic EP Redemption, for which WALLS OF JERICHO worked with SLIPKNOT's Corey Taylor. In 2008, they released their 4th full length album 'The American Dream' and in 2014, new material was announced with the release of song 'Relentless'. WALLS OF JERICHO is Candace Kucsulain (vocals), Chris Rawson (guitar), Mike Hasty (Guitar), Dustin Schoenhofer (drums) and Aaron Ruby (bass).
www.facebook.com/WallsofJericho
/
www.myspace.com/wallsofjericho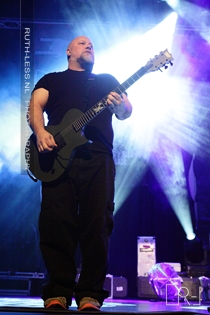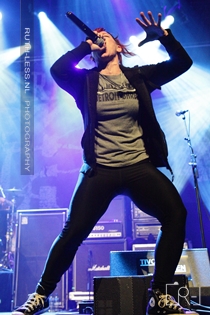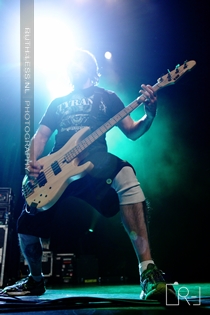 Music & Performance

WALLS OF JERICHO doesn't need a lot to convince the audience and right from the start it's on. The pit turns mayhem as Candace opens her impressive throat for 'The new ministry'. The venue has filled up quite nicely by now and the lack of a barrier starts to become a real challenge as the audience has clearly warmed up for some serious moshing and circle pits. WALLS OF JERICHO is not a newcomer to the PERSISTENCE tour, they also joined in 2006 when their album 'With devils amongst us all' was released. Tonight they play 'A Trigger Full of Promises' and 'I Know Hollywood and You Ain't It' from this album. As announced last year, WALLS OF JERICHO is working on a new album. With 'Relentless' they give us a little taste of what's to be expected and it sounds great. 'Relentless' is also derived from the Relentless Detroit foundation who support children with life threatening illnesses. WALLS OF JERICHO also supports this organization by selling special merch which is of course a great initiative!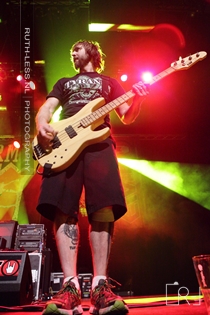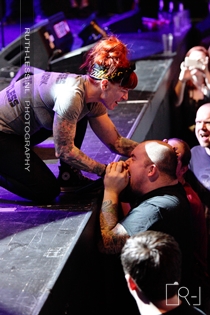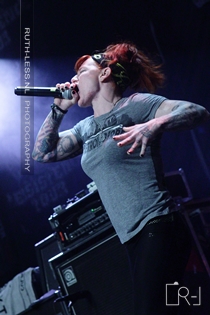 Back to the concert: of course, we also have a little group shout here and there, and Candace even lets Cas from Dutch Hardcore band ASYLUM sing along with 'Revival Never Goes Out Of Style'. They end their set with 'The American dream' from their 2008 album. WALLS OF JERICHO brings merciless, uncompromised Hardcore with a female vocalist who knows how to make a live impression that lasts. Can't wait for the new album!
Setlist (incomplete)

The new Ministry
A Trigger Full of Promises
All Hail the Dead
Relentless
Revival Never Goes Out Of Style
Playing soldier again
The American Dream
Rating

Music: 9
Performance: 9
Sound: 8
Light: 8
Total: 8.5 / 10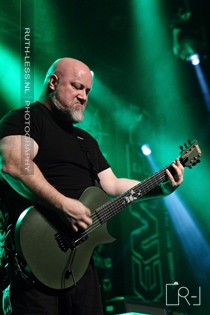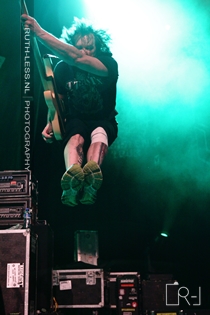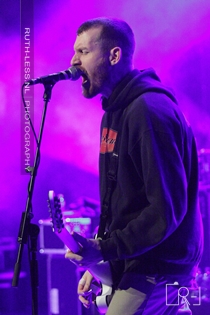 Ignite

IGNITE is a Melodic Hardcore /Punk band from Orange County, California, USA formed in 1993. Much of their music is socially and politically inspired. Ignite has a name for actively supporting organizations such as Earth First, Doctors Without Borders, Sea Shepherd, AMI and Pacific Wildlife. They have even donated the proceeds from a series of special edition LP's to these causes. Their breakout album 'Scarred for Life' was released in 1994 via Lost & Found Records. In 1997 they recorded a split cd with a Portuguese straight edge band called X-Acto, and since then they became a big success in the European Hardcore scene. They've released four albums, 'A Place Called Home' (2000), 'Past Our Means' (1996), 'Call On My Brothers' (1995) 'Our Darkest Days' (2006). Over the years, IGNITE have turned out to be a successful, international act with a fan base that populates over 30 countries, thanks to their extreme touring schedule.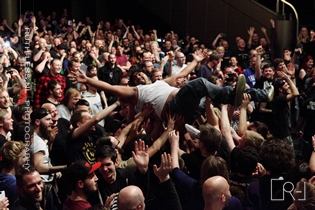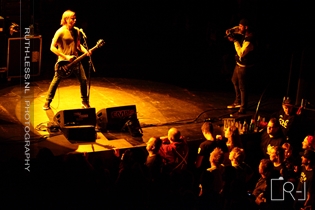 In 2010 it was announced that singer Zoli Teglas would take care of vocals with southern California punk legends PENNYWISE, but he returned to IGNITE and in 2014 it was announced that the band was working on a new album. IGNITE is Zoli Teglas (vocals), Brett Rasmussen (bass), Brian Balchack (guitar), Nik Hill (guitar), Craig Anderson (drums) and Kevin Kilkenny (guitar).
www.facebook.com/igniteband
/
www.igniteband.com
Music & Performance

IGNITE clearly has a big and varied fan base and right from the start the crowd both young and old sings along. Vocally and musically, the guys seemed to need a little warm-up, but it didn't take long for that well-oiled machine to get up to speed. IGNITE's punk Hardcore sound with clean vocals is so characteristic and really brings back high school memories for many in the audience, including myself. This evening, the band stands out particularly because of Zoli's vocals that are refreshing compared to all the screams and emphasize the politically flavoured lyrics of their songs. The crowd is all into it, and there's moshing, dancing, diving all over. During 'Fear is our tradition' from their album 'Our darkest days', Zoli stops the band for a moment to encourage a hesitating visitor to take a dive, loud cheers from the crowd can be heard as this happens and the show continues at a fast pace.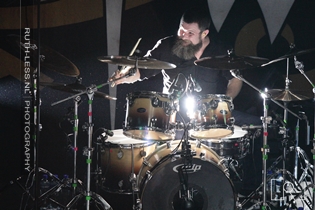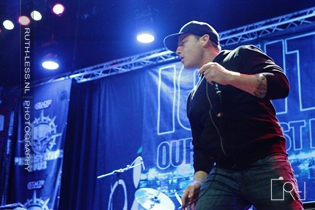 Both the band as well as the audience seem to have an amazing amount of energy on this Monday evening. To give you an impression: at the side of the stage, a little "lost & found" corner emerged with phones, wallets, shoes and glasses. Great atmosphere!
Setlist (incomplete)

Poverty for All
Fear Is Our Tradition
Let It Burn
Family
Live for Better Days
Bleeding
Rating
Music: 7
Performance: 8
Sound: 8
Light: 6
Total: 7.5 / 10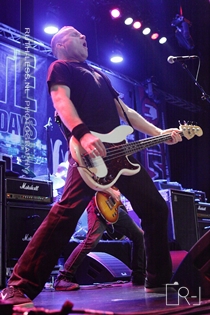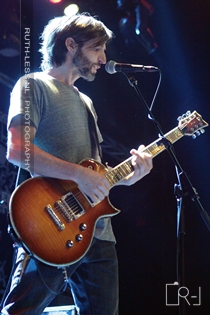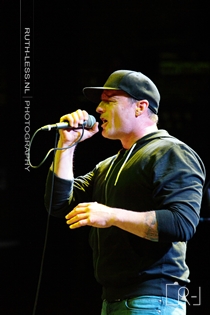 Sick of it all

SICK OF IT ALL is a New York City Hardcore band formed by brothers Lou Koller (vocals) and Pete Koller (guitar) in 1986. Formed during 1986 in Queens, the band released their first self-titled EP on Revelation Records and began to accumulate a strong local following by playing famous. Soon after, the band released their first full-length record 'Blood Sweat And No Tears' on In-Effect Records. Often revolving around politics, social injustices and life on the streets of New York, the band wore their heart on their sleeve and made no apologies, often including threads of positivity. Their second album 'Just Look Around' was released in 1992, and kicked off their globe-trotting expansion with tours in Europe, South America and Japan. SICK OF IT ALL released their breakthrough album 'Scratch The Surface' in 1994 soon followed by the seminal album 'Built To Last' in 1997. After releasing three albums on Fat Wreck Chords, as well as a live album and a collection of rarities, the band took on the challenge to push themselves further.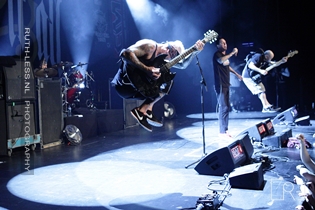 'Death To Tyrants' was the band's first cooperation with Century Media and was mixed by renowned metal producer Tue Madsen (THE HAUNTED, HEAVEN SHALL BURN, DARK TRANQUILLITY) adding a refreshingly heavy edge to the band's trademark sound. 'Death To Tyrants' was extremely well received by media and fans alike and followed up with three years of relentless touring. SICK OF IT ALL deserve being labelled a "living legend", and still prove that classic New York Hardcore is alive and kicking. In 2010, the band released 'Based On A True Story', followed in 2011 by 'XXV Nonstop' containing both old and some new songs. Their newest album 'Last act of defiance' was released in 2014. SICK OF IT ALL is Lou Koller (vocals), Pete Koller (guitars), Craig Setari (bass) and Armand Majidi (drums).
www.facebook.com/sickofitallny
/
www.sickofitall.com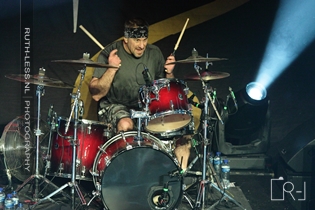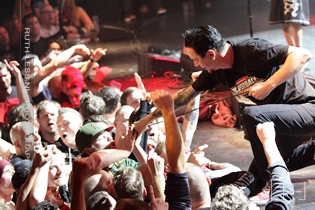 Music & Performance

When you think the audience used all of its energy moshing at IGNITE and WALLS OF JERICHO, you've got it all wrong! With a career spanning almost 30 years and hundreds of thousands of albums sold worldwide, SICK OF IT ALL knows how it's done, but so does the audience. When Lou, Pete, Craig and Armand kick off, the crowd turns it up a notch and the pit starts to boil. The band members each put on a show by themselves and with fans climbing on stage as well, you hardly know where to look. SICK OF IT ALL clearly thrives well with a little chaos on stage, and Pete as well as Craig run and jump around like madmen. With so many records on their name, it's no surprise that their setlist is a back and forth of their repertoire with the unfortunately still relevant 'World full of hate' from their 1989 debut 'Blood Sweat and no tears' until their latest album 'Last act of Defiance' (amongst others 'Get Bronx' and 'Do Not Comply'). At first, Lou joked a little about this gig on a lousy Monday evening, but by the end of the show he also pays his respect for the enthusiastic crowd.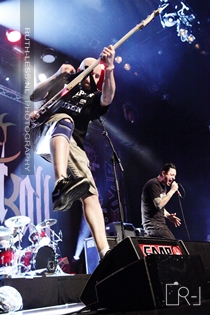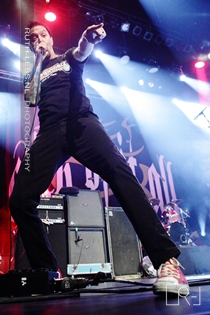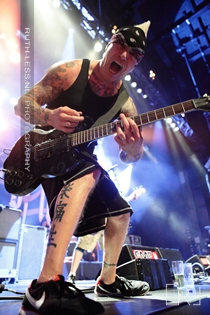 They conclude this crazy Monday evening with 'Us vs Them' from their 1997 record 'Built to last'. I had my hopes up for Candace from WALLS OF JERICHO (who covered this song) to join in as she did in Paris, but unfortunately this wasn't the case. On the other hand, I also appreciate a little variation in a tour series, knowing that not each show is exactly the same. All in all a wicked EMP Persistence tour again this year with a great variety of bands. Bye, bye blue Monday!
Setlist (incomplete)

My Life
Death or Jail
Busted
Sanctuary
Take the Night Off
Do not comply
Machete
Get Bronx
Step Down
Outgunned
Just Look Around
World Full of Hate
Road Less Traveled
Scratch the Surface
Us vs. Them
Rating
Music: 9
Performance: 9
Sound: 8
Light: 9
Total: 8.8 / 10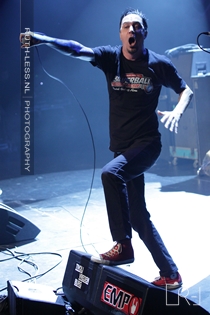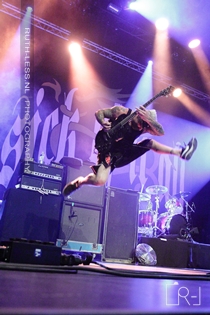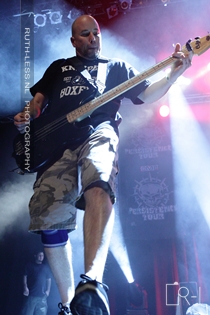 All pictures by Ruth Mampuys (
www.ruth-less.nl
)