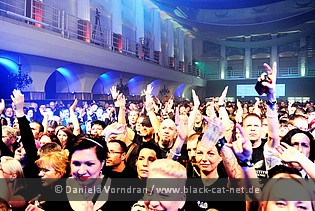 Altes Stadtbad, Leipzig, Germany
14th February 2015
E-Only Festival 2015 with Versus, Syntec, Dance or Die, Solar Fake, In Strict Confidence, [:SITD:] & Covenant

Leipzig, Valentine's Day and the question: what to do? Either you go out with your loved one, stare romantically into the stars, have yourself teared into the cinema for '50 Shades of Grey', or you do something really fun. In that case, that would be probably going to one or more concerts. Since I don't have a boy- or girlfriend and Valentine's Day is generally too cheesy for me, I decided for the fun and found my way into the Stadtbad in Leipzig.
Versus

Who hides behind the band from Monestirea? Exactly, it's Andre Steinigen (whom we have interviewed recently, please read
HERE
). Of course he didn't stand alone on stage but was accompanied by Roman Forner, eXzess D and two lovely ladies from the Team Ahoi Garde. After technical difficulties und internal curses against technology, Andre was even rewarded with a nice fan poster which summoned him to strip for the crowd. At least he got rid of some of his clothes and performed his synth pop barefoot. The reason why exactly this band had to open the festival remains a secret to me. And why they are still unknown, too. Fact is: The part of the crowd that made it to the Stadtbad at the early hour of 5.40pm did not get disappointed and was offered some proper entertainment.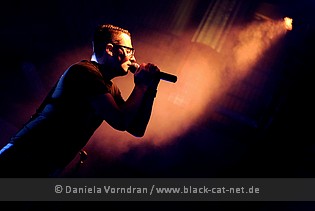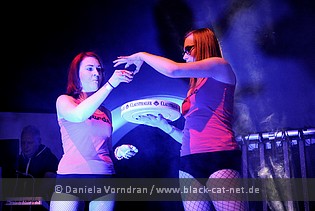 Those who weren't entirely convinced by the music could gape at the marvellous Garde ladies who distributed vodka Ahoi in the crowd. Some artists of the genre can learn from this band who does not only have a lot of fun on stage but which is also able to share some of the fun with the crowd. I have rarely experienced such amazing bands that have been so close to the crowd despite the small stage. Thank you to Monestirea. //
http://www.versus-music.de
/
https://www.facebook.com/Versus2
// Setlist: 1. This Is Ahoi-Pop / 2. A Lonesome Girls Night / 3. Viva La Party / 4. Definition:Lost / 5. We Were Lovers / 6. FreakWaves / 7. We Are Cloned / 8. Into The Galaxy // Rating 9 / 10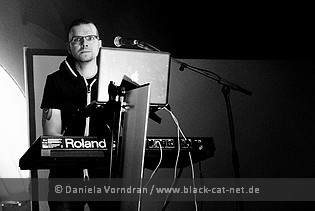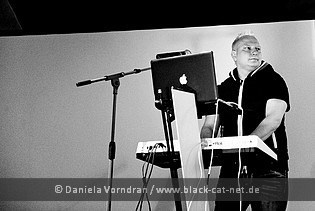 Syntec

After another sound, or better line check, SYNTEC entered the stage. The classic synth band in suits. Well, almost. Toby Hartwig refrained from wearing the classic black and decided for a salient red instead. Kudos for his taste in fashion. But as this review is more about performance than fashion trends we should move on. After days I still have the chorus of 'Angel' stuck in my head, thanks for that. This does indeed brighten my everyday life every now and then. SYNTEC were gone for a long time and had to be reformed but it's good to have them back. Professional, confident and with great melodies they should really be more present at the upcoming festival season.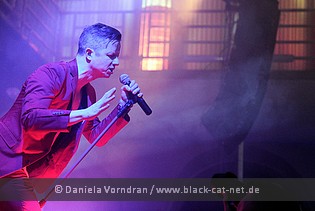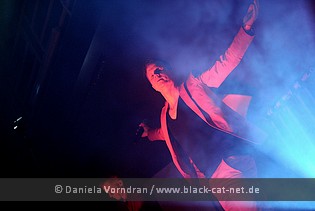 A good friend of mine even considered them "the best band of the evening" and since he listens to a lot of synth pop I believe him. At least in so far as that I can say that it was fun to watch the band and that it still functions brilliantly even after some time of stage abstinence. //
http://www.syntec-band.de
/
https://www.facebook.com/syntec.official
// Setlist: 1. Devil In Heaven / 2. The Blind Love The Blind / 3. It Takes A Word / 4. It's a Lie / 5. Angel / 6. Catch My Fall / 7. Leave Me – Love Me / 8. Puppets / 9. Talk To The Upper World // Rating 9 / 10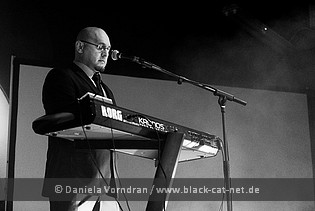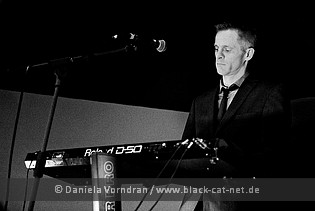 Dance or Die

To be honest I have never heard of this band before, seems I am just much too young. Beside the really creepy singer (but I think he has to be for this type of music) two keyboarders graced the stage, one of them being Chris L. from AGONOIZE who didn't play with fake blood for once. If I wasn't so irritated by the singing creature with wide open eyes in front of me I could've enjoyed the music more. A bit of old-school electro never harmed nobody. The spectacle was accentuated by black-and-white videos which naturally supported the creepy overall concept. Maybe there simply were not enough EBM fans in the crowd with whom I could've pogoed a little.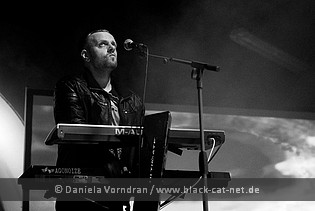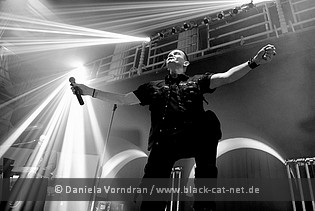 I can't really tell what was missing at DANCE OR DIE's performance, maybe it was simply their static performance which keeps me away from mentally applauding the band in ecstasy. But I think that some people in the crowd were really glad to see that band again and even if only for that, I pull off my hat. //
http://www.dance-or-die.de
/
https://www.facebook.com/pages/Dance-or-Die/117629834934544
// Setlist: 1. 3001 / 2. Worm / 3. Psychoburbia / 4. Sleeping In Your Grave / 5. Will Of The Wind / 6. Teenage Make Up / 7. Aliens Electric / 8. Minute Man / 9. Time Zero / 10. Fire / 11. Dance or Die / 12. Man Mind Machinery // Rating 7 / 10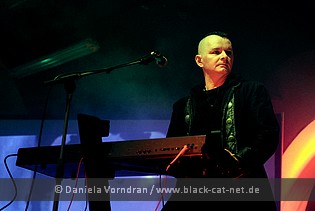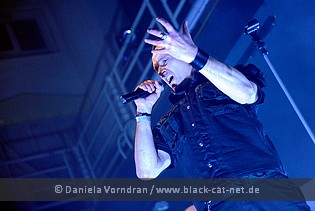 Solar Fake

Let's come to the feely part of the evening. Sven Friedrich, crush of the female audience, and Andre Feller offered the best of heartbreak music. No, I don't like their music. It's too cheesy and too heartbroken but the worst part is definitely the swooning female audience. Nevertheless do SOLAR FAKE offer a fantastic show without resorting to massive special effects and their mere presence makes the entire crowd clap their hands enthusiastically. Including men and myself. There is no way of refuting that enthusiasm, You can compare it with Carnival but of course it's a lot better. I can understand the females who worship Sven Friedrich and I also understand why the band is that successful.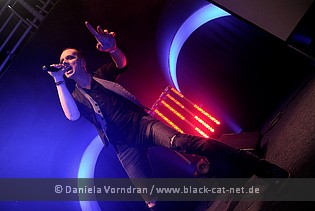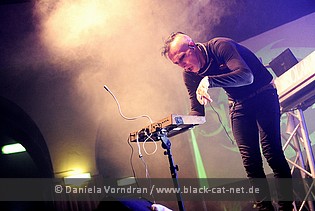 Though for me personally their music remains background music – it doesn't bother me but I wouldn't go as far as buying their CDs. Honestly though, a lot of kudos to the band for entertaining the audience in such a grand manner. Whenever this band plays you are guaranteed to have an enthusiastic crowd which isn't always the case. //
http://www.solarfake.de
/
https://www.facebook.com/SolarFake
// Setlist: 1. I Hate You More Than My Life / 2. Face Me / 3. No Apologies / 4. Radical / 5. Here I Stand / 6. More Than This / 7. Reset To Default / 8. Under Control / 9. Parasites / 10. Under The Skies / 11. Where Are You / 12. One Step Closer / 13. My Bleeding Heart // Rating 8 / 10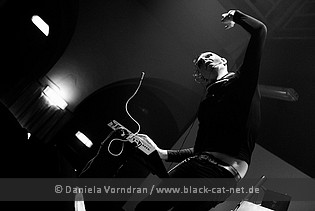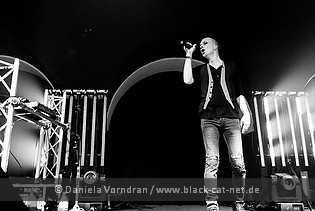 In Strict Confidence

Apparently nothing can go wrong with a vintage set and IN STRICT CONFIDENCE proved that right. Some may have missed the gorgeous guitar girl Heydee and singer Nina. Instead, we got only songs that are ten years old or even older and Dennis Ostermann's charmingly husky voice. I really saw some ladies melting away while listening to his magnificent voice. A big advantage of vintage sets is that no one can complain that the band plays too few old songs and consequently demand song xyz.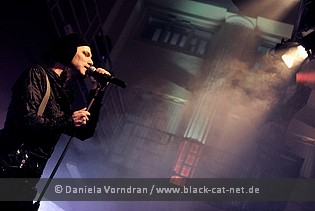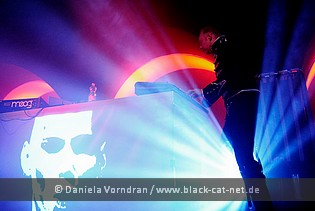 It's even better to offer this kind of set on Valentine's Day as it sets the right atmosphere for this overly romantic day. Perhaps they should include the magical Haydee Sparks at the next set so that the last complainers will lapse into silence and simply enjoy the music. //
http://www.instrictconfidence.com
/
https://www.facebook.com/instrictconfidence
// Setlist: 1. Intro / 2. The Truth Inside Of Me / 3. Seven Lives / 4. Hidden Thoughts / 5. Prediction / 6. Zauberschloss / 7. Become An Angel / 8. Industrial Love / 9. Engelsstaub / 10. Kiss Your Shadow / 11. Herzattacke (Clubmix) // Rating 8 / 10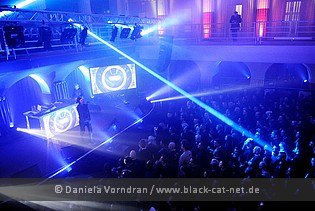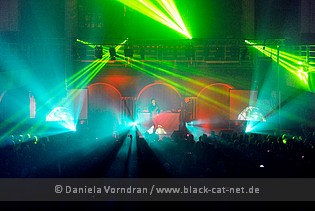 [:SITD:]

One of the bands I was most looking forward to was [:SITD:]. Why? I have never seen them live and I really enjoyed the record 'Dunkelziffer'. I was hoping for great music and vocals from Carsten Jacek as on the record. But his constant running around like a tiger in a cage made it very exhausting to follow his moves on stage. I also have to admit that Tom Lesczenski has definitely the more beautiful vocals but that, of course, is a matter of taste. They played some of their new songs and the people behind me made it clear how much they enjoyed the show.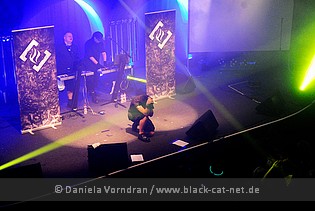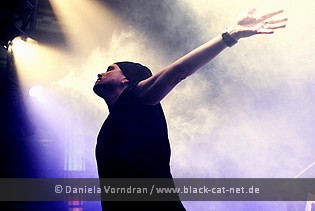 One of the Hardcore fans thought it was a good idea to almost squeeze me to death just in order to high five Carsten so the typical electro concert atmosphere was very vibrant during [:SITD:]'s set. At the end said fan got his high five and was noticeably happy. All's well that ends well. //
http://www.sitd.de
/
https://www.facebook.com/SITDofficial
// Setlist: 1. Journey's End / 2. Dunkelziffer / 3. Purgatorium / 4. Lebensborn / 5. Kreuzgang / 6. Redemption / 7. Suffering In Solitude / 8. Revolution / 9. Laughingstock / 10. Rot / 11. Snuff Machinery / 12. Herbsterwachen / 13. Richtfest // Rating 8 / 10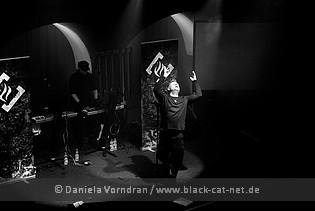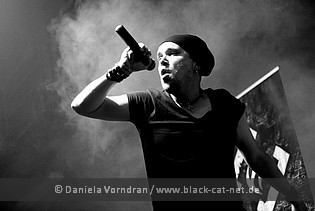 Covenant

In the last years, it was always this thing with COVENANT shows… either they were absolutely amazing or really disappointing. Let me say at least that this shows did not belong to the first ones. The three Swedes, Eskil Simonsson with his fantastic voice, Daniel Jonasson and Andreas Catjar, are really experience musician and especially Andreas brought some fresh air into the COVENANT live show. It is always amazing how he treats a guitar. And he did a really good job at the E-Only show as well. Also according to Daniel I have nothing to criticize really. Overall, also the performance was ok…. At least for people who do not see COVENANT so much. But I have seen the band at least 30 times and I know when it is not good. For the E-Only show, I have two points to criticize. First one is the setlist. Don't get me wrong… the chosen songs were great and there were some of my all-time favourites. But starting the show past 12pm and after people were already standing for seven hours, there were too many improvisations in-between. Usually great at earlier hours, if was taking out the flow.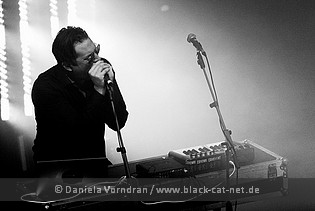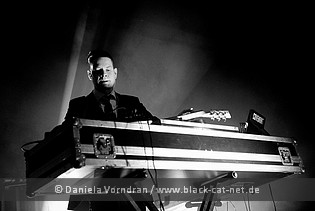 And then there is a second point. And I am really sad to say so. Usually, Eskil only messes up the 'Leiermann' lyrics a little. I cannot really remember one show where he did them right. But that's usually a likable thing. You are waiting for it somehow ;) But tonight, he several times missed his entry and he messed up the lyrics of several other songs. I am sure the rest of the band was not too happy about it and also many people in the audience weren't. Still, a lot of fans celebrated the COVENANT show and I know myself that the band can do it so much better. Just count this as a bad day… Kudos to the promoter for inviting this band as headliner though since they are really able to rock a crowd… just not this night. //
http://www.covenant.se
/
https://www.facebook.com/pages/Covenant-OFFICIAL/156626197713557
// Setlist: 1. Leaving Babylon ( Intro) / 2. Leaving Babylon / 3. Bullet / 4. Thy Kingdom Come / 5. Figurehead / 6. Ignorance & Bliss / 7. I Walk Slow / 8. Go Film / 9. I am / 10. Leviathan / 11. Prime Movers / 12. Riot / 13. Edge of Dawn / 14. Ritual Noise / 15. Der Leiermann (Like Tears in Rain) / 16. Last Dance / 17. Call The Ships To Port / Encore: 18. We Stand Alone // Rating 5 / 10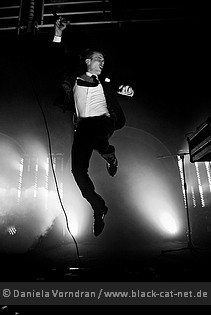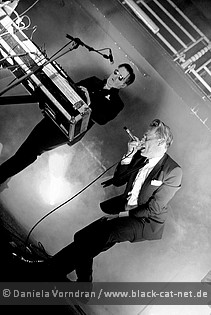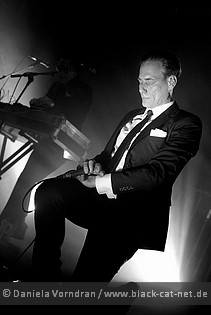 The E-Only Festival 2015 was a great success. Around 800 people celebrated into the deep night. With the Stadtbad in Leipzig, the promoter found a great location and we are happy, that the 2016 edition will take place at the same venue. Of course there were minor points to criticize, but the promoter promised already to improve and so we can look forward to E-Only 2016, taking place on 13th February. Confirmed bands are currently SUICIDE COMMANDO and ABSOLUTE BODY CONTROL. More to be announced!
Written by Fee Wundersee, translation by Alex Ultra-Riot (all bands except COVENANT) & Daniela Vorndran (COVENANT)
All pictures by Daniela Vorndran (
http://www.vorndranphotography.com
/
http://www.facebook.com/blackcatnet
)