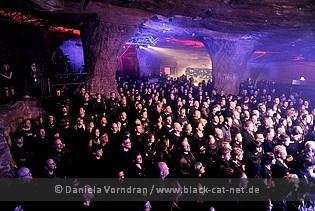 Sandstone Cave Langenstein, Halberstadt, Germany
10th to 11th April 2015
Kasematten Festival 2015 Day 2: Seelennacht, MRDTC, Harmjoy, Robert Enforsen (The voice of Elegant Machinery), Chrom, Torul, S.P.O.C.K & Apoptygma Berzerk
Of course we survived day one. Feeling cold but still being amazed be the lovely look and atmosphere of the cave we left my grandma after having some coffee out of her most amazing cups. Yes, she's collecting cups and put out the really pretty ones and the pretty can just because she liked my colleague Susann that much. Okay, this information has nothing to do with music or the festival itself, but it was just so cute how overly worried she was about us, if we feel comfy and if we were dressed warm enough for another day in the cave.
Not sure if we were. On our way back to Langenstein and the cave we were making jokes about ice cube, the arctic, snow and that some mulled wine or tea would be great. A little disappointed, cause the weather was not that much sunny as the day before and so there was no chance to warm up outside of the cave this day, we searched for TYSKE LUDDER and HARMJOY to interview them.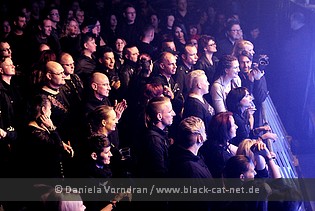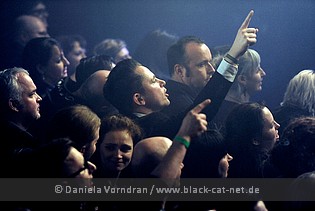 Seelennacht (Daniela Vorndran)
SEELENNACHT opening the second day is the project of Marc Ziegler. He does all the band work from writing to producing. The band started in 2008 and is doing live shows with the help of guest keyboarders. Like during former shows, Marc looked a little lost on stage and even though there was a live keyboarder (rather unremarkable in the back), the stage looked too big for him. At least the banners left and right filled it up. But still Marc does not really move when presenting his songs being kind of dark wave with the typical romantic lyrics and a well-dosed amount of heartache. I know, many people disagree, but for me his music still sounds too much like BLUTENGEL. At least his voice really sounds good and surely he found some admirers of his music. A little hint: marc should improve his live performance to attract more people. //
http://www.seelennacht.de
/
https://www.facebook.com/seelennacht
// Rating: 5 / 10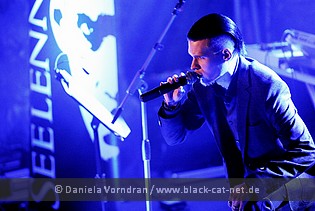 MRDTC ( Susann Lucas)

MRDTC stands for Mr. Dupont (Christoph Lemke) and Timo Claus (from AMNISTIA). The duo presented old-school EBM / Electro finding surely some lovers within the crowd. The first release was the 7" '#1 (Liar)' in 2012 followed by the first album, '#2 (We Transfer)' in 2013 vial Emmobiz label. I had no chance to see the band before. So for the first time seeing this band they made a good impression to me with their danceable sounds. To be the second band has the problem that the cave was not full of people and only a few people listen to the sound of the two guys. The sound and the light was not that good at this time of the day so you cannot enjoy the music that much. //
https://www.facebook.com/MRDTC.site
/
http://www.9xo.de/mrdtc
// Setlist: 1. Falling / 2. Belief / 3. Motif / 4. Brain Talk / 5. Shout It Out! / 6. Revenge / 7. Downside / 8. The Last Voice / 9. When The World is Gone / 10. Liar / 11. Sickness // Rating: 8 / 10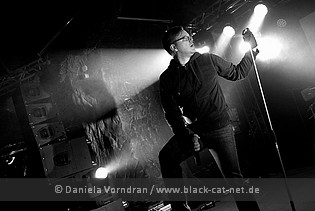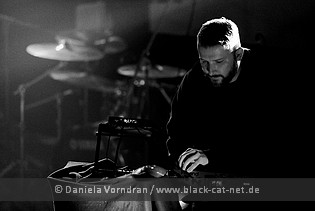 Harmjoy (Susann Lucas)

HARMJOY was founded in 2014 and consists of the band members of Ølåf Å. Reimers from TYSKE LUDDER and Dan van Hoyel. During their live show, also Claus and Jay from YSKE joined the performance for a richer live impression. After sitting in the sun together and talking about different things with those interesting guys I could not wait to see them live. But with this cold blue light I felt a bit scared by what I could see. Also the sound was not that good currently. So the drums where much too loud and it was painful for me to stand near the boxes. After a few songs I had to leave my place and find another in the back of the cave. Between the songs, Dan needed some time to change his clothes and he came back with a suit and a gas mask and put some glitter in the air. With a warmer light and a better sound, I would have enjoyed this band much more. I was happy to see them live because what I had seen on the internet before was really interesting. And I hope to see them again one day. //
www.harmjoy.com
/
www.facebook.de/harmjoy
// Setlist: 1. Inside out / 2. The quiet / 3. Whispers and rumors / 4. Pain decay / 5. We can pass / 6. We keep circling / 7. My tears fall // Rating: 7 / 10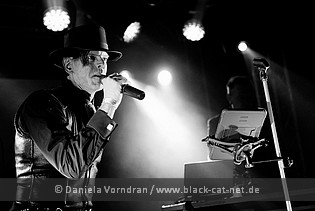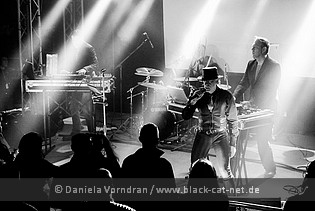 Robert Enforsen ( Fee Wundersee)

Do you remember ELEGANT MACHINERY? I do. Robert Enforsen used to be the singer of that Swedish synth band and still seems to miss the times with his colleagues. He entered the stage with his infectious smile and made everyone smile too. There is no way you don't get good mood, cheered up and feel like dancing when Robert comes around. He presented several ELEGANT MACHINERY songs and 'Bounce' from his other band, HYPE, and first looked a bit lost on stage - it was only him, two microphones and his synthesizer on stage. But he smiled it all away. When someone was screaming "Watching you", he started to sing "washing you… standing in the shower…" and made everyone laugh. When finally playing the EM song 'Watching you', he really sung those fun lyrics instead of the real ones and ended up giggling. Once again Robert amazed me with his gorgeous voice and left me once again with the thought "Where are you now? We need more people with such a lovely and recognizable voice in the scene." //
https://www.facebook.com/enforsen
// Setlist: 1. Shattered Grounds / 2. Entwined / 3. Hard to handle / 4. Black Town / 5. Process / 6. Fading away / 7. Feel the Silence / 8. Bounce (HYPE song) / 9. Watching You / 10. Move / 11. Yesterday man / 12. Save Me // Rating: 10 / 10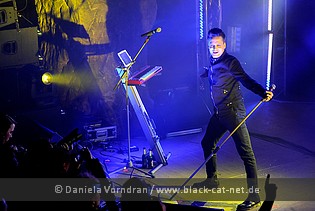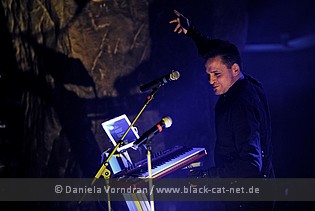 Torul (Susann Lucas)

TORUL was founded in 2010 and got their name from the band member Torul Torulsson. They played for several times in Germany and I had the luck to see them once more. So this time it was the first time where I had the feeling that the audience had a lot of fun by listening to the music of the Slovenian guys. I like to listen to the voice of Jan Jenko and from the moment the band went on stage, the sound in the cave got much better. Also the light got softer and warmer, so you could enjoy the show of the band. The last time I saw them live they only played 45 minutes but this time it was about one and a half hour. And most of the people danced the whole time and enjoyed the show like I did. //
www.torul-recordings.net
/
www.facebook.de/torul
// Setlist: 1. Lonely Night / 2. The Balance / 3. Higher / 4. Difficult to Kill / 5. Hearts / 6. All / 7. Try / 8. Fall / 9. Show Me Your City / 10. In Whole / 11. Where The Night Starts / 12. If you so wish / 13. Water Theme / 14. Silence of a Dead Tree / 15. Sun / 16. Dark Enough / 17. Wake Up // Rating: 9 / 10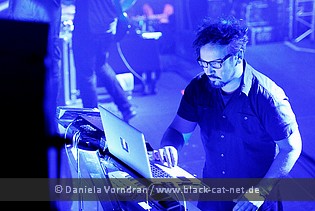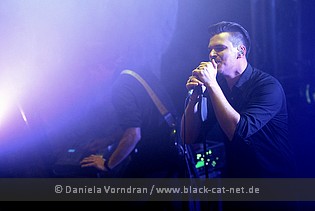 Chrom ( Susann Lucas)

CHROM is a German band which I have seen for the first time at the M'era Luna 2014. Since 2007 the band entertains with fine Synth Pop sound and invites the audience to dance. Also this time you could see a lot of people dancing to the sound of the guys. The small stage, like at this festival, is much better for bands like CHROM, because they don't look so lost on stage like at other festivals stages. //
www.chrom-music.com
/
www.facebook.de/pages/chrom
// Rating: 7 / 10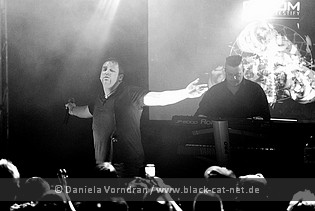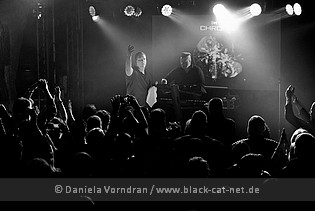 S.P.O.C.K. (Fee Wundersee)

S.P.O.C.K. (aka Star Pilot on Channel K) is a Swedish synth pop band which was formed around 1988. The band is well-known for doing funny performances started with 'Never Trust a Klingon' and then went off of stage telling that this was the only song the audience would want to hear. Of course they came back after the audience screamed "Zugabe" to perform a few other tracks. Android (aka Alexander) did a really funny breakdance, he had a water gun to fight against evil aliens and other funny things. One moment Alexander's microphone stopped working so his colleague Valdi helped him out with his and the show went on. It is always quite interesting how many people remember the lyrics though the band's performances are very rare and how much the fun level increases whenever they return to stage. Of course they made a comment about the temperature in the cave "This is the coldest backstage we've ever been in". So even the Swedish heroes were feeling really cold. The band left a clapping and dancing audience with the words "Live long and prosper" and made people think of Leonard Nimoy, who shortly passed away, once again. //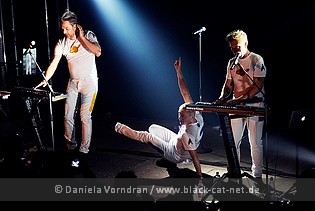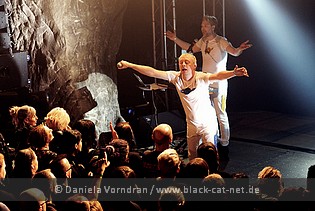 http://www.subspace.se/spock
/
https://www.facebook.com/StarPilotOnChannelK
// Setlist: 1. Never Trust a Klingon / Encore: 1. Spooky / 3. Edge of Forever / 4. Dr. McCoy / 5. Alien Attack / 6. Black Hole / 7. Silicon Dream / 8. Trouble With Tribbles / 9. E.T. Phone Home / 10. Neutral Zone / 11. All E.T:s Aren't Nice / 12. Back on Mars / 13. Mr. Spock's Brain / 14. Not Human / 15. Astrogirl / Encore 2: 16. Ice Machine (Depeche Mode cover) / 17. E-lectric // Rating: 10 / 10
Apoptygma Berzerk (Fee Wundersee)

The Norwegians from APOP were headlining the second day. Since 1989 the band delights the fans with fine Synth Pop/ Electro Rock/ Future Pop. The shows are notorious for thrilling the audience. And though I don't like how much guitar sounds the band is using now, I love Stephan's voice and performance. APOP always reminds me of my club nights when I was younger, when I was dancing to 'Kathy's song' or shouting out the lyrics of 'Suffer in Silence'. Though the lyrics and the melodies are quite melancholic sometimes, one in a while happy melodies mixed up with sad lyrics, the band always left me with a positive feeling and made me dance for hours. And so it was at Kasematten Festival. You can always rely on them to make even the coldest room turn into a Sauna.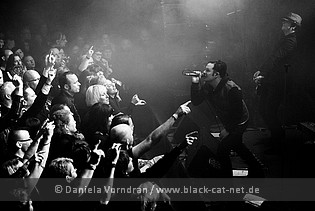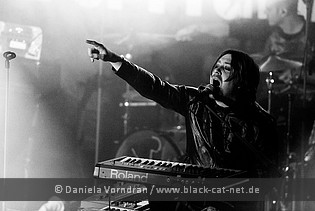 And though the cave was a bit warmer than the day before and I started to feel not that much cold since TORUL made everyone dance and melt away cause of singer Jan Jenko, it got like two degrees warmer when APOP performed their first songs. Definitely a perfect final for the festival and APOPTYGMA BERZERK proved once again that they deserve to be the headliner. //
http://www.theapboffice.com
/
https://www.facebook.com/ApoptygmaBerzerk
/ Setlist: 1. APB Goes C-64(Intro) / 2. Fade to Black (Metallica cover) / 3. Deep Red / 4. Love Never Dies / 5. Burnin' Heretic / 6. Shadow / 7. Am I right ? / Sometimes / Always / Oh L'amour (Erasure cover) (Solo by Jonas) / 8. Something I Should Know / 9. Kathy's Song / 10. You Keep Me From Breaking Apart / 11. Major Tom (Peter Schilling cover) / 12. Paranoia / 13. Untitled Too / 14. In This Together / 15. Until The End Of The World / 16. Non-Stop Violence / Encore: 17. Unicorn / 18. Eclipse / 19. Lost In Translation / 20. Shine On (The House of Love cover)/ 21. Starsign / 22. Mourn / Encore 2: 23. Bitch // Rating: 9 / 10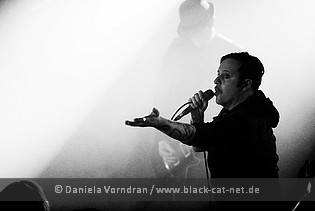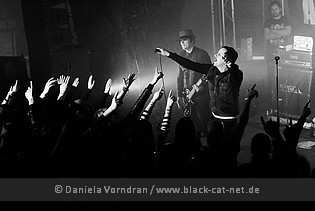 Conclusion (Fee Wundersee)

The sound in the cave overall was absolutely great. I did not really expect it in a cave that way. Well done! During the first day, the sound was perfect as can be. At the second day, the drums of HARMJOY were way too loud, you could hardly understand the singer and the blue light which was used made every band look really old, pale and spooky. It all changed when TORUL came on stage. Overall, the sound engineers did a really good job. Second point I want to mention are the temperatures. It was freezing cold. The promoter wrote in the Facebook group for this show that there would be 15 degrees when the cave is empty and about 20-25 degrees when there would be people. I think it was overall colder, especially in the areas where not so many people were standing around during the whole evening. When going inside, you could see your breath. You could even see the breath of every singer on stage and due to the statement that it wouldn't be so cold inside a lot of people showed up in their usual concert clothes – T-Shirt, shorts, skirts – and a warm jacket would have been a better choice. As the promoter started to build the stage days before the show a little update about the real temperatures would have been really nice. It's not a bad thing if you correct yourself, but it is a little disappointing when you get wrong information.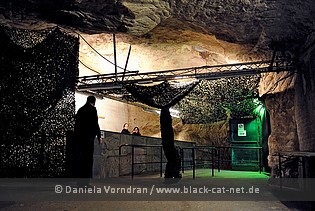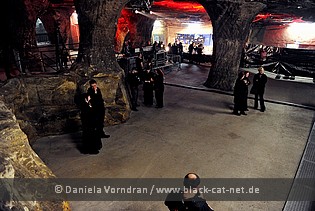 Tea and mulled wine would have been the heroes of both days as not only the bands went out of the cave to warm up outside ( Some told that the backstage area was even more cold than the concert part of the cave), and maybe some heating spots. From the not so nice fact to another really good one. The parking possibilities were great and you didn't have to walk a long way to the concert, so definitely a plus. There was no long waiting line, the security crew was nice and for the very first time at a festival, there were really CLEAN( !) toilets. A huge plus in my eyes. The festival would have attracted more people, even people outside the scene if there would have been some advertising, some interviews or some general information in the newspapers around as people still rely on what they read in the paper there. I have seen no poster or any other advertising for this festival and there to definitely live scene music loving people. So the festival mostly attracted people using Facebook and reading online magazines or people who attended festivals the months before. Quite sad as so many people missed great bands and an even more amazing location. So if there will be a next time of Kasematten festival: Please put on a warm jacket, prepare your car with tea and maybe tell all your friends living in that area that they should come, so that there will be more people to celebrate.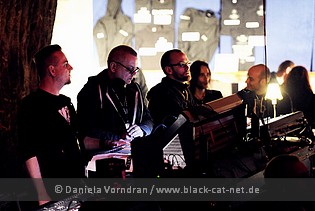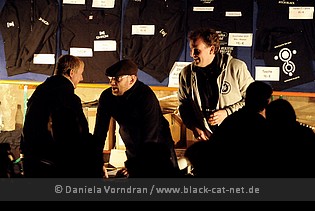 A final problem of the festival were the taxis who didn't come. A general problem in that area. Langenstein is well-known for being a kind of a trouble area, so I can make up why taxi drivers didn't drive to the cave to pick up people. If no one knows that there is a festival, no one would drive there. No people living there and not even taxi drivers as it could be a joke or the driver could end up in a dangerous situation. Sounds a bit weird and crazy, but it is like that. Halberstadt is more or less like a village, though there live about 20,000 people – if people don't know what's up, they won't be going there. It's a mix of ignorance, stubbornness and self-defence. Maybe next time a shuttle bus to the next two cities (Halberstadt and Quedlinburg) or informing two or three taxi companies could save this problem. You have to take people there as they are and if you do so, you'll get what you want. This is what I can say after living there for eighteen years of my life. The Harz area is full of a bit weird and stubborn but also kind and curious people and so am I, and I will always be.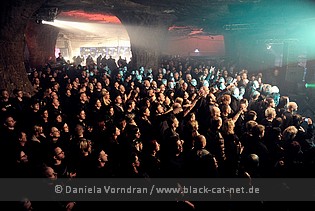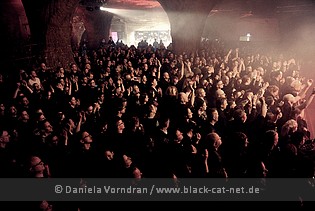 In final conclusion, I have to say that the band choice was awesome and that the cave is quite beautiful, a rally great and special festival location. With some little improvements, the little hint that people should come in pretty warm clothes, a possibility to warm up and a little talk to the taxi companies around could make this festival one of the most successful ones in Germany as there is no festival in such location like that in Germany. We really hope that there will be a next edition since the whole weekend was a special experience to us.
Written by Fee Wundersee, Susann Lucas & Daniela Vorndran
All pictures by Daniela Vorndran (
http://www.vorndranphotography.com
/
http://www.facebook.com/blackcatnet
)