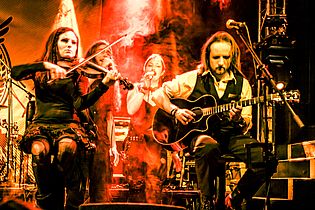 K17, Berlin, Germany
3rd May 2015
TheARTer Festival 2015 with Orphaned Land, Coppelius, Eden Weint Im Grab, Tunes Of Dawn, Neopera, Silberschauer, Stimmgewalt, Carpe Noctem

When we arrived we had to go back to the end of the queue although we had a press accreditation. We had just gone back, when the securities stopped the queue due to security concerns, because the location was too full. We had to wait one and a half hour until we were allowed to enter the club. People were not amused and even some shots distributed by the organizers didn't raise their mood for long. That was only the beginning of an evening where nearly all went wrong, exception made of the commitment of the artists and the patience of the visitors.
The concerts were supposed to begin at 3:30 pm, but at 5 pm, ORPHANED LAND were still making the sound check. The word "beaiot" (problems) sounded a lot of times through the main hall. People were waiting with patience, although after two hours of delay it was clear that it wouldn't be possible to hear all the bands at full length. But then, at 5.30 pm, the hope of a miracle rose again because the sound functioned finally and the band appeared with their usual power and stage presence. It would result later that the show of the Israeli guys, although started with delay, was the last one which functioned at all. The K17 was nearly one third full, and most of the audience, if not all, were, at least optically, members of the Gothic and Metal subculture.
Orphaned Land

The Oriental Metal band consists in Kobi Farhi (vocals), Chen Balbus (guitars), Idan Amsalem (guitars), Uri Zelcha (bass) and Matan Shmuely (drums). They are well-known not only for their melodic and powerful Oriental Metal, but also for their successful tries to bring people together in the so difficult and hostile Middle East, without distinction of nationality or religion. It was planned that ORPHANED LAND should play two times, at the beginning and at the end of the Festival, but due to the delay they only played once, and their acoustic performance together with STIMMGEWALT had to be cancelled which caused heavy disappointment among the audience. ORPHANED LAND had two screens installed in the background of the stage, where they showed short movies and pictures, for example Hebrew letters, women with hijabs (veils), or scenes from Israel, but also allusions to the devastating wars and fights in this area of the world. The lead singer Kobi spoke several times about the fact that all religions are interwoven. After the first songs, he greeted the audience and said that he had two make two announcements. First, he said in German "Ich bin nicht Jesus" (I'm not Jesus), and second, "I do wear underwear under this garment".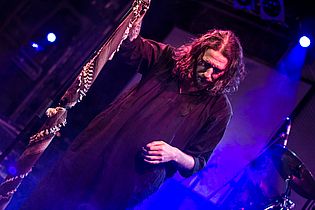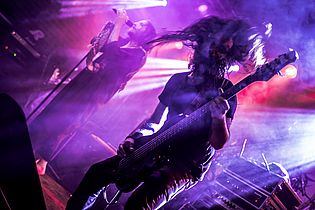 With both statements, he made an allusion to his Jesus-like appearance, with long hair, beard and a black caftan. Then he gave a warm welcome to the audience and said that they were "from a difficult region, where Israelis go against Palestinian, Syrians against Syrians, and Sunnis against Shii people. And we bring them together, with Metal, not with politics". Later, he asked for Syrian spectators (there were a lot, that astonished me) and asked if all the others were German. Since most people cried "Yes", he said "Deutschland über alles", smiling, before he dedicated the next song, 'Brother', to "his Muslim Brothers". Also highly emotional was one of the next songs, 'Let the truth be known', about the cease-fire between the adverse armies during Christmas on the Second World War. "You need holiday, alcohol and music to bring enemies together", he said, although he also pointed to the sad fact that the cease-fire ended one day later and soldiers started to kill each other again. During the last song and one of the encore songs, two belly dancers from Berlin joined the show with interesting dresses. ORPHANED LAND played a total of one and a half hour.
Rating

Music: 10
Performance: 9
Sound: 8
Light: 5
Total: 8 / 10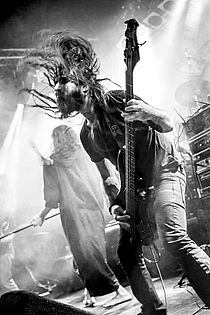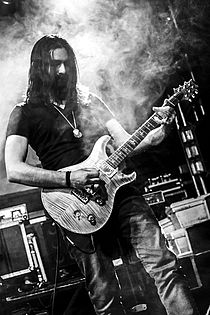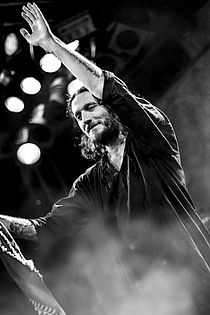 Silberschauer

The music project from Berlin consists in Stephan Troscheit (vocals), AllysterT.Nightwind (guitar / vocals), Jan "Lubi" Lubitzki (drums), Lia Silverlight (keys), Rhavin (bass / vocals) and Fabi (guitars). Their music is a mixture of Melodic Metal, Gothic and Rock. Due to the horrific sound, it's hard to give an appropriate description of the gig. They only could play few songs and most of the audience were outside, trying to rest a little bit after hours and hours of waiting, but I would be really interested in hear them in another location.
Rating

Music: 6
Performance: 6
Sound: 3
Light: 5
Total: 5 / 10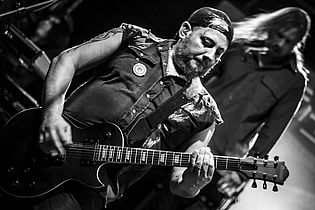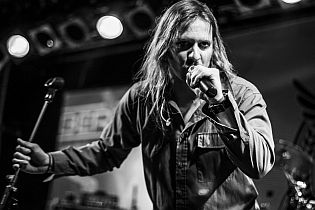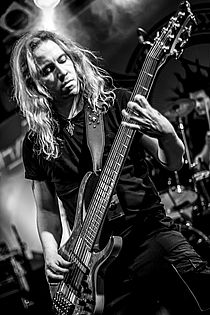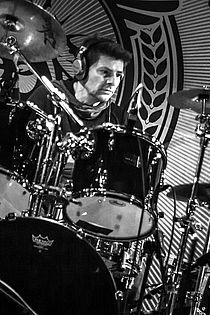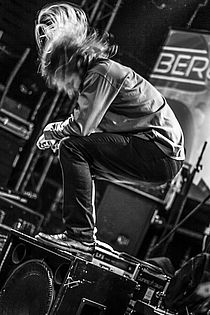 Tunes of Dawn

TUNES OF DAWN were founded in 1993. The German alternative rock and Metal band consists of Hagen Schneevoigt (vocals / bass), Gunter Büchau (keyboards), Martin Schorlemmer (drums) and Rene Gödde (guitars). They had really huge difficulties with sound and due to the delay, they had to cancel some of the songs they wanted to play, but they managed it to gain the audience's attention and made a good atmosphere with their energetic and powerful music.
Rating

Music: 8
Performance: 7
Sound: 5
Light: 5
Total: 6.3 / 10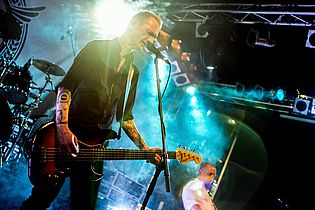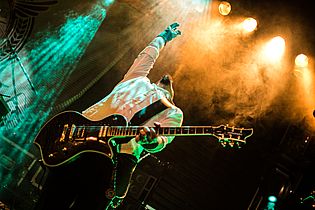 Stimmgewalt

The Berlin "HardChor", a chorus specialized in Metal songs, consists of Bine, Luna, Johanna, Alina (soprano), Steffi, Jenny, Lilje (alto), Ferdi, Jonathan, Ben, Robert (tenor) and Folker, Eiko, Jan, Roddi (bass). It was planned that they should join ORPHANED LAND at their acoustic concert, but it was cancelled due to the delay of several hours. Then, they started to give a really charming concert at the yard of the K17, but after only two songs, the security interrupted the beautiful performance and also the announced backstage concert was cancelled. It was really disappointing, cause many people wanted to hear this promising chorus from Berlin.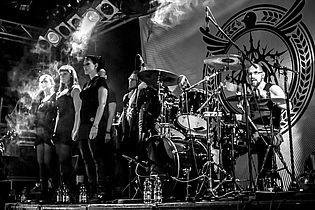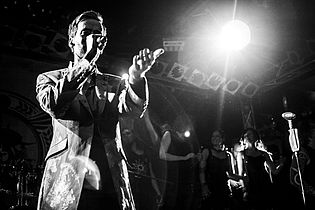 Carpe Noctem

The solo performance of CARPE NOCTEM was also cancelled due to the delay, but the String Metal guys managed it to give an outstanding little backstage concert which enchanted a lot of people (myself included). Founded in Jena, the project consists of Friedrich Busch, Cornelius Wagner, Martin Streicher, Sascha Dobschal und Daniel Cebulla. One of the highlights of the evening was their SYSTEM OF A DOWN cover. Surely one of the most interesting newcomers of the genre!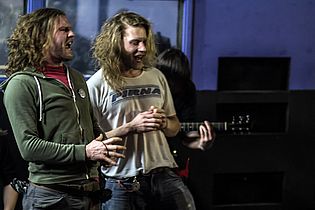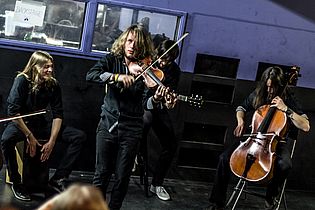 Neopera

Due to the failed sound check before doors opened, the bands had to make their hole sound check before entering the stage. That amounted still more delay to the one we already had. It was not until ten o'clock when the Symphonic Metal combo from Hamburg could enter the stage. NEOPERA consists of Jörn (guitars), Thorsten (vocals), Nina (vocals), Mirko (shouts), Dirk (bass) and for their live performances of Mikis Trimborn on guitars and Thorsten Harnitz on drums. At the beginning, the concert was a disaster - not because of the band or the public, but because of the sound that didn't work at all. It was impossible to hear Nina or Thorsten at all.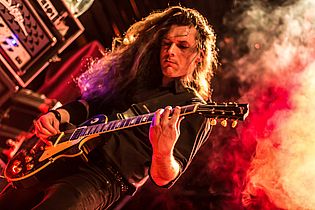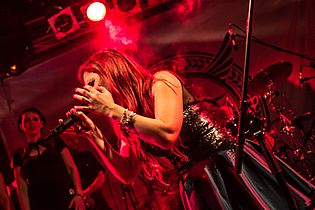 At the second song, STIMMGEWALT joined the stage, but it was also nearly impossible to hear them. Nina was desperately begging for more volume, but the technician seemed to be unable to help her. NEOPERA gave a warm welcome to the audience which stood the calamities of the evening with astonishing patience, although mourning. After the first songs, the sound became a little bit better and we had an impression of how nice the interaction between NEOPERA and STIMMGEWALT and the contrast between the melodic vocals of Nina and Thorsten and the screaming of Mirko sounded.
Rating

Music: 8
Performance: 8
Sound: 3
Light: 7
Total: 6.5 / 10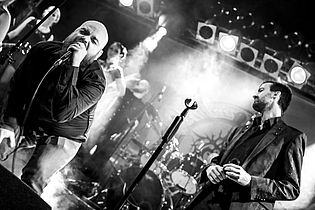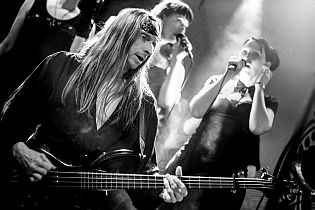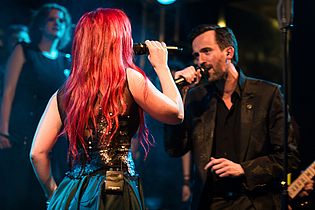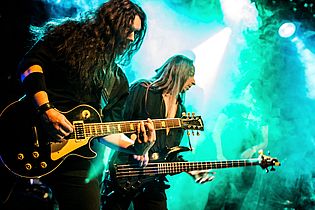 Eden weint im Grab

The Horror Metal band was founded in 2002 in Berlin and consists of Alexander Paul Blake (vocals, bass, keyboard, production), Dr. Eckstein (lead guitar), Nimmermehr (guitar), Zeus X. Machina (drums), Meyster Melicus (cello) and Kalila Karussell (violin). They are famous for their expressive stage shows and for their weakness for dark and morbid lyrics. Although it was already eleven o'clock, there were still half of the audience there, that means that the hall was 1/6 full.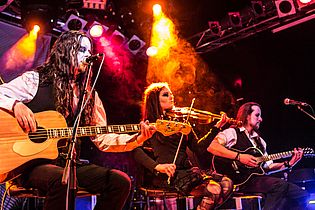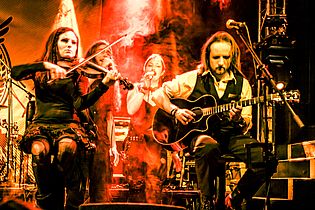 EDEN WEINT IM GRAB gave it all and managed it to spread a really good atmosphere with their mixture of horror, fun and melancholy. They performed a couple of songs together with Steffi and Jonathan from STIMMGEWALT. Although it was sometimes difficult to hear them, it was a beautiful supplement to the band. And generally spoken, even the sound functioned better than before - even far away from perfection.
Rating

Music: 9
Performance: 8
Sound: 5
Light: 8
Total: 7.5 / 10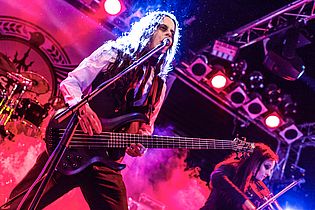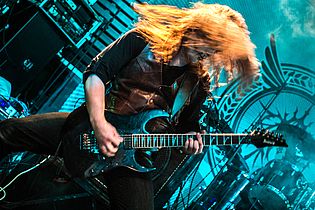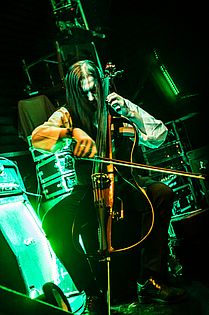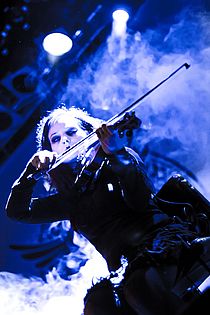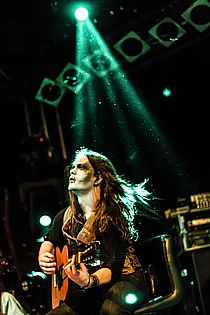 Coppelius

COPPELIUS, a well-known music project from Berlin, are famous for their original music, which they call "Kammercore" and has elements of String and Symphonic Metal, and for their fictive identity allocated in the 19th century. Their members are Le Comte Caspar (vocals & clarinet), Max Coppella (vocals & clarinet), Graf Lindorf (vocals & cello), Sissy Voss (double bass), Nobusama (drums) and Butler Bastille. Because of the huge delay, most of the audience had already gone when they played. It was half past midnight and people had to hurry up to catch the last trains, and most of them surely had to work at Monday – and so had we. Due to that, there are no pictures of the band. But COPPELIUS didn't mind and played not only long, but also full of energy, power and fun - a really likeable attitude.
According the above mentioned problems, there is a big statement of the promoter here:
http://thearter-gallery.de/statement-k17.html
All Pictures by Florian Schürmann