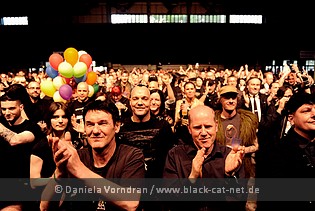 Leipzig, Germany
22nd to 25th May 2015
Wave Gotik Treffen 2015 Day 1: Rabbit At War, Electronic Noice, L'Âme Immortelle, .com/kill, Blutengel, Steinkind, Antimatter, Deine Lakaien, Feuerschwanz, Eisbrecher

Arriving, Observing, Finding Your Way, Dancing! The town is black. At least a bit. Either the number of visitors has decreased at the 24th Wave Gotik Treffen or it was spread to more smaller locations. Maybe it was the train strike's fault that some didn't find their way to the trade fair town at all.
The trains were somehow empty as well or emptier than in the years before, the Augustusplatz and the city centre were blackened but it was not as much as in the last year's meeting point of Goths and photography enthusiasts. Whatever, the Friday show and frame programme were nothing to sneeze at: There was the traditional absinthe breakfast in the Absinth bar Sixtina like every year and the small market with beautifully chosen stalls. Furthermore, there was a film screening of ''Wave Summer in Brazil – A Rock Documentary', a reading from 'Wahre Märchen II' with various writers and a vocal performance by Nina de Lianin and of course, the music programme on the Hofbühne with LYNKANTHEA, SCHATTENKINDER and ELECTRONIC NOICE.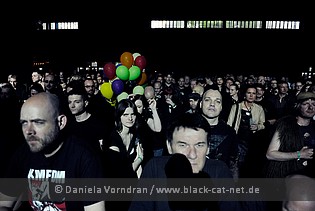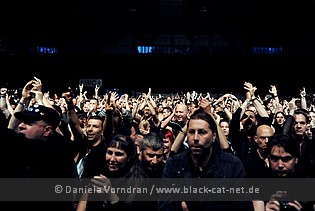 On the Agra grounds, there was everything from diverse food and beverage stalls, over the shopping hall with numerous stalls providing gorgeous headgear to fancy accessories, the foyer where some signing sessions took place, the cafe where pictures by, among others, Annie Bertram and Satyr were displayed, the concert hall where L'ÂME IMMORTELLE, BLUTENGEL, DEINE LAKAIEN and EISBRECHER played and the party hall where there was an after party with DJ Patrick Codenys (FRONT 242), DJane Infantriene and DJ Caligrai after the EISBRECHER show. Of course, many scene bands could be seen in different locations, there were lectures and here and there were photo shoots and picnics. We didn't go to the subsequent after parties since one has to save one's spirits in order to survive the concert weekend. (Josie Leopold / Linda Jane)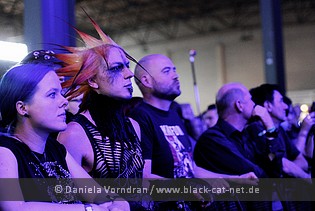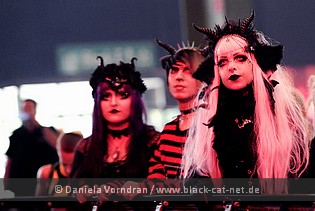 Rabbit At War – Kohlrabizirkus [Daniela Vorndran]

Originally, I wanted to start my personnel WGT with .com/kill, but why not check out the first band at the Kohlrabizirkus already, that was rather unknown for me so far? RABBIT AT WAR hails from Gießen and was founded in early 2010 by Christian "Rabbit" W. as Dark Electro project. After some months of hard work, a first demo album, 'Welcome To The Wasteland', was released as free download. The 'Hasenhatz' EP followed in 2010. In 2012, the project was signed to Mutant Records, where the album, 'Trotz therapy', was released. Finally in 2014, 'In meiner Anstalt' was out via Danse Macabre Records. I must say that at first sight, the show was quite entertaining with a band where all members entered the stage in crazy make-up and acted extroverted with a lot of posing. But the music compared to that could not convince me at all. Nice start of the day, but there has more to come… //
http://www.rabbitatwar.de
/
https://www.facebook.com/the.rabbit.at.war
// Rating: 6 / 10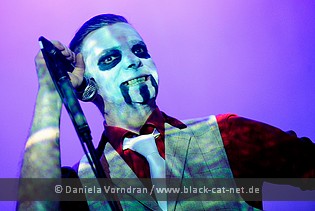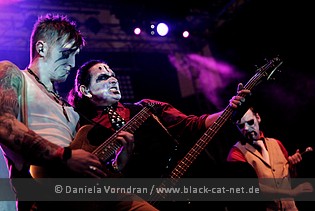 Electronic Noice – Sixtina [Linda Jane]

ELECTRONIC NOICE from Leipzig were headliner on the Hofbühne in the Sixtina on Friday. The band was founded in 2008 and consists of band leader TaKKKer (Dark Pleasures), Wesi (guitar), Martin Siol (synths) and Loki (synths/ live DJ). They earned the junior award at Dark Radio in 2011. TaKKKer is a small singer but with a loud voice and as energetic as ever. Unfortunately they seemed to be a bit too loud for a part of the technology and there was a loud boom and TaKKKer got confused for a moment. But after regaining his composure, he continued to heat up the audience. Some of the present visitors were dancing and celebrating the band which was also reflected in energetic encore demands. The encore was a premiere, a premiere of the Hanging Tree. //
https://www.facebook.com/pages/Electronic-Noice-Official/262072820481146
// Setlist: 1. Akte X / 2. Nichts und niemand / 3. A love comes true / 4. Armageddon of love II / 5. Bitch / 6. Freedom / 7. Armageddon of love I / 8. Das Ende der Zeit / 9. Redemption / 10. Worthless / 11. Fuck me I am rich / 12. A dake place to hide / Encore: 13. The hanging tree (cover) // Rating: 7 / 10
L'Âme Immortelle – Agra [Linda Jane]

L'ÂME IMMORTELLE from Austria opened the venue with a moving and fantastic performance on Friday. The band was founded in 1996 and consists of Sonja Kraushofer (vocals) and Thomas Rainer (vocals/ synths). They are supported by Gregor Beyerle (synths) and Chris Fox (drums) during shows. After their tour for the new record 'Drahtseilakt' in November, the WGT was the second festival this year which they played after a 5-year long break. The performance was very moving. You can see and feel that Thomas and Sonja feel and live their music and lyrics and transported it to the audience. During their shared songs, it's a feast to watch their interplay, one feels like being right in the middle of the narrated happening. The live musicians Gregor and Chris also transport those vibes perfectly and underline this epic show experience. My personal highlights were 'Wie Tränen im Regen', 'Komm Zu Mir' and 'Life will never be the same again'.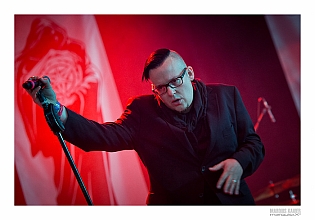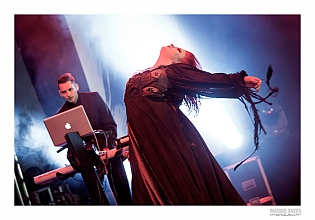 Sonja changed her outfit twice during the show, which always suited the subsequent songs perfectly. The new banners and the light show rounded out the show very well. //
http://www.lai-music.com
/
https://www.facebook.com/LAI.official
// Setlist: 1.Intro - L`Étang Mâlo / 2. Tiefster Winter/ 3. Gefallen / 4. Wie Tränen im Regen / 5. Eye of the Storm / 6. Fallen Angel / 7. Stumme Schreie / 8. Drown them / 9. Love is lost / 10. Bitterkeit / 11. Komm zu mir / 12. Es tut mir leid / 13. Tauch mich in Dein Licht / 14. Phönix / 15. Life will never be the same again / 16. 5 Jahre / 17. Requiem // Rating 10 / 10
.com/kill – Kohlrabizirkus [Susann Lucas]

For a few years, DIARY OF DREAMS have been working on a side project. Adrian Hates and Gaun:A have made it finally. They have developed a new sound. .COM/KILL sounds completely different with their voodoo-like rhythms and their stomping beats than what we've known so far by Adrian Hates. Exactly this makes the music so interesting. The performance of both musicians took place in the early evening in a half-filled venue in the Kohlrabizirkus. From the first sound on the audience went along. The advantage of a half-full venue was definitely that one had enough space to move. The sound was also set up well and all the bass made the floor shake sometimes. This was an absolutely successful beginning at the opening of the WGT which increased the anticipation for more concerts of this quality. //
www.comkill.me
/
https://www.facebook.com/comkill
// Rating: 8 / 10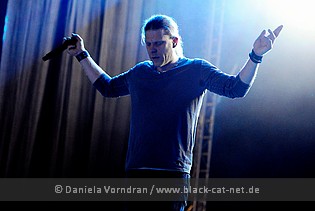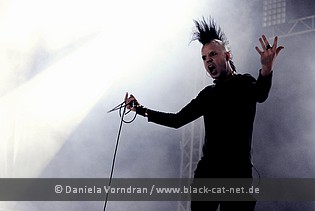 Blutengel – Agra [Linda Jane]

After a short rebuild break, BLUTENGEL from Berlin, Germany came and delivered a stagy performance. The band was founded in 1998 out of the fetish electro project SEELENKRANK and consists of Chris Pohl and Ulrike Goldmann. Their performance at the WGT followed right after their tour for the new record 'Omen'. The stage performance consisted mainly of the video installations on the screen and some sort of fetish show by two or three girls who always entered the stage in different clothes in order to strip them off to their underwear and heated up the audience by fondling and dancing. Unfortunately, I found Ulrike to be vocally a bit too weak in accordance with the remaining volume of the show. Still, the audience celebrated BLUTENGEL, they danced and were noisy. //
http://www.blutengel.de
/
https://www.facebook.com/BlutengelOfficial
// Setlist 1. Intro - Sing / 2. The war between us / 3. Lucifer / 4. Kinder dieser Stadt / 5. Soul of Ice / 6. Dein Gott / 7. Krieger / 8. Vampire romance / 9. Holy Blood / 10. Engelsblut / 11. Wir sind was wir sind / 12. The Siren / 13. You walk away / 14. Bloody Pleasures / 15. Save us / 16. Asche zu Asche / 17. Reich mir die Hand // Rating 7 / 10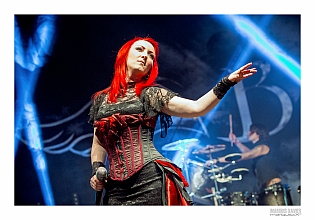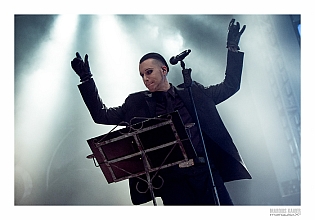 Steinkind – Kohlrabizirkus

Germany is burning. Okay, the Kohlrabizirkus is burning. A little. Considering that there were few people in the Kohlrabizirkus and a hindrance (from a constructional perspective) that allowed only the ¾ of the venue to be used, there was a quite good vibe. More people, better vibes? Maybe. At least I had fun with STEINKIND and was reminded during some parts that friends of mine named their daughter after the song 'Larissa'. Those who are now wondering why I thought it to be suboptimal to choose this name and tell everyone that the child was named after the same-titled song should look for it on YouTube or a sampler. But besides that, a cyber-lady was rocking out to the music in the first row and at the latest during 'Deutschland brennt', the Kohlrabizirkus was boiling. A tiny advice to the band leader: yes, we are all a bit older and our clothes are not as fitting as they should be – but please get a new jacket, which doesn't show off your vest. And if you have to take it off please don't wear a fine rib vest underneath it. In connection with your belly, it does seem a bit chavvy. Other than that, heads up, STEINKIND! You can rock the show and festival grounds more often for me and you were my Friday highlight! //
www.steinkind.de
/
https://www.facebook.com/steinkind.info
// Rating: 8 / 10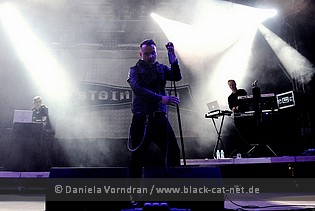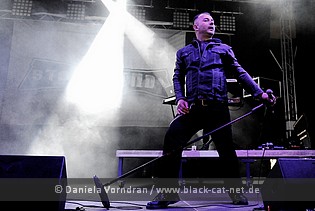 Antimatter – Altes Landratsamt [Daniela Vorndran]

ANTIMATTER were playing two different shows at the WGT 2015. The festival program announced an acoustic and an electric performance. We decided – due to overlapping schedules – for the electric performance on Friday at the Landratsamt. Fronted by long-time member Mick Moss, ANTIMATTER was founded 15 years ago and since then, moved through a broad range of musical identities. Starting with electronica on the 2001 album 'Saviour', there later on were also acoustic outputs as well as classic rock records. ANTIMATTER have already played the WGT before and today they impressed a good crowd with their rock set. Of course, the band convinced with its trademarks: introspective, sociological lyrics, dark musical vibes, and of course Moss' soulful vocals. //
http://www.antimatteronline.com
/
https://www.facebook.com/antimatteronline
// Rating: 9 / 10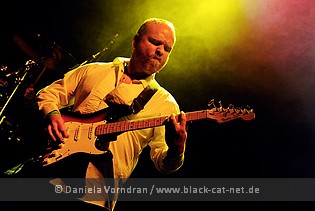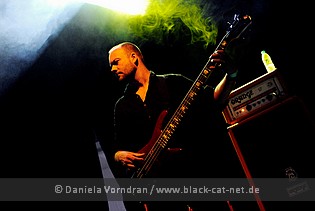 Deine Lakaien – Agra [Linda Jane]

DEINE LAKAIEN surrounding the singer Alexander Veljanov from Berlin and the composer and multi-instrumentalist Ernst Horn from Munich have been active since 1985. The venue was overfilled at this point and when the band entered the stage they received an incredible applause. Already after the first songs there was a fantastic atmosphere among the crowd. During hits like 'Over And Done' they sang along and couples were holding hands. The musical and vocal performance was very good, the sound and the light show were perfectly attributed to the show and there were even three encores. An overall successful show experience. //
http://www.deine-lakaien.com
/
https://www.facebook.com/DeineLakaien
// Setlist: 1. Colourize / 2. Reincarnation / 3. Into my Arms / 4. Fighting the Green / 5. Over and done / 6. Where you are / 7. Nevermore / 8. Gone / 9. Return / 10. Overpaid / 11. Farewell / Encore: 12. Where the winds don't blow / 13. Crystal Palace / 14. Love me to the end // Rating 10 / 10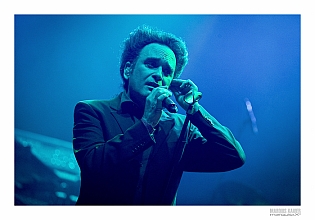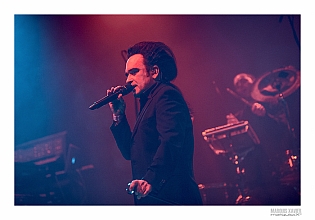 Feuerschwanz – Heidnisches Dorf [Susann Lucas]

Already since 2004 FEUERSCHWANZ are up to mischief on the stages of the republic. The six musicians and their kitties don't take themselves and life too seriously and always reflect this in their song very well. Their lyrics need to be understood with a wink. When the band announced their surprise performance for Friday in the Heidnische Dorf on Thursday I immediately changed my planning because I didn't want to miss this by any chance. FEUERSCHWANZ shows always provide the feeling and the need to dance and party. On Friday evening, it was the same. The space in front of the stage was filled well and the audience partied from the very first sound on. The sound was adjusted very well in the open so that the music could be heard from a bit afar as well. The performance was unfortunately over too soon and was decorated by many songs from the current record 'Auf's Leben' but also a few older pieces. The most emotional moment for me was when Hodi dedicated the song 'Auf Wiedersehen' to his deceased mother. Not only he but also a few people in the audience had tears in their eyes. //
www.feuerschwanz.de
/
https://www.facebook.com/feuerschwanz
// Rating: 9 / 10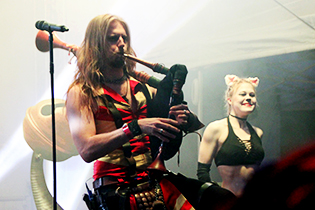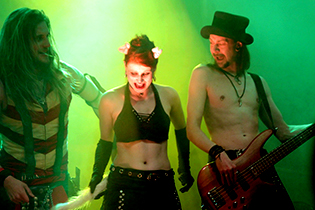 Eisbrecher – Agra [Susann Lucas]

After his exit from the band MEGAHERZ, Alexander Wesselsky founded EISBRECHER together with Jochen "Noel Pix" Seibert in 2003. After a few line-up changes, the band has been on tour through the clubs of this world in its present line up since 2013. With their current record, they were on tour in Germany in the last months. When I entered the Agra venue, I was lucky that I actually got inside. It was overfilled so that it got hotter. The audience was moved by the good vibes of the band and celebrated an exuberant and last show of this evening. There was almost no one who wasn't moving in the venue and at the end one could look into many content faces. //
www.eis-brecher.de
/
https://www.facebook.com/eisbrecher
// Setlist (maybe wrong order): 1. Intro/ 2. Volle Kraft voraus / 3. So oder so / 4. Antikörper / 5. Willkommen im Nichts / 6. Amok / 7. Ohne Dich / 8. 1000 Narben / 9. Leider / 10. Himmel, Arsch und Zwirn / 11. Prototyp / 12. Die Engel / 13. This is Deutsch / Encore: 14. Eiszeit / 15. Verrückt / 16. Miststück // Rating: 10 / 10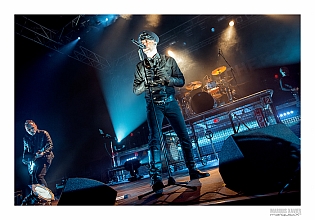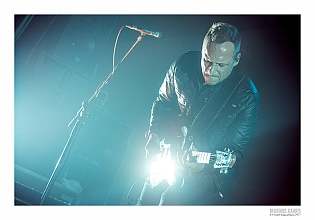 Written by Josie Leopold, Linda Jane, Susann Lucas (with translations by Alex UltraRiot) and Daniela Vorndran
Pictures by Daniela Vorndran (
http://www.vorndranphotography.com
/
http://www.facebook.com/blackcatnet
), Xavier Marquis (marquis(pi)X) and Susann Lucas
See also (all categories):