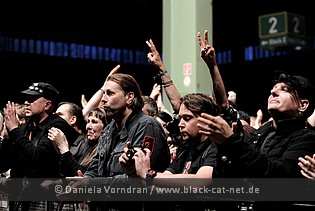 Leipzig, Germany
22nd to 25th May 2015
Wave Gotik Treffen 2015 Day 2: Christian von Aster, Perfection Doll, Molllust, Versus, Tommi Stumpff, Youth Code, DAF, Front 242, Agent Side Grinder, Party Reviews

Electro, EBM, Synth Pop, Vodka and party test at its best! On the second day, we were in the Agra for all those electro bands playing there and in the Sixtina for MOLLLUST and VERSUS. Besides we checked out the reading of Christian von Aster and the performance of AGENT SIDE GRINDER.
A stroll over the Augustusplatz didn't bring more black people as on the previous day, the trains were also relaxingly empty. A little headache was able to exclude the weather as a reason and instead, the band line-up or the train strike was debated wildly as an explanation, even though the strike was already over. We didn't come to a final agreement by the away since we have talked also about different show locations: for example the old courthouse (Altes Landratsamt) which is a very beautiful congress, trade and event location at the ringside. Among others, BLOOD AND SUN from Minnesota and the English Neo-Folk band SOL INVICTUS played there on Saturday. The organ concert ''veni creator spiritus'' was in the Gewandhaus and among others, MEGAHERZ and SAMSAS TRAUM played in the Felsenkeller which is a fantastically beautiful roofed hall. Subsequently here are our Saturday impressions, including our WGT party test! (Josie Leopold / Linda Jane).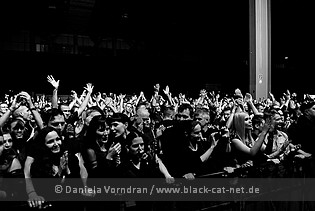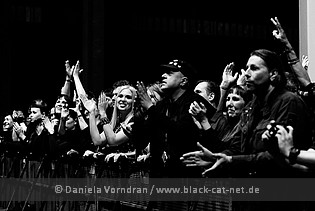 Reading: Christian von Aster – Kulturhafen Riverboat [Daniela Vorndran]

WGT always das not only offer music and concerts, but also a huge cultural program, containing lots of readings as well. It is already some kind of personal tradition that I attend at least one reading of CHRISTIAN VON ASTER, who was reading several times this WGT on several locations. Saturday afternoon, I joined a great crowd at the packed Kulturhafen Riverboat for the reading under the headline 'Fortgeschrittene Buntschwundkunde' (roughly translated as "science of advanced colour loss"), very appropriate for a Gothic crowd. Christian von Aster, born 1973, is a writer with different faces, with already more than 20 publications on his sleeve. Bur he is not only writer but also movie director, is drawing, making music or creating games. As used during festivals, ASTER was reading some funny stories to entertain the audience. As for several WGTs before, he had a special "gothic" text making some jokes about the "bad qualities" of the black crowd. It was really entertaining and if you wanna lough about yourself… and about others… you really should visit one of his readings. //
https://www.facebook.com/pages/Christian-von-Aster/83507056711
// Rating: 9 / 10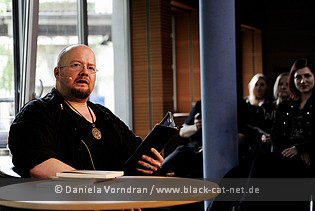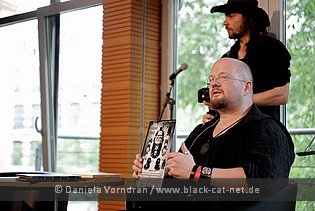 Perfection Doll – Sixtina [Linda Jane]

PERFECTION DOLL were the surprise act as the opener on the Hofbühne of the Absinth bar Sixtina and it was a surprise act in a dual sense not only because no one knew who would play but also because the band was only founded at the end of 2014. This young formation from Leipzig consists of singer Laluna Mea Lux (previously singer at Arise-X), Loki (Electronic Noice) at the keyboard and Mirko for the effects. It was the first performance in front of a big audience for the band, that's why Laluna was obviously nervous but she mastered it quite well. Only during the ambitious songs like 'Garden of Delight' it could be observed. During the song 'Moondance', Laluna went into the crowd and greeted some fans and listeners personally. The show was underlined by the application of day light beamers and numerous effects on the background screen. The audience was still a bit reserved because of the unrenownedness of the band and the time but the crowd still applauded. After the show Laluna was at the merch where there were t-shirts and she distributed a CD with three songs as a giveaway to fans. A young band which will surely be heard about in the future. //
http://www.perfection-doll.com
/
https://www.facebook.com/pages/Perfection-Doll/823949397670554
// Setlist: 1.Intro / 2. This is electro / 3. You / 4. Black stars / 5. Ghostlove / 6. Garden of delight / 7. I wanna know / 8. Moondance / 9. Ressurrected // Rating: 6 / 10
Molllust – Sixtina [Josie Leopold]

MOLLLUST is a band that describes their style as "opera metal" and they were the M'era Luna newcomers in 2013. Sounds promising, but rather clamouring-squeaky to my ears. Now, opera voices are a matter of taste and the singer wasn't bad at all. Simply reminded me of WITHIN TEMPTATION and I could've got something positive out of it if the sound adjustment for the small courtyard of the Sixtina wasn't so exaggeratedly loud. Already two streets away one could hear the bass, a street away also the vocals. That which came together in the courtyard was uber-loud vocals and sounds in moll. I didn't get much of the metal part. If I parted the music from the vocals I would really like all of this – but this way, it was adjusted terribly. I set a task for the coming days to listen to MOLLLUST from Leipzig in their record revision in order to find out for myself personally again what truly bothered me during their performance. //
http://www.molllust.com
/
https://www.facebook.com/molllust
// Rating: 7 / 10
Versus – Sixtina [Josie Leopold]

It's always nice to observe one's colleagues during work. This time I don't mean observing a colleague while photographing or writing, no, my new writer newbie was stage deco during VERSUS from Monestirea. She's been doing it for a while and I have to say everything ran smoothly. If you want to remember: VERSUS are those who make Ahoi pop. Does it ring? If you weren't at the E-only festival while this band was playing: Ahoi pop is something like synth pop, only that Vodka-Ahoi is distributed by lovely ladies in the audience. After a sound check where I already thought "please Andre, do something, I am going deaf!", the sound man regained his composure and focused on optimal adjustment. A little band was dancing in front of the stage and a decently drunk lady became so euphoric because of the music that she did not only dance wildly in front of the stage but also on her partner. Andre Steinigen and his colleagues provided a nice synth part in the Sixtina and I think that Mr Steinigen could become host since he carried through the programme so nicely. Besides the music, the marriage of Allison and Brady was a highlight, being wedded by Thomas Rainer (Nachtmahr).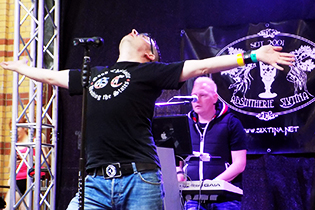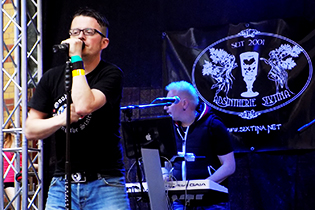 Those who lose their wedding rings on a festival simply need to be remarried and is there a better way than with danceable music and a good friend as the priest surrogate? But I do have a point of criticism: where is the record that is spoken of at every show? I am waiting, the audience is waiting, all of us are waiting... somehow. //
http://www.versus-music.de
/
https://www.facebook.com/Versus2
// Setlist: 1. This is Ahoi Pop / 2. Hunter / 3. A Matter of... / 4. Monestirea / 5. Viva La Party / 6. Definition:Lost (F.O.D. Remix) / 7. Shapes of Joy / 8. we were Lovers / 9. Lies / 10. A lonesome Girls Nights / 11. All the "Gegirnfasching" she said / 12. Frequency (Nachtmahr Remix) / 13. Freakwaves / 14. We are clones / 15. Into the Galaxy // Rating: 8 / 10
Tommi Stumpff – Agra [Daniela Vorndran]

TOMMI STUMPFF is an icon, his song 'Massaker' is cult. And since I never had seen him live and beside he was not on stages for a long time, there was no question about checking out his WGT show. His first studio album, 'Zu Spät Ihr Scheißer. Hier ist: Tommi Stumpff', was out in 1982 and with it, STUMPFF created a new musical genre in Germany, Electropunk. Over the eighties, STUMPFF developed to one of the most influential electronic artists. In 1993, he officially ended his musical career but started rehearsing again in 2007 again. TOMMI STUMPFF opened the program at the Agra stage right away with his uber-hit 'Massaker' which was quite surprising for me. Sadly, the sound was really bad that day, at least for my ears, too loud, too booming… it just hurt my ears. After a few songs I had to leave the hall and listen to the show from the outside, of course missing all visual components Tommi and his companions – Rüdiger on keys and a bass player – brought to stage. //
https://www.facebook.com/tommi.stumpff
// Setlist: 1. Massaker / 2. Lobotomie / 3. Contergan Punk / 4. Le chien andalou / 5. Gnade dir Gott / 6. Alarm / 7. 300 Tote / 8. Creve petit con / 9. Seltsames Glück / 10. Geh sterben / 11. Meine Sklavin / 12. Niemals mehr // Rating: 7 / 10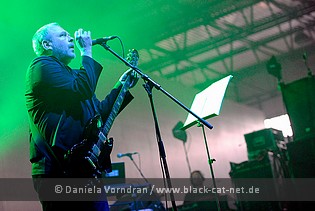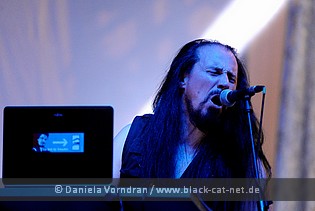 Youth Code – Agra [Daniela Vorndran]

Los Angeles Duo YOUTH CODE, consisting of Ryan William George (programming, vocals, manipulations, synths) and Sara Taylor (vocals, samples, synths), started in 2012 and delivers raw, punishing, industrious electronics sounds mixing Hardcore with early Wax Trax influences. The band is really energetic on stage and especially Sara screams loudly while jumping and running across the stage and banging her head. The music is chaotic but at the same tome catchy with dance undertones creating a sonic fury. Sadly, also the US duo suffered from bad sound and I had problems to understand the voice at all. I really was looking forward seeing this band since I heard a lot of positive comments, but after all, I was kind of disappointed. Thing it was a clash of unlucky circumstances. Anyway, will give them another chance it the possibility occurs. //
https://www.facebook.com/youthcodeforever
// Setlist: 1. Intro / 2. Carried Mask / 3. Tiger's Remorse / 4. For I Am Cursed / 5. What Is the Answer? / 6. To Burn Your World / 7. First & Last / 8. No Animal Escapes / 9. Wear The Wounds / 10. Consuming Guilt // Rating: 7 / 10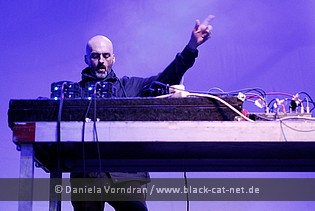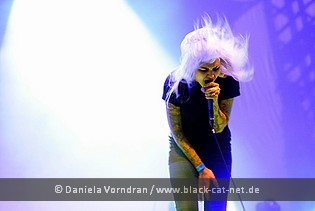 DAF – Agra [Susann Lucas]

DAF were already founded at the end of the 70s and among KRAFTWERK and CAN, they belong to the most influential bands of electronic music. After a few line-up changes, solo projects and breakups in the 90s, DAF are reunited since 2008 and played a show in the frame of the c/o Pop Festival because of their 30th band anniversary. Since 2010 DAF are also in tour in clubs and played several festival, but already announced their end and are currently on farewell tour. The Agra venue was filled quite well shortly before DAF's performance. When it started the vibes became more and more wild. Fans of the band were excited about the performance and rocked out to every song. The music does invite to dance and it is difficult to stand still. The majority of the audience saw it the same way. Despite a not as filled venue as on the day before, it became hot very quickly. This didn't hinder one from dancing on and being happy about encores which DAF gave voluntarily at the end. //
https://www.facebook.com/DAFARMY2000
/
https://www.facebook.com/pages/DAF-Deutsch-Amerikanische-Freundschaft/231352760285901
// Setlist: 1. Intro / 2. Verschwende deine Jugend / 3. Ich und die Wirklichkeit / 4. Der Mussolini / 5. Ich will / 6. Muskel / 7. Tanz' mit mir / 8. Mein Herz macht bum / 9. Moschino, Heckler & Koch / 10. Rote Lippen / 11. Liebeszimmer / 12. Du bist DAF / 13. Sato-Sato / 14. Alle gegen alle / 15. Nachtarbeit / 16. Verlier' nicht den Kopf / 17. Die Lüge / 18. Als wär's das letzte Mal / Encores: 19. Der Räuber und der Prinz / 20. Kebabträume / 21. Alles ist gut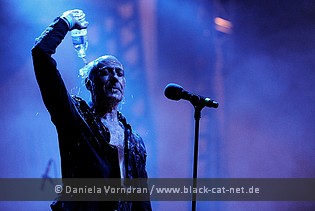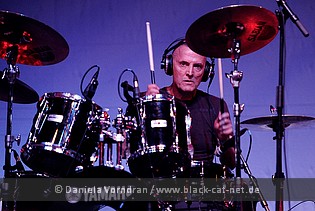 Front 242 – Agra [Susann Lucas]

FRONT 242 were founded as a duo in 1981 and are regarded as the founding fathers of EBM. After many successful years in the 80s and early 90s, FRONT 242 broke up. Fortunately, the breakup didn't last too long and they went on "Re:Boot" tour in 1997. Since then, they are still very successful, even though they had some small musical breaks in between but at the moment, they are seen in many clubs and festivals again. On the Agra and in the venue it was naturally full on Saturday evening. FRONT 242's performance was the last of the evening and the vibes in the venue were very frolicsome. One could see many people who wanted to party and were excitedly waiting for the band's performance. The show began and the venue got hot again. The vibes remained this good till the end so that the show didn't end as planned at 12am since it got extended by some encores. FRONT 242's show was definitely a very successful end to this day. One shouldn't miss the band at one of the coming festivals by any chance. //
https://www.facebook.com/Front.242
// Rating: 9 / 10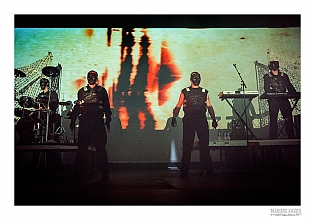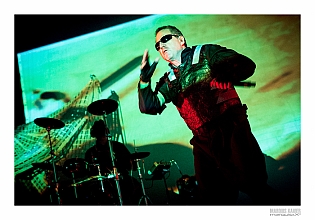 Agent Side Grinder – Stadtbad [Daniela Vorndran]

Oh how I love the Swedes on CD. And then they were playing at a time when I had a real problem to decide which band to see… either FRONT 242 who were not playing at Eurorock a week before, FIELDS OF THE NEPHILIM not playing there either and presenting a jubilee set, SOL INVICTUS I had never seen before, ANTIMATTER with their acoustic performance or AGENT SIDE GRINDER. At the end and with help of friends we decided for the Swedish guys and we were not disappointed. ASG presents a unique blend of post-punk and synth-wave, all this with touches of industrial and Krautrock, as my fellow colleague Phil pointed out. After the release of 'Hardware' in 2012 the band comes now with a new label, Progress Productions, and the release of 'Alkimia' in March 2015. It was kind of dark at the Stadtbad, when the Swedish five-piece entered the stage. What was really impressing during their live show was that all instruments were handled live on stage, even strange looking constructions to create various sounds and an old tape machine. Furthermore, singer Kristoffer Grip really acts crazy on stage, reminding me a lot of the moves you know from Ian Curtis (JOY DIVISION, rip) and gives a very special retro note to the show. Highly recommended! If there had only been a little more light to see more details on stage… //
http://www.agentsidegrinder.com
/
https://www.facebook.com/agentsidegrinder
// Rating: 9 / 10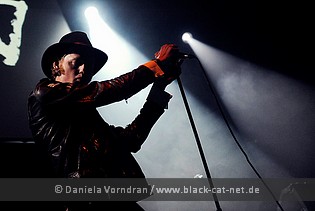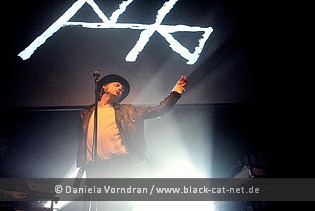 Party-Hopping after the shows

I would lie if I told you that I was plainly watching shows in order to climb into my bed subsequently. Actually, I kidnapped some of my colleagues and debated in the Sixtina what we would watch at first. We ended in Plagwitz in the end and went to the Moritzbastei at the end, simply to see whether it was as full as in the years before. (Josie Leopold)
Party at Westwerk: "Glitter + Trauma" [Josie Leopold]

I, as a renowned glitter lover, who also likes to embellish her environment with it was really excited for the party. Free glittering or something like that. No chance! Everything was quiet, people were sitting on the ground, talking, leaflets were hanging with quotes from films or songs. So far, so good. A fashion photographer was taking pictures of guests and he said upon request that he wanted to capture the rave scene. Which rave scene? The music was rather guitar-strong and not electronic and one was looking after true rave people in vain. I think that colleague Linda and I were still the wildest there without stuffed unicorns. So we moved on. There was enough party choice.
Party at Täubchenthal: "When We Were Young" [Linda Jane]

The "When We Were Young" was a 101% Guitar Goth, Post Punk and Independent underground party. The Täubchenthal and its dance floor very filled well to super well and lovers of those music genres were obviously having fun. DJs Ralf Thyssen (Pagan Love Songs, Berlin), Paul Cuska (Strobelight Records, Austria) and Philipp Strobel (Death # Disco, Berlin) provided for fun to the early morning hours so that the dance floors were filled. The Täubchenthal is a very pretty location with a really big dance floor, the stereo resisted even post punk and the staff was very friendly. Personally, I will be a visitor of the Täubchenthal more often.
Party at Moritzbastei: "La Revolution Industrie" (WGT Edition) and DJ Poppy + DJ frequen-c [Josie Leopold]

Shortly before five, we ended up in the Moritzbastei (or how Leipzig people say ''MB''). There was a lot of danceable stuff from Batcave over a lounge area in the courtyard to electro. But generally, the tiredness set in and we didn't have much motivation to dance and enjoyed the setting sun over Leipzig and the courtyard while talking a bit. The MB wasn't as overfilled as I remembered it from years before. Some were still dancing in ecstasy or were already sober again and the staff was sweeping out the visitors, understandably at this time of day.
Written by Josie Leopold, Linda Jane, Susann Lucas (with translations by Alex UltraRiot) and Daniela Vorndran
Pictures by Daniela Vorndran (
http://www.vorndranphotography.com
/
http://www.facebook.com/blackcatnet
), Xavier Marquis (marquis(pi)X) and Josie Leopold