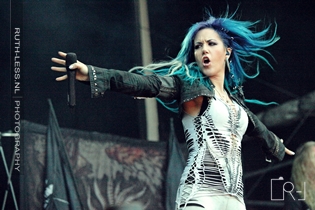 Ijssportcentrum, Eindhoven, The Netherlands
18th July 2015
Dynamo Metalfest with Arch Enemy, Death Angel, Nuclear Assault, Biohazard, Alestorm, Orange Goblin, Bodyfarm, Facelifter

One day, one stage, eight metal bands and a few bars set the stage for this first (and completely SOLD OUT) edition of the new Dynamo Metalfest in Eindhoven. Some new, some old, some trash, death and Hardcore metal will serve the Dutch audience on this sunny summer day. With Swedish metal band ARCH ENEMY and trash metal monsters of DEATH ANGEL (US) the line-up is promising!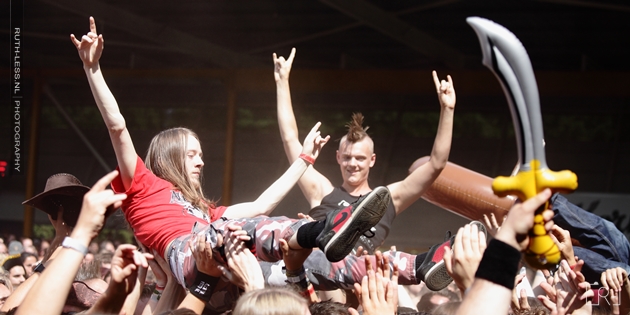 Because I was on weekend-mode and parking took a little longer than expected, I missed the opening band FACELIFTER. At first impression, the Eindhoven ice rink is a nice location (with free parking!) in the category semi-open air: the partial roof provides some shade for those who don't want to be out in the sun all day. Second in the line-up is BODYFARM, a Dutch death metal band from Amersfoort.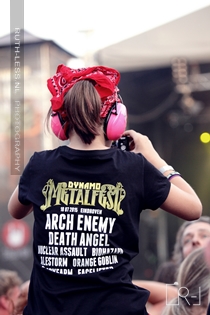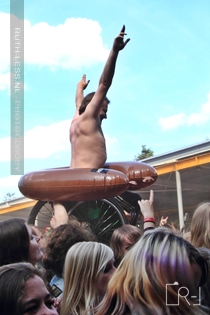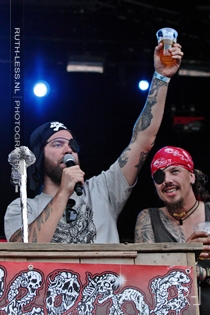 Bodyfarm (NL)

BODYFARM is a Dutch death metal band that was founded in 2009. The band draws its inspiration from bands like ASPHYX, BOLT THROWER, DISMEMBER, GRAVE and OBITUARY. After their EP in 2010, BODYFARM's debut album 'Malevolence' was released in 2012 via Cyclone Empire. Only a year after, the follow up album 'The Coming Scourge' was produced. Despite some changes in line-up, BODYFARM regularly hits European stages during the festival season such as Eindhoven Metal Meeting, ExtremeFest, Hell Inside, Mass Deathtruction, Neurotic Deathfest and Summerbreeze. BODYFARM is Quint Meerbeek (drums), Thomas Wouters (guitars/vocals), Alex Seegers (bass) and Bram Hilhorst (guitars).
www.bodyfarmdeathmetal.com
/
www.facebook.com/Bodyfarmdeathmetal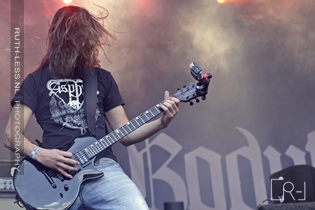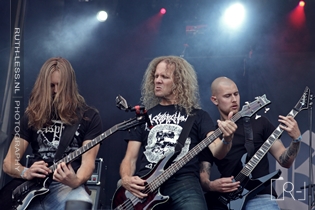 Music & Performance

Not only do they present a proper dose of death metal, BODYFARM's live performance is convincing and band members seemed to enjoy themselves as well. The strong vocals of front man Thomas, dazzling riffs from Bram all nicely blend in a wall of sound from the drums and bass provided by Alex and Quint. BODYFARM plays work from throughout their short discography with amongst others title track 'Malevolence' from their 2012 album, 'The Dwell of Decay' from 'The coming Scourge' from 2013 and 'Slaves of War' from their first EP.
Setlist (incomplete)

Malevolence
The Dwell of Decay
Slaves of War (EP)
Rating

Music: 7
Performance: 7
Sound: 7
Light: 7
Total: 7 / 10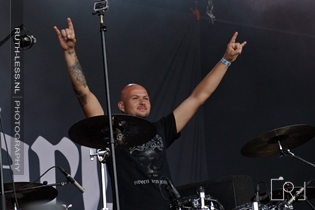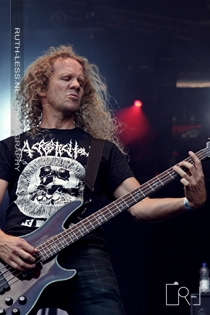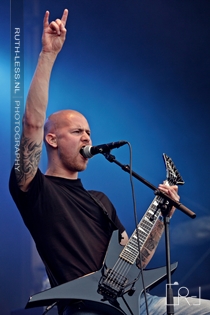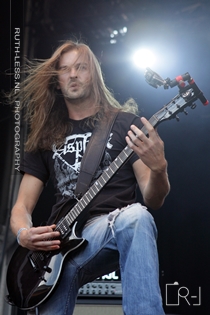 Orange Goblin (UK)

ORANGE GOBLIN are a stoner metal band from London, UK. The band was originally formed in 1995 under the name OUR HAUNTED KINGDOM. After their first three albums, ORANGE GOBLIN experimented a little bit with some punk influences before going back to their original stoner metal sound. After six studio albums, they signed with Candelight Records. Taking somewhat longer than originally planned, their 7th album 'A Eulogy for the damned' was released in 2012. ORANGE GOBLIN got back on track and last year they recorded and released their follow up album 'Back from the Abyss' which is described by the band as "The sound of ORANGE GOBLIN firing on all cylinders". ORANGE GOBILIN is Ben Ward (vocals), Joe Hoare (guitar), Martyn Millard (bass) and Chris Turner (drums). www.orange-goblin.com /
www.facebook.com/orangegoblinofficial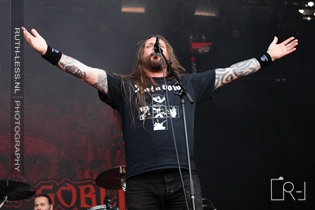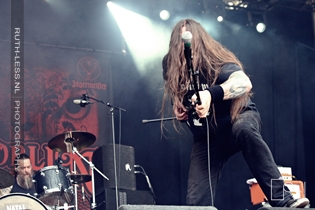 Music & Performance

A little break from death metal with stoner metal band ORANGE GOBLIN. Straight out: for me this was the best surprise of today's festival. Right from the start frontman Ben and his friends get the party going with their stoner version of sleazy blues metal. With a dynamic live performance alternating between fast paced riffs ('Red Tide Rising') to parts with slow dragging blues ('Saruman's wish') they seem to quickly gain the enthusiasm from the audience. ORANGE GOBLIN plays both old and new work with 'Blue snow' from their 1998 album as well as 'Into the arms of Morpheus' from their latest album 'Back from the Abyss' (2012). Great show!
Setlist (incomplete)

Blue snow
Red Tide Rising
Into the arms of Morpheus
Saruman's Wish
Your world will hate this
Rating

Music: 8
Performance: 8
Sound: 8
Light: 8
Total: 8 / 10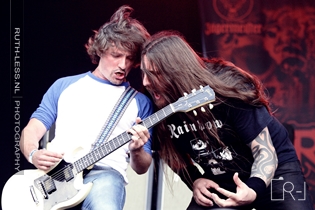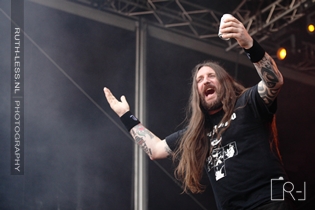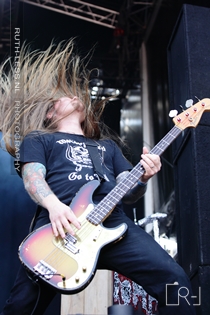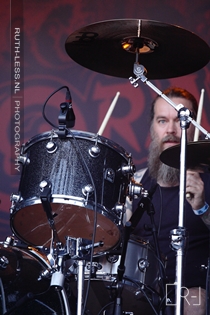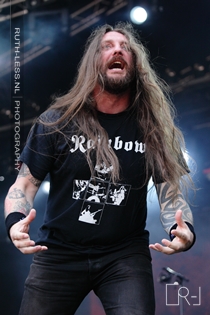 Alestorm (SCO)

ALESTORM is a heavy metal band from Perth, Scotland. Their music is characterized by a pirate theme, and as a result they have been dubbed a 'pirate metal' band by many critics and their fan base. Starting out under the name BATTLEHEART in 2004, they were signed by Napalm Records in 2007 and released their debut album 'Captain Morgan's Revenge' in 2008. Their 4th studio album 'Sunset on the golden age' dates from 2014. ALESTORM is Christopher Bowes (vocals), Máté Bodor (guitar), Gareth Murdock (bass), Elliot Vernon (keyboards) and Peter Alcorn (drums).
www.alestorm.net
/
www.facebook.com/alestormband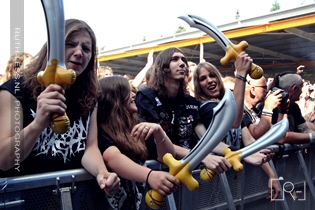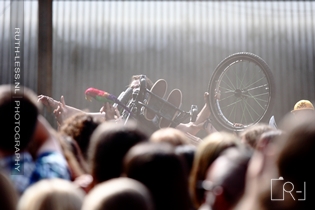 Music & Performance

While ALESTORM describes their style as "True Scottish Pirate Metal", the Dynamo team climbs the stage in a pirate outfit to announce a dose of "joepiedepoepiemetal". A loud "Aarrrrrrr" from the audience confirms ALESTORM's live reputation. Their tales of mythological creatures, epic battles and pirate practicalities are poured into a blend of catchy folk and power metal. Right from the start, the audience is all in for a party: parrots, inflatable swords and hands with hooks (and drinks) are up in the air, crowd surfing is on and the front rows sing from the top of their lungs. To give you a more visual impression, at one point, singer Christopher notes "There is no stranger sight than a man in a one wheeled wheelchair crowd surfing". Although not everybody enjoys this style of metal, there is no denying that the men of ALESTORM know how to get the crowd going!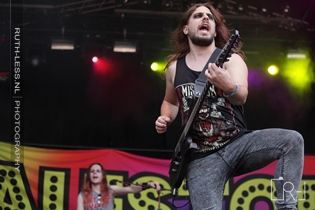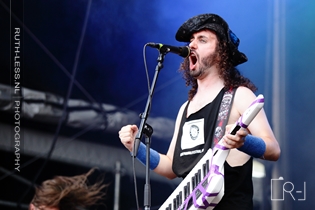 Setlist

01. Walk the Plank
02. The Sunk'n Norwegian
03. Shipwrecked
04. Magnetic North
05. That Famous Ol' Spiced
06. Nancy the Tavern Wench
07. Keelhauled
08. Rumpelkombo
09. Mead From Hell
10. Drink
11. 1741 (The Battle of Cartagena)
12. Captain Morgan's Revenge
13. Rum
Rating

Music: 7
Performance: 8
Sound: 8
Light: 8
Total: 7.7 / 10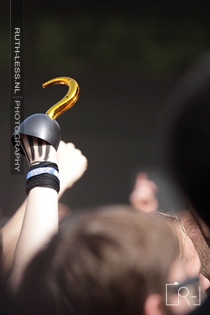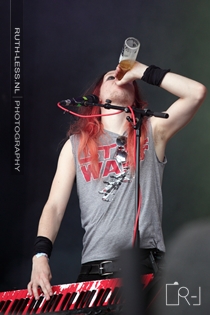 Biohazard (US)

BIOHAZARD is an American heavy metal band formed in Brooklyn, New York in 1987. They are acknowledged as one of the earliest bands to fuse Hardcore punk and heavy metal with elements of hip hop. Over the years, BIOHAZARD has played countless (inter)national shows and festivals and gathered a solid fan base. As of 2015, the band released nine studio albums and two live albums, the latest being 'Reborn in Defiance' from 2012. The band continued to perform live in Europe and North America throughout 2013 and into 2014. BIOHAZARD is Billy Graziadei (vocals / guitar), Bobby Hambel (guitar), Danny Schuler (drums), and Scott Roberts (guitar).
www.biohazard.com
/
www.facebook.com/bio.hazard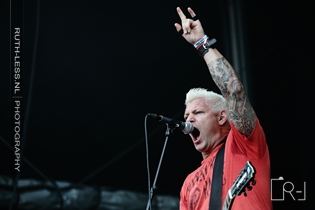 Music & Performance

BIOHAZARD is an old school Hardcore punk / crossover trash metal band with a settled reputation in the scene. Since a couple of years they're back on track rocking the international festival scene again. Age may have taken its toll, but not BIOHAZARD's energy on stage. Frontman Billy uses the full stage and beyond, as he climbs down into the pit and even gets into the audience. BIOHAZARD literally stirred up some dust in front of the stage where a wild mosh pit got going. The men from Brooklyn, NY compiled a diverse set list from their considerable discography throughout the years. We get some classics such as 'Urban discipline' and some newer tunes with 'Vengeance is mine'. BIOHAZARD grooves with a capital G – keep it going guys!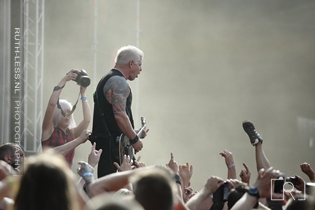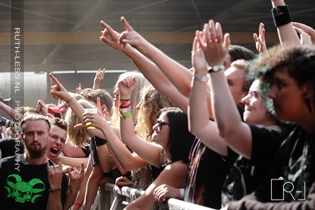 Setlist

01. Wrong Side of the Tracks
02. Shades of Grey
03. Urban Discipline
04. Chamber Spins Three
05. Tales from the Hard Side
06. Down for Life
07. How It Is
08. Vengeance Is Mine
09. Resist
10. Love Denied
11. We're Only Gonna Die (Bad Religion cover)
12. Victory
13. Punishment
14. Hold My Own
Rating

Music: 7
Performance: 8
Sound: 8
Light: 8
Total: 7.7 / 10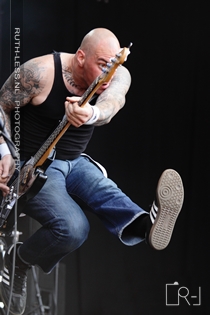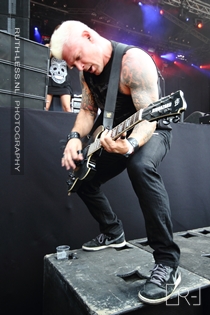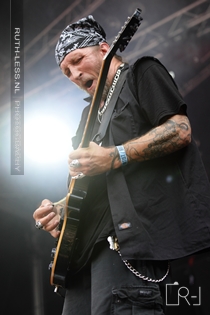 Nuclear Assault (US)

NUCLEAR ASSAULT is an American thrash metal band from New York City, formed after bassist Dan Lilker left ANTHRAX in 1984. After releasing five full-length albums and extensive touring throughout the 1980s and early 1990s, NUCLEAR ASSAULT split up in 1995. They reunited in 1997, split up again and reunited again in 2002 until today. NUCLEAR ASSAULT has released six studio albums to date, the latest being 'Third World Genocide' in 2005. Their most successful records are 'Survive' (1988) and 'Handle with Care' (1989). NUCLEAR ASSAULT is John Connelly (guitar & lead vocals), Erik Burke (guitar & backing vocals), Dan Lilker (bass & vocals), and Glenn Evans (drums).
www.nuclearassault.us
/
www.facebook.com/NuclearAssaultOfficial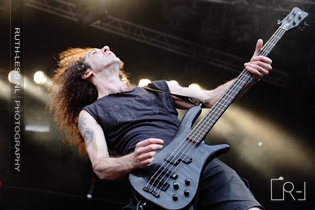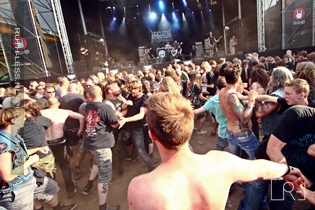 Music & Performance

I mostly remember an angry little man and two "pot smokin' hippies" when I think of NUCLEAR ASSAULT's performance. This old school trash metal band plays a packed aggressive set list that gets a moderate response from most of the audience. Their fast paced aggression did fully revive the mosh pit though and for some of the grey heads in the audience, this band obviously brings back good memories. To be honest, NUCLEAR ASSAULT is not on my personal favourites list and I am not familiar with their work, which made every song basically sound pretty much the same. The band has announced to be ready for their 'Final Assault' and to be honest – I wouldn't mind.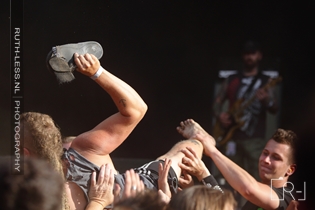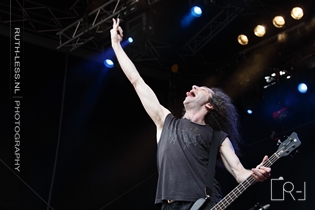 Setlist
01. Rise from the Ashes
02. Brainwashed
03. (new song)
04. Critical Mass
05. Game Over
06. Sin
07. Betrayal
08. Analogue Man in a Digital World
09. Died in Your Arms
10. Wake Up
11. When Freedom Dies
12. My America
13. Hang the Pope
14. Lesbians
15. Trail of Tears
16. Technology
Rating

Music: 6
Performance: 6
Sound: 6
Light: 6
Total: 6 / 10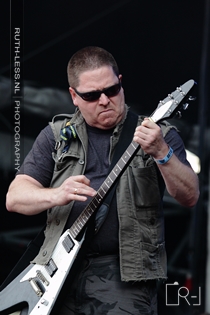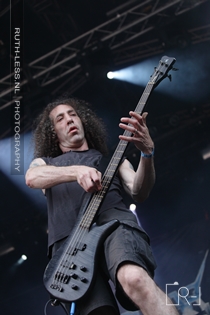 Death Angel (US)

DEATH ANGEL is a thrash metal band from Concord, California, initially active from 1982 to 1991 and again since 2001. DEATH ANGEL has released seven studio albums, two demo tapes, one box set and two live albums. The band released their 7th studio album 'The dream calls for blood' in 2013, soon to be followed by a documentary DVD 'A Trashumentary' and live album 'The bay calls for blood – live in San Francisco' in July 2015. This fall, they will hit the studios again for their new album which is expected in April 2016. Death Angel is Rob Cavestany (guitars), Mark Osegueda (vocals), Ted Aguilar (guitars), Damien Sisson (bass guitar) and Will Carroll (drums).
www.deathangel.us
/
www.facebook.com/deathangel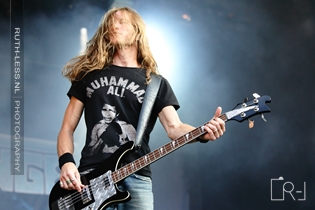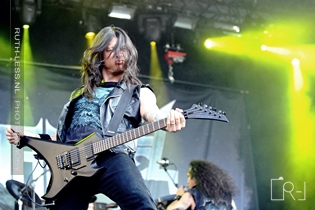 Music & Performance

Time flies when you're having a good time, and we're already down to the last two bands of this successful edition of Dynamo Metalfest. As usual the best is saved for last! DEATH ANGEL kicks off with the familiar sound of 'Left for dead', the first song from their 2013 album 'The Dream Calls for Blood'. Those in the audience that slipped into a sun & beer afternoon dip for sure are wide awake again! Fast, loud and energetic, Mark and his team put up a solid show – I don't think these guys are ever in a bad mood. The band also expresses some warm feelings for the Netherlands and especially the Eindhoven metal scene – calling it their 'home away from home'. DA plays most songs from 'The Dream calls for Blood', but their older work is certainly not forgotten with oldies such as 'mistress of pain' from their 1987 album 'The Ultra Violence' and a couple of songs from the follow up album in 1988.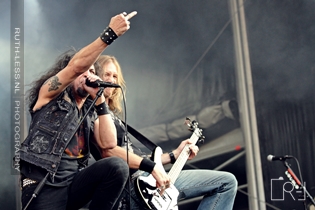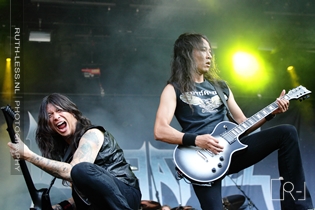 In between brutal riffs and powerful vocals (with a sip of Bombay sapphire gin), Mark, Ted, Damien and Rob interact a lot with the audience, making their live performance a team effort with the crowd. Can't wait till the new album comes out!
Setlist

01. Left for Dead
02. Son of the Morning
03. Claws in So Deep
04. Fallen
05. Buried Alive
06. Evil Priest
07. Succubus
08. Execution - Don't Save Me
09. Truce
10. 3rd Floor
11. Seemingly Endless Time
12. The Dream Calls for Blood
13. Caster of Shame
14. Bored
15. Mistress of Pain
16. Thrown To The Wolves
Rating

Music: 9
Performance: 9
Sound: 8
Light: 8
Total: 8.5 / 10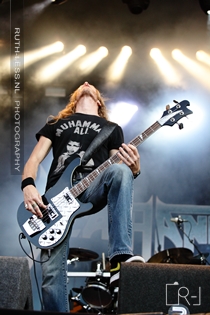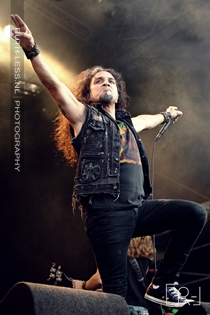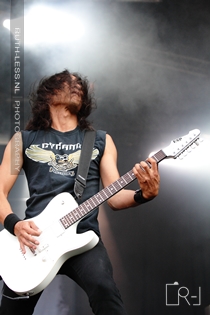 Arch Enemy (US)

ARCH ENEMY is Swedish melodic death metal band from Halmstad, Sweden. The band was founded in 1996 by CARCASS guitarist Michael Amott along with Johan Liiva, both originally from the influential death metal band CARNAGE. The band was first fronted by Johan Liiva, who was replaced by Angela Gossow as lead vocalist in 2000, and with Gossow stepping down in March 2014 and being replaced by Canadian singer Alissa White-Gluz, formerly lead singer for THE AGONIST. Gossow remains connected to the band though in the role of manager. ARCH ENEMY has released nine studio albums, a live album (Burning Japan Live 1999), two DVDs and three EPs. With the replacement of Gossow, a new album was announced as well. The album 'War Eternal' was released in 2014. ARCH ENEMY is Alissa White-Gluz (vocals), Michael Amott (guitars), Jeff Loomis (guitars), Sharlee D'Angelo (bass) and Daniel Erlandsson (drums).
www.archenemy.net
/
www.facebook.com/archenemyofficial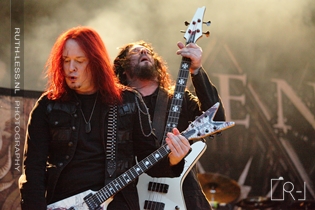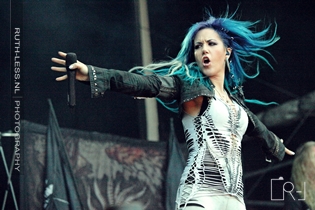 Music & Performance

After DEATH ANGEL, the answer to the question who's going to use those pyros that were set up was finally clear: ARCH ENEMY. The succession of Angela Gossow by Alissa White-Gluz seemed to have minimal impact on the bands reputation and may have even boosted their image as a leading band in the scene. With dimmed lights we hear the familiar tunes of their intro 'Khaos Overture' before Alissa, Michael, Jeff, Charlee and Daniel hit the stage. As can be expected of a headliner, ARCH ENEMY brings a solid well-orchestrated show that doesn't leave much room for improvisation or a little chaos (something I do appreciate very much in a live show). A charismatic singer, a strong band, some fire and an already happy crowd are the perfect ingredients for a worthy closure of the new Dynamo Metalfest!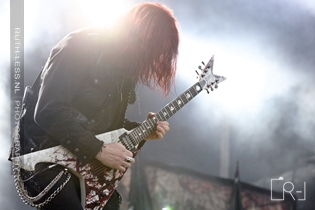 Setlist

01. Intro: Khaos Overture
02. Yesterday Is Dead and Gone
03. Burning Angel
04. War Eternal
05. Ravenous
06. Stolen Life
07. You Will Know My Name
08. My Apocalypse
09. As the Pages Burn
10. Dead Eyes See No Future
11. Avalanche
12. No Gods, No Masters
13. We Will Rise
---
14. Snow Bound
15. Nemesis
16. Outro: Fields of Desolation
Rating

Music: 8
Performance: 8
Sound: 8
Light: 6
Total: 7.5 / 10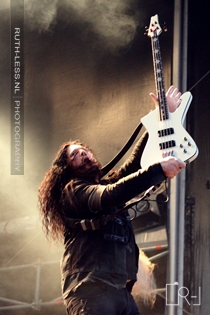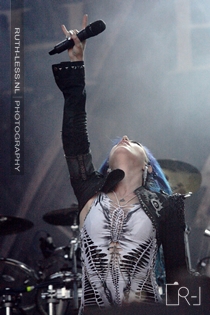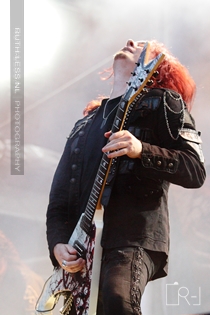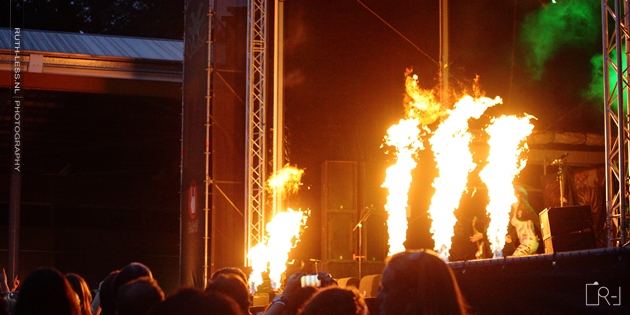 All in all a perfect start for Dynamo Metalfest! Great bands, great weather and location. Although sold out it was still easy to move around – much appreciated. As always, there are things that could use some improvement such as the long queues for the restrooms and tokens. Fortunately, the organization already picked up on that and posted a message on their FB page. Even better: next year's edition of the festival is already announced for 16th July 2016 with SACRED REICH as first band in the line-up – see you next year Dynamo!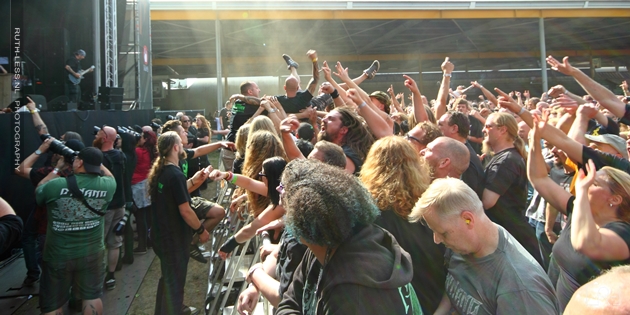 All pictures by Ruth Mampuys (
www.ruth-less.nl
)