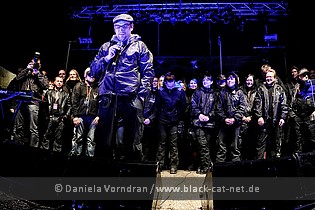 Kulturpark, Deutzen, Germany
4th to 6th September 2015
Nocturnal Culture Night Day 3: Weak, EGOamp, Lizard Pool, E-Craft, Reading Christian Krumm, Decoded Feedback, Orph, Darkhaus, Reading Anja Bagus & Christian von Aster, Solar Fake, Evi Vine, NamNamBulu, Hidden Place, Umbra et Imago, The Legendary Pink Dots, Das Ich, No More, Project Pitchfork

When we woke up on that Sunday morning looking out the window we thought: Oh my god, this will be a wet day! It was raining, and raining. Luckily it stayed rather dry during the whole day and only UMBRA ET IMAGO had to fight the rain. Right in time for the first band, WEAK, opening the main stage, we were ready to start the last festival day with fulminant headliner PROJECT PITCHFORK.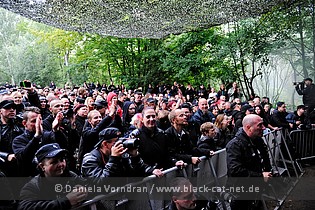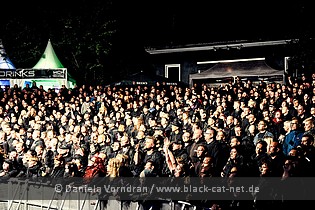 Weak – Amphi Stage (Dani)
The last day started at the Amphi Stage with WEAK, a band from Hagen founded in 1999. WEAK delivered Dark Rock, a mix of melancholic and in parts dark and powerful sounds. In the past, WEAK already supported a wild mix of bands, such as DORO, AXXIS, SPORTFREUNDE STILLER, FARMER BOYS or 4 LYN. The first band of a day always has no easy job, but the guys from Hagen did very well and I enjoyed their show. As a little surprise they even brought a female guest singer, adding a different tone to their songs. //
http://www.weak.de
/
https://www.facebook.com/pages/WEAK/181556995195798
// Setlist: 1. Wolfmoon / 2. Jede Nacht / 3. Devil's Rose / 4. The Art is mine / 5. Folge Mir / 6. Into the Night / 7. White Wedding // Rating: 7 / 10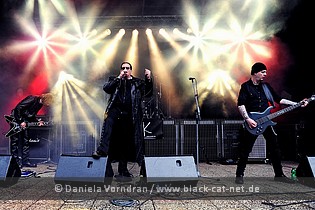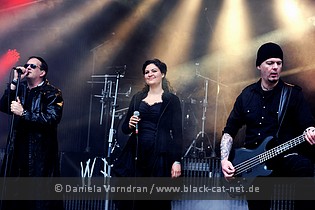 EGOamp – Park Stage (Dani)

EGOAMP, a band inspired by the film of 1920s 'The Cabinet of Dr. Caligari', delivers music based on the early 80s by combining it with modern and progressive elements. The German-expressionistic movie of the 20s is a stylistic line through the whole EGOAMP project and the first album plays with elements of the mentioned 'The Cabinet of Dr. Caligari'. On stage, the band's appearance is also based on the 20s with suits and white coloured faces and a makeup reminding of old silent film classics. Even though the appearance is kind of retro, EGOAMP is no retro band since they include lots of modern influences into their music. As opener on the Park Stage they were warmly welcomed. //
https://www.facebook.com/pages/Egoamp-Bandprofil/151569578239636
// Rating: 7 / 10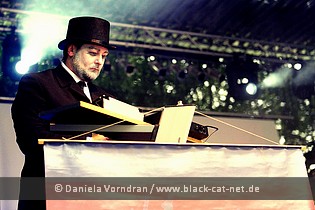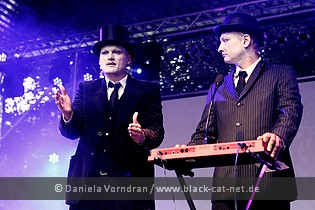 Lizard Pool – Amphi Stage (Dani)

LIZARD POOL is a young trio from Leipzig presenting a mix of Wave, Indie and Post-Punk. A nice surprise for me since I love this kind of music and they were really good! Being really new in the business and having not so much released yet, LIZARD POOL presented also new songs during their small set. I think their press release describes it quite well: "Lizard Pool play with downcast eyes but at the same time keep one on the dance floor, are actually dancing for themselves, and when they are not tapping their feet to the beat, they are somewhere on the fringes, watching the action while sipping a cold drink, wondering what the hell is going on, with life, with dreams and the anger." I think I have to check out their first album from 2014, 'She Took the Colours' and the new upcoming one, whenever it will be released. If you like stuff like Editors of White Lies, you should check them out too. //
https://lizardpool.bandpage.com
/
https://www.facebook.com/lizardpool
// Setlist: 1. I Drive to the Lights / 2. A gloomy Day / 3. Movie House / 4. New Song / 5. New Song / 6. Give me your Anger / 7. Faceless King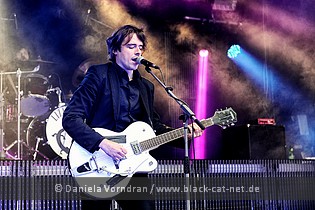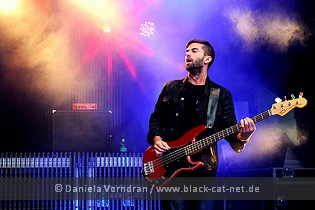 E-Craft – Park Stage (Dani)

From the wavy sounds on main stage to hard hitting EBM on Park Stage delivered by E-CRAFT from Eisenhüttenstadt, besides FUNKER VOGT one of the pushing EBM/Electro bands from Germany. The band already exists since 1993, the first release dates back to 1996. Sure, E_CRAFT are direct and purely electronic. Piercing EBM shouts meet uncompromising electro beats. Or something like that. During the show I recognized once more that I was grown out of the shoes of simple EBM. Yeah, the band was energetic and the mood in front of the stage great. But somehow I just cannot deal with it like years before. So I decided to better check out the reading on the Willow Bow Stage, taking place currently. //
http://www.e-craft.de
/
https://www.facebook.com/E.Craft.Germany
// Setlist: 1. Down Under / 2. Gerichtet / 3. ReArrested / 4. Humanity / 5. Fuckers & Pricks / 6. Gone // Rating: 7 / 10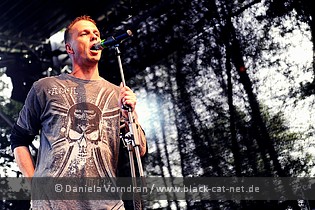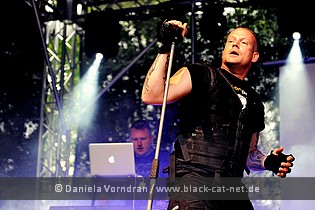 Reading Christian Krumm – Willow Bow Stage (Dani)

Far away from the harsh EBM sounds, Christian Krumm was reading from his book 'At Dawn They Sleep'. Krumm, born 1997 in Krefeld, is author of novels and specialized books. He mainly deals in his books with the metal scene. Of course, 'At Dawn They Sleep' is also dealing with the metal scene. But who's sleeping at dawn? For SLAYER it's the "Blood sucking creatures of the night". For Krumm, it's the "others". They follow the order of the night, of festivals, bands and music. They listen to heavy metal. You should read the book to learn more… //
https://www.facebook.com/christian.krumm.autor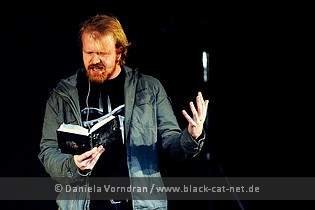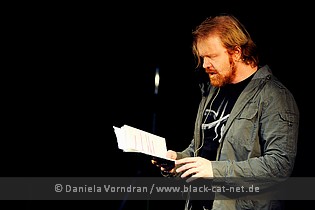 Decoded Feedback – Amphi Stage (Dani)

Some more electro now on the main stage, this time kind of softer, more in the Synth Pop and Future Pop direction with some Techno influences, with DECODED FEEDBACK. The band was founded 1995 by Italian singer Marco Biagiotti and Hungarian born keyboarder Yone Dudas, both living in Canada. The first album 'Overdosing' was released in 1996 gaining them a contract with German Zoth Ommog label. Two following albums brought them the breakthrough in German Electro scene. After the 2005 album 'Combustion' the band took a break and were back five years later with the album 'Aftermath'. On stage, it looked a bit empty with just the duo on the big stage, especially with Yone in the back. Musically, DECODED FEEDBACK has a lot of stuff in stock, from full frontal sonic assaults to beautiful dark hymns. The band really has a rather broad range of styles and their stuff is carefully arranged with a lot of love for details. What especially impresses me is that Yone plays a lot of stuff live, a rather rare thing for Electro bands nowadays, if you ask me. //
http://www.decodedfeedback.com
/
https://www.facebook.com/DecodedFeedbackOfficialBase
// Setlist: 1. Corrosion / 2. Breathe / 3. Dark-Star / 4. Atlantis / 5. Relic / 6. Heaven / 7. Bio-Vital / 8. Phoenix // Rating: 8 / 10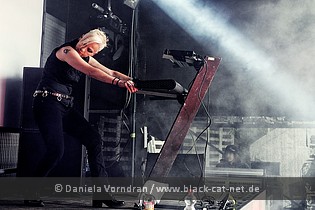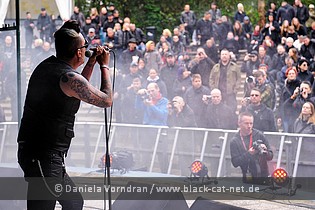 Orph – Culture Stage (Dani)

On the Culture Stage, a band I never saw before was not playing, ORPH from Weimar, presenting a mix of Pop, "Tropical" and Post-Punk. The band founded in early summer 2007, consisting today of Marco De Haunt (vocals, guitar), Rahel Hutter (piano, organ, vocals), Hendrik Winter (guitar, vocals), Wieland Jubelt (drums, chime) and Martin Bosch (bass, trumpet, vocals). Just reading the list of played instruments makes sure that there would come up something special. Visually, the band is kind of lost in reverie and this picture is transferred to the music spreading a very own charm. Live, I especially loved the voice and appearance of Rahel, being kind of shy but very sweet. Also singer Marco had a strange appearance, often playing the guitar standing on one leg. Seemed to work. ORPH impressed with wonderful melodies and great songs. I really want to see a longer show. //
http://www.orph-music.com
/
https://www.facebook.com/orph.music
// Rating: 9 / 10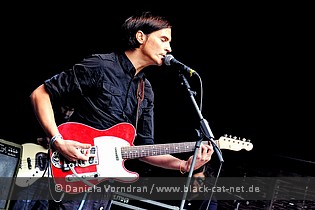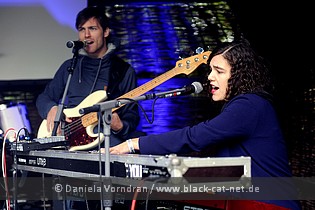 Darkhaus – Park Stage (Dani)

My last contact with DARKHAUS was at this year's Amphi Festival. The multi-national band, consisting of five members from four countries, started in 2011 to delight the people all over the world with their excellent Synth Rock music. Head of the band is Rupert Keplinger, known not only for being a multi-platinum songwriter and composer for his collaboration with some known German musicians, but also as guitar player for EISBRECHER. I have seen already several DARKHAUS shows and they were always energetic and powerful. The NCN show was no exception. The space in front of Park Stage was very well filled and all people were celebrating with the band and sang along loudly. Once more DARKHAUS proved that they are an excellent live band presenting excellent rock music. //
http://www.darkhausmusic.com
/
https://www.facebook.com/DarkhausOfficial
// Setlist: 1. Providence / 2. Break Down The Walls / 3. Ghost / 4. Hour Of Need / 5. Life Worth Living / 6. Side Effect Of Love / 7. Drive / 8. Grace Divine / 9. Don't Close Your Eyes / 10. Breaking The Silence // Rating: 8 / 10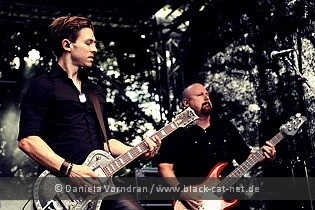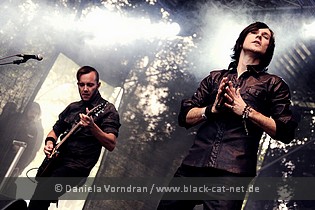 Reading Anja Bagus & Christian von Aster – Willow Bow Stage (Dani)

From Rock music to another reading and a surprise. Announced was only that Anja Bagus would read from their 'Glasberg' novel. But she brought a well-known guest: Christian von Aster. He first had the chance to read one of his own texts, 'Die Gentrifizierung des Wunderlandes' ('The gentrification of wonderland'). A text to make you think about what happens today with fine arts, in word or other forms, about franchise mentality and more. Then, he was reading a role in Anja's book. 'Glasberg' is one of Anja's Ætherwelt Steampunk novels. The reading of this passage starts a little funny because Christian obviously got a wrong passage for preparation. Some funny comments, some laughing and finally both were reading the right passage together. Anja already released several books from the Ætherwelt. So maybe you start at the beginning before you turn towards 'Glasberg'. //
https://www.facebook.com/anja.bagus
/
https://www.facebook.com/Christian-von-Aster-83507056711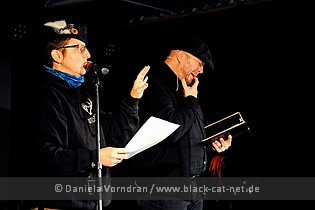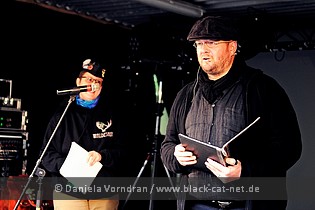 Solar Fake – Amphi Stage (Janine)

The electro project by Goth icon Sven Friedrich and André Feller is always a guarantee for a dancing crowd. Their songs are well known from long club nights – therefore it took just a few seconds of the 50 minutes set to bring the audience in the flow. The two men on stage were in a very good mood and performed hits like 'Here I stand', 'I hate you more than my life', 'Parasite' or 'Pain goes by'. Driving beats and the incomparable melodies animated to dance and sing along. Charming Sven interacted with the people nearby and besides liked kidding – "The next song is NOT 'Face me'!" (be sure, the song was played later on). Also the new single 'All the things you say' was presented as an appetizer for the forthcoming album 'Another Manic Episode'. They did not miss the chance to promote their release show on October 30th in Berlin Frannz Club. CU there! //
http://www.solarfake.de
/
https://www.facebook.com/SolarFake
// Setlist: 1. I hate you more than my life / 2. Face me / 3. No apologies / 4. Here I stand / 05. All the things you say / 6. More than this / 7. Reset to default / 8. Under control / 9. Parasites / 10. Pain goes by / 11. Where are you // Rating: 8 / 10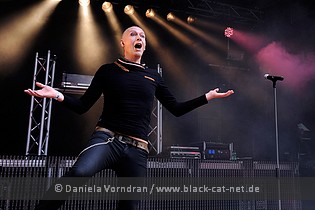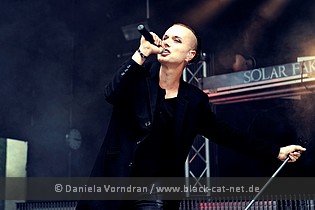 Evi Vine – Culture Stage (Dani)

A bit calmer and less danceable things were moving on at the Culture Stage with EVI VINE. Although she deserves to be idolised by millions, she's shockingly still playing tiny clubs. Some are already familiar with her from her collaboration with The Eden House. She recently released her second album and it seems fitting that this exceptional artists will receive the attention she deserves. There are very few female voices which are so magnetic and embedded in dreamy music which captivates the heart. Her voice is really something special… charming, touching and hitting right into the heart. Her music moves between Underground-Gothic-Folk and Dark-Pop-Wave. Her ethereal chant is accompanied by shimmering guitars and bewitching harps and cellos. A wonderful mood there on the Culture Stage and I recommend you to check out Evi's albums. //
http://www.evivine.com
/
https://www.facebook.com/evi.vine.music
// Setlist (incomplete): 1. Down / 2. Porcelain / 3. Give Your Heart To The Hawks / 4. Inside Her / 5. My Hands Are Tied / 6. … // Rating: 8 / 10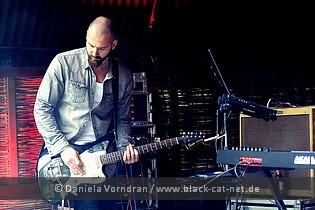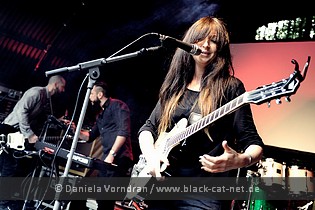 NamNamBulu – Park Stage (Janine)

There was hardly any space in front of the Park Stage when NAMNAMBULU entered the stage at 16:10. People stood between trees, on walls and crowded all pathways. "When you move, it will get warmer!" And they did… This was your addicted audience, dear Vasi Vallis and Henrik. Future Pop at its best. Danceable beats and nice melodies. Of course they played 'Memories', 'Faces', 'Now or never' and 'Sorry'. Thank you for heating this place up for nearly 70 minutes… //
http://www.namnambulu.com
/
https://www.facebook.com/namnambuluofficial
// Rating: 8 / 10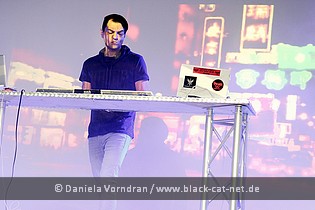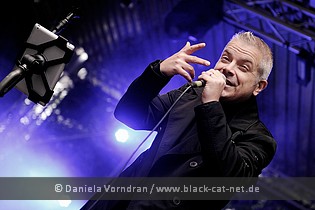 Hidden Place – Willow Bow Stage (Dani)

While Janine was excited by NAMNAMBULU's music, I have a different feeling and find it too unchanged. So I decided to walk over to the tiniest of all stages to check out a band being barely known in Germany (even though they exist since 2004), HIDDEN PLACE from Italy, who surprised 2012 very pleasing with their wonderful and harmonic Electro-Wave album 'Novecento'. Sometimes experimental, sometimes nostalgic, the band reminds a little of KIRLIAN KAMERA but also shows reminiscences to KRAFTWERK. The songs being presented were mainly in Italian language but in my opinion this fitted very well. You could compare the band, whose intention it was to join European Cold and Minimal electronic scene, with their wells of inspiration, such as Joy Division, Kraftwerk, Ultravox, Death In June, In The Nursery, This Mortal Coil, Slowdive, or in genera bands from the Factory- and 4AD-Label, but also many Italian Wave bands from the eighties. Really a nice show with varied music. //
http://www.reverbnation.com/hiddenplace
/
https://www.facebook.com/hiddenplaceitalia
// Setlist: 1. Operazione / 2. Emotional / 3. Picture Hall / 4. A day without time / 5. Centrali / 6. London to Rome / 7. Fuochi Fatui / 8. Gioco Cromatico / 9. Alla Mostra / 10. Reazione / 11. Window Still / 12. Nei Versi / Encore: 13. Gli Ultimi Baglori // Rating: 8 / 10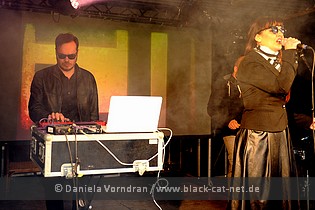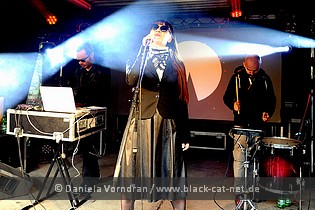 Umbra et Imago – Amphi Stage (Dani)

Just like WHISPERS IN THE SHADOW the day before, UMBRA AT IMAGO were suffering from rain showers, even though they were not as heavy as on the day before. I am not really a friend of this band and the music. But apart from that, they had the intention to rock and did at least rock pretty well on that cold and rainy afternoon. Fans of the band know it anyway, for all others: Mozart, front man of UMBRA ET IMAGO, combines music and sex. Visually, even though they were not playing a X-rated show, the sex on stage was embodied by Madeleine Le Roy wearing a transparent dress and golden wings. The band on stage was enlarged by another female member, Juri, on bass. The setlist contained several songs of the new album, 'Die Unsterblichen' released in January 2015, but of course several of the big hits like 'Machina Mundi' or the FALCO cover 'Rock Me Amadeus'. //
https://www.facebook.com/umbraetimago.official
// Setlist: 1. Intro / 2. Requiem / 3. Die Unsterblichen / 4. Machina Mundi / 5. Gimme Nothing / 6. Radiosong / 7. Alles schwarz / 8. Märchenlied / 9. Get off / 10. Viva Vulva / 11. Rock Me Amadeus (Falco cover) // Rating: 6 / 10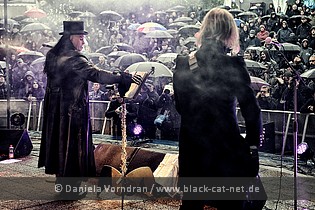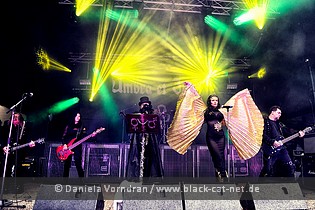 The Legendary Pink Dots – Culture Stage (Dani)

While UMBRA were rocking the main stage, a real cult band was entering the Culture Stage, THE LEGENDARY PINK DOTS who released a great concept album, '10 to the Power of 9', in 2014 being a dark and exceptional trip into their warped and bizarre musical psyche. The band was already founded 1980 in London, moving to Amsterdam in 1984. Musically, LPD move between all kinds of Psychedelic Rock of the 60s and the Wave Music of the 80s. Bizarre and avant-gardist sound collages dominate the band's music. Even though the style of LPD varied over the years, they stayed overall unique. Very remarkable is also Ka-Spel's chant, being sometimes excessive and overexcited. Lyrics are presented sometimes preaching and sometimes screaming. Sure, this show was something special and people left with mixed feelings. But one thing is for sure: the show was an enrichment of the festival line-up. //
http://legendarypinkdots.org
/
https://www.facebook.com/pages/The-Legendary-Pink-Dots/293302137369774
// Rating: 7 / 10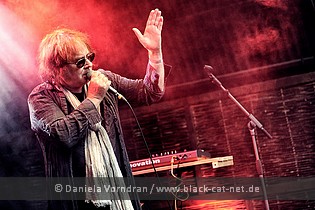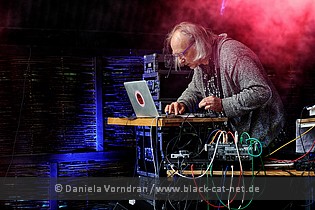 Das Ich – Park Stage (Dani)

Also DAS ICH were already playing at this year's Amphi Festival, for the first time since ages in original line-up. It was pure pleasure to see this band again on stage, especially after the long absence of Stefan Ackermann due to acute health problems. When the trio entered the stage, they were loudly welcomed by a big crowd. And for myself, I really enjoyed this show. Especially Stephan was in best mood, talking a lot, making jokes and always searching contact to the fans. Was pure pleasure to watch him. And there was so much energy in front of stage. People were dancing, singing and shouting while the band was enjoying itself, Bruno Kramm and Stefan Ackermann were equally animating the crowd by grimacing diabolically and everything went berserk when the hymn 'Gottes Tod' was intonated. Besides of all those lesser known bands I enjoyed at the festival so much, DAS ICH belonged to my festival favourites. Great show! //
http://dansemacabre.de/artist/das-ich/
/
https://www.facebook.com/DasIch.fans
// Setlist (incomplete): Kannibale / Kain und Abel / Unschuld Erde / Kindgott / Lava / Die Propheten / Gottes Tod // Rating: 9 / 10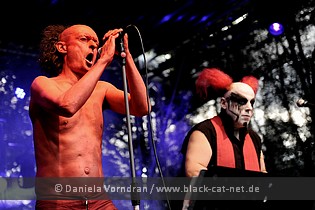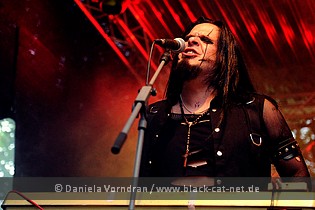 No More – Willow Bow Stage (Dani)

This band, formed in 1979 in Kiel (North Germany), is responsible for the 1981 minimal wave hit 'Suicide Commando' after which Johan van Roy named his project. Their first release was the 7" EP 'Too Late' and the first mini album came out with 'A Rose is a Rose' in 1982 after which the band went for a change in its musical style. The band called it quits in 1986 after finishing the album 'Hysteria'. In the course of working on an album with updated song versions 'Remake/Remodel' it was announced that a new album is in the making. That album, titled 'Midnight People & Lo-Life Stars' has been released on 12th March 2010. 2015 saw the release of the newest album, 'Silence & Revolt'. After the break, the band started touring again in 2008 and since then they are constant guests on festival stages, like also at NCN a few years ago. Today, the duo closed the day at the Willow Bow stage. Many people wanted to hear the show and so the place in front of the small stage was crowded. And of course the duo had more to offer than just their hit 'Suicide Commando' being played during the set of course. Like usually, Andy was just armed with the guitar bringing out warm Wave sounds while Tina was caring for the colder electronics and as usually it impressed me which sounds she brought out of the Theremin that was part of her equipment. //
http://www.NoMoreMusic.de
/
https://www.facebook.com/official.no.more
// Setlist: 1. 1816 / 2. Midnight People & Lo-Life Stars / 3. French Kisses / 4. Rope a Dope / 5. Take me yours / 6. Revolt against yourself / 7. Venus in Furs / 8. Something Grows Up / 9. Modernistische Welt / 10. All is well – Senza Macchia / 11. Turn Around / 12. Suicide Commando / 13. The Great Masturbator / 14. Heroes // Rating: 8 / 10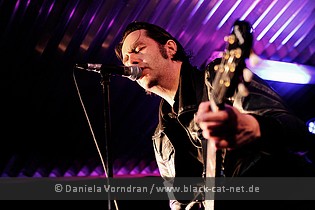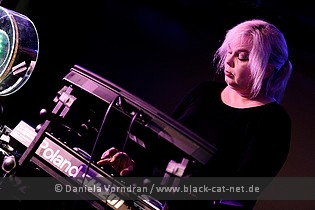 Project Pitchfork – Amphi Stage (Janine)

The climax of the 10th Nocturnal Culture Night was a nearly fulltime set (1:45h) by Project Pitchfork, a well-deserved headliner of this outstanding jubilee. While other festivals run out of people on Sundays, NCN is still overwhelming crowded even after 4 days full of programme. And the guys of Pitchfork honoured this circumstance by taking the audience on a 'Continuum Ride'. Their special live appearance with a line-up containing three drummers (Achim Färber, Christian Leonhardt and Nook alias Christoph Michelfeit) above the heads of Peter Spilles and his companions Jürgen Jansen and Dirk Scheuber is just thrilling. Have you ever thought a mosh pit is impossible at the stairs of the Amphi Stage? Failed. Love it or leave it. Project Pitchfork is blessed with fans celebrating their heroes until there's nothing left to say. And they will never be disappointed. All-time favourites like 'Timekiller', 'God Wrote', 'Carnival' and 'En Garde!' kick ass as well as new hits like 'Beholder', 'Rain' and 'Blood-Line (Never)'.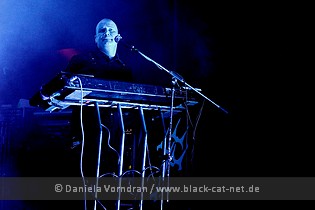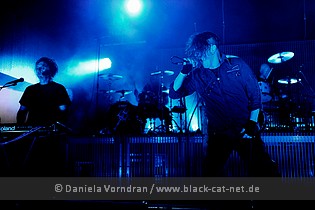 A well-known die-hard fan even was a lucky one to sing along with Peter the 'Song of the Winds' before the whole crowd cried, kissed and hugged during heart-touching 'Souls'. But this was just a short moment of calming down – 'Steelrose' smashed into our ears and legs followed by the epic 'The Longing'. Eternal hits like 'Conjure' and 'Entity' and new ones chased each other, breath-taking, no air left for the dancing audience. 'The Dividing Line' led us in the night, tears of joy and wistfulness in our eyes. //
http://www.project-pitchfork.eu
/
https://www.facebook.com/pages/Project-Pitchfork-Official/65663206412
// Setlist: 1. Continuum / 2. Beholder / 3. Timekiller / 4. En Garde! / 5. Steelrose / 6. Blood-Line (Never) / 7. Souls / 8. Acid Ocean / 9. Rain / 10. Blood-Stained (Give Me Your Body) / 11. Carnival / 12. An End / 13. The Longing / 14. The Queen of Time and Space / 15. God Wrote / 16. Song of the Winds / 17. Conjure / 18. Existence v4.1 / Encores: 19. Entity / 10. Blood-Thirst / 21. The Dividing Line // Rating: 9 / 10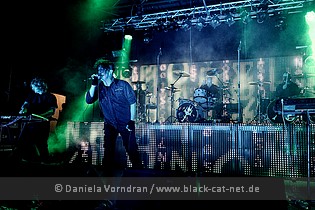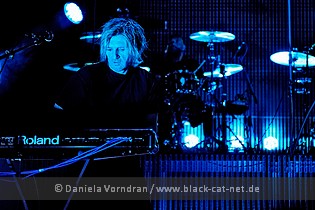 10th NCN was closed by presenting the whole crew on stage cheered by the crowd. A very special, very heart-warming moment. Tired but happy and pleased people standing both on and in front stage. Thank you, Holger Troisch for hosting this event and let this happen. The first two bands for next year's edition, ZEROMANCER and GARDEN OF DELIGHT, are already confirmed. Pre-sale starts on 3rd October 2015.
Written by Daniela Vorndran & Janine Rumrich
All pictures by Daniela Vorndran (
http://www.vorndranphotography.com
/
http://www.facebook.com/blackcatnet
)