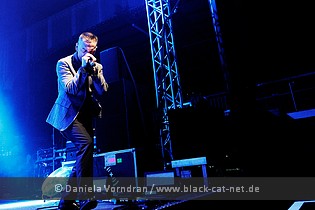 Turbinenhalle, Oberhausen, Germany
5th March 2016
E-Tropolis Festival 2016: Henric de la Cour, Orange Sector, Kite, Harmjoy, Assemblage 23, Beborn Beton, The Cassandra Complex, Winterkälte, Welle:Erdball, Legend, Front Line Assembly, Diorama, Hocico, Suicide Commando, And One

It's the sixth year for the E-Tropolis festival and the third time that this indoor event takes place at the Turbinenhalle in Oberhausen after moving there from Berlin. For lovers of EBM, Future Pop, Synth Pop and Industrial the festival season started early again this year, with more than fifteen bands on the bill including headliners AND ONE, legends like FRONT LINE ASSEMBLY and CASSANDRA COMPLEX and new hopes such as LEGEND, KITE or HENRIC DE LA COUR. Some members of our "Reflections Of Darkness" team didn't miss an E-Tropolis since the Berlin days while others were first-timers but all were eager to check out what this year's edition had to offer.
Henric de la Cour - Main Stage (Alex)

The Swedish Dark Wave formation HENRIC DE LA COUR was the first band to grace Turbinenhalle 1 of the E-tropolis Festival in Oberhausen. Punctually at 2pm a Nosferatu-like creature entered the stage with his two band colleagues. HENRIC DE LA COUR is counted as a new hope for the Gothic scene, yet the lack of innovation in his musical repertoire is striking. That doesn't necessarily mean that the music is bad in itself, in fact it's beautiful and one can drown in the sweet tunes of melancholy and longing. Yet, it does resemble the 80s Dark Wave genre identically and there is only so much one can take of the same things. Only the heartbreaking 'Dracula' is able to stand on its own; it's a song so impregnated by sadness, desire and deep pain that one gets the longing to turn into a vampire and feast on the substance keeping humans alive... On another note, HENRIC DE LA COUR does possess a strong vocal range with which he makes his claims sound truthful and honest. And furthermore, the show was intensely atmospheric, shades of blue and purple were embracing the three Swedes, making them appear ghost-like. The show was received well generally, despite the early hour. Even though the audience was shy at first (and needed their first alcoholic beverage to warm up), many were bobbing their heads and/or dancing along by the end. //
https://www.facebook.com/HenricDLC
// Rating: 7 / 10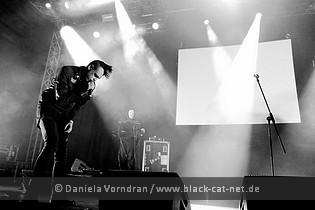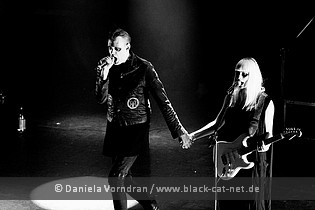 Orange Sector - 2nd Stage (Alex)

The first Turbinenhalle 2 show was delivered by the Hanoverian EBM group ORANGE SECTOR, who have been making music, which is strongly influenced by DIE KRUPPS' heavy- and DAF's punk and wild character, since 1992. The venue was already filled well and one could read on many faces their eagerness to dance and get a bit harsh. Thus, the quality of ORANGE SECTOR's music was less important since they know which beats they need in order to make the audience sweat. And sweat they did. Especially the infamous 'Der Machinist' was received with frenetic dancing and singing along. //
http://www.orange-sector.de
/
https://www.facebook.com/OrangeSector
// Setlist: 1. z.o.m.b.i.e / Terroristen / 2. John kills / 3. Alles dreht sich im Kreis / 4. Monoton / 5. Der Maschinist / 6. I hate you / 7. Sturm / 8. Geile Zeit / 9. Für immer / 10. Kalt wie Stahl // Rating: 6 / 10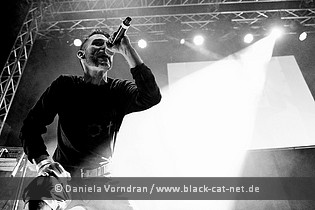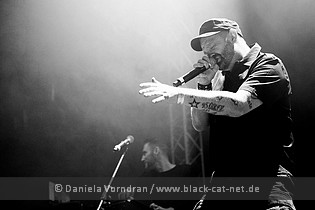 Kite - Main Stage (Alex)

KITE were founded in 2008 in Malmö, Sweden and have released six records (all EPs) since then. They are praised by many critics for knowing how to unite fans of 80s Synth Pop and contemporary Electro Pop music fans under one roof and they were damn right. The band with a whole set of different synthesizers is still a secret tip in the scene, but the Turbinenhalle 1 was quite filled with excited and curious fans and visitors. And they were not disappointed, despite some technical issues the band had to face. Especially singer Nicklar Stenemo's voice catered for admiration and astonishment, so peculiar and out-of-this-world and perfectly fitting the unnatural sounds the band's equipment creates. Unfortunately, the two Swedes did not bring their infamous lightshow along and had to rely on the one provided by the venue which put the focus on mysterious shadows (which seems to become quite a trend). This E-tropolis show hopefully made the band earn the recognition they deserve – the Goth scene urgently needs bands like KITE which bring a fresh breath of innovative air. //
https://www.facebook.com/KiteHQ
// Rating: 9 / 10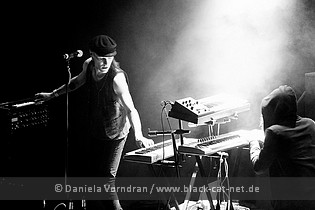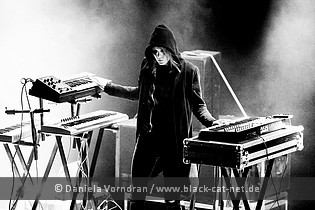 Harmjoy - 2nd Stage (Alex & Josie)

HARMJOY was founded in 2014 and consists of the band members of Ølåf Å. Reimers from TYSKE LUDDER and Dan van Hoyel. The band did some great Facebook advertising to make people join their show and seemed in a pretty good mood. While Dan van Hoyel looked a little creepy once again – just like at last year's Kasematten Festival Halberstadt – the band delivered Synth Pop paired with van Hoyel's hypnotic voice that was the absolute opposite to his spooky and mysterious appearance. If you find the time, go and watch some of their videos and join their next live show. You won't be disappointed as the band creates a perfect mix of melancholy yet rhythmic synth pop and hypnotic vocals.//
www.harmjoy.com
/
www.facebook.de/harmjoy
// Rating: 8 / 10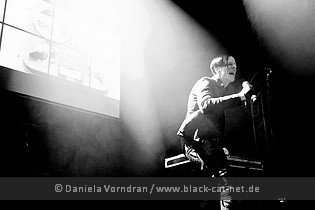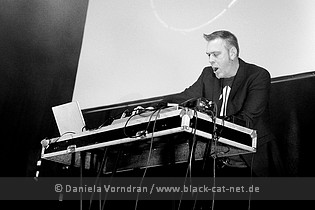 Assemblage 23 - Main Stage (Niggels)

Tom Shear from Seattle, Washington, is a regular guest on German stages. No surprise, as this country is arguably the main market for the melodic Electro Pop with an EBM edge he produces with his project ASSEMBLAGE 23. At the E-Tropolis he performed at the main stage in front of a pretty impressive crowd, I guess this was one of the biggest indoor shows so far for ASSEMBLAGE 23. Unfortunately it was one of those days again when Tom Shear's vocals weren't at their best, his voice sounded a bit as if he had a cold. The crowd celebrated ASSEMBLAGE 23 anyway, thanks to club hits like 'Disappear', 'Naked' or 'Let The Wind Erase Me'. Shear, who was backed up by a dreadlocked drummer and relied on playback for the rest of the music, also presented the new song 'Bravery' which is more on the Pop side in the ASSEMBLAGE 23 spectrum. An okay gig, with a few minor technical problems with the drum kit during 'Spark', but a crowd who was ready to party made up for the few on stage. //
http://www.assemblage23.com
/
https://www.facebook.com/Official-Assemblage-23-138651156153800
// Rating: 6 / 10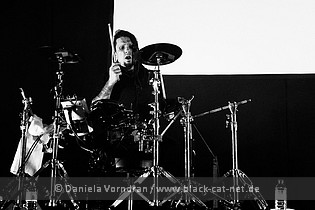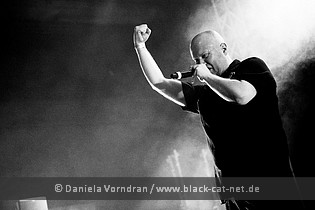 Beborn Beton - 2nd Stage (Alex)

Only one day prior to the festival, BEBORN BETON were announced as the replacement for CHROM who could not perform due to family reasons. BEBORN BETON have been musically active since 1989, creating feel-good-synth pop without a distinct character. Nevertheless, the Turbinenhalle 2 was already quite packed with people who wanted to delve to the sweet, melancholy tunes of the nice guys from Cologne and Essen. And they did deliver a solid performance during the early Saturday afternoon hours and many hands were already clapping frenetically. Especially with regard to the short notice of their performance that is truly extraordinary and shows on one hand, the open-mindedness of the people and on the other hand, the truly good performance skills of BEBORN BETON. //
http://www.bebornbeton.de
/
https://www.facebook.com/bebornbeton
// Setlist: 1. The Colour of Love / 2. 24/7 Mystery / 3. Last Day on Earth / 4. Another World / 5. I Believe / 6. Im Innern einer Frau / 7. Daisy Cutter / 8. She Cried / 9. Mantrap – The Seduction // Rating: 6 / 10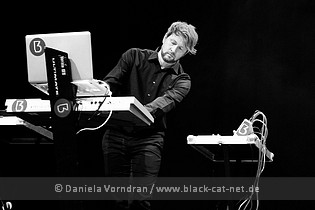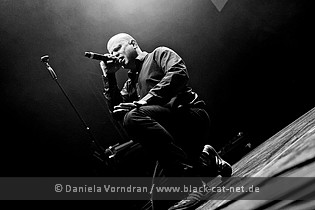 The Cassandra Complex - Main Stage (Niggels)

Rodney Orpheus and his CASSANDRA COMPLEX was one of the main reasons for me to look forward to this year's E-Tropolis. Founded in Leeds, England, in 1980 THE CASSANDRA COMPLEX were ground-breaking by combining Punk, Gothic Rock with a heavy dose of electronics and the unorthodox use of saxophone playing on top of it. THE CASSANDRA COMPLEX released their debut album 'Grenade' in 1986 and the following 'Theomania' (1988) was already a hit in European alternative charts. Four more studio albums followed up to 1993 before it became rather quiet around the band as Rodney Orpheus started working for the music software giant Steinberg and pursued his interest in occultism and paganism, becoming a key member of the Ordo Templi Orientis eventually. But THE CASSANDRA COMPLEX have never officially broken up, there were occasional gigs and another album, 'Wetware', released in the year 2000. Having the chance to see THE CASSANDRA COMPLEX live on stage is still a rare event, so many old fans gathered in front of the stage and welcomed the band with loud applause when THE CASSANDRA COMPLEX opened their show with 'Nightfall (over EC)'. A perfect song to start, first of all because of the song's epic, orchestral intro and secondly lines like "Night falls over Western Europe, jihad is coming, jihad is coming" still have a bitter topicality 26 years after the release of this song.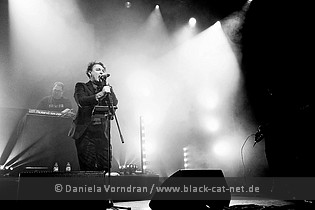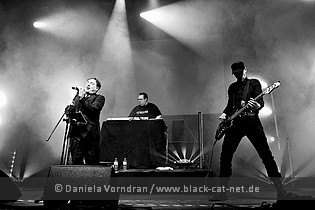 Technical issues (again!) were a little downer in this great start but luckily the problems were solved quickly and the volume bar was also raised a little more. The show left hardly something to ask for as the fans got to hear almost all CASSANDRA COMPLEX classics and Rodney Orpheus was apparently in a brilliant mood, too. A few times he even forgot a line or two as he was so impressed by the feedback from the pretty huge crowd at the Turbinenhalle! Besides the dark anthems as 'Second Shot' or the groovy 'Too Stupid To Sin' CASSANDRA COMPLEX also played more punkish stuff like the classic 'Moscow Idaho', which actually caused a pogo mosh pit in front of the stage. There's nothing like 40-somethings behaving as they were 16 again! Biggest crowd pleaser was of course 'One Millionth Happy Customer', arguably the band's most popular song and the song which completed THE CASSANDRA COMPLEX's very fine gig at this year's E-Tropolis. One of my favourite shows of the festival! //
http://cassandracomplex.co.uk
/
https://www.facebook.com/thecassandracomplex
// Rating: 9 / 10
Winterkälte - 2nd Stage (Niggels)

Noise, noise, beats, more noise, more beats, impressive video screenings and – guess what – more noise and beats. The recipe for WINTERKÄLTE might look simple at first sight but there are reasons why WINTERKÄLTE has become a leading act of the Industrial/ Power Noise scene. Eric de Vries and Udo Wiessmann know their trade, they arrange their stuff cleverly even though they put everything to an earth-shattering maximum. The result is an abrasive sound and even though the last full WINTERKÄLTE release is twelve years old their music sounds surprisingly modern. If you wanna call it music! For some it's probably just ear-splitting noise but for those who are willing to give in to this kind of sound it's going to be a pretty hypnotic live experience. And of course WINTERKÄLTE get the award for the loudest gig of the day! //
www.facebook.com/winterkaelte
// Rating: 9 / 10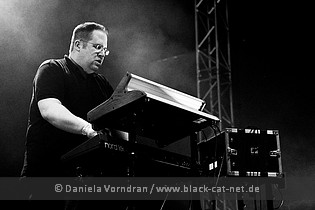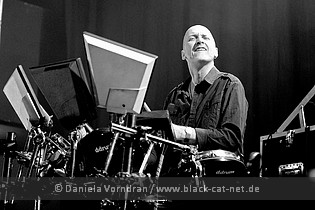 Welle:Erdball - Main Stage (Alex)

WELLE:ERDBALL are renowned in the scene for their entertaining music and live shows which they have been providing with the help of the Commodore C-64 since the early 1990s. Epic as always, WELLE began their E-tropolis set with Lady Lila dressed as an angel, performing the sweet '1000 Engel'. Lately, the band has moved more and more towards Schlager musically so hopefully, this is only a short adventure. Nevertheless, the band knows how to entertain and once Honey entered the stage, and quickly assured that Alf was still a member of the band despite his absence, the crowd could not be stopped any longer. Fortunately, WELLE:ERDBALL played mostly old classics like 'Es geht Voran', 'Monoton und Minimal', 'Wir wollen keine Menschen sein' and 'Arbeit Adelt' and so, during the entire set, the Turbinenhalle 1 was a glittering ball of unlimited happiness and joy. No matter how bad your day is, WELLE:ERDBALL will ease the pain and give you hope and comfort. There is only one point of criticism: Fräulein Venus was way too much in the background, being a badass at her synthesizer. Hopefully, she will have more opportunities to show off her vocal talents in the future. //
http://www.welle-erdball.info
/
https://www.facebook.com/WelleErdball
// Rating: 10 / 10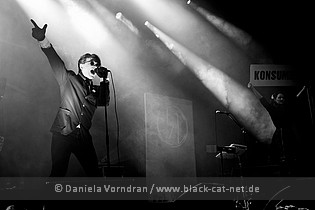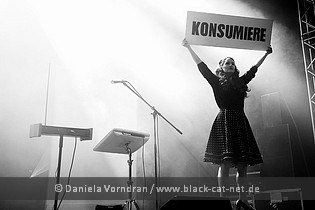 Legend - 2nd Stage (Niggels)

This was the first time I saw LEGEND live and I was pretty blown away! The trio from Iceland was rather the strange, colourful fish in the black pool of the E-Tropolis. Rather than the standard EBM, Future Pop or Goth, LEGEND play some sort of Alternative Rock with electronic means. The way they build up their songs might probably allow comparisons with NINE INCH NAILS but LEGEND don't have the same level of angst and darkness as Trent Reznor's work. Singer Krummi Björgvinsson, also vocalist of the Punk band MINUS, definitely has a Rock voice and his singing style would fit any Noise Core band. But his excellent vocals are rather backed up by compelling grooves and intricate electronics delivered by keyboardist Halldor Bjornsson and drummer Frosti Jon Runölfsson. LEGEND like it epic and have a knack for great Pop melodies, as well. On the second stage of the E-Tropolis LEGEND proved that they were born for the stage and that they even add some intensity to their sound. From the uplifting Electro Pop of their single 'City' to the dark and brooding 'Sister' to the drama of the 7-minute beast 'Runaway Train', LEGEND attested a diversity and musicality that easily surpassed the better part of their fellow line-up at the E-Tropolis.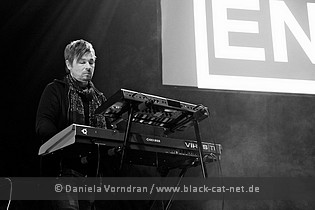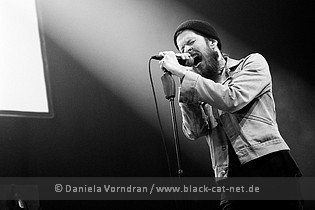 Definitely my discovery of the day and a band you simply have to check out! In a just world LEGEND would headline the main stage and not play the second stage in the early evening but perhaps such glories are still in store for LEGEND. //
https://www.facebook.com/Legendband
// Rating: 10 / 10
Front Line Assembly - Main Stage (Niggels)

FLA again! Bill Leeb and his comrades have been pretty kind to Europe, and Germany in particular, in the past years with quite a few tours and gigs. Still it is a joy to see FRONT LINE ASSEMBLY billed at a festival like this, especially when key member and producer legend Rhys Fulber is announced to be part of the band's line-up again. 30 years into their career, FRONT LINE ASSEMBLY still have something to offer, even though you may argue their heyday was from the late 1980s to the mid-90s. FRONT LINE ASSEMBLY were one of the pivotal and pioneering acts of electronic music, next to fellow acts like SKINNY PUPPY or FRONT 242, and just like them FRONT LINE ASSEMBLY managed to cross over to other genres and build up a reputation outside the EBM and Industrial scene. Bill Leeb and his team still produce new music on a high level instead of just dwelling on past glories and FRONT LINE ASSEMBLY are still a force to be reckoned with as a live act. They demonstrated this impressively at the E-Tropolis, even though there were technical difficulties (again!) during the first one or two songs of their set. As soon as the problems were sorted out the full force of FLA came to effect, and that's some pretty bad-ass sonic assault! Granted, Bill Leeb isn't exactly the best singer, in fact live on stage he rather sounds like a barking dog. But first of all this suits the musical style of FLA in a weird way and secondly you get away with it anyway when you're backed up by such killer grooves as FLA have to offer. The set ranged from the very old to the rather new and that the fervent 'Exhale' from the last album 'Echogenetic' works perfectly next to the maniacal 'Mental Distortion' from 1990 should tell you something.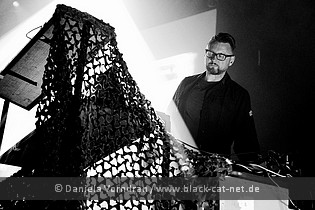 It was also great to see 'Resist' from the 'Caustic Grip' album back in the setlist again as well as 'Prophecy', a somewhat underrated dark anthem from the late 1990s. FRONT LINE ASSEMBLY's performance suffered a bit from technical glitches and the bad acoustics of the main hall of the Turbinenhalle, so it wasn't even their best gig. But for the uninitiated it should be still pretty awe-inspiring and impressive. Quite shockingly I overheard a girl saying after the gig "VNV Nation are so much better than Front Line!" - well, that's like saying reading the TV guide is intellectually more inspiring than reading Nietzsche (no offense, TV guides!) but you have to know how to read to know the difference, just to begin with. FRONT LINE ASSEMBLY have quite some legacy who influenced an army of other musicians, they are still pretty prolific both as recording artists and as a live act and some of the younger bands could learn a lesson from ole Bill Leeb and his old chap Rhys Fulber how to deliver a menacing, intriguing bad-ass show. //
https://www.facebook.com/frontlineassembly
// Setlist: Intro: The Chair / 1. Final Impact / 2. Neologic Spasm / 3. Killing Grounds / 4. Blood / 5. Resist / 6. Plasticity / 7. I.E.D. / 8. Deadened / 9. Exhale / 10. Mental Distortion / 11. Prophecy / 12. Mindphaser // Rating: 10 / 10
Diorama - 2nd Stage (Josie)

The German electronic band started back in 1996 with very slow and somehow melancholic songs. Since then they developed their very own style and became more danceable. They released several albums and today they have a huge fan base. In some cases keyboarder Felix Marc is replaced by Helge Wiegand, but not at this year's E-Tropolis festival. This time Helge joined the show from the audience part and watched his band mates play. The band played a few of their hits like 'Synthesize Me' and got the attraction of the audience from the very first moment. You should watch the pictures carefully as you will see really happy faces in the front rows. Last September the bands guitarist Sash left and was replaced Zura who did his job very well. The band surprised the audience with 'Ignite' and also announced a new album for this year whereof one song, 'Defcon', has been played. So, be prepared! //
http://www.diorama-music.com
/
https://www.facebook.com/pages/Diorama/20921056622
// Setlist: 1. Light / 2. Forgotten / 3. Exit the Grey / 4. Hope / 5. Synthesize Me / 6. When we meet in Hell again / 7. Defcon / 8. Ignite / 9. The Scale / 10. Advance // Rating: 10 / 10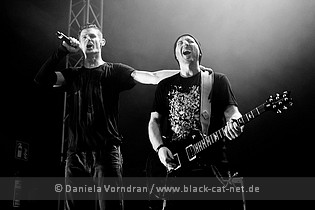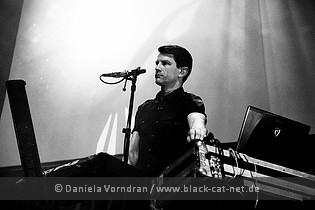 Hocico - Main Stage (Niggels)

"If you don't have say something nice you better say nothing", they say. Hence the review should stop here! Maybe I wasn't in the right mood for HOCICO on this particular day, as remember enjoying them mildly live on another occasion. Maybe FRONT LINE ASSEMBLY one hour ago put the bar for dark, badass Industrial so high that it was hard to enjoy something else in a similar, though less sophisticated vein. Maybe the muddy sound in the echo-laden venue played a role, as well. However, I cannot help but to admit that HOCICO delivered the performance I enjoyed the least at the E-Tropolis. The two chicos simpatico surely tried their best to deliver a rocking show and besides me old grumpy fart most fans at the Turbinenhalle seemed to enjoy it. Shouter Erk Aicrag is a true berserk on stage, nobody can deny this, and as usual he had some fancy leather/ latex outfit on plus, this time, a Mexican "death mask" make-up. For HOCICO every day is "Día de los Muertos", of course. Of course there was also the usual creepy-spooky-horror-shock video footage on the big screen behind the duo but it is probably worth discussing if it's really necessary to expose a festival crowd to stuff like a quasi-rape scene? Musically HOCICO suffers from the same misunderstand as the entire Gabba scene, for example. That is, thinking that constant high-speed beats were kinda badass and evil. They are actually just very fast and, if it's nonstop, don't offer any variation. Muggy trance layers and the maximum admissible distortion on the vocals didn't help much to improve the impression, either. HOCICO arguably created their very own sonic universe but at the E-tropolis they failed to prove that their style can also offer variation and some thinking outside the box.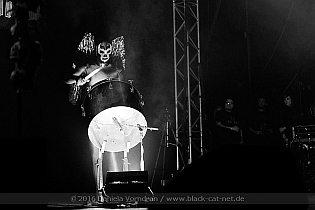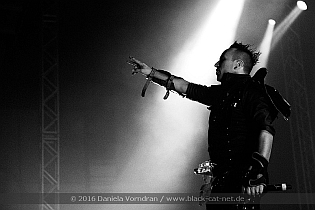 It was all too predictable and you either love the style and are happy to get what you want or you plainly bored. Sorry guys, this was a day when we won't become friends! I will give it another try next time but perhaps you might wanna check out uncle Bill's FLA to see how to make truly badass, ass-kicking electronic music AND having tempo changes and quite same variety at the same time... //
http://www.hocico.com
/
https://www.facebook.com/hocicoofficial
// Setlist: 1. Sinister Déjà-Vu / 2. I Will Be Murdered / 3. Bienvenido a la maldad / 4. Sex Sick / 5. Dead Trust / 6. In the Name of Violence / 7. Bite Me! / 8. T.O.S. of Reality / 9. Heart Attack / 10. Poltergeist / 11. Auf der Flucht / 12. Forgotten Tears / 13. Twist the Thorn / 14. Ofensor // Rating: 4 / 10
Suicide Commando - 2nd Stage (Niggels)

This was the first time I had the chance to check out SUICIDE COMMANDO's "vintage set" and I had some hopes but no real idea what to expect. Johan van Roy's project lost me a bit during the last few albums, and while I liked the odd track on every album it simply didn't have the same energy and bite as the early stuff in my book. To cut a long story short: It was a lot better than I expected! In fact, it was a pretty awesome gig which made the old-school EBM lover in me pretty happy. Johan van Roy showed his teeth again, both quite literally and musically. Starting with 'Murder' from the 1995 album 'Stored Images' set the tone for a gig of gloriously abrasive nostalgia. Thankfully SUICIDE COMMANDO didn't play it safe by doing just the popular tracks from their early days but also included stuff like 'Time' from the 1993 cassette(!) 'Electro Convulsion Therapy'. With a total of five tracks the focus was quite clearly on the debut album 'Critical Stage' from 1994 and with stuff like 'Better Off Dead', van Roy and his two band mates gave also the late 1990s a visit. Of course there were the expected crowd pleasers from SUICIDE COMMANDO's first era, that is 'Save Me' and 'See You Hell'. Both tracks sent the crowd into a frenzy and as a matter of course the band returned for a two-song encore. Again van Roy proved that he took things seriously and offered 'Never Get Out' and 'The Mirror', originally released on the tape 'Black Flowers' in 1992, instead of doing more obvious tracks such as 'Hellraiser' or 'Love Breeds Suicide', which might easily count as "vintage" as well 16 years after its first release. Well, I got more than I bargained for and I'm happy that I witnessed one of SUICIDE COMMANDO's finest performances over the last few years, with band and fans being equally on fire.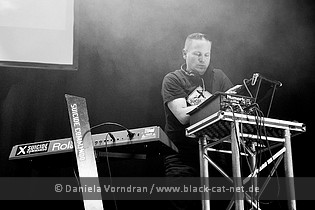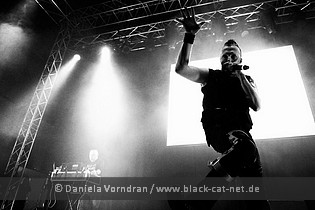 After the gig I said to a friend jokingly "That was the best THE KLINIK show this year!", and while this was of course tongue-in-cheek I actually meant this as a compliment. It's been always quite clear that Dirk Ivens and Marc Verhaeghen were a huge influence on the young Johan van Roy, he never denied that, and his early stuff proves that he's been more than just a copycat from the start and actually got what it was all about. Now that THE KLINIK is defunct, SUICIDE COMMANDO's vintage set is a superb surrogate drug for fans of the dark, minimal EBM sound from Belgium. And I know a musician or two from the E-Tropolis line-up who should have watched this to learn a lesson... All thumbs up with a big smile, more of this please! //
http://www.suicidecommando.be
/
https://www.facebook.com/IIXIII
// Setlist: 1. Murder / 2. Pesticide / 3. Sheer Horror / 4. Traumatize / 5. Necrophilia / 6. Mortal Combat / 7. Where Do We Go From Here? / 8. Desire / 9. So Many Questions / 10. The End of Your Life / 11. Time / 12. Save Me / 13. Better Off Dead / 14. See You in Hell / Encores: 15. The Mirror / 16. Never Get Out // Rating: 10 / 10
And One - Main Stage (Niggels)

Steve Naghavi is surely one of the more polarizing figures of the German EBM/ Synth Pop scene and the cheeky mastermind of AND ONE surely does his part, both deliberately and unwittingly, to keep it this way. You have to give Naghavi credit for having a great talent for catchy tunes and racy dance-floor beats, and in their finest moments AND ONE are absolutely on top of their game. On the other hand Naghavi can also be overambitious and self-indulgent as AND ONE's album trilogy of 'Magnet', 'Propeller' and 'Achtung 80' proved. The high-flying project of releasing three albums at the same time did AND ONE no favour and just cemented the impression that the band has been producing their signature style by numbers for a couple of years already. That Naghavi is also not worried about shameless self-promotion was demonstrated by AND ONE's gig at the E-Tropolis where they had a huge text-only advertisement for the next gig in this part of Germany, complete with the line (in German) "If you miss this it will break you". Well, that might have been a nice little joke if they showed it before their show or after their last song but constantly for all of the gig? Come on! That they even did not care enough to give the ad a nice design instead of a plain white font on a black background didn't help either. When it comes to music, AND ONE focussed this time on their harder, more EBM-ish songs such as 'Männermusik', 'Deutschmaschine' or 'Strafbomber', failing to show the variety AND ONE otherwise actually does have. Making self-fulfilled, priggish jokes throughout the set while picking on your very own audience was not too helpful to better the overall impression and if it's a wise move in today's political climate to ring out an aggressive "German, be proud! German, be proud!" in 'Steine sind Steine' while Naghavi tries his best macho poses is pretty doubtful.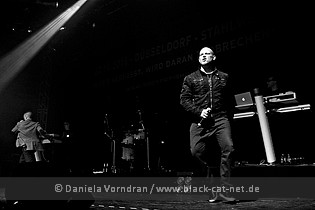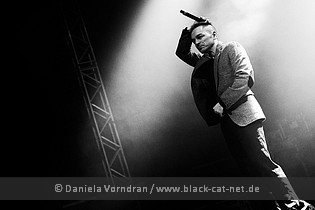 It's such a pity, AND ONE can be so much fun and ironic, so diversified and yet catchy and highly entertaining as a live act. But when Naghavi loses control over his narcissistic ego it simply becomes mundane, corny and smugly. The performance at the E-Tropolis was the latter and at least for me a total groaner, I'm afraid. //
http://www.andone.de
/
https://www.facebook.com/ANDONEoffiziell
// Setlist: 1. Black Generation / 2. Männermusik / 3. Die Mitte / 4. Deutschmaschine / 5. Seven / 6. Strafbomber / 7. Metalhammer / 8. Schwarz / 9. Zerstörer / 10. Steine sind Steine / 11. Timekiller (Project Pitchfork cover) / 12. Krieger / 12. Techno Man / 14. Body Nerv / Encores: 15. An alle Krieger! / 16. Die Stille vor dem Ton / 17. Military Fashion Show / 18. Shouts of Joy // Rating: 5 / 10
Conclusion (Alex)

Already the location of the Turbinenhalle reveals a lot about what kind of festival the E-tropolis is: a grey, industrial complex in a grey, industrial German town in the Ruhr area which was filled with electronic beats loaded with aggression and longing on the 5th March, 2016. The E-tropolis was well-visited but still not too full this year and it offered a friendly to familiar atmosphere where many friends, old and new, could meet and do their favourite thing together: enjoy live music. The line-up offered something for everyone who has an affinity for electronic music: Synth Pop, EBM, Experimental Electro and so on were all represented there. Unfortunately, there is little innovation in the scene and so the festival consisted mostly of sounds that people have been listening to for more than 20 years. But the audience enjoyed it and the musicians still love creating the tunes that resemble the great times of electronic music, so everything's alright.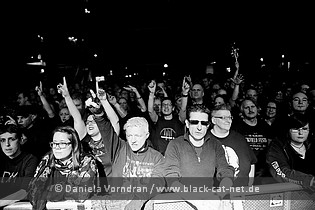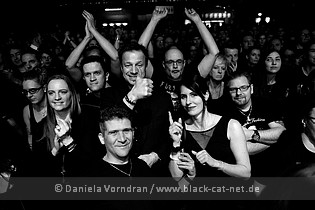 The festival was well-organised, but there were some issues with the Turbinenhalle: many musicians faced technical difficulties which made the shows less enjoyable for them and the bon situation was criticised once again, like last year. If one wants to grab something to drink or eat, one has to buy vouchers first. Unfortunately, therehad been some problems with refund at the end of the day and due to unknown reasons, some people did not get their money back, even though there was generally a refund for the vouchers. The Turbinenhalle should make sure that everybody gets his money back since some visitors left in a grumpy mood because they had lost money, even though this were obviously single cases. All in one, though, it was a successful festival with a familiar atmosphere and a good line-up.
All pictures by Daniela Vorndran (
http://www.vorndranphotography.com
/
http://www.facebook.com/blackcatnet
)