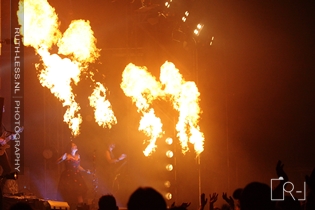 Goffertpark, Nijmegen, The Netherlands
4th to 5th June 2016
FortaRock Day 1: Within Temptation, Gojira, Tremonti, Avatar, Legion of the Damned, Heidevolk, Evra, Hibakusha

The 8th edition of "the heaviest day in the park" is back with an extended program over two days. Though the headliners of this year don't match the "greatness" of previous FortaRock editions (IRON MAIDEN, RAMMSTEIN, SLIPKNOT), the line-up is a proper mix of different styles from Rock to Black Metal and Metalcore to Viking Metal. The ominous weather forecasts were probably followed with great interest last week but fortunately the thunder storms that hit Rock Am Ring so badly passed us by: the sun is shining and the beer is cold as the Goffertpark slowly starts to fill with an audience dressed for the occasion not the weather: black fashion!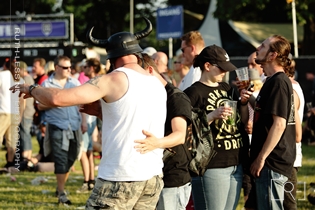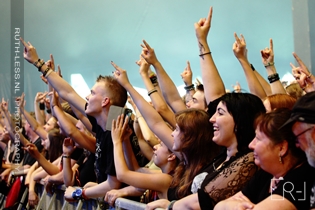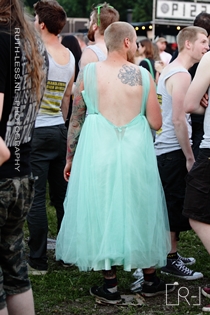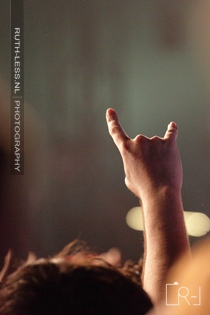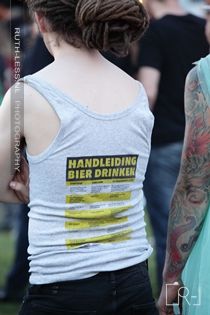 Evra

EVRA is a Danish Hardcore/ Stoner band from Copenhagen (Denmark) formed in 2013. Their style is rooted in Hardcore Punk with strong Stoner Rock and Mathcore elements. EVRA has been touring across Europe in countries including Germany, Belgium and Estonia. Their show at FortaRock is part of an exchange of Buma ROCKS! with "When Copenhell Freezes Over". EVRA is Frederik (vocals), Emil (guitar), Patrick (guitar), Ole (bass) and Nicholas (drums).
http://evraband.com
/
www.facebook.com/EVRACPH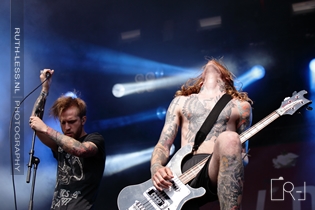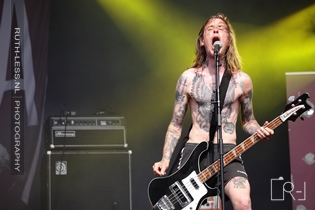 Music & Performance

Kicking off a festival is not the most grateful task to take up, but EVRA does so with verve. The band gets right at it with a full dose of energy and enthusiasm. Especially the first part of their show suffered from some suboptimal audio, but about halfway through their show they get the first hands together from the FortaRock Audience (or perhaps those were for the scarcely dressed ladies with knives during one of their songs?). Their dynamic sound with stoner rock guitar riffs and raw Hardcore elements is loud but easy on the ears at the same time. A proper opening act!
Rating

Music: 7
Performance: 8
Sound: 6
Light: 7
Total: 7 / 10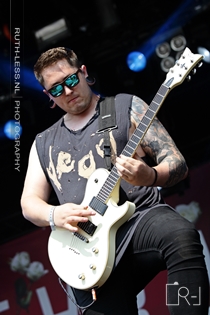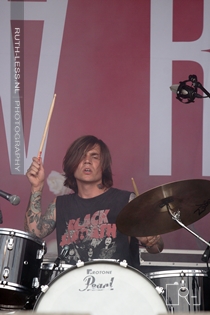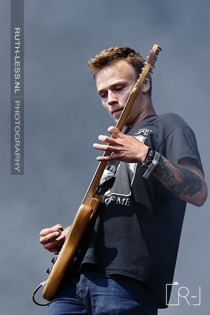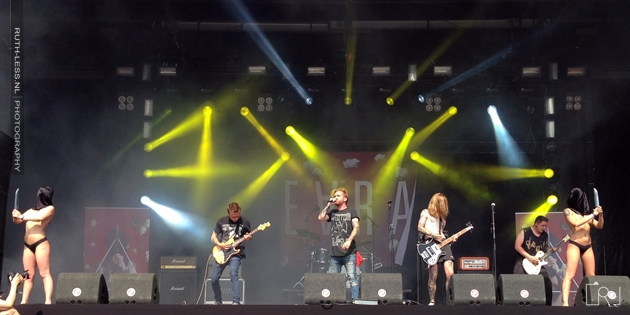 Tremonti

TREMONTI is an American Heavy Metal band founded by vocalist and guitarist Mark Tremonti, also known as the guitarist of the rock bands CREED and ALTER BRIDGE. What originally started as a solo project evolved into a full band after the release of the first album 'All I Was' in 2012. The first album featured Tremonti on leading vocals, guitar and also on bass, a role that was later picked up by VAN HALEN bassist Wolfgang Van Halen. Their second album 'Cauterize' was released in 2015 followed this year by their third album 'Dust' that released in April. TREMONTI is Mark Tremonti (guitar, vocals), Eric Friedman (guitar), Garrett Whitlock (drums) and Wolfgang Van Halen (bass).
https://fret12.com/mark-tremonti
/
www.facebook.com/MarkTremonti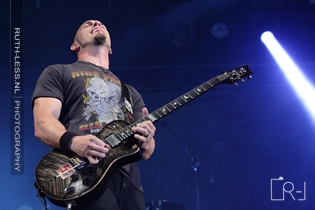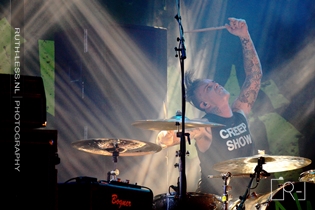 Music & Performance

Opening the Large Rockhand stage, Tremonti and his men start off with 'Another Heart' from their second album 'Cauterize'. With a big smile and hardly an effort they provide a typical American rock sound with powerful vocals, swaying rhythm and dazzling guitar solos. Soon after, TREMONTI speeds it up a little with 'Cauterize' but the band also plays some new work from the latest release 'Dust': 'Betray Me', 'Catching Fire' and 'My Last mistake'. With a track record like Mark, it is no surprise that he knows how to run a live show. The gig runs flawless both vocally and musically and fans in the audience get their dose of sing- and wave along rock music. Personally though, I prefer a little raw edge and some unpredictability to a live performance.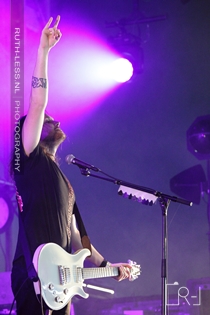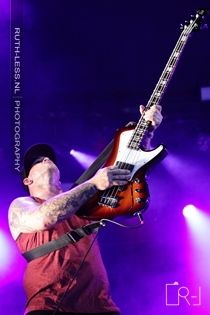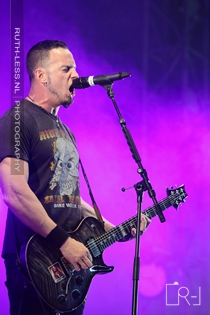 Setlist

01. Another Heart
02. Cauterize
03. You Waste Your Time
04. Brains
05. Betray Me
06. Wish You Well
07. The Things I've Seen
08. Flying Monkeys
09. Radical Change
10. Catching Fire
11. My Last Mistake
Rating

Music: 8
Performance: 7
Sound: 8
Light: 8
Total: 7.8 / 10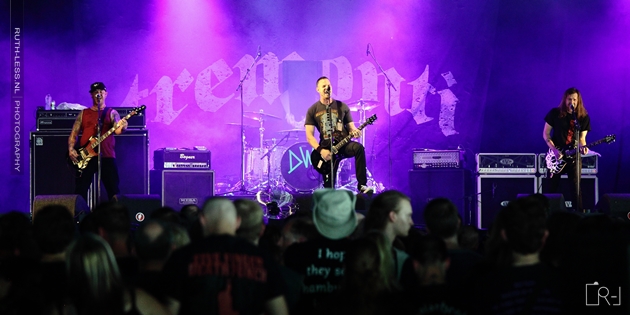 Hibakusha

HIBAKUSHA is a Groove Metal band from Haarlem, The Netherlands. The band started out in 2012 and released their debut EP 'Incarnation' in 2015. HIBAKUSHA is Twan (vocals), Ruben (guitar), Jochem (guitar), Sjoerd (bass) and Eddo (drums).
www.hibakusha.nl
/
www.facebook.com/Hibakushaband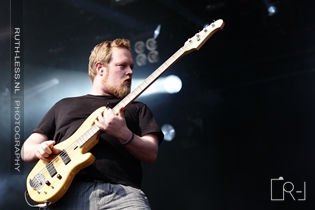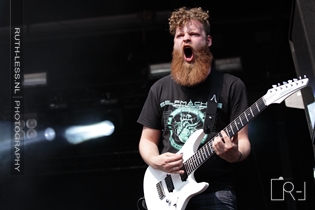 Music & Performance

HIBAKUSHA is the lucky one chosen from over a hundred bands to perform at FortaRock's Buma Rocks! stage. Their big grins easily give away how stoked the band is about that. But it must be said, they probably were justified winners of the contest. HIBAKUSHA brings a well balanced mix of Metalcore, Djent and Groove Metal by eager musicians and complemented by the brutal vocals of Twan Driessen. Their dynamic sound reminds me a bit of the Dutch Djent masters of TEXTURES. Do keep an eye on these guys in the future! The setlist included, among others, the songs 'Julia' and 'Anthony'.
Rating

Music: 7
Performance: 8
Sound: 6
Light: 7
Total: 7 / 10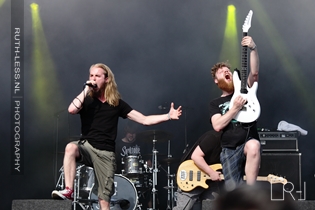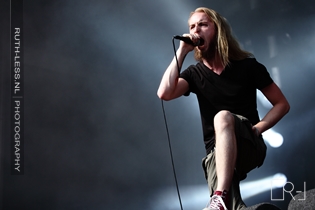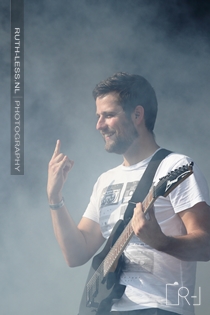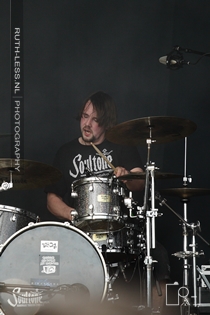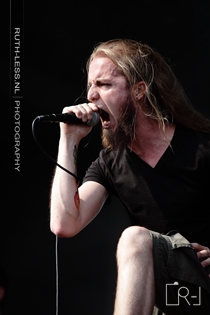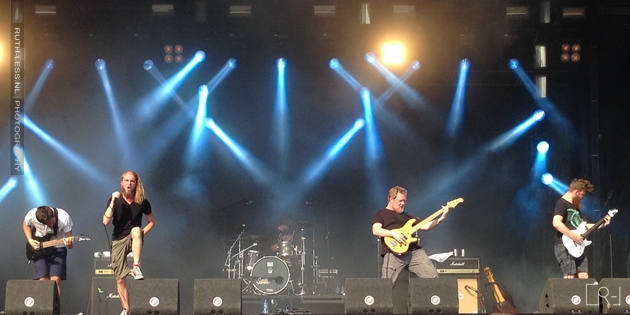 Avatar

AVATAR is a Swedish metal band formed in Gothenborg in 2001 by drummer John Alfredson and vocalist Christian Rimmi as Lost Soul. After several changes in line-up, AVATAR was formed of Johannes Eckerström (vocals), John Alfredsson (drums), Jonas Jarlsby (guitars), Tim Öhrström (guitars) and Henrik Sandelin (bass). Their unique sound and looks developed over the years, the clown face paint introduced around 2012. Over the years the band released six studio albums and played numerous festivals both supporting and headlining shows with a range of bands such as OBITUARY, LACUNA COIL, FIVE FINGER DEATH PUNCH and AVENGED SEVENFOLD. Their newest album, 'Feathers & Flesh', is a concept album around the story of an owl who goes to war against the world.
www.avatarmetal.com
/
www.facebook.com/avatarmetal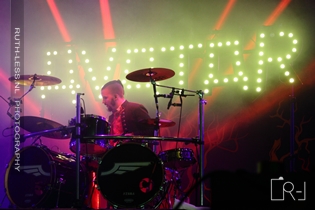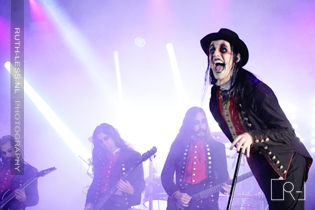 Music & Performance
With the sun shining brightly and the tap fully open, the Large stage is prepared to perfection by impeccable gentlemen for the arrival of AVATAR. Some obvious sympathizers were standing restless in front of the stage until the band showed up on the tunes of 'For the Swarm' from the newest release. I surely was aware AVATAR had a reputation for theatrical performances but this was outrageous in a wicked way. They groove, mosh and rock and roll (perhaps best to describe their style a mixture of Rock'n'Roll and Death Metal… Death'n'Roll. The facial expressions and absurdist dance moves of front man Johannes are quite a sight that is only distracted by the catchy tunes from his skilled fellow band members.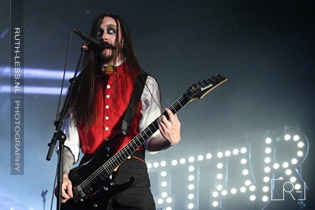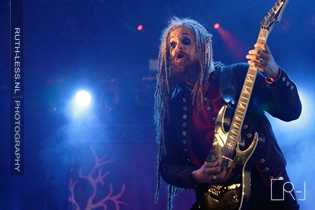 Vocals diverge from grunts, to clean high pitched screams and an ominous spoken word style that reminded me somewhat of MARILYN MANSON. Johannes turns out to be quite an entertainer as well, guiding through the 'freak show' with dark humour, some encouragements ('bring those horns up, because this is a metal show!') and sarcastic jokes. AVATAR predominantly plays songs from their last three albums with some oldies ('Let it Burn') and some band new ones from the latest release. Johannes announces the last song with an armpit sniff and conclusion 'Smells like a freak show'. To be honest: I was slightly unprepared for this live show, but I left with a smile almost as big as Mr Eckerström's face paint.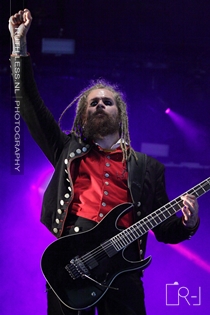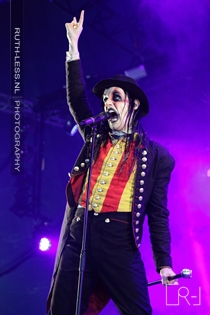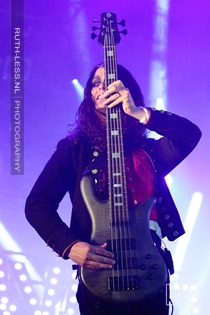 Setlist

01. For the Swarm
02. Hail The Apocalypse
03. One More Hill
04. Bloody Angel
05. Paint Me Red
06. Let It Burn
07. Tooth, Beak, and Claw
08. The Eagle Has Landed
09. Smells Like a Freakshow
Rating

Music: 8
Performance: 8
Sound: 8
Light: 8
Total: 8 / 10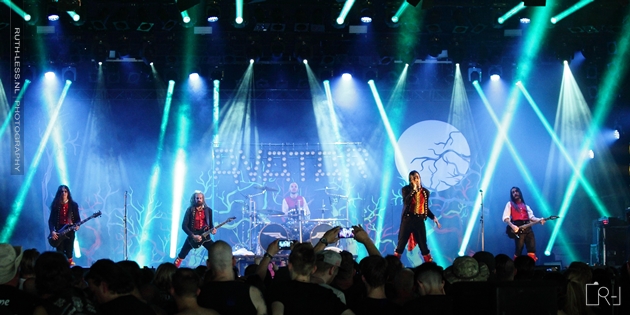 Heidevolk

Originally named HYMIR, HEIDEVOLK was founded in 2002 in Arnhem, The Netherlands. Their music is inspired by nature, mythology, and the history of north-western-Europe in general, and of the Dutch province of Gelderland in particular. HEIDEVOLK is a band which distinguishes itself by a style that combines Dutch vocals, folk music influences and early-medieval/ pagan stage-acting. The band released six studio albums so far, the latest titled 'Velua' (2015). HEIDEVOLK is Kevin Vruchtbaert (guitar), Rowan Middelwijk (bass), Joost Westdijk (drums) and Lars Vogel (vocals).
www.heidevolk.com
/
www.facebook.com/heidevolkofficial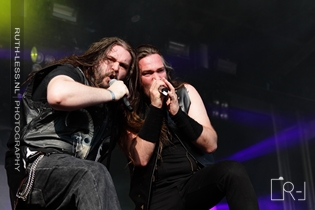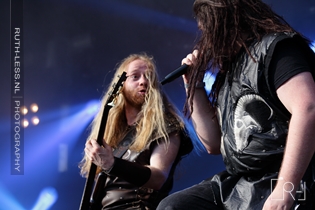 Music & Performance

HEIDEVOLK is no stranger to FortaRock festival; they were already part of the first edition in 2008. Their Dutch pagan metal has a faithful group of followers who gathered in front of the stage, ready to raise their horns (literally, the drinking ones). The band clearly enjoys being on stage and the audience cheers along with the stories and legends. I personally completely lack that type of fantasy and it was just a little too much love for our tiny and scarce pieces of nature in the Netherlands.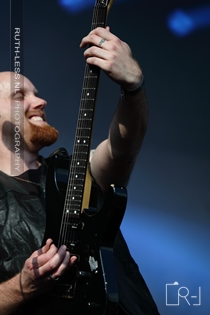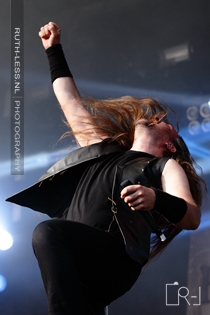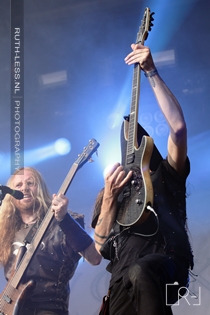 Setlist (incomplete)

Herboren
Saksenland
Het bier zal weer vloeiten
Vulgaris Magistralis (Normaal cover)
Rating

Music: 7
Performance: 7
Sound: 7
Light: 7
Total: 7 / 7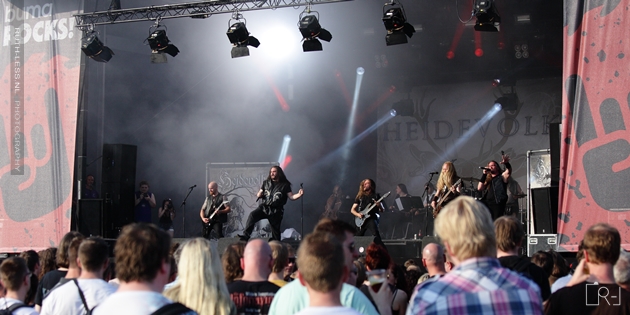 Gojira

GOJIRA is a French Progressive Metal band from Bayonne, France. They started out in 1996 as GODZILLA and released their debut album 'Terra Incognita' in 2001. The band is known for their uncompromised brutal sound and environmentally-themed lyrics. GOJIRA released five studio albums and three live DVDs. The band is composed of vocalist and rhythm guitarist Joe Duplantier, his brother Mario Duplantier on drums, lead guitarist Christian Andreu, and Jean-Michel Labadie on bass.
www.gojira-music.com
/
www.facebook.com/GojiraMusic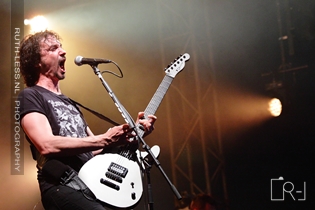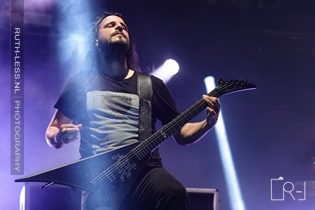 Music & Performance

Over the last couple of years, GOJIRA has evolved from obscurity to building a name as an innovative technical metal band with a unique sound. I have seen them several times and can only conclude that GOJIRA basically has two settings: on and off. And right here at FortaRock (their third time) it is definitely on as they kick off with 'Toxic Garbage Island' from their 2008 album 'The way of all flesh' followed by 'the heaviest matter of the universe' (as mentioned in their bio, they hardly take up any light subjects). We also get a taste from their upcoming album 'Magma' to be released in June with singles 'Silvera' and 'Stranded'. GOJIRA managed to keep their raw mechanical sound but it did become more balanced and dynamic over the years. Right from the start, GOJIRA grabs the audience by their throat and doesn't let go until they're done.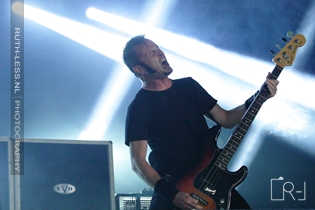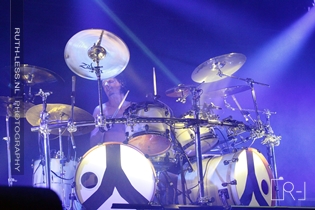 The alternating wicked drums, heavy guitars and angry lyrics spit out by Joe Duplantier are nicely framed by an actual proper light show (I remember earlier performances as somewhat of a photographers nightmare)… A performance that will be hard to top by the other bands today!
Setlist

01. Toxic Garbage Island
02. L'Enfant Sauvage
03. The Heaviest Matter of the Universe
04. Silvera
05. Stranded
06. Flying Whales
07. Wisdom Comes
08. The Art of dying
09. Explosia
10. Vacuity (Preceded by drum solo)
Rating

Music: 9
Performance: 8
Sound: 8
Light: 9
Total: 8.5 / 10
Legion of the damned

LEGION OF THE DAMNED is a Thrash Metal/ Death Metal band from the Netherlands. The band was formed in 2005 following the demise of OCCULT (active since 1992) and the departure of former singer Rachel Heyzer. Lyrically the band tend to focus on horror motifs, dark occult, religious themes and apocalyptic events. LEGION OF THE DAMNED is Maurice Swinkels (vocals), Twan van Geel (guitars), Harold Gielen (bass) and Erik Fleuren (drums). The lineup is complemented by Hein Willekens on guitar on stage.
www.facebook.com/LOTDOfficial
/
www.legionofthedamned.net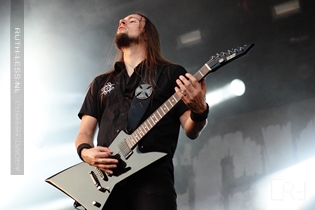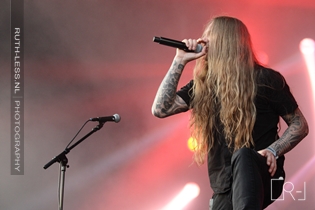 Music & Performance

LEGION OF THE DAMNED announces to play their full debut album 'Malevolent Rapture' at FortaRock festival to celebrate its 10th anniversary. This might disappoint some fans, but was soon forgotten as the band took off with some heavy trash metal riffs with self-titled song 'Legion of the Damned'. Their genre isn't new and we get what's on the label: a classic Trash/ Black Metal sound. LOTD proves to have gathered some skills and tons of experience over the years and their performance is flawless and brutal. Horns are up, heads banging, festival life is good!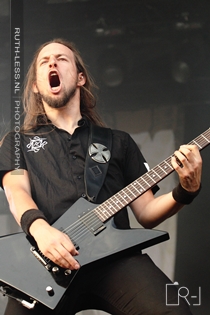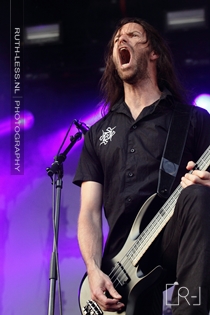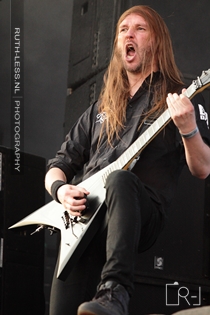 Setlist

01. Legion of the Damned
02. Death's Head March
03. Werewolf Corpse
04. Into the Eye of the Storm
05. Malevolent Rapture
06. Demonfist
07. Taste of the Whip
08. Bleed for Me
09. Scourging the Crowned King
10. Killing for Recreation
Rating

Music: 7
Performance: 7
Sound: 7
Light: 7
Total: 7 / 10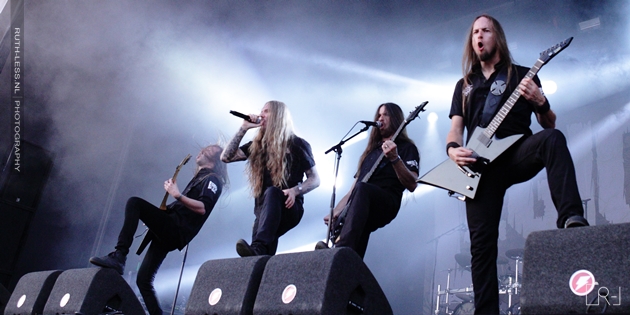 Within Temptation

WITHIN TEMPTATION is a Dutch symphonic metal band formed in 1996 in Waddinxveen, the Netherlands. They can be named as one of the pioneers of female fronted Gothic Metal, although their gothic sound alternates over the years and with each album. Despite being labelled by the media as a gothic metal band, WITHIN TEMPTATION consider themselves a Symphonic Rock/ Metal band. The band released six studio albums and has toured all over the world in band settings as well as with a full orchestra and collaborated with artists such as Tarja Turunen (ex-NIGHTWISH) and Howard Jones (ex-KILLSWITCH ENGAGE) and somewhat less obvious XZIBIT. WITHIN TEMPTATION is Sharon den Adel (vocals), Robert Westerholt (guitars), Jeroen van Veen (bass), Martijn Spierenburg (keyboards), Ruud Adrianus Jolie (guitars), Mike Coolen (drums) and Stefan Helleblad (guitars).
www.within-temptation.com
/
www.facebook.com/wtofficial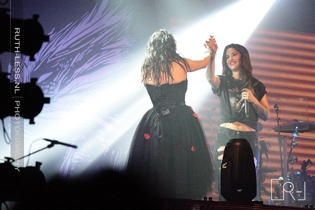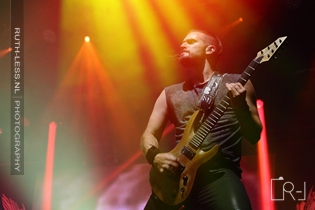 Music & Performance

With a discography and performance record like theirs, WITHIN TEMPTATION doesn't need any justification for their position as a headliner today. The stage is build up with large screens and lighting panels and the pyros are ready to fire. After an ominous intro, the bombastic keys and choirs introduce the tunes of 'Our solemn Hour' from the album 'The Heart of Everything' (2008). Sharon easily enchants the audience with her looks and beautiful voice. The visuals and special effects further enhance the spectacle one can expect from a band like WT. I'm sure the pyros were warmly welcomed on a hot summer day like this.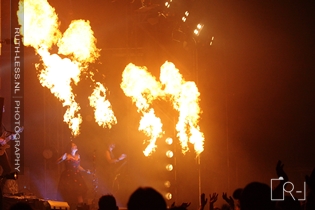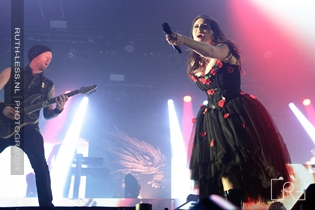 Heavy guitars and clear vocals follow up on each other on a set list that consists of popular songs from their discography such as 'Faster', 'Paradise' and of course 'Mother Earth'. We even get a little guest performance as Caroline from THE CHARM THE FURY joins Sharon on stage to perform the grunts on 'Silver Moonlight'. WITHIN TEMPTATION concludes the show with encore 'What Have you Done' and the first day of FortaRock festival is a wrap; time to sleep, detox and give those neck muscles some rest.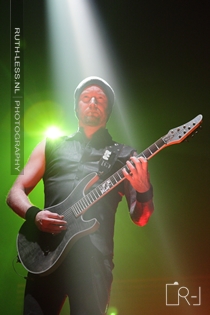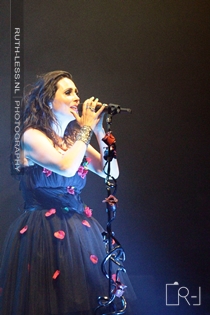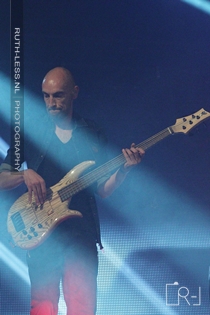 Setlist

01. Our Solemn Hour
02. Faster
03. In the Middle of the Night
04. Fire and Ice
05. Paradise (What About Us?)
06. Stand My Ground
07. Silver Moonlight (With Caroline from The Charm The Fury)
08. The Heart of Everything
09. The Howling
10. Caged
11. Covered By Roses
12. Mother Earth
---
13. What Have You Done
Rating

Music: 8
Performance: 8
Sound: 8
Light: 8
Total: 8 / 10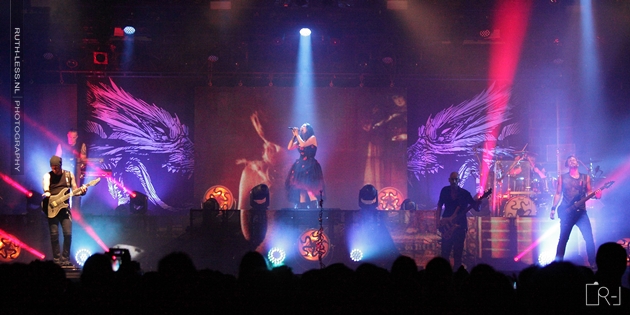 All pictures by Ruth Mampuys (
www.ruth-less.nl
)
See also (all categories):