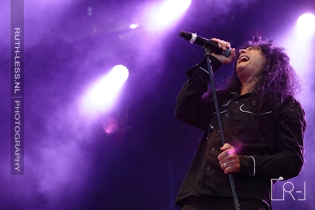 Ijsbaanhallen, Eindhoven, The Netherlands
16th July 2016
Dynamo Metal Fest 2016 with Anthrax, At The Gates, Metal Church, Sacred Reich, Powerwolf, Obituary, Textures, Audrey Horne, Extremities

The success of the first re-edition of Dynamo Metal Fest (DMF) in 2015 was overwhelming. This semi open air festival provides several flavours of metal: some new, some old, some trash, death and Hardcore metal. This year's line-up: ANTHRAX, AT THE GATES, METAL CHURCH, SACRED REICH, POWERWOLF, OBITUARY, TEXTURES, AUDREY HORNE and EXTREMITIES. Unfortunately LIFE OF AGONY had to cancel due to an accident of their drummer, but a worthy replacement was found with OBITUARY.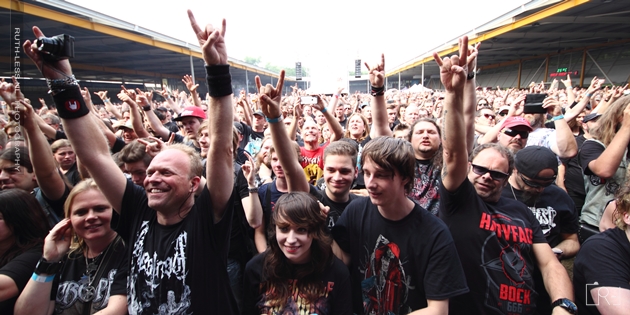 Extremities

EXTREMITIES is a progressive/ groove metal band that started out in 2015 in Eindhoven, the Netherlands. In 2016 they played Noorderslag and they won both the Metal Battle and the DMF band battle. Their debut single 'The Human Conundrum' was recorded at Sandlane Recording Facilities and produced by Joost van der Broek (After Forever, The Gentle Storm). Their debut EP 'Rakshasa' is released on July 16th. EXTREMITIES is Thimo Franssen (vocals), David Luiten (guitar), Koen Stokman (guitar), Pim Goverde (drums) and Bart Merkus (bass).
http://extremitiesband.com
/
www.facebook.com/ExtremitiesBand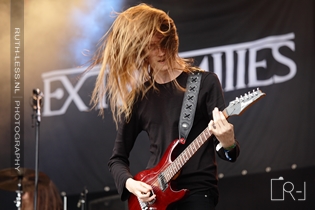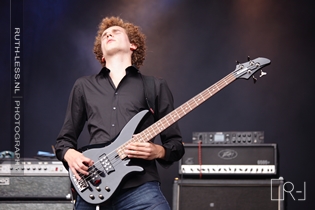 Music & Performance

With an enthusiasm that fits the winner of a band battle, the men of EXTREMITIES take the stage to kick off the festival. With metal heads slowly filling the venue and getting their first beers, the festival atmosphere hasn't fully arrived yet. But that doesn't keep EXTREMITIES from pouring all their energy into this gig. Their music is influenced by bands such as TEXTURES, GOJIRA and MONUMENTS and combines heavy riffs and screams with melodic clean parts into an overall dynamic sound. A proper opening act for DMF with a band at the beginning of developing their own musical identity. Keep an eye on them!
Setlist (incomplete)

The human conundrum
Neurosis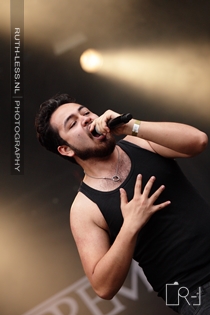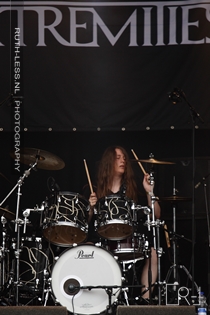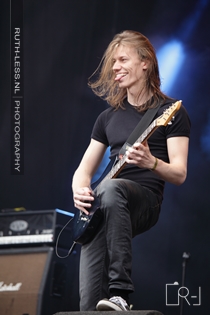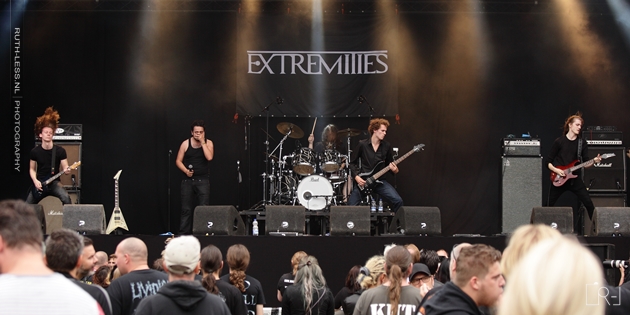 Audrey Horne

AUDREY HORNE is a hard rock/ post-grunge band from Norway founded in 2002. The name is after Sherilyn Fenn's character in the cult TV series Twin Peaks. Although some of the band's members play or have previously played in black metal bands like ENSLAVED and GORGOROTH, AUDREY HORNE's music has nothing to do with black metal and has more resemblance to hard rock such as FAITH NO MORE and ALICE IN CHAINS. The band's debut album 'No Hay Banda' was released in April 2005 and got nominated for two Norwegian Grammy awards, winning one for "Best Norwegian Metal Act". Their latest album 'Pure Heavy' was released in 2014. AUDREY HORNE is Toschie (vocals), Ice Dale (guitar), Thomas Tofthagen (guitar), Kjetil Greve (drums) and Espen Lien (bass).
www.audreyhornemusic.com
/
www.facebook.com/AudreyHorneOfficial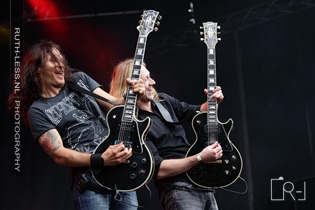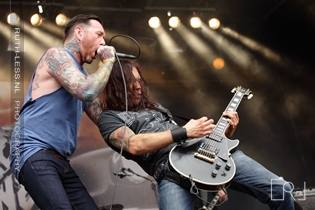 Music & Performance

Today's second act means skipping right into a completely different genre with some classic hard rock from Norway. Easy on the ear AUDREY HORNE takes us through a summery set list with some sing-alongs and cheerful guitar riffs. The first part of their set is focused entirely on their successful 2013 album 'Youngblood' with amongst others 'Redemption blues' and 'There goes a lady'. Then we get a little taste of the last album with 'Volcano Girl' and 'Out of the City'. Although they may be the 'softest' band today at DMF, it's hard not to like their 70s flavoured hard rock! With a little and much appreciated detour through the crowd, AUDREY HORNE concludes their show with 'Waiting for the night'.
Setlist

01. Redemption Blues
02. Straight Into Your Grave
03. Youngblood
04. There Goes A Lady
05. Volcano Girl
06. Out Of The City
07. Pretty Little Sunshine
08. Waiting For The Night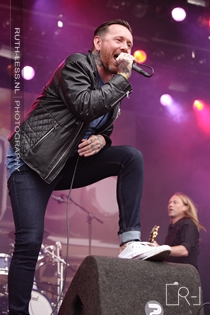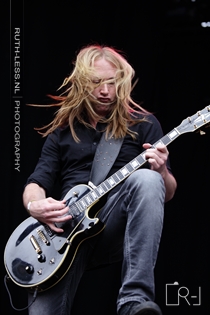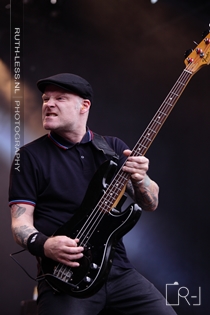 Textures

TEXTURES is a progressive metal band from the Netherlands, formed in 2001. The bands' style is influenced by progressive metal, metal core, technical death metal and groove metal. TEXTURES first came to the spotlight with their fully self-produced debut album 'Polars' which won an award for "Most Promising Act" back in 2004. TEXTURES released two more albums with Listenable Records, 'Drawing Circles' in 2006 and 'Silhouettes' in 2008. Over the years, TEXTURES has known some line-up changes, of which especially the vocal changes made their albums sound slightly different but with the same brutal guitar and drum sound. When after six years, singer/ front man Eric Kalsbeek left the band in 2009, he was replaced by Daniël de Jongh. In 2016 the album 'Phenotype' came out which is a double album with 'Genotype' to be released the year after. TEXTURES is Daniel de Jongh (vocals), Joe Tal (guitars), Bart Hennephof (guitars), Stef Broks (drums), Remko Tielemans (bass) and Uri Dijk (synths).
http://www.texturesband.com
/
http://www.facebook.com/textures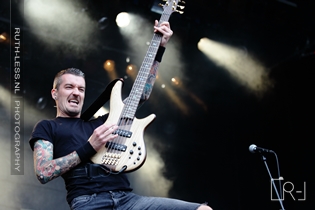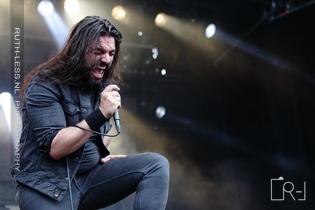 Music & Performance

With their latest release 'Phenotype', TEXTURES has proven to be on top of their game. Besides that, the band manages to retain their loud, groovy and dynamic sound in a live setting as well. Daniel and his men start off with 'Drive' and 'Regenesis' from the album 'Drawing Circles'. A nice warm-up that confirm Daniel's strong vocals once again. Quickly after, we move fast forward to the latest release with 'New Horizons' and 'Shaping a Single Grain of Sand'. The enthusiasm of the band members is contagious and it doesn't take long for the crowd to get a move on in the front. Apart from some little hiccups with the sound, TEXTURES easily puts down another loud and brutal live set!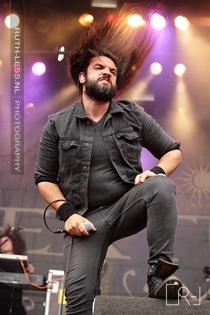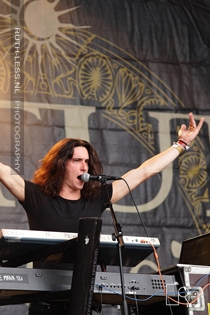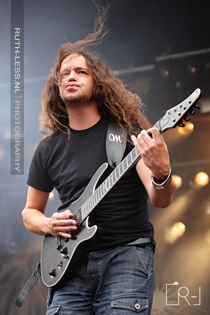 Setlist

01. Drive
02. Regenesis
03. New Horizons
04. Shaping a Single Grain of Sand
05. Illuminate the Trail
06. Awake
07. Singularity
08. Laments of an Icarus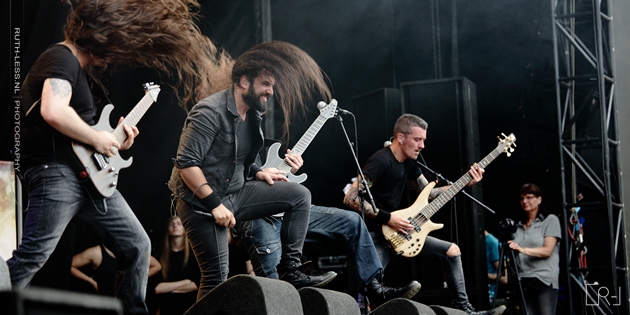 Obituary

OBITUARY is an American death metal band formed in October 1984 in Tampa, Florida, under the name EXECUTIONER, then changed the name's spelling to XECUTIONER before eventually changing their name to OBITUARY in 1988. OBITUARY has gone through several line-up changes, with Peres and the Tardy brothers being the only constant members. Their debut album 'Slowly we rot' was released in 1989 and their latest addition 'Inked in Blood' dates from 2014. The band was a fundamental act in the development of death metal music, and is one of the most successful death metal bands of all time. OBITUARY is John Tardy (vocals), Kenny Andrews (guitar), Terry Butler (bass), Trevor Peres (guitar) and Donald Tardy (drums).
www.obituary.cc
/
www.facebook.com/ObituaryBand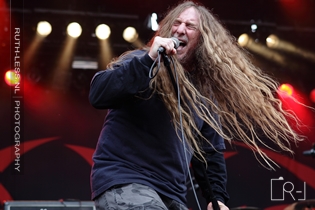 Music & Performance

Brace yourselves, because leisure time is over when the Tardy brothers take the stage. It hardly gets any louder than this today and the pit crew rolls up their sleeves to catch the crowd surfers coming through. John, Donald, Kenny, Trevor (with some fresh stitches up his eyebrow) and Terry are facing the crowd with a big grin on their face that lasts the entire set; what a pleasure to see a band still enjoying live shows after so many years! Drummer Donald gets at the drums like there's no tomorrow while Kenny makes his guitar scream at the audience. John's grunts and screams are viciously unparalleled as he takes us through the setlist with oldies such as 'Intoxicated' and 'Bloodsoaked' and some new material with 'Visions in my Head'. The men of OBITUARY clearly have not slowed things down over the years! OBITUARY wraps it all up with the title song of their debut album 'Slowly we Rot' creating total chaos in the mosh pit. The smell of dust, beer and sweat finally comes through and DMF is on!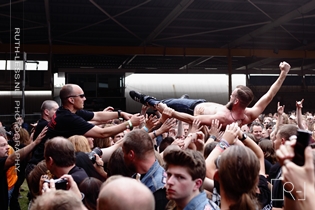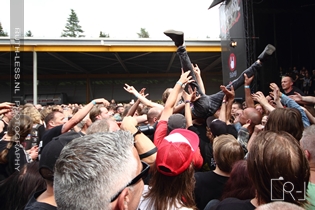 Setlist

01. Redneck Stomp
02. Centuries of Lies
03. Visions in My Head
04. Intoxicated
05. Bloodsoaked
06. Dying
07. Find the Arise
08. 'Til Death
09. Don't Care
10. Chopped in Half
11. Turned Inside Out
12. Slowly We Rot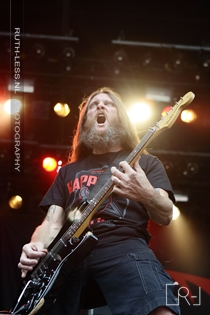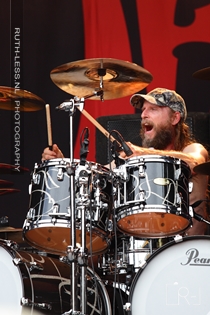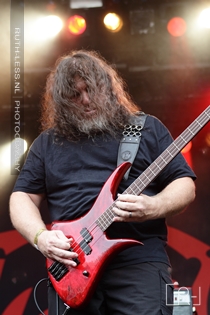 Sacred Reich

Trash metal band SACRED REICH was formed in 1985 in Phoenix, Arizona. Their debut album 'Ignorance', characterized by singer Phil's socially-conscious/political involvement, was released in 1987. They gained popularity very fast, especially in the underground metal scene. After several records on Metal Blade Records, SACRED REICH signed to Hollywood Records for a short while, but later returned to Metal Blade to continue their musical career. Over the years, SACRED REICH's style changed into crossover thrash metal, meeting with other famous bands from this period like SUICIDAL TENDENCIES. SACRED REICH's album 'The American Way' (1990) is considered as one of THE classic 90s metal albums. The band split in 2000, after 14 years and 5 studio albums. In 2007, the band reunited to play several shows in Europe, including Wacken Open Air. SACRED REICH is Greg Hall (drums), Phil Rind (vocals, bass), Jason Rainey (guitar) and Wiley Arnett (guitar).
http://www.sacred-reich.com/
/
https://www.facebook.com/Sacred-Reich-24848950195/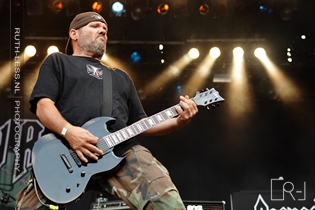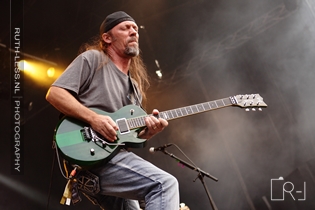 Music & Performance

SACRED REICH certainly knows their way in the Netherlands and are a welcome guest at the festivals and venues. The trash metal legends celebrate over 30 years of existence and their history with Dynamo also goes back to the early editions (1989). In between classics such as 'The American Way' and 'The Nation' Phil talks us through some of the bands history and beyond. DMF gets a proper dose of old skool trash metal!
Setlist

01. The American Way
02. Administrative Decisions
03. Free
04. Death Squad
05. One Nation
06. Love... Hate
07. War Pigs (Black Sabbath cover)
08. Who's to Blame
09. Independent
10. Surf Nicaragua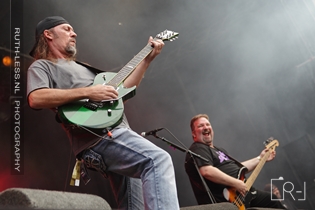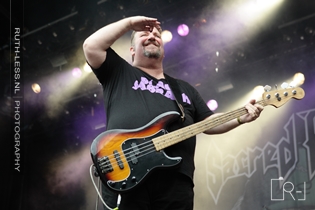 Powerwolf

POWERWOLF is a German power metal band founded in 2003 by Charles and Matthew Greywolf. The group is notable for having dark themes and images, both musically and lyrically, both counteractions to traditional power metal music and including usage of corpse paint, gothic-tinged compositions and songs about Romanian werewolf and vampire legends and dark religious tales. Their debut album 'Return in bloodred' was released in 2005, their latest album 'Blessed & possessed dates from 2015. POWERWOLF is Attila Dorn (vocals), Matthew Greywolf (guitar), Charles Greywolf (guitar), Falk Maria Schlegel (keys) and Roel van Helden (drums).
www.powerwolf.net
/
www.facebook.com/powerwolfmetal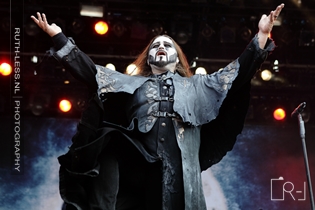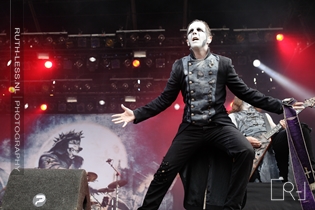 Music & Performance

If there was a prize for best-dressed performance today, POWERWOLF would simply crush the other bands in the line-up. And then we can easily add the prize for best drama and expression. With suitable grandeur the Greywolfs, Dorn, Schlegel and van Helden take the stage with the title song of their last album 'Blessed & Posessed'. Attila's powerful vocals are roaring across the field as POWERWOLF continues with songs 'Amen & Attack' and 'Army of the night'. Face painted fans have gathered in front of the stage to scream along with the catchy tunes of this 'dark metal party band'. And even for the non-fans and no-nonsense metal heads it seems hardly possible to stand still when POWERWOLF gets going. Our metal neighbours put up a very convincing show; sure, you can drink our blood!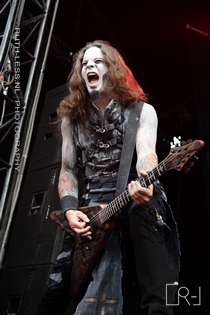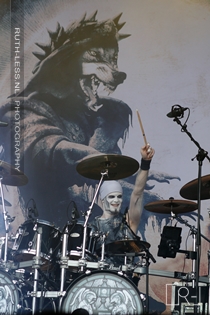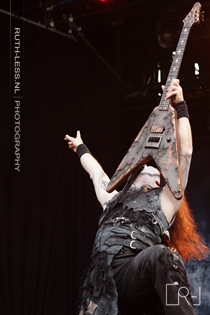 Setlist

01. Lupus Daemonis (intro)
02. Blessed & Possessed
03. Coleus Sanctus
04. Amen & Attack
05. Army of the Night
06. Resurrection by Erection
07. Armata Strigoi
08. Let There Be Night
09. Werewolves of Armenia
10. Sanctified With Dynamite
11. We Drink Your Blood
12. Wolves Against (outro)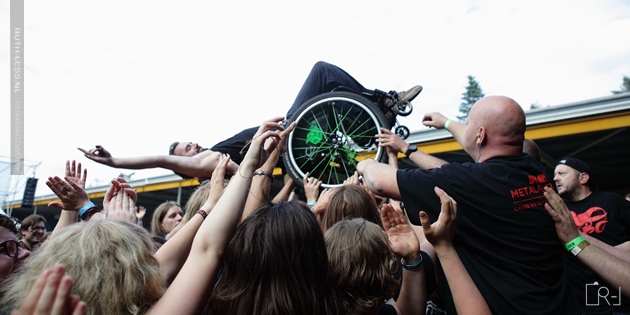 Metal Church

METAL CHURCH is an American heavy metal band founded in 1980 in San Francisco, California. Their eponymous debut album was released in 1984, and their latest, 'XI', was released in 2016. After releasing five full-length albums and touring extensively throughout the 1980s and early 1990s, Metal Church disbanded in 1994. They reformed four years later with their classic line-up but endured numerous line-up changes thereafter, releasing three further studio albums while fronted by Ronny Munroe before again disbanding in July 2009. The group once again reunited in October 2012 and released their tenth studio album 'Generation Nothing' a year later. Following Munroe's departure in the fall of 2014, Howe re-joined METAL CHURCH in April 2015 at Vanderhoof's request, and recorded their eleventh studio album 'XI'. METAL CHURCH is Mike Howe (vocals), Kurdt Vanderhoof (guitar), Rick Van Zandt (guitar), Jeff Plate (drums) and Steve Unger (bass).
www.MetalChurchOfficial.com
/
www.facebook.com/OfficialMetalChurch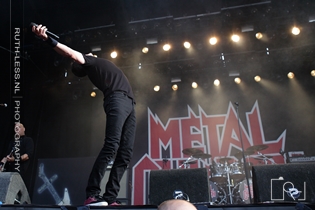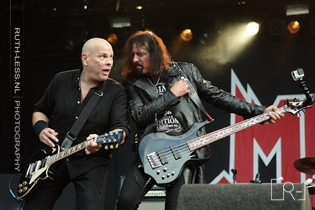 Music & Performance

The heavy metal legends of METAL CHURCH have been on many of the audience wish list and it gets pretty crowded in front of the stage. They take off with 'Fake healer' from their 1989 album 'Blessing in Disguise', Howe's screeching vocals unparalleled… and the bands enthusiasm radiating. METAL CHURCH also performed at Dynamo festival in 1991. With a discography of 11 full length albums, it's no surprise we get only one song from the latest release 'Killing your time'. Their debut album is paid some attention as well with 'Start the fire'. Despite a full hour of playing time, METAL CHURCH tirelessly keeps those heavy metal notes coming, concluding their show with the title track from their 1991 album 'The Human Factor'.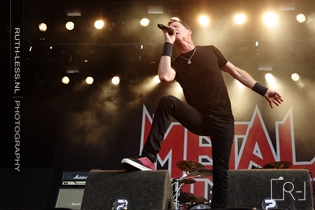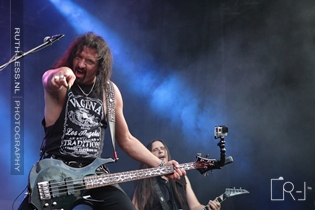 Setlist

01. Fake Healer
02. In Mourning
03. Start the Fire
04. Gods of Second Chance
05. Date with Poverty
06. No Tomorrow
07. Watch the Children Pray
08. Killing Your Time
09. Beyond the Black
10. Badlands
11. The Human Factor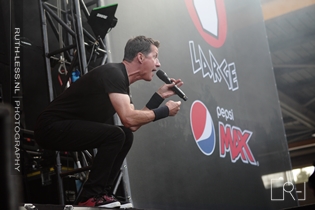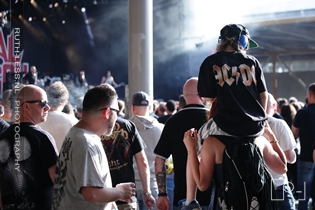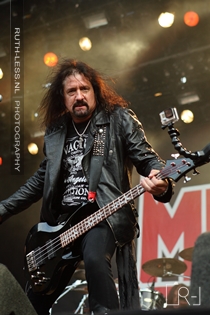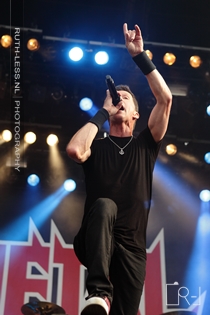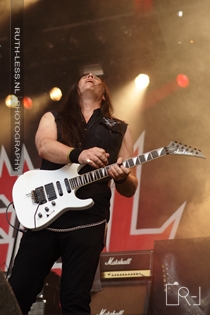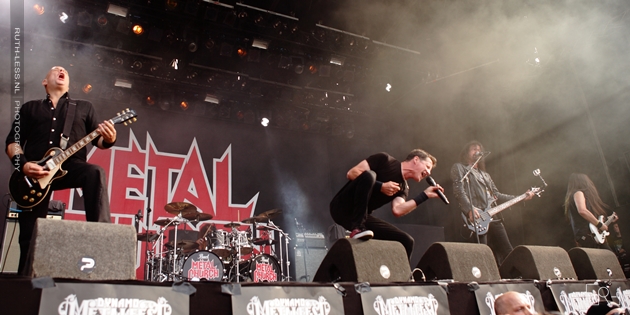 At The Gates

AT THE GATES is a Swedish melodic death metal band from Gothenburg, Sweden and a major progenitor of the Gothenburg sound. Initially active from 1990 to 1996, the band reformed in 2007 for a reunion tour before breaking up once again in 2008. However, they reformed for a second time in December 2010, and have since continued to perform live. Their debut album 'The red in the sky is ours' was released in 1992, their latest release 'At war with reality' dates from 2014. AT THE GATES is Tomas Lindberg (vocals), Anders Björler (guitars), Adrian Erlandsson (drums), Jonas Björler (bass) and Martin Larsson (guitars).
http://atthegates.se
/
www.facebook.com/AtTheGatesOfficial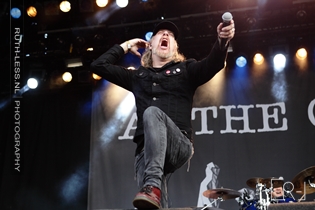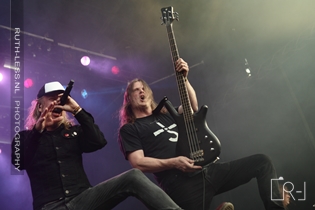 Music & Performance

AT THE GATES has known a capricious history, but they seem to have reclaimed their position as one of the founders of melodic death metal with the latest release 'At War With Reality'. With renewed energy, the band's set list mainly focusses on their new album, but we also get a little blast from the past with a selection of songs from their 1995 album 'Slaughter of the Soul'. AT THE GATES brings a proper dose of loud, fast and vicious melodic death metal and the audience responds accordingly with an outrageous mosh pit and intense crowd surfing.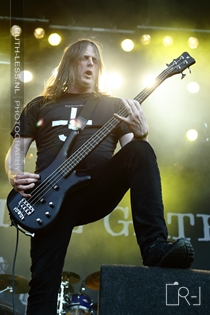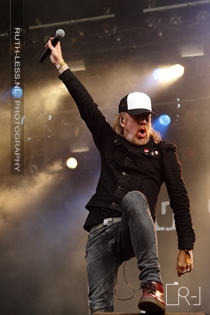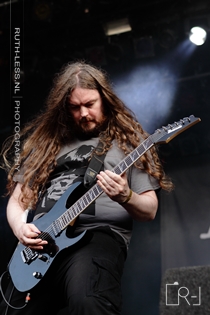 Setlist

01. El Altar del Dios Desconocido (intro)
02. Death and the Labyrinth
03. Slaughter of the Soul
04. Cold
05. At War With Reality
06. The Swarm
07. The Circular Ruins
08. Under a Serpent Sun
09. Suicide Nation
10. Heroes and Tombs
11. Nausea
12. Eater of Gods
13. The Book of Sand (The Abomination)
14. Blinded by Fear
15. The Night Eternal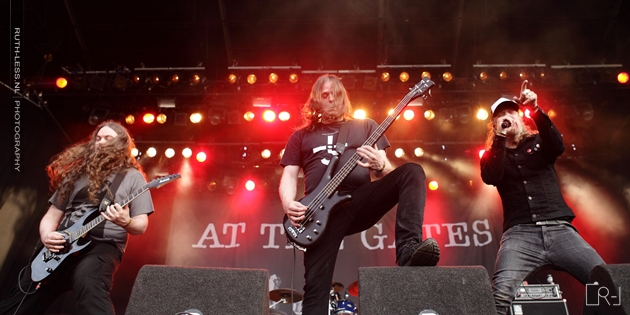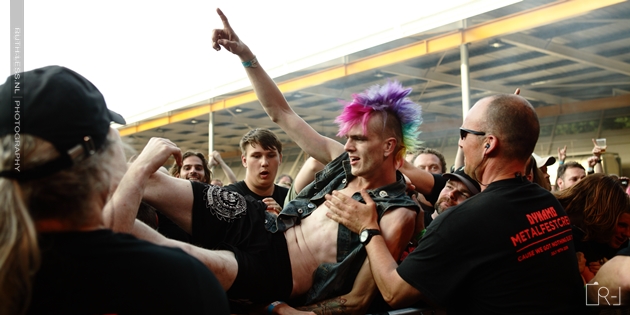 Anthrax

ANTHRAX is an American thrash metal band from New York City, formed in 1981 by guitarist Scott Ian and bassist Dan Lilker. As part of the 'Big Four' (the others being METALLICA, MEGADETH and SLAYER) the group is considered one of the leaders of the thrash metal scene during the 1980s. As of 2016, the band has released eleven studio albums, a number of singles and a single with American hip hop group PUBLIC ENEMY. ANTHRAX's line-up has changed several times over their career. The band has had a number of vocalists including Neil Turbin, Joey Belladonna, Dan Nelson and John Bush. Founding member Scott Ian and early arrival Charlie Benante, who joined Anthrax in 1983, are the only band members to appear on every album. Bassist Frank Bello has played on every album except the band's first. In 2010, Joey Belladonna returned to Anthrax and has since recorded two more studio albums, 'Worship Music', released in 2011, and 'For All Kings' released in 2016. ANTHRAX is Joey Belladonna (vocals), Frank Bello (bass), Charlie Benante (drums), Scott Ian (guitars), Jon Donais (guitar).
www.Anthrax.com
/
www.facebook.com/anthrax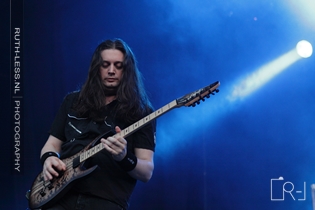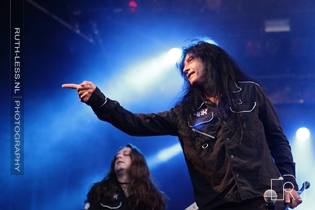 Music & Performance

ANTHRAX doesn't need any introduction as one of the big four of trash metal and they rightfully claim their position as headliner of today's DMF. Slightly exhausted from loudness, mosh pits and re-energized by beer the audience braces themselves for the grand finale. Although not really 'my cup of tea' it must be said that ANTHRAX deserves a proper dose of respect for still performing with such eagerness. Dynamo Metal fest gets a full dose of the new album, but the classics such as 'caught in a mosh' are certainly not forgotten.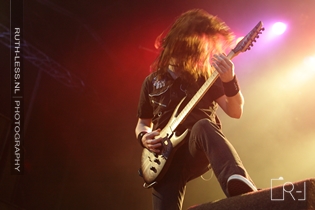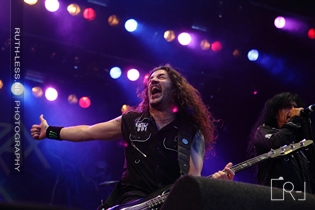 Setlist

01. Impaled (intro)
02. You Gotta Believe
03. Monster at the End
04. Caught in a Mosh
05. Madhouse
06. Got the Time (Joe Jackson cover)
07. Fight 'Em 'Til You Can't
08. Evil Twin
09. Medusa
10. March of the S.O.D. (Stormtroopers of Death cover)
11. In the End
12. Antisocial (Trust cover)
---
13. Breathing Lightning
14. Indians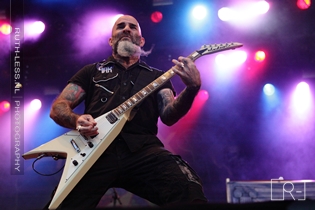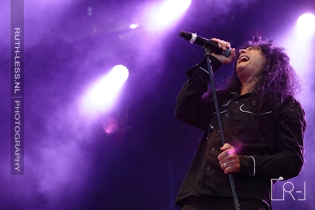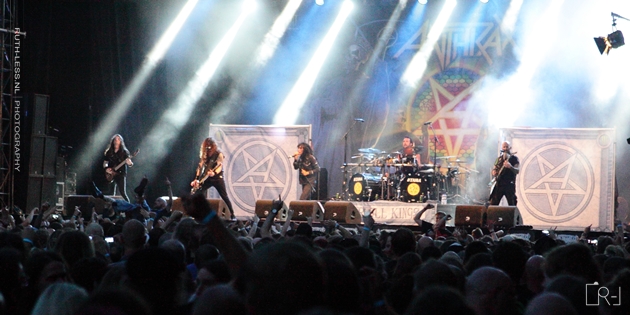 Conclusion

Dynamo metal fest can look back at a successful sequel of the festival with another sold out edition, a broad range of great bands and several practical improvements (such as the toilet facilities and coin service). Traditionally, the first band of 2017 has already been announced to be no one less than trash metal legends TESTAMENT and very early bird tickets are on sale!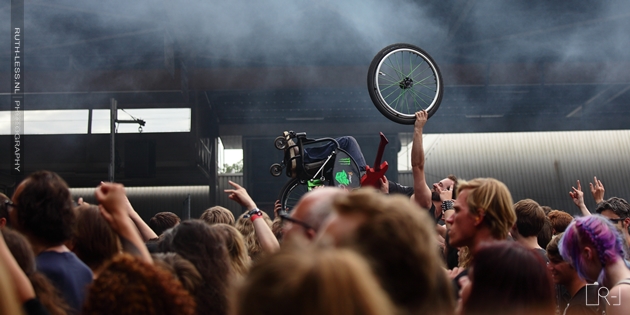 All pictures by Ruth Mampuys (
www.ruth-less.nl
)