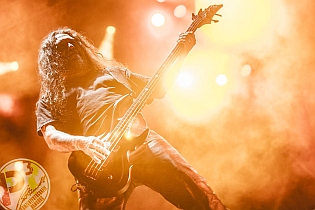 Stadtdeich, Hamburg, Germany
19th to 20th August 2016
Elbriot Festival Day 2 with Nasty, Fear Factory, At The Gates, Paradise Lost, Asking Alexandria, Carcass, Mastodon and Slayer

Welcome to the Riot... AGAIN! First time in its four years history including a second day. Jazz Styx told you already about the Friday, so what's coming up? This Saturday Line-up is packed perfectly and it seems almost like a dedication to some true old school metal stuff. NASTY, FEAR FACTORY, AT THE GATES, PARADISE LOST, ASKING ALEXANDRIA, CARCASS, MASTODON and of course: SLAYER.
A little rain at noon, how surprising in Hamburg. All the metal heads pilgrimage to the Großmarkt near the Elbe. There is something missing, someone. After THE front man of all times passed away last December and included the sad cancellation of MOTÖRHEAD in this year's line-up, it looks like a little Lemmy-Tribute-Day, when you look at all the T-Shirts around. Nice to see.
Nasty

But let's start with Hardcore band NASTY. After some sound problems in the beginning, they get into a heavy, hard head-banging, breakdown-picked set. Anti-racism-, anti-social-media-big-mouths- and social injustice-statements underline the attitude. They do their best to get to the audience; it's early and you are in Hamburg - nice, reserved fish-heads which need a little time to warm up. But NASTY stay on their course, and yeah, there is a bunch of moshers, and some will definitely check them out after the festival. NASTY are thankful and appeal to most as a good and really heavy opener. (Sympathy-Note: the shouter names the great 80's fantasy movie 'Legend' with Tom Cruise as a thoughtful moment while watching it last time, asking himself (in a fucked up world): "Where has the innocence gone?") //
https://www.facebook.com/getnasty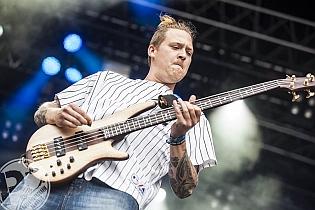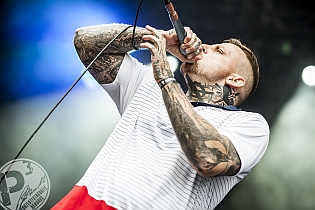 Fear Factory

Now the sun comes out and it's getting really warm. FEAR FACTORY is up now! After last year's "Demanufacture-Anniversary Tour" on several continents, they're into it: 'Demanufacture' and 'Self Bias Resistor' opens. Alright! Sound is blasting but singer Burton is not pleased, he complains a little pissed: "What the fuck is wrong with you, Hamburg! Standing there like fucking Zombies at a Metal Festival. You need more beer!" A kind of connection is missing. They really have to hustle to get some moshers together, they do but this is a hard piece of work. 'Obsolete' and 'Genexus' are being hinted with two songs from each album. Guitarist Dino is smiling and singing by himself like always, enjoying some pictures in the crowd. Infamous for sometimes being out of tune at FEAR FACTORY live shows are the clean sung vocal parts, so here, but never mind, they kick ass, altogether a good performance and final 'Replica' sounds heavier than ever. The people love to go with it and sing it, so hopefully everything's forgiven. Burton C. Bell: "Yeah, that's the spirit!" Happy End. //
http://www.fearfactory.com
/
https://www.facebook.com/fearfactory
// Setlist: 01. Demanufacture / 02. Self Bias Resistor / 03. What Will Become / 04. Shock / 05. Edgecrusher / 06. Soulhacker / 07. Generate / 08. Replica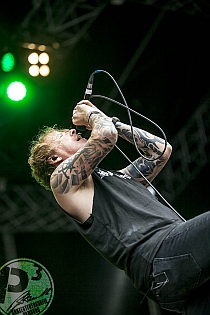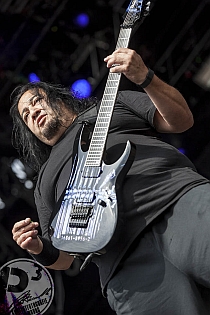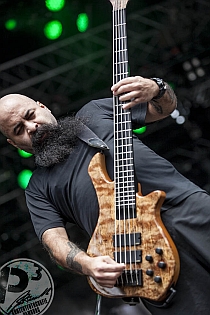 At the Gates

A lot of people standing in the midday sun, waiting for these Swedish "veterans", who start right on into a very energetic show. Singer Tomas Lindberg speeds the stage, animates the people to meet AT THE GATES - death-metal-go-for-it-confrontation at any cost! Pure head banging material, sound is just fat! Hamburg and all the travelled ones are grateful for having the band. A little bit of epic on a hot Saturday afternoon, some witnessing their teenage heroes (and Tombs) here. Applause, Applause! Applause, Applause! A real friendly come together between band and audience. (Note: not the whole set of ATG was witnessed by the author, sry.) //
http://atthegates.se
/
https://www.facebook.com/AtTheGatesOfficial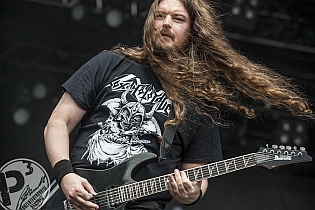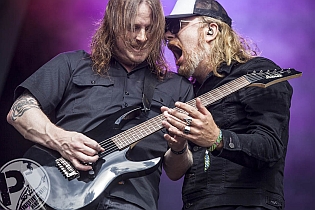 Paradise Lost

The dark English gentlemen enter the stage and even before the first tone is played, it's clear that this is gonna be something great. There's that spark that maybe FEAR FACTORY was missing. PARADISE LOST starts with 'No Hope In Sight' from 'The Plague Within'. Almost the whole Elbriot salutes the band immediately, hands up. Ey! Ey! Ey! 'Pity The Sadness' and 'Hallowed Land' are following, the rest is an obvious victory. The mood on stage is just perfect. Nick Holmes, the sovereign front man with his typically English sense of humour ("We play gothic metal! Or Dark Metal! Oh, by the way: the toilets are this way.") interact with the people, guitarist Aaron Aedy can't stop smiling while he watches some happy faces front of stage - everyone here is enjoying the whole thing. It's such a pleasure to watch the band playing an absolutely great, heavy (but too short) set of brilliant classics and new stuff. Musical heroes (again). PARADISE LOST's afternoon is saved. //
http://www.paradiselost.co.uk
/
https://www.facebook.com/paradiselostofficial
// Setlist: 01. No Hope In Sight / 02. Pity The Sadness / 03. Hallowed Land / 04. Flesh From Bone / 05. Eternal / 06. The Enemy / 07. Beneath Broken Earth / 08. Last Time / 09. Embers Fire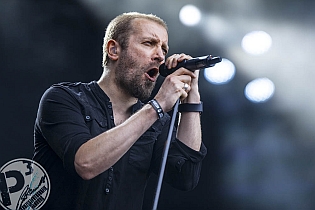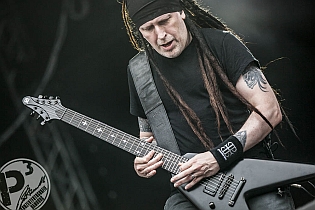 Asking Alexandria

From old school to something younger, maybe a surprising name on the bill, compared to the rest of the bands today. Opinions differ on ASKING ALEXANDRIA, but these mid-twenties in skinny jeans and tank tops take the stage - full show straightaway, finally the Elbriot awakes. So far the highest stage effort respectively reactions from the crowd. Mosh- and circle pits and Walls of Death of every age. Extreme Core parts, breakdowns, high and deep growls, clean sung melodic stuff - all performed pretty well, and pretty heavy! There is some musical support from tape in form of choirs, background vocals, keys and even a second guitar. Then the explanation: Guitarist Ben Bruce is prevented and replaced by a pleasant "quiet" guy playing half of the set off stage, now joining them on stage. It's the real first riot of the day. The audience is summoned to sit down – "Get the fuck up!" - and it gets the fuck up. The people are having fun and the youngsters of ASKING ALEXANDRIA putting on a good show, some light effects and fog fountains. As said, tastes differ, very modern emo-like-core-stuff, but hey, live and let live, it's some kind of metal - definitely todays biggest surprise to most. //
http://www.askingalexandria.com
/
https://www.facebook.com/askingalexandria
// Setlist: 01. I Won't Give In / 02. Run Free / 03. The Death Of Me / 04. Let It Sleep / 05. Closure / 06. Breathless / 07. To The Stage / 08. Here I Am / 09. The Black / 10. Not The American Average / 11. A Prophecy / Encore: 12. The Final Episode (Let's Change The Channel)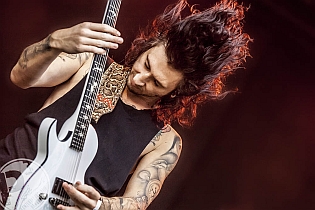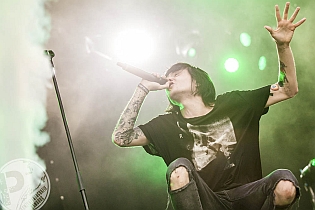 The 10.000+ visitors are enjoying themselves at the beer wagons, eat one metre of grilled meat, drinking Jägermeister, Jacky and stuff. There are mothers and daughters, fathers and sons, friends, old Metal couples, single ones - every age cross section. The Elbriot is a "quiet", nice and really familiar festival, well organized too, nothing bad about the toilet situation or anything else. Sun, sun, sun.
Carcass

Back to the Program: CARCASS served cold - even in the... yeah... sun! A giant backdrop of surgical steel points the direction: everything is prepared to kill! With absolutely sharp sound comes the rhythm-piece 'Unfit for Human Consumption' and hundreds of heads clank heavily into the neck. A lot of shirts around, which celebrate the chance by seeing old mates CARCASS again. The band is in great condition and mood. Once again Elbriot delivers great old school shit! Singer and bass player Jett Walker conducts the crowd, they go right in and shouting hails. Guitarist Bill Steers outfit looks like he's coming from the late sixties, celebrating a hippie revival, but hell no, here comes: 'Keep On Rotting in the Free World', 'Exhume to Consume' and of course the beloved 'Heartwork'. Party time! The band rules and will have a good night sleep. CARCASS: "Wir sind Carcass!" - Elbriot: "Dankeschön!" //
http://bit.ly/carcass-ss-nb
/
https://www.facebook.com/OfficialCarcass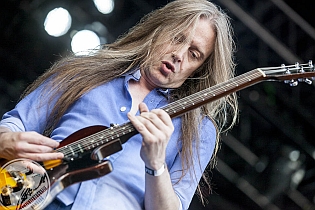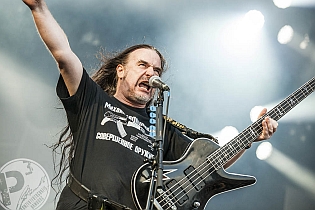 Mastodon

Tight, always on time and pushing with proggy and edgy material. The "Rush" of metal, or so. MASTODON opens with 'Tread Lightly' from their last album 'OMRTS'. Good festival opener with bombastic sound in the back. Here is everything in its right place. A cool summer's eve breeze rush over the heads, a cold beer in hands, and yes, first time today where it pays to have a lightshow - powerful green orange atmosphere. 'Chimes at Midnight' and 'High Road' on the way. Guitarist Brent Hinds with a fringed white 70's retro shirt celebrating the power of his instrument, so all members do. No secret, these guys are damn good musicians with an interplay over the top, but sometimes maybe all too complex, too perfect and self-contained. Perhaps that's the reason why this hard-to-swallow-psychedelic-trip is ingenious for some, while it's meaningless to others. Neither fish nor fowl? Nevertheless, MASTODON is always great to have, everybody's darling and a true collective might, Elbriot agrees. A crowd surfer with a cardboard in hand: "We are here for the Security!" Five seconds later the friendly security guys fish him out. Good one. In the end... 'Blood and Thunder'! Period. //
http://www.mastodonrocks.com
/
https://www.facebook.com/Mastodon/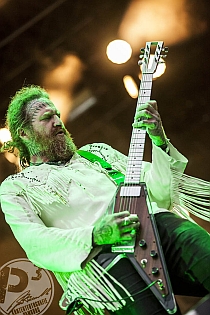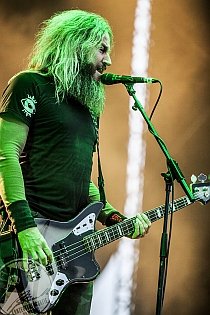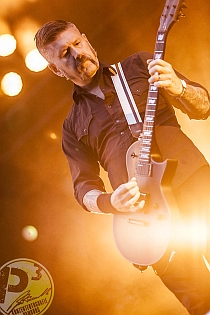 It's getting dark now and the moon comes up over the water - down "an de Waterkant"! Hell is near, almost everyone awaits ...
Slayer

It's always a happening when SLAYER comes to town. So the time has come, it's in the air. The masses come together and shrink the place. Second time in four years headlining Elbriot. A little bit delay… What to say about a SLAYER show that has not been said yet. S L A Y E R is SLAYER, still. You know what you get and when you don't, you have a problem. Violence and joy are close to each other in here. SLAYER shows are extreme, electrifying, ecstatic, devotional - a celebration of the evil in us and the magnifying power in there - by now thirty five years of uncompromising music. Close your eyes and forget your name... Lights out, thick air, eyes to the stage. 'Delusions of Saviour' leads the intro, the "Slaytanic Wehrmacht" raise its hands, yelling and cheering, great atmosphere. 'Repentless'. YES, it's finally happening! Without a pause 'Disciple'! This is such a fucking heavy song and such a fucking awesome sound! The Elbriot in front of the stage is absolutely delighted, totally in it, and very brutal. Large mosh pits, the people go crazy, enough space for everyone, if you do good in pushing and shoving and so on. Some usual violent SLAYER-idiots are there too, but yeah ... "Waaaaaar Ensemble". It doesn't matter what SLAYERs setlist looks like, there are no big surprises but a lot of classics, this is iconic material in purest heaviness and the band is in great shape, even when they play only B-Sides they win 'Game of Thrones'. Really impressive how they beat the rest. Let's quote PANTERA: "Vulgar Display of Power". Absolutely right! That's what SLAYER been doing. Control freaks of chaos.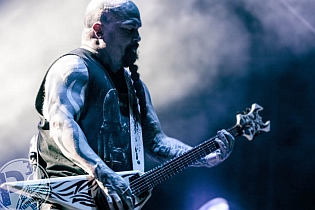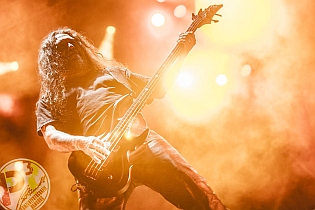 Apropos chaos: 'You Against You', 'Mandatory Suicide', 'Fight Till Death', 'Dead Skin Mask', inferno-like lightshow. Tom is gentle and nice, he appreciates the exhilarated and shouting crowd, laughing all the time and Kerry King congratulates thankful with raised arms, he has a very good day. Gary "fucking head banging" Holt's guitar could be a little bit louder, but what the hack, Paul Bostaph is awesome too. Half of the set the Relentless-backdrop falls, the naked SLAYER logo and heavy classics till the end. Absolutely frenzy! All future serial and spree killers should listen to SLAYER and attend some of their live shows as long as they can - the rumours that Tom Araya is thinking about retiring are not fresh, maybe the world will be a much friendlier place. Sure is, they ruled the day easily. Riot kings! Last Song:"..., the meaning of pain". SLAYER take time to say goodbye, they salute extensively, picks and sticks are thrown. Kerry is the last man standing, one last honour from him, arms up. THAT was pure SLAYER. //
http://www.slayer.net
/
https://www.facebook.com/slayer
// Setlist: 01. Repentless / 02. Disciple / 03. Postmortem / 04. Hate Worldwide / 05. War Ensemble / 06. When The Stillness Comes / 07. You Against You / 08. Mandatory Suicide / 09. Fight Till Death / 10. Dead Skin Mask / 11. Seasons In The Abyss / 12. Hell Awaits / 13. South of Heaven / 14. Raining Blood / 15. Black Magic / 16. Angel of Death
Well, what a day! A pure Metal festival in the middle of the city is over, the metal heads are going home or to the after show parties, most of them pretty happy, to guess. This one is good for Hamburg and it's community. Only wishes for 2017: some kind of better, not so irritating communication beforehand, sponsoring-deal with a local beer company (Astra?), and of course: next year's Elbriot (already confirmed, turned back to a single day event)! Alright, in Hamburg you say "Tschüß".
All Pictures by Jan Termath (
http://www.profound-passion.com/
)
See also (all categories):