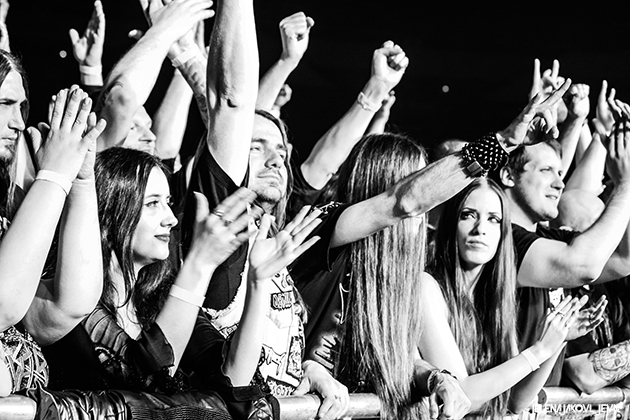 Spodek Hall, Katowice, Poland
22nd April 2017
Metalmania 2017 with Entombed A.D., Vader, Sodom, Coroner, Moonspell, Samael, Furia

When it was announced that after nine years Metalmania, the biggest indoor metal festival in Eastern Europe, is back, I thought it would be cool to go to Poland and check it out. So here I am now standing front of awesome Spodek Hall, getting a wristband and catching bands on the main stage, amazed by the amount of people gathered.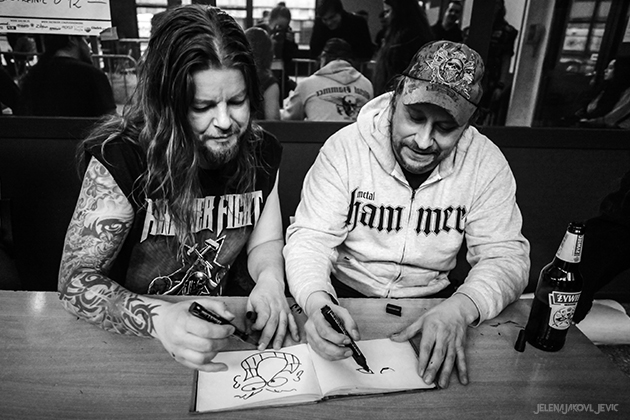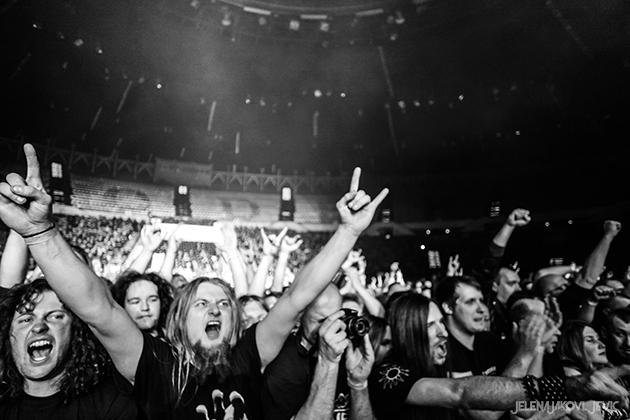 It all started very early morning, so unfortunately by my arrival, the first bands are already gone (ANIMATIONS,
TYGERS OF PAN TANG
,
SINISTER
,
ARCTURUS
). My focus was the main stage this time because of the limited photo space in front of the small stage which was on the same level as the audience. Still I listened to the concerts, and I would like at least to mention all bands with respect (
MENTOR
,
STILLBORN
, THERMIT,
IN TWILIGHT'S EMBRACE
,
MORD'A'STIGMATA
,
INFERNAL WAR
,
THAW
,
OBSCURE SPHINX
,
IMPALED NAZARENE
,
CETI
,
ENTROPIA
).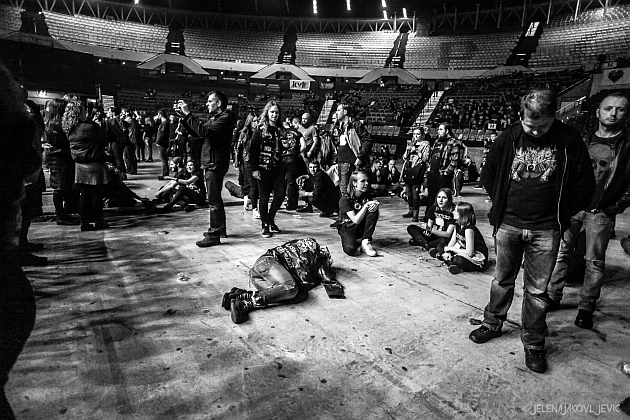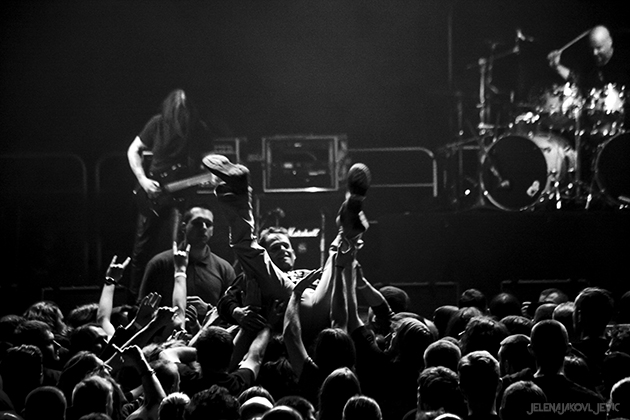 So how does Metalmania look like? There are two stages, the big main stage in the centre of the Spodek stadium, and the small stage in the corridor outside of the main area. There is queuing front of the meet and greet section, there are cheap food and drink places, there is a chill area with resting chairs, and there is the tattoo making place. Simple but good recipe for a great metal day! Spodek is nicely packed, and even a certain amount of people waiting front of the main stage all the time, keeping the good spot between the concerts, the area front of the small stage is always full as well. It seems that all worked out perfectly fine at Spodek, nicely organized.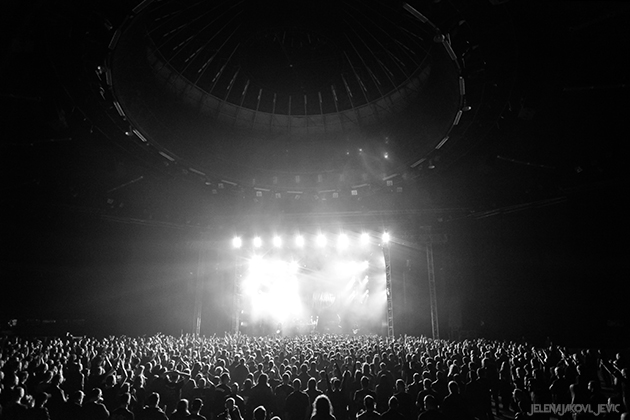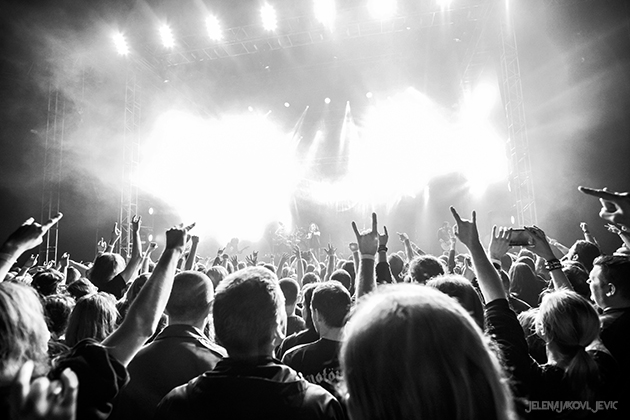 Entombed A.D. (SE)

Legendary LG Petrov roars and full Spodek made a great start of my day! For more than a year these guys have been intensively touring and promoting their new album 'Dead Dawn' all around the globe. The story of ENTOMBED becoming
ENTOMBED A.D.
is now old news. ENTOMBED A.D. today are: L-G Petrov (vocals), Nico Elgstrand (guitars), Olle Dahlstedt (drums), Victor Brandt (bass), Guilherme Miranda (guitars). But quite a surprise was that starting from the last year, there is a reunion and first shows by some of the first ENTOMBED members Ulf "Uffe" Cederlund (left band in 2005), Alex Hellid (left band in 2013) and Nicke Andersson (left band in 1997), under the original name
ENTOMBED
. I guess the legal name issue is one thing, and fans' reaction other thing yet to be seen. Definitely L-G Petrov is the only one, but it is interesting to see now two bands developing in different directions from the similar past. Check ENTOMBED A.D.'s last video 'The Winner Has Lost' at https://www.youtube.com/watch?v=2WBZDnQEmF8. // https://www.facebook.com/EntombedAD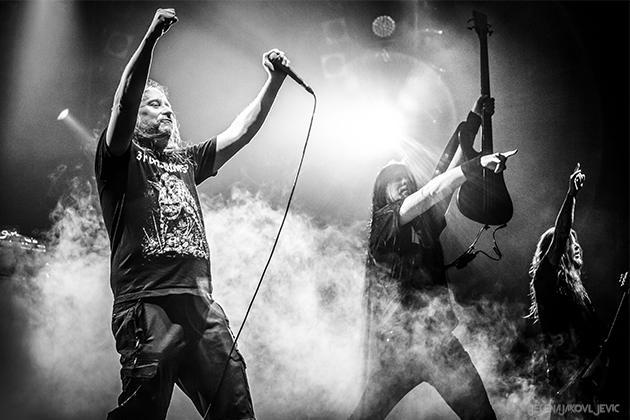 Vader (PL)

Polish flag
VADER
appeared on stage and during the first riffs, tens of head-bangers instantly landed into photo pit (with help of guards). Definitely it is special to play at home no matter how many times you done it. With 11 full-length studio albums in their hands and the new release 'The Empire' out in 2016, I was curious about today's setlist. So here we go with today's albums choice: 'Litany' (2000), 'Tibi et Igni' (2014), amazing seven songs from 'The Ultimate Incantation' (1992), 'De Profundis' (1995), 'Black to the Blind' (1997), and at the end only one song from the new album 'The Empire' (2016). VADER decided to honor fans with their old songs rather than to promote the new album. The latest news is a US tour in May / June so try to catch them on the road. // https://www.facebook.com/vader / http://www.vader.pl // Setlist: 1. Wings / 2. Triumph of Death / 3. Dark Age / 4. Vicious Circle / 5. The Crucified Ones / 6. Testimony / 7. One Step to Salvation / 8. Decapitated Saints / 9. Breath of Centuries / 10. Sothis / 11. Carnal / 12. Send Me Back to Hell / 13. Cold Demons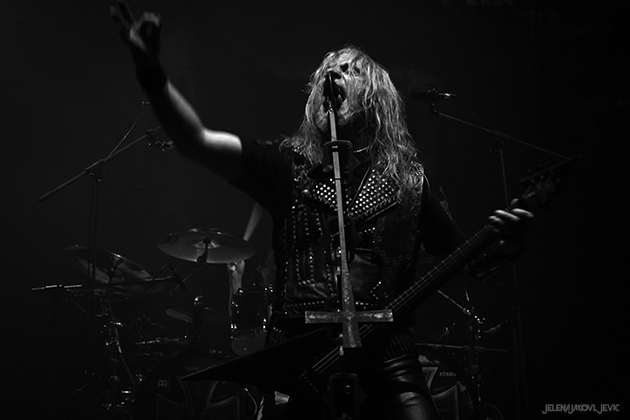 Sodom (DE)

One of the "Big 4" of Teutonic thrash metal overtook the stage. Fifteen studio albums, three live albums, two compilation albums, six EPs and 36 years of inspiring black metal, who else than
SODOM
! The fresh energetic performance and joy in their eyes when seeing the packed Spodek ground, the same energy and excitement just multi-played with screams and raised hands is bouncing back from the metal heads. Immediately the first song came from the new studio album 'Decision Day' which was out in August 2016. The setlist is promoting equally the new album and old songs. Congratulations to SODOM, great news from this year Metal Hammer Awards: nomination for the best German band and nomination for the best album for 'Decision Day'. // https://www.facebook.com/sodomized / http://www.sodomized.info // Setlist: 1. In Retribution / 2. In War and Pieces / 3. Sodomy and Lust / 4. Surfin' Bird (The Saw is the Law) / 5. Outbreak of Evil / 6. Sacred Warpath / 7. Agent Orange / 8. Caligula / 9. Remember the Fallen / 10. Bombenhagel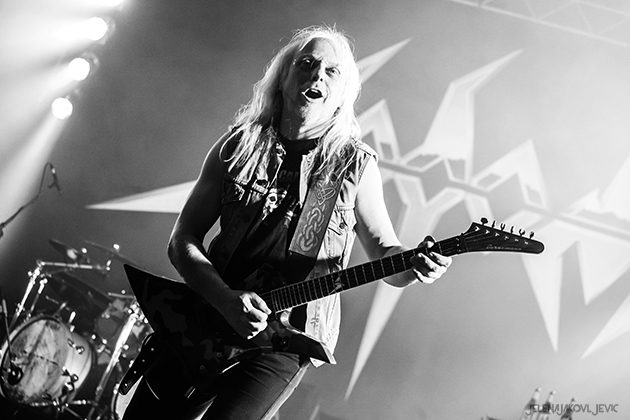 Coroner (CH)

Metal pioneers are reunited again, it's great to see
CORONER
tonight in a perfect shape! The new line-up is: Tommy Vetterli (guitar), Diego Rapacchietti (drums) and Ron Broder (bass/vocals). After two decades, CORONER has been again in studio recording, and the new album will be ready this year. Curious? Who would not be!! For the impatient ones there are some great news as well, CORONER 'Autopsy' 3x Blu-ray + LP is coming. Last samples are still available at https://www.cmdistro.de/Search?q=Coroner&Sort=13 / https://www.facebook.com/coronerband / http://www.coroner-reunion.com // Setlist: 1. Golden Cashmere Sleeper, Part 1 / 2. Internal Conflicts / 3. Divine Step (Conspectu Mortis) / 4. Status: Still Thinking / 5. Metamorphosis / 6. Semtex Revolution / 7. Tunnel of Pain / 8. Serpent Moves / 9. Masked Jackal / 10. Grin (Nails Hurt) // Encore: 11. Reborn Through Hate / 12. Die by My Hand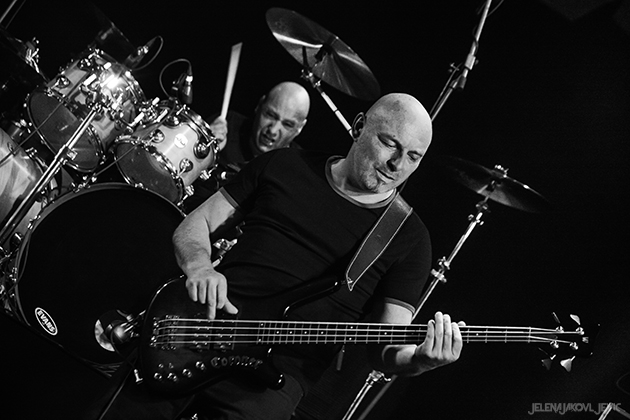 Moonspell (PT)

Passion, drama and lot of unexpected twists, the ultimate experience flavoured with visuals and Fernando's extreme and deep gothic vocals. One of my favourite concerts tonight was
MOONSPELL
with great lightening, definitely huge plus for indoor festival vs open air stage in a day time. A first look, and backdrop is giving a hint, red stylized eye, like the one on the album cover from 20 years ago... and here it is, one after the other songs from 'Irreligious' (1996). Now Fernando is holding one mirror in each hand and reflecting beams of light towards the audience while singing 'Herr Spiegelmann'!! Backdrops are changed, moon is up and following the logic of the previous one it can only mean 'Wolfheart' (1995)!
Out of darkness, vampire cloak, raised hands and spectacular light scene with gaze towards the Spodek cupola above the stage. 'Vampiria' is one of three songs from the 'Wolfheart' album tonight. The whole story gets circled with the last song, 'Full Moon Madness' from 'Irreligious'. MOONSPELL like many others at Metalmania gave respect to the 90's, rather than making promotion of the new album. What a night!! // https://www.facebook.com/moonspellband / http://www.moonspell.rastilho.com // Setlist: 1. Opium / 2. Awake! / 3. For a Taste of Eternity / 4. Ruin & Misery / 5. Mephisto / 6. Herr Spiegelmann / 7. Wolfshade (A Werewolf Masquerade) / 8. Vampiria / 9. Alma Mater / 10. Full Moon Madness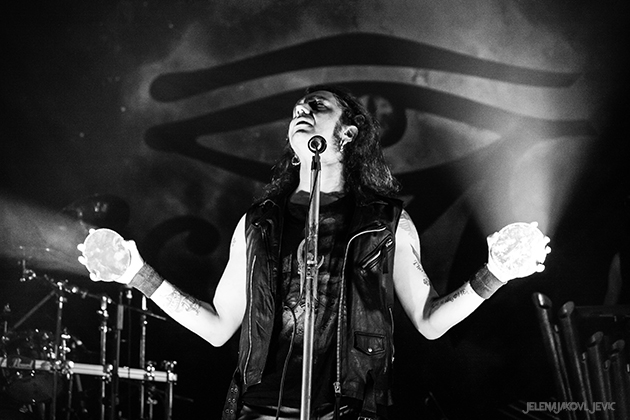 Samael (CH)

Metalmania headliners are on the stage, Swiss symphonic black/ industrial metal band SAMAEL. Earlier this year,
SAMAEL
signed a worldwide deal with Napalm Records for the release of their new album which is expected to be out in 2017. Concert is delivered with perfection, definitely the top of the evening! This is also the longest concert at Metalmania, a great roller-coaster of the old and the new, in total 18 titles from the albums: 'Ceremony of Opposites' (1994), 'Rebellion' (1995), 'Blood Ritual' (1992), 'Worship Him' (1991), 'Passage' (1996) and the new upcoming album.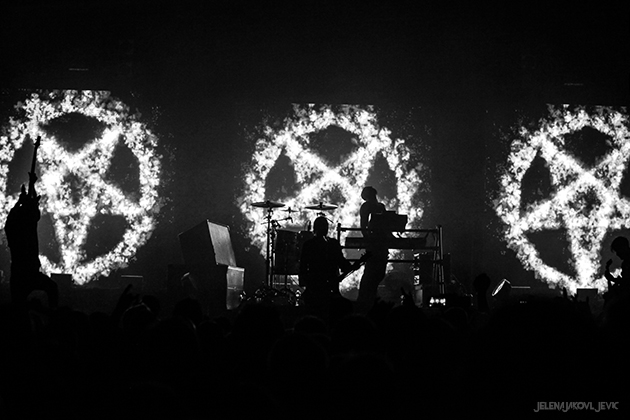 Special surprise for SAMAEL fans, tonight for the very first time 'Angel of Wrath' is performed live, the new SAMAEL's song which will be published on their upcoming album. Check the live video from Metalmania: https://www.youtube.com/watch?v=B40Oh8hhigE // http://www.samael.info / https://www.facebook.com/OfficialSamael // Setlist: 1. Black Trip / 2. Celebration of the Fourth / 3. Son of Earth / 4. Rebellion / 5. Baphomet's Throne / 6. Flagellation / 7. Crown / 8. Rite of Renewal / 9. Total Consecration / 10. ...Until the Chaos / 11. Worship Him / 12. After the Sepulture / 13. Angel of Wrath / 14. Into the Pentagram / 15. Shining Kingdom / 16. Rain / 17. Ceremony of Opposites / 18. My Saviour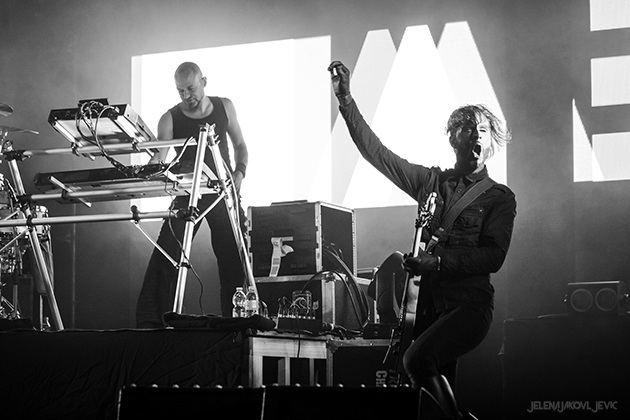 Furia (PL)

For the end of the night, with some technical issues which prolonged the start,
FURIA
, a Polish black metal band from Katowice, were playing in their hometown! It is really late night so the audience after SAMAEL is cut in half. There is the weird request from FURIA, photographers should wait 20 minutes before we are allowed to take photos. It made me curious, but I haven't seen any difference in performance before or after those 20 min, so I still wonder what was going on? Anyway, nice concert and great closing of the Metalmania! Metalmania definitely proved its status of the biggest indoor metal festival in Eastern Europe and I hope the new edition we can see already next year! Highly recommended! // http://let-the-world-burn.org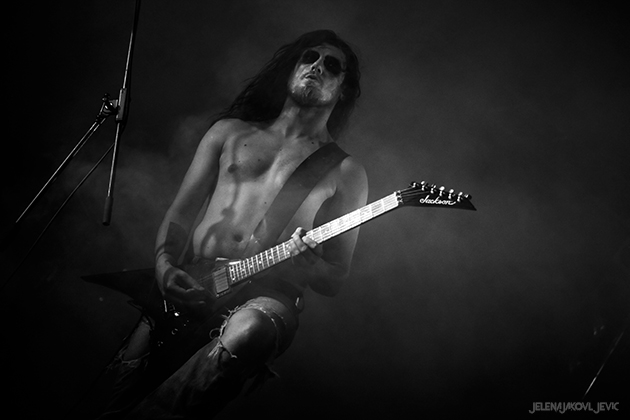 All photos by Jelena Jakovljevic, full gallery at https://goo.gl/pxTsRm