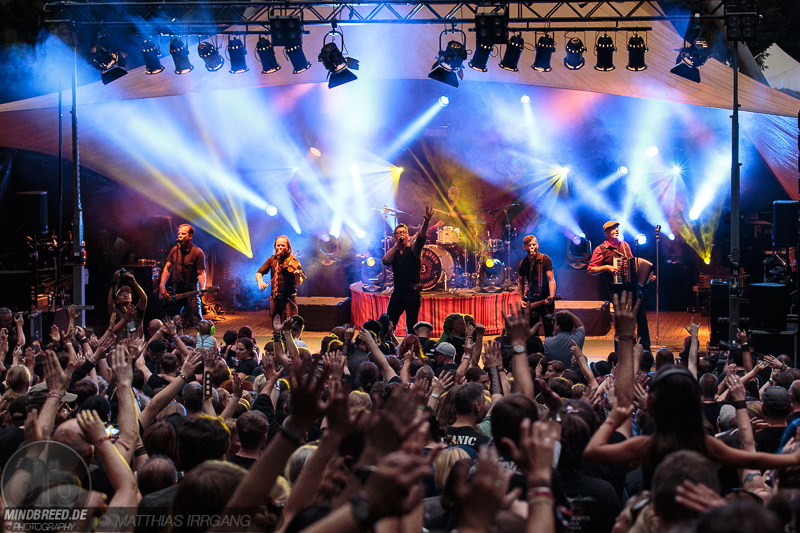 Waldbühne Hardt, Wuppertal, Germany
25th & 26th August 2017
Feuertal Festival 2017 Day 1 with Mila Mar, Dartagnan, Lord of the Lost and Fiddler's Green

As the open-air-festival-season comes to an end, the Feuertal Festival in Wuppertal is one of the last highlights. On August 25th and 26th the Feuertal Festival 2017 took place at the Hardt-areal, a former quarry in the heart of Wuppertal.
Mila Mar

MILA MAR
were the first to play this year. After 11 years, the fantastic act got back together in 2015 and their fans are still waiting for a new piece of work as their last record was out in 2003. Still, MILA MAR have appeared live on stage in the meantime and now, vocalist Anke Hachfeld and her band mates are hitting the German stages once again. MILA MAR made a mystical appearance with spherical sounds and Anke's beautiful artificial language. A perfect start! // http://www.milamar.de / https://www.facebook.com/MilaMarMusik
The following band, LACRIMAS PROFUNDERE, had to cancel a day before due to personal reasons. Since there was no replacement, the other bands filled the gap and played a little longer.
Dartagnan

The side-project of Prinz Hodenherz (FEUERSCHWANZ) kicked off last year with their debut album 'Seit an Seit'.
DARTAGNAN
is not yet that established but extremely engaged. In spring 2016 the three musketeers Ben Metzner (vocals, bagpipe, flutes), Tim Bernard (vocals, guitar), and Felix Fischer (vocals, guitar, bass) released their debut album 'Seit an Seit' (transl. 'Side to Side') via Major Sony and jumped right in into the top ten of the charts. Their folk rock inspires both, members of the dark scene as well as the mainstream. DARTAGNAN are on their way to the top. This time, they did not only bring most of their fan club, but also some of the unreleased songs from their upcoming album 'Verehrt und Verdammt'. The audience enjoyed the diverting gig. // http://www.dartagnan.de / https://www.facebook.com/dartagnan.de
Lord of the Lost

If one thought, the crowd could not get any more fanatic, they were wrong.
LORD OF THE LOST
entered the stage and the infield started boiling. Hard and dark - these two pillars made LORD OF THE LOST become one of the best-known and successful acts in the international scene within less than ten years. Already in 2014 the visitors of the Feuertal Festival were convinced by LOTL's terrific show, the band's boundless joy of playing music and unbridled stage-madness, and their sympathetic closeness to their fans. The five guys from Hamburg transform every single performance into a grand happening of sweat, sex and Rock'n'Roll. From Berlin via Helsinki to Moscow, the quintet has played every club into the ground. With their great rock show LOTL deliver a kind of a borderline experience – desirable side effect: high potential for addiction! Today, the band around Chris Harms played with the help of Niklas Kahl (ERDLING, former STAHLMANN) since Tobias Mertens took a timeout for personal reasons. The gig ended with a furious 'Raining Stars' from their latest album 'Empyrean'. // http://lordofthelost.de / https://www.facebook.com/lordofthelost
Fiddler's Green

Time for the headliner:
FIDDLER'S GREEN
, the always cheering and enjoyable folk-rocker, played on the Feuertal Festival for the sixth time. The Irish Speedfolk rockers from Erlangen have become something like the darlings of the fan base by now. Since 1990 the band has played more than 1,700 concerts. Their blend of folk, ska, punk, reggae, and rock makes sure of spreading pure party mood and even brought them at the legendary Metal Festival in Wacken and the world-famous Montreux Jazz festival. 'Devil's Dozen', released in October 2016, is the band's 13th studio album. From the first chords on they rocked the stage. The fans cheered and together they brought the first day to a fantastic finale. // http://www.fiddlers.de / https://www.facebook.com/Speedfolk
All pictures by Matthias Irrgang