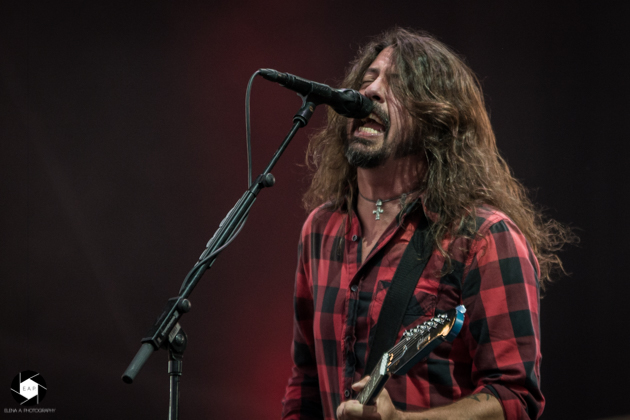 Nürburgring, Nürburg, Germany
1st to 3rd June 2018
Rock am Ring Day 3 with Thy Art Is Murder, Avatar, Foo Fighters

Sunday on the Ring earned its name, as the weather kept clearing up and the RAR app broadcasted news urging everyone not to forget the sunscreen. Also the inhabitants of the campground seemed to have let off steam in the previous night, so last night was particularly recreating. In the afternoon, I had another interview scheduled, this time with Johannes Eckerström, lead lunatic of the Swedish metal band AVATAR.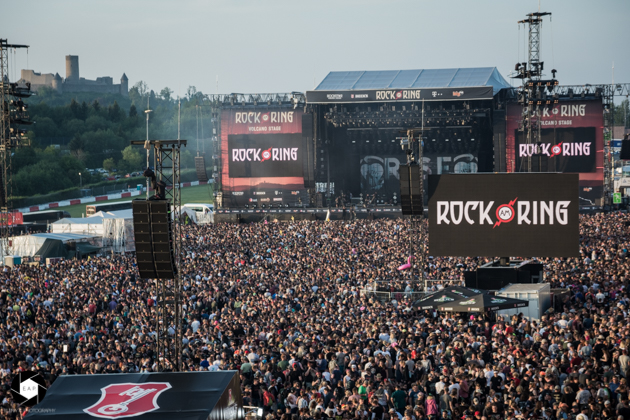 Thy Art Is Murder

It seems like Australians cannot only conquer Metalcore, they also lay their claim to Death Metal. THY ART IS MURDER summoned their disciples in the early evening hours to the Alterna Stage. While the cretins of TRAILERPARK entertained their audience with obscenities on the neighbouring Crater Stage,
THY ART IS MURDER
polished up their pentagrams, Growler-in-chief Chris "CJ" McMahon oiled his organ, and the speakers started to play the infamous anthem of all the lost souls of the 90ies: VENGABOYS' 'We like to party'. Wait what? Yep, THY ART IS MURDER seems to have a really wicked sense of humour by putting on such an intro ahead of their show. The actual performance thankfully enough contained the more familiar ingredients of Death Metal: two down-tuned guitars, and (double-)base in action amongst other things. The result came across in a pretty impressive way.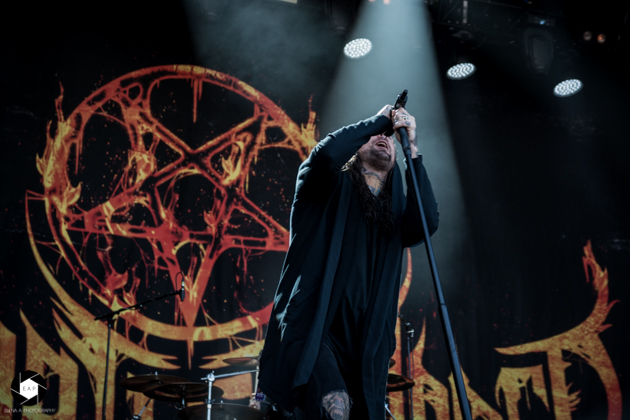 Die-hard fans certainly had their fair share of head-banging, and they also engaged in the occasional circle pit. However, for a truly satisfying crowd-surfing experience, the people in front of the stage were a little spread too thin at this hour. Nevertheless, CJ and his band mates did not fail to entertain, as they dissed their country mates PARKWAY DRIVE in the loveliest way ("Ever heard of PARKWAY DRIVE? They are a very small band, those f*cking bastards. They might be more beautiful than us because they have abs and everything, but I assure you we can fight much better than them"). Overall, it was a very solid performance in broad daylight. // https://www.facebook.com/thyartismurder / www.thyartismurder.net // Setlist: 01. Dear Desolation / 02. Puppet Master / 03. Holy War / 04. Coffin Dragger/ 05. The Purest Strain of Hate / 06. No Absolution / 07. Slaves Beyond Death / 08. The Son of Misery / 09. Du hast (Rammstein cover) / 10. Reign of Darkness
Avatar

If I were in the shoes of these guys I would really hate James Cameron for ruining my band name I have been trying to establish for years by releasing a film with the same name and with strange blue-painted beings in it. Though face paint is worn by all band members, just not in blue, but rather the familiar black and white, underscoring the freak show ambience of the whole endeavour.
AVATAR
are a band meant to be experienced live, and this live experience serves as an explanation, why they have been taking off in the U.S. (which is not a given for a Swedish metal band) recently. AVATAR certainly has a hand for grandeur in their appearance. The band started their concert by being elevated from behind the stage decoration, mimicking some sort of castle. The stage hands all were dressed as medieval servants, and guitarist Jonas Jarlsby made a Game of Thrones-worthy entrance as king, while singer Johannes Eckerström, dressed as a late medieval circus master, addressed the audience in flawless German (with a lovely Swedish accent, the one that works so well in any IKEA commercial).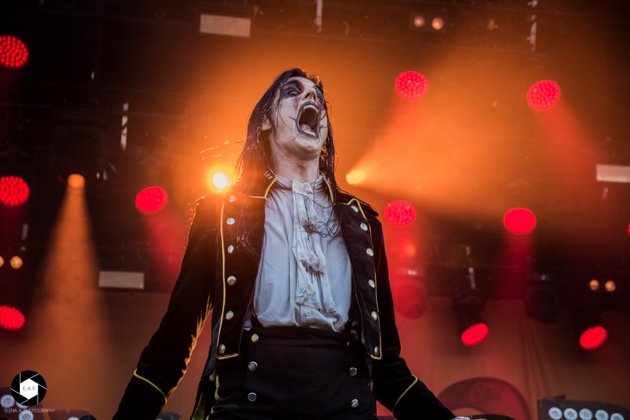 The band kicked it off with their first single 'A Statue of the King' from their new album 'Avatar Country' and showed that they are not only able to fascinate their audience with visual aesthetics, but also music-wise. AVATAR used their 50-minute set to pack in all their hits, including the legendary 'The Eagle has Landed', a song which landed in the Top 20 of the U.S. charts, and gave their career a solid boost. Summarizing - as stated above - AVATAR is best consumed live, because this gives you the full momentous and mesmerizing package. So if you get the chance to see them, grab it by the horns. You will not regret it. // https://www.facebook.com/avatarmetal / www.avatarmetal.com // Setlist: 01. A Statue of the King / 02. Let It Burn / 03. Paint Me Red / 04. The Eagle Has Landed / 05. Smells Like a Freakshow / 06. The King Welcomes You To Avatar Country / 07. Hail the Apocalypse
Foo Fighters

And there it was, the final day with the last headline slot on the main stage. Right after the previous act RISE AGAINST, a visibly content Marek Lieberberg entered the stage and expressed his gratitude that Rock am Ring was not hit by any major disaster unlike in the previous two years and thanked everyone for coming. Then three minutes before their scheduled start at 9:30pm, Dave Grohl and his band members stormed on stage and set out to play an extremely motivated version of 'All my life', sending the large festival crowd in front of the stage into frenzy. Then during the song 'Learn to Fly', it became clear, what so far had been a subconscious impression. Dave pleaded with the audience: "my throat's fucked up, you gotta help me sing this". And indeed, during the next song it became utterly clear that some sort of cold had befallen the legendary singer (he later blamed his kids for it bringing it home from school), which made it impossible for him to hit the notes of the songs. However, Dave would not be Dave if he would give in to that. He made that clear during one of the next song announcements: "You know I am the guy who broke his leg and finished the show. I am not stopping the show just because my voice is fucked up."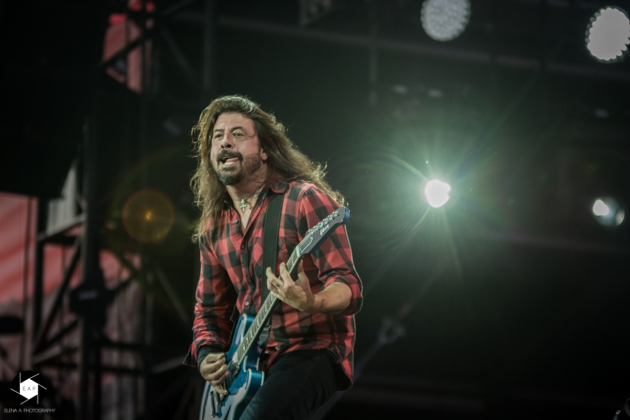 Fortunately, he had some good band members to rely on. Foremost, drummer Taylor Hawkins took over a lot of singing duties, after having enjoyed an extended opportunity to shine during his drum solo, during which he was elevated approximately 6m above the stage on his hydraulic podium, which was a nice touch. He also switched roles with Dave during the QUEEN cover 'Another one bites the dust', during which he sang, while Dave returned to his original drumming duties. Dave jokingly mentioned that the filmmakers should have chosen Taylor for the Freddie Mercury role in the QUEEN biopic, and boy - this drummer can entertain. Dave used all his downtime to drink ginger tea and stuff to get his voice back, but seemingly to no avail. The audience did not seem to mind and celebrated all the familiar songs such as 'Monkey Wrench', 'Best of You' and the final song 'Everlong' by singing along at the top of their voices (even the posh people on the "Scheiss-Tri-Bü-Ne").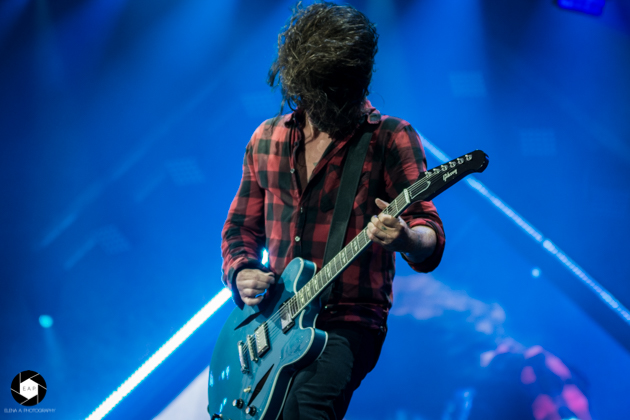 But after two hours into the show there was no more gas left in the tank and
FOO FIGHTERS
finished the show without any encores with an enormous guitar feedback orgy. However, none of the 70,000 spectators whistled or booed, as most were deeply impressed by this display of dedication and stamina, which made this a very memorable evening courtesy of the true headliner of this weekend. // https://www.facebook.com/foofighters / www.foofighters.com // Setlist: 01. All My Life (Extended Bridge) / 02. Run / 03. Learn to Fly / 04. The Pretender / 05. The Sky Is a Neighborhood / 06. Rope / 07. Drum Solo / 08. Sunday Rain / 09. My Hero / 10. These Days / 11. Under My Wheels (Alice Cooper cover) (Chris Shiflett on lead vocals) / 12. Another One Bites the Dust / Blitzkrieg Bop (band intros) / 13. Under Pressure (Queen cover) (Taylor on vocals/Dave on drums) / 14. Monkey Wrench / 15. Wheels / 16. Best of You / 17. Times Like These / 18. Stay With Me (Faces cover) (Taylor on vocals) / 19. Everlong
Phew, finally: A Rock am Ring festival without any large-scale catastrophe. Quite on the contrary - despite all the complaints about the choice of headliners or the line-up in general - it was big-ass celebration of a weekend full of music. Not just Rock - but music in general. And it worked, which is all that matters. Thus, it was not the end of the world that some guy from Bielefeld named CASPER played the Ring, as users on (un)social media have proclaimed. The only thing that was painfully felt during this festival was the law of physics that the same element cannot be at different places at the same time. This proved to be really, really unfortunate. Even with the much-scolded line-up of this year, there were countless conflicting slots, which presented impossible decisions to make, which bands to cover. I would have loved to see many more bands that played the festival. So there can only be one remedy: Mark your calendars for June 7th to 9th in 2019, because I am sure that good ol' Marek has many more aces up his sleeve, than "just" the return of DIE ÄRZTE after seven years of stage abstinence.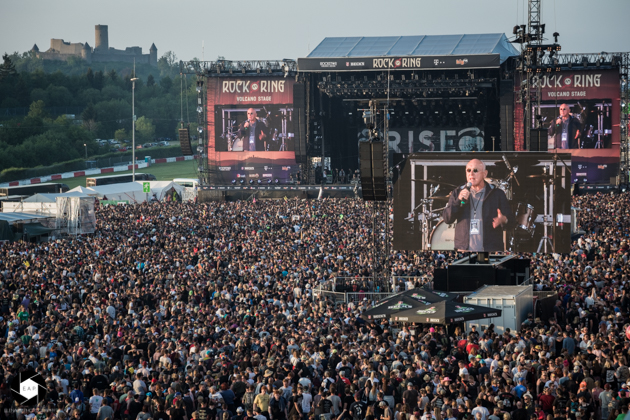 All pictures by Elena Arens