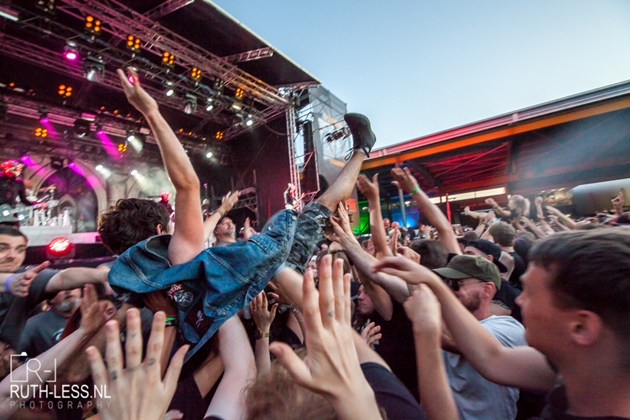 IJssportcentrum, Eindhoven, The Netherlands
14th July 2018
Dynamo Metal Fest 2018 with Ghost, Ministry, Vuur, Overkill, Annihilator, Leprous, I am Morbid, Iron Reagan, Elephant

We got sun, a good mood and a decent line-up for the 4th edition of Dynamo Metal Fest in Eindhoven, usually one of my favourite festivals of the year. Many bands I have seen before, some I look forward too, some I am not sure of but willing to let them surprise me and there is some new stuff as well.
Elephant

ELEPHANT from Belgium won the band battle for the opening slot at Dynamo Metal Fest this year. According to their social media pages, the band came into existence in 2010, producing Post-Hardcore, inspired by amongst others ACDC, DANKO JONES and RAGE AGAINST THE MACHINE. Their first full album, 'He Planet', has just been released. ELEPHANT is Jonas Willems (vocals), Benjamin Brans (bass), Bart Willems (guitar/backings), Jochen Sleeckx (guitar/backings) and finally Arne Willems on Drums. https://www.facebook.com/ElephantRock / https://www.reverbnation.com/elephantrock
Music & Performance

Fashionably late (or as I see it: right on time) and already sweating heavily from just strapping on my camera gear, I caught a glimpse of our neighbours hitting the stage. As usual for the opening act at festival, the crowd is still pouring in, finding their way to the bar and only early birds already made it to the stage yet. ELEPHANT doesn't care however, and gets at it with proper enthusiasm. They play bite-sized Hardcore with a hint of RAGE AGAINST vocals and some ZEPPELIN riffs on the guitar side. Vocalist Jonas and one of the guitar players pretty much work the stage while they present some songs from their debut album. The other band members seem need a cup of coffee…and so do I.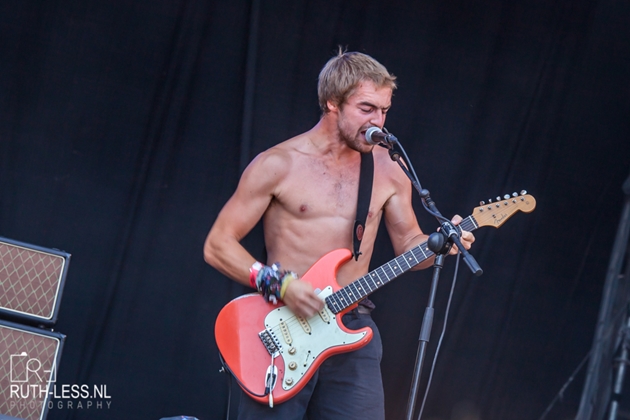 Iron Raegan

IRON REAGAN is an American crossover thrash super-group from Richmond, Virginia, consisting of MUNICIPAL WASTE vocalist Tony Foresta, CANNIBAL CORPSE and MUNICIPAL WASTE bassist Phil "LandPhil" Hall, former A.N.S. guitarist Mark Bronzino, former DARKEST HOUR drummer Ryan Parrish, and HELLBEAR bassist Rob Skotis. Since their formation in 2012, they have released three full-length albums, one EP and two split EPs. Their 2014 album, 'The Tyranny of Will', peaked at 22 on the Billboard 200. In 2017, the five piece released the latest studio album 'Crossover Ministry'. These anthems of pure punk-metal fury, catchy riffs and mosh-ready grooves will have you in the pit in no time! www.facebook.com/IRONREAGAN / https://ironreagan.bandcamp.com/
Music & Performance

Just to be sure, the Dynamo organizers announce that the pit is officially opened for moshing and crowd-surfing from here on. And the rest is up to Tony Foresta and his colleagues from IRON REAGAN. They're not about wasting time and within seconds the front of the stage turned into a dusty stampede. Just the way we like to see at festivals like this. Fortunately, Superman also makes his presence in the pit, so there's nothing to worry about! IRON REAGAN is fast, furious, brutal and they know their way around the stage. With literary masterpieces such as 'Eat shit', 'Fuck your neighbor' and 'Your kid's an asshole', IRON REAGAN wins the hearts and minds of the audience for about 40 minutes. Then it's time to let the dust settle for a few minutes and head over to the bar for a beer.
Setlist (incomplete)

Eat shit
Fuck your neighbor
I won't go
Cycle of violence
Your kid's an asshole
Miserable failure
A Skull full of Maggots (Cannibal Corpse)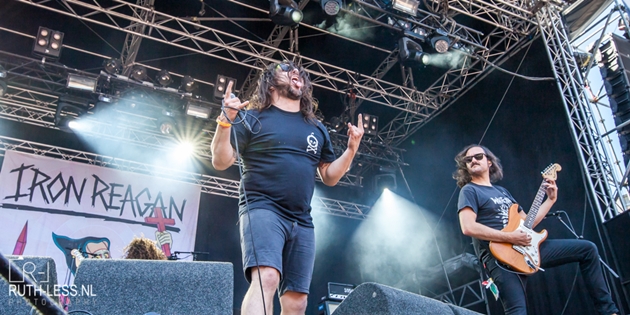 Vuur

Dutch singer ANNEKE VAN GIERSBERGEN is well known as the vocalist of THE GATHERING in the early days. From 2007 on, she pursued a successful solo career, releasing several albums. Anneke formed VUUR in 2016, a new band that features some well-known heavy metal musicians from the Netherlands. VUUR released its full-length debut in 2017 and already played Dynamo Metal Fest last year. VUUR is Anneke van Giersbergen (vocals), Ed Warby (drums), Jord Otto (guitars), Ferry Duijsens (guitars) and Johan van Stratum (bass). http://www.vuur.band / www.facebook.com/vuurband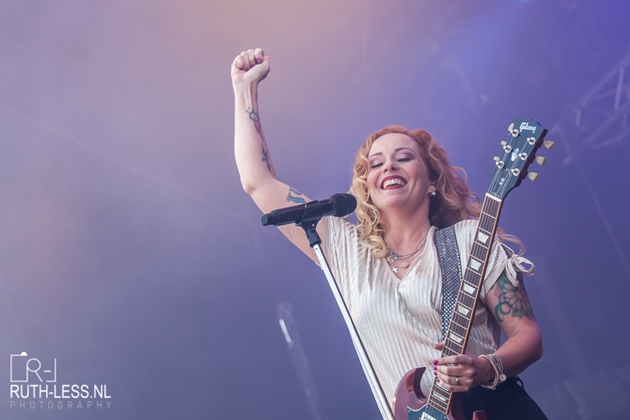 Music & Performance

Due to a last minute cancellation of SONS OF APOLLO, who I was really looking forward to see, the organisers had to find another band to fill this slot. And this was VUUR. Of course chapeau for the Dynamo for managing finding a replacement, although a large sum of the audience probably have already seen VUUR somewhere over the last year. It must be said that the superb vocals of Anneke go without question and so do the skills of her musicians, but personally I sort of FIRE-OD'd already. As for their show, they could at least have chosen to play a more different playlist from last year, or surprise us with a GHOST cover or something. If it were up to me, leave out the chitchat and the fireworks as well: these don't really hit base in broad daylight and if for some warmth: we've got plenty of that already today!
Setlist

01. Time – Rotterdam
02. The Martyr and the Saint – Beirut
03. The Storm (The Gentle Storm cover)
04. Freedom – Rio
05. Days Go By – London
06. Your Glorious Light Will Shine – Helsinki
07. Strange Machines (The Gathering cover)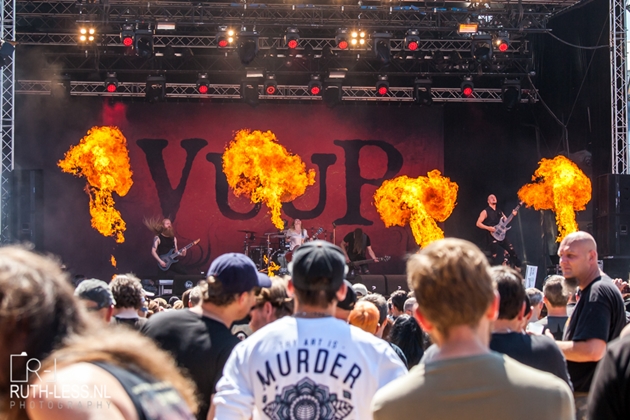 I am Morbid

Former MORBID ANGEL frontman/ bassist David Vincent and drummer Tim Yeung have been performing as I AM MORBID (named after the most popular song of the American band) since the beginning of 2017. They are playing the best songs from their legendary albums 'Altars of Madness' (1989), 'Blessed Are The Sick' (1991) and 'Covenant' (1993). I Am Morbid has performed several times in the Netherlands last year and the band always gives an amazing show with nothing but classics. I AM MORBID is David Vincent (vocals), Tim Yeung (drums), Bill Hudson (guitar) and Ira Black (guitar). www.facebook.com/IAMMORBIDOfficial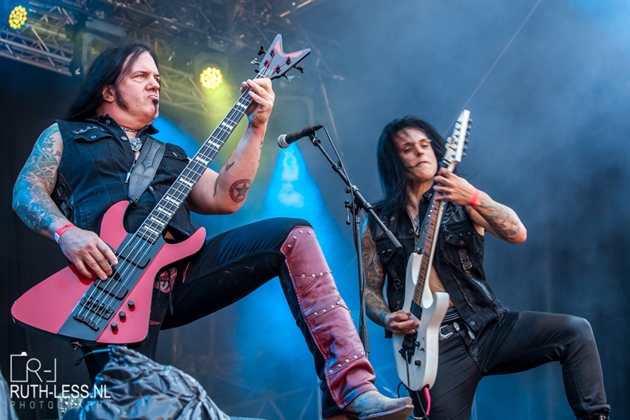 Music & Performance

I AM MORBID will definitely appeal to the old-school Death Metal heads in the audience, and frontman David Vincent keeps mentioning that. Their show is loud, brutal and with an abundance of hair from guitarist Ira Black. As expected I AM MORBID gets back to the classic MORBID ANGEL songs such as 'Immortal Rites' and 'Maze of Torment' and although enjoyable, a certain sense of routine fatigue seems noticeable. Then again, I am not an old-school MORBID ANGEL fan, so what do I know.
Setlist (incomplete)

I Am Morbid
Immortal Rites
Fall from Grace
Dominate
Visions from the Dark side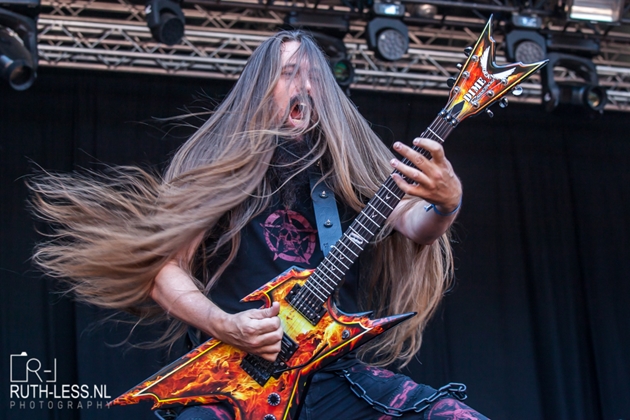 Leprous

LEPROUS is a five piece progressive metal band from Notodden, Norway that was founded in 2001. The quintet have made name in the Norwegian Prog- and Metal scene by making the finals in the Norwegian Rock Championship. In 2008, LEPROUS was signed to American label Sensory Records and recorded their debut album 'Tall Poppy Syndrome'. To date, they released more albums: 'Bilateral' (2011) and 'Coal' (2013), 'The Congregation' (2015) and the latest album 'Malina'. LEPROUS is Einar Solberg (synth/ vocals), Tor Oddmund Suhrke (guitar), Øystein Landsverk (guitar) and Baard Kolstad (drums). www.leprous.net / www.facebook.com/leprousband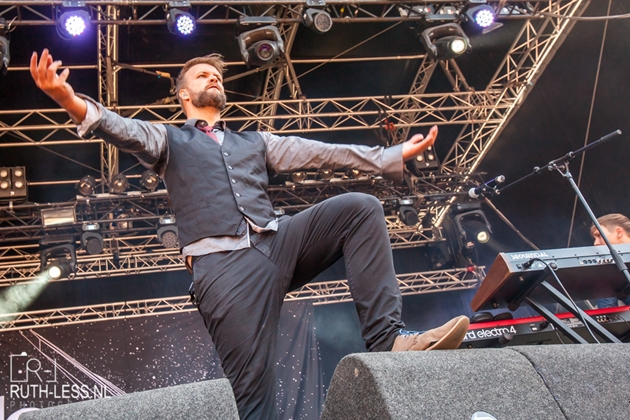 Music & Performance

A rising star in the progressive metal genre is up next: LEPROUS from Norway. Although I listen to their music every now and then, it seems to be a tricky move for this festival's line-up. Listening to LEPROUS requires a patient ear that is interested in the complexity of slowly building songs to a grand finale. And just there I see a "little" mismatch with the crowd at DYNAMO that is mostly looking for moshpits and beer. After a slow start with some technical issues and long intro's, LEPROUS however does what they do best: dramatic, sweltering and inevitable progressive metal. This sunny summer day just does not work in the favour of a band that actually "shines" in a small dark venue. Fortunately, there's clearly a part of the audience who appreciates their effort!
Setlist

01. Bonneville
02. Stuck
03. The Flood
04. From the Flame
05. Illuminate
06. The Price
07. Mirage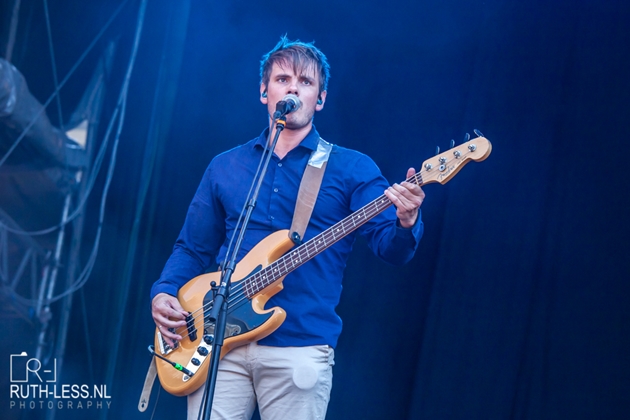 Annihilator
ANNIHILATOR is a Canadian Thrash Metal band founded in 1984 by vocalist, guitarist, bassist, songwriter, engineer, producer, mixer and mastering engineer Jeff Waters and former vocalist John Bates. They are the highest-selling heavy metal group from Canada in Canadian history, having sold more than three million albums worldwide, although most of their sales have been generated outside the band's home country. Along with SACRIFICE, VOIVOD and RAZOR, ANNIHILATOR is credited as one of the "Big 4" of Canadian Thrash Metal. Since its inception, ANNIHILATOR has released sixteen studio albums and has undergone many line-up changes. Waters is the only remaining original member left in the band, and usually assembles touring or session musicians to perform with him. Their recent studio album, 'For the Demented', was released in 2017. ANNIHILATOR is Jeff Waters (vocals), Aaron Homma (guitar), Rich Hinks (bass) and Fabio Alessandrini (drums). www.annihilatormetal.com / www.facebook.com/pg/annihilatorband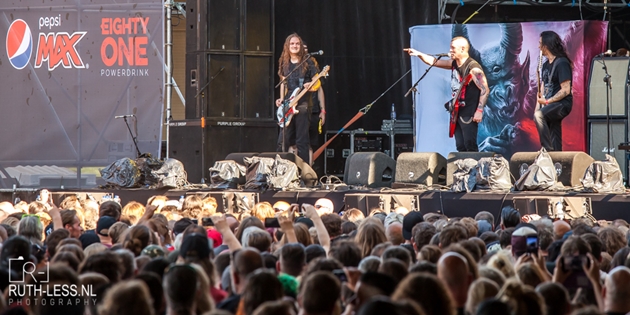 Music & Performance

Up next is the all famous (and they know it) ANNIHILATOR from Canada. Jeff Waters and his boys as usual deliver an energetic trash metal show that hardly leaves room for catching your breath. Stage dynamics are a well-oiled machine, despite Jeff being the only remaining original member of this band. As can be expected, ANNIHILATOR plays oldies ('King of the Kill', 'Alison Hell') as well as some new work from their latest album 'For The Demented' (No way out). The crowd offers some additional vocal empowerment and the pit crew has to work hard to get all the crowd surfers back on the ground for another round. Seems like we're having fun, although it is missing some of the charisma the next band has to offer.
Setlist

01. One to Kill
02. King of the Kill
03. No Way Out
04. Set the World on Fire
05. Welcome to Your Death
06. Twisted Lobotomy
07. Fiasco
08. Phantasmagoria
09. Alison Hell
10. Human Insecticide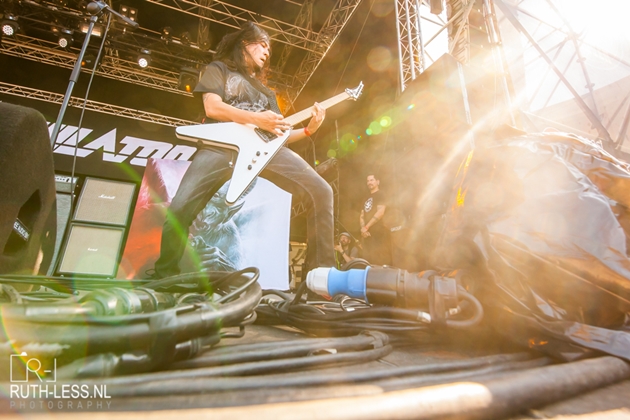 Overkill

OVERKILL is an American thrash metal band formed in 1980 in New Jersey. The band has been active since 1984, releasing 16 studio albums, 2 EPs, 2 live albums and a "covers" album. Despite their first album being released in 1985, most of the songs appearing on their first two albums were written between 1981 and 1984, and as such, they are often hailed as one of the inventors of thrash metal. The band's latest album, 'White Devil Armory', was released on July 22nd, 2014. OVERKILL is Bobby "Blitz" Ellsworth (vocals), D.D. Verni (bass), Dave Linsk (lead guitar), Derek Tailer (rhythm guitar) and Jason Bittner (drums). http://wreckingcrew.com / www.facebook.com/pg/OverkillWreckingCrew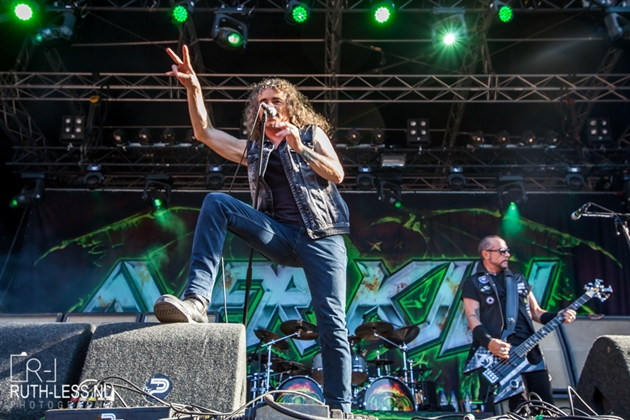 Music & Performance

I was looking forward to seeing OVERKILL, despite having seen them already a couple of times last year… these guys just put a big fat smile on my face no matter what. Their energy on stage is unparalleled and Bobby still seems to have the energy of a twenty year old. His signature wicked laugh and adorable Dutch intermezzo's only add to this predictable yet still very awesome trash metal performance. After a little encouragement in Dutch, the crowd goes berserk on songs like 'Rotten to the Core' and 'Goddamn Trouble'. With a little oxygen break in between, Bobby is good to go and gives us the finger moreover while smiling from ear to ear. I love seeing a band doing what they love and keep doing it after so many years with the same amount of enthusiasm. Do we want "a beetje meer"? (a little bit more). Hell yeah!
Setlist (incomplete)

Elimination
Rotten to the core
Hello from the Gutter
Mean Green Killing Machine
Electric rattlesnake
Ironbound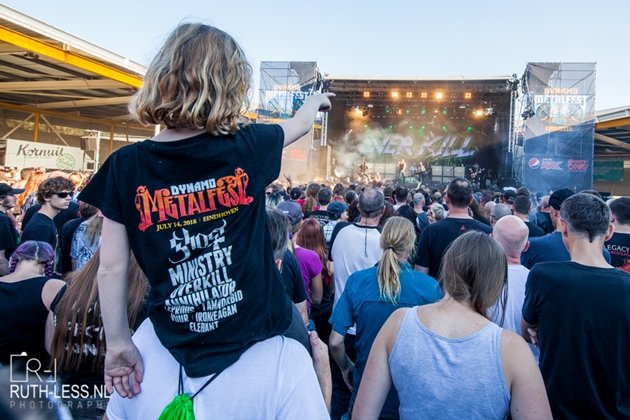 Ministry

MINISTRY is an American industrial metal band founded in 1981 by Al Jourgensen in Chicago, Illinois. Originally a Synth Pop outfit, MINISTRY shifted its style to become one of the pioneers of Industrial Metal in the mid-to-late 1980s. The band's line-up has gone through many changes throughout its history, with Jourgensen remaining the only constant as the band's main producer, singer, songwriter, and instrumentalist. MINISTRY was dissolved in 2008 after 27 years of recording and performing, and Jourgensen had since stated that they would never reunite. However, the band announced a reunion in August 2011, and has released three more studio albums since then: 'Relapse' (2012), 'From Beer to Eternity' (2013) and the most recent 'AmeriKKKant' (2018). MINISTRY's current line-up is Al Jourgensen (guitars, vox), John Bechdel (keyboards), Sin Quirin ( guitars), Tony Campos (bass), Cesar Soto (guitars), Derek Abrams (drums) and DJ Swamp on the turntables. www.ministryband.com / www.facebook.com/WeAreMinistry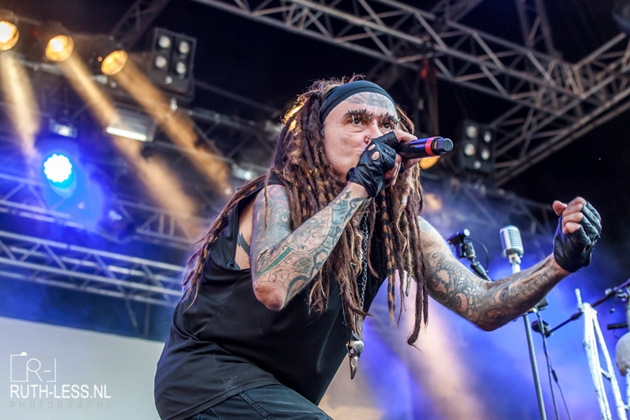 Music & Performance

What can I say, I appreciate bands with a message, I toast to bands that are here to drink our beer, I cheer bands that are here to party, horns up to bands that are here to RAWK etc. However, I am very easily annoyed by bands that only bitch and wine about. That said, MINISTRY and I were not off to a very good start. We find the stage decorated with two anti-Nazi trump chickens, and lots of visuals that unfortunately could hardly be seen because the sun fully hits the stage at this time of day. Their anger and fury rebelling against the world speaks most loudly from the stage volume that is at 11 or more. Near the end of the set Al crosses a line calling the festival organizer's Nazi's for signalling the end of their time slot (making friends in Europe: what not to do, pt. 1). MINISTRY is a band with several professional musicians but unfortunately Jourgensen's attitude is what remains at the end of the show. Sad…
Setlist

01. I Know Words
02. Twilight Zone
03. Victims of a Clown
04. Punch in the Face
05. LiesLiesLies
06. We're Tired of It
07. Wargasm
08. Antifa
09. Thieves
10. Just One Fix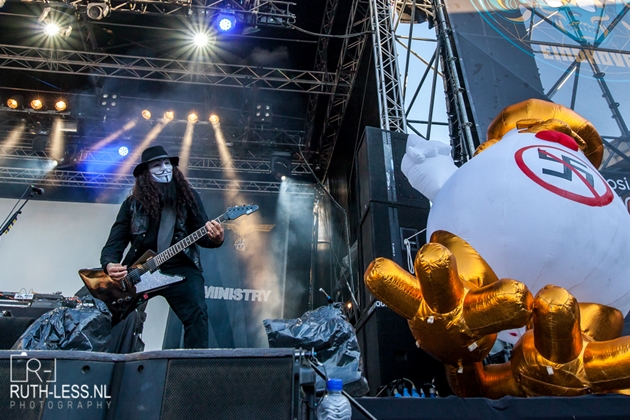 Ghost

GHOST is a Swedish Rock band that was formed in Linköping, Sweden in 2006. In 2010, they released a 3-track demo followed by a 7" vinyl, titled 'Elizabeth', and later their debut full-length album 'Opus Eponymous'. The Grammis -nominated album was widely praised and significantly increased their popularity. Their second album and major label debut 'Infestissumam' was released in 2013, debuted at number one in Sweden, and won the Grammis Award for Best Hard Rock/ Metal Album. The band released their third studio album, 'Meliora', in 2015, to much critical acclaim and high record sales, reaching number one in their home country of Sweden, and number eight in the United States. Its lead single, 'Cirice', earned them the 2016 Grammy Award for Best Metal Performance. The band released their fourth studio album, 'Prequelle', in 2018. GHOST is Tobias Forge (vocals) and his band of nameless Ghouls. www.ghost-official.com / www.facebook.com/thebandghost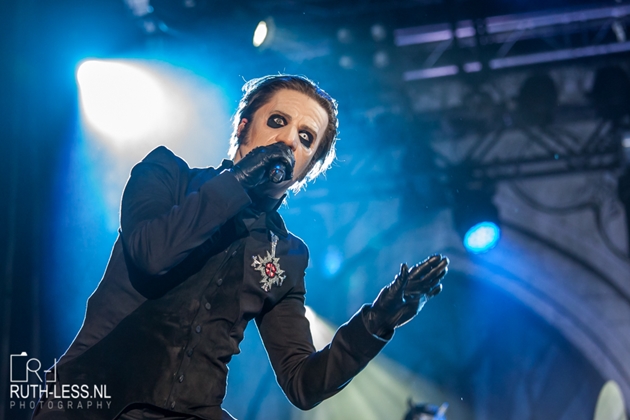 Music & Performance

I have seen GHOST a couple of times before and to be honest, I felt like "been there, done that, got a T-shirt". But they completely blew me away again headlining Dynamo Metal Fest this year. So, let's go from there. After a proper stage make-over, the nameless Ghouls take their positions at the church to rock off with some easy on the ears guitar work of GHOST's poppy song and most recent single 'Rats'. Cardinal Copia enters the stage and from there on, he wraps the crowd right around his gloved finger with the "bravoure" and glamour of QUEEN's Freddy Mercury. Despite the masks, there is quite a bit of movement around the stage from both the ghouls and from Tobias Forge (especially since he ditched the pope's costume) so their performance has much more identity than before. Additionally there is much more interaction with the audience than I remember from previous shows that were good musically, but quite static. The almost pop-like songs from the latest album 'Prequelle' are hard not to like and GHOST tiptoes right around the edge of corny with the sax solo in 'Miasma' from one of the Papa's that arose from his grave.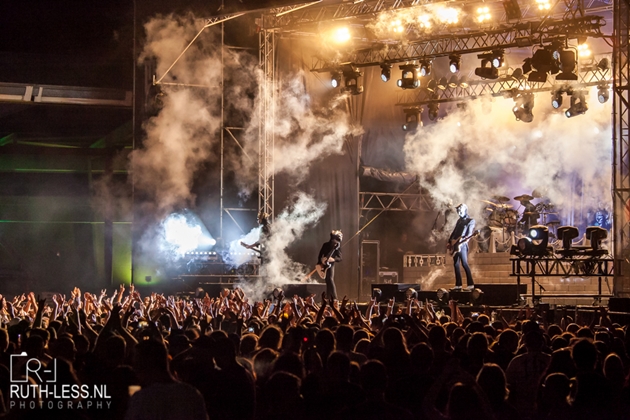 The older classics get their turn as well and are loudly encouraged by the crowd and most specifically by a group of fans who had been waiting around the front stage all day long with their ghost face-paint - I am confident it was worth the wait! And even if you're not a fan, this is a proper headliner that is hard not to like, whether it be for their music, their stage performance or their charisma and convincing show!
Setlist

01. Ashes
02. Rats
03. Absolution
04. Ritual
05. From the Pinnacle to the Pit
06. Faith
07. Cirice
08. Miasma (Papa Nihil on saxophone)
09. Year Zero
10. Intermezzo Spöksonat
11. He Is
12. Mummy Dust
13. Dance Macabre
14. Square Hammer
---
15. Monstrance Clock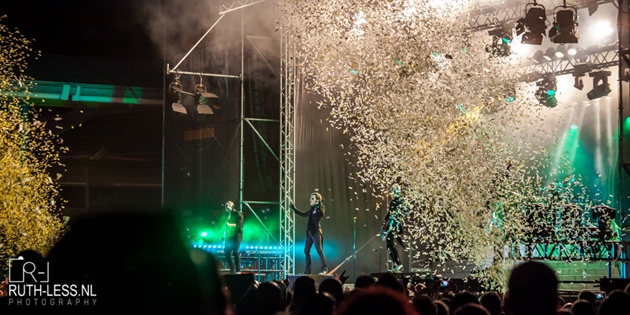 To start with an conclusion: Dynamo Metal Fest 2019 takes place on July 20th and you can already get your early bird tickets! This remains one of my favourite festivals of the year because of its great line-up, good atmosphere and great organization. It's nicely crowded, but still enough room to chill out on the grass or hang out in the shade and walk from front to back to get some drinks and snacks. Also thumbs up for the recycling-beer-cup system and the awesome crowd-surf-catching-crew in the front! See you next year Dynamo!
All pictures by Ruth Mampuys (www.ruth-less.nl)
See also (all categories):