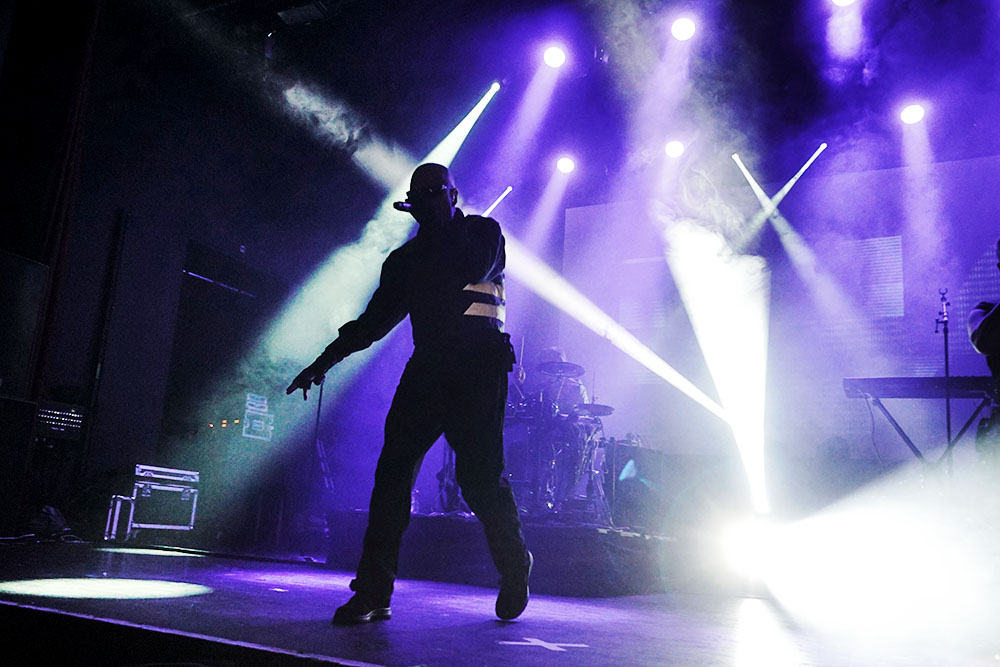 X-Tra, Zurich, Switzerland
16th November 2019
Der Schwarze Ball with Front 242, Coma Alliance and BAK XIII

Organized by Noxiris and More than Mode, 'Der Schwarze Ball' is a regular music event that combines interesting, international live acts with the huge 'More than Mode' party on three floors - both parts covering all different styles and varieties of darker music. This time, the line-up was truly epic offering a gig by the influential pioneers of FRONT 242 on the one hand and the first Swiss gig of the still quite new though already well-known project of COMA ALLIANCE. Well, I have been looking for a reason to return to the beautiful city of Zurich for a long time anyway. And what better occasion could there be for leaving the planes of Northern Germany to finally visit again this picturesque town between the impressive mountains?
Bak XIII

The opening act was from Switzerland as well although from a very different part, namely from Geneva in the French speaking part. They started in 2001 and have already released eight full-time albums. According to their Facebook page they describe their genre as "Electro-Pop-EBM-Metal-Punk-Goth-Wave-Dance-Rock'n'Roll..." and when I listened to some of their songs before the show, I got quite a similar impression. BAK XIII do not limit themselves to one genre but keep exploring all different styles, combining a whole variety even in a single song. The gig was bound to be interesting. To me the gig felt a lot like "Punk found a C64". Their style was as unique as it was puzzling at times. And I think, this was also the reaction of the audience: One half stood there obviously not sure what to make of this while the other half simply decided to have fun and dance along to the driving rhythms.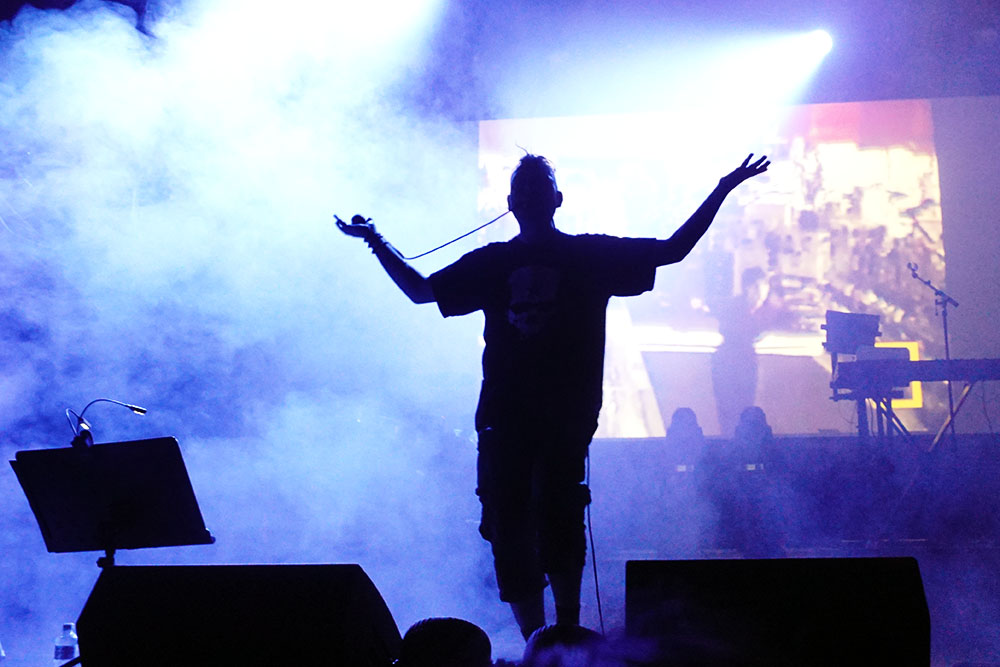 Well, BAK XIII's music is definitely not for everyone but for those who like this kind of music, BAK XIII offer a truly fun show. Yet, and this seems important to me, just like punk this is not just about fun. Some of their lyrics are actually very political like 'Open the borders' which raises awareness of how many people die while trying to get into the Schengen area. Well, there is definitely a lot to discover in this project. And while I still think that they are polarizing, they are definitely very original and offer a refreshing diversity in their sounds. // https://www.bak13.ch / https://www.facebook.com/BAK.XIII.official // Setlist: 01. Where is my joy? / 02. Fucking bloody song of shit / 03. The future was better before / 04. Saturday night / 05. 80's are back forever / 06. Vicious circle / 07. Tant mieux! / 08. The Vanguard 2 / 09. The Vanguard / 10. Fear business / 11. We are alive / 12. Headbanger / 13. Worship Satan and video games / 14. Open the borders
Coma Alliance

On 16th of November 2018 - and thus exactly one year before this show - COMA ALLIANCE released their debut album, 'Weapon of Choice', which was critically acclaimed by many reviewers. Talking about originality and refreshing sounds: Adrian Hates from DIARY OF DREAMS and Torben Wendt from DIORAMA offered something truly unique, a mix of Dark Wave, Minimal Electro and Trip Hop with two characteristic voices intertwining in perfection. So it is no wonder that they had a huge fan base from the very first steps on. And of course many of those fans travelled to Zurich to celebrate the first anniversary of their debut. When the gig started, I struggled to get into that certain feeling that COMA ALLIANCE gigs usually get me into. The sound was just too bad and for the first songs I was wondering whether something was wrong with my ears or whether it was the sound (I was later reassured by other people that the problem was indeed the sound).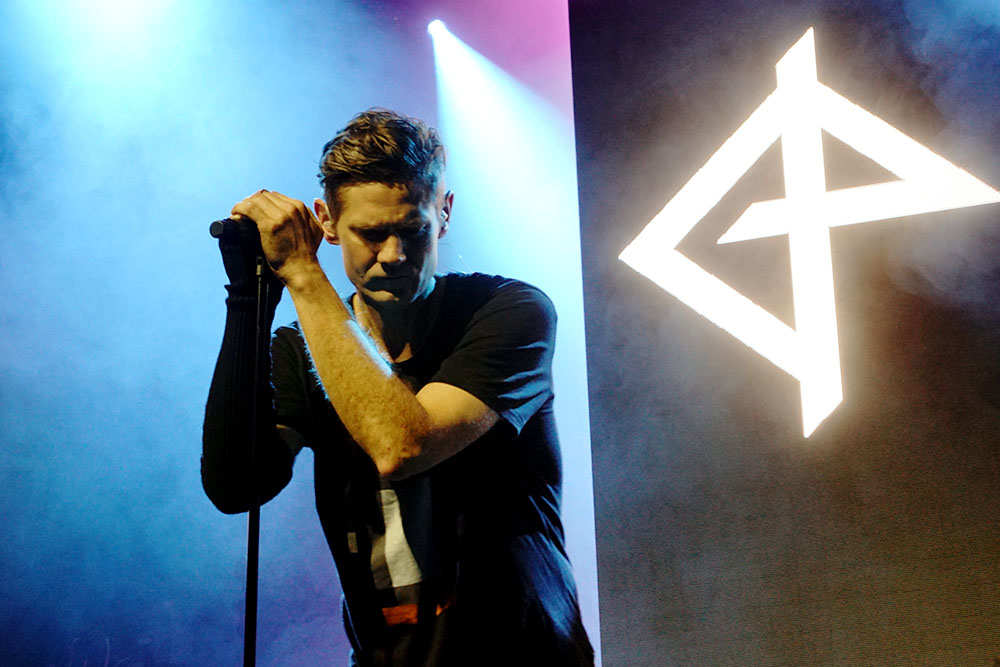 To me, the COMA ALLIANCE experience really lives from the intricate details of their music and the interplay of both voices, while in this case many details felt dampened or blurred out and unfortunately Torben's microphone was too low at almost all songs. Nonetheless, their energy and enthusiasm is just too contagious to worry about the sound for long. All three, Adrian and Torben at vocals and keyboards and Zura at guitar and the unique springboard, were so obviously enjoying the show immensely that it was simply captivating. And as before, there was this wonderful interaction, within the band as well as between the band and the audience - whether it was Zura using the bow to "play" on Adrian's guitar and Torben using one of Zura's sticks to play a short part on his springboard, or the well-established "rainbow-gesture" during 'Butterfly:Dance!' shared between Adrian and Torben and by now also picked up by some fans in the front rows, or Adrian saying "Thank you" to two fans who brought a sign with a "Happy birthday" message for the debut album.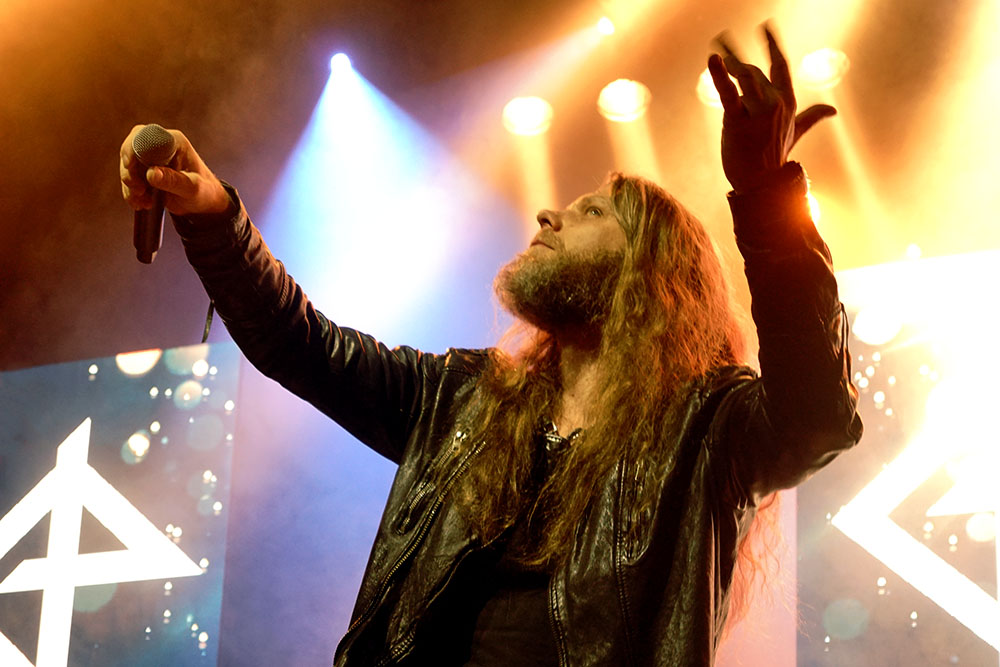 COMA ALLIANCE shows are always filled with many of those beautiful moments that build a strong bond between the band and the audience. And all this with songs that offer monumental and epic elements just as well as delicate and almost fragile goose bump moments. With all this, the time passed quickly. The crowd was cheering loudly, definitely not willing to let them go, but of course they had to leave the stage to make place for the next act. But not without Adrian emphasizing just how much it meant to him to be able to play here with FRONT 242, recalling an early memory when he visited one of their shows in Dusseldorf, calling them impressive and a huge influence on his own music. // https://www.comaalliance.com / https://www.facebook.com/comaalliance // Setlist (without order): Unusual / Royd / Decipher me / HLA / Buttons / Trembler / Butterfly:Dance! / Miracle / Kein Mord / Sepia / Traumtänzer / Coma Supreme / CA2
Front 242

Well, what shall I add to this duly introduction of FRONT 242 by Adrian Hates? Pioneers. Innovators. Legends. FRONT 242 were formed in 1981 in Belgium and were truly genre-defining. After all, they coined the term 'Electronic Body Music' which became such an important and influential genre during the 80ies and early 90ies with a huge impact on the world of electronic music to this day. After seven studio albums, the 90ies saw a short break up of the band. Fortunately, in 1998 they reformed and while there was hardly any new studio material (with exception of 'Pulse' in 2003), they kept being active as a live band. Who now thinks, that FRONT 242 might have already served their purpose and might be just old and dusty legends, was proven to be very, very wrong.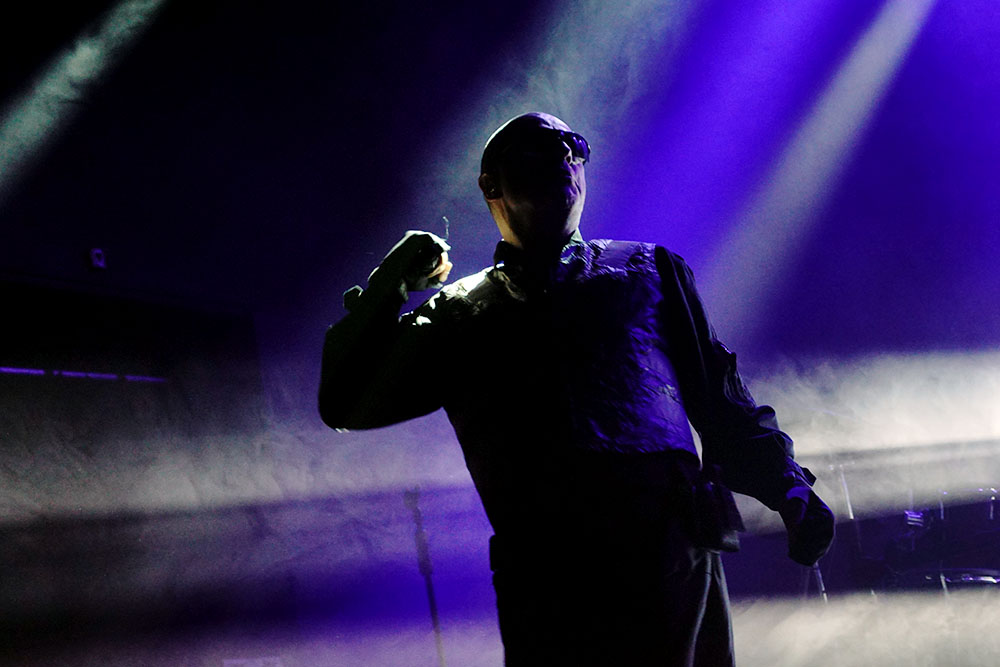 When Jean-Luc De Meyer and Richard 23 entered the stage it was clear that FRONT 242 is still very much alive and full of energy. And determined to push the whole audience. Along the fitting lines "You like the body, move the body" of 'First In/ First Out', they were jumping and dancing impressively, using the whole stage and both often going to the edge of the stage to encourage the crowd. Well, we definitely came to "move the body" and soon the whole hall was dancing. The event was definitely not sold out, but the room was well crowded to the back while leaving just enough space for everyone to dance. And indeed, the whole hall was dancing even to the last row while in the front soon a moshpit was started to songs like 'No shuffle' or 'Funkahdafi'.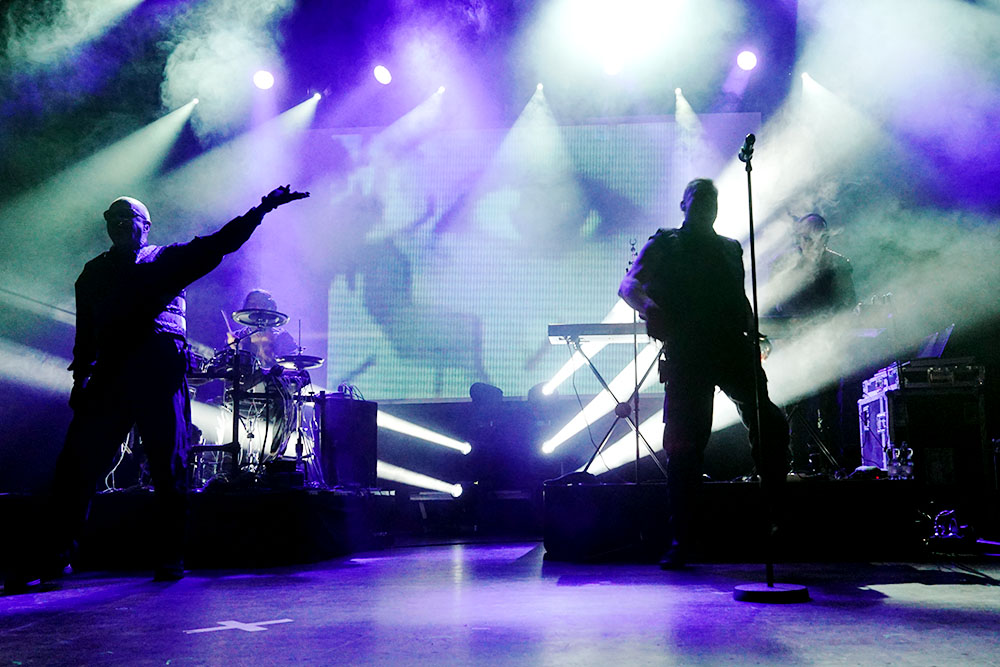 Just the light slightly annoying for me. Maybe this was just because I was in the front rows and hoped to get some decent photos, but the excessive use of strobe light from the back was confusing me. On the other, this probably looked very good from the back rows and fit well to this electronic dance party... Building up more and more tension, they reserved some of the biggest classics for the end, like the duly celebrated 'Headhunter' and – one of my personal favourites - 'Happiness'. With this it was already time to close the set of those living legends called FRONT 242. But after the gig is just before the party and soon the three dance floors of the 'More than Mode' party filled with many people who were still far from tired of dancing. // http://www.front242.com / https://www.facebook.com/Front.242
All Pictures by Eva Lhum
See also (all categories):