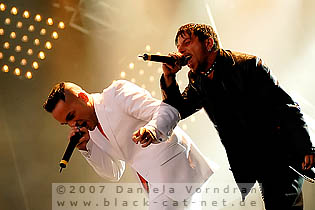 Flugplatz Drispenstedt, Hildesheim, Germany
11th to 12th August 2007
M'era Luna Festival Day 1 - Main Stage: The Lovecrave, Lola Angst, Jesus on Extasy, Necro Facility, Client, Assemblage 23, Covenant, Dir en Grey, Schandmaul, And One, Tool

Mid August is always the time for one of the most important festivals for the Gothic scene and also one of the most important ones for us. This year, again nearly 20,000 fans of the dark side of music from all over Europe and even farther away gathered at the airfield in Hildesheim for yet another M'era Luna festival. Just in time for the first band, the rainy weather of the previous days disappeared and made room for perfect and dry festival weather. Very nice of the old guy up in the sky!


The Main stage had a very mixed program to offer for the first day. Fans of Goth-Metal were served with THE LOVECRAVE or the harsh Japanese act DIR EN GREY, fans of medieval music got SCHANDMAUL and also fans of alternative music got a real highlight: TOOL. Besides those bands, different bands out of the electronic music genre had the biggest share on the main stage program. LOLA ANGST, JESUS ON EXTASY, NECRO FACILITY, CLIENT, ASSEMBLAGE 23, COVENANT and AND ONE presented very different shades of electronic music from Synth pop to Industrial influenced songs.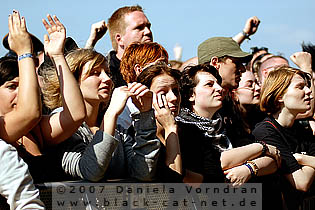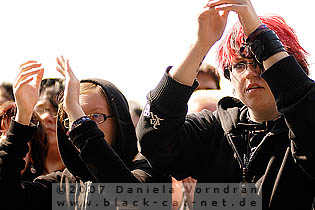 But not only music is part of the M'era Luna festival. Watch and being watched is always a topic. You could see beautifully dressed people everywhere. Lots of outfits could be bought on the various stands all over the festival area, starting with corsets, skirts over nylons to all kinds of accessories. There was something for any taste. Also a lot of different kind of food has been offered on the festival so no one had to suffer hunger. With great music, perfect weather and a nice atmosphere, M'era Luna became again one of the festival highlights of the year.
The Lovecrave - Main Stage (Carsten Leopold)

The first festival day started with some Goth'n'Roll at the main stage where THE LOVECRAVE, is an Italian gothic hard rock band, opened the festival sharp on 11:00 on Saturday morning. THE LOVECRAVE (originally Love-C-Rave, with Roman numeral C) means "Hundredth Rave of Love". This name was taken from a story about a rave of vampires written by Francesca Chiara in 2003. The music style of THE LOVECRAVE is a mix of gothic, 80's hard rock, metal, dark wave and electro-pop. Usually the band is classified in the gothic metal genre, but they do not feel comfortable there due to the variety of inspiration. Thus they usually describe their style as "neo Goth".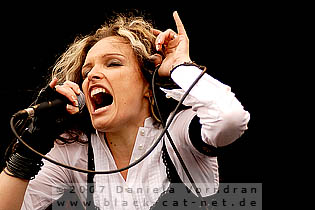 The band is formed of two experienced rock musicians from Milan and two old, good friends of Venice origin that moved to Milan to make music. THE LOVECRAVE are Tank Palamara (guitar and producing), Francesca Chiara (vocals), Iakk (drums) and Simon Dredo (bass). The current album is called 'The Angel and the Rain' and was released in 2006. As festival opener on Saturday, the band did a passable job. The attractive female singer in her sexy outfit was pleasing for the eyes and the powerful performance of the whole band satisfied the crowd. Their song 'Can you hear me' can be called somehow the official festival hymn.
http://www.thelovecrave.com/
/
www.myspace.com/thelovecrave

Rating

Music: 7
Performance: 8
Sound: 8
Light: daylight
Total: 7.5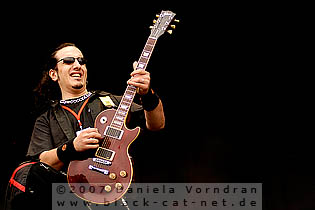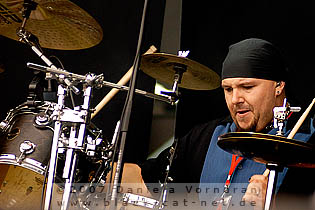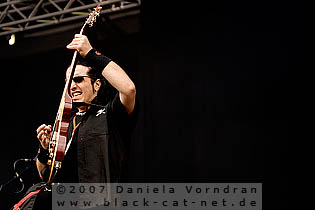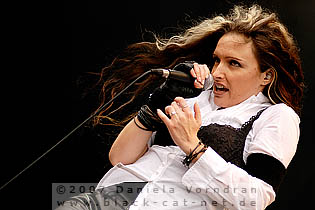 Lola Angst - Main Stage (Carsten Leopold)

Once upon a time, there was an old little church organ that was left alone in an ancient village chapel in Lichtenberg in Berlin, she had been abused in Sunday mass for several decades, and her graceful sounds would be accompanying the dreadful dirges of untalented and geriatric people. One night, two vagabonds came by, kidnapped her, and named her "Lola". Since then, the crazy trio is travelling the world, playing music under the moniker of LOLA ANGST. LOLA ANGST consists of "Lola" the Church organ, Alexander Leonard Goldmann (singing and playing Lola) and Reiner Schirner (analogue synths, live sequenzing and backing vocals). At shows, the dream team is accompanied by the two beautiful ballerinas Nastja Yakymenko and Cristina Voce from the German National Ballet.
http://www.lola-angst.de/
/
www.myspace.com/lolaangst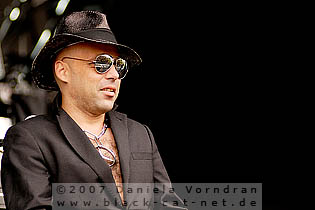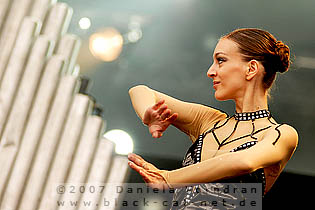 Music & Performance

The stage was dominated by "Lola" the imposing church organ with 36 pipes that can shoot flames up to 8m high - and they did use the fire for nearly every song of the set. The crazy musicians performed a diversified, impressive and wacky show - rousing sounds and crazy show elements - like demanding new beer and opening the bottles with an axe, pleasing for eyes and ears likewise. After releasing the new album 'Schwarzwald' only a few weeks ago, the band of course presented several songs out of their current releases. Besides that, the well-known "hits" 'Dark DJ' and 'Am I dead?' were belonging to the set.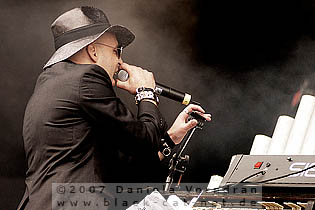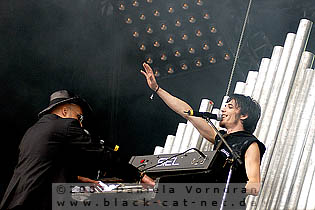 During several songs, the two beautiful female ballet dancers support them on stage, dressed in black on that summer day. Altogether it was a convincing performance that animate for more. Luckily the band will be back soon on stages during the Orkus International Festival Tour in November.
Setlist

01. Just Slaves
02. Hello Happiness
03. Dark DJ
04. Dead Man's Song
05. Final War
06. Mr. Trisex
07. Am I dead?
Rating

Music: 8
Performance: 10
Sound: 9
Light: daylight
Total: 8.9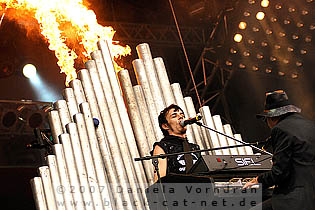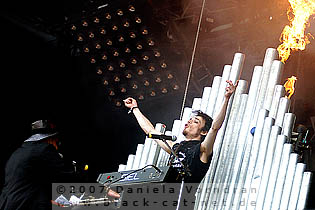 Jesus on Extasy - Main Stage (Jörg Uhlenbruch)


One of the most promising newcomers of 2007 was the next one on the main stage: JESUS ON EXSTASY, a German quintet from the Ruhr area, West-Germany's old industrial heart. And Industrial (in this context of course the musical genre) is one of the main influences of JESUS ON EXSTACY; Industrial Rock, to be more precise, but also Goth, Pop and a bit of good old Glam Rock. Founded in summer 2005 by vocalist Dorian Deveraux and guitarero Chai, JESUS ON EXTASY made a quick rise and are currently one of the biggest hypes in the Goth scene – but surely a hype which is okay as the musical qualities of the band are undeniable. The ladies Alicia Vayne (guitars) and Ophelia Dax (synthesizers) and latest member BJ (drums), who became a full band member in June after the latest club tour of JESUS ON EXSTASY, complete the line-up.
http://www.digital-dandies.com/
/
www.myspace.com/jesusonextasy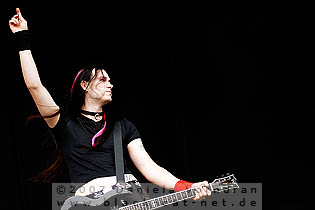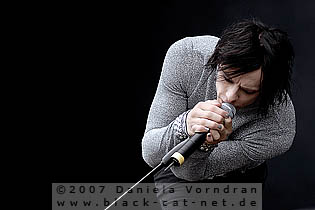 Music & Performance

The constant gigging rubbed off and the band sounded very well-rehearsed and professional. The huge media coverage in Germany also rubbed off and the area in front of the main stage was pretty crowded. Maybe it would have been a good idea to let JESUS ON EXSTASY play a little later than half past twelve - which is almost like early morning at an open air festival. ;-) The show started with the stomper 'Drowning' which starts quite electronic just to break into a guitar-storm followed by a catchy hook. That's one of the big qualities of this band - the great hooks! And front man Dorian surely enjoys some posing but he is never over-acting and delivered a good show.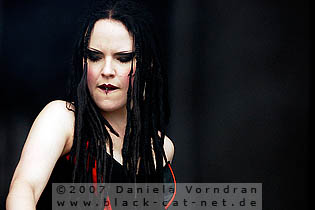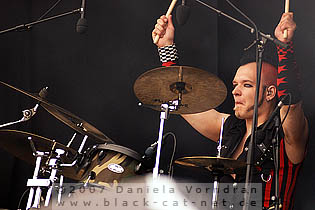 Of course all the material they performed was taken from their debut 'Holy Beauty', including the noisy cover version 'Nowhere Girl' (originally by B-MOVIE and a nod to 80s Pop) and of course the club hit 'Assassinate Me', which got the best crowd reaction of the set.
Setlist

01. Drowning
02. Holy Beauty
03. Puppet
04. Nowhere Girl (B-MOVIE)
05. Alone
06. Assassinate Me
07. Neochrome

Rating

Music: 7
Performance: 8
Sound: 8
Light: daylight
Total: 7.5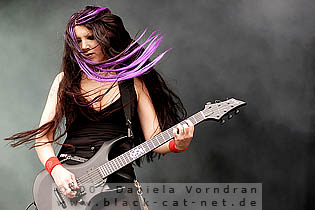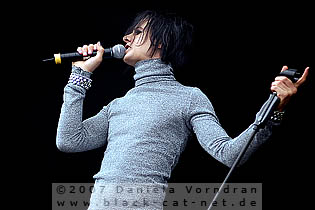 Necro Facility - Main Stage (Jörg Uhlenbruch)


With NECRO FACILITY, another electronic band followed on the main stage. The band gained a lot of attention with the extraordinary production skills they display on their debut 'The Black Paintings'. Anybody who loves dark Electro of a more complex nature in the vein of US- and Canadian heroes like MENTALLO & THE FIXER, FRONT LINE ASSEMBLY and especially SKINNY PUPPY will enjoy the well-crafted debut of this young Swedish duo, consisting of Oscar Holter and Henrik Bäckström. Their main influence is quite obviously SKINNY PUPPY but they are not just a copycat of the old legend from Vancouver. NECRO FACILITY's tracks are not instant hits but the complexity of their music makes them all the more interesting.
http://necro.e-prom.se/
/
www.myspace.com/necrofacility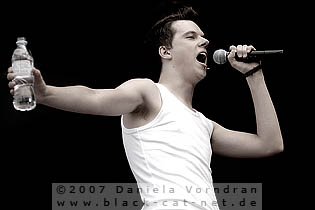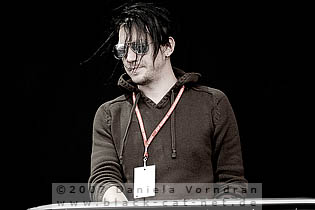 Music & Performance

Live on stage they are a little different than you might expect. Instead of a bunch of black-clad gloomy guys you get two youngsters in shorts and white sleeveless shirts. But who cares, the music is good, although the M'era Luna stage is definitely too big for the two boys, especially as Oscar Holter prefers to hide behind a tower of equipment in the back of the stage. I think the smaller stage in the Hanger would have been more suitable for those two guys.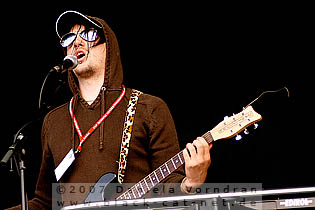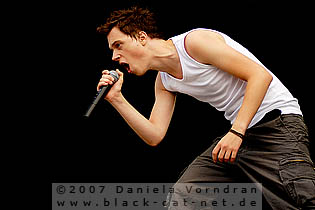 Musically it was very good and promising, show-wise they could still improve - and they might go down better in a club and without daylight.
Setlist
01. Dogma
02. Tuxedo
03. Kite
04. Nursed
05. Intense
06. Left U (extra bonus track just for M'era Luna)

Rating

Music: 8
Performance: 6
Sound: 7
Light: daylight
Total: 7.1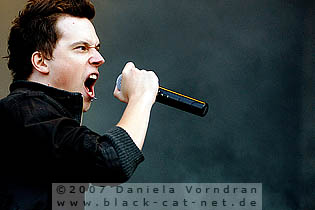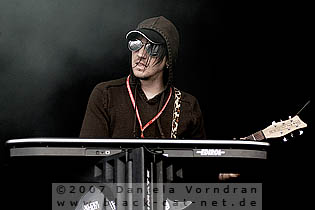 Client - Main Stage (Carsten Leopold)

Due to the fact that scheduled ASSEMBLAGE 23 were captured in a traffic jam on the highway, CLIENT were next on the main stage and started about an hour earlier than planned.
CLIENT are a futurist British musical group from Rotherham, England who have toured extensively throughout Europe and Asia. They are most popular in Germany where they have had most commercial success. They combine Scandinavian airline hostess uniforms with glamour-girl aesthetics and harsh electronics to create a sound reminiscent of early forays into electronic sound manipulation and New Wave. Their uniforms have become their trademark.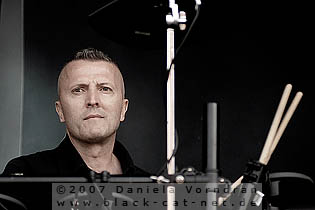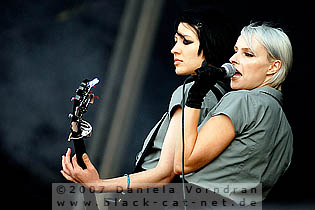 The original band members Kate Holmes (keyboard) and Sarah Blackwood (vocals) were formerly known only anonymously as Client A and Client B. In late 2005 Emily Mann (also Emily Strange, bass), aka Client E, joined the group. At the current gigs CLIENT were supported by Robert Görl of D.A.F. (drums). Client E was not playing some of the latest festival as well as the M'era Luna. Her spot was taken over by Client M. on bass, a "beautiful half Chinese girl who is as well as being amazingly lovely is also a fantastic live bass player", as Client A states.
http://www.client-online.net/
/
http://www.client-online.de/
/
www.myspace.com/client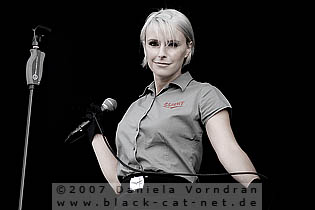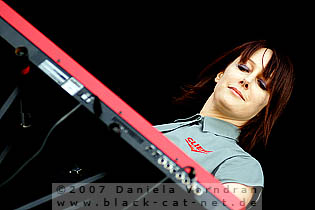 Music & Performance

The luscious girls of CLIENT entered the main stage as usually dressed in uniforms consisting of their own blouses, which are also sold at the merchandising booth, and black skirts combined with high heels. The music of CLIENT was the typical danceable electro sound for what they are well-known. This time the girls were supported by Robert Görl on drums, by which the performance seemed some more vital. The set started with 'Client' and consisted of current songs such as 'Lights Go Out' or 'Drive' as well as older songs too like 'Radio' or 'Pornography'.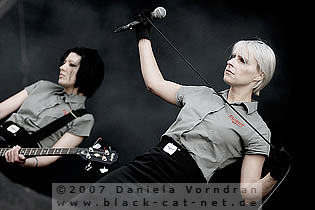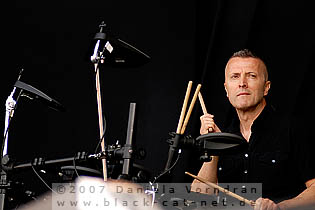 During the show the clouds had disappeared, the sun began to shine and the meanwhile well-filled crowd was delighted by the cool performance of the charming girls. The set finished with 'It's Not Over' and an invitation to the upcoming tour in November this year.
Setlist

01. Client
02. Radio
03. Drive
04. Down To The Underground
05. Pornography
06. Here And Now
07. Lights Go Out
08. Monkey On My Back
09. Get Your Man
10. It's Not Over
Rating

Music: 10
Performance: 8
Sound: 9
Light: daylight
Total: 9.1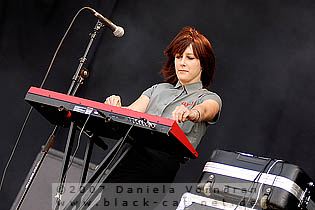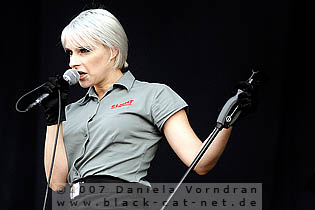 Assemblage 23 - Main Stage (Carsten Leopold)

Next on main stage were ASSEMBLAGE 23 who originally were supposed to play before CLIENT but had to change the spots because they got stuck in a traffic jam. The band got its start in 1988, when at a DEPECHE MODE concert; founder Tom Shear heard the opening DJ spinning industrial dance music. Prior to hearing this type of music, Shear had been creating primarily Synth-pop and post-punk type music, as well as playing bass in a punk band. Hearing industrial music for the first time proved to be something of an epiphany for Shear, as he had finally found a form of music that combined the electronic sounds he loved from his Synth-pop background with the heavier, darker aggression punk represented.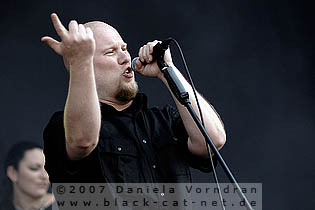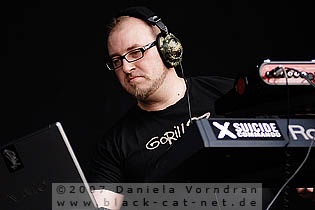 Officially, ASSEMBLAGE 23 is just Tom Shear who writes the music, lyrics, and does the recording himself. Live, Tom Shear usually is accompanied by Paul Seegers on keys and Kevin Choby on electronic drums, but this time Paul and Kevin were be unable to attend (it is said the flight from the USA to Germany was too expensive for them), so it was a different line-up for this show with the special guests Daniel Myer (HAUJOBB) and Dr.T (Tryste - live keyboards for FADERHEAD).
http://www.assemblage23.com/
/
www.myspace.com/officialassemblage23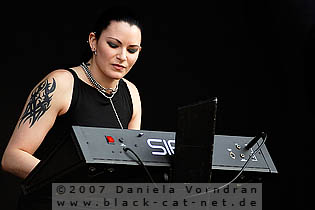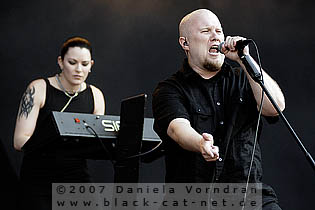 Music & Performance:

The set on the M'era Luna main stage consisted of nine songs, taken from different episodes of band's history, started with 'Binary' - the current single which was released in March 2007 - and finished with 'Decades' in the first version that was released exclusive on the sampler 'Accession Records Volume 3' in 2006. The performance was much better than the last time I remember, more powerful and more carrying away, but I heard comments of some fans that usually the voice of Tom is some better – maybe he was still a bit stressed after all that troubles with traffic jams and the delay.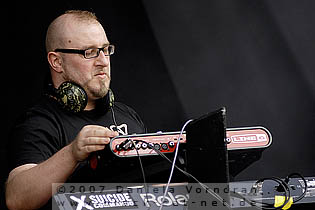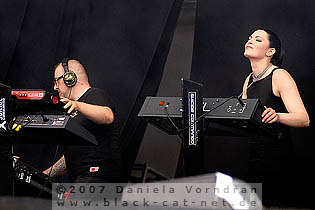 Tom dominated the stage, but the both special guests - Daniel Myer from HAUJOBB and the charming female keyboard player Dr.T who normally plays the live keyboards for FADERHEAD - did a great job too. The crowd enjoyed the danceable rhythms of the music and were in a good temper. Altogether it was a good performance and after the 45 minutes of given time, resounding applause was given.
Setlist
01. Binary
02. Naked (2007 Rmx)
03. Opened
04. Madman's Dream
05. Let Me Be Your Armor
06. Document
07. Let the Wind Erase Me
08. Disappoint (2007 Rmx)
09. Decades (version one)

Rating

Music: 8
Performance: 8
Sound: 8
Light: daylight
Total: 8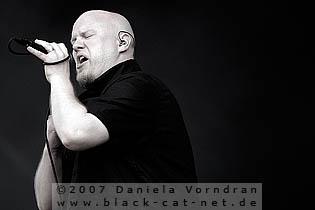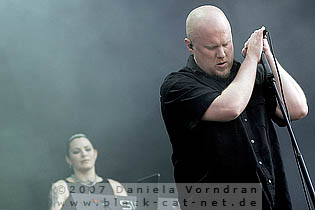 Covenant - Main Stage (Sebastian Huhn)

COVENANT, which means "agreement" or "alliance" referred to the Old Testament, was founded in 1992 by Eskil Simonsson, Joakim Montelius and Clas Nachmanson with the goal to create good electronic music. Some of the songs they created back then are classics nowadays like 'Theremin' or 'Figurehead' which are still in the repertoire of DJs all over the world. Today the band is one of the most successful acts in the electronic music scene along with such bands like VNV NATION. After a long waiting time, their current album 'Skyshaper' was finally released in March 2006 and gained much Success from both press and fans.
http://www.covenant.se/
/
http://www.covenant.de/
/
www.myspace.com/covenant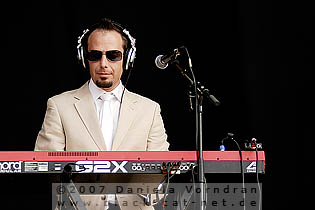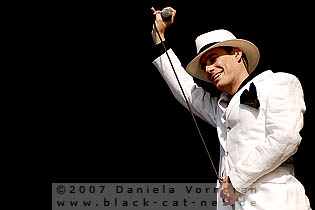 Music & Performance

The setlist contained eight songs mostly from the last two albums. To the first beats of 'Leiermann', Joakim Montelius and Daniel Myer, who did the synths and percussions instead of Clas Nachmanson, entered the stage, all dressed up in fashionable suits. Short after that Eskil appeared on stage wearing a white suit and hat and welcomed the audience. Eskil was really in top condition at the show, always moving up and down the stage and also delivered an awesome vocal performance especially at 'Invisible & Silent'.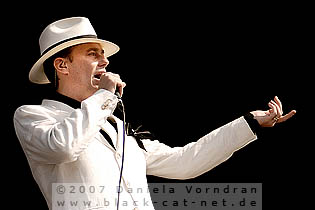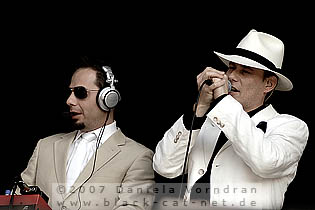 I also need to mention Daniel Myer who did an awesome job on the percussions on the tracks 'Ritual Noise' and 'The Men'. The percussions were a really a great addition to COVENANT's electronic sound and were well rewarded by the crowd. During 'The Men', Joakim joined Eskil on the stage rim to encourage the crowd and was well rewarded by them with singing and jumping. COVENANT left the stage accompanied with excessive applause of the crowd and ended the show that was in my opinion a real highlight of the first M'era Luna day.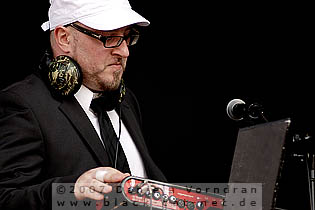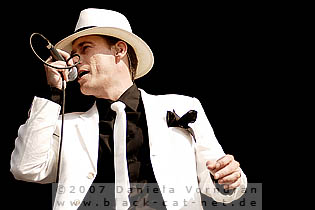 Setlist

01. Like tears in Rain / Leiermann
02. Bullet
03. 20hz
04. Ritual Noise
05. Invisible & Silent
06. The men (extended)
07. We stand alone
08. Call the Ships to port (live rmx)
Rating

Music: 9
Performance: 9
Sound: 9
Light: Daylight
Total:  9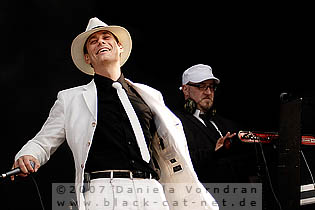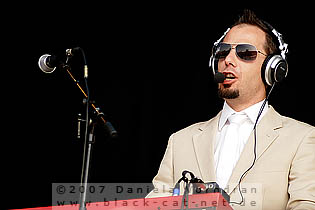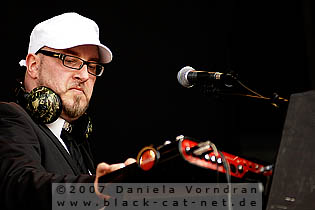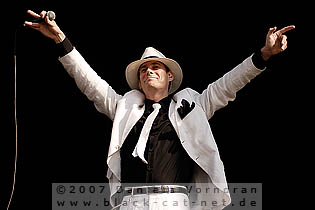 Dir en Grey - Main Stage (Karolina Moszkowicz)

DIR EN GREY are a Japanese rock band formed in 1997 as a result of La:Sadies split up. The band consists of five members: vocalist Kyo, guitarists Kaoru and Die, bassist Toshiya and drummer Shinya. Their debut was marked by the simultaneous release of three singles, all of which reached the Top Ten. Five albums later, DIR EN GREY have added to their international success by solidifying their presence in the U.S. with the 2007 release of 'The Marrow of a Bone', their second release in as many years for Warcon Entertainment.
http://www.direngrey.co.jp/
/
www.myspace.com/officialdirengrey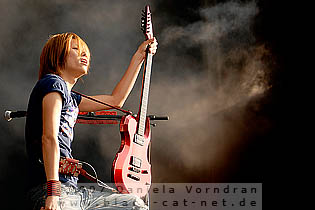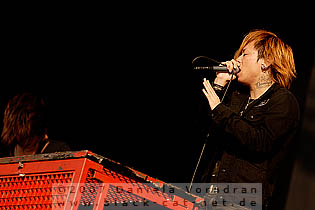 Music & Performance

The show and music of DIR EN GREY correlated perfectly by means of what I 'd call the untamed release of anger and other most violent emotions. Both sounds and scenic manner seemed to be uncontrollable, neurotic, aggressive, overwhelming and overpowering expression of artistic inspiration and reflection of most hard-hitting, astute and loud melodies. Blending the elements of rock and metal with vast amounts of theatrical expression the band succeeds in evoking most extreme reactions.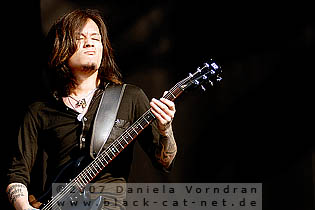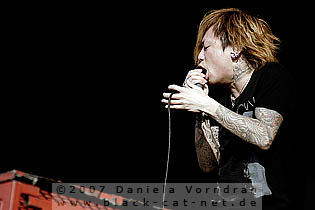 One of the most appealing and astounding elements of their music is the vocal line being changeable, most impressive machine producing sounds from both borders: top and bottom line of human voice. Balancing on extremes, reflecting highly unexpected vocalic combinations and imitating either angelic voices or fallen creatures growls the effect that is built by means of wild, frantic and noisy music and voice which is somewhat a resultant of scream, squeak, scanning and roars surely gives an impressing effect. On the second though, 'balance' is not the right word to describe their artistic method; what Dir en Grey music seems to be about is a mass of sounds, impressions, notes and images that are to hit the listener with unbelievable force and with no warning whatsoever.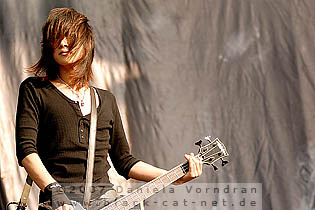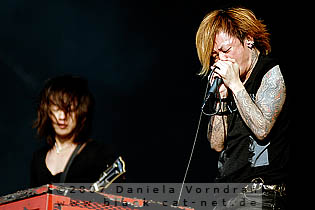 The sphere of performance as I mentioned features the musicians wearing 'rock-styled' outfit, leather jackets, presenting loose, dyed hair and behaving in a rockstar-like manner: running mad with guitars, jumping, mimicking and screaming. Altogether it was most expressive show - both musically and scenically. A bit on the edge probably was the fact, that the band was cutting themselves on stage - a bit bloody because it was no fake and maybe a wrong sign for several people within the audience.
Setlist
01. GDS
02. Repetition of Hatred
03. Grief
04. Saku
05. Ryoujoku no ame
06. Disabled Complexes
07. Agitated Screams of Maggots
08. Obscure
09. Conceives Sorrow
10. The Final
11. Dead tree
12. Merciless Cult
13. The Deeper Vileness
14. The IIID Empire

Rating

Music: 8
Performance: 8
Sound: 8
Light – daylight
Total: 8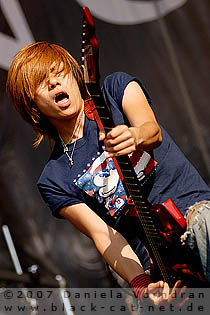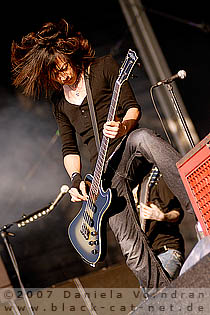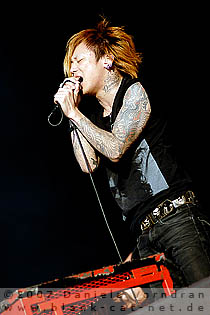 Schandmaul - Main Stage (Jörg Uhlenbruch)


After lots of electronic music and some harder rock'n'roll stuff, it was finally time for some medieval-folk-rock music on the main stage with SCHANDMAUL who combine folk, rock and medieval influences and use a lot of violins, bagpipes, flutes, acoustic guitars etc. Not your typical Goth band but rather a Folk Rock band with medieval influences. SCHANDMAUL are Thomas Lindner (vocals, acoustic guitar, accordion), Birgit Muggenthaler (flutes, shawms, bagpipe, backing vocals), Anna Kränzlein (violin, hurdy-gurdy, backing vocals), Martin "Ducky" Duckstein (electric guitar, acoustic guitar, classical guitar, backing vocals), Stefan Brunner (drums, percussion, backing vocals) and Matthias Richter (bass).
http://www.schandmaul.de/
/
www.myspace.com/schandmaulmusic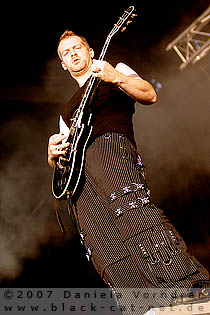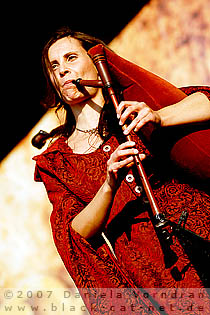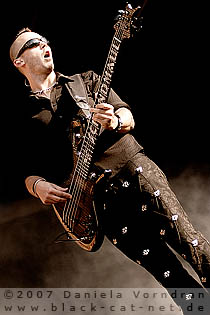 Only one year after the foundation of the band, SCHANDMAUL released their self-distributed debut album 'Wahre Helden', followed by the also self-distributed 'Von Spitzbuben und anderen Halunken' in 2000. The latter was re-released in 2001 when SCHANDMAUL finally signed to a label, Fame Records. Since then the prolific band released a total of six albums, two DVDs and a couple of minor releases, and toured constantly throughout Europe. Especially their reputation as an exquisite live band granted them a loyal following among an audience who enjoys similar acts like IN EXTREMO or LETZTE INSTANZ.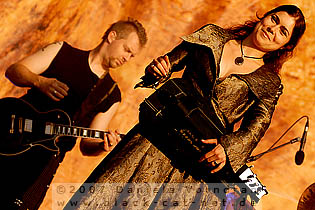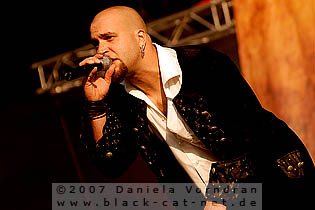 Music & Performance
SCHANDMAUL are a live band who is on stage to have a party with their audience. All members are well skilled musicians but there's a certain simplicity to their music and their lyrics, which invites for many sing-alongs and crowd participation. So the gig was surely fun although the music itself is not among my preferences. Vocalist Lindner did his best to get the audience involved and the experienced front man surely succeeded.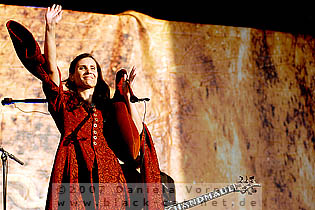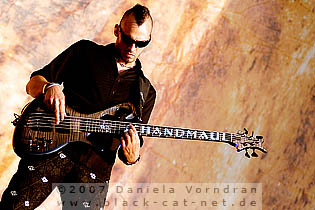 There was lots of singing, dancing and jumping around at the front! I guess the show would have worked better in the dark though, or at the second stage in the hangar. But when they played there in past years the hangar was so packed that many people could not see the show. Not exactly my cup of tea but it was a fun show.

Setlist

01. Vor der Schlacht
02. Herren der Winde
03. Leb!
04. Drachentöter
05. Feuertanz
06. Kein Weg zu weit
07. Weit überm Meer
08. Die Tür in mir
09. Lichtblick
10. Mitgift
11. Vogelfrei
12. Walpurgisnacht
---
13. Dein Antlitz

Rating

Music: 6
Performance: 8
Sound: 7
Light: daylight
Total: 6.9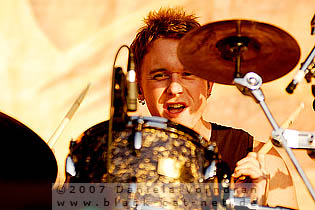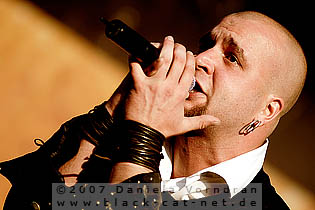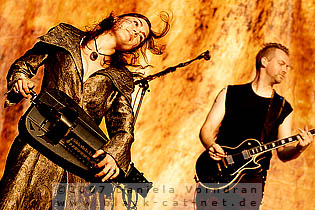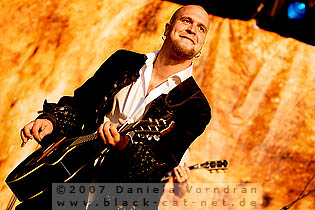 And One - Main Stage (Carsten Leopold)


AND ONE are one of the most famous Synth-Pop bands in Germany. Inspired by DEPECHE MODE and other electro acts of the eighties, Steve Naghavi - the mastermind of the band - created a lot of hits like 'Techno Man', 'Panzermensch', 'Deutschmaschine', 'Sometimes' or 'Metalhammer' just to mention a few. In every electro club in Germany very often you can find AND ONE on the play-lists. And always when the DJ is playing an AND ONE-song, the floor is crowded. The current album is called 'Bodypop' and was released in 2006. AND ONE are: Steve Naghavi, Gio van Oli and Chris Ruiz.
http://www.andone.de/
/
www.myspace.com/andonefans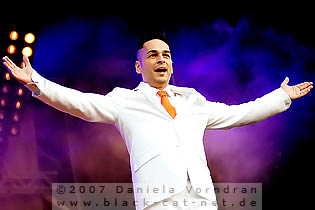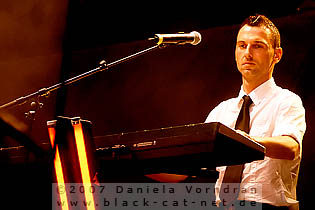 Music & Performance

During the intro the band entered the stage and anyone took his place. Steve was dressed in a nice white suit - yeah, it was the day of the white suits on this stage it seems. After the intro, the show started with a nice surprise - a cover version of 'Fools', a song of my absolute favourite band DEPECHE MODE. After the song, Steve welcomed the crowd with a joke: "Herewith I declare the M'era Luna 2007 for opened!" and the show went on. The setlist consisted of a good mixture of current songs like 'Military Fashion Show' or 'Enjoy the Unknown', older hits like the legendary 'Technoman' or the wonderful 'Für' as well as some cover versions - namely 'Fools' from DEPECHE MODE, 'Timekiller' from PROJEKT PITCHFORK and 'The Walk' from THE CURE.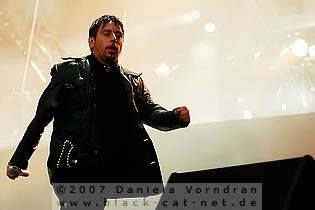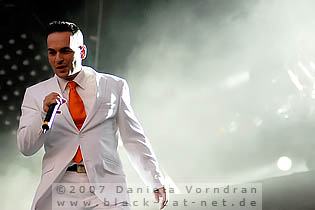 The song 'Technoman' has been performed by Steve and Chris together, for 'Fernsehapparat', Chris took over the vocals completely. The crowd quickly was infected by the rousing performance of the band and followed willingly the animations of the charismatic front man by singing along, dancing, clapping hands and swinging arms. The sound was excellent where I was standing and in the course of the show, the daylight disappeared and the effect of the nice lightshow was enforced. The show finished with 'So klingt Liebe' and the last joke of Steve: "Herewith I declare the M'era Luna 2007 for closed". Anytime, the mood on stage and in the crowd was great and after the 75 minutes the crowd was very satisfied and made room for the TOOL fans.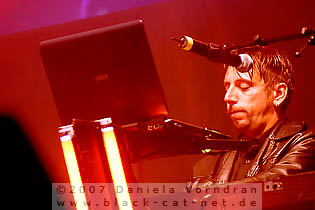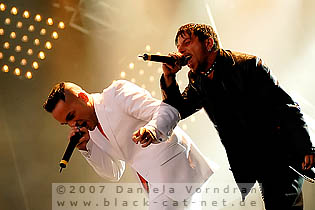 Setlist

01. Intro
02. Fools (Depeche Mode)
03. Stand The Pain
04. Techno Man
05. Enjoy The Unknown
06. Timekiller (Project Pitchfork)
07. Schwarz
08. Steine Sind Steine
09. Military Fashion Show
10. The Walk (The Cure)
11. Deutschmaschine
12. Traumfrau
13. Fernsehapparat
14. Für
15. Body Nerv
16. Recover You
17. Get You Closer
18. So Klingt Liebe
Rating

Music: 10
Performance: 10
Sound: 10
Light: 9
Total: 10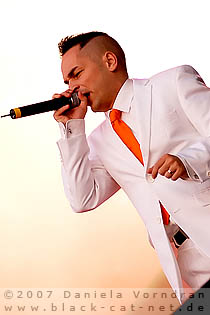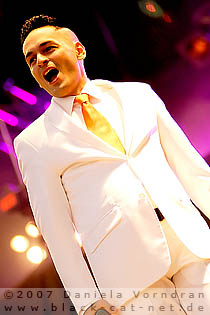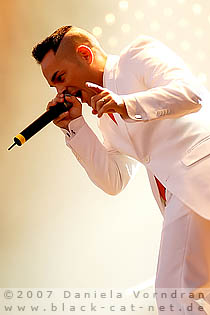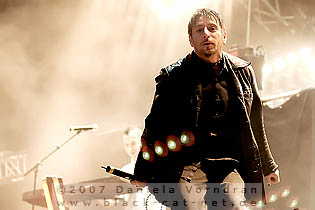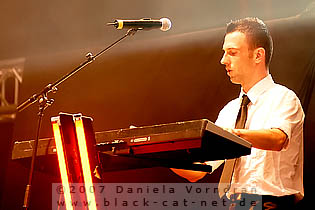 Tool - Main Stage (Jörg Uhlenbruch)
Finally it was time for the headliner of the first festival day - from many fans long awaited TOOL. Among the bands in Rock and Metal with an artistically extraordinarily high profile is surely TOOL, the Californian band featuring drummer Danny Carey, bassist Justin Chancellor, guitarist Adam Jones, and vocalist Maynard James Keenan. Since the middle of the 1990s, TOOL have been famous for epic tracks of an experimental nature, with lots of weird meter signatures, rhythm shifts and polyrhythmic sections and many other high-class musical traits. TOOL also combine visual arts (album covers and unusual video clips) and philosophical and spiritual issues with their experimental music. TOOL's second long player 'Ænima' (1996) is still regarded as one of the most important albums in Rock by many critics but their later albums like 'Larteralus' (2001) and '10,000 Days' (2006) also received a lot of praise and gained high cart positions worldwide. TOOL are one of the few cases in which musical experimentation, a somewhat anti-commercial attitude and controversial art is remunerated with commercial success.
http://www.toolband.com/
/
http://www.toolband.de/
/
www.myspace.com/tool
Music & Performance

At the M'era Luna I saw TOOL for the first time, and it took only one song to make clear to me that I really missed out something. As unusual and experimental their albums are, as much is their live performance. With former art and film students in the band, TOOL like to experiment with looped video clips which are displayed on huge video screens in the back of the stage. Also in the back of the stage is singer Keenard, on an elevated platform next to the drum kit, and most of the time the vocalist performs facing the left side of the stage and hardly standing straight to the audience. Guitarist Adam Jones and bassist Justin Chancellor stand in the first row at the respective edges of the stage. This leaves a lot of space for shadow play, lights and lasers and the psychedelic video show.
A pretty unorthodox stage setting! The visual and musical performance gets you easily carried away, a very impressive and profound live experience. Despite a playing time of 75 minutes, TOOL only performed eight tracks - including an extended version of the classic 'Stinkfist' and an about 12-minute long version of 'Rosetta Stoned', from the most recent album '10,000 Days'. Definitely the best show of this year's M'era Luna, with a musical quality that put many other acts at the festival to shame and could only be matched by a band of a similar legendary status like SKINNY PUPPY.
Setlist

01. Jambi
02. Stinkfist extended
03. 46 & 2
04. Schism extended
05. Rosetta stoned
06. Flood
07. Lateralus
08. Vicarious

Rating

Music: 10
Performance: 10
Sound: 9
Light: 9
Total: 9.7
Unfortunately, the photographers were not allowed to take any pics of the band, whether from the pit nor the infield. We're sorry that we cannot show you some impressions of the show. After TOOL, the first festival day ended for us because we were really exhausted. Many of the other festival visitors took the chance to celebrate until the early morning hour in the Hangar at the official party or just were sitting with friend on the camp ground to drink, talk and listen to music.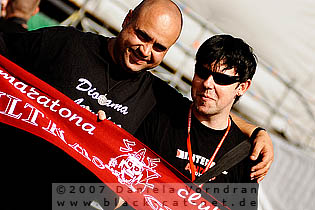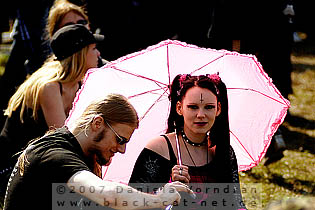 Written by Carsten Leopold, Jörg Uhlenbruch, Karolina Moszkowicz, Sebastian Huhn and Daniela Vorndran
All pictures by Daniela Vorndran (
http://www.vorndranphotography.com/
/
http://www.black-cat-net.de/
/
www.myspace.com/vorndranphotography
)
{jos_sb_discuss:18}