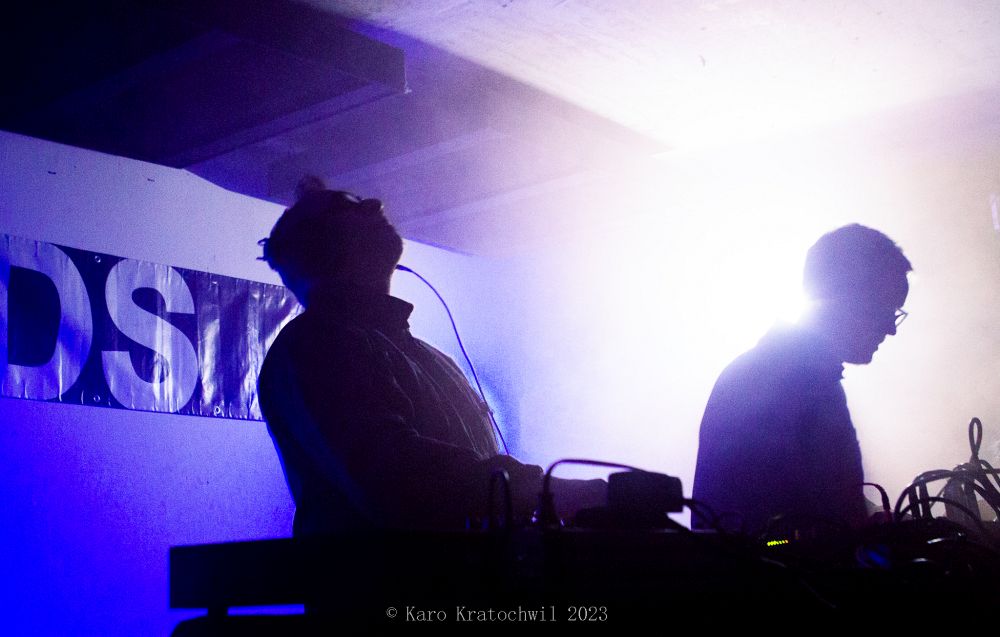 Urban Spree, Berlin, Germany
6th January 2023
Hands Label Night 2023 with S.K.E.T, Greyhound, 16Pad Noise Terrorist, Monya, Supersimmetria, Mono No Aware

Hands Label Night, the amazing opening event for my 2023 concert year, took place on January 6th at the well-known location Urban Spree. The excellent line-up and the fantastic reputation of the Hands label as the great event organizers were major reasons that the place was completely sold out and many willing people simply had to be sent away. Amazing artists, an incredible audience, and an absolutely marvellous atmosphere - a recipe for a top-notch event.
Hands is a well-known label for electronic music and art operating since 1990. Pioneers for propagating contemporary electronic music, presenting artists from all over the world, they cover genres far beyond the core business of Rhythm'n'Noise into the areas of IDM, Drum & Bass and Breakcore, Minimal Techno, Ambient, Electronica, and Sound Art. The event organized by them in Berlin was one great festival of sensational music, a place where amazing, friendly, and fascinating people met. I was coming back from concerts on my last legs, but as happy as I had not been in a long time. Thank you!
Supersimmetria
The evening was opened by a project by Armando Insilicio, SUPERSIMMETRIA. As Armando told me since his youth, he loved to compose music and in his teenage years he a Progressive Death Metal band. They composed three tracks but never recorded them. The band then dissolved because three members moved out of town. The desire to make music remained and after he moved to Berlin in 2009, he finally had time to learn how to use music software. With the option of going electronic, he could do music on his own and after starting he never stopped. He never studied music, he learned everything with YouTube tutorials and with the help of other artist friends that gave him some very good insights. Among these friends is worth mentioning Plaster and Zaliva-D as he mentioned he loved their sound design and aesthetics and the direct contact with them helped him sounds get better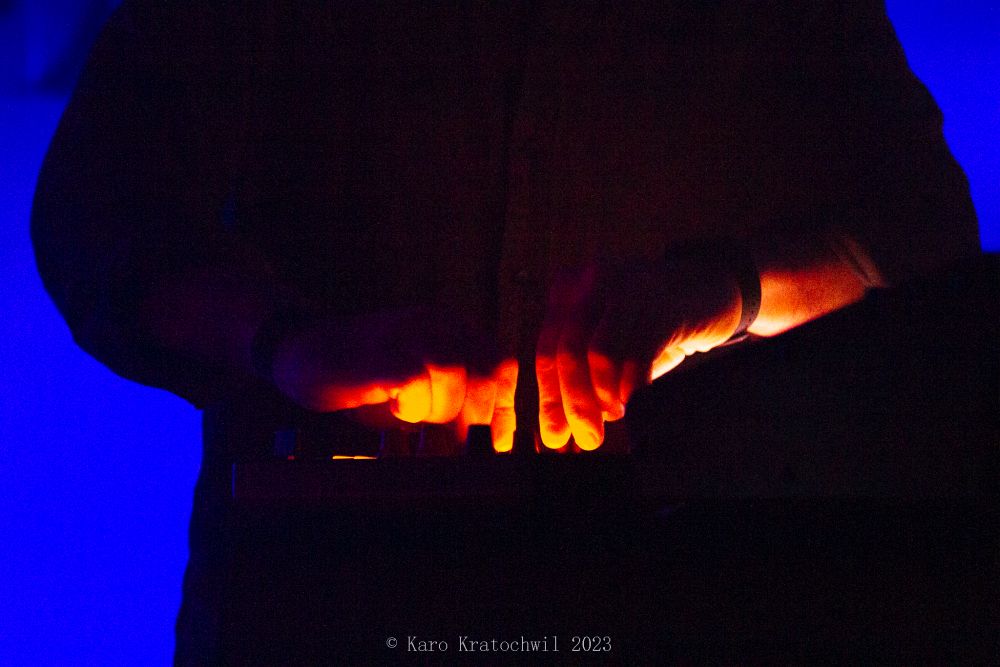 Music & Performance

The show in Berlin was a smashing blend of poetic and very, very dancy. Electronic, dynamic lines, intertwined with a highly melodious background and some punchy kicks created a variable, sonically surprising, and very catchy set. Great opening for the concert night.
Setlist

01. L.U.C.A. (album: Abiogenesis)
02. Chemical Evolution (album: Abiogenesis
03. Fusion (album: Abiogenesis)
04. Accretion disk (album: Abiogenesis)
05. DNA repair (album: Double Helix)
06. Horror Vacui (album: Materia)
07. Unobservable Matter (album: Materia)
08. CHNOPS (album: Abiogenesis)
Rating

Music: 8
Performance: 7
Light: 6
Sound: 8
Total: 7 / 10
Monya

Berlin-based MONYA started to release on BCR Label which was run through the amazing BCR boys, then on Australian label IF? And many more till she launched her own Label Corresponding Positions (2014) with artists like BAS MOOY, PERC, REBEKAH, ELECTRIC INDIGO. Originally from Poland, MONYA has been based in Berlin for over a decade. Since 2009 with her hard work and determination, she has seen a quick rise through the Techno scene. This is visible by her playing alongside the most known and respected artists with gigs in New York, Spain, France, and all over the world. She played many times in Tresor and at coolest underground parties. She found her support from producers like Perc, Bas Mooy, Rebekah, Steve Stoll, Jeroen Search, Mike Parker on several of her own releases. She released her first album for BCR in 2013. In 2014 she launched her own label 'Corresponding Positions'.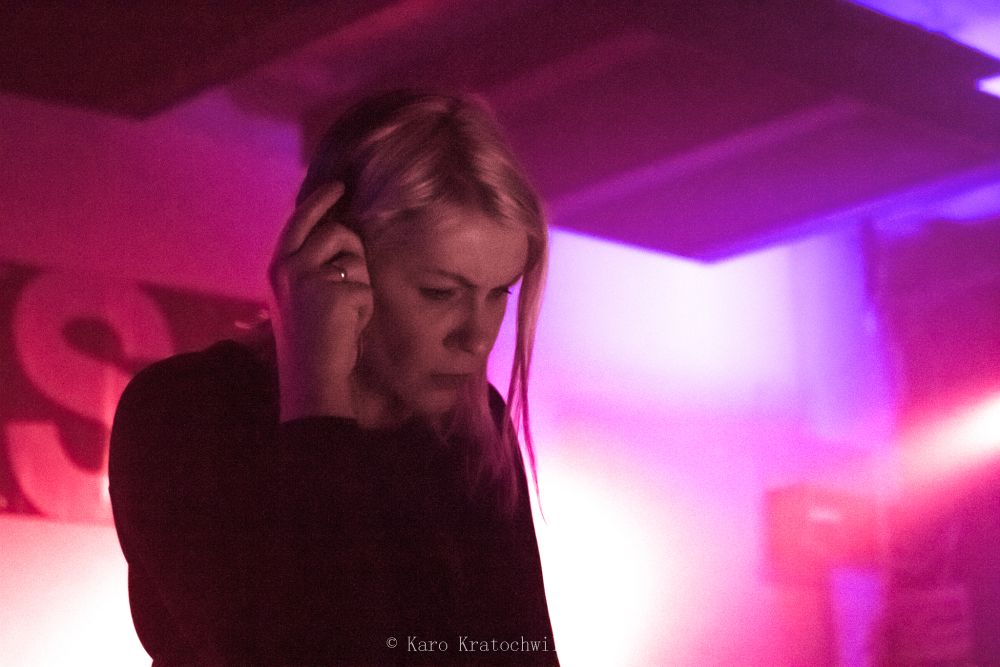 Followed by the successful growth of the project, she involved herself in supporting new faces of the scene by realizing their fresh and powerful sounds. She shows her biggest passion for Industrial Techno but doesn't keep her productions in one range. A different approach and experimental sounds are easily visible in her live sets. In 2019, MONYA was welcomed into the Hands family with her album 'Straight Ahead'. The next release on the label 'MORD - challenge004' was successfully released in 2021. After her baby break and Corona pandemic, she came back to the stage with a fresh live set at Wroclaw Industrial Festival in Poland alongside WINTERKÄLTE and DIVE, also at the Beats & Noise in Germany. In December 2022 came a new vinyl release on Hands, 'Einweg Ausweg Ende', where she collaborated with HYPNOSKULL and got an amazing crystal geometry remix. Now touring around and getting ready for a small USA west coast tour. Stay tuned for more noise...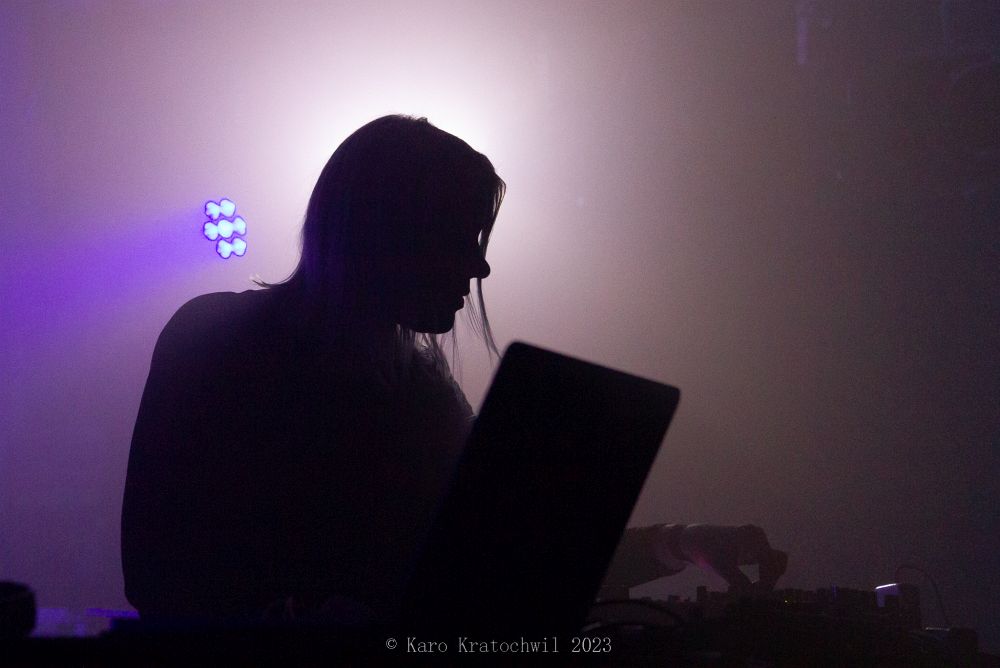 Music & Performance

I have to admit that I love her energy and amazing stage potential. With this kind of concert, where the stage performance is basically limited to the artist's liberation in sound mixing but no arranged performance is at a place; where the stage is empty and the means of expression are limited to a minimum, with no props, dance, performance; lavish lights - the energy the artist builds is essential. The energy is vital in the respect of whether the music can speak for itself and defend itself by means of pure sonic matter only. In the case of this particular project, the success was best demonstrated by the enthusiastic reactions of the audience, cheers of joy, and a sea of people applauding her music. A great, energetic trance line, kicking inserts, and a perfectly arranged set - great concert, bravo!
Rating

Music: 9
Performance: 7
Light: 7
Sound: 8
Total: 7.8 / 10
16Pad Noise Terrorist

Definitely, if someone needs to wake up the mind, feel the electric currents piercing the body and making it dance, and the hard-hitting, harsh, noisy sound of the best quality piercing the ears, then, by all means, 16PAD NOISE TERRORIST is the right address. Rhythmic sequences embellished with sharp, accelerated inserts, and regular and irregular passages intersecting, created an incredibly complex and addictive sonicscape. The tempo, sometimes slower, sometimes wildly fast, built a set that made us all hardly catch any breath, so I focused more on reactions than on thinking and analysing. In my opinion, this is music that liberates and provokes one to go crazy rather than contemplate. The speed, changeability, and quality of making one think of attacking impulses, and small electric stings - noticeable, but pleasant made it all a great set indeed.
Rating

Music: 8
Performance: 8
Light: 7
Sound: 8
Total: 7.8 / 10
Greyhound

Steffen Lehmann aka GREYHOUND has stood for Rhythm'n'Noise for over 20 years and initially released four albums on his own. In 2004 the label debut was released on the well-known Hands label, followed by eight more albums. Since 2007 Steffen has been supported on stage by Björn Boysen and has become an integral part of the formation GREYHOUND. GREYHOUND's sound evolved with each album and this was most recently demonstrated with the album 'Insomnia'. Wave Gotik Treffen, Maschinenfest, Forms of Hands, Hands Label Night, Infest Festival, Noize of Live Festival, Elektroschlag, Schlagstrom and many other festivals have already seen GREYHOUND live.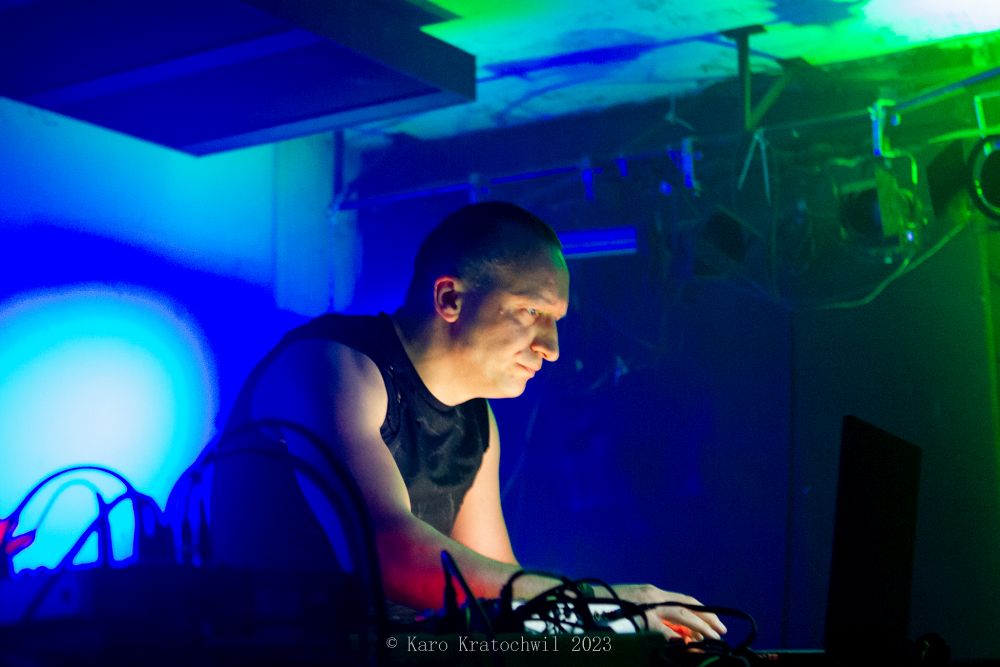 Music & Performance

An amazing rhythm mixing industrial, noise, and trance sounds was served by the GREYHOUND in Berlin. A very dynamic and mesmerizing set of the highest quality. Their latest release from April 2022 entitled 'Insomnia' is a great sample of high-end noise, slightly smoothed out with a slightly more regular sound. Strong, striking sounds, merciless sonic punches, and courage in the use of juxtapositions of melodic lines make it music that requires some attention but is also very dynamic and sonically complex.
Setlist

01. The Night falls
02. All complicated
03. Time for Changes
04. Like a Kick in the face
05. A storm is coming
06. Endless search
07. What motivated myself
08. Bloodsuckers
09. Escape
Rating

Music: 8
Performance: 8
Light: 8
Sound: 9
Total: 8 / 10
S.K.E.T

S.K.E.T. is a German Electro Industrial / Rhythm'n'Noise project from Rostock and Berlin that started in 1999, inspired by the noise of the dying shipyards of Rostock in the early 90s and the lack of prospects in the region. In the year 2000, they played their first show in the Stellwerk club in Berlin. In 2000 they self-released their debut album 'Pakt' and in 2002 their second DIY album 'Isolator'. In 2005, they released 'Aktivist' as a label debut at the Dortmund-based label Hands Productions. This was followed by several concerts including Wave Gotik Treffen, Summer Darkness Festival in Utrecht, Maschinenfest, Elektroanschlag Festival, Forms of Hands Festival, Noxious Art Festival, Infest UK, Kinetik CAN, and club shows in London, Copenhagen, Prague, and many more. 2006 followed the second long-player 'Baikonur' on Hands Productions, 2009 number three 'Depleted Uranium Weapons' and 2017, the fourth album 'Capitalism - Continuing Crisis' also on Hands.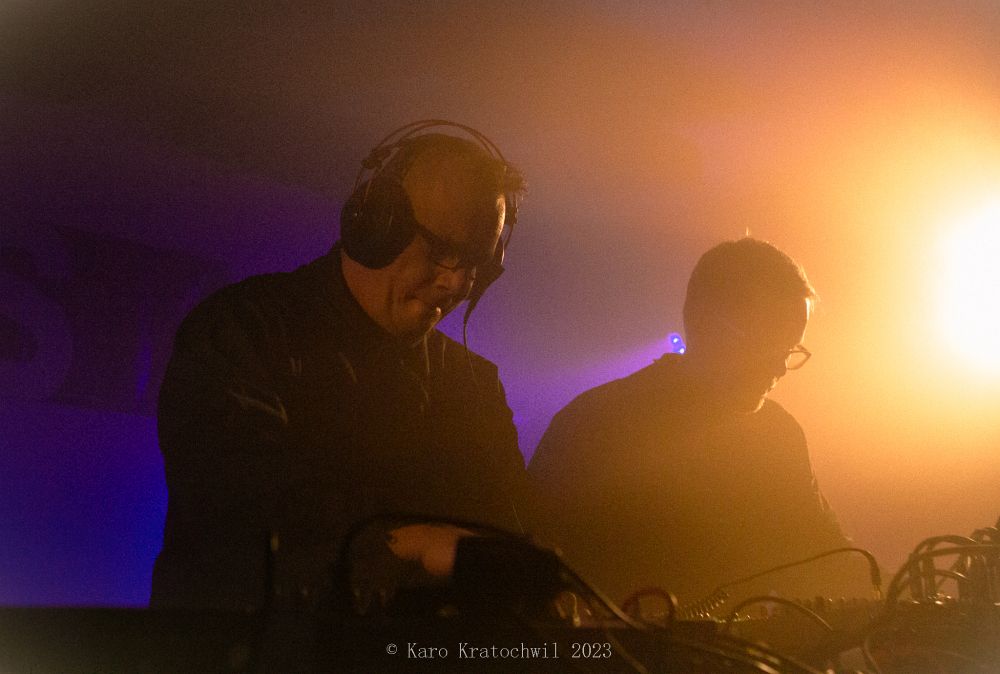 Besides releasing albums, S.K.E.T. also has an expanded output of remixes and contributions for compilations. S.K.E.T.'s sound concept is a Rhythmic Noise / Electro-Industrial hybrid, propelled by high-octane industrial beats and powerful Electro- and Big-Beat influences. The main elements are multi-layer poly rhythms paired with rough pads, distorted lead lines, and basses. The thematic orientation, the statements, are largely political in nature and describe the past, reflect on the day's events, and draw a dystopian future for which S.K.E.T. creates the soundtrack. Harsh, fast, beat-driven, and loud.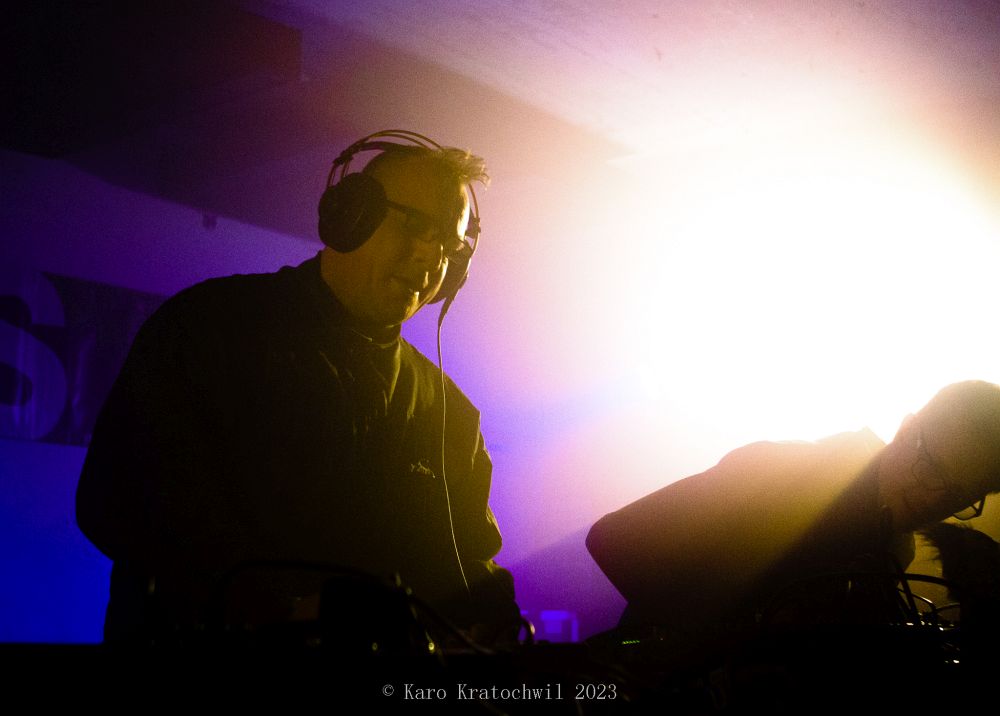 Music & Performance

S.K.E.T is for me one of those projects that I never get tired of listening to. The talent in selecting individual sound elements in such a way as to create the most catchy, dynamic, and even electrifying mix is their specialty. The [project's] concerts are a real firecracker, it's hard to resist and not to include the rhythm served by the artists in trance. Strong and dynamic pieces are like the best explosive cocktail, real nitro. In Berlin, the artists presented a set that would knock out the best party dancer with its pace, a real knockout soundtrack for mental cleansing and physical destruction. Considering how advanced the evening was already and how enthusiastic the audience's reaction to the performance was, one can only congratulate the artists for their amazing talent for animating and invigorating their fans. During the set, we had a chance to listen to some unreleased songs which definitely stood for a great treat for fans.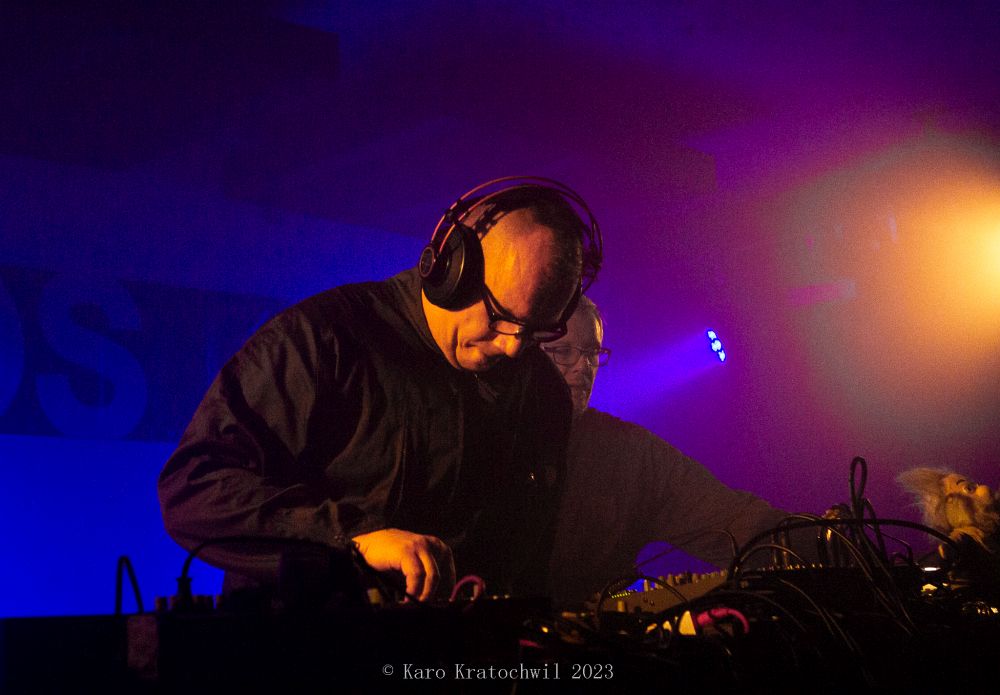 Setlist

01. Conscience Speaking (yet unreleased)
02. Civil Disobediance (album: Capitalism - Continuing Crisis)
03. Zond (album: Baikonur)
04. Prepare for the Inevitable Struggle (Capitalism - Continuing Crisis)
05. 700.000 Tons To Wipe Out Humankind (album: Depleted Uranium Weapons)
06. Warholic P36-0251 Mix (album: Fuck All Diseases comp.)
07. Tank on Torrens Street (album: The Plan: I will be lurking comp.)
08. Dash National States! (album: Capitalism - Continuing Crisis)
09. They Don't Own Us, We Are Working Class! (album: Capitalism - Continuing Crisis)
10. Wrong-Way Ticket To Baghdad (album: Kinetik Festival Volume Four comp.)
11. Reform Europe! 2023 (yet unreleased)
Rating

Music: 10
Performance: 9
Light: 9
Sound: 9
Total: 9.3 / 10
The headliner of the night was the project MONO NO AWARE I was unfortunately unable to watch. As Leif Künzel, the author of the project says, MONO NO AWARE was and will be always around the concept of MONO NO AWARE and everything that is related to this than the cultural aspect or other things of Japan. He came to this name from a book about Japan (society, history, culture, and all this) and it directly touched his heart because he had the feeling it covered this thing about himself he could just not talk about because he have no words for. As he states: "MONO NO AWARE is for me about sensitivity, being able to recognize the beauty of the moment. Something like inner peace and pain because of constantly losing and winning impressions. In the middle of the 90s, I came by some accidents to study Japanese and before that, I thought I would be the best to read a bit about this country. And since I am my whole life interested in history and literature I turned to this topic. MONO NO AWARE is a feeling... and feelings can be difficult to explain. Making music is for me often, whatever the result may sound, a very peaceful, silent, and focused thing. And so playing live is my balance to this process and my work etc."
All pictures by Karo Kratochwil