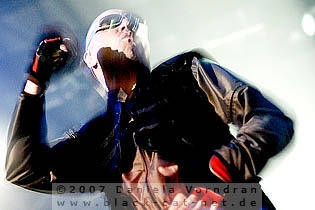 Expo-Hall, Waregem, Belgium
27th to 28th July 2007
Gothic Festival Day 2: O Quam Tristis, Jacquy Bitch, All Gone Dead, Inkubus Sukkubus, Katzenjammer Kabarett, Agonoize, The Breath of Life, Kirlian Camera, Skeletal Family, Covenant, This Morn' Omnia, Front 242
The
first day of the GOTHIC FESTIVAL
in Waregem, Belgium, was with bands like NITZER EBB, IN STRICT CONFIDENCE, DIARY OF DREAMS or DISKONNEKTED and many others especially a fest for all lovers of electronic music. The second day of this great festival had more in store for all those who love guitar music, especially Gothic Rock, with highlights such as INKUBUS SUKKUBUS, THE BREATH OF LIFE or SKELETAL FAMILY. But the Electroheads got also some highlights with excellent acts like THIS MORN OMINA, COVENANT and FRONT 242!
O Quam Tristis - Club Stage


The second day at the GOTHIC FESTIVAL started very early, at about lunch time, with the French act O QUAM TRISTIS at the club stage. The band takes its name from a quotation ("Oh, how sad…") from the medieval Latin hymn 'Stabat Mater', a poem about the Virgin Mary and her profound sorrow at witnessing the death of her son. The group comprises Tomek Ashkenazy Isaac, Hugues Dammarie, Katrina Koslowska, Emeric Lenotz and Anna Virsky. The lyrics are Latin chants taken from The Holy Mass and various anonymous liturgical texts. Organic and electronic instruments accompany but never drown the core vocal element. This ensures coherence, indeed purity of concept, whilst balancing this with attention-holding variation.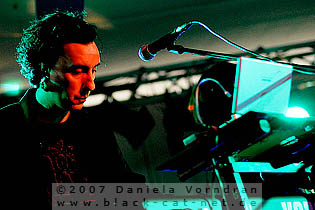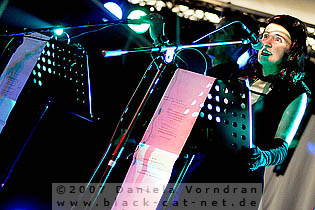 It was a pity that O QUAM TRISTIS performed so early in the day and that thus so few people could see their show. The atmosphere of the show was quite luring and enchanting. The musicians changed their positions on stage after each song so that everyone played every instrument, or delivered vocals, at one point of the show. I really enjoyed it, and I am sure people who love medieval-influenced bands who combine ancient music with modern electronics like QNTAL, ESTAMPIE or HELIUM VOLA will love O QUAM TRISTIS too!
http://site.voila.fr/o.quam.tristis
Rating

Music: 8
Performance: 8
Sound: 8
Light: 6
Total: 7.7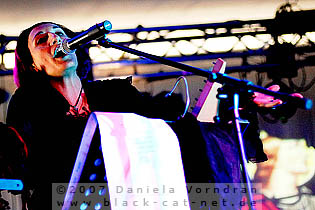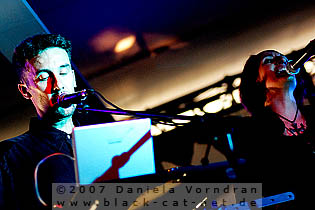 Jacquy Bitch - Main Stage


Another French act also opened up that day at the main stage - JACQUY BITCH. Active in the music scene since the late 1980s, JACQUY BITCH and his band were influenced by Batcave and New Wave, but deliver this kind of music with a straight modern Rock touch. JACQUY BITCH obviously have a good standing among the French Gothic-scene although they are still a very underground-ish act.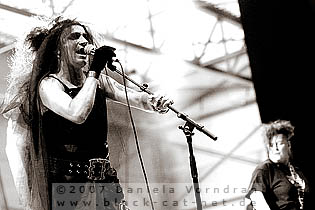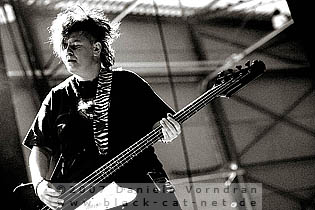 Monsieur Jacquy Bitch, who calls him self "the macabre clown", and his main collaborators Chyme and Kathy performed a solid set, but I have to admit that their music didn't meet exactly my musical tastes. Maybe the contrast to the band before was too big.
http://jacquybitch.fr/
/
http://www.myspace.com/jacquybitch
Rating

Music: 5
Performance: 7
Sound: 7
Light: 6
Total: 6.1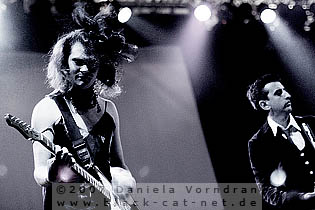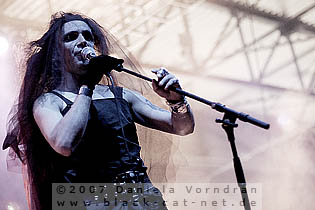 All Gone Dead - Club Stage


The first big (positive!) surprise of the day were the London-based ALL GONE DEAD. There was a good crowd at the club stage venue to see this Gothic Rock band, which is both influenced by American Death Rock and the Batcave-sound of 1980s UK. The band consists of front man Stich (previously of TRAGIC BLACK), who started ALL GONE DEAD as a solo project in 2004, and his fellow band members Barb (aka DJane Darlin' Grave) and Steve Pollytrama.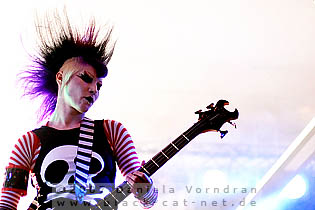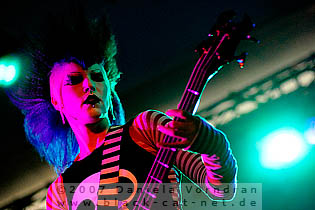 With a pumping drum machine, impulsive guitars and a front man who got more and more ecstatic throughout the show, ALL GONE DEAD left hardly anything to be desired. The Punk/Batcave-look of the members was like a flashback back to good old underground days of the 1980s (although none should think now that ALL GONE DEAD would be a mere retro band!).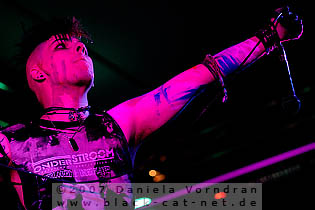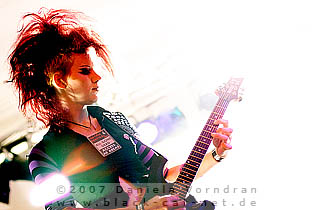 Mastermind Stich and his band mates quite obviously draught some of their own fans to the GOTHIC FESTIVAL who frenetically celebrated ALL GONE DEAD's gig; and those who weren't familiar with this band before were quite pleased with the performance too. Like me!
http://www.allgonedead.net
/
http://www.myspace.com/allgonedead
Rating

Music: 8
Performance: 8
Sound: 8
Light: 6
Total: 7.7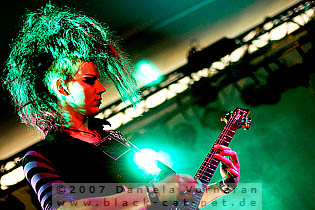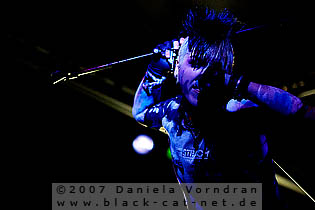 Inkubus Sukkubus - Main Stage


On the main stage now a relatively similar, albeit more popular band, followed - INKUBUS SUKKUBUS! This English Gothic / Pagan Rock band has a quite long history, as they were founded back in 1988 under the name CHILDREN OF THE MOON. As INKUBUS SUKKUBUS they enjoyed even some mainstream success in the early 1990s. After a couple of line-up changes the group consists today of guitarist Tony McKormack, vocalist Candia, and bassist Adam Henderson.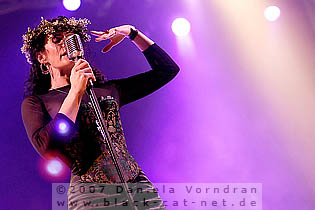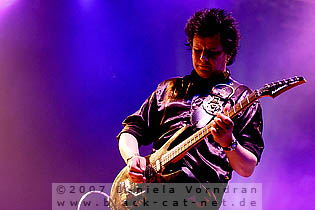 Candia is the main vocalist, but McKormack does some backing vocals, and sings one song, 'Atrocity', on his own. The band employs a drum machine to fill their percussion section. For the Gothic Rock fans INKUBUS SUKKUBUS was one of the highlights of the day. Fronted by lead vocalist Candia Ridley - a vocalist with a great voice who actually SINGS instead of screaming, screeching, or growling - and backed by the blistering riffs of guitarist Tony McKormack, they surely delivered a great set at the main stage.
http://www.inkubussukkubus.com/
/
www.myspace.com/inkubussukkubus
Rating

Music: 7
Performance: 7
Sound: 7
Light: 7
Total: 7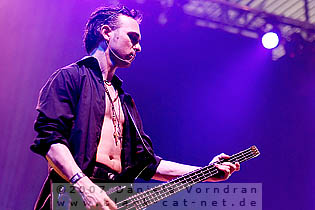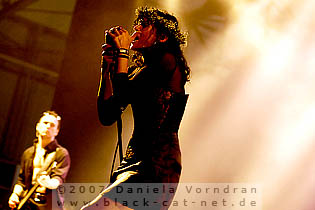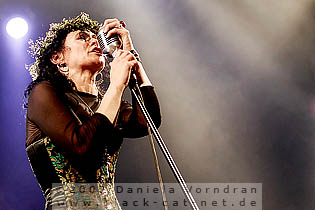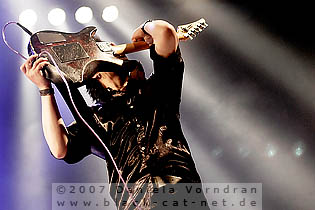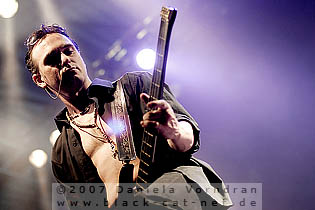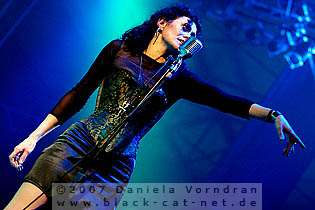 Katzenjammer Kabarett - Club Stage


Another French band entered the club stage now, and with KATZENJAMMER KABARETT the music left any mainstream realms and made place for a musical cabaret somewhere between DRESDEN DOLLS and CHRISTIAN DEATH. KATZENJAMMER KABARETT is a young and promising band from Paris, consisting of Mary Komplikated, Herr Katz, Klischee and Mr Guillotine. They used to refer to themselves as "Death Rock Cabaret" but their influences can be found in many styles, from Glam-Rock to Death-Rock, from Baroque to New-Wave to Electro.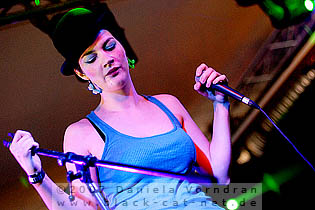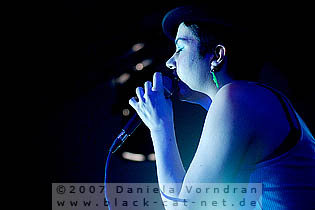 So a quite challenging mix of music and the band did not have an easy job to maintain the attention of the audience. Still a very promising act who deserves extra kudos for their unusual approach to combining old and new genres of music!
http://www.katzenjammer-kabarett.com/
/
www.myspace.com/katzkab
Rating

Music: 6
Performance: 6
Sound: 7
Light: 7
Total: 6.3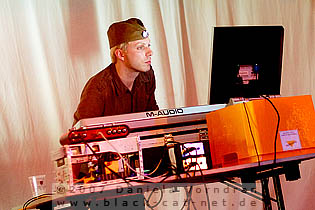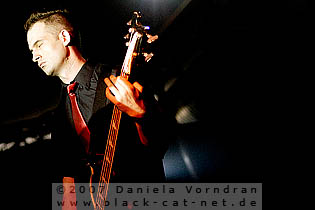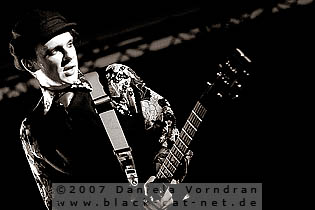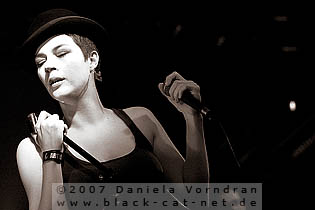 Agonoize - Main Stage


Dark, angry and aggressive harsh EBM - this is the trademark of the German trio AGONOIZE, who have in the five years of the band's existence managed to build up a cult following. The band members are
Chris L. (vocals), Mike Johnson (pr
ogramming, production) and
Olli S. (p
rogramming). All of them are experienced musicians and producers and played and performed in bands like SERO.OVERDOSE, DANCE OR DIE, INFEKKTION and others in the past. So it's a bit of surprise that AGONOIZE's inspirations are so obvious - mainly SUICIDE CXOMMANDO and WUMPSCUT. They take all the clichés of harsh "Endzeit EBM" and take it to an extreme, without filling it with much substance. Their tracks are very well produced but still the often use the same sounds over and over again. Nevertheless (or because of all this?) AGONOIZE are quite successful with their EBM sound, and with six releases and numerous remixes for other bands they are also a successful recording artist.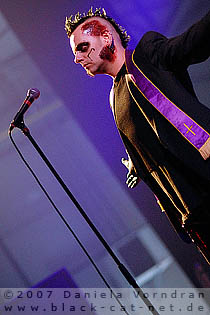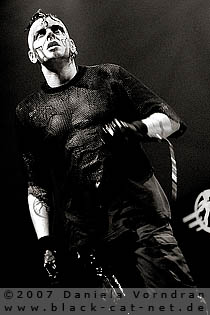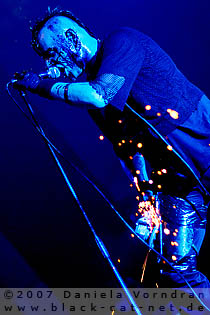 Live on stage AGONOIZE have a quite traditional setup for an Electro band, with the two keyboarders on platforms in the back of the stage and the front of the stage completely left for front man Chris L. AGONOIZE are infamous for using a lot of artificial blood on stage but in Waregem they were sticking to weird makeup, and some sort of futuristic black combat dresses, and blood in the face of shouter Chris and they did not cover the whole stage with slobbery substances as on
other occasions
. AGONOIZE's music is made for the dance floor; so the crowd danced and moved quite a lot for some stomping fun. Chris L. never stood still for one moment and delivered a good show.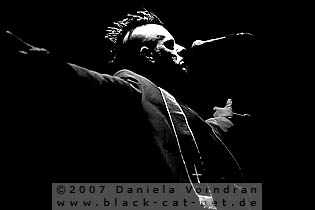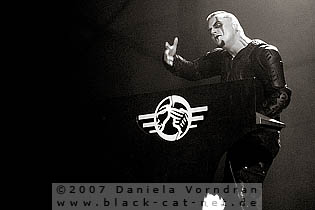 Unfortunately the keyboarders never stood still too and jumped up and down behind their keyboards and rather acted than actually played their instruments - at times this was hilariously comical, and I'm not sure if this was intended. ;-) You have to take AGONOIZE for what it is - well-produced aggressive dance music to have some fun. They won't innovate the scene but if you take them tongue-in-cheek you can have some fun at their shows.
http://www.agonoize.de/
/
http://www.myspace.com/agonoize
Rating

Music: 5
Performance: 6
Sound: 8
Light: 7
Total: 6.1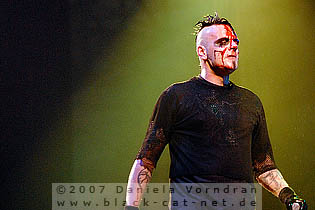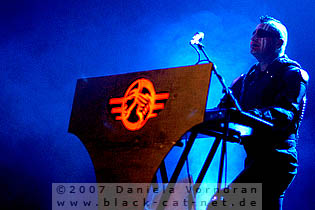 The Breath of Life - Club Stage


Another Belgian band entered the stage now, and one which has a more than a 20 years long history. The Dark Wave band THE BREATH OF LIFE has been active since the late 1980s and enjoys some success in Belgium and France and particularly in Eastern Europe countries like Czech, where they also recorded an impressive live album in their early years. The centre point of THE BREATH OF LIFE's music is Isabelle Dekeyser's voice, which is sometimes compared to the vocal talents of Kate Bush and Siouxsie Sioux. Her band mates are Benoît Sokay (bass), Didier Czepczyk (guitar), Giovanni Bortolin (keyboards, violin) and Marc Haerden (drums).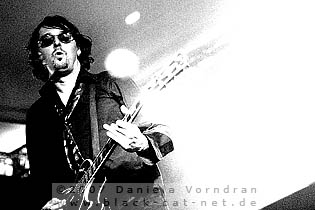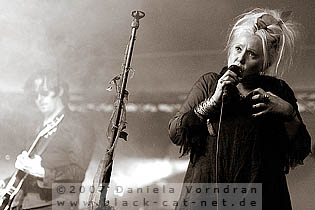 The music, mostly conventional guitar-based stuff blended with some electronics and violin sounds, has emotional depth and a quite melancholic and ethereal tone. With more than 20 years of experience THE BREATH OF LIFE are a quite confident live act. Isabelle Dekeyser's singing is as good live as on record and the enchanting quality of both the music itself and her voice. Isabelle sings mostly in wonderful high tones with a little mischief (hence the Kate Bush and Siouxsie Sioux references) and manages to lure the audience into the musical world of THE BREATH OF LIFE - quite a contrast to the hard kicking EBM sounds on the main stage before but a very nice change for sure.
www.the-breath-of-life.com
/
http://www.myspace.com/thebreathoflife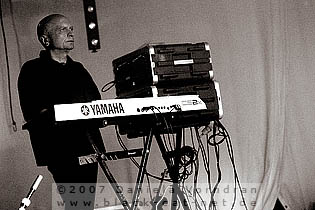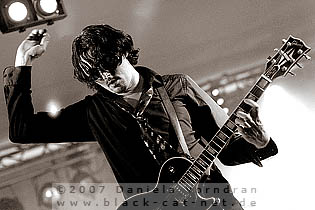 Setlist

01. Intro + Fly
02. Gathering
03. Down
04. Mirror Eyes
05. Shining
06. Nasty Cloud
07. Into the Flames
08. Noamina
09. The Valley
10. The Bridge of Solace
11. Falling Drops
---
12. Impromptu
13. The Sun
14. The Land of Freeze
Rating

Music: 7
Performance: 7
Sound: 8
Light: 6
Total: 7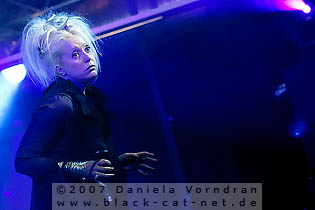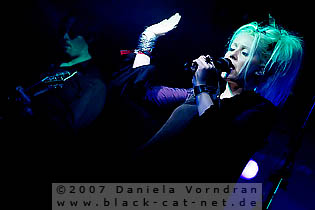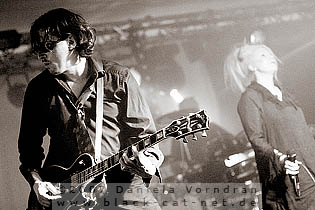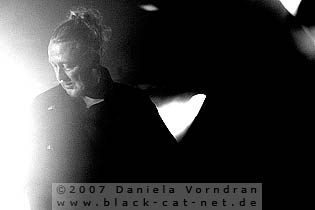 Kirlian Camera - Main Stage


The legendary Italian band commanded by Angelo Bergamini was surely one of the highlights of the GOTHIC FESTIVAL in Waregem. The group was founded in 1980 by Bergamini, and was a pioneering act of the Italian Synth-Pop scene, eventually being the first Italian group to be signed to Virgin Records. The sound of the very early KIRLIAN CAMERA was the opposite of what the band stands for today - lightweight Italo-Disco! Today they are of course famous for their very dark, and often quite experimental, electronic Dark Wave which includes a variety of elements from synthetic soundscapes a la TANGERINE DREAM to Neo Folk influences and danceable Electro tracks.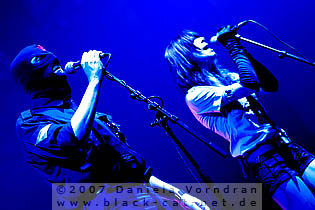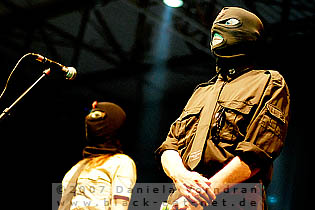 The lyrical side and philosophical background of the project is important although it is rather obscure and often misunderstood. In the 1990s KIRLIAN CAMERA were even accused of being neo-fascist, albeit neither the lyrics nor the live performance provide anything to back up such accusations. Statements by Bergamini that KIRLIAN CAMERA has nothing to do with any right-wing ideologies have been mostly ignored by anti-fascist groups for some reason. KIRLIAN CAMERA's line-up has constantly changed since the beginning and especially from the late 1980s to the mid-1990s, but it has been quite stable since 1999, with songwriter Angelo Bergamini being joined by full-time singer Elena Fossi. KIRLIAN CAMERA operates today as a duo, with guest musicians joining them for the live performances and certain studio projects.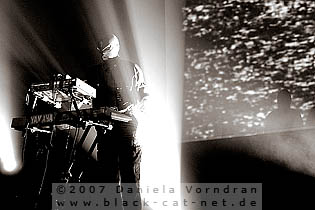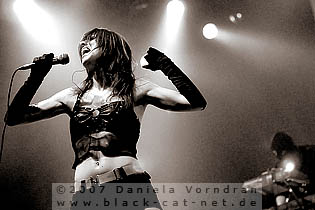 Elena Fossi is also the focus of KIRLIAN CAMERA's gigs, who by the way gave up a career as a fashion model for focussing on the underground music KIRLIAN CAMERA produces. The penchant for apocalyptic things in KIRLIAN CAMERA's lyrics also resembles in the visual side of the band, especially in the videos and stills shown on a huge screen in the back of the stage, and the band prefers military style outfits on stage - visually a very strong stage appearance. It almost seemed that KIRLIAN CAMERA chose a festival-friendly setlist for the GOTHIC FESTIVAL, with more of their beat-driven songs which have a certain Synth-Pop or Techno influence. But KIRLIAN CAMERA are not the band who would do this kind of compromise just to please a crowd.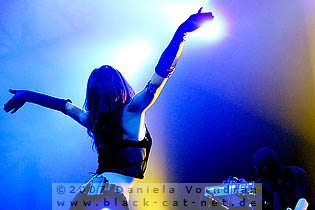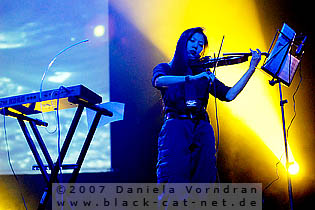 Elena Fossi did most of the vocal duties but mastermind Angelo Bergamini, wearing some sort of mask to hide his face, also came forward in the middle part of the show to do some vocals - less in a singing style but rather reciting words from a manuscript he held in his hands. Elena Fossi returned to the microphone and did the last part of the show - including the classic 'Eclipse', really a must for every KIRLIAN CAMERA show, as the encore. KIRLIAN CAMERA are a challenging band but they also manage to entertain, and in a concert situation much of the entertainment factor is due to Elena Fossi who has not only an amazing voice but also a very alluring and fascinating stage presence.
http://www.kirliancamera.com/
/
http://www.myspace.com/kirliancamerafront
Rating

Music: 9
Performance: 9
Sound: 8
Light: 8
Total: 8.7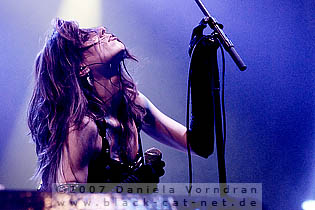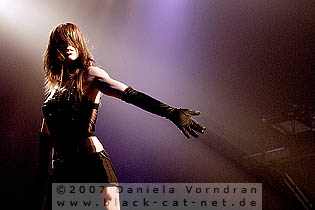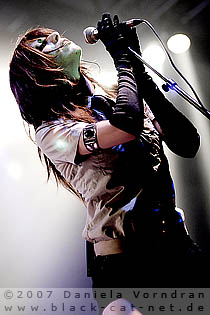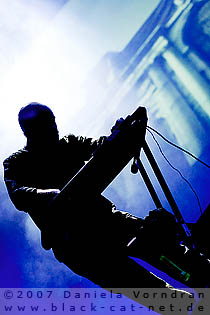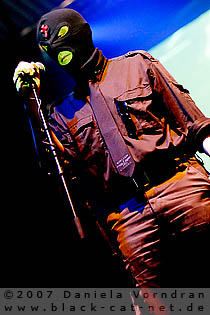 Skeletal Family - Club Stage


SKELETAL FAMILY is a Gothic Rock band from West Yorkshire, England, which has - as so many other bands at the GOTHIC FESTIVAL this year - a long history. Founded in December 1982 and releasing records since 1984, the band gained a high reputation among the Gothic Rock & New Wave scene in the 1980s, also due to support tours with acts like THE SISTERS OF MERCY. In the middle of the 1990s SKELETAL FAMILY split up, and some members developed new musical projects like GHOST DANCE or THE BATFISH BOYS. After a reunion gig in December 2002 the original line-up decided to continue doing shows - albeit with new vocalist Claire Bannister replacing the original voice Anne-Marie Hurst. In 2005 SKELETAL FAMILY finally released new material in the form of the album 'Sakura' on GepEk Records.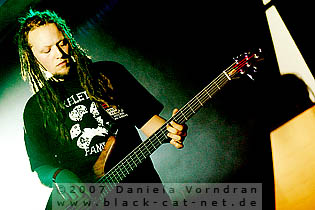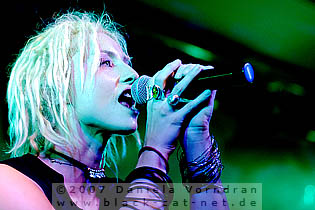 Since she joined the band, Claire Bannister proved at the shows of the "new" SKELETAL FAMILY that she is more than just a mere replacement of Anne-Marie Hurst, although some old fans might still miss the legendary original singer of the band. But this is a new chapter of the band, although the setlist is of course filled with classics from the first chapter like 'She Cries Alone' or 'Black JuJu'. Dark Post-Punk guitars met slow and atmospheric bass lines and haunting female vocals. But there were also fast rockers in the set like the classic 'Promised Land', being one of the standout songs of the show.
http://www.skeletalfamily.com/
/
www.myspace.com/skeletalfamily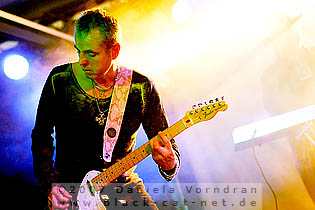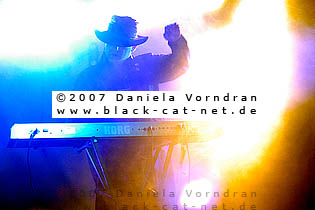 Setlist
01. Lies
02. Hands on the Clock
03. Best Friends
04. Faithless Whore
05. Delirium
06. Never again
07. So sure
08. She cries alone
09. Promised Land
10. The Wind blows
11. Black JuJu
Rating

Music: 7
Performance: 7
Sound: 7
Light: 6
Total: 6.9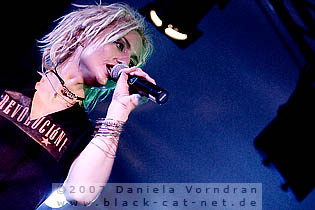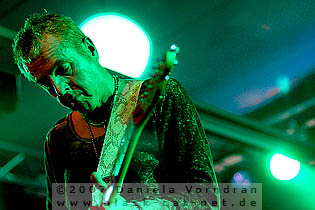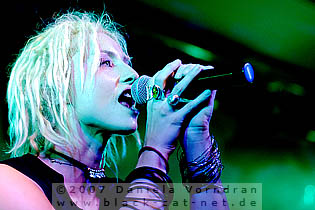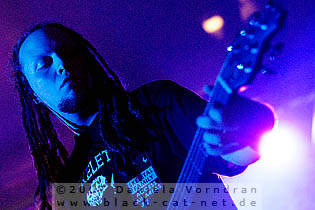 Covenant - Main Stage


Our favourite Swedish boys were co-headlining the main stage on the Saturday night at the GOTHIC FESTIVAL. After a tour accompanying the release of their sixth studio album 'Skyshaper' in 2006, COVENANT continued to do occasional gigs this year. There's been one change in the live line-up of the Synth heroes as founding member Clas Nachmanson isn't touring at the moment, so Eskil Simonsson and Joakim Montelius invited Daniel Myer (of HAUJOBB-fame) to complete the band for the current shows.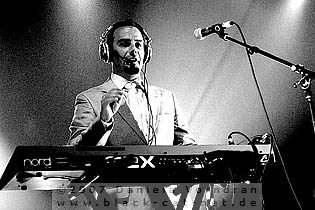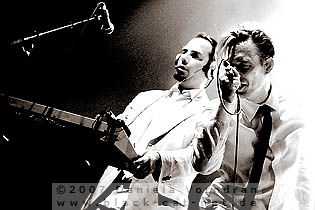 A lot of COVENANT-shirts could be spotted in Waregem so it was quite clear that the gig of the three gentlemen was one of the most anticipated of the whole weekend. And COVENANT surely managed to live up to all expectations! They started their show in Waregem with 'Monochrome', from the highly successful 2002 album 'Northern Light', and I was very excited that they chose this fantastic track as the opener again. During the wonderful build-up of the song Montelius, Simonsson and Myer entered the stage to take their positions. Suits and ties are a standard for COVENANT, and even "newbie" Myer complied to this norm although he got away with sporting a baseball cap, and I guess he could also do with a lesson in how to knot a tie properly by Simonsson and Montelius. ;-) But, as much as I missed Clas Nachmanson, it has to be said that Myer added a new flavour to the Covenant show. His extra noises and especially his percussion during some tracks give the live sound a new dimension, and I appreciated that a lot.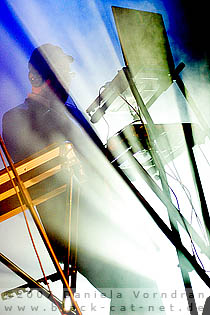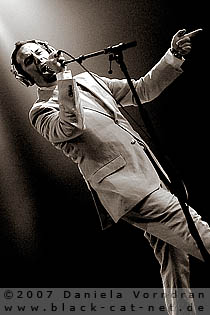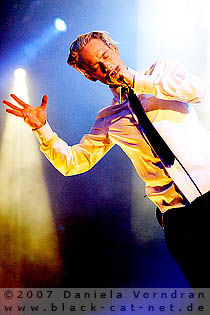 The second track of the show was the club hit 'Bullet', another wise choice as the mid-tempo Pop feel of the song draught the audience more and more into the performance. Simonsson's vocals sounded excellent, although with a bit too much echo at the beginning for such a huge hall like the Expo, and his performance was one of his best for quite a while. 'Go Film' from the album 'Europa' (1998) was a nice surprise as I haven't heard it at a COVENANT show for some time now. It did not lose its effect at all and got the crowd dancing a lot. The same goes for the classic 'Figurehead', although it could have done with some extra punch. The ballad 'Invisible & Silent' - also from 'Northern Light', an album that was quite heavily featured in that night's setlist - was one of the standout tracks of the show in many regards. It was the only slow and moodier song among a bunch of beat-driven and dance floor friendly tracks, and it was a very touching and intense performance. Excellent!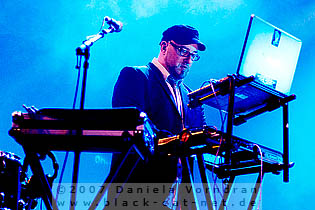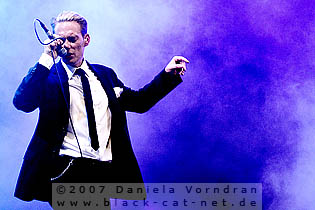 The long intro of the extended version of 'The Men' announced that it is dancing time again and prepared us for the quadripartite of stomping hymns that were to follow. 'We Stand Alone', though it was never a single release, is one of the sure-fire crowd pleasers, and the following 'Ritual Noise' with its tribal rhythms just boosted that. For 'Stalker' and 'Call the Ships to Port' I run out of superlatives, sheer madness at the front and even in the back literally everyone seemed to be dancing! I hope the band noticed the great sing-along to 'Call the Ships to Port' despite the loud monitors on stage. ;-) An encore was of course inevitable, and COVENANT did not choose just another track full of pumping beats but avoided the obvious and performed the minimal mid-tempo song 'Happy Man' from their latest album 'Skyshaper'. I would have talked this out of the band before the show if I only could ;-) but I have to say that I quite enjoyed this choice and the song. One and a half years after its
release
I finally start to like 'Happy Man' - but please don't tell Mr. Montelius! * g*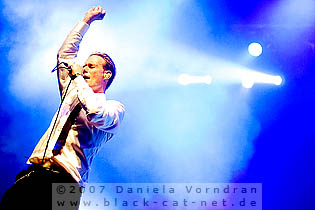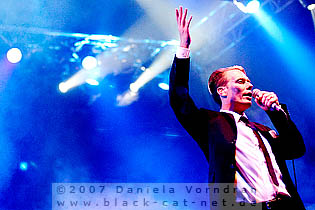 Out of the many COVENANT gigs I've seen over the last few years the show at the GOTHIC FESTIVAL was surely one of my favourites. The setlist concentrated mainly on songs from their 'Northern Light' and 'Skyshaper' albums, and although they left out the most recent single 'Brave New World' and the entire 'United States of Mind' album I didn't miss a thing. It just tells me that COVENANT could have played for another hour. J
http://www.covenant.se/
/
http://www.covenant.de/
/
www.myspace.com/covenant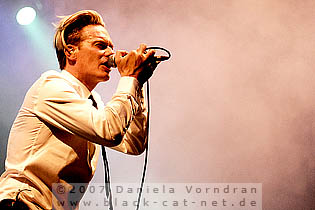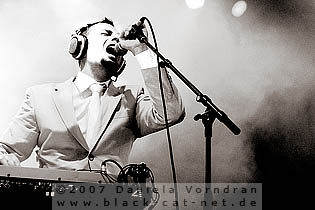 Setlist
01. Monochrome
02. Bullet
03. 20 Hz
04. Go Film
05. Figurehead
06. Invisible and Silent
07. The Men
08. We stand alone
09. Ritual Noise
10. Stalker
11. Call the ships to Port
---
12. Happy Man

Rating

Music: 10
Performance: 9
Sound: 9
Light: 8
Total: 9.3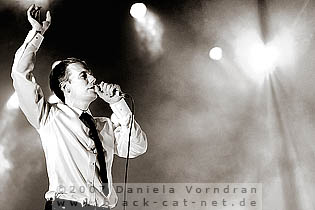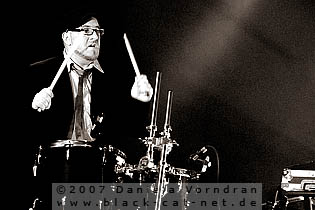 This Morn' Omnia - Club Stage


The next band on stage was THIS MORN' OMINA, who headlined the club stage on Saturday night. The conceptual approach of THIS MORN' OMINA since the debut 'Nezeru Enti Sebauem Neterxertet' (1997) has been a mixture of hard-hitting Post-Industrial beats and sounds and tribal Trance. Mostly kept electronic, mastermind Mika Goedrijk has recently introduced acoustic elements into his sound, inspired by THIS MORN' OMINA's live performances, and made his former solo project a full band. Sal-Ocin, who also contributed to the latest studio release 'Les Passages Jumeaux', and Spike play drums and percussions on stage and add a lot to the energy THIS MORN' OMINA has anyway.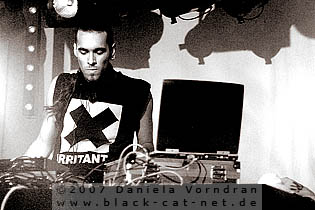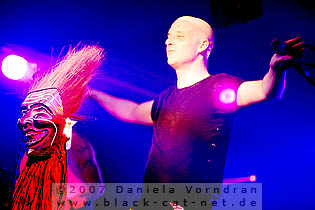 For me it was the first time to experience this Belgian project live on stage, so I did not know what to expect. And I was pretty blown away! The beats were quite intense and compelled everyone in the quite packed club stage venue to dance as there would be no tomorrow, and all the percussion delivered a lot of action on stage and was visually enticing. The stage was also decorated with African masks which underlined the tribal element of the music. THIS MORN' OMINA's signature sound embraces many African and Eastern influenced rhythms, instruments, and samples, after all.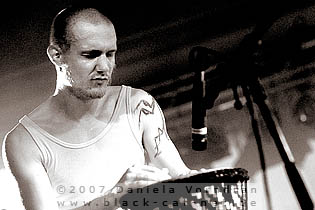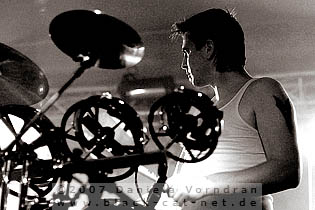 This Makes THIS MORN' OMINA rather unusual in today's post-Industrial genre, and their latest releases are quite rightly described as "tribal Industrial". A lot of dancing fun without forgetting about originality and challenge - THIS MORN' OMINA are definitely worth checking out!
http://www.hegira.be/
/
Rating

Music: 8
Performance: 9
Sound: 8
Light: 7
Total: 8.2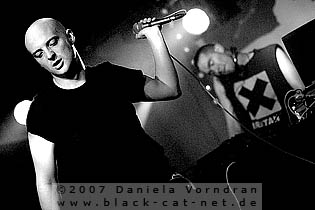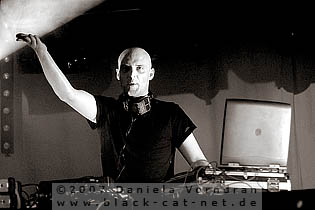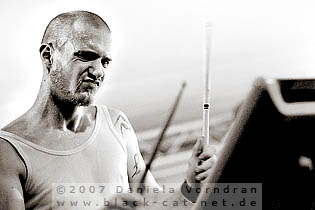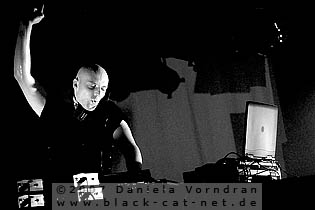 Front 242 - Main Stage

There's not much to be said about Jean-Luc De Meyer, Daniel Bressanutti, Patrick Codeny, Richard Jonckheere aka FRONT 242 – if you don't know go and buy some music history and I wonder which intergalactic incident made you find this magazine if you don't even know FRONT 242! ;-)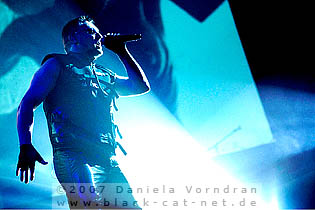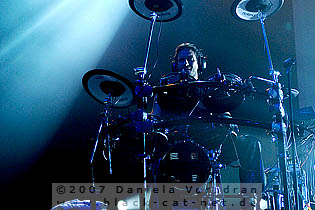 I was looking forward to this show as I haven't seen FRONT 242 in a while on stage, and seeing the biggest and most important Belgian alternative band in their home country is always something special. I have to admit I lost a bit of enthusiasm for my former Belgian favourites when they toured endlessly with their Re:Boot program and as there were only a couple of European gigs after this period I didn't have the chance to catch up with them live. The news about more recent gigs were promising though so I was hoping for something else than Re:Boot. And this is what I got! FRONT 242 started their show in Waregem with 'Happiness' - and this was the only thing which reminded on the old Re:Boot set. The track itself seemed to be performed in a vaguely remixed version, and in fact all the songs FRONT 242 performed this night were either close to the original or at least not remixed in a "Re:Boot"-style, which was very reminiscent of late 1990's Break Beat and Techno a la PRODIGY or CHEMICAL BROTHERS.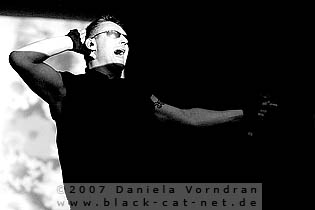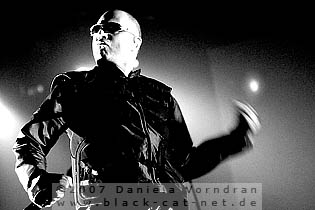 Neither the band nor the audience wasted any time, and as soon as the band roared onto the stage the audience went nuts and there was a moshpit at the front only a few bars into the first song. A seductive and pressing 'Body to Body' followed, an ear-blowing 'Religion' lead quite aptly into the Electro hallelujah of 'Welcome to Paradise', and four songs into the set it was quite clear that this was a night to be remembered! The stage setup was a little different than the last time I saw FRONT 242. On the left side there was the acoustic drum kit of Tim Kroker (a live-only member) and on the right side Patrick Codeny's synthesizers. There was a second synth rack next to Codeny's, and every time the two front men Richard Jonckheere and Jean-Luc DeMeyer left the lead vocal duties to the other they would play a few lines on the second keyboard rack.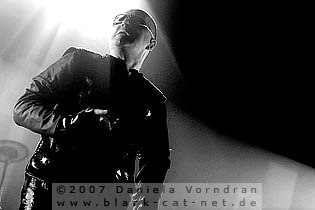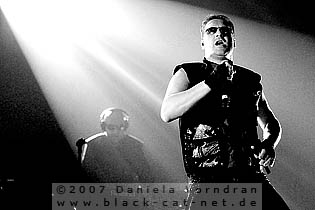 The middle of the stage was dominated by a huge video screen on which FRONT 242 displayed top-notch and very expedient video clips to each song. And FRONT 242 were digging deep into their history for the setlist - from 'Commando Mix' to 'Funkahdafi' to 'No Shuffle' there were a lot of classics from the band's early works. The best moment was 'U-Men', a 1981 single, with the whole crowd belting out the lines "I think it ain't just". The whole concert seemed like one big energy-overload; even they performed e.g. a slower version of 'No Shuffle' - which nevertheless burst into a storm during the chorus, just to calm down again for the next verse, and to burst again. Awesome! FRONT 242 also performed a few songs from their more recent releases - 'Still & Raw' and 'Pulse' (both released 2003) - in the middle part of the show. Those tracks were received quite well too, and live much more intense than the respective studio versions.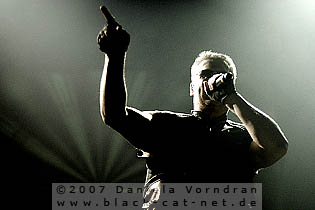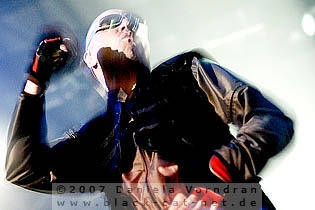 But this was just a breather before the final storm, introduced by another fantastic 1980s classic, 'Take One', which was sonically updated but quite true to the original. DeMeyer and Jonckheere command us 'Im Rhythmus Bleiben' (Stay in the rhythm) for the climax of the show - the inevitable 'Headhunter', which finished the main set. FRONT 242 returned for a much demanded encore, and when DeMeyer announced "This is the first song from our first album" it caused a big roar. Maybe some didn't hear his joking side mark "…some 600 years ago" because of the noise in the audience. Beware! FRONT 242 and humour!! ;-) It's already a good old tradition that a FRONT 242 show ends with 'Punish Your Machine', and FRONT 242" punished their machine quite well and the track culminated in a massively supercharged noise.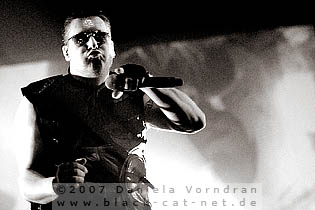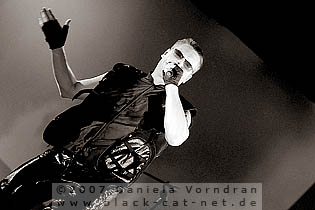 FRONT 242 proved they are still capable of firing up a crowd big time and deliver a killer performance. Not that I had any real doubts!
http://www.front242.com/
/
www.myspace.com/front242
Setlist
01. Happiness
02. Body to Body
03. Religion
04. Welcome to Paradise
05. Commando Mix
06. No Shuffle
07. Until Death - us do part -
08. Moldavia
09. Funkhadafi
10. 7Rain
11. Loud
12. Together
13. U-Men
14. Take One
15. Im Rhythmus bleiben
16. Headhunter
-----
17. Operating Tracks
18. Punish your Machine
Rating

Music: 10
Performance: 10
Sound: 9
Light: 10
Total: 9.9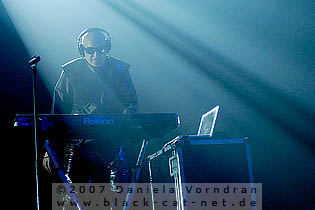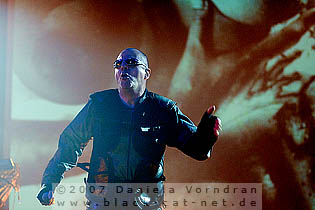 The GOTHIC FESTIVAL 2007 in Waregem, Belgium, was surely a stand-out festival with an amazing line-up, perfect organisation, fair prices (hey, 1.50€ for a beer at a festival is quite okay and kept us happy! ;-) ) and a pretty relaxed atmosphere both among the audience and the crew and security. At first I was a bit sceptical if an indoor festival in summertime would work, last but not least as the indoor version of Eurorock a couple of years ago did *not* work too well, but in the end we were very happy with that and indoor shows do have their advantages compared to open air gigs in bright sunlight - at least for the Gothic & Dark scene! Also the fact that there were never two bands playing at the same time at the respective stages was a great plus, and even the first bands of the day were allowed to play a full set instead of just 20 minutes, like at some other festivals. Is there any complaint at all? Actually not! Maybe that my tent broke down Saturday night, but that's a different story... *g*
The GOTHIC FESTIVAL 2007 was in my opinion nothing short of being the festival of the year! Word is that the Expo in Waregem is already booked for next year, and if the line-up will be only half as good as this year I will surely attend the GOTHIC FESTIVAL 2008 (comment by the photographer: and so will I!)!
All pictures by Daniela Vorndran (
http://www.vorndranphotography.com/
/
http://www.black-cat-net.de/
/
www.myspace.com/vorndranphotography
)
{jos_sb_discuss:18}
See also (all categories):