Page 1 of 2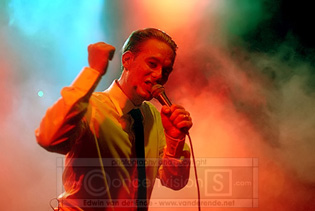 Summer Darkness Day 2, Utrecht, The Netherlands
10th of August 2007
Day 2: Dragonfly, Frank the Baptist, Delain, Emilie Autumn, Lacrimas Profundere, Assemblage 23, A New Dawn, Elusive, Chamber, V2A, DJ X-X-X and his Cybergirlzzz, Covenant
On day two there was the official opening of Summer Darkness, as always in a church. Not the Dom church this time but the Nicolai church. A smaller and more intimate church. Afterwards there was the possibility to have a drink and a bite to eat in the garden behind the church which is also the garden of the Central Museum.

Chamber – The opening of Summer Darkness (by RG)
This year there was only one band opening in the church. They were sure though to make it a special opening. First there was a speech about how this festival came to be. it all started out with an e-mail from Jeps of Mojo. Then Kees de Brouwer (a.k.a. Cybercase) spoke to us and officially opened the festival by announcing Chamber. The band was enclosed by the audience from three sides. Their vocalist Marcus, who at first reminded me of an opera singer because of his black jacket and white shawl, used this position well. All sides of the audience were played, also by their violinist Ralf.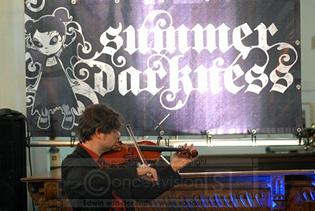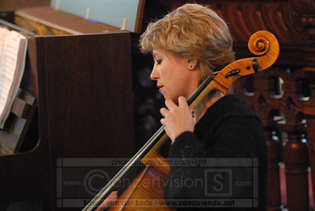 Their music was very easy to listen to and let your mind drift off. This was also the danger of this concert, that you'd drift of so far you could forget about being in the church at Summer Darkness. I didn't know to fear or like their singer. He is charismatic that is for sure. During 'Sollitude' female vocals were very present and that is a lovely addition to the vocals of Marcus. It brings the song to life. I had never seen them before but still recognised a song. I wondered how that could be but then I recognised the song: 'Home' by Depeche Mode. It was a good cover though the emotions were less intense. The final song of their concert shook everybody into this world again: Snow-white. Or as Marcus said it: I will leave you with my favourite bitch. It was a more up tempo song with funny lyrics and there was even a bit of 'Hall of the mountain king' to be heard in it.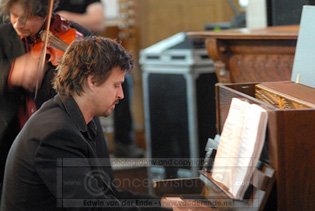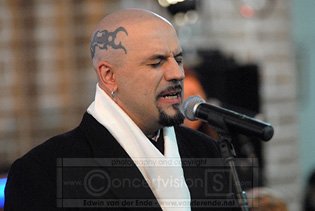 After the performance there was a short fashion show by Bas Kosters. It was a play backed band performance. Most of the audience disappeared in to the garden of the church and only the photographers shot some pictures. It was too bad the play back was not as well rehearsed and only Bas Kosters seemed to know how to move. Almost all models kept their eyes to the floor and it did not come across to the audience. When entering the garden everybody got pink champagne. It was nice to chat and relax before the festival truly started in the other venues. First up was Emily Autumn.
Rating
Music: 7
Performance: 7
Sound: 6
Light: -
Total: 7 (6,8)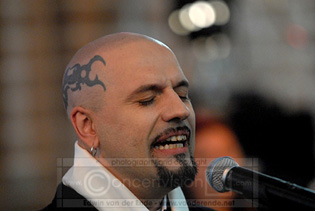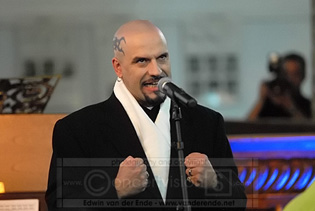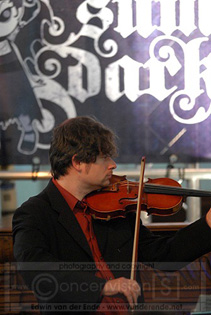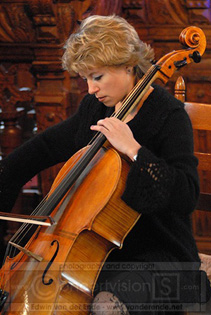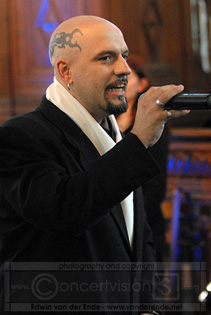 Elusive (by MD)
After the Grand Opening with pink campaign in the garden of the Nicolaïchurch it was time to move to Tivoli De Helling to watch and listen to the Norwegian band Elusive. Three men, two of them with hoods, entered the stage. The singer, Jan was accompanied by a guitarist and a bass-player. The music was supported by a drum computer. Their sound could be described as industrial rock with influences of the eighties. The sound and the singer's voice strongly reminded me of Billy Idol. I guess the band knows this very well and maybe that's why their encore ended with a strong cover from Billy Idol, Rebel Yell. The atmosphere at Tivoli The Helling was intimate, reinforced by the soft light effects and smoke. The band members made a relaxed impression and Jan's vocals sounded steady enough in spite of all the cigarettes he lit up one after another. A negative point was the absence of a live drummer, which would fit in more with their eighties-like sound. The drum computer provided a more electro-sound, that made their concert sound more industrial-like than we're used to when listening to an Elusive CD.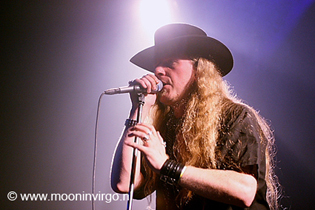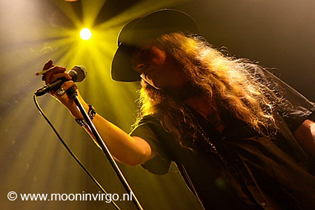 Setlist
01. Ride
02. Tomorrow Gone
03. Another Day
04. Run Away
05. Coming Home
06. Asylum
07. Dream On Sister
08. Into Your Arms
09. The Circle Never Ends
---
10. Rebel Yell (Billy Idol cover)
Rating
Music: 7
Performance: 7
Sound: 7
Light: 7
Total: 7 (7,0)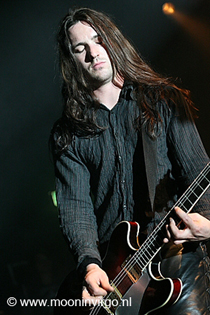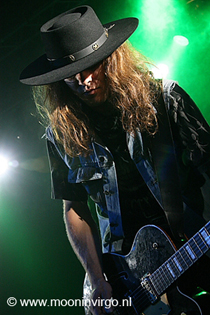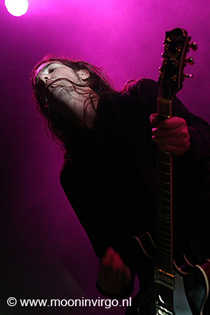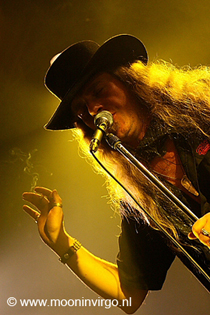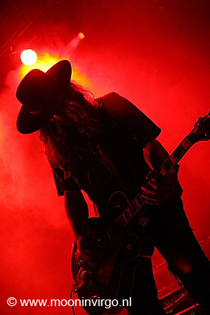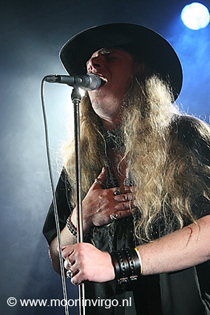 Assemblage 23 (by MH)
When Tom Shear entered the stage with his project assemblage 23, I was in great anticipation because I heard so many good things about it. Tom Shear who did most of the vocals was assisted on stage by Daniel Meyer on keyboard. The crowd was excited and enthusiastic at the beginning but that changed very fast. The sound was very bad and you almost couldn't hear his voice. The bass was, compared to the vocals, way to loud and it was almost like there was no sound technician present because it didn't improve during the show. The artists on stage almost didn't move and it was really boring to watch them perform. They had a video screen as a backdrop but after I had seen the movies from Front 242 the day before these seemed boring and didn't add to the performance at all. I hope next time I see them they try harder and bring a sound technician with them. That would improve their show a lot.
Rating
Music: 7
Performance: 4
Sound: 4
Light: 5
Total: 5 (5.1)

A New Dawn (by CB)
A New Dawn was founded in 1997, after the split-up of Featuring Frantic, a Delft-based rock/metal formation. To prevent that none of the Featuring Frantic material would ever be properly released, guitarist Elbert de Hoog starts recording three Featuring Frantic songs in March of 1997: Reign Will Fall, Idle Illusions and Wall Of Emotions. The project is called A New Dawn. Although often labelled as a Gothic-metal band, A New Dawn has a lot more to offer. Not only is the music more guitar-orientated than most bands in the genre, A New Dawn has a few more aces in its deck. Bassist Monica Janssen finished second in the first Dutch Championship grunting in June 2006, leaving many male contestants behind. Monica's vocal brutality completes the pure and clean melodic vocal lines of Sanne and Jamila, giving the music both contrast and depth. The presence of more vocalists gave the band more opportunity to experiment with vocal melodies, separating them even further from the grey masses. With the song 'Ascension', A New Dawn began experimenting with counterpoint, giving the band much acclaim by the critics. (source:
http://www.anewdawnband.nl
)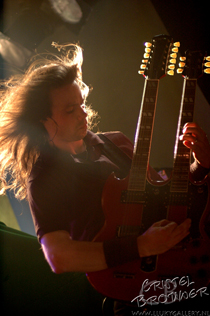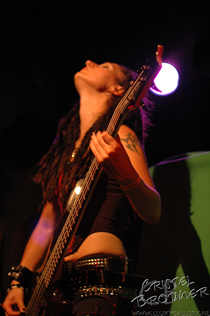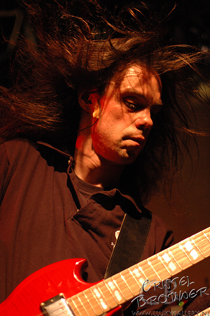 I had high expectations of A New Dawn for I had already heard many people talking about this band. When the band entered the little stage at Ekko's, I noticed that the stage was hardly big enough for the whole band. Having 2 vocalists (Sanne and Jamila), a bassist/grunts (Monica) and 2 guitarists upfront made it for the band not easy to move around onstage. The vocals of Sanne and Jamila fitted perfectly together, also sometimes strengthened or exchanged by the brutal grunt of Monica. It was said that it was Jamila's first time with the band, but it wasn't to be noticed. She stood her ground and gave the audience her very best. A great Dutch band with a promising future.
Rating
Music: 7
Performance: 7
Sound: 7
Light: 7
Total: 7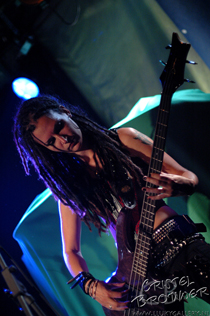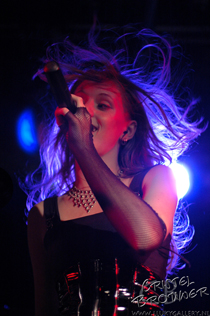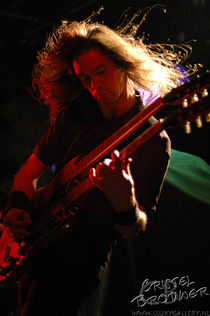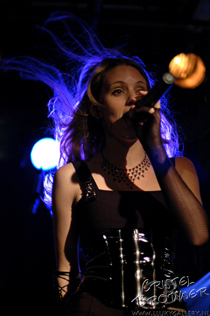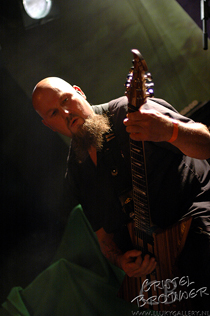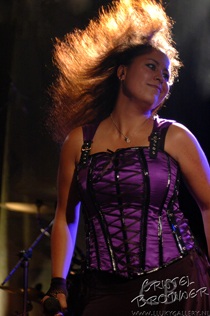 Lacrimas Profundere (by CB)
The German band was formed in 1993 by the brothers Oliver Nikolas and Christopher Schmid. After a lot of line-up changes and seven fulltime albums Christopher Schmid left the band in 2007. Peter Kafke became the new singer, who is an ex-member of FIDDLERS GREEN. The band changed their style from Gothic and Death Metal into Gothic and Dark Rock. With 'Amber girl' they had their first hit on German music television.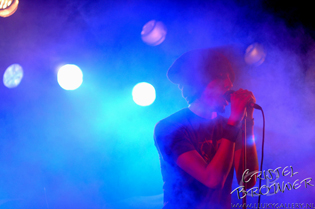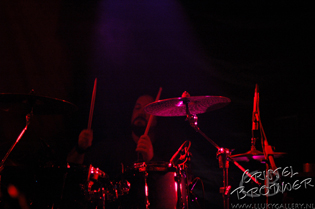 Lacrimas Profundere is the band of that day's Summer Darkness I really insisted on seeing. I have known this band for 8 years and never seen them live. It seems like Lacrimas had gathered its own group of fans that day for it became more and more crowded. A really enthusiastic band appeared on stage and started rocking immediately, getting a big response from the audience. With the new singer the band seems to create a sort of HIM-like imagine. Peter (vocals) has the seem deep voice, the same moves and even the same style like HIM front man Ville Valo. He consists of a great voice, which he can even control when he's totally drunk (only reading the set list seemed to cause a bit more trouble). Oliver (guitar) interacted a lot with the audience and joked around a bit onstage with the other band members. Tony (guitar) was also interacting with the audience and his band members, though sometimes he drowned a bit into his own guitar play, showing the emotional aspect of it.
Rating
Music: 7
Performance: 7
Sound: 7
Light: 7
Total: 7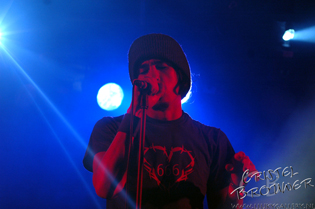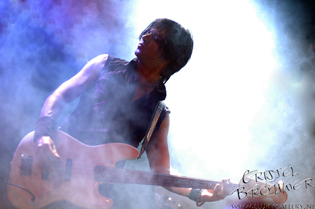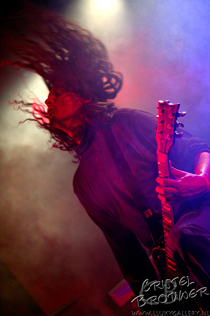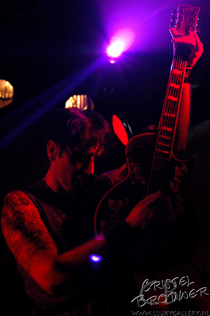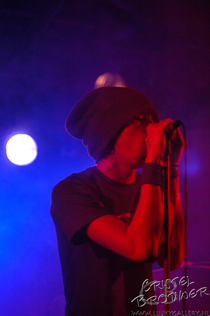 Delain (by CB)
The name Delain was chosen by Martijn Westerholt, the Ex-Within Temptation keyboard player. He was reading a Stephen King book 'Eyes of the Dragon', and there the name was. 'Once, in a Kingdom Called Delain…' Delain is busy creating their own kingdom, at this moment being one of the most promising Goth metal bands of The Netherlands. Delain too had brought their own group of fans. When the intro started, Delain was yelled on stage by the audience. Charlotte appeared and came in strongly. Since Ray van Lente (guitar) and Delain have parted ways, Delain has continued as a 5 member band.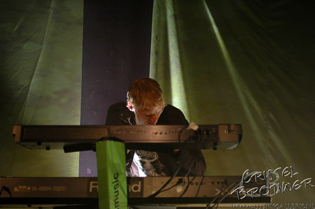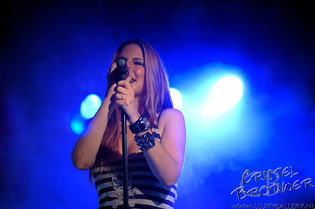 There's only Ronald (guitar) left for the guitar sound, but he did a good job at Ekko. Speaking to Sander (drums) for the show, I was told that the band has done a acoustic session at Giel Beelen, Radio 3, that morning. Therefore the band was quite tired, but it was not to be seen onstage; the band was still as energetic as ever!
Rating
Music: 8
Performance: 7
Sound: 8
Light: 7
Total: 8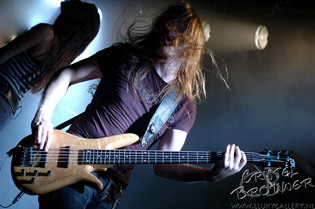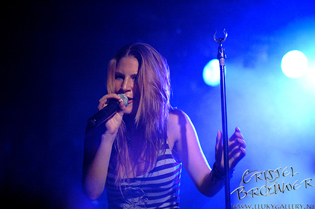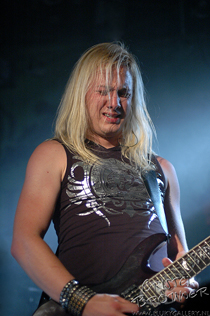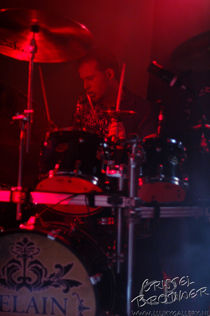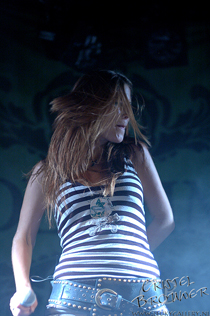 Emilie Autumn
(by RG)
While cabaret music is playing the teacups are being filled. Dolls are being put around the tea set for the tea party. A girl with a teddy bear is walking on stage. Flowers with ribbons are being placed on stage. And then Emilie is brought on, dressed in a black and white striped straightjacket, tied with red ribbons. She is placed behind the keyboard and then the harpsichord sounds. Emilie is surrounded by three ladies on stage. There is a Victorian tea lady, a lady on ballet shoes and a lady who is somewhat like a little girl. They make sure Emilie is ok, they provide the stage show. The sound was not that good at the beginning of the show. I guess they are not used to shouted lyrics like those of 'Liar'.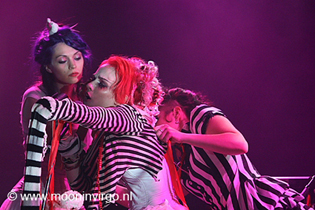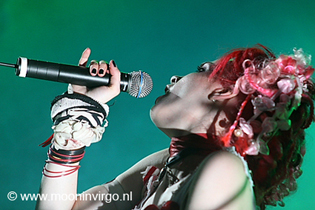 Emilie had a fun way of interacting with the audience, she calls them "my little vampires". "Show me your horns mother f#$#ers, nice fingernails everyone, we are keeping Manic Panic in business". She always welcomes her audience to the asylum and she does seem to take us all there if you know the password to the question: what is the new alive? The answer is dead, and that is the title of one of her new songs. Her show is energetic, crazy and wonderful.
Rating
Music: 8
Performance: 9
Sound: 7
Light: 6
Total: 8 (7,9)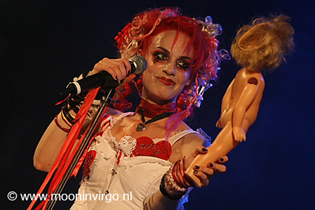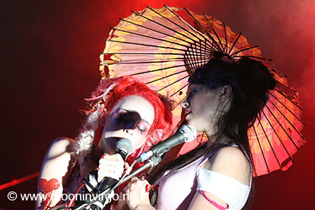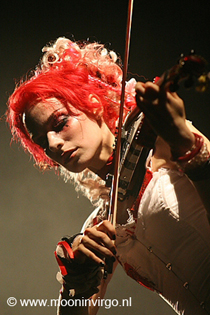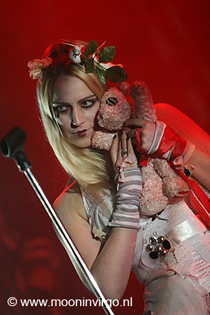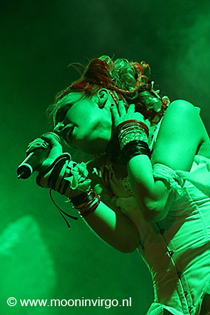 Frank the Baptist (by MH)
When walking in to the venue it seemed as though I had taken a trip down memory lane. This seemed to be taking place some 20 or more years ago, somewhere in the Eighties. It was not that busy and people were either dancing or just having a drink and a talk. The average age of the audience was between 30 and 40 years old and the band was exactly how you picture would a eighties batcave rock band. It wasn't hard to imagine that this band as the opening act for the cure or Joy Division.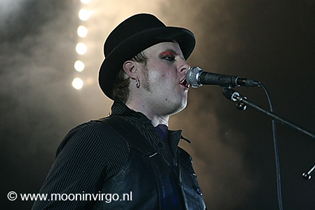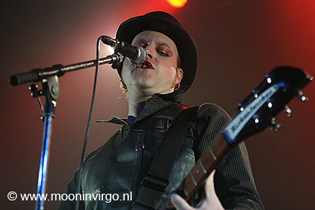 Their music was very good and you could notice that they all were professional musicians. They weren't very active on stage but more movement wouldn't suit this band. The sound was alright and the lights were good enough, but it was ok for this band because anymore or better and the ambience they create of bringing you back to the eighties wouldn't have been possible. The band brought you back to a past that most of the audience hadn't seen for about twenty years and they divulged in it. Most of the audience was continuingly dancing and seem to really enjoy the show and it latched on with the younger people because after a few songs they joined in as well. I can't say it was a spectacular show but it was more about the ambience the band created then it was about the show.
Rating
Music: 7
Performance: 7
Sound: 7
Light: 7
Total: 7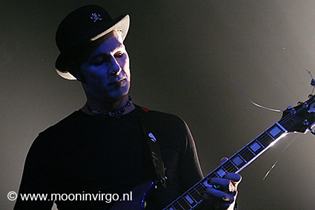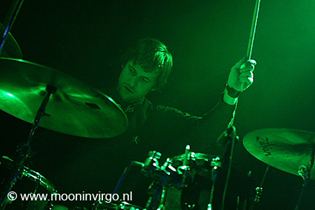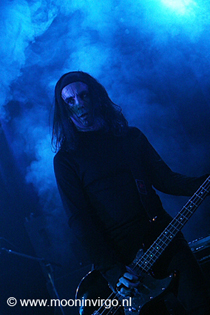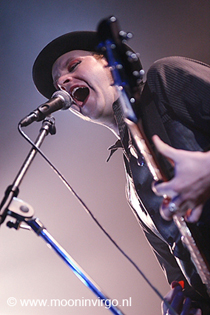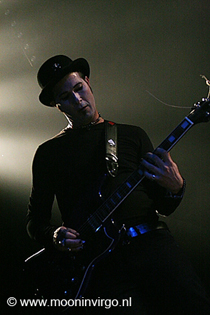 Dragonfly
(by MD)
This Dutch female fronted metal band, founded in 2000, had the honour to play at the small stage of the rock café Stairway To Heaven, at the end of the evening. Not a very interesting band I'd say. Their sound was not renewing, like many other bands of this genre which had popped up in the period when "gothic metal" suddenly became popular by bands like Within Temptation and Nightwish. Dragonfly lacks an outstanding vocalist and musicians. They didn't play bad, but their sound combined with the lack of good song writing that makes the whole start to get boring. There was just not enough variation. Klarine is not one of the best female singers. Apart from her vocals she did give a reasonable performance. She didn't look nervous and all band members looked like they enjoyed playing here on this small stage. In this cafe it wasn't possible to provide a good lightshow, for they just have a restricted amount of lights. The location of Dragonfly's performance was well chosen. People could watch them for a while and then return to their seats having a drink and chat with other visitors, with the music from Dragonfly playing on the background.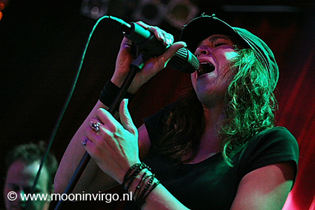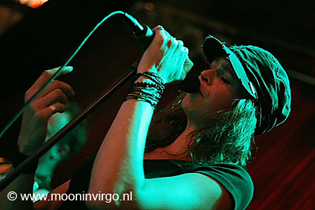 Setlist
01. Treasure Hunter
02. Another Fear
03. Deserted Places
04. Unwanted Guest
05. The Man in the Mirror
06. Blood Money
07. Mysteryland
08. Tentacles
09. Silvermine
10. Awake to Revive
Rating
Music: 5
Performance: 6
Sound: 6
Light: 3
Total: 5 (5,2)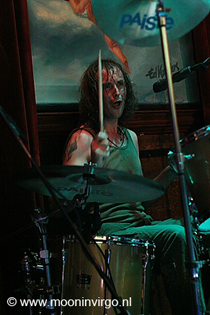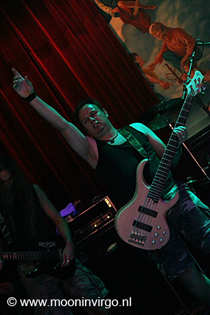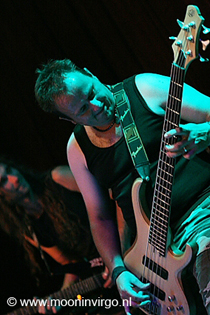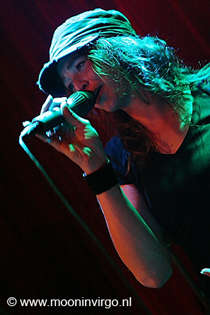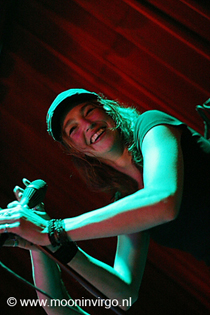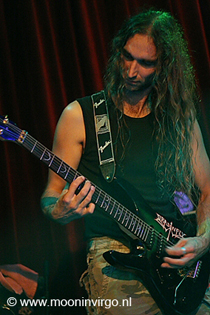 Covenant
(by IvdB)
The Swedish Covenant headlined Summer Darkness' first full day. Having played last in the Netherlands only one year ago during the first months of their tour accompanying their latest album ' Skyshaper', Covenant didn't bring much new music to the festival - which was a general tendency at Summer Darkness this year. During this concert at Summer Darkness the chemistry took place between audience and stage. Dressed in their usual suits, Covenant enthusiastically succeeded in completely taking over the Tivoli venue, proving themselves to be a properly chosen closing act.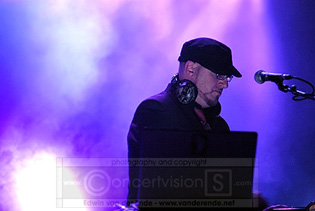 The setlist wasn't exactly surprising; most big hits were played, but some, like 'Dead Stars' were missing. Instead, the audience was treated to more songs of the Skyshaper album, which is generally more tranquil than the preceding albums. But it didn't matter: Covenant once more proved their quality as electro rock stars. Their melodic tunes once more took the audience away on an unpredictable sea, sometimes easily floating away, sometimes flying through the wind and sometimes fighting a storm; until they were safely called back to port again.

Rating

Music: 9
Performance: 9
Sound: 8
Light: 8
Total: 8,5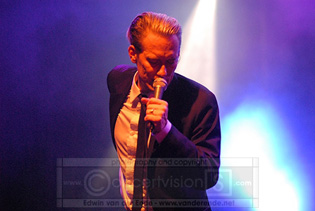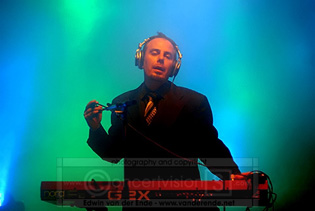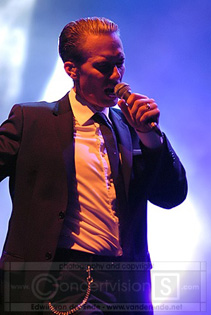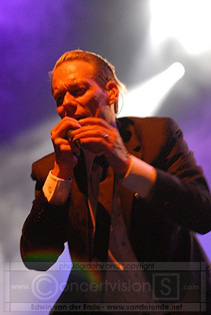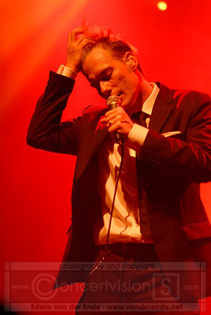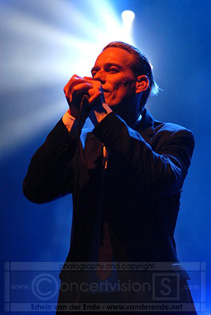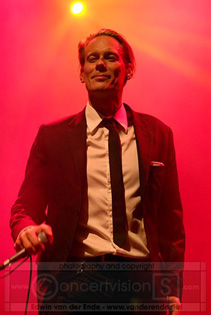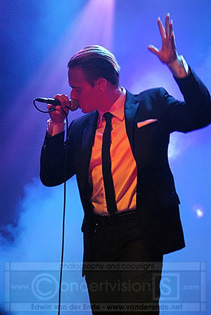 DJ X-X-X an his Cybergirlzzz
(by EE)
After all the vibrant music of Covenant it was time for one of the festival organizers and well known Dutch cyber DJ XXX to play some tunes for the audience to dance to. Cybercase, or Kees de Brouwer has been around for quite a while and belongs to one of the best DJs in the Netherlands. Of course he has proven this a few times and the set at Summer Darkness was no exception. With a set of highly danceable songs, mixed together smoothly he provided his Cybergirlzzz with the right music for some heavy duty dancing material. With Cybercase behind his desk and machinery the girls were dancing both on stage and behind the backdrop, showing only a silhouette. Two sets, two outfits and even the DJ got to change clothes in between. It is all a very nice idea, nicely executed and of course it encouraged the dancing crowd to keep on dancing until late that night, Kees is still growing and his show at the Lowlands festival a week later is only another step forward for this talented DJ.
Rating
Music: 8
Performance: 8
Sound: 8
Light: 7
Total: 8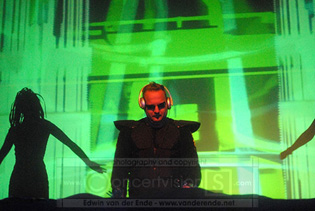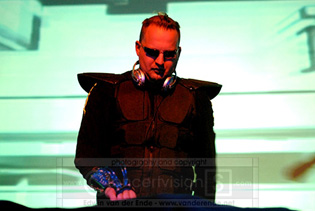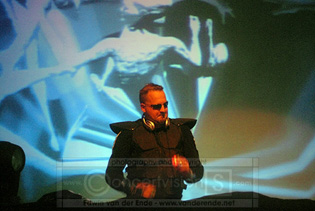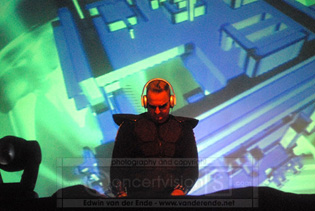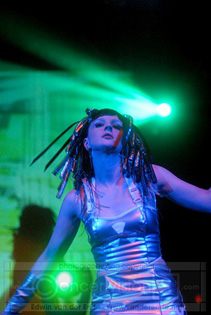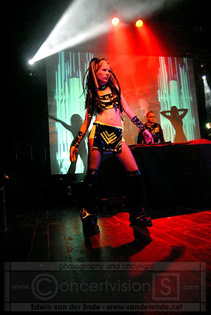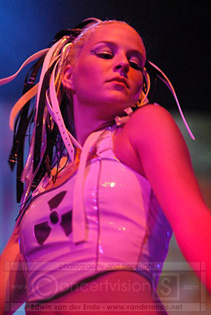 V2A
(by EE)
With EMB 2.0 the band released it's new (second) CD in 2006. They started in 2001 and until now the band is trying hard to climb the ladder to success in the EBM world. The show at Summer Darkness however wasn't a huge success, of course there were a few fans at the front but most people seemed to disregard the band and kept on dancing on the dancefloor or took some time to get a drink. Of course Kevin en Inez did their best to entertain the people but somehow it seemed they didn't get them all excited. Not that the music was bad, it just lacked something. Maybe the terrible lights shining right in your face with some red flood from the front was the reason, maybe it was the vocals which by no means sound great, or maybe the late hour. Anyway, nothing special enough to stick around for, except for the t-shirts they gave away at the end.
Rating
Music: 6
Performance: 6
Sound: 6
Lights: 4
Total: 6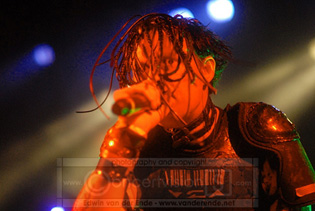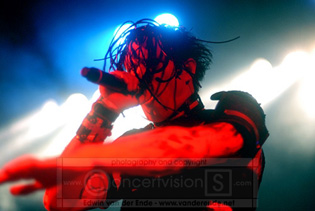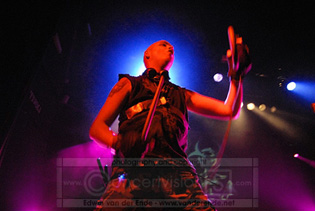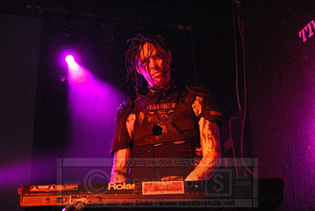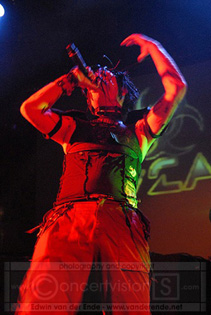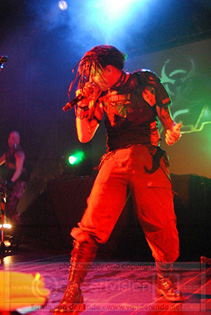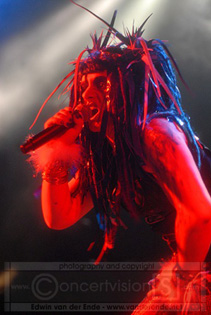 Review of day 4

{jos_sb_discuss:18}

More photos on page 2