Page 1 of 2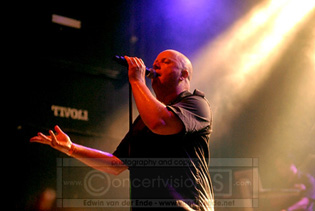 Summer Darkness, Utrecht, The Netherlands
11th of August 2007
Day 3: VNV Nation, The Crüxshadows, Epica, Inkubus Sukkubus, Heimataerde, Grendel, XMH, Krypteria, Suicidal Romance, Perforator 23, TheNAME, X-[RX]
Day three. Again a promising day. The weather was looking great and today the market would open so it was time to do some shopping. The morning started with a gothic picnic in the museum garden and there you could also sit in on a lecture about death in the middle ages which was quite interesting I might add. Musically it today brought great surprises such as Inkubus Sukkubus and already know pleasures such as The Crüxshadows.
The Name (by CB)
Harlem's theNAME was started in 2000 by guitarist/songwriter Silas. The basic idea was to start a band with a modern, 'jumpy' metal sound with accessable female vocals. By getting Hadassa as singer for the band, the pop-influences get an extra boost. She also makes the sound more dynamic and sensual with her clear voice. This way theNAME creates a different style then the standard in the 'gothic' metal scene. theNAME released 3 cd's resulting in a lot of gigs. The tightly produced live show was a success everywhere it played. (
www.thename.nl
)
Groovy rock/metal with catchy songs. This is the best way to describe theNAME. On Summer Darkness the band performed with a set list of own songs and a cover of Britney Spears' Hit me baby one more time. A song, that suits Hadassa's (vocals) voice very well. theNAME was well received by the audience, not bad for the first band on the second day!
Rating
Music: 7
Performance: 7
Sound: 6
Light: 6
Total: 7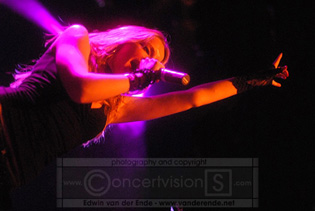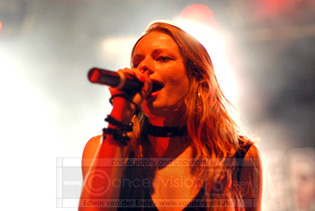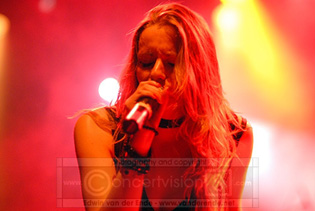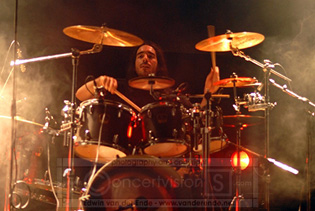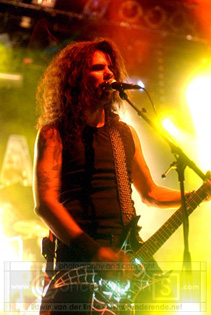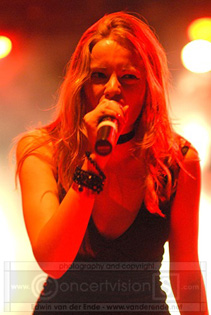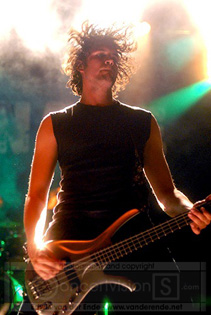 Perferator 23
(by MD)
This is their motto: "Born during a drunken epiphany, raised during the war in Lebanon and deflowered in front of a wig wearing guy. We like leopard print." This band was the opening act at Tivoli De Helling on the third day of the Summer Darkness Festival. They started a bit later than planned because there were some problems with the sound. When this band started an immediate torture struck the ears. It was a mixture between electro and vocals and screams which were severely out of tune. Actually this band was more like an act with a crazy bunch of people, making fun of everything on stage. One of the female members was dressed like a gothic Lolita, screaming from the top of her lungs and falling on the floor at times as if she fell dead. The other one looked like a gothic vampire, whispering scary sounds through the microphone. On one side of the stage somebody was hidden in a gorilla suit and when nearing the end of this performance one of the bandmembers was helped by the others to be dressed op in a robot suit with a plastic pistol to shoot 'n' kill. The lyrics were like "have you ever been gay", about lady hygiene towels and other weird stuff. Of course this was all meant to be just hilarious and it actually made people laugh. But if the audience was more laughing because of the stupidity of this performance, or laughed because they found it funny was the big question. I can't say I'm a humourless person, but to me this was a just a childish performance by grown-up people.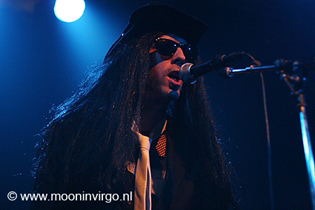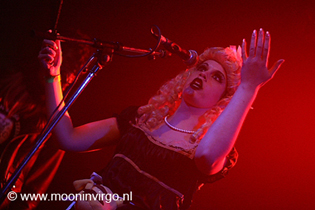 Setlist

01. Perferator's Fruits
02. Sneep
03. Schuim op de uitkering
04. Ben jij ooit homo geweest?
05. Engeman
06. Maandverband Blues
07. Babykiller Syndrome
08. Snavel
Rating

Music: 3
Performance: 5
Sound: 3
Light: 6
Total: 4 (4,2)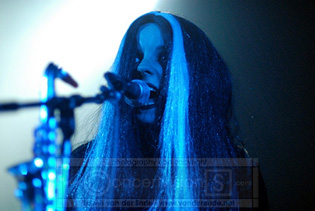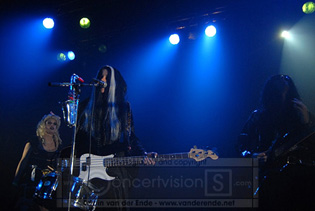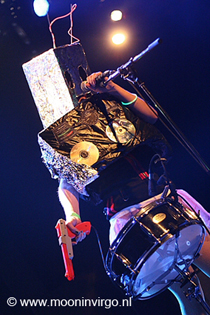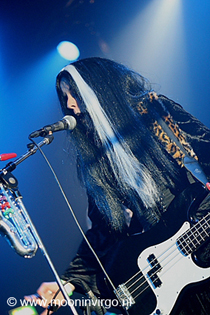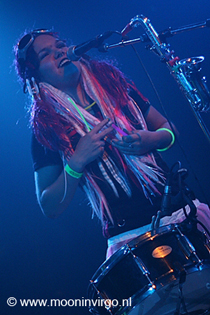 Suicidal Romance
(by MD)
Suicidal Romance is a band based in Estonia, formed in April 2004. If you have to describe their music, it could be compared with BlutEngel and the older music from L' Âme Immortelle. The frontwoman, Viktoria Seimar, was the eyecatcher of this show. With her strong vocals and performance she knew to impress the audience. Dmitry Ivanov, the male vocalist and programmer was responsible for the distorted vocals. He didn't sound as strong as Viktoria, but that was more due to the slight imbalance in the sound technique. He was moving a lot on stage when he didn't stand behind his laptop, but mostly he had his back turned away from the audience, which gave a certain distance between the band and the audience. Maarja Korstnik, the female keyboard player didn't attract any attention because she sat hidden behind her keyboards and didn't make much contact with the audience. But the whole sounded strong and accessible enough to make people dance. The show was supported with a screen, showing the titletracks of the songs altered with promopictures from these artists.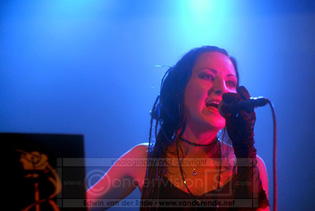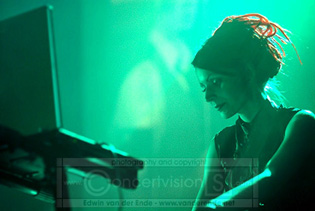 Setlist

01. Intro (Love Beyond Reach)
02. Star
03. Poisoned Kiss
04. Angel of Love
05. Call Me
06. Not Alone
07. Lonely Tears
08. Will it be (for us)
09. White Snow
10. Prince of the Darkness
Rating

Music: 7
Performance: 7
Sound: 6
Light: 6
Total: 7 (6,7)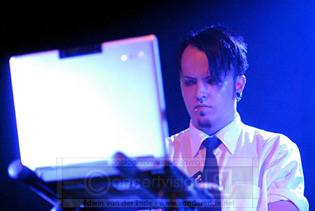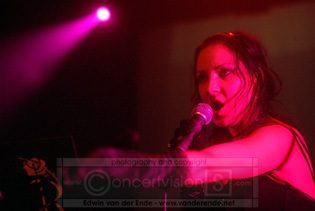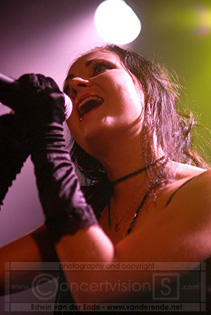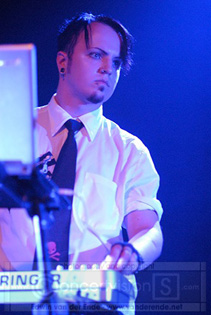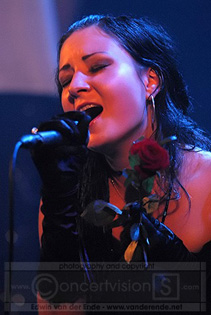 Krypteria (by CB)
KRYPTERIA is a German-Korean four piece, fronted by lead singer Ji-In. KRYPTERIA have a knack for dramatic punch-you-in-the-face songs with sizzling melodies all spiced up with mysterious atmospheres and classical elements such as their trademark Gregorian chants. This unique blend of music is featured in all its forcefulness on their new album "Bloodangel's Cry" which will see the light of day on January 19th, 2007. On this sixty minute journey across the rock, gothic and metal landscape twelve original songs will mercilessly capture you, ranging from the explosive uptempo neck breaking variety to sparkling melodic jewels. (
www.krypteria.de
)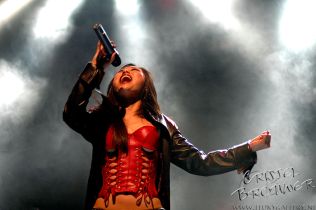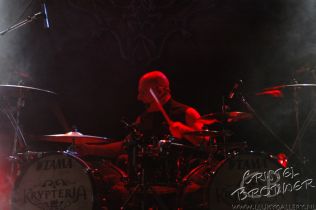 Just before the gig I heard some people talk about Krypteria, especially about Ji-ln's multi-faceted vocal performances. Nothing was being lied about; I was really surprised by this German-Korean band. Ji-Ln's voice carries the songs very well; especially the ballads are very touchy. Together with a combination of catchy bass rhythms en a heavy guitar sound together with keyboards you get a band that can be put between the big names in Female Fronted Metal.
Rating
Music: 8
Performance: 8
Sound: 7
Light: 7
Total: 8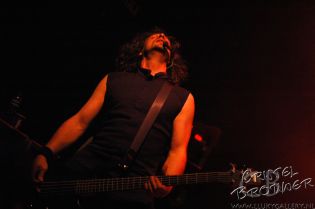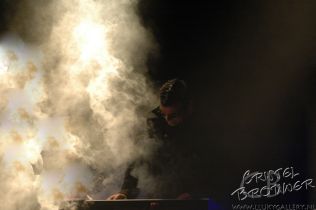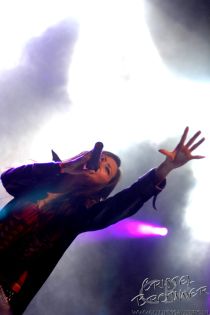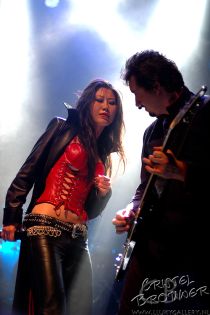 XmH
(by MD)
XmH is a Dutch band, founded by Benjamin Samson. Actually it's a one-man project, but for the liveshows he attracted Pieter Speling (programming) and Charlot Wever (keys, background vocals). This dark electro band has a sound that can be compared with bands like Hocico and Conbichrist, but with the absence of distorted vocals. XmH, Benjamin in fact, succeeded well to draw the attention of the audience and keep them moving. He showed himself as an extremely energetic frontman, running all around the stage, screaming his lyrics with aggression through the microphone. The catchy melodies in combination with hard pounding techno-like beats formed a strong whole. An acceptable amount of the audience was able to sing along with lyrics from songs like "Rape Your God", which is a real clubhit in the cybergothic scene. You'd almost forget about the other two bandmembers who literally and figuratively stood in the dark. It was clear that they didn't care about their own performance, because all eyes were aimed on Benjamin, who IS XmH, anyway.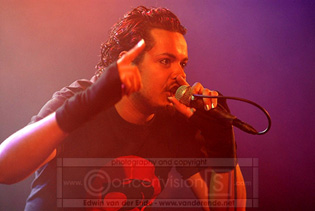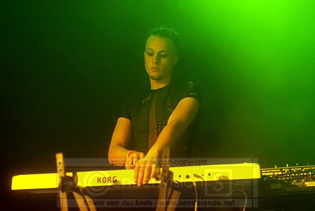 Setlist

01. Global Killer
02. Loser
03. Human
04. Life Is futile
05. Broken Images
06. Rape Your God (V.2)
07. I Found Her
08. Wet
09. Obsolete
Rating

Music: 8
Performance: 8
Sound: 7
Light: 7
Total: 8 (7,7)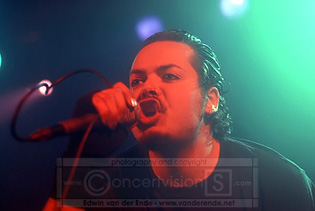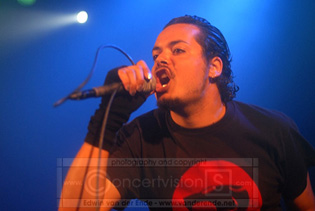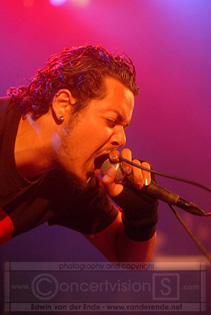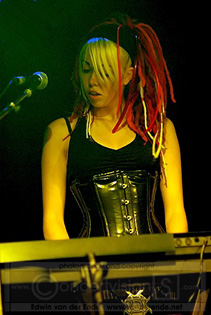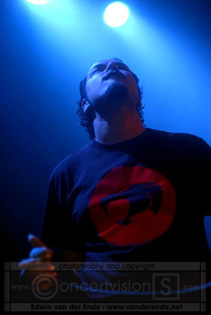 Epica (by RG)
The first song I heard of the new Epica album was 'Menace of Vanity'. It started out with a great orchestral introduction and then with full power the metal blasted in to the venue. The double bass made you feel the music. This was an improvement to the rest of the performance so far which was ok but not as powerful as I am used to seeing of Epica. Then 'Crystal Mountain' which is their death cover, and a good one too al though the screams of Mark were a bit sharp today. This is a song which they have covered well, against expectations of fans of death metal. 'Never Enough' is their new single and I can hear why, it has a very poppy sound to it and the lyrics are simple. This is a song which is definitely fit for a broader audience. You can see the video of this song at 'you tube'. It is fun to see the band members have one on one moments during the show. It shows they are more than just members of a band, they are friends as well. The show ended with 'Consign to Oblivion' which is still a great song and it was a great ending to this show.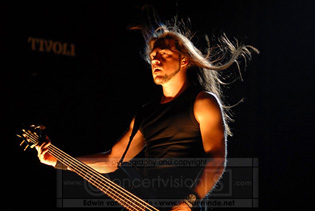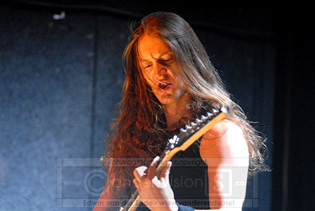 Setlist
01. Indigo / The Obsessive Devotion
02. Sensorium
03. Menace of Vanity
04. Quietus
05. Crystal Mountain (Death cover)
06. Never Enough
07. Facade of Reality
08. Consign to Oblivion
Rating
Music: 8
Performance: 7
Sound: 6
Light: 6
Total: 7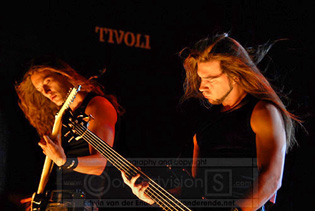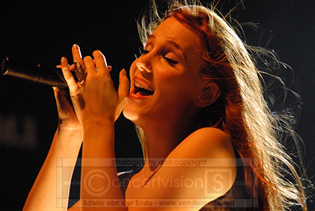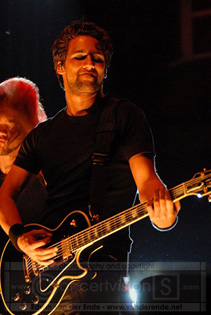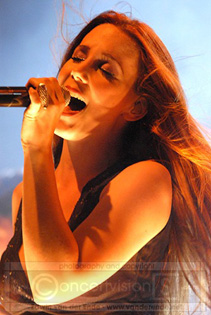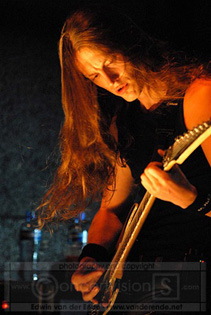 Grendel
(by MD)
With each successive band playing at Tivoli De Helling the bpm's were turned up. Now it was time for the harsh EBM from Grendel. This band found its roots in 1997 in The Netherlands. For years now they're a solid factor in the cybergothic clubscene. The frontman of this band, VLRK, was full of energy and was constantly whipping up the audience, at times holding the microphone in front of them to make them sing along louder. Sometimes there were problems with the sound. A few times it seemed that the computers were stuck for a fraction of a second. You could see that VLRK noticed that and was of course not too amused with that, but he just kept moving on. The audience didn't seem to care a lot and kept dancing along on the dark and pounding beats. A good addition to this show was the presence of a live drummer, who was playing powerfully on his electronic drumkit. The two men who stood behind their keys and notebooks didn't move a lot and looked like they were only keeping attention of their own equipment, as if they were constantly checking their e-mail. They also stood in the dark, but the light engineer wasn't so generous with the lighteffects anyway. In combination with the smoke a bit of a hazy, and literally a dark atmosphere was created.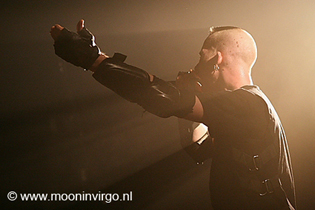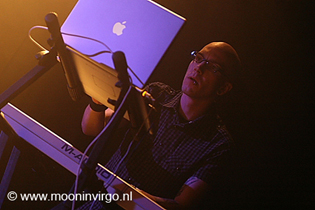 Setlist

01. Intro
02. Crucify
03. Void Melign
04. Soilbleed
05. Remnants
06. No Way Out
07. End of Ages
08. Zombie Nation
09. Hate This
10. Harsh Generation
---
11. Interrogation Leash
12. Controlled Pain
Rating:

Music: 8
Performance: 8
Sound: 6
Light: 6
Total: 7 (7,3)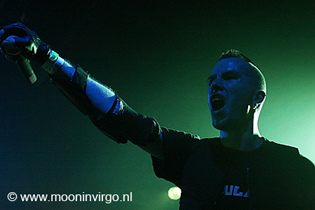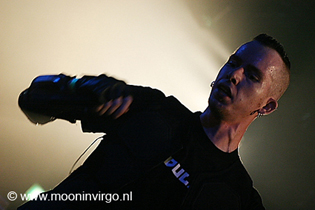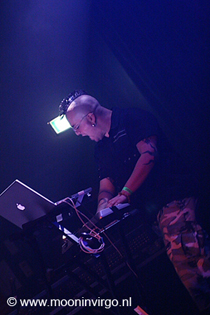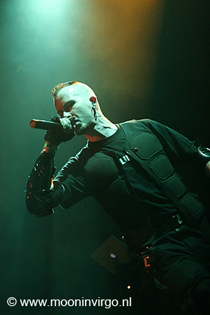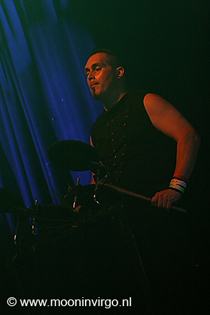 Inkubus Sukkubus (by RG)
This was one of the most pleasant surprises of this festival. They have been around since 1989 and only now did I discover them, shame on me. When entering the venue there was a chant sounding with names of goddesses. And then the show truly started. What a great show. It is so heart warming to see artists this passionate. Their vocalist Candia is constantly skipping around the stage, clapping her hands and taking the occasional jump in the air. The show was simple but this passion made it all a pleasure to look at. She attacks her microphone. During 'Take my Hunger' one of their personal favourites Candia even takes a bite of one the guitarists. Who by the way can play his guitar with his mouth, and does so a few times in their show. During the show the lights were adjusted. Less colours, which was much better. The songs of Inkubus Sukkubus take you to another land, of fairies, vampires and other fairytale creatures. The beats are very danceable and never depressing at all. At the end of the show (after 2 encores) they thanked the audience for making them feel so welcome. To the end of the show they sung 'Wytches' which was the chant heard at the beginning of the show. They started with all instruments but ended a-capella. A moment for goose bumps. Then there was a song about the god Pan. And that was the final song, unfortunately. Let's hope they return soon.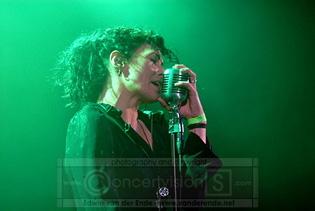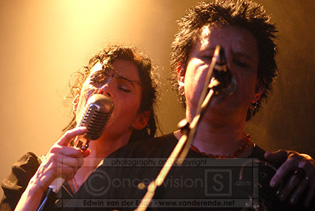 Setlist
01. Wytches chant
02. Vampyre Erotica
03. Belladonna & Aconite
04. Paint it Black
05. Catherine
06. Away with the Faeries
07. Take my Hunger
08. I am the One
09. Lucifer Rising
10. Heart of Lilith
11. Smile of Torment
12. Wytches
13. Witch Queen
14. Song to Pan

Rating
Music: 9
Performance: 9
Sound: 8
Light: 6
Total: 8 (8,4)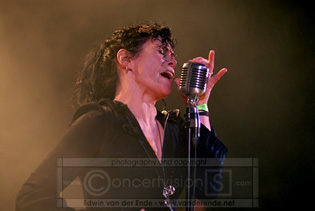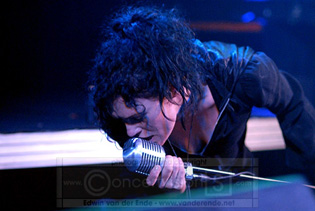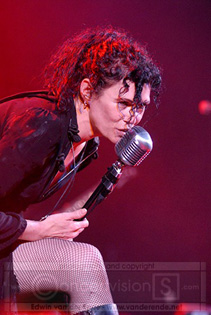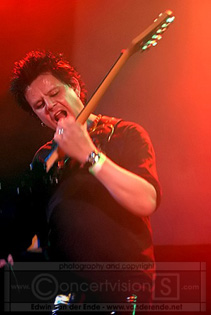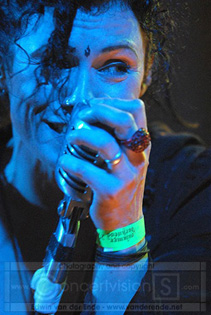 Heimataerde (by IB)

Heimataerde succeeded to deserve the unofficial Summer Darkness prize for most cheesy stage show. If such a prize would exist, that is. The band looked like medieval knights from a low-budget B-film that couldn't even afford a make-up artist. More akin to Lego-knights with these plain bold heads on top of the simple costumes than to cool heroes, they were still not cheesy enough to be cult. It was simply disastrous to look at. Which was most likely the reason why most people were dancing rather than watching, something that the music was perfectly suited for. Even the sound in the Tivoli Oudegracht was OK, which was not the case with every Summer Darkness act this year. Musically, the concert was fine and very entertaining, and undoubtedly gave the band a new impulse of CD-sells and new-born fans. But a DVD might not be such a good idea yet.
Rating
Music: 8
Performance: 7
Sound: 7
Light: 8
Total: 7 (7,5)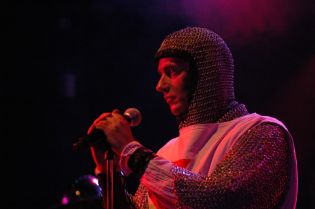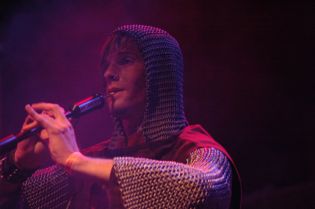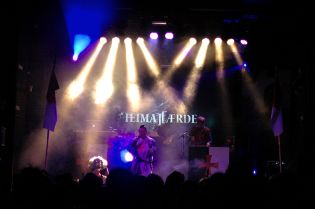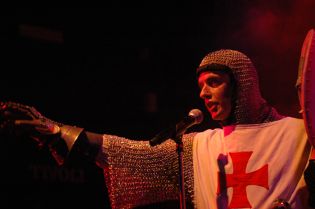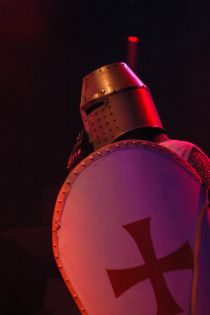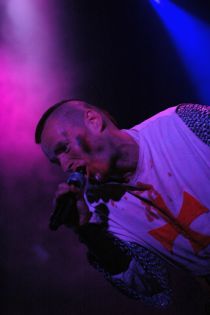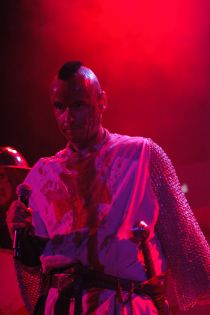 The Crüxshadows (by RG)
At the start of a Crüxshadows show the audience is always searching for the singer. That is because Rogue starts at the back of the venue and then makes his way through the audience to the stage. He repeats this a few times, by dancing with audience members and getting a chair from the bar area to stand on and sing in the middle of the crowd. On stage there was a large backdrop with a somewhat Chinese looking sign, which is the band logo, and two front drops which also carried the words: Live, Love, Be, Believe. A great message of course, it is the band mantra. There are two dancers dancing all through the performance and they are the back ground singers as well. Which are two things hard to combine but they do it very well. They use attributes some times like a rope, flags and masks. This adds to the diversity of their show. The guitarist and keyboard/pc players at the back of the stage are almost constantly hidden behind a curtain of smoke. A nice effect for the stage but a pity though for them and those who'd like to see them. Their tour is almost at an end and the ending of this tour will mean a goodbye to their violinist Rachel McDonnel. She will be making a career of her own now.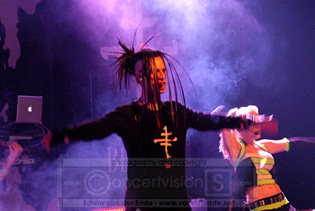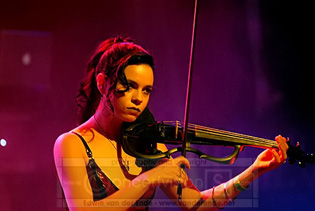 The recently released album 'Dreamcypher' is doing very well. It reached number one in the billboard dance chart right above Nine Inch Nails, Madonna and Beyonce. We are all invited to buy it, and actually buy it instead of downloading it. Rogue is great at making contact with his audience. Besides dancing with them he addresses the audience and also is sure to make eye contact with them. It is a show where you feel welcome and part of. Which is very important of course. Their music sounded very good, and some songs are welcomed with loud cheers. 'Winterborne' is one of those songs, and with reason. It stays in your head for quite a while and is great to dance to. All in all it was again (just as last year) a great success and it made me wonder why they were playing in the smaller Tivoli, because it was very full and a grand party.
Rating
Music: 8
Performance: 8
Sound: 7
Light: 8
Total: 8 (7,9)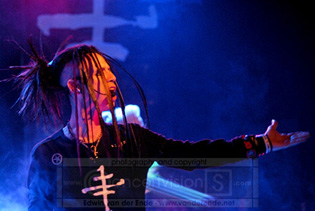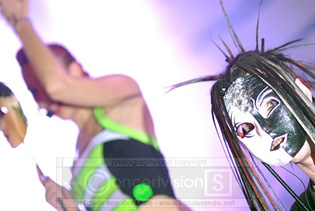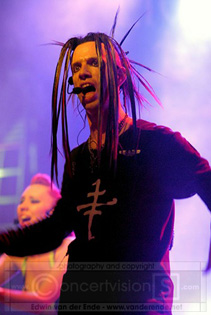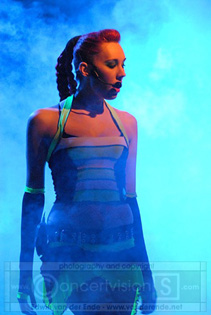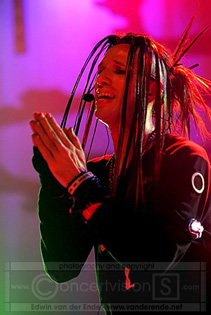 VNV Nation (by EE)


Ronan Harris with his main project on stage again after last year's great show and a good performance at de Effenaar earlier this year. It's clear that VNV Nation is still growing in the Netherlands and that the charismatic presence of Ronan makes people want to dance. Or take photos all concert long, but not when Ronan is around, resolutely he told the audience to stop staring at his show through a small lcd screen and experience the concert. Well most of the people aready did and the further the concert progressed the warmer and more intoxicated the whole venue became. With plenty of old songs to please the crowd, quite a few from his latest album 'Judgement' and his entertaining chats in between Ronan and his three man band in the back yet again got a firm grip on the audience in Tivoli. Final judgement: pretty damn good show!

Rating
Music: 9
Performance: 8
Sound: 8
Light: 6
Total: 8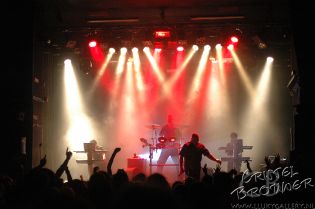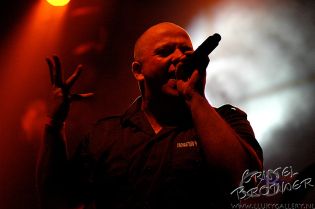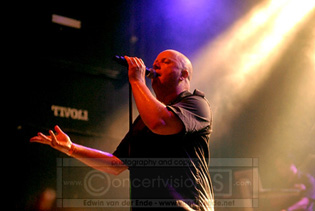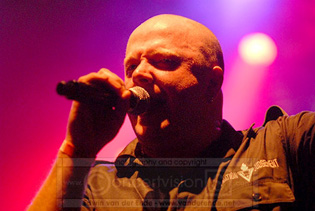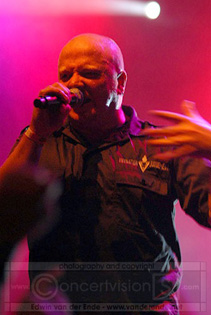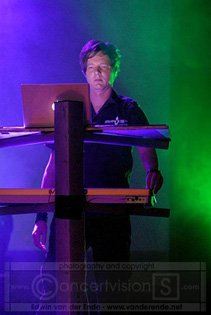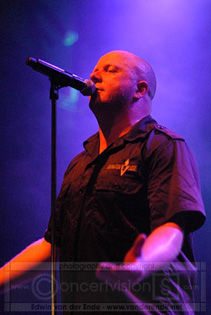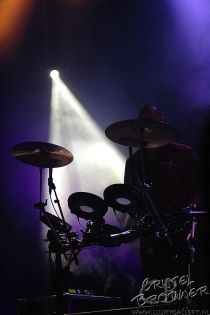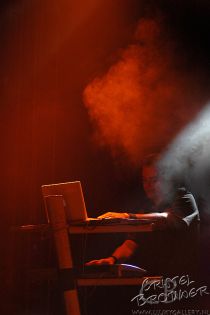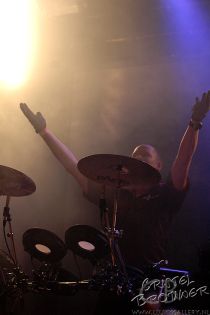 X-[RX]
(by EE)

It was during the industrial and noise party at Tivoli de Helling that this German band from Cologne entered the stage to do some serious live noise making. With lots of enthusiasm from main man CyReX the industrial rave injection music kicked the dancing crowd into a higher gear. Jumping up and down behind his desk at the centre of the stage he was accompnied by two others on stage doing keys and drums. It was late, it was foggy but this band really made sure their debut album 'Die seksualität der Hölle' this band, or at least composer/singer CyReX, left a good impression.


Rating

Music: 8
Performance: 8
Sound: 7
Light: 6
Total: 8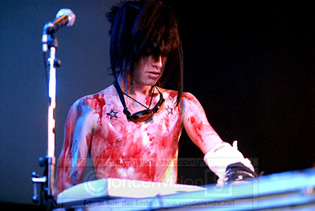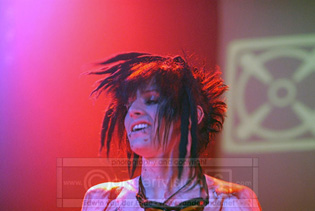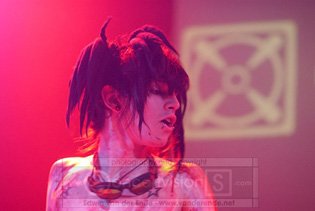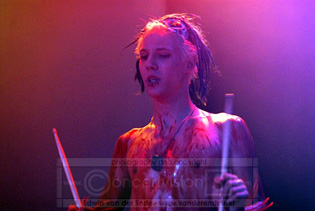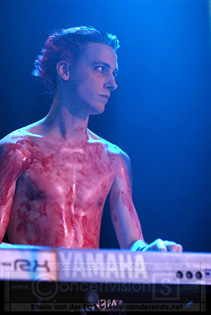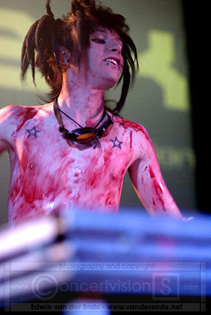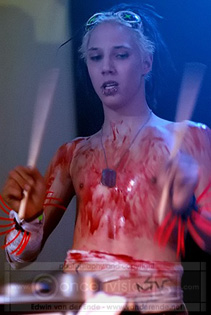 Review of day 1
Review of day 2
Review of day 4

{jos_sb_discuss:18}
For more photos see page 2