Page 1 of 2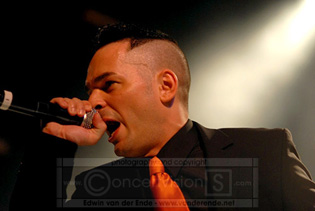 Summer Darkness, Utrecht, The Netherlands
12th of August 2007
Day 4: And One, My Dying Bride, Client, Dope Stars Inc., Tantrum, Morning, Angelspit, Trisomy
The final day of the festival. It was clearly the most quiet day of the festival. Perhaps not everybody had made it to the fourth day. Al this walking from venue to venue is quite tiring. Luckily we were all kept awake by the music of the festival and that is what it is all about. One of the highlights of this day was definitely the show of My Dying Bride who showed they are not about to die for some time to come.

Trisomy (by CB)
Trisomy stands for a combination of rock/metal, influenced by gothic, atmospheric, melodic and progressive perspectives, combined with the powerful, clear, rock voice of Eva Kokken. Because of this combination, the band clearly differs from other bands in the Gothic Rock/Metal scene; NO 'standard' grunt / soprano combination! (
http://www.trisomy.nl/
)
Lovely to see one of our own Reflections of Darkness crew members perform on stage with his band (Eric Hazebroek on guitar). Being the first band at the last day, everybody is already tired, having to start quite early and on a Sunday is not an easy job for a band. Still Trisomy succeeded very well at the job. In the beginning there were just a few people, but after a couple of songs it became more crowded for the music was really being liked! I even heard people around me speaking about how much Eva's (vocals) voice sounds like Anneke from The Gathering. Really a band you should check out!
Rating
Music: 7
Performance: 7
Sound: 7
Light: 7
Total: 7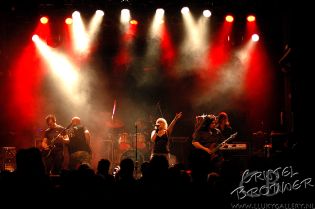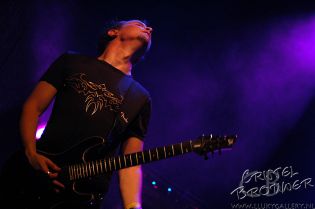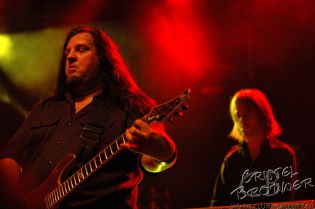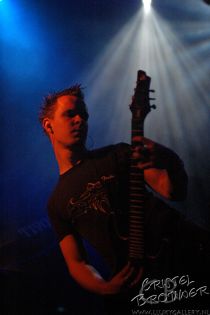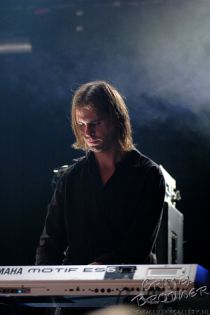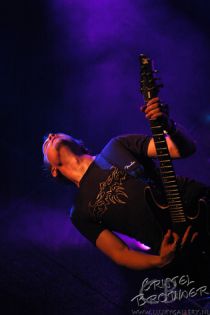 Angelspit (by IB)
The band Angelspit, originated from Australia and currently based in Berlin, was one of Summer Darkness' most exciting acts, and closest to something musically new of all festival acts. The electro/industrial music combined well with the edgy, strained voices of both male and female singer, which caused a psychotic feel to the music. The med-fetishism visuals of their latest CD, 'Krankhaus' (incorrect(!) German for hospital) perfectly reflects this. During the show, both singers were able to entertain the audience during the entire set by just singing on a backing track. Quite an achievement by itself, considering that this was the entire show. However, the impressive visuals, ideology, and the mentioned med-fetish concept (apart from their clothes) were completely absent from the show. The sober show did not compare to the anything-but-sober Angelspit marketing concept, which was slightly disappointing. But it was completely made up for by the quality of the gig itself and the incredibly brilliant merchandise stand.
Rating
Music: 8,5
Performance: 7
Sound: 8
Light: 6
Total: 7,4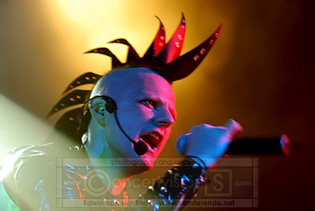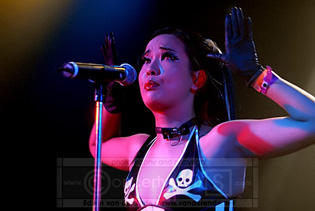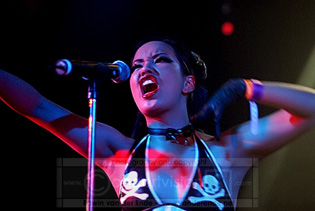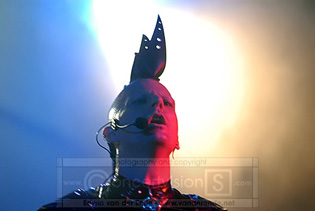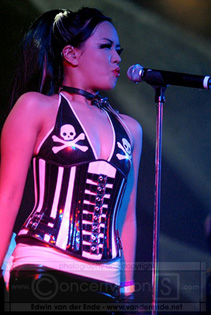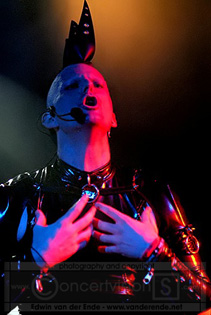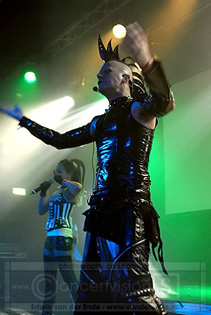 Morning (by CB)
Morning was founded in the summer of 2000 by Saskia van Heugten (vocals) and drummer Mauro Pi (drums). In autumn 2000 the brothers Pol Bannier (bassguitar) and Stijn Bannier (synths) joined the band. The members found Martijn Brauwers and Bas Rensen. The band calls its style dreammetal, with influences from bands like The Gathering and Ayreon, but also Soilwork and Killswitch Engage. (
http://www.morning.nl/
)
Morning started off with a couple of new songs from their yet unreleased new album. The band seemed to suffer from a couple of problem with the sound; Saskia's (vocals) voice was almost not to be heard in the beginning and the bass sound dominated the music. After a couple of songs the instruments were tuned out better. Morning gave the audience a mix of new song and songs from the other two albums, which were very well received.
Rating
Music: 7
Performance: 7
Sound: 6
Light: 6
Total: 7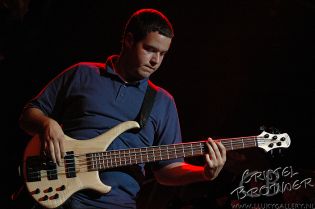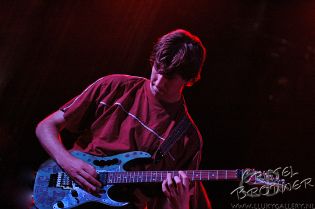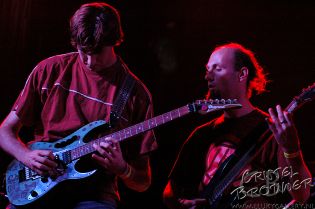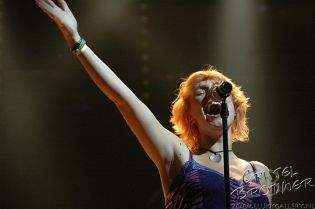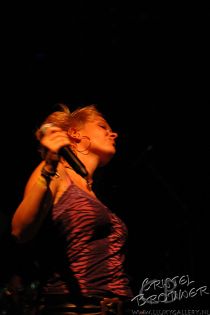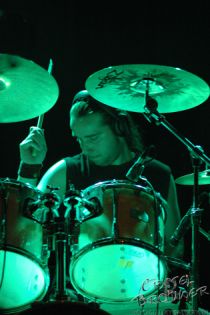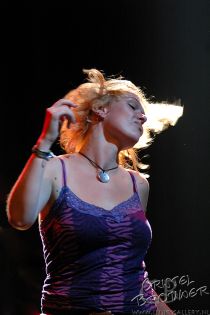 Tantrum
(by RG)
The show started with a classical piano intro, but that was about all that was classical about this show. As soon as the intro was over it was time for some fast pounding and danceable beats. Their vocalist provides a wall of aggressiveness. Not just vocally but physically as well. Smacking his body, which is partly covered in black paint and racing up and down the stage. Their drummer and keyboard player switch places quite a few times during the show. The drummer seems to be on something, he keeps on falling down. They seem to be in their own world but we are invited, if you dare. Besides the beats there are grunts/screams by the singer which are thrown at us, full of aggression. On the one hand all this aggressiveness is a bit scary but it keeps your attention as well. The band is famous for dropping or even losing their pants at the end of the show. This time however there were pants going down after about 5 minutes but luckily not that low and they went back up again. This seems like an unnecessary part of the show, it keeps people away rather then attracting them. They bring great music to dance and that is what makes you stay and dance until the end of the show.
Rating
Music: 8
Performance: 6
Sound: 6
Light: 6
Total: 7 (6,6)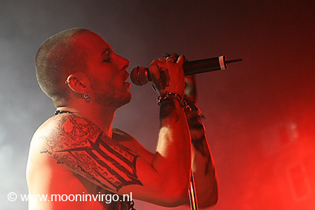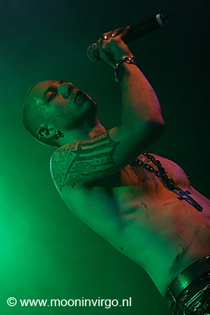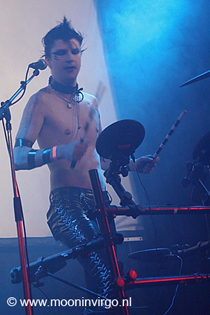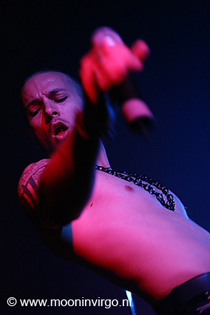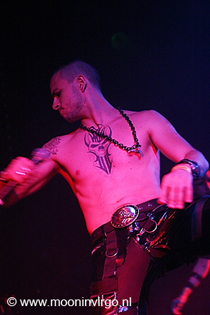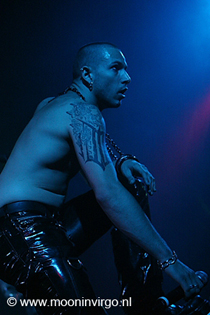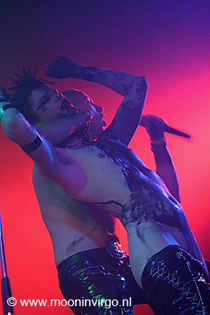 Dope Stars Inc.
(by CB)
Dope Stars Inc. was founded in Spring 2003 by Victor Love (vocals and backing guitar), Darin Yevond (bass), Grace Khold (keys) and Brain Wolfram (guitar).
In 2005 and Darin Yevonde left the band and was replaced by Alex Vega, while Grace Khold left the band for personals reasons in 2007, replaced by La Nuit
In a line up of Trisomy, Morning and My Dying Bride, the industrial band Dope Stars Inc. is not a band you would expect that day. Still the band was greatly received by the audience. Dope Stars Inc. played a very varied setlist of hard industrial songs exchanged with some easy going songs. The sounds during the performance was sometimes a bit woozy, the instruments didn't seem well tuned now and then. (
http://www.dopestarsinc.com/
)
Rating
Music: 7
Performance: 8
Sound: 6
Light: 7
Total: 7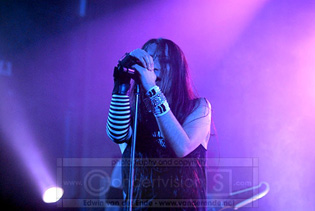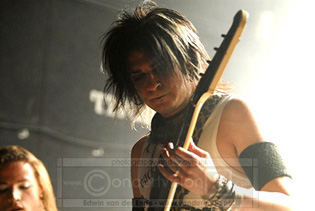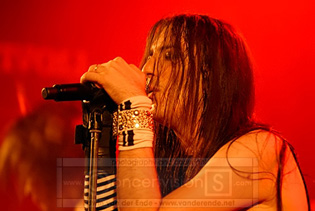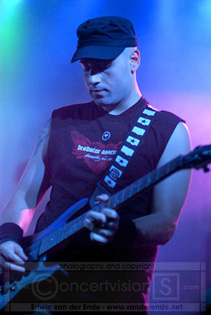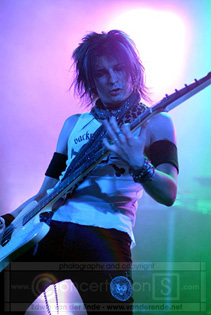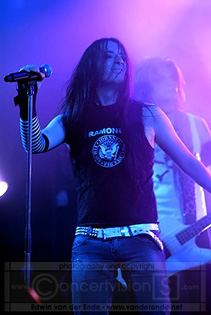 My Dying Bride
(by RG)
The British band was formed in 1990 and they became one of the three well-known English Death Metal Bands together with Paradise Lost and Anathema. They didn't play live from 2001 to 2004. Their latest album "A line of deathless kings" was released in October 2006. Their drummer Shaun left the band just in August. Now the line-up is set with Aaron Stainthorpe (voices), Lena Abé (bass), Andrew Craighan (guitars), Hamish Glencross (guitars), Sarah Stanton (keyboards) and Andrew Mullins (drums) (
http://www.mydyingbride.org/
)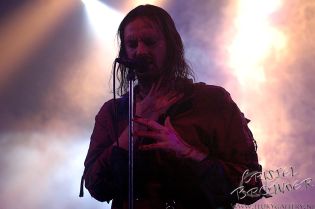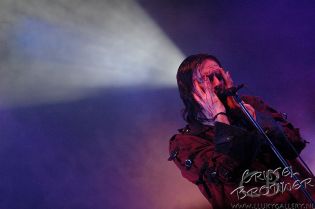 It was great to hear some raging guitars at Summer Darkness. As one of the headlining acts My Dying Bride sure made their show worth while. The light show was brilliant. Pink at the top of the stage, transferring in to purple at the bottom. It was very well adjusted to the music and set the right atmosphere for this show. And what a powerful show it was. Aaron, their vocalist, is in another world when on stage. He shows such pain and passion, you'd expect him to slit his wrists right there on the stage. It makes you wonder why his is still on stage if it causes such pain, but I am glad he is there because it is great to watch. Even if you can't hear all the words you can still feel the emotions which are transferred by the song. At times he is even on the floor of the stage, crawling in pain. Their drummer was hidden behind a wall of smoke; moving drums were a signal that he was actually there. Both on stage and in the audience there was head banging going on throughout the show. Even though the larger part of the bands at Summer Darkness are electronical this kind of music is still loved and will never be forgotten. That was made very clear by this show. Absolutely one of the highlights of this festival. At the end of the show they woke everybody up with a final blast of metal energy.
Rating
Music: 8
Performance: 9
Sound: 8
Light: 9
Total: 9 (8,6)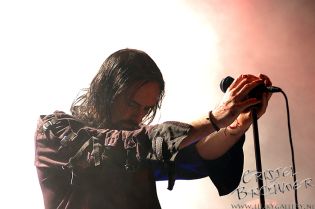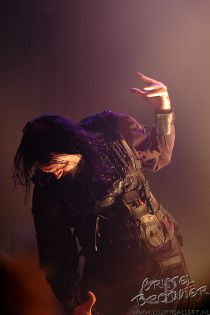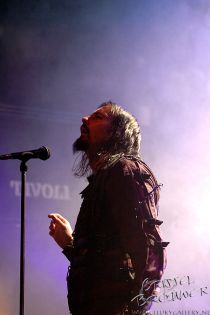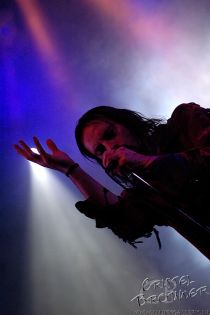 Client
(by EE)
During the festival men have been treated with a lot of nice and fine dressed women, but as usual the women have much more to look at on stage. Women always seemed to be outnumbered on stage, except for bands like Client. Something was strange compared to the last time they played in the Netherlands, a shock for all men, a man had joined Sarah, Kate and Emily on stage. But let not this fact distract you from what else could be seen on stage while listening to some catchy tunes of the women in sexy leather airline dresses complete with wings and sexy stockings. Quite a few songs passed by from the latest album, released in March 2007; Heartland. But of course older songs like "Down to the Underground" kept the audience pleased and satisfied. No Darkness from these three lovely ladies but nice happy music with sexy lyrics nicely sung by the charismatic Sarah Blackwood while Kate Holmes (keys), Client M (bass) and Robert Görl (drums) set the right musical atmosphere for good last concert at Tivoli de Helling for this year's Summer Darkness.
Rating
Music: 8
Performance: 8
Sound: 8
Light: 7
Total: 8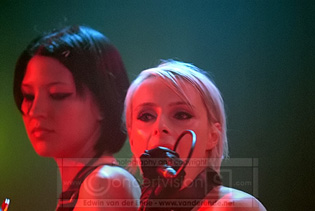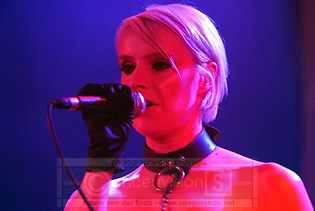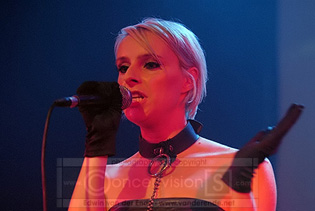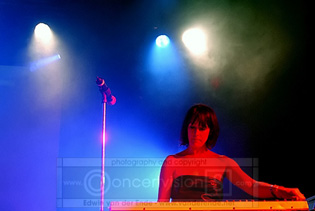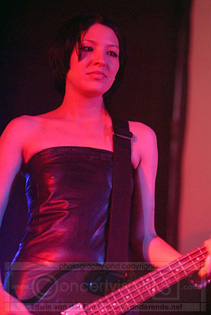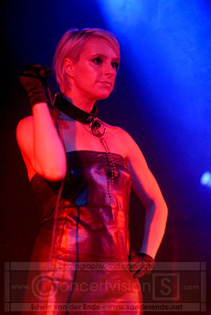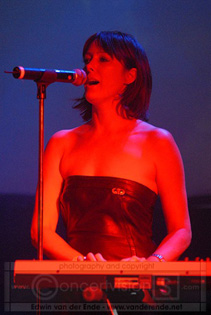 And One
(by RG)
This band has been around for quite some time now, since 1989 to be precise. That alone is an achievement to be proud of. They are loved especially in Germany but it seemed there were a lot of fans gathered in Utrecht as well this evening. With their newly released album 'Bodypop' it was time for them to perform, as the main act of this festival's final day. Two keyboards with orange tube lighting were on stage. Then their Steve their vocalist came on stage and it was time to party. Maybe not the energetic party that was to be expected of the final band but they did give a good performance. Their music is fun, pleasant to the ears and you can dance to it as well. What more do you want? Well the Tivoli audience couldn't ask for anything more because they were very enthusiastic. A warm welcome for And One with cheers and applause set the show off to a great start.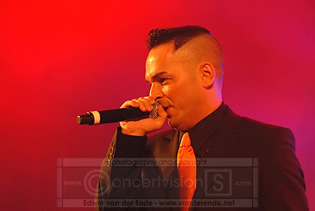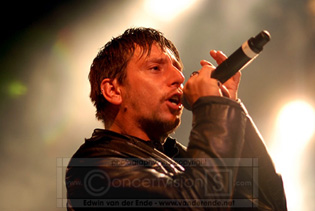 There is something about this show that makes you smile. I don't know whether it is just the cheerful beats or perhaps it has something to do with the presentation as well. Steve seems like a television presenter from the old days. But then again, who cares as longs as they make you smile, there is nothing to worry about. With both new and old songs they entertained the Summer Darkness audience until they were all completely tired. It was a good thing that this was the final band because I don't think another day would have been healthy, at least for those who had visited all 4 days.
Rating
Music: 8
Performance: 7
Sound: 7
Light: 7
Total: 7 (7,3)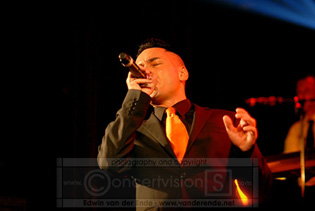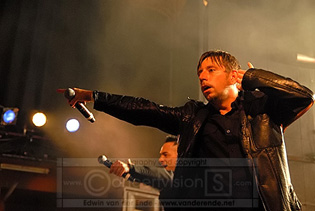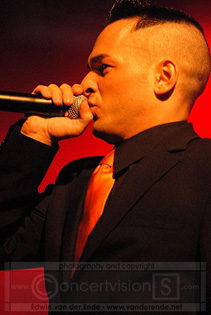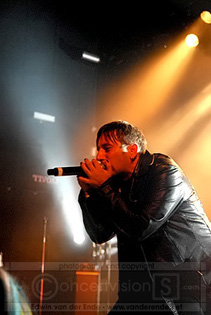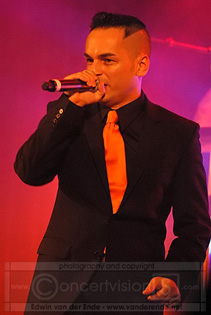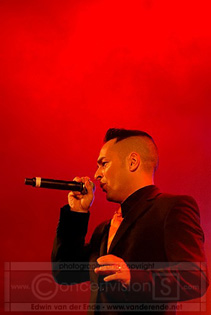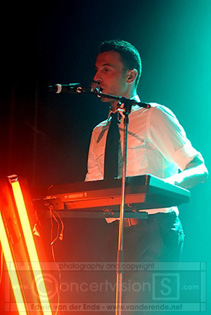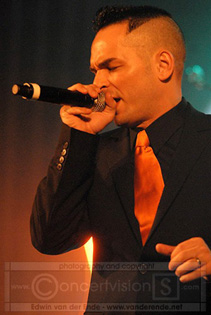 {jos_sb_discuss:18}
More photos on page 2