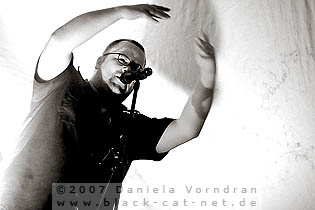 Kulturpark, Deutzen, Germany
07th to 09th September 2007
NCN II - Day 1: Steinkind, Golden Apes, Menticide, Stendal Blast

It is the second time that the NOCTURNAL CULTURE NIGHT festival took place now in the beautiful Kulturpark Deutzen - a culture area with open air stages, park and even a small lake where you could swim in. Unfortunately the weather was not good enough therefore, but anyway after a travel of several hours I was looking forward a lot to the first festival day which started at the evening with just a few bands, just a little warm-up so to say for the weekend that was coming up.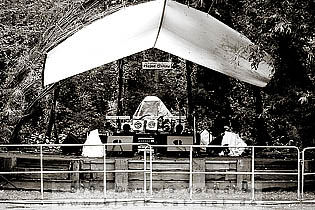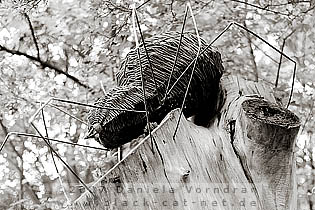 We left our little Hotel in close Borna right in time to enter the venue short before the first band of the evening was going to start. On the first day, the four announced bands were only performing on the charming small stage which was situated in the green surrounded by lots of trees. Besides the program on that stage, there was the medieval market with small performances, nice decorations; a calm place to sit down and have some beet or medieval beverages as well as some great food.
Steinkind
First band of the evening was STEINKIND, a local band from Leipzig which is only a few kilometres away. Phil and Sándor met in 2005 at an Electro-Industrial party under bizarre circumstances. Both were making electronic music before and started a project together from now on. The first output is the current album 'Vom Hier im Jetzt'. STEINKIND are Phil J. (electronics and background vocals) and Sándor F. (lyrics and vocals). In stage they were supported by another keyboard player.
http://www.steinkind.com/
/
http://www.myspace.com/steinkindmusic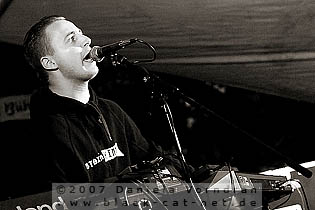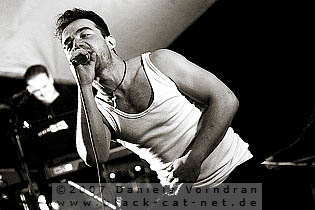 Music & Performance
When the band entered the stage you could realise at once that singer Sándor seemed to be testosterone controlled and maybe had one or two beers too much. He was very expressive on stage, showing his bare belly and taking off the short totally very soon. Not sure if I need to see half of his butt because the pants were hanging so low. The performance was definitely not my kind of stuff, but there were several people in the audience who seemed to like it and danced a lot and expressed themselves by screaming what made Sándor to look for close contact to the people on the other side of the fence. Musically, the band presented a mix of EMB, Industrial, Electro, Hardstyle and Punk. Lyrically, in my opinion the songs were too flat and meaningless. Best song for me - if you can call it so - was the last song, a cover version of 'Hier kommt Alex' by German Punk band DIE TOTEN HOSEN. Sound on the very small stage was quite good what you cannot say about the lights. Well, there was surely no room for something you can call a light show and so, only two constant white spots on both sides of the stage were built up and some red and blue ones in the back. Same procedure for the following bands.
Setlist
01. Steinkind
02. Der Tag danach
03. Trink Mich!
04. Ich Muss
05. Gottkomplex
---
06. Deutschland brennt
07. Hier kommt Alex
Rating
Music 4
Performance 4
Sound 8
Light 3
Total 4.5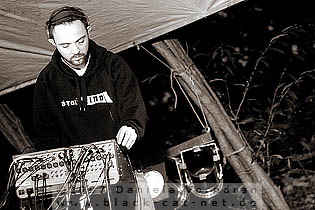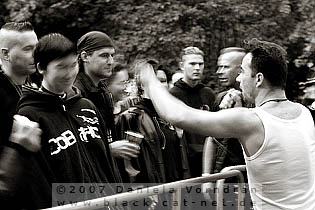 Golden Apes

The band coming up next should be my personal highlight of the evening. GOLDEN APES, a name I did not even hear before the show, were already founded back in 1998 by Peer, Christian and Eric. The guys can already look back on five albums by now, latest being 'The Geometry of Tempest' released in March 2007. So far, the band was playing several festivals and also supported bands like CINEMA STRANGE. The GOLDEN APES are Peer Lebrecht (lyrics, vocals), Eric Bahrs (guitars), Christian Lebrecht (bass), Sven Wolff (keys), Dirk Wildenhues (guitars) and Nestor de Valley (drums).
http://www.goldenapes.com/
/
http://www.myspace.com/goldenapes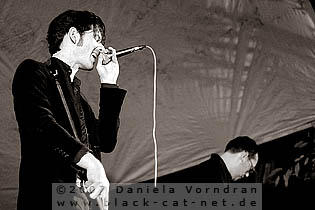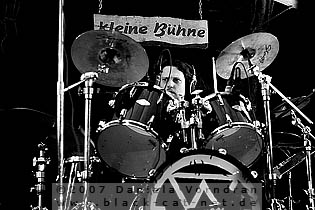 Music & Performance
we had to wait really long for that band to start. It took them about 30 min longer than scheduled to get the sound check done. Not sure what problems they had. Maybe it was just quite hard to get the instruments of so many people hardly fitting in stage adjusted. But finally it was time for the band to start… just out of the line check into the concert without any announcement. All members on stage appeared quite cool and calm, not much movement. Optically it was quite "uninteresting" bit the music got me immediately. Sounds and style reminded me a lot of JOY DIVISION and well, this band seemed to have some influence. Bass player Christian even wore a shirt of that band. Having just released a new studio album, the band presented several songs out off it on stage, such as 'Leaving Ground', 'Ferryman' or 'Satin Gardens'. But having four more albums in stock, older songs have not been missed out. Musically it was my show and I'll definitely take a closer look on that band.
Setlist

01. Phantoms
02. Leaving Ground
03. Ferryman
04. At Least
05. Travelling Strangers
06. Satin Gardens
07. Remedy
08. Snow
Rating
Music 8
Performance 5
Sound 8
Light 4
Total 6.5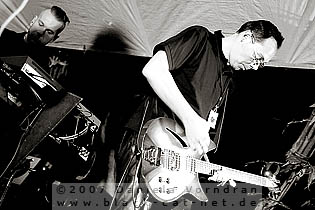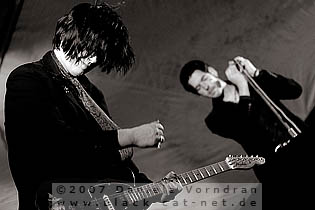 Menticide
From guitar based music now back to pure EBM. MENTICIDE - the latest signing to SubSpace Communications (i.e. SPOCK, COVENANT; MENTICIDE is signet at Infacted Recordings in Germany) - made their first public appearance in 2006 at the Pre-Party for Tinitus electronic music festival in Stockholm, where they presented an intense live set of brutal yet melodic industrial body music. Singer Johan is already known from his previous work as singer in Swedish band DUPONT while Christian was involved in CAP. After several live appearances, the band released the debut album 'N.M.E.' (read: Enemy) in June 2007. MENTICIDE are Johan van Damm (vocals) and Christiaan Riemslag (noise) as well as live support Anders Wallfält. In Deutzen, Christiaan was missing and so, Johan and Anders played the show alone.
http://www.menticide.se/
/
http://www.myspace.com/menticide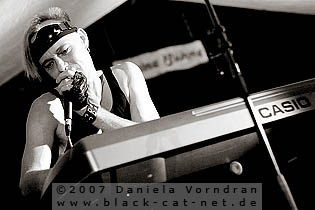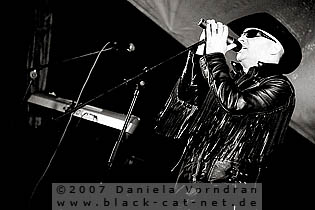 Music & Performance
With the recording of their current album, MENTICIDE mixed up traditional EMB with harsher themes. The debut album offers a dozen tracks and nearly all have been presented at the show on NCN2. Not taking care of technical problems (the tracks on the backing tape were started in wrong order), the band from Sweden presented an energetic show. Especially the German tongued songs 'Stahlwerk' and the loudly requested 'Komm zu mir' were celebrated by the audience. The beats surely kicked you and the unrefined energy and direct vocal approach of the short aggressive tracks are guaranteed to get attention. Having listened to several tracks before, they did not totally kick me when listening to them on CD. But the live show made also me to move my ass and dance my feet off. Quite fun I'd say even though it was musically nothing new.
Setlist
01. Enemy
02. Search & Destroy
03. Stahlwerk
04. Wrong
05. Implode
06. Rise
07. We fail
08. Backstabber
09. Painkiller
10. Komm zu mir
11. Just one fix
Rating
Music 6
Performance 7
Sound 8
Light 4
Total 6.3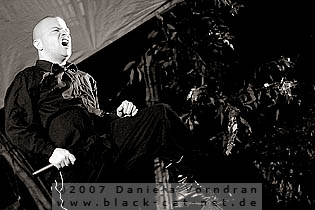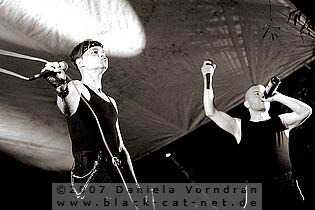 Stendal Blast
Already it was time for the last band of the day. The long history of STENDAL BLAST dates back to 1989 when four stoned high school students gave their first concert. We write the year 1995 when the band got signed and released the first album 'Was verdorrt' followed by the second release 'Alles Liebe' in Chrome Records in 1998. 'Morgenrot', the third album, followed in 2000, fourth one 'Fette Beute' in 2002 which contained a duet with Alexander Veljanov (DEINE LAKAIEN). The fifth and latest album 'Schmutzige Hände' already dates back to 2004 and was released on the Dark Dimensions label. Time for something new I'd say. STENDAL BLAST are Kaaja Hoyda (vocals, music, lyrics), Bernhard Lottes (guitar) and a new keyboarder who replaced long time band member Valek Devkar. Sadly, I did not understand the name of the new guy in the band and also there is nothing so far about him in the net.
http://www.stendalblast.de/
/
http://www.myspace.com/stendal_blast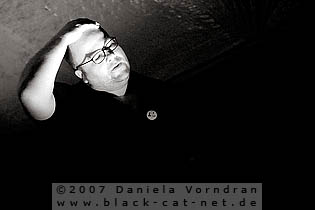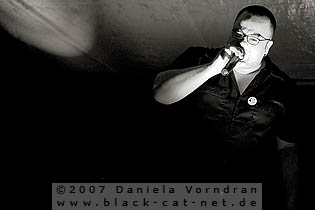 Music & Performance
If you know STENDAL BLAST you also know that they are famous for great lyrics somewhere between good and evil, genius and madness, always with a sense for dark humour. This was quite obvious just during the intro when a devilish voice introduced the band appearing on stage one after the other, last one being singer Kaaja. In-between well-known songs such as 'Nie mehr mit Dir schlafen', 'In diesem Sinne', 'Weiße Wände', 'Fährmann', 'Neuer Mensch' or 'Fette Beute' he always presented something you could also call stand-up comedy. Funny and dark stories always combined with some irony.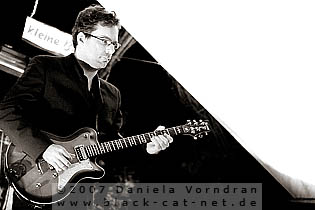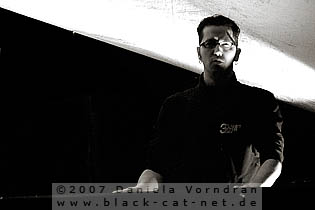 There were also no hints being missed according the long sound check of GOLDEN APES. In Kaaja's opinion sound checks aren't really necessary. ;) People in front of the stage were singing loudly the eloquent lyrics not forgetting to move their butts while doing so. While the lights were not very well during the shows before, it now went nearly totally dark because the two white spots were turned off and only some red lights were remaining. But somehow it fitted to the show. With the encore 'Fette Beute' the first festival day ended sharp at 24:00.
Rating
Music 7
Performance 7
Sound 8
Light 1
Total 6.3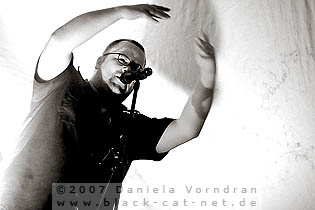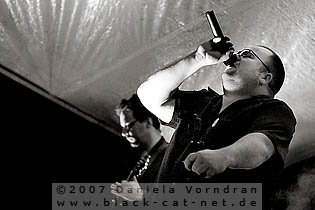 All pictures by Daniela Vorndran (
http://www.vorndranphotography.com/
/
http://www.black-cat-net.de/
/
www.myspace.com/vorndranphotography
)
{jos_sb_discuss:18}
See also (all categories):