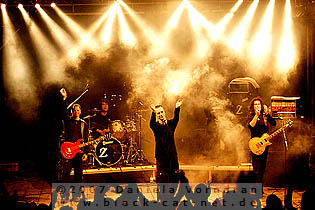 Kulturpark, Deutzen, Germany
07th to 09th September 2007
NCN II - Day 3: Project Darklands, Depressive Disorder, Gothika, No Name Desire, To Avoid, Portash, Songs of Lemuria, Garden of Delight, Zeraphine

The third festival day started grey; but very soon the sun broke through the clouds. Lucky enough it stayed dry the whole day even though it got quite cold during the evening. Sunday had quite some unknown electronic bands on the small stage to offer before the last four bands - PORTASH, SONGS OF LEMURIA, GARDEN OF DELIGHT and ZERAPHINE - were ready to enter the big stage.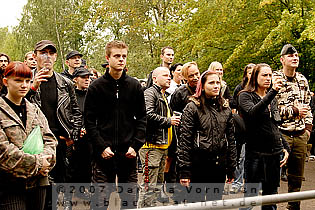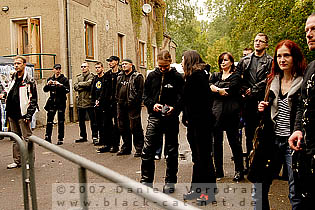 Project Darklands
Christoph Roth and Thomas Schönau, the two men behind PROJECT DARKLANDS, were forming the band in 1998 lo live their live for electronic and alternative music. Until 2006, the band already released three albums before it became quite around the formation because Thomas was abroad for one year. Anyway the band was concentrating on producing the fourth album 'Together Forever' which was released in spring 2007.
http://www.project-darklands.de/
/
http://www.myspace.com/projectdarklands
Music & Performance
During their show at NCN2 festival, the band presented songs out of the latest album 'Together Forever' only. This album can be described as 90s retro style reminding a lot of PROJECT PITCHFORK (and PROJECT DARKLANDS should not remain the only band on that day reminding me of them). Nothing new in their style and music! Musically surely something for lovers of PP. Performance-wise I was quite disappointed. I know this might be unfair, but I got the impression of watching a school band performing in the auditorium of their high school. This band surely needs more practise on stage… and maybe a dark club for their show to work.
Setlist
01. Kissing and Dead
02. Darkstorm
03. Aggression
04. Machines
05. Andersmensch
06. One Life
Rating
Music 5
Performance 3
Sound 7
Light - (daylight)
Total 4.7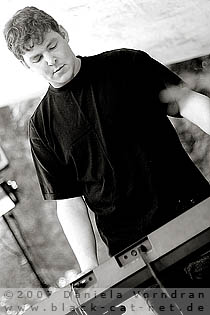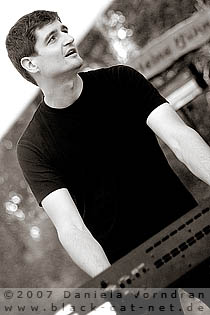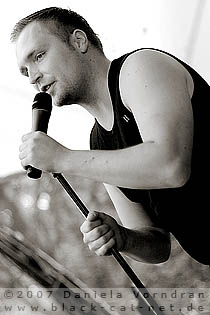 Depressive Disorder

The Czech two-man project was founded in 2001 by Patrik Lev and was joined by Radim in 2002. The first demo 'Near to Death' was finished in spring 2002 and was highly acclaimed in Czech and Slovakia. The show at NCN2 was a chance for the band to present their music to the west European audience. DEPRESSIVE DISORDER are Patrik Lev (lyrics, vocals, synthesizers, programming, sampling) and Radim Cap (synthesizers, programming, mixing).
http://www.depressive-disorder.com/
/
http://www.myspace.com/depressivedisorder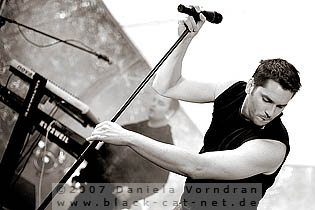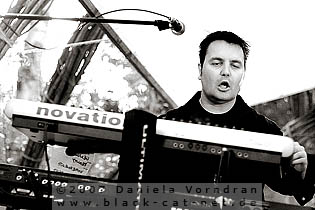 Music & Performance
This Czech band states itself to be influenced by such artists as Front Line Assembly, Skinny Puppy, Numb but also Recoil, Mesh, Assemblage 23, VNV Nation, De/Vision or Depeche Mode. Quite famous in the Czech Republic, this EBM/Electro band is rather unknown here. Latest album 'In Depth' released in summer 2006 presents charismatic vocals and complex synths as well as rhythm programming. DEPRESSIVE DISORDER present well worked out Dark Electro that anyway did not really convince me totally when being performed live. The live show for that matter was quite static on the side of Radim while Patrik was acting really expressive. But still, it did not work out too well at that small stage in-between the trees. Again I need to say a dark club would work much better.
Rating
Music 6
Performance 5
Sound 7
Light - (daylight)
Total 5.8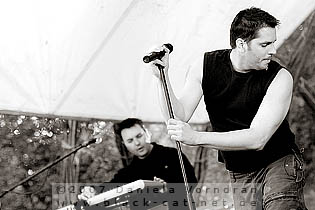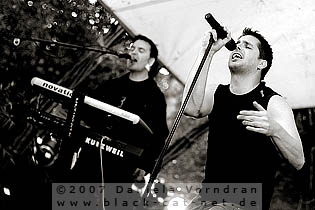 Gothika
The Japanese duo GOTHIKA from Tokyo is the exotic surprise on this year's NCN festival. The band is already very well known in its home country. Starting their career in 2001 under the name EUTHANASIA, the band describes its style as "Sexed up Electronica" which is indeed hard to categorize. The latest CD 'Queer Chronicle' was released in 2006 while the upcoming album '120 Days of Sodom' is scheduled for 15th September but was already available at the band's merchandising booth at the festival. GOTHIKA are Andro (vocal, programming) and #449 (synthesizer, programming).
http://antimass.cool.ne.jp/
/
http://www.myspace.com/gothikatokyo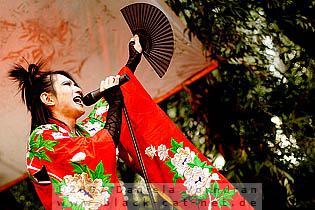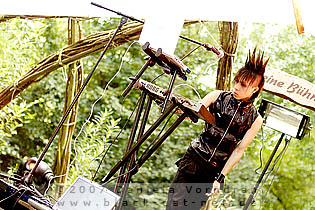 Music & Performance
This band was really the paradise bird of the festival. Being from Japan was not exotic enough Singer Andro entered the stage dressed up in a fire red kimono with lots of colourful flowers on it. Somehow, this colourful outfit matched perfectly with the green surrounding and the trees around the stage. Later on, he undressed the kimono and revealed black latex skirt and top. Musically, the band presented theatrical, cyber-romantic Wave combined with Industrial Influences and hints to New Wave of the 80s, EBM and Japanese horror movies. This mixture came over really danceable and for me, this show was the best one on the small stage today, even though it was not really understandable if the language of the songs was Japanese or English ;)
Rating
Music 7
Performance 7
Sound 7
Light - (daylight)
Total 7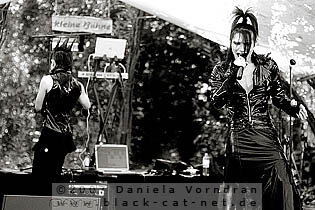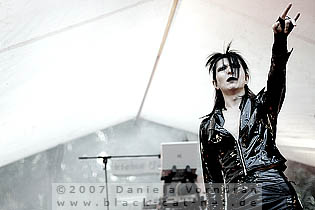 No Name Desire
With NO NAME DESIRE from Prague we had the second Czech band on stage on the festival Sunday. NND was founded in 1998 and after some line-up changes, since 2001 the current band setting remains. All band members are involved in the creative process. The latest album 'Wastelands' was released in 2004 and currently the band is working on a new release. NND are VeNa (keyboards, synthesizers, samplers, programming, percussions), Neural-I (drums, synthesizers, sequencers, programming, percussions) and Were (vocals, synthesizers, lyrics, artwork).
http://www.nnd.cz/
/
http://www.myspace.com/nonamedesire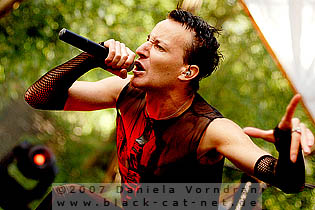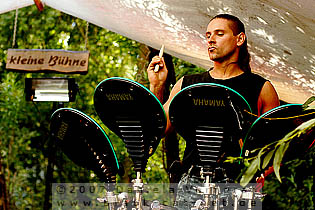 Music & Performance
Did I mention PROJECT PITCHFORK earlier? This other Czech band sounded like them as well, at least in my ears. And singer Were had a bit of Peter Spilles' look too, painting some dark stripes into his face. The music of NND can be described as Old-School EBM with fast rhythms, compact bass lines and distorted chant. Well, for my taste the vocals were even too distorted. I guess that's just a matter of taste. Additionally to those mentioned elements, the music was quite melodic anyway.
Rating
Music 5
Performance 5
Sound 7
Light - (daylight)
Total 5.4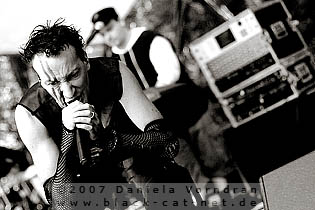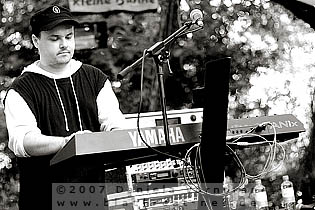 Portash
PORTASH from Dresden / Germany entered the line-up of the festival on very short notice as substitute for THE BEAUTY OF GEMINA who sadly had to cancel their festival appearance. Stian Shiver and Dan Stard, the two men behind PORTASH, started their musical project in November 2004 when they put - as the legend say - a BEATLES song into a new dark electronic dress and added heavy rock guitars. Later on, they started writing own songs and had their first success with several compilation additions and the EP 'Rocks!'. In June 2007, a full-time CD, 'Framed Lives', has been released which was presented during the NCN2 show. Live on stage they were supported by an additional guitarist.
http://www.portash.com/
/
http://www.myspace.com/portash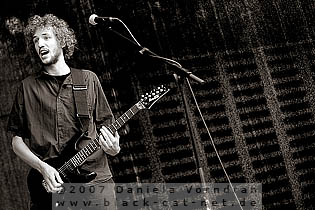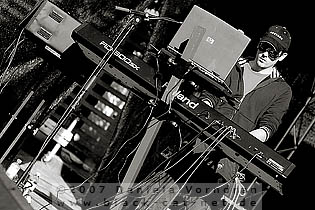 Music & Performance
The set that PORTASH presented in Deutzen, contained seven songs out off their debut album - dark pop songs fusing synthetic sounds, frisky electro beats and rocking guitars, just the band's own definition of modern electro pop music with an distinctive voice drowning in melancholy. Even though the band did not have very much live experience so far, they managed their show at NCN2 festival pretty well and could convince several of the fans in the ranks with their sounds and songs. Especially the refrains were pretty catchy and made wanting more of the band's music. Surely a band to have a closer look at!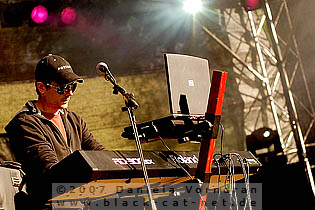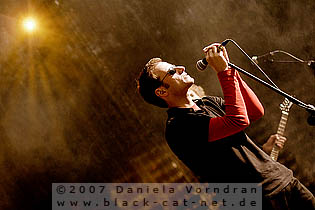 Setlist
01. Running blind (edit)
02. Don't fear the years
03. Grey
04. Desperate
05. A dark city's night
06. Self-centred you
07. Anyone
Rating
Music 8
Performance 7
Sound 8
Light - (daylight)
Total 7.7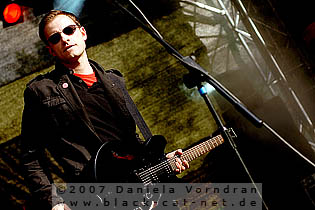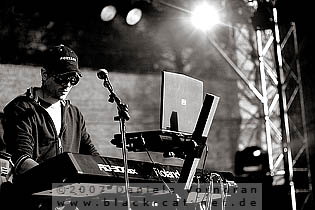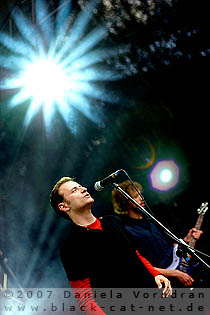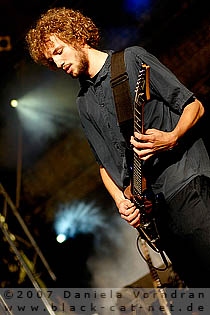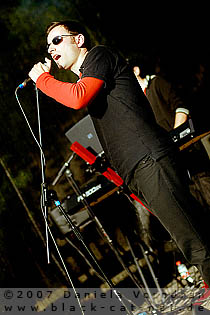 To Avoid
The band from the Berlin region is heavily influenced by Electro, Industrial and EMB of the 80s and 90s. The current band setup exists since 2005. At the moment, the band is finishing the upcoming album 'Against all Authority' scheduled for the end of the year. TO AVOID are grandT (synths / sequenzing), m.a.r.c (vocals / lyrics), starve (synths / sequenzing / lyrics) and Jean (videoperformance / artwork) behind the scenes.
http://www.toavoid.de/
/
http://www.myspace.com/toavoid
Music & Performance
According schedule, the band should play before PORTASH on the main stage. But the sound check too much too long and so, the band started when PORTASH were already playing. Not the best premises for their show because most people already took their places in front of the main stage. Also, TO AVOID did not show very much fun in presenting their show, in fact I had the impression they even acted quite arrogant. Might be just my short impression I got from the two songs I got to see before I had to change back to the main stage for the opener there. Musically, TO AVOID base their music on pushing sounds with intelligent structures, samples, distorted vocals (which reminded me - Oh wonder! - again of, yea, you guess it, PROJECT PITCHFORK) and harsh beats. Also, they were going to present two new songs of their upcoming album during the NCN2 festival.
Rating
Music 5
Performance 3
Sound 7
Light - (daylight)
Total 4.7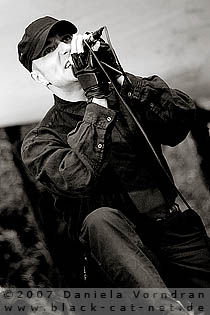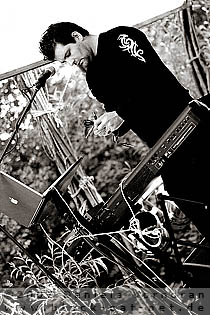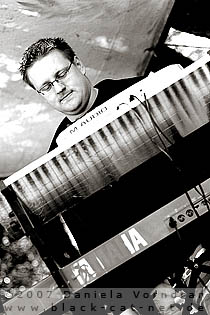 Songs of Lemuria
After his split with the BLIND PASSENGERS, Nik Page worked as solo artist and fulfilled his ling-time dream to combine dark pop with classic within his project SONGS OF LEMURIA which is only presenting cover versions. The often very rocking original songs are presented in a brittle classical outfit. After releasing two EPs - 'Shake the Disease' which contained only DEPECHE MODE cover songs, and 'Klavier' - the band will released the full-length debut album 'Deep' on 28th September 2007. SONGS OF LEMURIA are Nik Page (vocals), Michaela Laubach (vocals), Corinna Söller (piano) and Michael Krayer (cello).
http://www.songsoflemuria.de/
/
http://www.myspace.com/songsoflemuria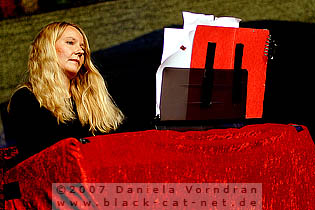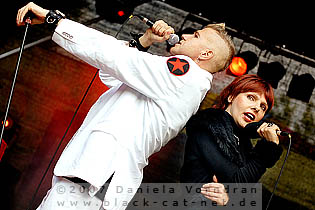 Music & Performance
What now was coming up was something really special during this festival, something, that would fit better into a concert hall fill of red velvet and gold and lights and candles instead of an open air stage. But it was magnificent to have that setting at the festival. The stage was brilliantly decorated: left side a piano covered with red velvet, right side a chair for Michael and his cello. Furthermore there were two stylish velvet red armchairs and front of the stage on both sides we hot two red painted display dummies.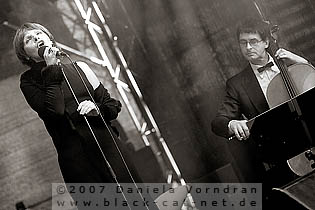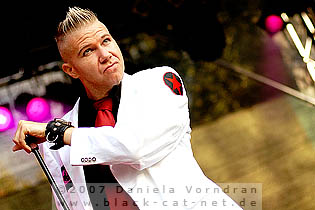 The first few songs were presented by Michaela, clothed with a tight black evening dress, alone accompanied by piano and cello. Then, Nik, dressed up in a white suit, joined in to perform brilliant duets with Michaela together. They were a brilliant couple on stage, going deep into the presented songs and acting the little stories that were told, flirting with each other. Musically, they presented four songs that were originally by DEPECHE MODE (also to my personal pleasure 'cause I am a big fan of this band); as Nik said it was a tribute to the heroes of his youth.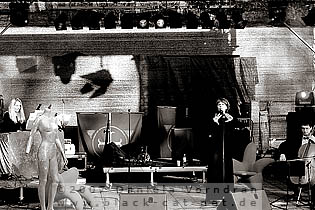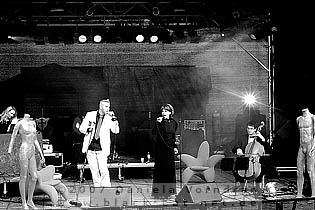 Besides that, such bands as OOMPH! ('Bitter') or even RAMMSTEIN ('Klavier') were chosen to deliver the songs that were covered and presented in a totally unusual instrumentation - just piano, cello and two different voices. It was a great show I really want so see sometime again in a more appropriate surrounding.
Setlist
01. Twist in my sobriety
02. Shake the disease
03. Klavier
04. Waiting for the night
05. Bitter
06. Judas
07. Dein Kuss
08. Walk on
09. It doesn't matter two
10. Meer
11. Walking in Heaven
12. End of the Night
Rating
Music 9
Performance 10
Sound 8
Light - (daylight)
Total 9.2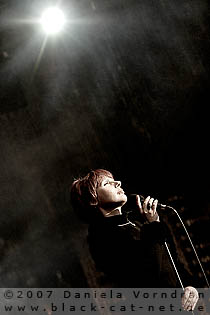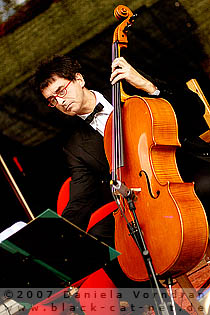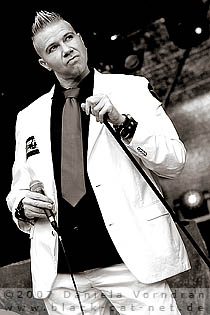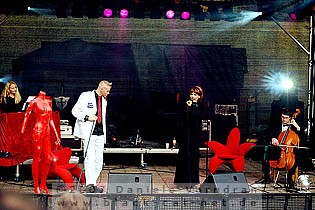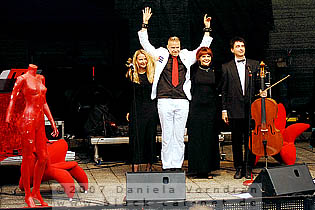 Garden of Delight
Founded in 1990, the original plan of GARDEN OF DELIGHT (GOD) was to release seven albums in seven years with each seven songs and then to split up. The first release saw the light of day in February 1991 and was the single 'Necromantea'. The first full album 'Enki's Temple' was released in December 1991 in the especially for GOD founded label Dion Fortune (where also the first DIARY OF DREAMS album 'Cholymelan' was released whose mastermind Adrian Hates was member of GOD during that time playing the bass). The lyrical concept of the gothic band dealt with the reaching of different levels of consciousness where each of them was dedicated to a Sumerian god. So after those seven albums the history of GOD was finished… for a while. But then in 2000 there was a new sign of life with releasing the CD 'Radiant Sons' and so the history continued.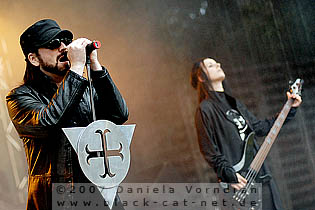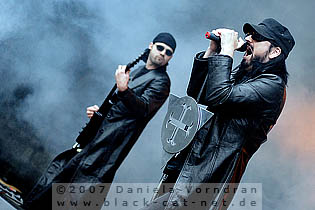 Since 2005, three albums under the banner "GOD featuring Lutherion" were released, each of them in high quality double-digi pack with bonus CD. Musically the band showed its harder side and contains Crossover and Electro elements into their music. Again, the band celebrated successful live shows. Then, on 25th August 2007, the end of Lutherion and GOD has been announced. A final CD is set to be released at 12th October 2007 titled 'Darkest Hour'. The band's last concert is scheduled for 1st November 2008 in Berlin. GOD are Artaud Seth (vocals, programming), his wife Jawa Seth (bass), Nils Herbig (guitar) and Mike York (guitar).
http://www.garden-of-delight.com/
/
http://www.myspace.com/lutherion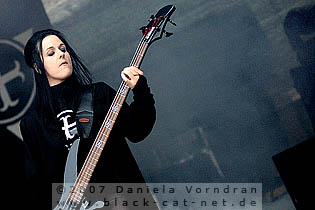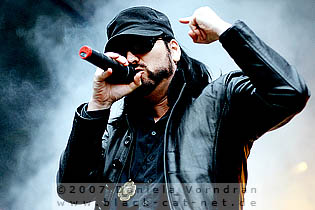 Music & Performance
When the first sounds of 'Play Dead' sounded through the evening, lots of smoke was blown onto the stage and the band entered the stage which was decorated with two big black banners showing the well-known band logo. The 'Lutherion' trilogy being the latest releases of the band also set the base for the chosen setlist with songs such as 'Illuminate', 'The Abyss', 'Runechild' or 'Black Horizon'. But also the prior 'Apocryphal' album cycle was represented with songs like 'Levitation', 'Angelwhore' or 'Northern skies'. Besides songs of those cycles, a few older songs have spread in, just like 'High Empress' or the very last song of the set 'Necromanteion'. Characteristic for the whole music was a mix of sounds, powerful guitars and occult themes presented with a clear deep voice. 'Necromanteion' for example develops a relaxed mood with its floating keyboard sounds. Most of the presented songs were dominated by fast guitars and bass play. Their carrying keyboards lines were not played live what did not matter at all.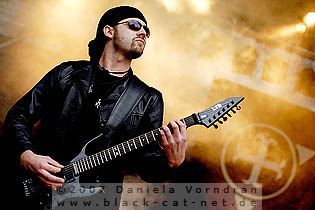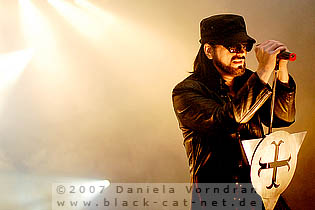 But besides the powerful haunting music, also the performance itself should have taken a closer look at. I just mentioned the two big banners at the back of stage. The logo being represent there, also appeared in a metal sign also mounted on the microphone stand of singer Artaud. As known from previous shows, all musicians were somehow devilish clothed with long black coats or skirts, just slim black silhouettes mostly shimmering through the illuminated smoke. It was a bit sad that it was not totally dark during the show what would have given an even better effect. Artaud again was hiding his face behind sun glasses and a cap. During several songs, the "high priest" was holding another black flag with white signs on it, performing some kind of ritual.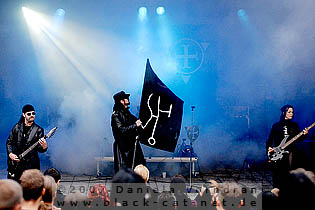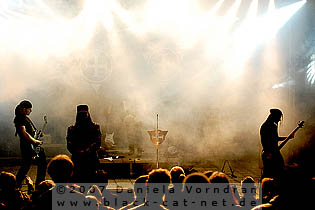 The whole show was imparting an occult feeling and reminded a bit of a black mass dominated by lots of smoke only burst by bright and mostly fast moving lights. The appearance of the black dressed musicians and the well composed light effects constructed a mystic scene. Artaud was using his flag and his microphone stand as well as a spot in front of him as stylistic elements. His play with symbols and metaphors fitted very well to the appearance. His wife Jawa was really cool during the whole show hardly ever moving while guitar player Nils stressed his instrument. Mike was standing most of the time in the back on a podium, being hardly ever seen in the ocean of smoke. Just at the very end he was coming upfront while Artaud with his flag disappeared from stage during the last song. It was definitely a great dark show, the best show for me of this day and in the top three of the whole festival.
Setlist
01. Play Dead
02. Levitation
03. Illuminate
04. The Abyss
05. Venus rising
06. Angelwhore
07. Deeper we fall
08. Northern skies
09. Runechild
10. Bleak Horizon
11. High Empress
---
12. Black Mass
13. Astral traveller
14. Necromanteion
Rating
Music 9
Performance 10
Sound 9
Light 10
Total 9.5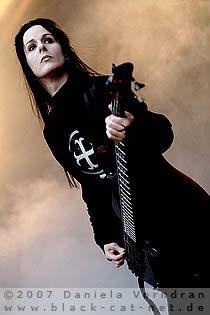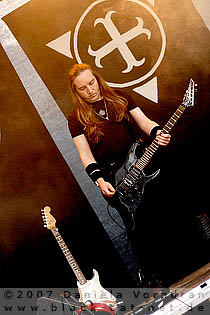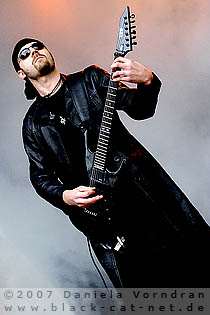 Zeraphine
Before ZERAPHINE started, we had some kind of repetition of the past evening with a very long rebuilding break. We just knew before the show started that the band would not have time to play their whole set because of the very strict curfew. Legal requirements made it impossible for the band to play longer than 10.10. And that even meant that they got lucky additional 10 minutes to play.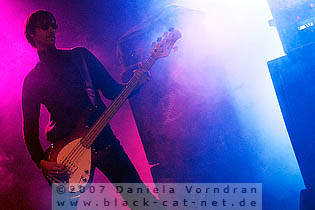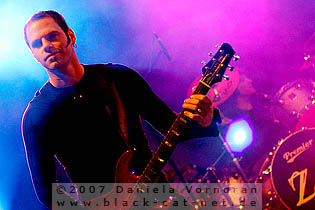 The band was started by Sven Friedrich and Norman Selbig after the split of their former band DREADFUL SHADOWS in 2000 (remark: DREADFUL SHADOWS will play some live shows in the last known line-up in October). Together with Manuel, Michael and Marcellus, the band was completed. After the debut album 'Kalte Sonne' in 2003 the second album 'Traumaworld' was released. After another album, 'Blind Camera, the fourth studio album 'Still' was released in summer 2006 and this one sounded rockier than before. An extensive tour followed and after several festival appearances this year, the band was headlining the Sunday evening of NCN2 festival. ZERAPHINE are Sven Friedrich (vocals), Norman Selbig (guitar), Manuel Senger (guitar), Michael Nepp (bass) and Marcellus Puhlemann (drums).
http://www.zeraphine.de/
/
http://www.myspace.com/zeraphine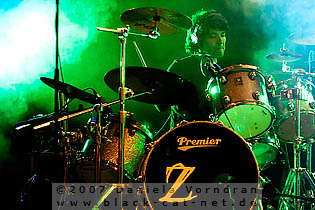 Music & Performance
Even though the release of the latest album 'Still' lies about a year in the past, several pieces of this album have been presented during the show in Deutzen. So you could listen to the title track 'Still', 'I'll follow you' or the rocking 'Toxic Skies'. But besides that and as expected for a festival show, several fan favourites have been played, such as 'Die Macht in Dir', 'No more doubts', 'Ohne Dich' or 'Die Wirklichkeit'. Musically, ZERAPHINE are mixing several styles; mainly it is surely a mix between Wave and Gothic Rock. The newer songs for that matter are a bit rockier than the ones before and so the set hat its faster passages which were broken by well-known older songs. Again, Sven's voice is the remarkable point on the music presenting the mix of German and English lyrics with warmth and a lot of charisma.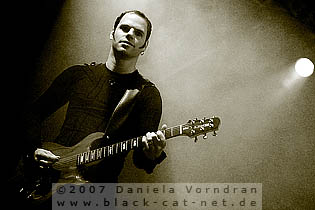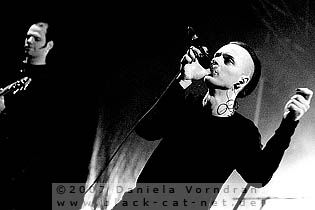 As pretty well-known from that likeable front man, Sven talked a lot to his fans and announced nearly every song. People in front of the stage appreciated a lot and all came closer to the front and sang along. A quite good light show supported the gig. Short past ten it was already time for the last song 'Be my rain'. Highly acclaimed fan faves like 'Siamesische Einsamkeit', 'Wenn Du gehst', 'Sterne sehen' or the U2 cover 'New year's day' - which were all planned for that evening (all in all there were eight more songs) - had to be cancelled. When the band had left after the last song, people loudly screamed for more, but there was no chance because of the strict rules. Sven just came out again to say a few words to his fans and to apologize. Anyway people experienced a very nice final concert of this festival.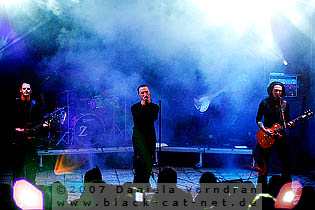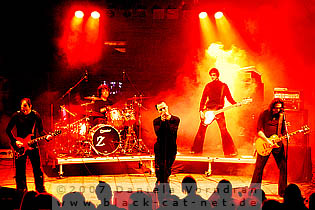 Setlist
00. Intro
01. Die Macht in Dir
02. I'll follow you
03. No more Doubts
04. In der Tiefe
05. Niemand kann es sehen
06. Still
07. Nichts aus Liebe
08. Toxic Skies
09. Kaltes Herz
10. Out of the Void
11. Ohne Dich
12. No Tears
13. United & Lost
14. Die Wirklichkeit
15. Be my Rain
Rating
Music 8
Performance 9
Sound 9
Light 8
Total 8.5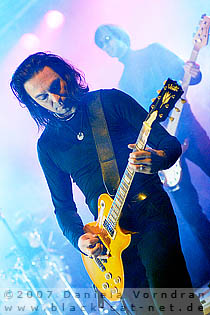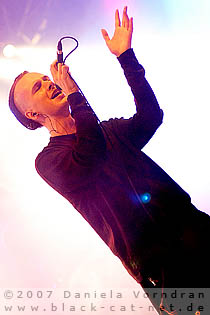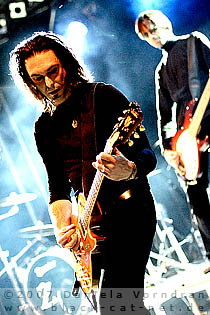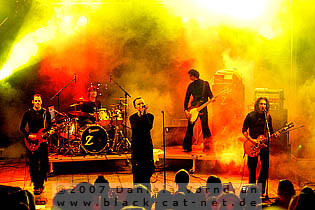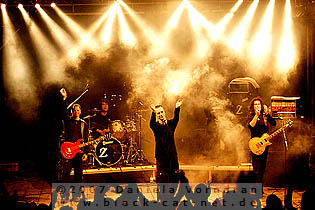 So, with ZERAPHINE a very nice small and familial festival found its end. Nocturnal Culture Nights festival had anything you could wish for such an event: nice venue, places to relax - be it in the park or at the medieval market - a friendly atmosphere, no overdressed fashion Goths, nice people, friendly security and last but not least a very nice line-up. Be sure I'll be back next year.
All pictures by Daniela Vorndran (
http://www.vorndranphotography.com/
/
http://www.black-cat-net.de/
/
www.myspace.com/vorndranphotography
)
{jos_sb_discuss:18}
See also (all categories):