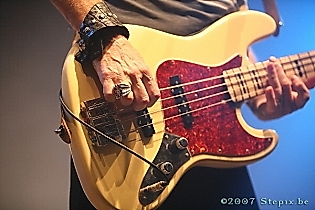 Château de la Princesse d'Arenberg, Raismes, France
8th-9th September 2007
Raismes Fest 10 - Day 1: Carbur, S2D2, Kill for Peace, Delain, Sheeduz, Koritni, Clampdown, Black Bomb A, Fiinky Pie, Finntroll, Cool Cavemen, Pain of Salvation, Glenn Hughes
The city of Raismes is situated in the area of Valenciennes, in the North of France, at about 30 km from Dour in Belgium and 40 km from Lille. In 1997, some fans of Metal and Progressive rock had the idea to create a new festival with the idea to attract bands with international reputation while also promoting regional bands. The Raismesfest was born and this year it was the tenth edition. Over the years, the festival has grown in reputation and content to cover very different aspects of rock and metal music, becoming one of the most eclectic festivals. The festival takes place in the park of a castel, Le Château de la Princesse d'Arenberg, which serves as lodges and catering place for the bands. The festival is organized with two stages: a main stage for the international bands and, at the opposite, on the other side of the meadow, a small stage, where regional bands have 25 minutes play time, time needed to switch bands on the main stage. This arrangement allows 13 bands to play non-stop for about ten hours each day. The audience has also been growing over the years, reaching between 1000 and 2000 visitors per day.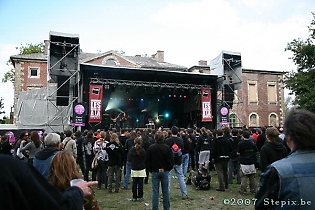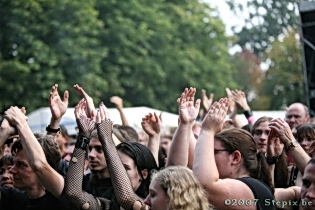 We arrived at the entrance of the castel around 14h30, just before the opening, under a nice sunshine. The weather was a bit uncertain for the late summer, but we have been lucky as we had no rain for the whole week-end and even regular appearances of the sun. Seen the various styles of bands on the bill board, it is not a suprise to see different styles and ages in the audience comprising teenager and gray hair, ranging from pure hard rock to more gothic styles. For each band there is always someone who will love them and someone who will hate them, which allows the music fans to zap and take a break or have a bite.
http://www.raismesfest.fr/
/
http://www.myspace.com/raismesfest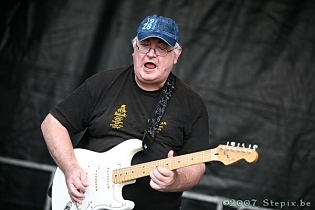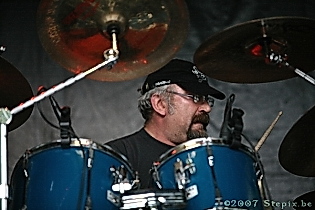 Music & performance
While the crowd was still arriving, they introduced themselves with these words : "We`ll play some blues rock and then leave you amongst yourselves" As they still had to fine tune the sound when they was supposed to start, they only could play two songs because the timing had to be strictly respected for the rest of the day, and it was!
Rating
Music 5
Performance 6
Sound 7
Light - (daylight)
Total 6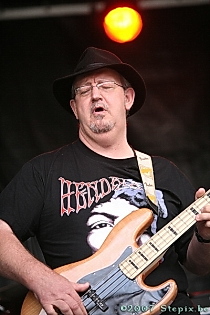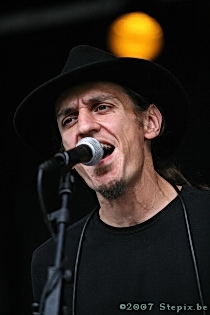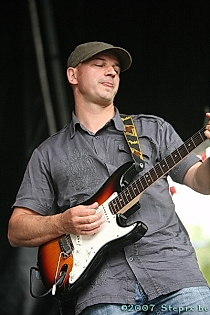 S2D2 (F) - Main stage

The first band to play of the main stage is the band who won the "Jump'in" selection organized in march with all the regional bands. The name of the band is a kind of acronym because two members are called 'Stéphane' and the two others 'David'. S2D2 is a heavy metal band with many influences resulting in rich compositions, where the raw energy fusions with explosive melodies re-inforced by intense soli of guitars.
http://www.carbur.net
/
http://www.myspace.com/s2d2group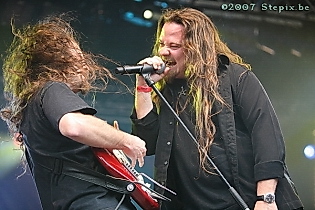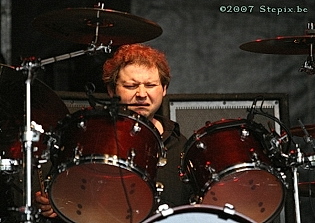 Music & performance
S2D2 had 30 minutes to warm up the now growing metal addicted audience and they succeeded! Especially during the song 'Wasting Time', which sounds somehow like Killing Joke. The effect was immediate and lead to the first pogo. The tone was set. Excellent performance on stage and contact with the audience.
Setlist
01. Question ?
02. I am a lie
03. tremble
04. Wasting time
05. Sacrifice
Rating
Music 7
Performance 9
Sound 8
Light - (daylight)
Total 8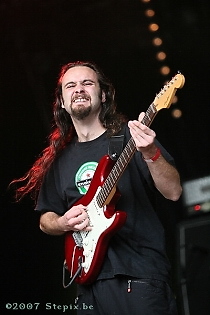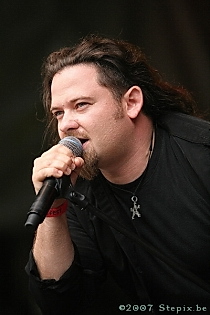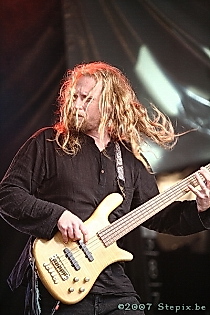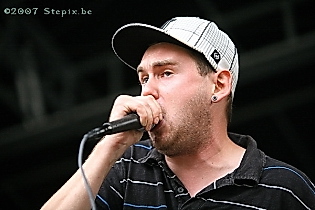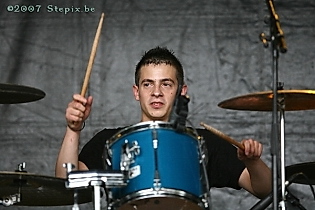 Music & performance
When we first saw the band on stage, with their somewhat sporting type of outfit and caps, we thought we would have some kind of rap. When they started to play, we immediately realized our mistake. It was quite the opposite: very brutal and angry hardcore metal. The style seemed to please some guys in the audience who started to shake their body in a mosh pit dance.
Rating
Music 5
Performance 6
Sound 7
Light - (daylight)
Total 6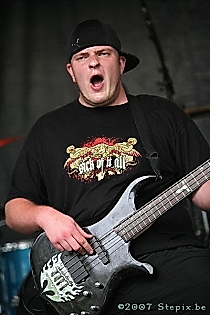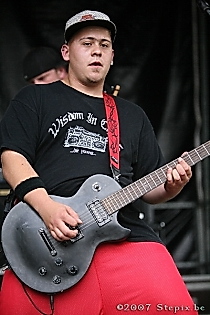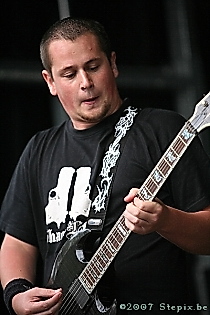 Delain (NL) - Main Stage
With Delain, we switch to a complete other style to go into melodic symphonic/gothic metal. Time for the hard metal heads to take a break... The name Delain is inspired from the kingdom of Delain in Stephen King's The Eyes of the Dragon. The band was founded by Martijn Westerholt, former keyboardist of Within Temptation between 1996 and 2001. Delain is also Charlotte Wessels (vocals), Ronald Landa (guitar and vocals), Rob van der Loo (Bass) and Sander Zoer (Drums). Delain released their debut album Lucidity in 2006, with the participation of some famous musicians: Sharon Den Adel (Vocalist of Within Temptation), Marco Hietala (Bassist of Nightwish) and Liv Kristine Espanaes Krüll (Vocalist of Leaves' Eyes).
http://www.delain.nl/
/
http://www.myspace.com/delainmusic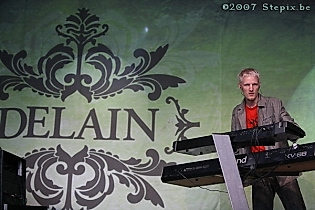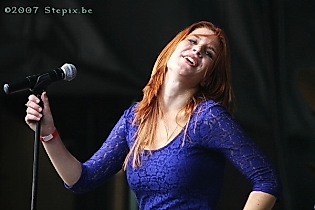 Music & performance
Knowing the origin of the band, it is not a suprise for the band to sound like Within Temptation. As the play time is only 40 minutes, they start immediately with Frozen, their single, a very catchy song with a nice melody and lead by the vocals to allow Charlotte to demonstrate the talent of her clear voice. This song also contains a nice solo of guitar putting also in evidence Ronald. Overall the performance of the band is of good quality, with some movements, and a lot of communication and smiling between the band members. The sound may have been better as we noted some distorsions and a sound a bit too loud on the keyboard. Charlotte has also gained some experience in headbanging and making circles with her beautiful raid hair in the style of other famous Dutch front women, Floor Janssen of After Forever and Simone Simoens of Epica. Charlotte also reminded that Delain has been nominated for the MTV Europe Music Award, in the category New Sounds of Europe and invited the audience to go and vote for them (You can still vote until November 1st:
http://www.ema.mtv.nl/voteNow#/new-sounds-of-europe/
).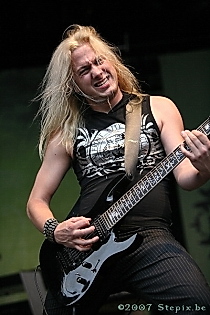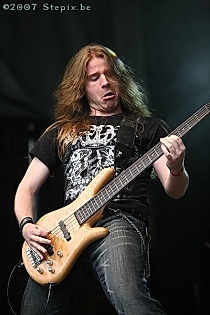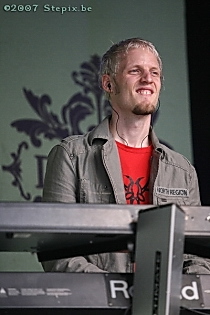 Setlist
1. Frozen
2. Shattered
3. Silhouette of a Dancer
4. Sever
5. The Gathering
6. Day for ghost
7. Sleepwalkers Dream
8. Pristine
Rating
Music 9
Performance 8
Sound 7
Light - (daylight)
Total 8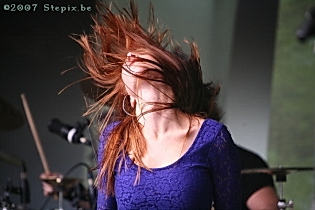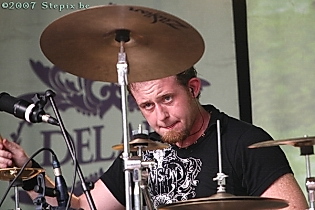 Sheeduz (F) - Small stage
With Sheeduz while staying with female vocals, we switch again to a different register. Sheeduz was born in Paris in 2004 through a special meeting between three girls all named Audrey (vocals, guitar, drums). Their music is a mixture of sensuality, tenderness and violence, with bitter-sweet lyrics, harmonious melodies, heavy guitar riffs and percussive rhythms.
http://www.sheeduz.com/
/
http://www.myspace.com/sheeduzlegroupe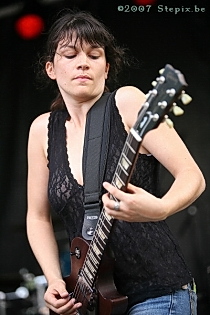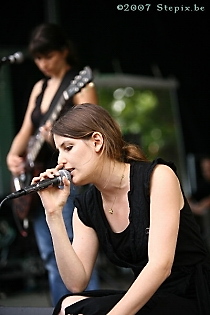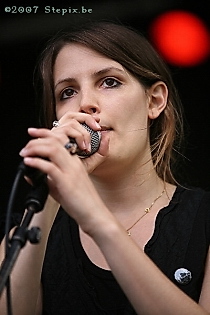 Music & performance
The 100% female band Sheduz is an amazing and interesting experience. Quite original rock, with an inegal voice, sometimes yelling, with simple but nonetheless effective chords. The music combined with the attitude, the mimics and the spasms creates a very special and intriging atmosphere.
Rating
Music 7
Performance 7
Sound 7
Light - (daylight)
Total 7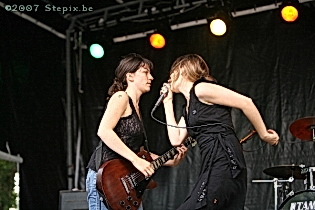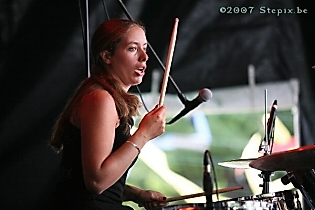 Koritni (AUS) - Main stage
Coming from Australia, homeland of the famous AC/DC, Koritni gave a good ole classic rock/hard rock show. The band was created in 2006 by Alex Koritni, following his previous band $ Green Dollar Colour $. After their first European tour in 2006 as support of Scorpions they recorded their first album Lady Luck which was released in 2007. Line up: Lex Koritni (Vocals), Eddy Santacreu (Guitars), Luke Cuerden (Guitars), D. Matt Hunter (Bass), Chris Brown (Drums).
http://www.koritni.com/
/
http://www.myspace.com/koritni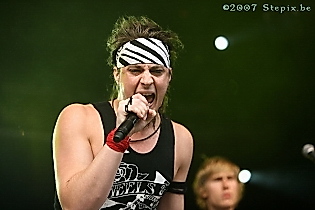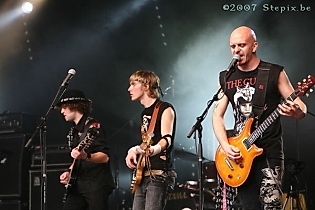 Music & performance
On Koritni's official web site one can read that the band had to cancel their show the day before due to Lex's throat-infection. This did not seem to affect much Lex's excellent rocking voice. Lex Koritni is an excellent frontman surronded by skilled and agile musicians. This combination, together with a set of rich musical composition can only lead to a sucessful energetic rock show.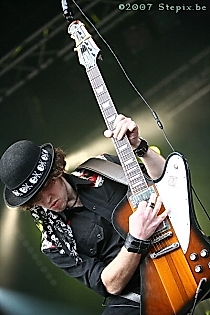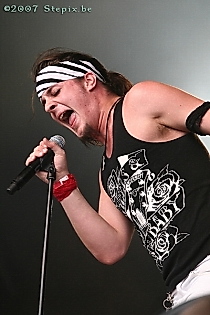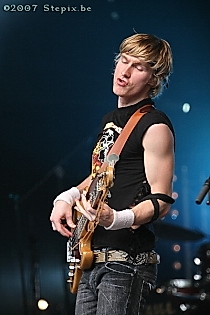 Setlist

1. Dirty Letter
2. I See The Light
3. Heaven Again
3. Nobody's Home
4. Lady Luck
5. Sick Again
6. Starving Fast
7. Let It Go
8. Red Light Joint
9. Under The Overpass
Dirty Letter and Let It Go from GREEN DOLLAR COLOUR album (2005), all others excepted NOBODY'S HOME (new track) from LADY LUCK album (2007)
Rating
Music 8
Performance 8
Sound 8
Light - (daylight)
Total 8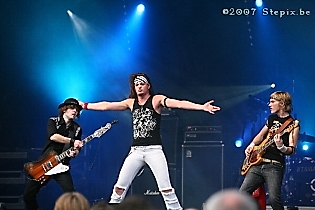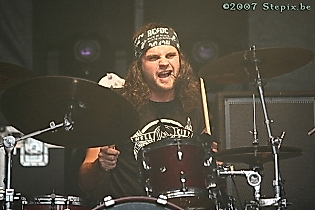 Clampdown (F) - Small stage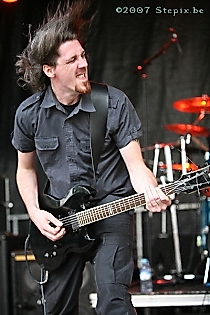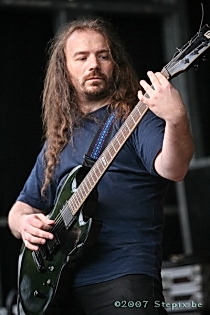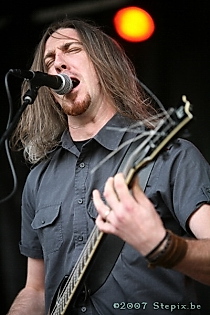 Music & performance

The headline of the website of Clampdown, says "Violence vs Meclancholy", which depicts relatively well the impression left by this band. Not much action on stage. A kind of angry yet sorrowful growling voice, with crying guitars alterning heavy riffs with sorrowful melodies
.
Rating
Music 7
Performance 6
Sound 7
Light - (daylight)
Total 6,7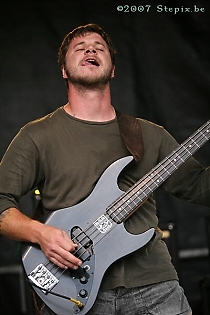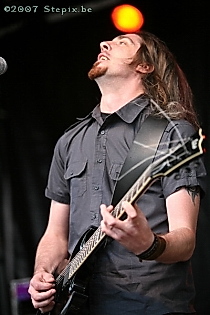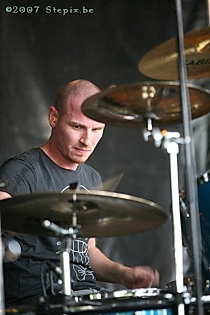 Black Bomb A (F) - Main stage
Black Bomb A, in short "BBA", is a neo metal hardocre band from Lille which in 12 years has built a stong reputation on the French metal scene. For a band name the members wanted something explosive, like a bomb, a black bomb! They added the initial of Anarchy and realized it was also an homonym of Black Bombay a kind of Indian Haschish. The viceral style of BBA is quite unique, with two complementary male voices, mixing melodic choruses with angry verses. Line-up: Poun (treble vocals), Arno (low vocals) (In the mean time it has been announced that he left the band), Scalp (guitar), Snake (guitar), Etienne (bass), Hervé (drums).
http://www.blackbomba.com
/
http://www.myspace.com/blackbombasong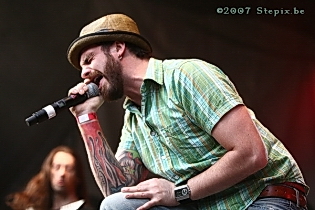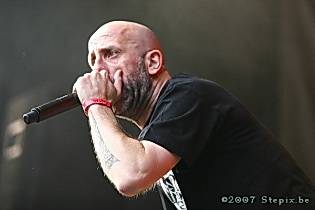 Music & performance
Like their name suggests, Black Bomb A undoubtedly offered the most explosive moment of the festival. It didn't take long for the two singers to heat up the audience for 45 minutes of intense high energetic hardcore metal, combining heavy guitars and low vocals, sometimes in the style of Korn, with treble and melodic vocals. During the whole performance the crowd was shaken by a non-stop pogo dance. Arno invited the pogo-ers to form circles and Poun even dared a stage diving, almost losing his shoes. This crazy show would not have been complete without a Brave heart, consisting in a split of the crowd followed by a violent collision of the two sides into each other. All the members of the security team were all very busy holding the security fence and pulling back the crowd surfing bodies.
Rating
Music 9
Performance 10
Sound 9
Light - (daylight)
Total 9.3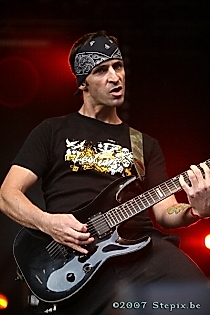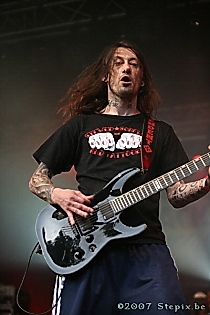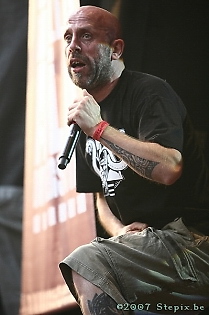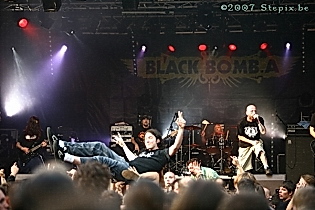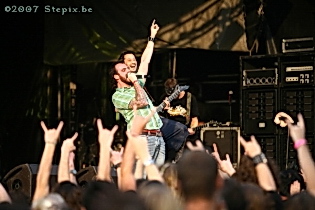 Fiinky Pie (F) - Small stage
With Fiinky Pie, we return to much more classic rock/hard rock music in the style of the eigthies, early nineties. The band was formed in 2002, has produced two albums and is searching for a new signature for their new album recorded in 2006.
http://www.fiinkypie.com
/
http://www.myspace.com/fiinkypie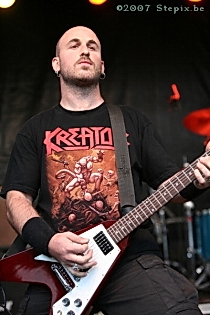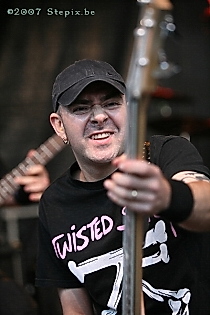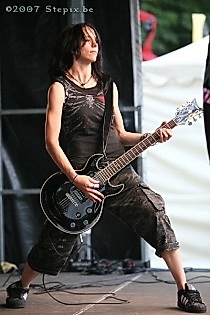 Music & performance
Fiinky Pie gave a good classic rock show without too much pretention but with some nice guitar riffs.
Rating

Music 7
Performance 7
Sound 7
Light - (daylight)
Total 7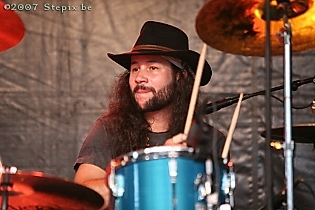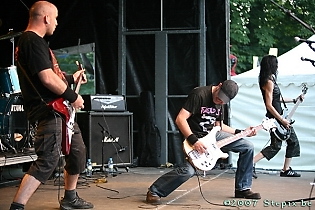 Finntroll (FIN) - Main stage
Finntroll was formed in 1997 and is a very atypical band. Their style is the result of a subtle combination of black metal with "humppa", a variety of polka; the "Trollish Metal" was born. Line-up: Vreth (Vocals), Tundra (Bass), Trollhorn (Keyboards), Routa (Guitars), Skrymer (Guitars), B. Dominator (Drums).
http://www.finntroll.net
/
http://www.myspace.com/officialfinntroll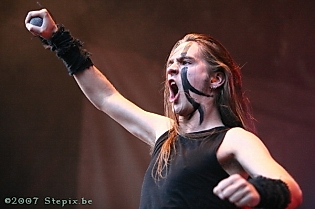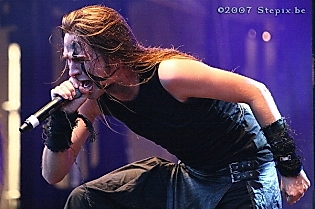 Music & performance

As expected, the band used the intro of their last album to enter the stage, under the acclamation of the audience yelling the name of the band. The band members had a typical gothic outfit with black stripes on their faces. Their performance was intense and grandiose with a very stong presence on stage and contact with the audience. The Trollish Metal naturally incites to shake the body and dance and very soon a round of young trolls leaping all the gig was formed.
Rating
Music 10
Performance 9
Sound 10
Light 9
Total 9.5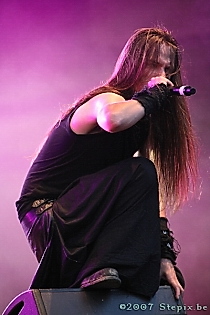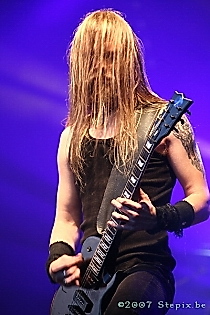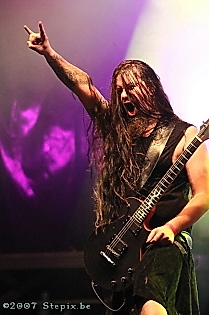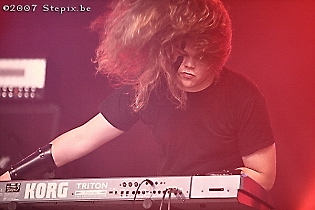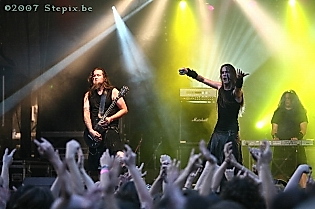 Cool Cavemen (F) - Small stage
The last band of the first day on the small stage is a Fusion/Rock five-piece band from Lille. The band was formed in 2004 and produced one album in 2006. Their compositions borrows from various styles, from Funk to Jazz, Metal, Disco or even Country Music.
http://www.coolcavemen.com
/
http://www.myspace.com/coolcavemen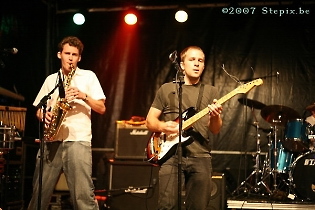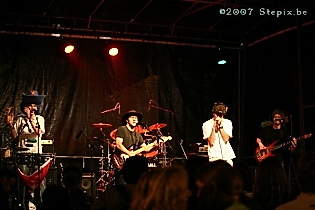 Music & performance

Not easy to play between Finntroll and Pain of Salvation... Nevertheless the 5 guys filled their 25 minutes play time the best they could, with a music style completely different from the rest of the day. The presence of the saxophone indicates some jazzy influence.
Rating
Music 5
Performance 6
Sound 6
Light 5
Total 5.5

Pain of salvation (SWE) - Main stage
Pain of Salvation is a Swedish progressive metal band featuring Daniel Gildenlow, who is the lyricist, chief composer, guitarist, and lead vocalist. Pain of Salvation stems from the band Reality, formed by Daniel Gildenlow back in 1984, when he was only 11 years old. After a few quite successful years the band went through some changes in line-up and musical orientation. Their style ventured from rock into the metal areas. In 1991 they changed the band name to Pain of Salvation. Their sound is characterised by powerful, accentuated guitar work, broad vocal range, abrupt switching between heavy and calm passages. They have produced six albums. Other band members: Fredrik Hermansson (Keyboards), Johan Hallgren (Guitar, Vocals), Simon Andersson (Bass, Vocals), Johan Langell (drums, percussion, backing vocals) for whom it was the last tour as he decided to leave the band.
http://www.painofsalvation.com/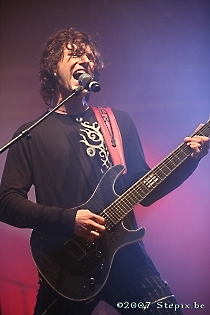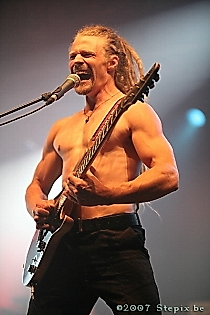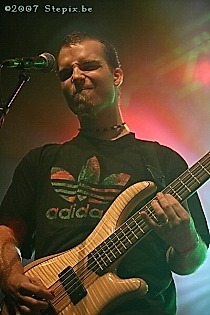 Music & performance

Of course, after Black Bomb A and Finntroll on the main stage, the style of Pain of Salvation is much calmer and we could kind of notice a swap in the audience. The younger metal heads moving to the back and older prog fans moving more forward and showing more interest and attention; the former finding this kind of music more boring and already missing the frenetic pogos, moreover that its was getting colder with the night, and the latter enjoying the quality of the music. The fans of progressive rock will indeed have found the performance of Pain of Salvation excellent. There was indeed less action, but the music was of high quality with much variation.
Rating
Music 8
Performance 8
Sound 9
Light 9
Total 8.5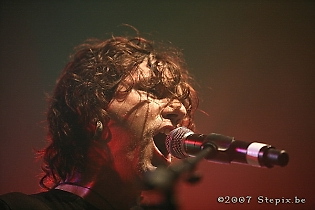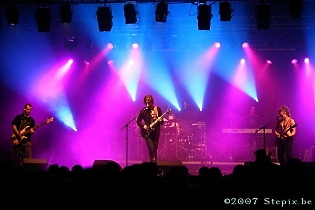 Glenn Hugues (GB) - Main stage
The headliner of the Saturday was an alive legend of the rock, Mr. Glenn Hughes, vocalist/bass player/songwriter, who has a long and distinguished career to his credit. He's best-known for his work with the bands Trapeze and Deep Purple in the early to mid 1970s, both of which were true pioneers in the hard rock genre. But it would be a mistake to limit the work of Glenn Hughes to these two bands because the man has also an impressive solo career, since 1977. It was the second time he was in France on stage.
http://www.glennhughes.com/
/ http://www.myspace.com/glennhughesonline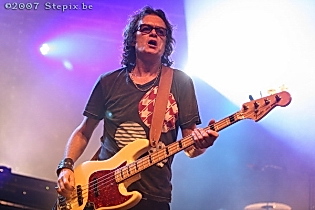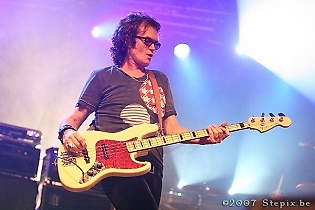 Music & performance

Glenn Hughes started the show by apologizing for playing so late after the people had already spent a long day at the festival.... He promised to give the best that he could and the man kept his promises! The talent of Mr. Hughes and the quality of the show were awesome. He played songs from his two last albums and 4 Deep Purple songs. Between the songs he talks a lot, being thankful for being there, alive and confessing that every time he plays he dies a little bit more... His vocal talent is incredible, singing with intense emotion, sometimes even almost at a capella. The audience thanked him for the performance with a warm applause, closing this first day of the Raismesfest.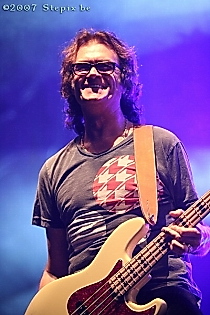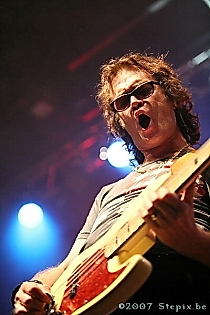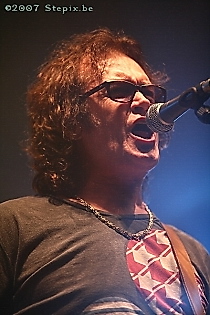 Setlist
1. The Valiant Denial (Music for the Devine)
2. Orion (Soul Mover)
3. Land Of The Livin'(Soul Mover)
4. Mistreated (Deep Purple)
5. You Got Soul (Music for the Devine)
6. Gettin' Tighter (with Drum Solo) (Deep Purple)
7. Don't Let Me Bleed (Soul Mover)
8. You Keep On Moving (Deep Purple)
---------
10. Soul Mover (Soul Mover)
11. Burn (Deep Purple)
Rating
Music 9
Performance 9
Sound 10
Light 9
Total 9.3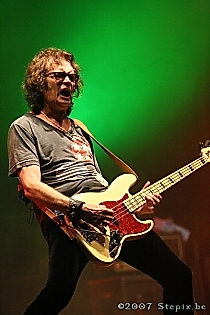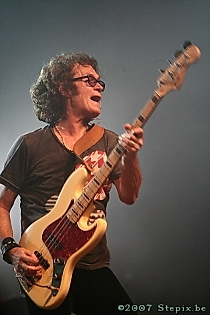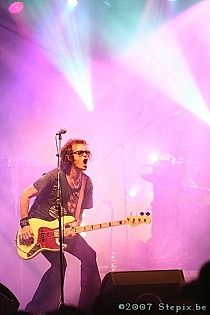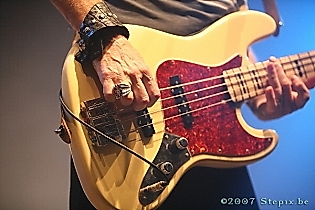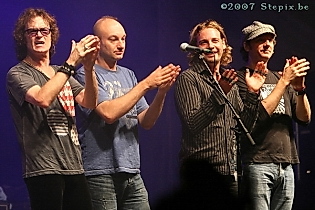 The first day of the festival was definitely at the image of its reputation: very eclectic. We had a variation of very heavy metal, hardcore, gothic, classic rock , hard rock and progressive rock music. A little bit for every taste. The timining was strictly respected and the organisation was almost perfect, except for the beer due to some cooling problems and also the toilets as at the end of the day some foul smell of urine was gaining the parc of the Château de la Princesse, which would only get worse the day after...
All pictures by Stéphane Odent
www.stepix.be
More pictures of the RaismesFest
here
{jos_sb_discuss:18}