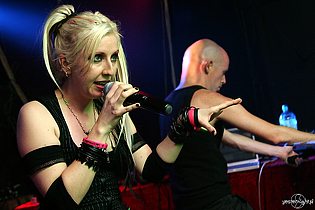 No Mercy, Warsaw, Poland
29th September 2007
Gothic.pl Festival 4: Clicks, Cybercide, Agonised by Love, Angelspit, Ego Likeness, Ayria

Gothic.pl Festival is second large event oriented on promotion of gothic music that is organized in Poland. It hosted such artists as Diary of Dreams, Diorama, Covenant, Head-less, Empire in Dust, Painbastard, Agonised by Love, Deathcamp Project to name just a few. The Festival has been changing from two days to one day formula, from a big club location to cosy, small venues, from gothic to electro oriented scheme, but it has always featured a great deal of marvellous music, atmosphere and people. In 2007 the organizers chose a small club - 'No Mercy' in Warsaw - and a two day formula, but unfortunately, for various reasons I was able to attend just one day. The line-up for Saturday was: Ayria, Angelspit, Ego Likness, Agonised by Love, Cybercide, and Clicks.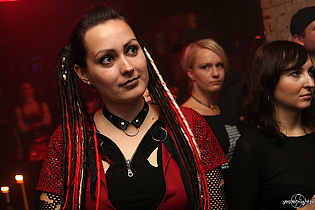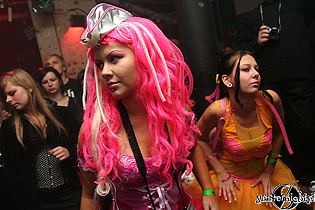 Clicks

CLICKS - the side project of Controlled Collapse - Wojciech Król aka Kr-lik - was the perfect opening for the festival. The concert had a form of a kinda 'DJ set', it was perfectly prepared and excellent as far as the music is concerned. Fine, dynamic danceable electronic beats combined with harsh elements made the music fabric fantastic dialogue of the man and machine. The vocal occurred sporadically, but it didn't disrupt the smooth way the music run - I believe the richness of invigorating sound satisfied the people gathered by the stage even without the developed vocalic sphere.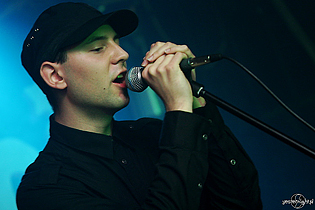 The visual aspect was as it usually goes with such performance - frugal: smoke, lights and tons of equipments set on the stage stood for the whole visual aspect. The music was really a treat for those fond of electronic sounds - I hope kr-lik will go into the direction taken with Clicks – it really sounds very well!!
Setlist

01. Clicks
02. A new way
03. Wannabe
04. Fall aparat
05. Everyone
06. Cnp
07. This nightmare
08. TV
09. Wasting
Rating

Music: 10
Performance: 7
Sound: 7
Light: 8
Total: 8.4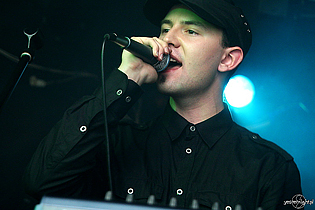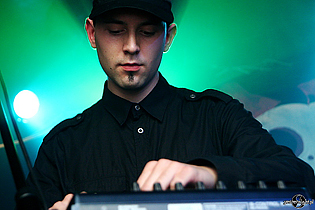 Cybercide

CYBERCIDE, the duo from the UK, provided quite a diversified action: both scenically and musically. Formed in 1999 Eddie and Rob (both blond, fashionably dressed and unbelievably lively) play extremely danceable, energetic electro music enriched very expressively by the guitar and synth sound. Gentle vocal and dynamic, rhythmical melodies seem to be perfect for a party; no surprise the reaction of the audience was enthusiastic; the people were dancing, clapping their hands and encouraging the band to 'pump it up!'- which the artists actually did. On the whole, it was an attack of loud, crazy sounds combined with even more eccentric performance on the stage: at some point Eddie took a grinder machine and started playing with it which gave the effect of thousands of sparkles dancing all over the stage.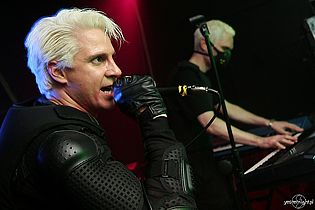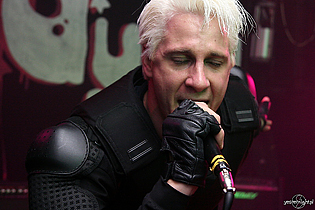 The impression was marvellous, especially that the show was taking place in darkness, occasionally lighted by strobe lights. After the gig we could speak to the band who told us they were really satisfied with the enthusiastic reception they were given at the Festival.
http://www.cybercide.org/
/
http://www.myspace.com/cybercide
Setlist

01. Faceless
02. Exocet
03. Velocity (the new one from the next album)
04. Further
05. Rebel yell (by BILLY IDOL)
06. Searchlight
---
07. Redshift
Rating

Music: 9
Performance: 8
Sound: 7
Light: 8
Total: 8.3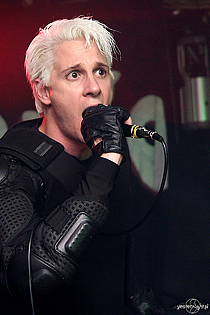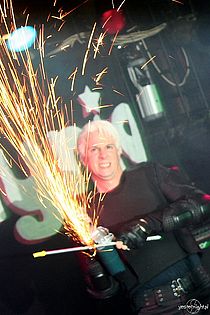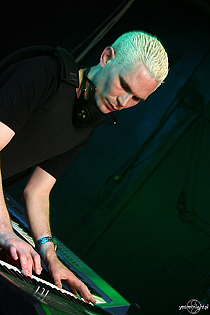 Agonised by Love

ABL are kinda veterans of Gothic.pl Festival: I can't remember if there was an edition they would not take part in... The fact they are invited year by year to be absolutely justified: first of all, the Polish (and as I could see - not only Polish) audience reacts very well on their music and second of all: their music is very good and thirdly: their shows are really sexy and stylish which three factors add to their increasing popularity.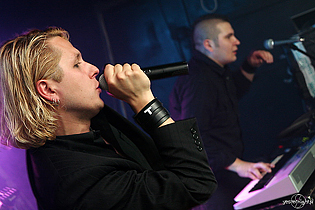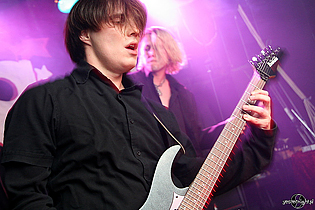 After signing with Alfa Matrix they developed their musical skills and scenic manner going very much into a sensual club manner and season it very nicely with sonorous, strong vocal and perfectly balanced, moderately speed electronic music. Definitely the band took advantage of the talent of Hervvy - the musician, DJ and producer who joined the band some time ago and since then have been effectively supporting ABL musical output. At gothic.pl the band did not fail the audience's expectations: stylish lights, lots of melodious music and charismatic artists were three magical spells the band cast upon the audience. Very good show!
http://www.myspace.com/agonisedbylove
/
http://www.agonisedbylove.art.pl/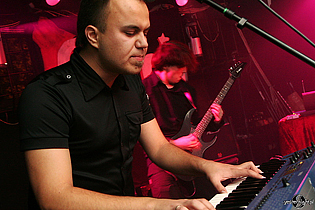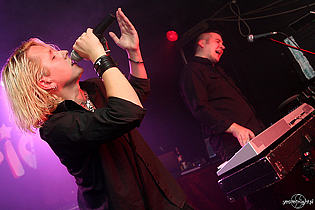 Setlist

01. Control you
02. Cover my world
03. Magnolia
04. Colours of galaxy
05. Aspetto solo te
06. Southern sun
07. Shelter
08. Little ghost
09. Silent war
Rating

Music: 8
Performance: 8
Sound: 8
Light: 8
Total: 8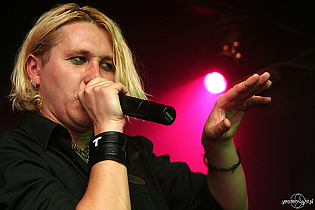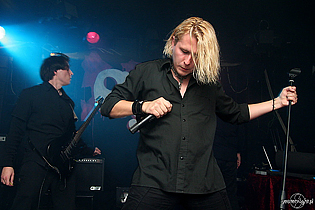 Angelspit

ANGELSPIT was formed in 2004 by Karl Learmont aka ZooG and destroyX. Since forming, ANGELSPIT have taken their energetic live show throughout Australia, New Zealand, USA and Europe supporting bands such as KMFDM, FLA, FRONT 242, CRÜXSHADOWS, AYRIA, TANKT and IKON. With their unique blend of industrial, rock, noise, metal and a touch of pop, ANGELSPIT are forging a new style in cyber punk locally and internationally whereas their complex, rich and disturbing imagery enhances the sinister overtones in their music. Their debut album is called 'Krankhaus'.
http://www.angelspit.net/
/
http://www.myspace.com/krankhaus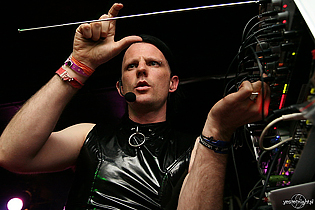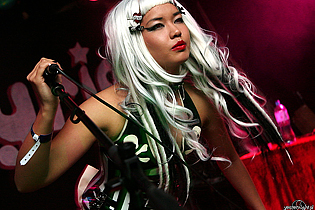 Music & Performance

ANGELSPIT, an extravagant, most fashionable duo from Australia played their 'classic' gig – if one can actually use the word 'classic' in their case :) Lots of fine music - punkish, energetic, loud, hard-hitting and danceable - gave lots of fun to the audience who joined the band in dancing and singing. Most outstanding stylization of the band; latex clothes, cyberlox, expressive make-up and colour lenses changed the stage into a strange, original place. All in all, the shows of ANGELSPIT are always explosions of energy, sonic attacks and visual feasts for the fans. The show in Warsaw was not an exception.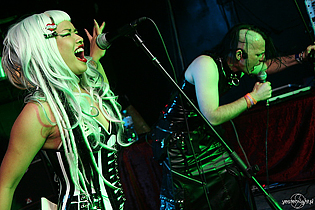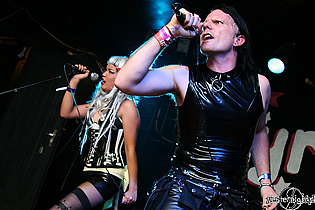 Setlist

01. A La Mode
02. Elixir
03. Wolf
04. Sin
05. Bitch
06. 100%
07. Meat
08. Vena Cava
09. Maggot
10. Wreak Havoc
Rating

Music: 8
Performance: 8
Sound: 7
Light: 7
Total: 7.7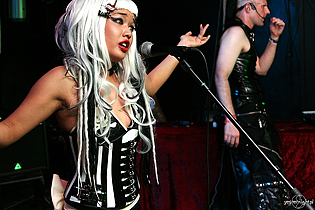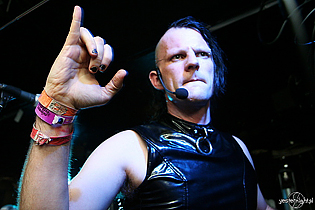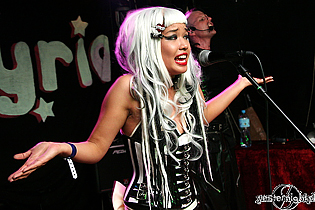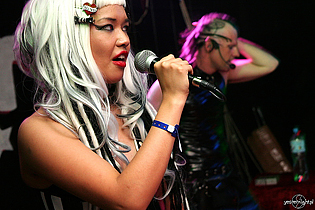 Ego Likeness

EGO LIKENESS was created by artist Steven Archer and writer Donna Lynch in Baltimore in 1999. Their music has ranged from raw, darkly experimental trip-hop (Songs From a Dead City, 1999) to moody and melodic electronica (Dragonfly, 2000/2005 DFD) to a fusion of industrial rock and darkwave (Water to the Dead, 2004 DFD & The Order of the Reptile, 2006 Dancing Ferret Discs). Coming from art-based backgrounds, Archer and Lynch incorporate their various non-musical projects into the albums, building connections between their creations. EL has been signed to Dancing Ferret Discs since 2004.
http://www.myspace.com/ego_likeness
/
http://www.egolikeness.com/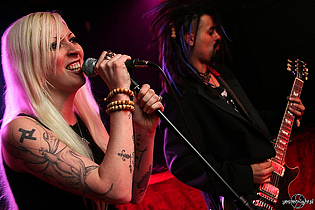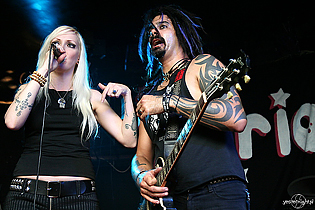 Music & Performance

It was the first time I saw EGO LIKENESS performing live and I must say it was a shocking experience. The reasons for such an impression were two, both connected with the music: strong, powerful vocal and most overwhelming, wild and uncontrollable guitar. The music Steven Archer and Donna Lynch created was as if imitating a fight of two wild and extremely strong animals. Altogether it produced most astonishing effect. The musicians - both very charismatic and confident on the stage - seemed to keep the sound resulting from their musical struggle on a rather short leash, but still the effect it had upon the audience was paralysing.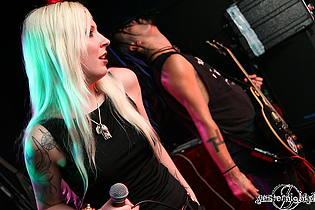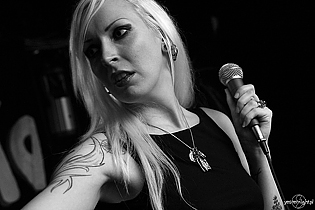 What's more the show based on the clash of oppositions: Donna is light-haired and has most fragile beauty, so she resembled a delicate, modern angel, whereas Steven - dark-haired, presenting cool hair-do – looked like the most stylish devil. The contrast made an extremely strong impression, especially that their concert was accompanied by great light and splendid music that strengthened the effect. In my opinion it was a very good, invigorating show blending sensuality and wildness, gentleness and aggression.
Setlist

01. South
02. Burn Witch Burn
03. 16 Miles
04. Aviary
05. Severine
06. Leave the Stars alone
07. Smothered
08. Hurricane
09. Water to the Dead
Rating

Music: 9
Performance: 9
Sound: 8
Light: 8
Total: 8.7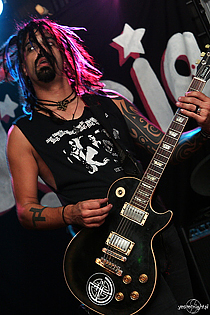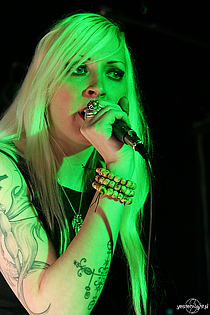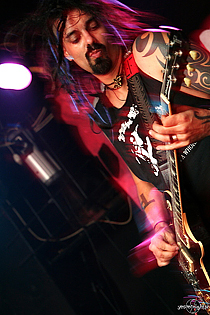 Ayria

The debut release in 2003, Debris, was a collaboration between Jennifer and Shaun Frandsen (of Glis, USA) and featured other talented musicians including Iris (Diffusion Records), DJ Delobbo (Rubin Roche), Massiv In Mensch (Artoffact Records) and DJ Ram (Virtual Server). At the same time as the release of Debris, AYRIA hit the road as a supporting act for RAZED IN BLACK's 2003 North American tour. Since Debris was released, it has received excellent reviews and has charted on Germany's prestigious DAC charts.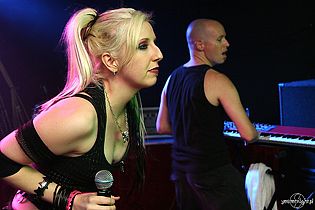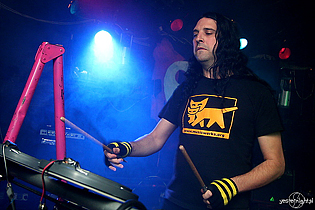 With songs like "Horrible Dream", "Disease" and "Debris"; the debut album can be described as a combination of aggressive EBM tracks with more melodic synthpop tracks, exploring electro elements and lavished with rich and emotional female vocals. 2004 for AYRIA was a year of touring and promoting Debris including openings for such acts as Wolfsheim and Das Ich as well as extensively touring North America. Their recent release "Flicker" which is the follow-up release to Debris was released on October 10th, 2005 and is currently shipping worldwide.
http://www.myspace.com/ayria
/
http://www.ayria.com/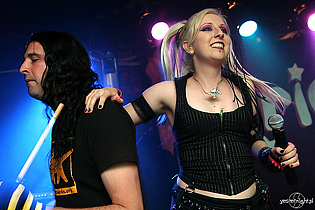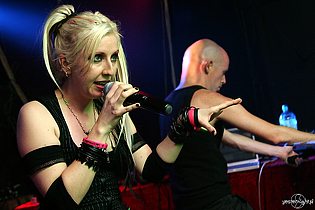 Music & Performance

The headliner of the evening enchanted the audience by means of various tricks: she was most energetic, kind, friendly and overpowering and she provided a fair dose of kicking music. The concert of AYRIA made impression of a kinda party, especially when Jennifer jumped among the audience and was dancing and singing with her fans. Lot's of electronic beats, light vocal and danceable quality of AYRIA music secured her success I can justly say she was the perfect crown for Electro day at the Festival and the fans loved her show.
Rating

Music: 10
Performance: 10
Sound: 8
Light: 8
Total: 9.4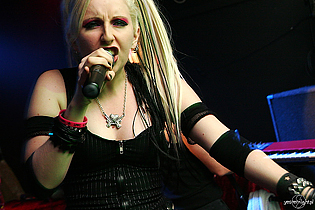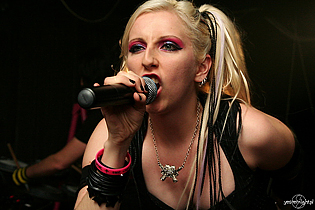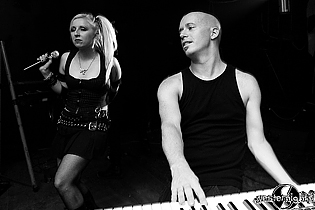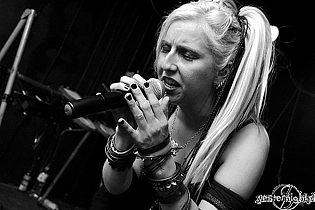 Summing the Festival up I'd say that despite some technical problems and a delay it was a very good edition. The event took place in a small club, but thanks to that the atmosphere of the event was cosier and tenser than it happens on big gigs with thick hundreds of anonymous people. What was also different from other editions was the fact that the whole day was secured for the bands playing danceable, electro music which allowed the fans of electronic and cyber tunes justly call Saturday "their Day" (I'm sure they were thankful to the organizers for taking their requests into consideration at 2007 edition.). The next events organized by Gothic.pl team will be slightly different: Diary of Dreams in January, Diorama in April and Unheilig in May, so now Goths will have their pleads answered :)