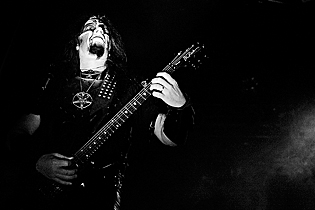 Dinkelsbühl, Germany
16th August to 18th August 2007
Summer Breeze Open Air - Day 2: Karkadan, Eluveittie, Koldbrann, Disillusion, Eisbrecher, Sirenia, Necrophobic, L'ame Immortelle, End of Green, Finntroll, Volbeat, Bolt Thrower, Poisonblack, In Extremo, Dark Funeral


Friday, it was really hot. We got up pretty early and although the ground was still wet, the air was already really warm. We had a quick breakfast, planned the day and after that, we took off for the first band. On our way up there, we saw a huge chaos going on and damaged tents but the security was organized much better this day. But I have to say, the fact that only a few people were standing at the entrance really contributed to that. The day was really hot again, but the night was way colder and windier than it was before.
http://www.summer-breeze.de/
KARKADAN [D]

In September of 1997, Dennis Klink on the keys, Thomas Reeß on the drums, Robby Beyer at the vocals, Florian Spannagel and Michael Zieschang on the guitars wrote the original kind of Black Metal on their banner and formed up the basis of KARKADAN. In seeking their own style, the music of KARKADAN developed to a very varied mix of the dark types of Metal. The result is a symbiosis between hard Heavy Metal and extreme Black and Death Metal vocals.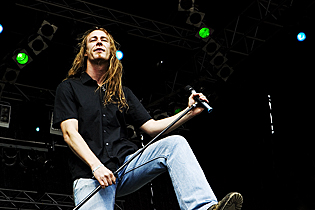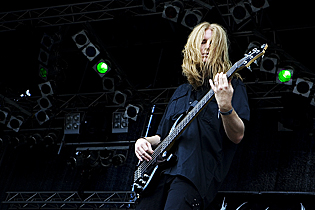 Because of no better description the followed direction was called "Black Heavy Metal". Only three months after its foundation the band did its very successful live debut. In November 2003 the recordings for the second album "Utmost Schizophrenia" were finished. Despite some line-up changes, the band has won more and more fans playing various gigs which were always acoustically and optically impressing events.
http://www.karkadan.de/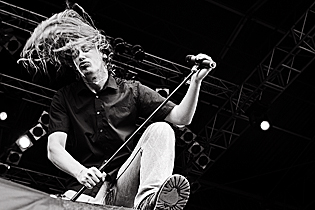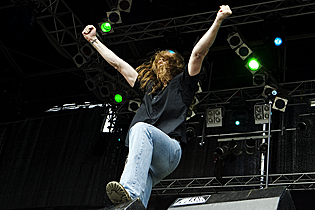 Music & Performance

The guys from the German band KARKADAN were this Friday's openers on the Main Stage. The band name is borrowed from the Persian mythology, where a "Karkadann" is a wild, bloodthirsty creature which can only be tamed by the singing of a nightingale. Quite a nice story, and as the musicians are aiming to come up to it with their songs, I was curious to hear them perform. Maybe it was due to the early daytime, maybe they just did not meet my taste, but this performance hasn't left any noteworthy traces in my mind. They sounded okay, their performance was nice, too, but to me it was nothing really special. But surely the fans, who had crowded quite numerously in front of the stage, would disagree with me.
Rating

Music: 6
Performance: 6
Sound: 8
Light: - (daylight)
Total: 6.4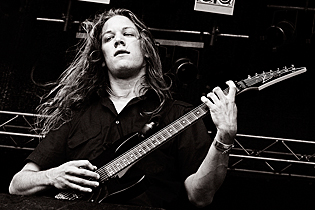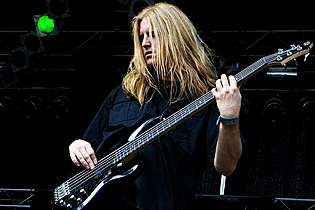 ELUVEITIE [CH]

The band has originally been formed by mastermind Chrigel Glanzmann in winter 2002 as a mere studio-project; their first EP "Vên" was recorded in 2003, already unique in it's way of having the Folk-part being on an equal footing with the Metal instruments. This self-financed MCD was ardently received by the scene, zines etc. and sold out within a few months. In 2004 ELUVEITIE signed to the Dutch label Fear Dark Records, which released a re-mastered (and partly re-recorded) version of "Vên", and continued as a "real" band, playing gigs together with bands such as CRUACHAN, KORPIKLAANI and SKYFORGER.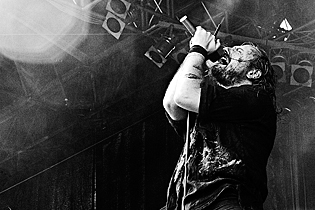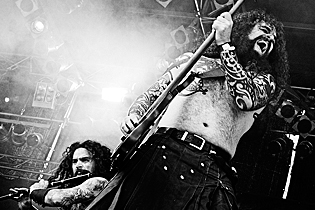 Although many line-up changes still had to happen, ELUVEITIE grew into being a band, and developed it's very own style, formed by the many different influences of eight musicians rooted in different styles of music. In late 2005, ELUVEITIE was finally ready to enter the studio and record their first full-length album, to be released on Fear Dark Records again. With "Spirit", ELUVEITIE goes a big step forward, presenting a completely new style of Folk Metal to the scene.
http://www.eluveitie.ch/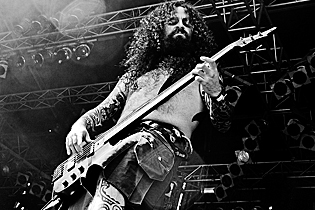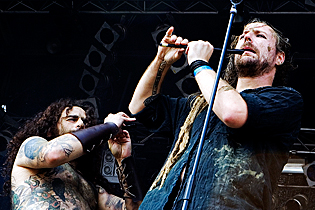 Music & Performance
I was really looking forward to ELUVEITIE's performance. One may nowadays tend to get easily bored by the seemingly modern mixture of Metal with Folk elements, but for sure not with the way this band from Switzerland is doing it. Especially experiencing them live is really great fun. Their songs sound fresh and never boring, sometimes fast and almost forcing you to dance along, sometimes rather sad or dreamy. Lyrically their main focus lies on the myths and everyday life of the Helvetii, a Celtic tribe. The band's full potential can be felt and heard when they are performing live. The eight musicians are masterful entertainers, above all the two brothers Rafi and Sevan Kirder, always jocular and playing their instruments with apparent passion, but also Chrigel Glanzmann, who is the charismatic centre on stage.
Rating
Music: 8
Performance: 9
Sound: 8
Light: - (daylight)
Total: 8.4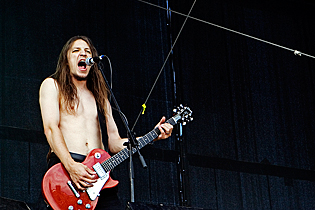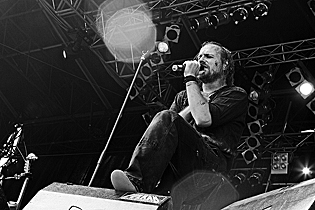 Koldbrann [N]

The band consists of Mannevond (vocals), Kvass (guitars), Fordervelse (drums), Stian Johnskareng (bass) and Geir Antonsen (live guitarist). They recorded two demos in 2002 and their first album "Nekrotisk Inkvisition" one year later. It was originally limited to 333 units, but due to several recent re-releases more than five thousand have been released.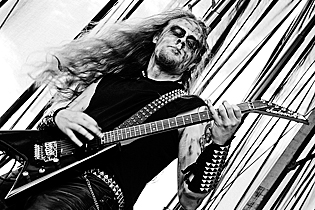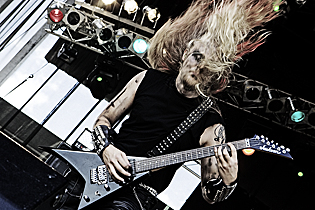 After releasing a Split EP with LJÄ and the Atomvinter EP the band moved to German label Twilight Vertrieb for the release of their second album "Moribund" which featured guest appearances by Iblis and L. Wachtfels from ENDSTILLE (who are on the same label). It was followed by a split with FAUSTCOVEN and a tour with NEGATOR and SARKOM. In the year 2007 they toured with TAAKE and URGEHAL and appeared at the 2007 edition of Oslo's Inferno Festival. Currently the band is preparing to embark on a tour of Eastern Europe with MARDUK.
http://www.koldbrann.net/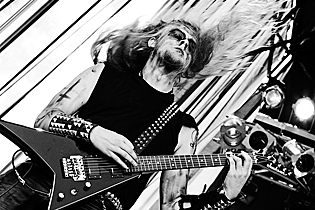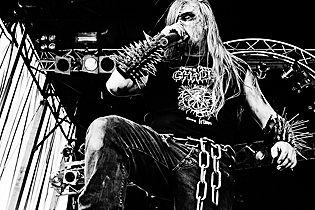 Music & Performance
One certainly wishes to watch a band like KOLDBRANN under different conditions than bright sunlight in the early afternoon. But, nevertheless, quite a few Black Metal fans had gathered in front of the Pain Stage, and the band, equipped with the obligatory make-up and accessories, did a pretty good job. Mannevond, who is also responsible for guitar parts on their albums, attended to the vocals only, as he mostly does when the Norwegians are playing live. Though KOLDBRANN has been founded quite a few years after the hype concerning Black Metal from Norway, they surely add to the genre.
Rating

Music: 7
Performance: 8
Sound: 7
Light - (daylight)
Total: 7.4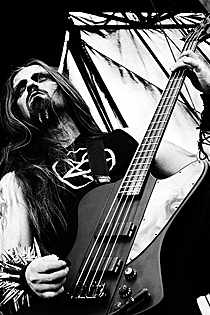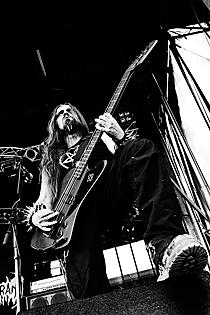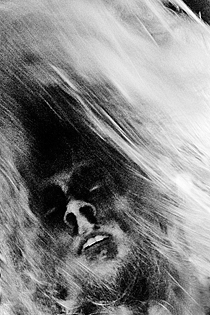 DISILLUSION [D]

In the year 2001, singer, guitarist and studio bassist Vurtox joined forces with Jens Maluschka (drums) and Rajk Barthel (guitar), breathing new life into the band DISILLUSION, which had been inactive for three years. A new band was born to create their very own fusion of Death, Thrash, Black and Progressive Metal, very soon becoming Germany's hottest newcomers on the extreme metal scene. Before the end of 2001 DISILLUSION recorded the 4-track demo "Three Neuron Kings", which immediately caused a stir in the German underground.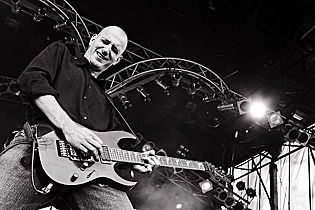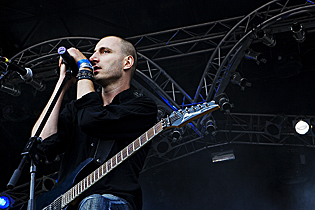 Among other things, the band was named Newcomer of the Month in Metal Heart magazine and won the "Support the Underground" band contest sponsored by Legacy magazine. In August 2002 the MCD "The Porter" was released on Voice Of Life Records, gaining the band some well-deserved international recognition. DISILLUSION was subsequently signed to Metal Blade Records.
http://www.disillusion.de/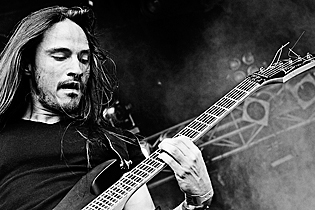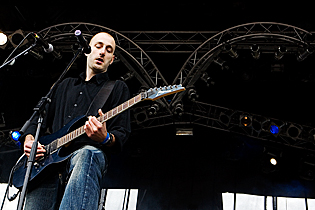 Music & Performance

DISILLUSION from Leipzig have two very interesting albums up their sleeve - "Back To Times Of Splendor", which offers a very special mixture of different Metal genres like Death, Thrash or Progressive and some of these songs you can listen to over and over again and each time you discover something new, and "Gloria", including some more electronic, Industrial-like elements and therefore having scared off many old fans. Luckily the band has managed to complete their line-up with Alla Fedynitch on the bass (which earlier on often came from tape also during live concerts), and so the attendees who had gathered in front of the Pain stage this early afternoon were offered a fantastic performance. Obviously very passionate and having fun on stage, especially Vurtox and Rajk managed to carry away the audience.
Rating
Music: 9
Performance: 8
Sound: 7
Light: - (daylight)
Total: 8.3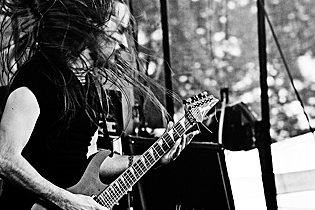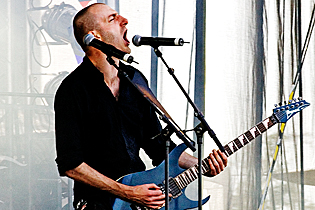 EISBRECHER [D]

The project EISBRECHER was started on a mild summer evening in 2002 by Alexx Wesselsky (lyrics/vocals) and Noel Pix (composition/keyboards, guitars, programming), both having already been successful before EISBRECHER with the rock group MEGAHERZ not only in the German-speaking world, but also abroad (above all in the USA).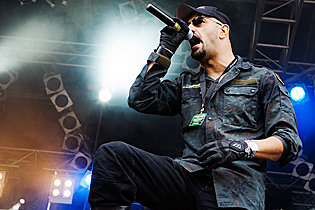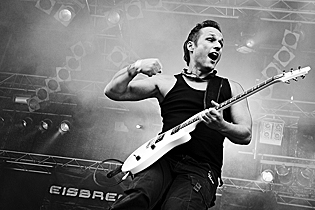 The desire for something new, for hard music without the ordinary metal clichés brought Alexx and Noel back together after all their fights during the MEGAHERZ period. The charismatic, impulsively perverse, 6-foot provocateur Alexx and the sensitive, super-disciplined, charmingly cheeky music genius Noel have taken everything apart and put it back together, they've fought, avoided, and tolerated each other.
http://www.eis-brecher.com/
/
http://www.myspace.com/eisbrecher1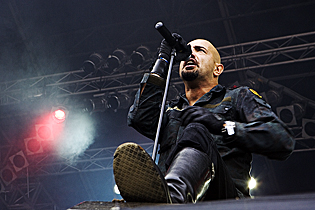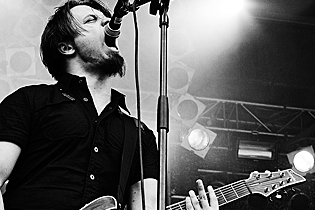 Music & Performance
EISBRECHER's music is modern, electronic rock; emotional, honest, and direct. The electronics form the base upon which Alexx and Noel build harder or softer sounds, depending on the theme. The programming is the core of the vision that EISBRECHER have of modern rock: interesting songs, progressively packaged and danceable. EISBRECHER have kept on this course even in 2006, although the guitars are more notable, effective, and present, making "Antikörper" harder than its older brother. In their lyrics, the band goes on a journey through private and interpersonal states of feeling in a world growing cold.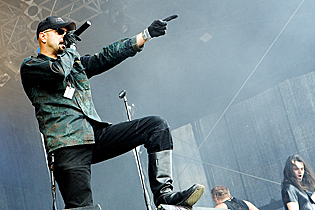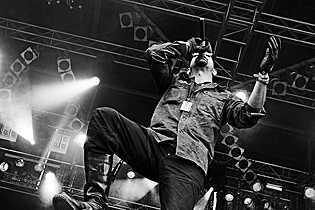 It's about the "me" and "you" as we're in the here and now; it's about what you make of it. The past concerts we visited were in rather bad sound quality. But this time we were knocked down by the hammering basses. The crowd was really enthusiastic, since EISBRECHER played several old songs of MEGAHERZ also. With their nearly standard hit song "Miststück" the mass went crazy. However, this song was the ending of the concert and only an unusual Rap-performance delayed the unavoidable.
Rating

Music: 8
Performance: 7
Sound: 7
Light: - (daylight)
Total: 7.5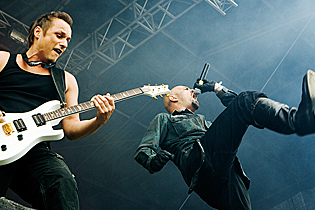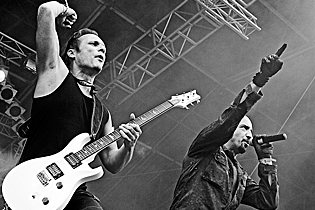 SIRENIA [N]

SIRENIA came together in early 2001, when Morten Veland parted ways with his former band TRISTANIA, due to musical disagreements and personal differences. He was however at this point full of ideas and more than ready to set them free. He invested a lot in new equipment and spent much time in his home studio composing. After recording two great albums with SIRENIA ("At Sixes and Sevens" and "An Elixir For Existence") plus one EP ("Sirenian Shores"), it was time to take everything even further. That's where "Nine Destinies and a Downfall" joins the fold. The album is the best work from SIRENIA up until now and the first one with new singer Monika Pedersen from Denmark who joined the band after the departure of Henriette Bordvik. The "business" side of things has also changed: SIRENIA are now signed with Nuclear Blast in order to reach an even bigger audience, worldwide.
http://www.sirenia.no/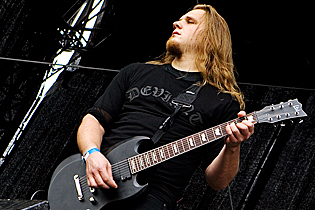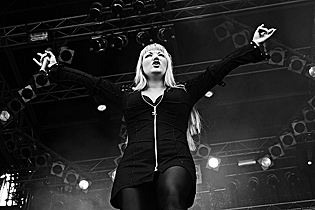 Music & Performance

SIRENIA from Norway play Gothic/Melodic Metal with influences from Death Metal and classical music with clear female vocals (Monika) and Death Metal-like growls as well as clear male singing (Morten). As this kind of Metal does not really meet my taste, SIRENIA's performance did not really knock me off my feet. Surely the musicians were obviously having fun on stage and did their job pretty well; I cannot report anything special from this concert.
Rating

Music: 4
Performance: 6
Sound: 7
Light: - (daylight)
Total 5.2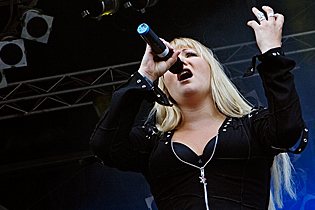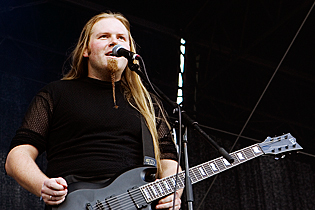 NECROPHOBIC [S]

NECROPHOBIC was formed in Stockholm, Sweden, in the year 1989 by guitarist David Parland and drummer Joakim Sterner to give the world a band that created unholy Death Metal. Around this time, most bands played Death Metal in the veins of CARCASS, NAPALM DEATH, etc. NECROPHOBIC had a bit different influences and focused more on to create a much more dark and evil sounding music, in the beginning influenced by MORBID ANGEL, SLAYER and BATHORY.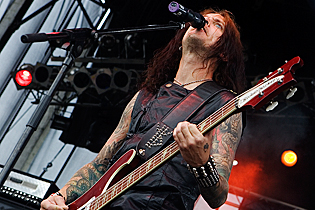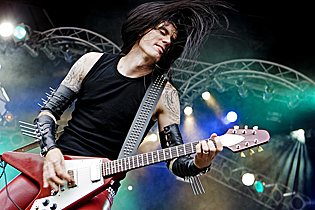 During the 'underground years' 1990-1992, the band build up a great reputation with the demo tapes 'Slow Asphyxiation' (1990), 'Unholy Prophecies (1991) and the limited vinyl-EP 'The Call' (1992). In March 1993, members David Parland (guitar), Tobias Sideg (bass), Anders Strokirk (vocals) and Joakim Sterner (drums) entered the studio and recorded the debut album 'The Nocturnal Silence' (Black Mark Productions) which saw the light of day a few weeks later.
http://www.necrophobic.net/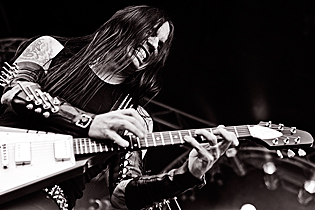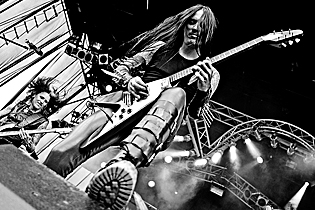 Music & Performance

Originally started as a Death Metal band, NECROPHOBIC - the band name is believed to be chosen according to the respective song on SLAYER's "Reign In Blood" - have developed their style from this genre over Black Metal ("Darkside", 1997) to a mixture of Black and Death. Their latest output is last year's "Hrimthursum" via Regain Records. NECROPHOBIC delivered a show really worth to see on the Summer Breeze Pain Stage. The four guys seemed to be in a very good mood and managed to drag along their fans. Energetic and morbid, maybe from time to time a little uniform (an impression I only got when listening to them playing live), but all in all good songs and performance.
Rating

Music: 7
Performance: 7
Sound: 8
Light: - (daylight)
Total: 7.2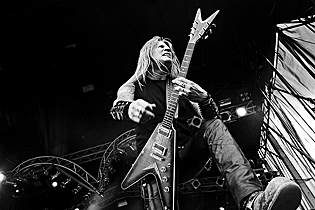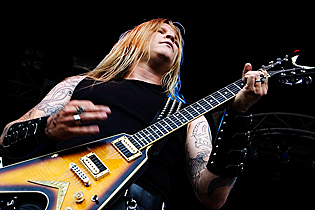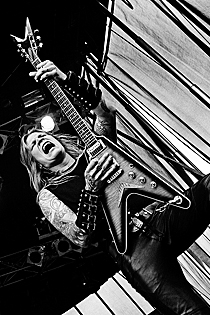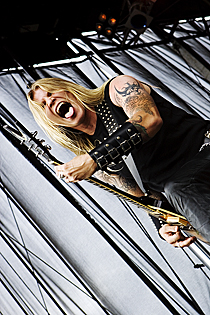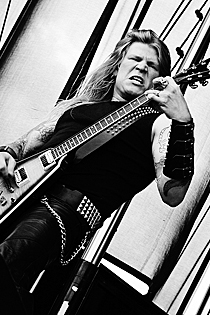 L'AME IMMORTELLE [D]


L'AME IMMORTELLE was formed in 1996 in Austria by friends Thomas Rainer and Hannes Medwenitsch. Soon vocalist Sonja Kraushofer, a former classmate of Rainer, joined and the band sought a record contract. They released their first album, 'Lieder die wie Wunden bluten' in 1997 on MOS Records in Liechtenstein, which became popular in the underground German Goth subculture. In 1999, L'AME IMMORTELLE switched to Trisol Records.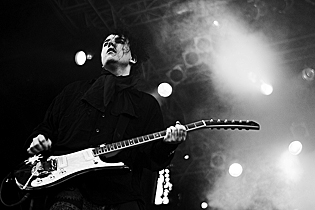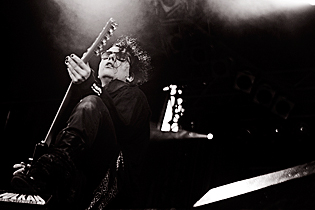 From 1998 to 2001, the band released another LP yearly, each bringing the band greater popularity. In 2002, Medwenitsch left the band. Kraushofer and Rainer recruited Ashley Dayour as a guitarist and the re-formed L'AME IMMORTELLE released a new single, 'Tiefster Winter' in November 2002. In 2003, they released 'Als die Liebe starb', as well as 'Seelensturm', a collection of re-issued and re-mixed early material.
http://www.lameimmortelle.com
/
http://www.myspace.com/lameimmortelle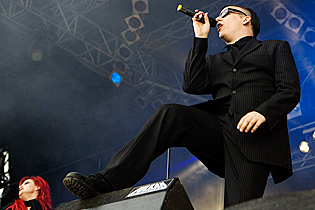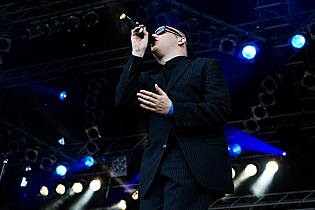 Music & Performance

L´AME IMMORTELLE delivered a glaring contrast from the classical Rock and Metal this year. However, Sonja Kraushofer, the singer of the band, could not convince with her voice this time. In my opinion the concert was not loud enough and the quality of sound was almost bad. Maybe daylight was the wrong mood for this kind of music.
Rating

Music: 5
Performance: 6
Sound: 4
Light: - (daylight)
Total: 5.2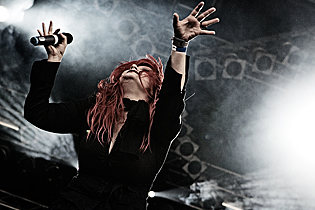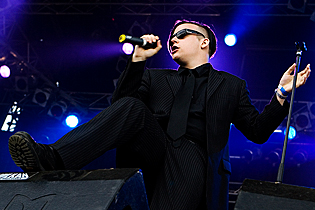 END OF GREEN [D]

The world keeps turning but obsessions remain. And it would definitely border a miracle if END OF GREEN should find their way leading them to a pleasant place after all. If somewhere, then between Metal, Goth Rock, Rock'n'Roll and charming bits of independent music END OF GREEN have found their place. Their latest release is the 2005 album "Dead End Dreaming" via Silverdust Records.
http://www.endofgreen.de
/
http://www.myspace.com/endofgreen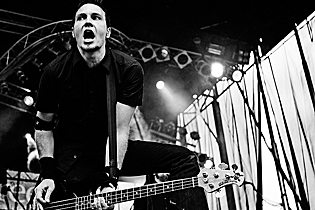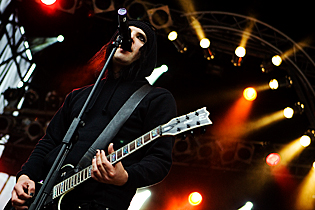 Music & Performance

A good party time was delivered by END OF GREEN. They were the replacement for the Gothic Metal band CREMATORY, and so not everybody could join the enthusiasm for them, because CREMATORY was the absolutely perfect gig for this Summer Breeze anniversary. Most visitors however joined the party in front of the Main Stage and took a lot of fun in banging and stage diving.
Rating

Music: 8
Performance: 7
Sound: 8
Light: - (daylight)
Total: 7.7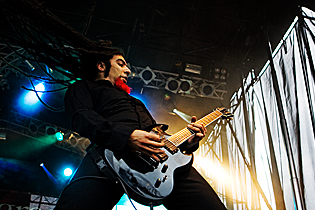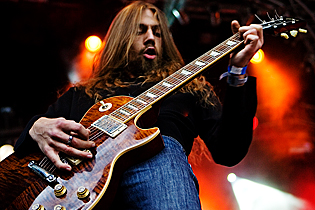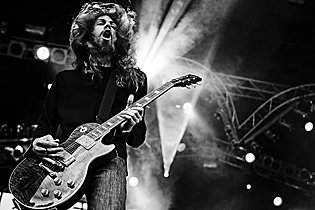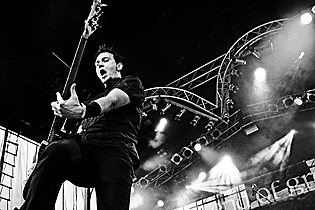 FINNTROLL
FINNTROLL was founded in 1997, by Teemu "Somnium" Raimoranta, guitarist of IMPALED NAZARENE, and Jan "Katla" Jämsen. Their first demo, "Rivfader", was recorded about a year later, in 1998. After the demo recording, the other members of the band, Samu Ruotsalainen (from BARATHRUM, SHAPE OF DESPAIR and RAPTURE), Samuli Ponsimaa, Henri Sorvali (from MOONSORROW) and Sami Uusitalo joined the band. The record label Spinefarm got interested in the band then, and made a contract, yielding the album "Midnattens Widunder" (english: "The Monstrosity of Midnight", 1999) as a result.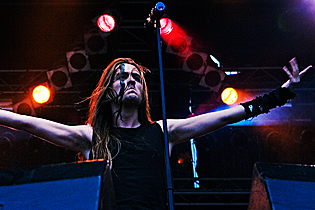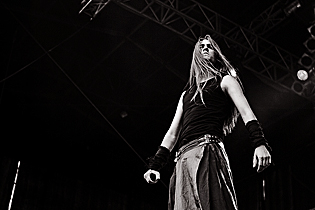 The next step for FINNTROLL was the album "Jaktens Tid" (english: "The Time of the Hunt"), which was released in 2001. This album managed to climb to rank 20 of the Finnish album charts, exceeding expectations of band and publisher alike. The following wave of popularity attracted the attention of Century Media, which began promoting FINNTROLL for the rest of the world. The following summer, the band had their first time playing on open air festivals in Finland and other countries. The group's latest release is this year's "Ur Jordens Djup" (English: "From the Depths of the Earth").
http://www.finntroll.net
/
http://www.myspace.com/finntrolltheband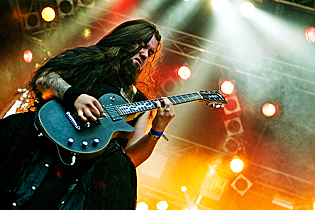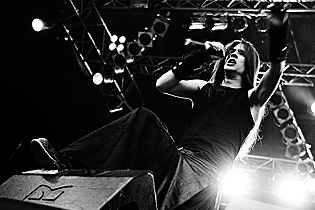 Music & Performance

FINNTROLL represented a highlight of the day. With their musical mixture of Metal and Finnish Humppa folklore they provided always an exuberant mood. Their appearance awakes the same inspiring flood like AMON AMARTH; however they have more tradition on Summer Breeze than their Viking counterpart. They played songs such as "Trollhammaren" and could produce all kinds of atmosphere, like pogo, crowd surfing or head banging. FINNTROLL provide the right sound for high spirits and a good start to the nocturnal festival arena.
Rating

Music: 9
Performance: 6
Sound: 7
Light: - (daylight)
Total: 7.6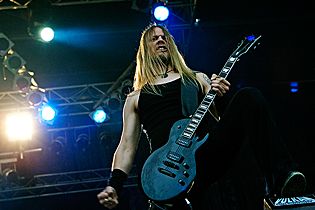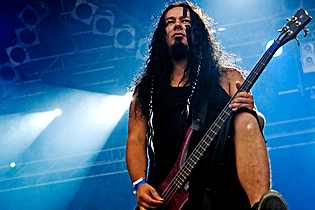 VOLBEAT

VOLBEAT was formed in October 2001 by Michael Poulsen, who had previously split up the Danish metal band DOMINUS. DOMINUS was said to be Denmark's pride of metal. During their 10 years of existence Michael Poulsen and DOMINUS released 4 albums and had their videos shown on both MTV and VIVA. VOLBEAT's musical style is said to be a combination of metallic Rock'n'Roll with a touch of the sixties melodic tunes.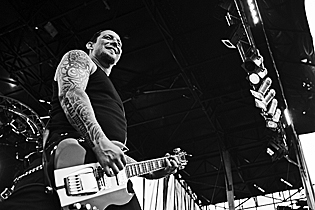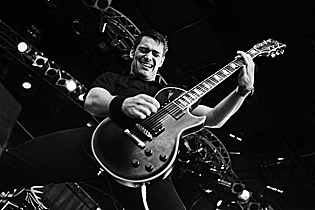 As a Swedish reporter from Slavestate mag wrote: "METALLICA should have hired VOLBEAT as songwriters for their "Load" and "Re-Load" albums." Others have said: "This is ELVIS-Metal." In 2002 VOLBEAT released their self-titled debut demo. The response was moderate, and it wasn't until the release of their "Beat the Meat" demo from 2003 that things really started happening. The band's newest album, very well received by the press and fans, is called "Rock The Rebel / Metal The Devil" and has been released this year via Mascot Records.
http://www.volbeat.dk/
/
http://www.myspace.com/volbeat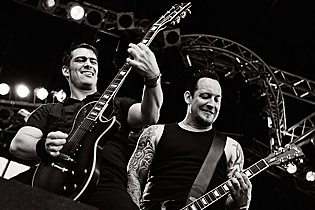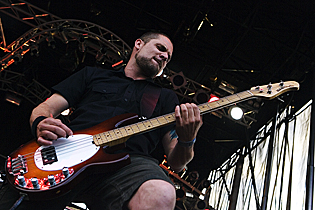 Music & Performance

VOLBEAT's gig completely blew me away! It was my first time to see them performing live, and I must say they are just as great as on their albums. Their fantastic songs, somewhere between Metal, Rock and Rockabilly, and yet showing originality, together with a very energetic show done be unbelievably good-humoured musicians - it was a pleasure to watch them! And I guess the many enthused fans in front of the Pain Stage had similar feelings, as they simply had a great party with the band.
Rating

Music: 10
Performance: 10
Sound: 9
Light: - (daylight)
Total: 9.8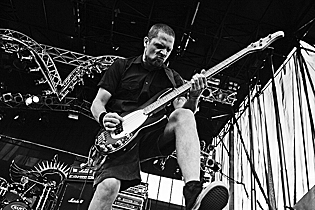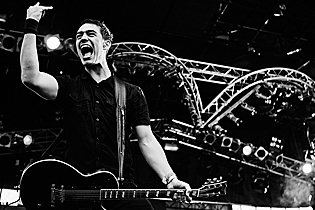 BOLT THROWER

BOLT THROWER were formed in 1986 by Barry Thomson (guitar) and Gavin Ward (bass). They were soon joined by Alan West (vocals), and completed the line-up with the addition of Andy Whale (drums). Inspired at that time by bands such as SACRILEGE, DISCHARGE, SLAYER and CANDLEMASS, the four-piece went on to record two demos, 'In Battle...' and 'Concession of Pain'. The latter was sent to the late, great John Peel, which resulted in the band being offered a session. At this time Gavin Ward decided to switch to guitar and then recruited Jo Bench on bass to complete the five-piece line-up.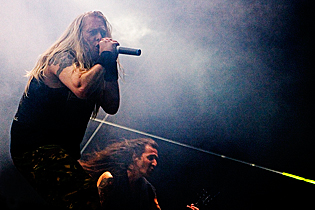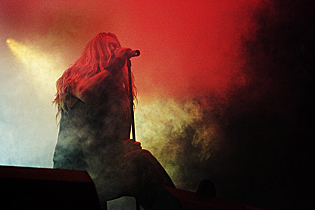 At the start of 1988, BOLT THROWER recorded their first Peel Session, and after the transmission was aired Vinyl Solution contacted the band and a deal was agreed. Unfortunately, Alan West decided that he no longer wanted to carry on with the band and was replaced by Karl Willetts. With this line-up they went on to record the album 'In Battle There Is No Law' recorded at Loco Studios in Wales and released in the summer of 1988. Latest stuff available from BOLT THROWER is 2005's album "Those Once Loyal".
http://www.boltthrower.com/
/
http://www.myspace.com/boltthrower
(fansite)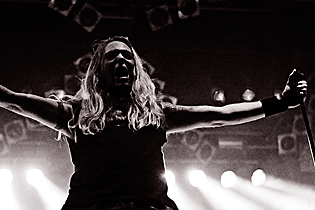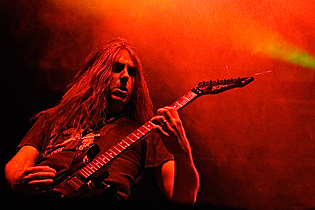 Music & Performance
This band supplied classical Death Metal at its best. One survey over the persons with strong neck musculature shows that they exactly know what they had to expect. They started up really fast with one announcement, and in the next moment the masses where bombarded with hard guitar sound and dark grunts. For all fans of Death Metal this show was an celebration of true pleasure, all the more as BOLT THROWER are known for disliking festival appearances; their Summer Breeze gig has been the only one in Germany this year. Some people departed the concert with little wounds and some bruises, and bystanders could come to the conclusion that Death Metal could be some kind of war. Some others experienced the consequences of excessive consumption of alcohol. But the show was a great achievement with a brain shaking sound volume.
Rating
Music: 9
Performance: 6
Sound: 9
Light: 8
Total: 8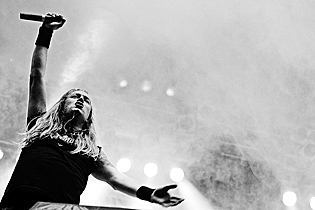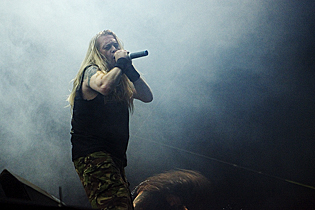 POISONBLACK

After playing guitar on the side for 17 years, the SENTENCED front man felt the urge to pursue his ambition as a guitarist and formed POISONBLACK towards the end of 2000. Ville Laihiala formed the group together with a couple of talented, close friends from Oulu with whom he had jammed in various bands before, among them his soul brother Janne Kukkonen on bass.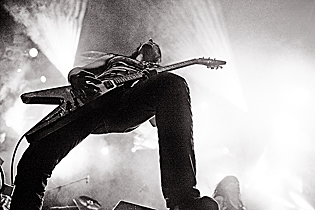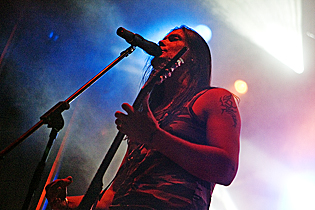 Both of them don't only share a long history in various bands, but also the same vision about music: "When we produced the album together it was like he could read my mind, how I wanted the songs to sound like", recalls Laihiala about the recording process of their debut-album "Escapexstacy" in Neo Studio. Their latest and second album is called "Lust Stained Despair" and appeared last year via Century Media.
http://www.poisonblack.com/
Music & Performance

There is hardly a Metal fan these days who does not know Ville Laihiala and his former band SENTENCED. This Summer Breeze, he was appearing with his new band POISONBLACK; he first only played the guitars within this formation, whereas Juha-Pekka Leppäluoto from CHARON did the vocalist job.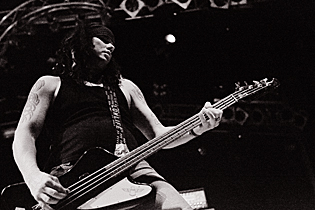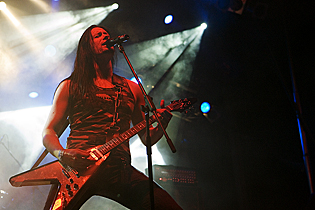 But on their second album this has changed - Leppäluoto wanted to concentrate more on his main band CHARON - and so Laihiala does the vocals now. POISONBLACK's style, which can be classified somewhere between Sleaze Rock and Gothic Metal, does not really meet my taste, but I must admit they did a great show on this festival. The Pain Stage was plunged in beautiful light of different colours, creating a special atmosphere, the musicians did a very good job, and charismatic front man Laihiala once again blew away the numerous fans in front of the stage.
Rating

Music: 6
Performance: 9
Sound: 7
Light: 8
Total: 7.4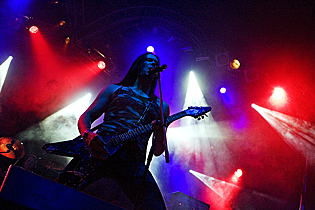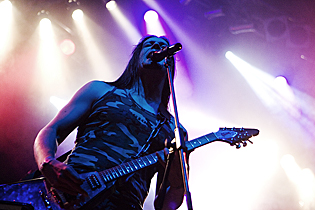 IN EXTREMO

IN EXTREMO (abbreviated InEx, or just IX) got its beginning as two projects: a nameless purely medieval band, and a Rock band. They became known at that time through frequent appearances at medieval market meetings, at which they performed their acoustic pieces. During the recording for the 1995 season, Michael Rhein (alias Das Letzte Einhorn, engl. "The Last Unicorn") found the project name IN EXTREMO, Latin for "In The End".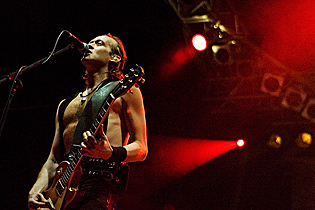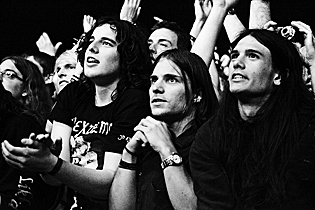 The initial members of the medieval band were Das letzte Einhorn (engl. "The Last Unicorn"), Flex Der Biegsame (engl. "Flex The Flexible"), Conny Fuchs (who left the band before the official release date, due to her pregnancy) and Sen Pusterbalg (replaced shortly after the official release by Yellow Pfeiffer, (engl. "Yellow Piper"). The band's latest release is last year's "Kein Blick zurück", a best-of-album.
http://www.inextremo.de/
/
http://www.myspace.com/inextremoband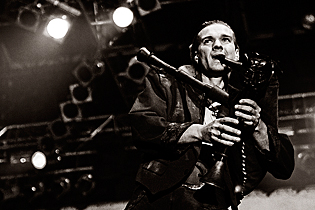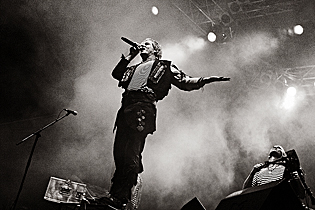 Music & Performance

IN EXTREMO again carried their "Raue Spree" outfits. So, most of the audience and also some of their fans were bored to death. But IN EXTREMO was still a really good band and most of their fans were enthusiastic. The concert contained the usual pyrotechnics, confetti and a ship on the stage. The only difference was a gondolier playing a harp and another set-list. Their current hit "Nur ihr allein" was also played, however the audience offered no enthusiasm for it. The band leader tried to sing the refrain with the crowd three times, but they refused to take part. Meanwhile the singer made a statement that the band would take a time-out. It was not the best concert of IN EXTREMO, but the fans were probably pleased.
Rating

Music: 8
Performance: 10
Sound: 8
Light: 8
Total: 8.6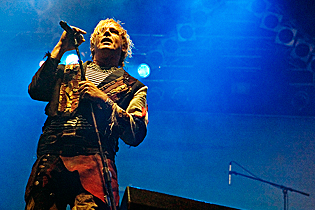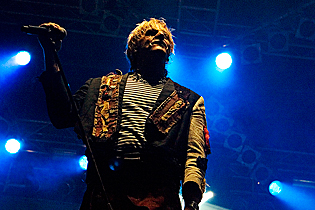 DARK FUNERAL

After their initial founding in 1993, Draugen and Themgoroth joined the band. Their self-titled and self-financed first album was recorded in 1994 at Dan Swanös Uni-Sound Studio in January. It was released on May 4th, the same day the band performed their first gig at Luse Lottes Pub in Oslo, Norway. After the recording sessions, Draugen (drums) left the band and was replaced by Equimanthorn. In 1995, the band signed up to No Fashion Records and started preparing songs for a full-length album. After an attempt to record "The Secrets of the Black Arts" at Uni-Sound Studio (again with Dan Swanö), the band decided to relocate to Peter Tägtgren's Abyss Studio and re-record the entire album.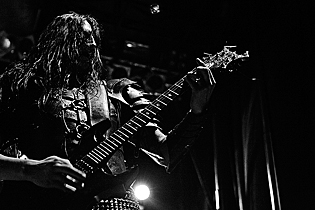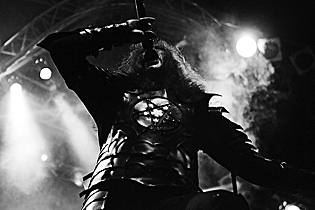 During the break between studio sessions, the band wrote the song "When Angels Forever Die". With engineer Tägtgren (HYPOCRISY, PAIN) on board, the band finally got the production they were looking for. Shortly after, DARK FUNERAL played their first festival gig, Under The Black Sun I in Berlin. A few weeks prior to this gig Emperor Magus Caligula joined the band as vocalist and eventually became a permanent member. The band also shot their first video for the track "The Secrets Of The Black Arts", which was well received and played on music channels all over the world. Their latest sign of life is the album "Attera Totus Sanctus" from 2005.
http://www.darkfuneral.se/
/
http://www.myspace.com/darkfuneral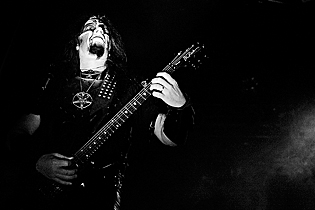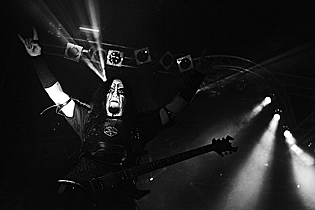 Music & Performance
Before the band began to play a black wave of metal fans from each corner of the area stormed the place in front of the Main Stage. DARK FUNERAL delivered an outstanding act at the end of this day. The Swedish Black Metal band, which is above all known for their song "Alterna Totus Sanctus" smashed the crowd with bombastic sound and guitar play. DARK FUNERAL played almost all their old songs and satisfied the thirst for real classic Metal.
Rating

Music: 8
Performance: 9
Sound: 10
Light: 9
Total: 8.8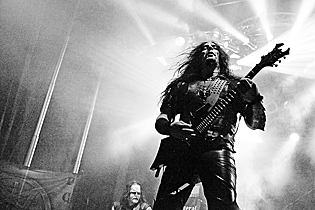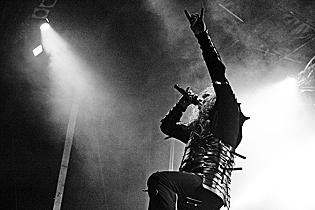 Written by Florian Tatzel, Ruth Gräbeldinger and Thomas Winter
All pics by Ruth Gräbeldinger
{jos_sb_discuss:18}