Page 1 of 2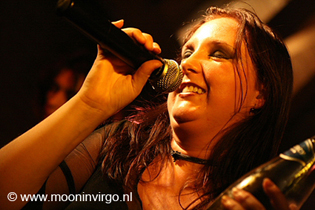 Archeon, Alphen a/d Rijn, The Netherlands
9th of December 2007
The Archeon Midwinter Fair
This year it was already the fifth midwinter fair in the Archeon. Time flies when you're having fun I guess. The fair was well visited again this year, the parking lot was full and so was the enormous field on the other side of the road. The entire Archeon had been changed in to a large gothic and fantasy organized market, workshop and festival.

All the houses of the Middle Ages had been turned in to workshops. Animals and other creatures of several LARP organizations such as Arcana were scaring the visitors in the cobbled streets. In the houses warm drinks and food were sold and shelter from rain and wind was offered. The Miyu magic stones were there of course.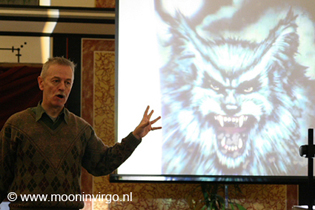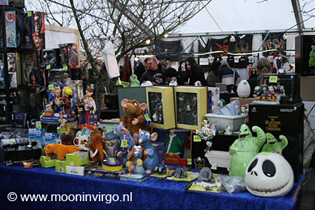 On the other side of the park, in Roman times there were two large tents set up where an enormous amount of stands was set up. There were many stands you find at every festival but also some original stands such as Madame Aparta who sells second hand clothing and Glacer Design selling necklaces made of glass beads and rubber which would look great with any cyber outfit. Special tea and incense mixes were very popular as always and 'Nightmare Before Christmas' couldn't be left out of course. In the middle of one of the tents folk music was played. This certainly made taking a break from shopping much more pleasant.
In the dinner area of the Roman era you could have you future foretold and upstairs there were lectures. As always Dr. Rotherham was there to lecture and entertain us. His first lecture was about the children of the night: zombie, werewolves and vampires. Who knew that originally little red riding hood is a story about werewolves. Another learned fact: an animage is someone who can voluntarily turn in to an animal, an animorf does not have control over this power. In his second lecture we were taught about the magi, otherwise know as the three wise men.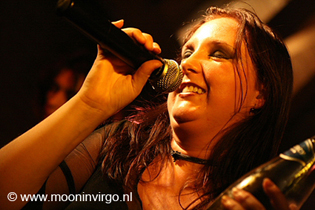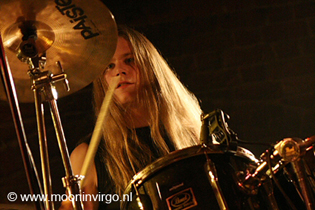 In the monastery in the Middle Ages there were bands playing all day. One of these bands was Icaros. They had fun amongst each other. Linda, their vocalist did so too but when singing her face was very serious. Her low voice is great, very powerful, in the high regions however, it could use some work. During some songs she is acting out the lyrics on stage, great to see. The guitarists are still a bit shy on stage but they will get there. They presented us with songs from their demo 'Awaiting Seasons' but that wasn't all 'It's Raining Men' was also part of their set list. A surprising song but it did give Linda a great chance to show what power lies in her voice.
Sylver Myst also performed. During the years they have certainly grown. The stage presence of their vocalist has become much more pleasant, she has learned how to move and make contact with the audience. She was a little too enthusiastic for the audience thought for when she asked them to wave their arms in the air, no one joined in. The vocals have improved too. Always nice to see a band grow.
It was a cold and windy day but we were ever so lucky because heavy rain was foretold. I guess even the weather gods like the midwinter fair!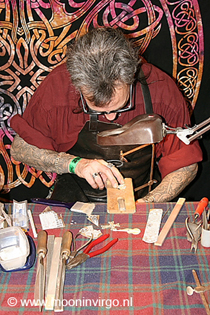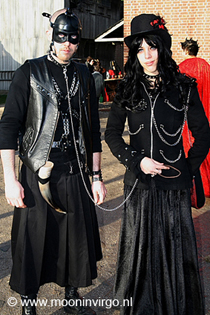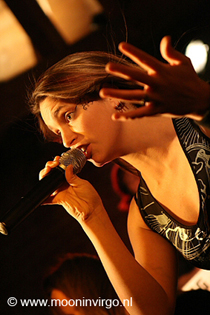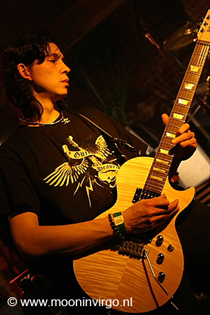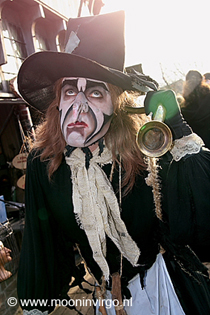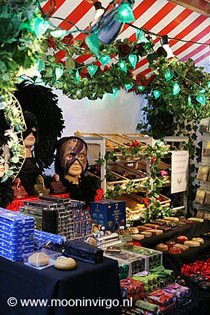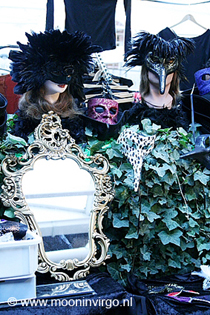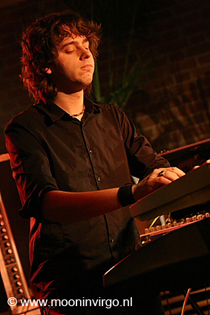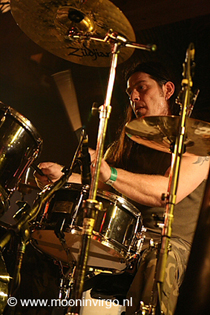 Photography and copyright: Monica Duffels
More photos on page 2