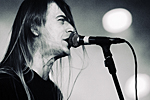 Rockfabrik, Ludwigsburg, Germany
16th December 2007
METALLIC NOISE FESTIVAL (MNF): Grave, Ektomorf, Dew-Scented, Goddess Of Desire, Totenmond, Karkadan, Runamok, Not Tonight Josephine, Creature


Things didn't really work out for me this December Sunday, so I was quite late when I finally arrived at the Rockfabrik. There was no great action in front of the venue, just a few people smoking outside; same situation inside, the Rockfabrik was nearly empty, a fact maybe not surprising when one considers the early daytime - the festival had opened its doors at 2pm.



The first band, CREATURE, had already completed their set, I didn't even catch a glimpse of them. NOT TONIGHT JOSEPHINE were just announcing their last song, Rock/New Metal from Bavaria which did not really knock me off my feet, so I was curious to see the following bands. During this whole well-organized festival night the Rockfabrik unfortunately remained quite empty, later on it was about half-filled; maybe this was due to the fact that the MNF took place indoor for the first time as the organizers had not found a suitable ground outside. With this meagre attendance the future of this festival is still written in the stars.
http://www.rockfabrik-ludwigsburg.de/
/
http://www.metallic-noise-festival.de/
RUNAMOK

RUNAMOK pay tribute to celebrated Old-School-Thrash, and Classic Metal bands, such as METALLICA, MEGADETH and ANVIL, or at least to the type of music these bands played during their halcyon days in the 80s. Fans of ANNIHILATOR or PANTERA will equally enjoy the "take-no-prisoners" sonic Thrash assault of RUNAMOK, who perform and record simply some of the best and most exciting Classic Thrash music available today. No rocket science - just Thrash!
http://www.runamok-rocks.de/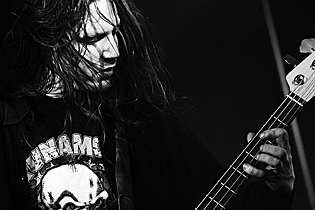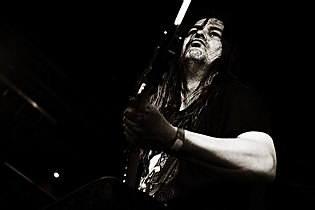 Music & Performance

RUNAMOK was the first band that I saw that night but already the third band which played on this festival. The ROFA was not even half-filled and the few fans present preferred to smoke outside. I found the fact that hardly no one had come in front of the stage very disappointing. The dance floor in front of the stage was absolutely empty except for a few photographers and a handful of fans. Nevertheless the band and especially the singer tried really hard to get more people in the hall but unfortunately they could not manage it and the audience really resisted these attempts until the last song. Musically RUNAMOK were not very high on my scale.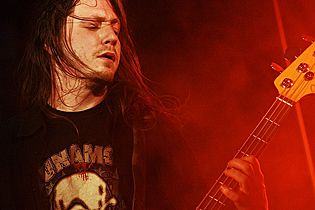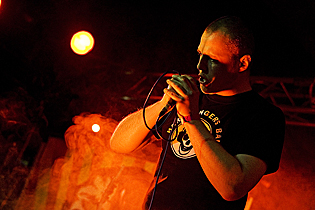 In my opinion it was tunelessly despite their powerful play and the massive drums and basses. The music they played was not very diversified and I occasionally felt that the only thing changing was the lyrics. The show RUNAMOK delivered to us was quite well considering the fact that there was actually nobody in front of the stage. They played their songs quite powerfully but could not really convince me.
Rating
Music: 4
Performance: 6
Sound: 6
Light: 6
Total: 5.5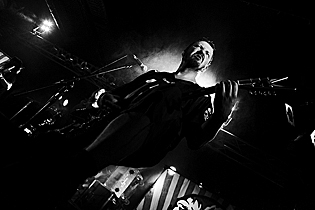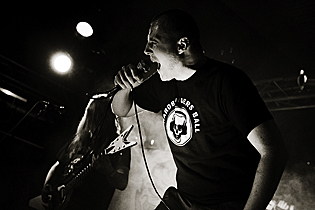 KARKADAN

In September 1997 Dennis Klink on the keyboard, Thomas Reeß on the drums, Robby Beyer at the vocals, Florian Spannagel and Michael Zieschang on the guitars formed up the basis of KARKADAN. But the first creative activities of the band were taken up at the beginning of December. In seeking its own style the music of KARKADAN developed to a very varied mix of the dark types of Metal. The result is a symbiosis between hard Heavy Metal and extreme Black and Death Metal vocals. Because of no better description the followed direction was called Black Heavy Metal.
http://www.karkadan.de/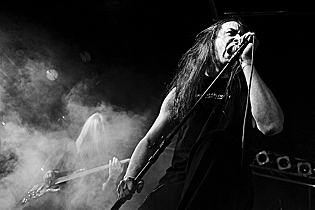 Music & Performance

Finally the fans came out of their holes and slowly gathered in front of the stage. KARKADAN, a well-known name on the METALLIC NOISE billing, were next. But even now it seemed to me that most of the fans preferred to drink coffee with their grandmother than to take part in this Metal festival. Only a handful of people more than gathered in front of the stage but the crowd was still very manageable. The band leader tried to get more people to the stage but also remained fruitless.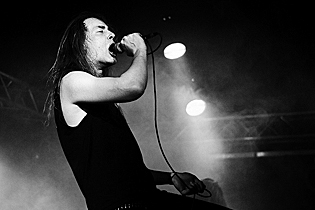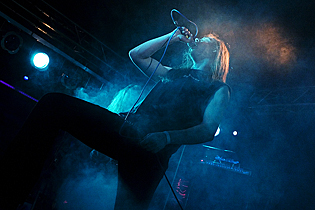 So the mood could be described as rather modest as the normal heavy going. Musically KARKADAN knocked me really down. The masterful good voice of Robby and his impressive presence on the stage paired with the powerful play from the other members of the band was really exciting. Take for example the fantastic 'Passing Away' or their version of MEGADETH 'Symphony Of Destruction'; with 'Ignorance & Despair' also a new song had made its way into their setlist. The fog machine combined with the effective lighting contributed to an all in all really good show.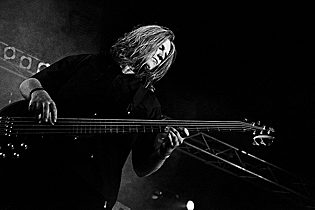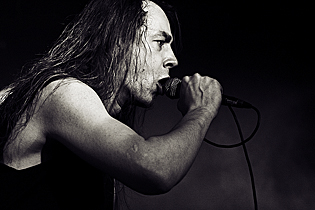 Setlist

01. The Ancient Times
02. On Your Knees
03. Passing Away
04. Ignorance & Despair
05. Frenetic Visions
06. Symphony
07. Racing The Clock
Rating

Music: 8
Performance: 8
Sound: 7
Light: 8
Total: 7.8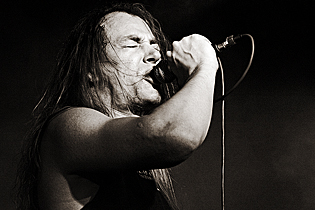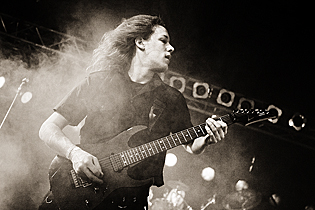 TOTENMOND

The band was founded in 1984 by SP Lenz and Olaf "Pazzer" originally as a Punk band with the name WERMUT. 1986 raised Attila as a singer, but after a year within the band he left again and was replaced. In 1988 wormwood played especially in various youth clubs. A year later, the band renamed to TOTENMOND and also played especially in youth clubs like WERMUT. The musical style of TOTENMOND is difficult to define. In their music Punk, Thrash Metal, Black Metal and sometimes even Grindcore were combined. The texts of TOTEMOND often directed against all forms of political and religious extremism, and are sometimes difficult to interpret.
http://www.totenmond.de/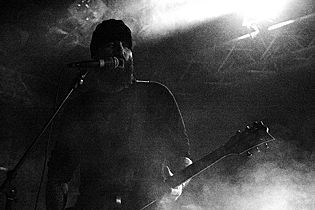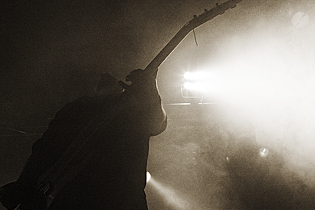 Music & Performance

The lights went out after KARKADAN. It was dark and gloomy and the moon moved into the sky and his pallid light barely lit up the room in front of the stage. The three musicians occasionally were enlightened with threatening and ominous flashlights. The fog swashed like a bleak sea of infinity from the stage only to wrap the fans and everything in an unreal landscape. Many hardcore fans of the group gathered in front of the stage and growled the songs along, while others in front of the stage nearly worshipped the three on the stage. The music was probably too strange for all other visitors which still hadn't heard something from TOTENMOND. TOTENMOND delivered probably one of the darkest concerts, which I had ever experienced.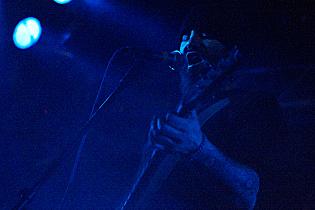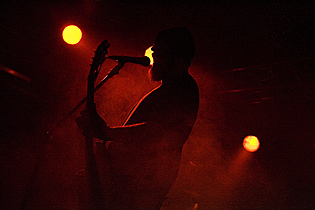 The whole time the stage was not lit sometimes a flash of light or a small fainting red light illuminated the whole scene. The fog behaved sometimes like a dark and spooky living being and supported this threatening gloomy mood. All of this fit perfectly with the music of TOTENMOND. Most songs were very monotonous, dark and threatening and over long distances you could only hear the instruments. The striking voice of the singer also supported the almost hypnotic effect of TOTENMOND. The setlist consisted of newer songs, like 'Heroin' from their latest album 'TonbergUrtod' from 2005, but also well-known older stuff like 'Der Misantrop' ('Fleischwald', 1998) or 'Die Schlacht' ('Lichtbringer', 1996). With just a few words from Pazzer between the songs and some vodka for the lucky fans directly in front of the stage, TOTENMOND delivered a good gig, which obviously was not everyone's cup of tea but was frenetically celebrated by their fans.
Rating

Music: 7
Performance: 6
Sound: 7
Light: 2
Total: 5.5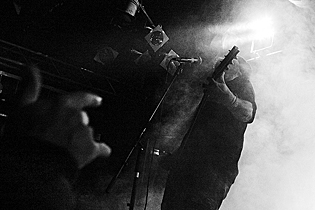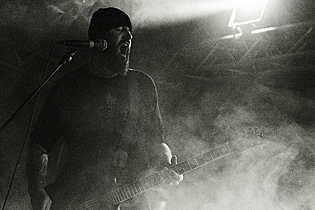 GODDESS OF DESIRE

What started at the beginning of 1995 as a fun idea, turned out to be a serious band after winning several festival prizes. The idea of the band was to bring back the glory-days of Metal (middle eighties) by playing cover songs from this era and own songs in that typical style. The musical part is completed with a bizarre sensual-macabre show. GODDESS OF DESIRE has the name being the "cult show-Metal band from Holland"! Journalists reported them as a Shock-Rock band and they've been refused a few times in places because of their controversial show and/or lyrics. Still, GODDESS OF DESIRE turned out to be a very wanted band with a professional show. They already did a lot of headliner shows but also supported bands like DESTRUCTION (D), GWAR (US), THERION(S), ROCKBITCH (UK) and GOREFEST (NL). Now GODDESS OF DESIRE is well-known in the Metal-scene also because of very successful shows in front of thousands at Dynamo 1997 & Wacken 1998.
http://www.goddess-of-desire.info/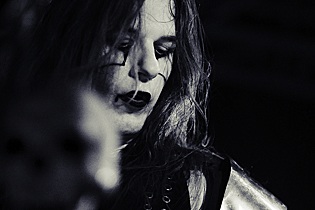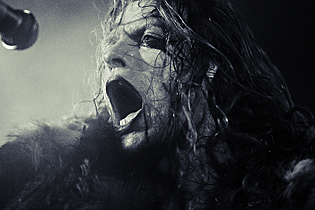 Music & Performance

GODDESS OF DESIRE was a little bit strange to look at in my opinion. An optical mixture of KISS paired with Glam-Rock and a little Black Metal strut with silver skin-tight leggings on the stage. If you took a look at the crowd in front of the stage I was probably not the only one who did not quite know whether I should laugh or cry. But even some cries "You look like shit" from the audience couldn't distract and discourage the guys on the stage and so they demonstrated the audience in front of the stage that they had a lot of fun on this evening performing their show. From time to time they even got some support by a lady breathing fire and animating the fans in other ways with her performance.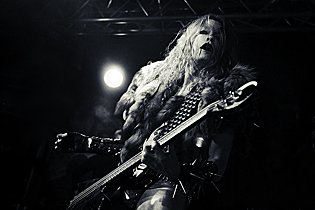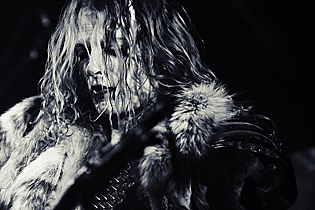 Normally, the band has a lot more stuff on the stage when playing live, but this night, maybe due to not having enough time and space to build it all up, they had restricted themselves to some little skulls and candles.The music was really good despite the unusual optics. It was certainly not the highlight of this evening but two musicians singing alternately between dark growls and very high Power Metal voices contributed a very interesting show. As I mentioned above, not just the absolute highlight of this evening however a good selection of the organizers which helped the festival to come to a worthy end.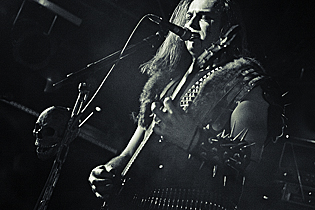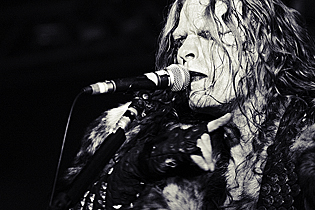 Setlist

01. Intro - Rites Of War
02. Metal Guns
03. Majesty Of Metal
04. Ride
05. War/Crusade
06. Fear The King
07. Metal Forever
08. Battleground
---
09. Motörhead - Scream For Metal
Rating

Music: 7
Performance: 7
Sound: 7
Light: 8
Total: 7.3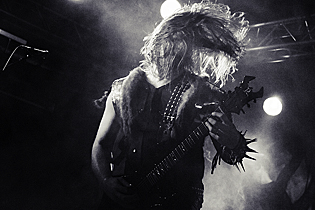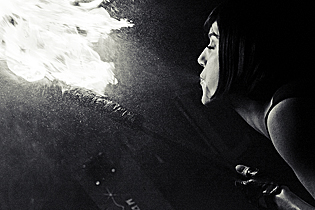 DEW-SCENTED

DEW-SCENTED is a German Death-/Thrash Metal band established in 1992. They have released seven studio albums so far and are currently signed to Nuclear Blast Records. Their name is inspired by the writings of Edgar Allan Poe. An interesting thing to note is that all of their studio albums begin with the letter "I". In March 2007 their latest release 'Incinerate' appeared and received very good critics from the music press.
http://www.dew-scented.net/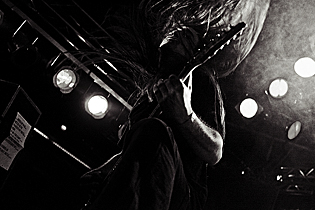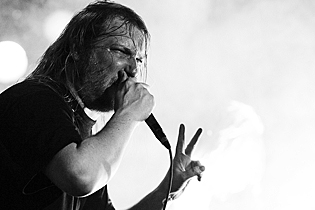 Music & Performance

After GODDESS OF DESIRE and their special stage costumes and skulls and fire performance it was time for something more down-to-earth - DEW-SCENTED were to rock the Metallic Noise Festival. During the last years and with tireless touring and album releases the German group has proved itself as a constant in the Thrash Metal scene worldwide. With Nuclear Blast they have a strong label partner bolstering them, and their latest full length album 'Incinerate' has a bunch of really good songs and some interesting guest musicians to offer, so DEW-SCENTED are well prepared for some more live appearances.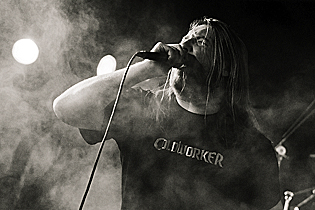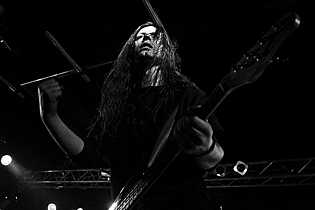 Through tons of concert nights and with indefatigable pleasure to bring their songs on stage and party with the fans, the German band has earned quite a good reputation of being and excellent and aggressive live act. And the audience this night in the Rockfabrik Ludwigsburg should not be disappointed. Though the venue still was hardly half-filled, quite a lot of fans had gathered in front of the stage and DEW-SCENTED delivered them a very energetic show, which was over much too soon. Those who cannot get enough of the German thrashers should watch out for their current EUROPEAN DEVASTATION TOUR together with SEVERE TORTURE and DESTINITY.
Rating

Music: 8
Performance: 7
Sound: 7
Light: 6
Total: 7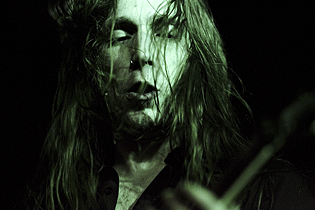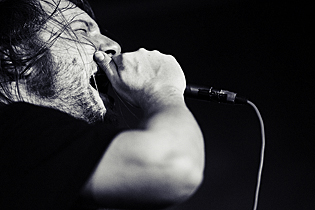 EKTOMORF

EKTOMORF is a Metal band from Hungary founded in 1994 by the brothers Zoltán und Csaba Farkas; their sound can be best described as Thrash with influences from Hardcore and the traditional Roma music, the latter resulting from the ethnic background of the founding members. They are often compared to bands such as SEPULTURA and SOULFLY, but although certain similarities cannot be denied, EKTOMORF have in the meantime managed to develop their own style, as can be heard on their eight studio albums, the latest one being Outcast" from 2006 via Nuclear Blast.
http://www.ektomorf.com/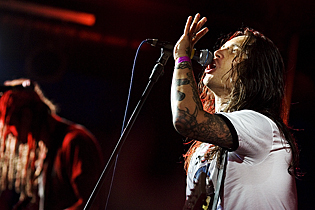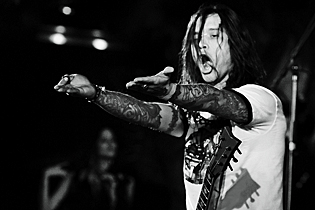 Music & Performance

It quickly became obvious that many of the present fans, especially many of the girls, had come because of EKTOMORF. During the break after DEW-SCENTED had finished their set, they started gathering in front of the stage, EKTOMORF shirts everywhere and loose "Ektomorf" screaming were audible. Then finally the Hungarian guys came on stage, and did not loose many words, starting out with the well-known 'Outcast' from their latest full length. All in their entire gig was very energetic and stirring, the fans jumping around and screaming along; EKTOMORF for sure managed to bring the Rofa into the best mood this night. Vocalist Zoltan as always talked a lot, there were many "Fuck you" and other slanders, especially addressing their label Nuclear Blast, but also in general people who want to tell you how to do things and live your life. So, nothing really new for EKTOMORF fans, but a very fine set, though with a backup bassist; nevertheless, the band being in a very good mood and songs like 'Set Me Free' guaranteed a nice party in the Rockfabrik.
Rating

Music: 6
Performance: 7
Sound: 6
Light: 7
Total: 6.5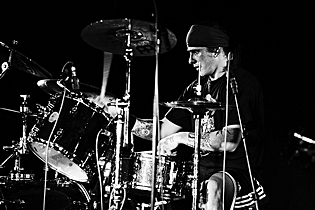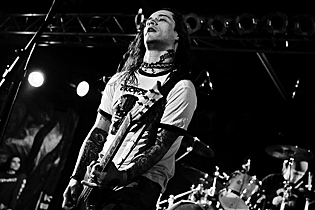 GRAVE

The Swedish Death Metal band GRAVE has been established in 1986, first under the name CORPSE; two years later they changed it to GRAVE. Their first full-length album 'Into The Grave' from 1991 has in the meantime become a Death Metal classic. The band has gone through a very changeful history with a temporary spilt and seven studio albums, their latest output being 2006's 'As Rapture Comes' (Century Media).
http://www.grave.se/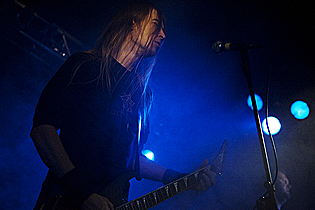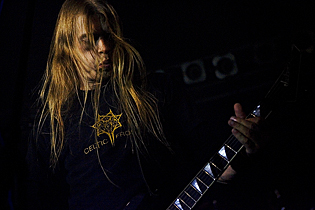 Music & Performance

It does not happen very often that the main act of a festival comes on stage in time and there is still so much room in front of the stage that you can easily walk around. To me it remains incomprehensible why only such a small group of people remained in the Rockfabrik after EKTOMORF had left the stage - for sure GRAVE are not an unknown band here in this country. However, the Swedish guys delivered a good set mainly consisting of older stuff, and the few fans were banging and obviously having a good time - KARKADAN's vocalist Robby could also be spotted among them.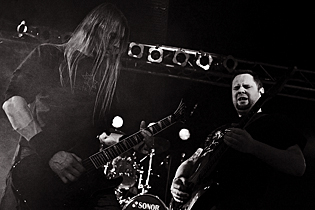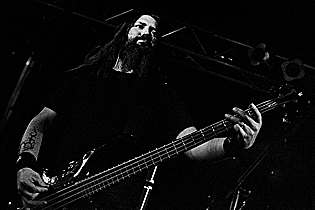 The stage was scarcely lit up and there was a lot of fog, both adding to the dark and strange atmosphere of GRAVE's songs. A worthy ending for the METALLIC NOISE Festival 2007, though one surely wished the Swedish band a few more listeners.
It only remains to hope for another MNF in 2008.
Rating

Music: 8
Performance: 7
Sound: 7
Light: 7
Total: 7.3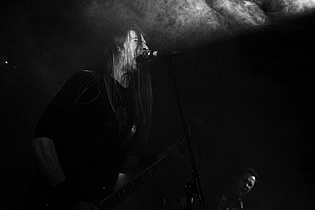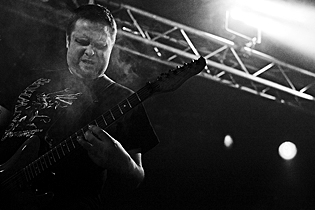 All pics by Ruth Gräbeldinger
{jos_sb_discuss:18}