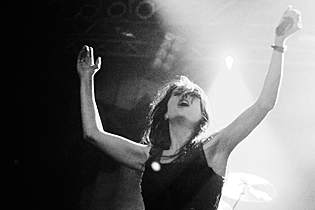 Europahalle, Karlsruhe, Germany
12th January 2008
KNOCK OUT FESTIVAL: Within Temptation, Helloween, Paradise Lost, Gamma Ray, Axxis, Epica


The winter months usually aren't the favourite ones for festival junkies who then tend to dream of warm summer nights with great concerts under a starlit sky. As a little consolation there are nevertheless a few nice events during this time of the year, too - as for example the "Knock out Festival" in Karlsruhe. This year, it took place for the second time and came up with a quite unusual, though very interesting billing. Dark Metal band PARADISE LOST would share stage with the old-school power metal heads from GAMMA RAY and HELLOWEEN, and the nowadays very successful Dutch Symphonic Metal/Rock band WITHIN TEMPTATION were to be this festival's completion.


The huge Europahalle in Karlsruhe was filled to about two thirds; approximately 4,000 people had come to see the bands, many of them remaining the whole evening on their seats on both sides of the venue. If one abandons the quite long times one had to spend standing in line in front of the concession stands for some food or a cold beer, the mood during this evening was very nice and relaxed, the people were just enjoying themselves and the music. When we arrived, the first band - EPICA - had already entered the stage, and so we were immediately in the middle of the things happening. According to the organizers, the next "Knock out Festival" will take place around Christmas 2008. So watch out for more information on
http://www.knockout-festival.de
.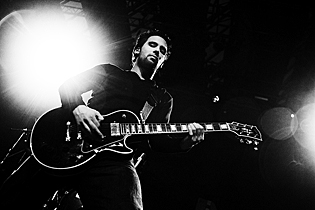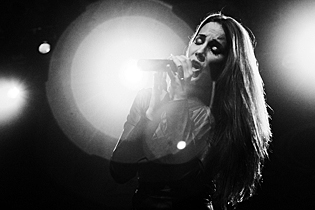 EPICA

In early 2002, Mark Jansen left AFTER FOREVER due to creative differences and began looking for musicians to integrate a new musical project, initially named SAHARA DUST. In late 2002, the band courted Helena Michaelsen (from TRAIL OF TEARS) as its front woman, but shortly after she was replaced by the then unknown mezzo-soprano Simone Simons, Jansen's girlfriend at the time. The band's line-up was completed by guitarist Ad Sluijter, drummer Jeroen Simons, bassist Yves Huts, and keyboard player Coen Janssen. The name was later changed to EPICA, inspired by KAMELOT's eponymous album. Their latest output is the band's fourth full-length 'The Divine Conspiracy', released in 2007 via their new label Nuclear Blast. In spring they are touring North America together with INTO ETERNITY and SYMPHONY X.
http://www.epica.nl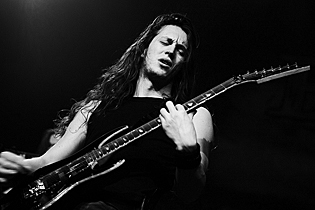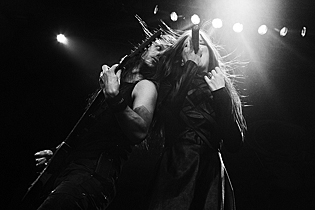 Music & Performance

The Dutch band EPICA had started in time in front of a half-filled Europahalle; many of the visitors remained seated during their whole set, a fact I cannot really understand considering the band's energetic and rousing performance. As always, Simone Simons was an absolute eye catcher on stage, and managed to enthral her fans with her beautiful voice and appearance. She can stand there in front of her audience and look like a fairy from some ancient tale, and in the next moment you see her head banging in best Metal style. The songs were performed with a pretty good sound and Simone stroke the right notes; only in some moments you got the impression she was a little too high. Of course they played stuff from their new album, but also songs from earlier releases, like 'The Phantom Agony' album, were audible. I like their powerful songs, especially when performed live and the combination of soprano female vocals with grunts performed by Mark Jansen. The fans obviously also enjoyed their stuff, and the set was over way too soon after about half an hour.
Rating

Music: 8
Performance: 8
Sound: 7
Light: 7
Total: 7.5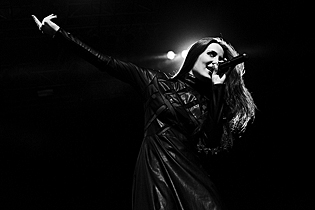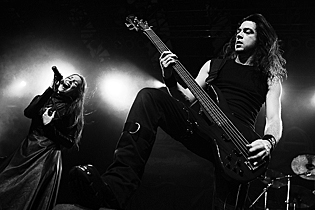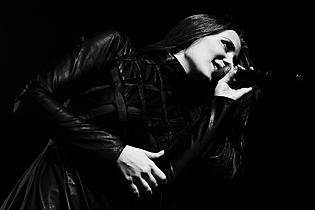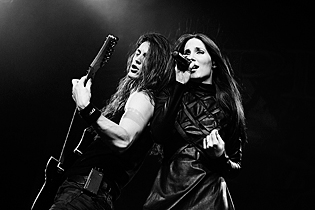 AXXIS

AXXIS is a German Power Metal band which was founded in 1988. Their debut album, 'Kingdom Of The Night', became the best ever selling debut album by a Hard Rock band in Germany in 1989. AXXIS have their basic sound, their roots are lying within the traditional Heavy Rock of the 70's and 80's; they have found their own style which is orientated on hooks like 'Living in a World', a mainstay of their live setlists. Bernhard's unique vocal style is another characteristic trademark of the band. AXXIS' major ambition is "to be a pure Rock n' Roll band". Their latest release is 'Doom of Destiny' from 2007, which appeared via AFM records.
http://www.axxis.de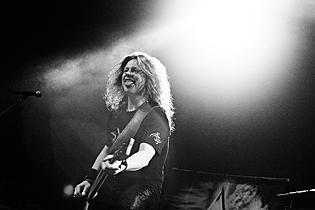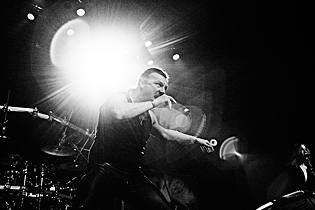 Music & Performance

The German guys from AXXIS are in the business for so many years now and still they are having a lot of fun on stage and doing an excellent, powerful show. Singer Bernhard Weiß is the centre of their performance, with his special voice and unique dancing style he easily catches the audience's attention. This night he had some extraordinary female support on stage, namely Ana Mladinovici, vocalist of the Romanian Melodic Metal formation MAGICA (http://www.magicaband.com); she replaced Lakonia who could not come on this tour for personal reasons. Ana performed most of the songs together with Berhard, and both involved the fans at every opportunity, animating them to bang their heads and sing along and simply do a great party. The fans got offered all-time-favourites like 'Living In A World' and 'Kingdom Of The Night' from their 1989 debut album, but also new songs like 'Blood Angel' from their latest release. After about half an hour the party was over and the fans' calls for more AXXIS stuff accompanied the band when they left stage.
Rating

Music: 6
Performance: 7
Sound: 7
Light: 6
Total: 6.5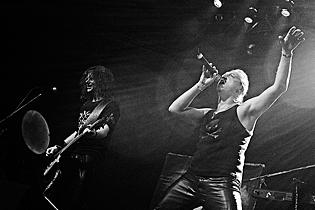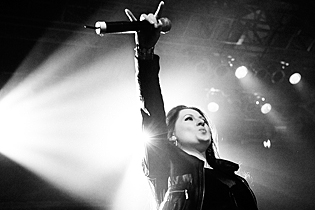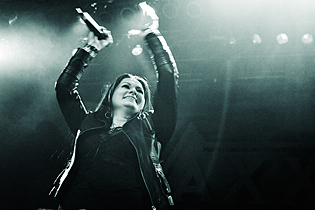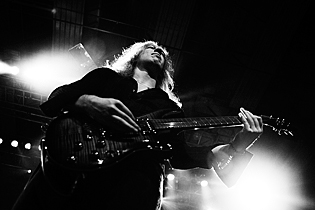 GAMMA RAY

In 1988, after four years with HELLOWEEN, guitarist and songwriter Kai Hansen decided, for reasons that are still the subject of much debate, to leave the band. Hansen claimed that HELLOWEEN had become too big for him to handle, although the group's troubles with financial issues and the record company most likely played a part as well. He proceeded to do some studio work with BLIND GUARDIAN. Eventually, Hansen decided to form his own project with long-time friend Ralf Scheepers from TYRAN PACE. This two-man project grew into a four-man band with the addition of Uwe Wessel (bass) and Mathias Burchard (drums). Thus GAMMA RAY was born, bearing a sound understandably close to that of Hansen's former band, HELLOWEEN. Their first album release was 'Heading for Tomorrow' from 1990; in 1995 Kai Hansen took on the vocals for the first time on 'Land Of The Free'. Last year some kind of follow-up album was released with 'Land Of The Free II'.
http://www.gamma-ray.com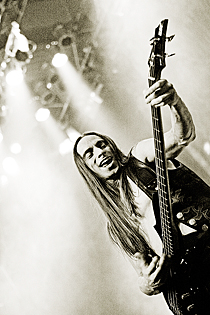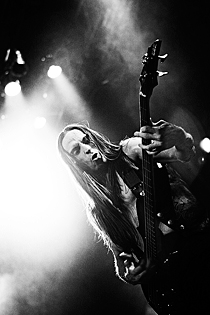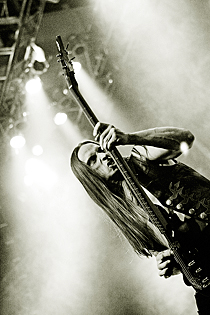 Music & Performance

At the end of 2007, HELLOWEEN and GAMMA RAY as their very special guest have started on their huge Hellish Rock tour around the globe, which will finally lead them to Mexico in May where they will finish it. As GAMMA RAY front man Kai Hansen is a former member of HELLOWEEN one can imagine that this is a very special tour, and this evening in Karlsruhe was no exception. When the guys from northern Germany entered the stage, the Europahalle was well-filled and the fans were frenetically welcoming the band. They played a fine, experienced set with good sound and strong performance. Songs like 'Heavy Metal Universe', 'New World Order', the HELLOWEEN classic 'Ride The Sky' or the new 'From The Ashes', and of course 'Land Of The Free' were enthusiastically celebrated by the audience and band as well. Though I must admit that I am no big fan of this band and find their songs quite unspectacular, I very much like the guitar play in the songs of GAMMA RAY, very fast, skilled and varied; it always is a great pleasure to listen to it. Much too soon their time was over, but they at least gave one encore to their numerous fans who would not let them off the stage.
Rating

Music: 5
Performance: 7
Sound: 7
Light: 5
Total: 6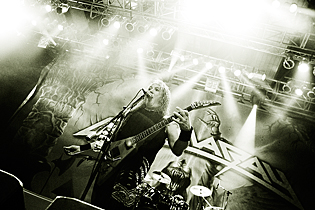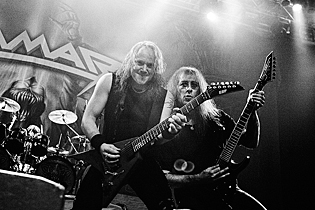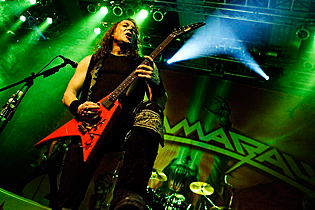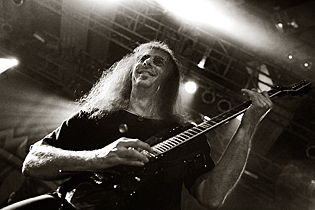 PARADISE LOST

PARADISE LOST are a Metal band formed in 1987 in Halifax, England. Many are considered them (along with ANATHEMA & MY DYING BRIDE) as one of the bands responsible for creating the Death/Doom genre and later the Gothic Metal genre as well. While less so in their home country they have been extremely popular in mainland Europe for many years especially in Greece and Germany where they are regarded as mainstream rock stars. PARADISE LOST's line-up has remained remarkably consistent for a long-standing Heavy Metal band, consisting of singer Nick Holmes, guitarists Greg Mackintosh and Aaron Aedy, and bassist Steve Edmondson. Holmes and Mackintosh are the principal composers, with almost all of the band's songs credited solely to them. Only the band's drumming position has changed, with original sticks man Matthew Archer leaving in 1994 to be replaced by ex-MARSHALL LAW drummer Lee Morris. Their latest release and already eleventh studio album is 'In Requiem' from 2007.
http://www.paradiselost.co.uk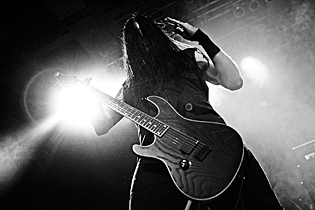 Music & Performance

After a really long break the audience got offered quite a contrast; the speedy, good-humoured Metal played by GAMMA RAY was followed by PARADISE LOST's dark and depressive tunes. The guys from Great Britain did not really fit in the billing this evening, but nevertheless I was really looking forward to their concert. From the beginning of their set the sound was quite bad, vocalist Nick Holmes was nearly inaudible, and maybe this was the reason why the band on stage totally lacked enthusiasm and power. They seemed like some guys having to do their job, but being glad when they can get off the stage. Especially singer Holmes didn't seem to be himself that day, he sang the songs with routine, nearly no talking to the fans; however, Guitarist Greg Mackintosh was an exception; he played with a lot of passion. The Europahalle was well-filled during their set, I guess a lot of people were looking forward to them, but I was rather disappointed; the audience reacted quite reserved as well. Concerning their setlist, older songs like 'As I Die' from their 1992 album 'Shades Of God' or 'Ember's Fire' from the 'Icon' release were played as well as hits like 'Erased' and newer stuff. Holmes dedicated the song 'Say Just Words' to WITHIN TEMPTATION, who were going to play some time later. The light show also was not the best, so: all in all great songs, but a very weak performance, that could only carry away their hardcore fans.
Rating

Music: 8
Performance: 5
Sound: 5
Light: 4
Total: 5.5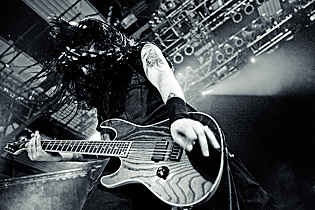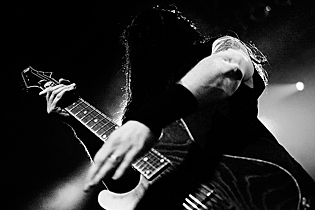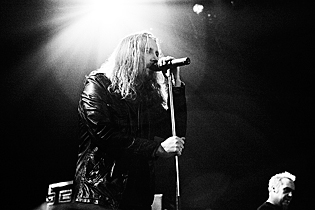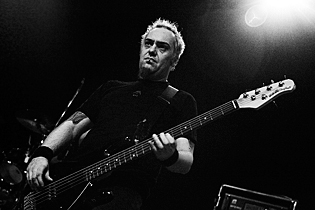 HELLOWEEN

HELLOWEEN is a legendary German Power/Speed Metal band founded in the early 1980s by members of IRON FIST and POWERFOOL. The band is known as one of the pioneering Power Metal bands. The original line-up featured Kai Hansen (vocals/guitars), Michael Weikath (guitars), Markus Grosskopf (bass) and Ingo Schwichtenberg (drums). In 1985 HELLOWEEN recorded its first record 'Helloween', a self-titled EP containing 5 tracks. 'Keeper of the Seven Keys, Part 1', released in 1987, established them as one of the most successful Heavy Metal bands in Europe.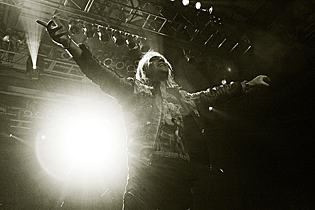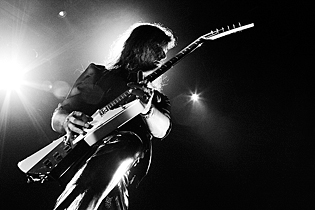 The vocalist position has changed a few times during the band history; since 1994 Andy Deris from Karlsruhe has been holding it. Their latest release is 'Gambling with the Devil' from 2007. HELLOWEEN teamed up with Kai Hansen's GAMMA RAY for the ongoing world tour, entitled Hellish Rock 2007/2008 that started in early November of 2007. HELLOWEEN are headlining and GAMMA RAY are labelled as the "very special guest" with most shows going along fellow German "guest" AXXIS.
http://www.helloween.org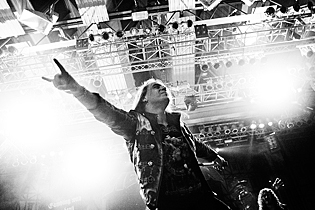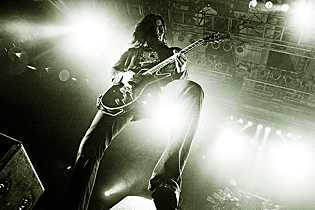 Music & Performance

I got to know HELLOWEEN when I was a teenager in the early nineties and liked them for many years, so this concert was a nostalgic one for me. During the break HELLOWEEN had the stage completely emptied and one could suspect that there was something special hidden behind the curtain in the back. And we did not get disappointed! They had the drum set put up on a platform in the background, right next to a huge figure supposedly standing for the devil they are gambling with on their latest album. On the left and right of the stage there were enormous blown-up and lighted pumpkin heads.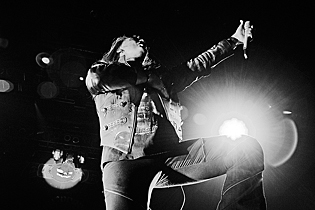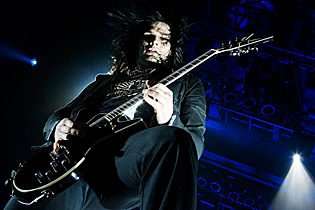 In front of the platform there was more than enough room for singer Andy Deris, guitarists Michael Weikath and Sascha Gerstner and bassist Markus Grosskopf to run around and do a fantastic and energetic performance. They started out with well-known 'Helloween' from the 'Keeper... Pt. 1' album and not the best sound, but this luckily changed during their set. The band was in a fantastic mood, and so was the audience, singing along and enthusiastically celebrating their heroes. We got to hear classics like 'March of Time', 'Dr. Stein', 'If I Could Fly' or 'Eagle Fly Free'. Some nice extra features like Deep Purple's 'Smoke On The Water' sung by some kind of puppet dwarves with cartoon-like voices, pumpkin balloons thrown into the audience or some pyro effects rounded up their great performance. Instead of a normal encore the fans got something very special: HELLOWEEN and GAMMA RAY together on stage, performing 'Future World' and 'I Want Out'. This was absolutely fantastic to watch and simply a great party was going on in the Europahalle. Without a doubt HELLOWEEN were this evening's highlight.
Rating

Music: 7
Performance: 9
Sound: 8
Light: 8
Total: 8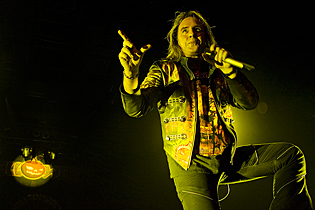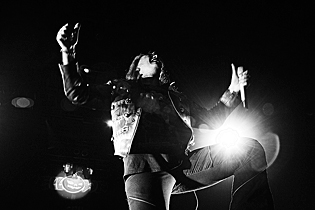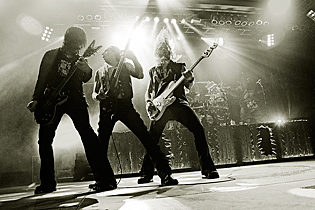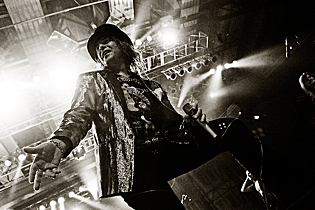 WITHIN TEMPTATION

WITHIN TEMPTATION are a Symphonic Metal band from the Netherlands. The band was founded in 1996 by vocalist Sharon den Adel and guitarist Robert Westerholt. Their music is variously described as Symphonic Metal as well as Gothic Metal in some media, although in an interview, Sharon den Adel said they fell into a Symphonic Rock genre. Directly after the release of their first album 'Enter', the band became prominent in the underground scene. It would however take until 2001, when they became known by the general public, with the single 'Ice Queen' from the album 'Mother Earth', which reached position 2 in the charts. Their latest album is 'The Heart of Everything', released in 2007 via Roadrunner/GUN Records.
http://www.within-temptation.com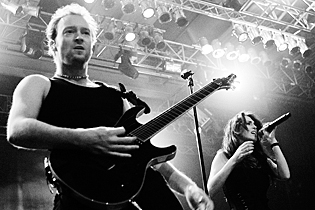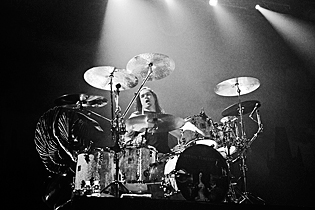 Music & Performance

After HELLOWEEN and GAMMA RAY had left stage under the thunderous applause of their fans, the Europahalle emptied noticeably; I guess most of the visitors had come to see the two legendary Power Metal bands. Many of the people sat down on the sides of the venue, as it was pretty late already and they had lived through some exciting concerts. WITHIN TEMPTATION had their typical stage installation, with some winged mythical creatures and a fantasy-like image in the background. Although the Dutch band had to play with one guitarist only, they did a very nice show and were very enthusiastic. Vocalist Sharon den Adel seemed very likeable and dedicated on stage, and she really blew me away with her fantastic voice; she sang the songs nearly without any flaw. Her way of dancing and moving on stage is a very special one, but she managed to elicit some real verve from the rest of the audience. Of course songs like 'Mother Earth' and 'Ice Queen' (as encore) were played as well as stuff from the new album. Although I do not like this kind of music, it was a nice concert, though a little late for all the tired people in the Europahalle.
Rating

Music: 5
Performance: 7
Sound: 8
Light: 4
Total: 6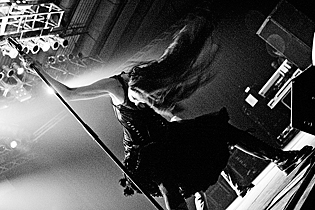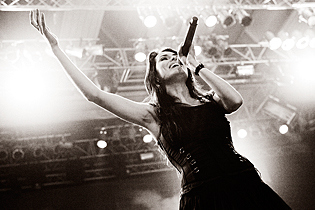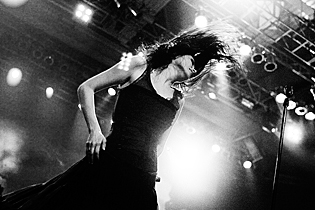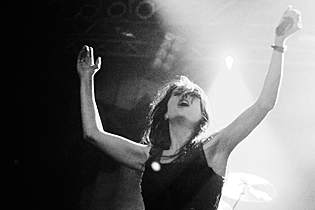 All pics by Ruth Gräbeldinger
{jos_sb_discuss:18}