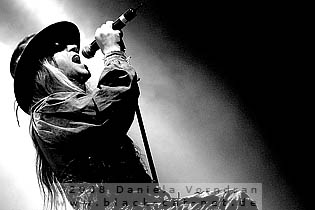 Leipzig, Germany
9th - 12th May 2008
Wave Gotik Treffen Day 3: Schallfaktor (D), Din[A]tod (D), Deathcamp Project (PL), Menticide (S), Lavantgarde (D), Kloq (GB), Days Of Fate (D), Marsheaux (GR), Onetwo (GB), Welle:Erdball (D), S.P.O.C.K. (S), Mesh (GB), Fields Of The Nephilim (GB)

After a short night again we did choose the breakfast in the MORITZBASTEI because it's really a nice location, located central in the city and a good thing to start the day and meet friends. After the breakfast I went to the KOHLRABIZIRKUS and spent the day mostly there.
Schallfaktor (D) - Parkbühne [DV]

SCHALLFAKTOR or better Drazen Sucuc started somewhere between 2002 and 2003 with concrete plans for a project, whose first result was the album 'Schmerzgrenze' released in 2006. This caught the attention of the German label Infacted Recordings and a t the end of the same year, the label signed the band. Soon after the deal was finished, Drazen started working on new material for his first release on Infacted. The name of the new baby was 'End of Love' an EP released end of August 2007.
http://www.schallfaktor.de/
/
http://www.myspace.com/schallfaktormusic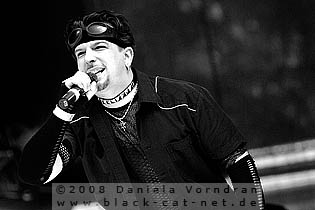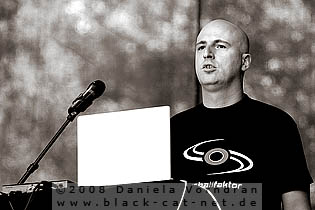 Music & Performance

The day at Parkbühne was marked by electronic music of the harder kind. Opener of the afternoon was the German-Croatian project SCHALLFACTOR. I heard before that singer Drazen was quite nervous before the show but there was absolutely no need for that. Quite a lot of people already gathered in front of the stage in bright afternoon sun to see the show of the band and to start dancing to the hard beats. The set contained all on all six songs. Three of them were already released on the 'End of love' EP and the full-length debut CD. Furthermore people at the Parkbühne were entertained with three new, yet unreleased songs, one of them even being in Croatian language. Pretty good start of the festival day for me with a very likeable band on stage.
Setlist
01. Glaskastentraum
02. Seelenfresser
03. Promiskuitiv (new)
04. Suicide Confession (new)
05. Mir (new - Croatian Song)
06. End of Love
Rating

Music: 8
Performance: 7
Sound: 8
Light: daylight
Total: 7.7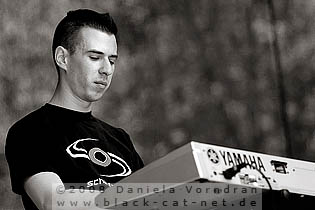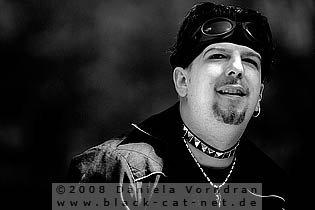 Din[A]tod (D) - Parkbühne [DV]

After they had played in several other bands, Sven Clausen and Claudia Fasold decided to work as a duo because they were tired of smelly rehearsal rooms and people interfering with their musical preferences. The first release of the project DIN [A] TOD was the 'Living Dead EP' in 2005 which was released on a 10" Picture Vinyl Disc. The title track became a scene-wide hit in the clubs. Over two years and lots of hard work later, they could finally present their first full time album 'The Sound of Crash' and all the hard work paid off as both fans and press loved their uncommon music style in combination with the damn cool vocals and on the Out of Line Festival Tour taking place in November 2007, they also perform the material live in several German cities. DIN [A] TOD is Sven Clausen (vocals, guitar, construction), Claudia Fasold (synths, vocals, construction) and Phelix Schneefeld (synths, sounds, construction).
http://www.dinatod.de/
/
http://www.myspace.com/dinatod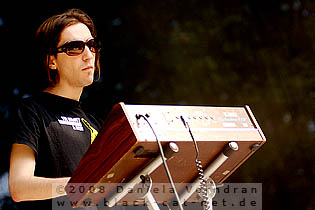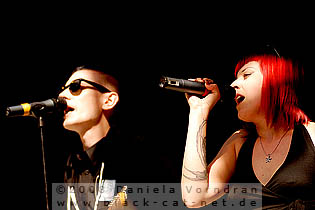 Music & Performance

Lots of people were curious for the show of this band signed at the Out Of Line label which is probably the best known German label for electronic music. I also was looking forward the performance because I like the show at the OOL Festival some months ago as well. The duo consisting of Claudia and Sven was extended by Phelix as second keyboard player while Sven mostly played the guitar, only changing places with Claudia on the second keyboard for one song. We got all in all five songs out off the debut album 'The Sound of Crash' delivered during this sunny Sunday afternoon.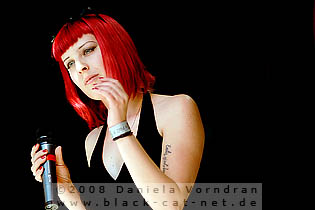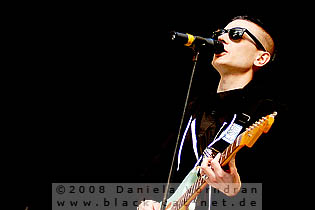 Today, it seemed people came to dance and so, the whole Parkbühne was moving, including me. I especially liked Claudia's voice during the show. To me, it sounded much better and clearer than during the show in the Matrix Bochum in November. The combination of catchy melodies, good beat and synth elements definitely caught the audience.
Setlist
01. Ephedrine Logic
02. Creation Crucifixion
03. Carol's Fascination
04. Clockwork's Ticking
05. Time made dogs of us
Rating

Music: 8
Performance: 8
Sound: 8
Light: daylight
Total: 8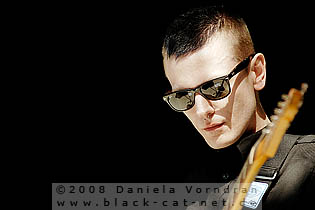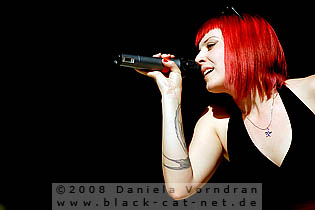 Deathcamp Project (PL) - Kohlrabizirkus [CL]

DEATHCAMP PROJECT was formed in October 2001 as a direct reaction to an obvious lack of Goth-rock sounds within Polish dark, independent music scene. During the last six years they have created their own, intriguing mixture of sounds taking their inspiration from Goth-rock, death-rock and electro sound as well as murderous sound of a drum machine. The combination works well with a polished, dark image the band presents on stage. Rhythmic and somewhat catchy songs combined with an original tone of Void's voice make the band easily recognisable on both Polish and international independent scene. DEATHCAMP PROJECT are Mr Void Ladykiller - (vocals, guitars & lyrics), Mr Betrayal Wifehunter (bass, programming, synths & samples, production) and Mr Karol vel Uncle Frost (live session guitar).
http://www.deathcampproject.com/
/
http://www.myspace.com/deathcampproject
Music & Performance

DEATHCAMP PROJECT opened the stage this day and they did a good job. Quickly the people who already were present in the venue, gathered right up ahead the stage to enjoy the show. The combination of electronic sound, guitars and the pleasing voice delighted the audience. The setlist consisted of six songs, highlighted by the Joy Division cover 'New Dawn Fades'.
Setlist

01. Predestination
02. Through The Fire
03. Cold the Same
04. Rule and Control
05. Dead Hours
06. New Dawn Fades (Joy Division)
Rating

Music: 8
Performance: 8
Sound: 8
Light: 8
Total: 8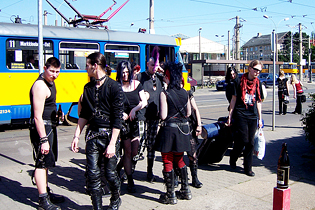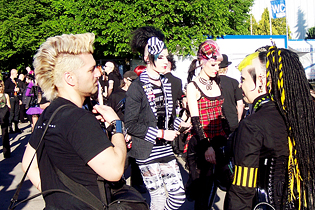 Menticide (S) - Parkbühne [DV]

MENTICIDE made their first public appearance in 2006 at the Pre-Party for Tinitus electronic music festival in Stockholm, where they presented an intense live set of brutal yet melodic industrial body music. The spring of the following year 2007 brought more touring from Sweden to Eastern Germany and not to forget their performance at the SAMA awards 2006. The release of the album 'N.M.E' was preceded by a one year ling working process in which the built up frustration of unfinished projects manifested itself in a quite harsh form of Electronic Body Music, cracking the dance floors all over Europe and the next strike is already in preparation. MENTICIDE is Johan van Damm (vocals), Christiaan R. (noises).
http://www.myspace.com/menticide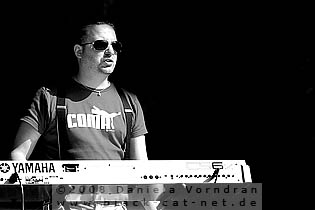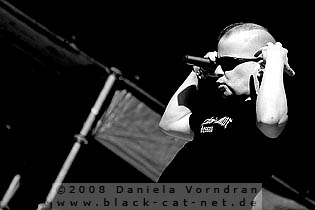 Music & Performance

I had already seen this band signed at German Infacted Recordings label during last year's Nocturnal Culture Night festival where they delivered an energetic performance. During the festival, we had only Johan and live support Anders on stage, this time we got with Johan and Christiaan the "real" band MENTICIDE. What first caught my eyes was the funny shirt of Christiaan displaying the word "coma" but looking like a shirt of the brand "puma". Caused some inner laughs. The duo presented songs out off the debut 'N.M.E', i.e. 'Search & Destroy', the German tongued 'Komm zu mir' or 'Just one fix'.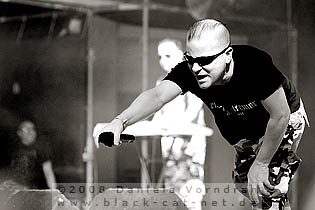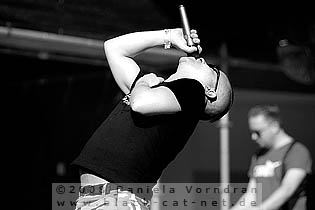 Biggest applause surely got the also in German language sung 'Stahlwerk'. The hard beats kicked the dancing crowd and the unrefined energy and direct vocal approach of the short aggressive tracks guaranteed to get the attention of anyone.
Setlist

01. Enemy
02. Search&destroy
03. Nailbomb
04. Stahlwerk
05. Wrong
06. Implode
07. Rise
08. We fail
09. Backstabber
10. Komm zu mir
11. Painkiller
12. Just one fix
13. Search&destroy remix
Rating

Music: 7
Performance: 8
Sound: 8
Light: daylight
Total: 7.7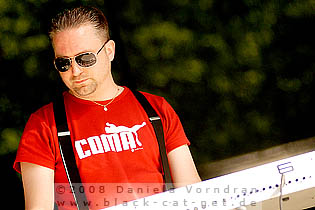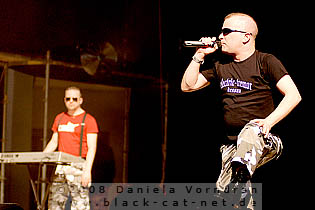 Lavantgarde (D) - Kohlrabizirkus [CL]

For more than ten years now, the Duo LAVANTGARDE consisting of the charismatic singer Frank and the keyboard player and sound artist Nick from Hildesheim (near Hannover / Germany) have committed themselves to electronic music. Their style of music, which they have now followed since the beginning of the 90s is characterized by their fondness for catchy, sometimes even melancholic tunes, meaningful lyrics and a comprehensive song structure. LAVANTGARDE are Frank Lavant (lyrics, vocals) and Nick Gold (music, keyboard, drums).
http://www.lavantgarde.de/
/
http://www.myspace.com/lavantgardemusic
Music & Performance

LAVANTGARDE performed a 40 minute set of soft electronic dance music, the voice of singer Frank was very melodic, and the songs were quite simple and catchy. The singer had some problems with his in-ear-monitoring, but they managed it professionally and the show went on without restrictions. The show finished with the well-known song 'Take Me SIM'.
Rating

Music: 7
Performance: 7
Sound: 8
Light: 8
Total: 7.4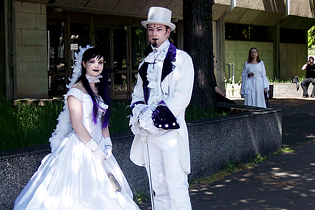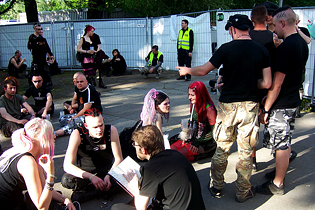 Kloq (GB) - Parkbühne [DV]

KLOQ is the musical outlet of Oz Morsley, who should be familiar to many people as part of EMPIRION with whom he released several singles such as 'Narcotic Influence' and remixed well-known acts like THE PRODIGY, FRONT 242 or MOBY. After EMPIRION, the first KLOQ racks were released through Atomic Records which Ors describes as "…the transition from Empirion to what the Kloq sound is now." After producing some other artists he thought about developing the sound, incorporating vocals and stuff like that and the voice for the tracks on the single 'We're just Physical' released in 20007 via Out of Line was no one less than Douglas McCarthy from NITZER EBB, delivering his trademark shouts to the energetic sounds to make the dance floors quake. KLOQ is: Oz Morsley (Producer/Writer) with Vocal Performances by Douglas McCarthy and Greg C.
http://www.myspace.com/kloq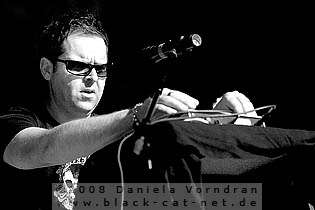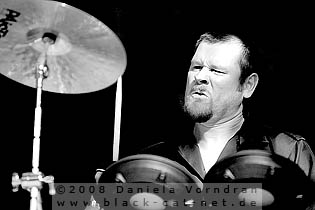 Music & Performance

Originally I've planned to leave the Parkbühne after MENTICIDE to catch DAYS OF FATE at the Kohlrabizirkus which I had, different to KLOQ, never seen before. But because I liked KLOQ so much during last year's Gothic Festival in Belgium and after I had seen which guest musician - no one less than VNV NATION drummer Mark Jackson - would be on stage, I decided to stay at least for the half performance of KLOQ. And I definitely did not regret it. They again kicked ass and the live drums of Mr. Jackson put another level into the live show. The trademark of KLOQ is a mix of big beats, driving bass, high energy drive and also a certain pop appeal and with that mix, also this band made people dance.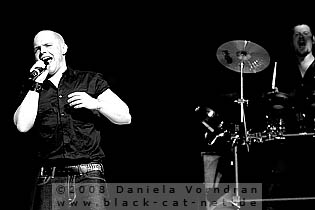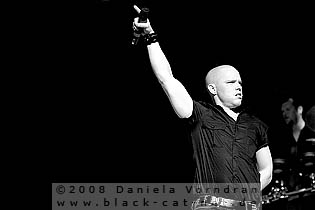 Some laughs within the audience and also by Mark were caused when first one half of his drum set broke down and after it was fixed, right away the other half did the same. Anyway he just went on drumming totally unimpressed… you only could see him smile. The vocal performance was delivered by Greg C. On stage, the band again got extended by a bass player. Definitely again a great show which I would loved to see in full, but I had to rush over to the Kohlrabizirkus to catch MARSHEAUX.
Rating

Music: 9
Performance: 9
Sound: 9
Light: daylight
Total: 9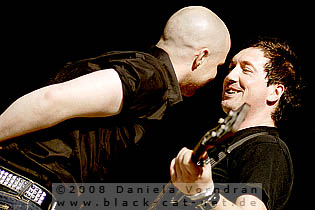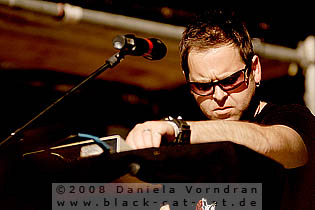 Days Of Fate (D) - Kohlrabizirkus [CL]

DAYS OF FATE is a band from Dresden, Germany, and was formed in 1993. Over the years their style developed from pure synth pop to a kind electro rock with drums and guitars. The last album is called 'Traffic' and was released in March 2007. DAYS OF FATE are Torsten K. (vocals), René P. (guitars, synths, programming, lyrics, composing), Dirk S. (synths, programming) and André S. (synths).
http://www.daysoffate.com/
/
http://www.myspace.com/daysoffate
Music & Performance

DAYS OF FATE performed nine songs, starting with 'Share a Moment' and 'Rising Again' from the current album, followed by some older songs and further songs from the current album. Highlight was a nice cover version of the PLACEBO-song 'Bitter End'. The performance was dynamic, rocking and organic, the lightshow pleased as well.
Setlist

01. Share a Moment
02. Rising Again
03. Lonely People
04. Home-Made Cake of the Day
05. Master of Disaster
06. Electronic Rock 'N' Roll
07. Quicksand
08. Bitter End
09. Final Destination
Rating

Music: 8
Performance: 8
Sound: 8
Light: 8
Total: 8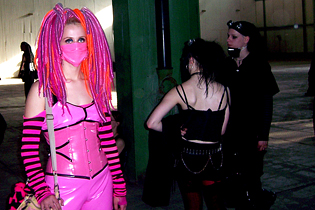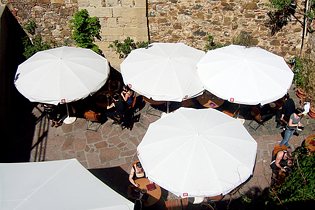 Marsheaux (GR) - Kohlrabizirkus [CL]

MARSHEAUX are a female electro pop duo from Thessalonica (Greece). The two girls moved in Athens in 2000 and in 2003 they founded MARSHEAUX in order to express their love for the electro pop of the 80's and the sounds of synthesizers and drum machines. The problem of naming the band was easily solved by combining the first syllables of their names, MARIANTHI and SOPHIE. Their first release was a cover of the classic HOT BUTTER's 'Popcorn' with a great success in Greece. They make synth pop music in the tradition that YAZOO, HUMAN LEAGUE, DEPECHE MODE and OMD did. The current album called 'peek a boo' and was released in July 2007. MARSHEAUX are Marianthi (vocals, synths) and Sophie (vocals, synths).
http://www.marsheaux.com/
/
http://www.myspace.com/marsheaux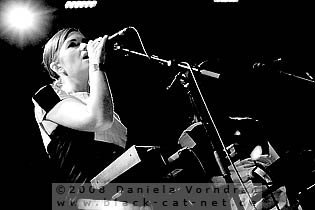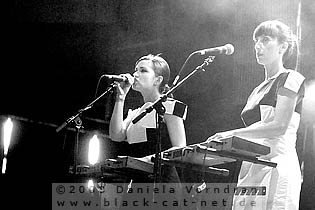 Music & Performance

The both beautiful girls entered the stage clothed in black and white and performed their set with ten songs as usual supported by two guys in the background who operated some synths. Quickly the crowd was infected by the danceable rhythm and enjoyed the show. Unfortunately they had some technical problems; at the start of 'Love under Pressure' the PA did some strange noises and than the sound was out completely for a short time before they could restart the song again. Anyway, altogether the show pleased the crowd and MARSHEAUX got a lot of applause for it.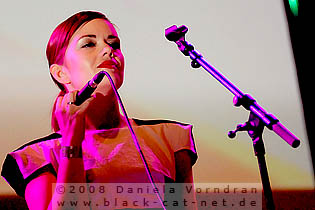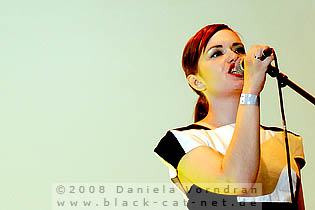 Setlist

01. Intro
02. Computer Love
03. Hanging On
04. Love under Pressure
05. Promise
06. Dream of a Disco
07. Tonight
08. What a Lovely Surprise
09. Empire State Human
10. Ghost
Rating

Music: 9
Performance: 8
Sound: 8
Light: 8
Total: 8.3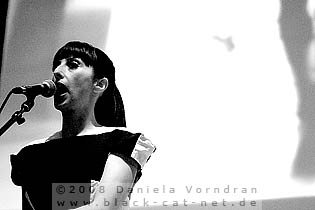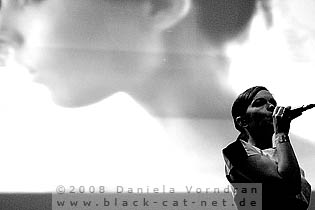 Onetwo (GB) - Kohlrabizirkus [CL]

ONETWO is a great collaboration of two well-known musicians; one half of ONETWO is Paul Humphreys, who was one half of acclaimed electro-pop pioneers Orchestral Manoeuvres in the Dark (OMD), the other half of ONETWO is Claudia Brücken, who was one quarter of the cult glam-Goth electro-group PROPAGANDA, formed in Düsseldorf, Germany, the home city of KRAFTWERK, from whom they inherited many of their ideas about form, content and image. ONETWO fuse, blast and combine the epic Teutonic intentions of PROPAGANDA with the charged, atmospheric power of OMD to produce something new, sleek and adventurous.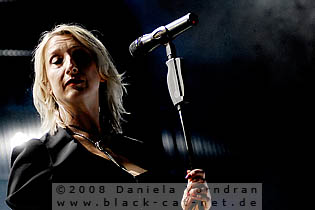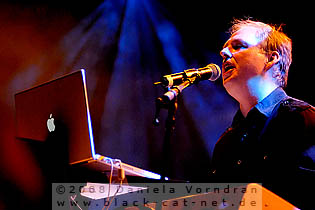 Formed in 2004, they released a 5-track EP 'Item' on there own There(there) label, amongst other outlets. 'Item' is an introduction to the sound of ONETWO which features the song 'Cloud Nine', a rare writing collaboration between Claudia and DEPECHE MODE's Martin Gore whose unique guitar style also features on the track. ONETWO released 'Cloud Nine' as a single on 19th February 07 followed by their debut album entitled 'Instead' on 26th February 07.
http://www.myspace.com/weareonetwo
/
http://www.theremusic.com/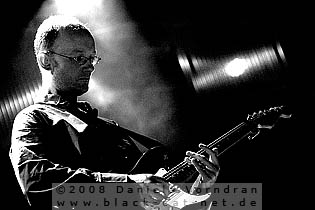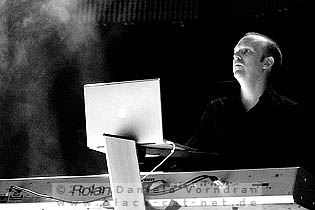 Music & Performance

ONETWO entered the stage as a quartet; Claudia and Paul were supported by two further musicians (keyboard and keyboard/guitar). The setlist consisted of some ONETWO -songs like 'The Theory of Everything', 'Signal' or 'Cloud Nine', mixed with the OMD-song 'Messages' and the PROPAGANDA-songs 'Dr. Mabuse' and 'P-Machinery'. ONETWO also had to suffer from a technical glitch, the keyboard of Paul didn't work at the start of 'Messages' and had to be restarted what took some time; meanwhile Claudia bridged the break with an improvised acoustic version until the keyboard was restarted. ONETWO pleased the audience with their bewitching sound and the distinctive voice of Claudia. After about 40 minutes the stage manager already wanted to finish the show but despite they performed one more song and finished the show after about 45 minutes.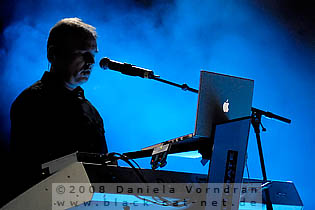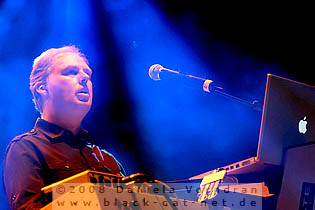 Setlist

01. The Theory of Everything
02. Signal
03. Sequential
04. Messages
05. Dr. Mabuse
06. Cloud Nine
07. Kein Anschluss
08. Home
09. P-Machinery
Rating

Music: 9
Performance: 8
Sound: 8
Light: 8
Total: 8.3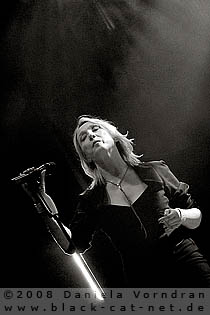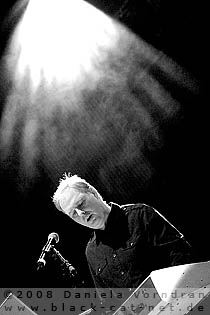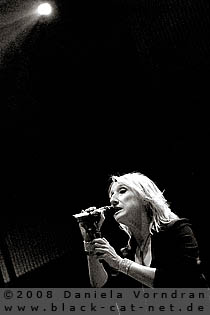 Welle:Erdball (D) - Kohlrabizirkus [CL]

WELLE:ERDBALL is a group from Germany often credited with being the pioneers of "bitpop". The heavy use of the Commodore 64's SID sound chip makes their sound instantly recognizable. Their sound is reminiscent of electronic music pioneers KRAFTWERK. The name literally means "Wave:Earthglobe", and in fact comes from a German radio play called "Hallo! Hier Welle Erdball!" Their logo is a Trabant logo turned around. W:E has been a part of the demo scene and produced several music disks and other productions over the years. They also gave a live performance at Breakpoint 2006. WELLE:ERDBALL are: Honey (lyrics, vocals), A.L.F. (music, programming), Frl. Venus (percussions) and Plastique (percussions).
http://www.welle-erdball.de/
/
http://www.myspace.com/funkbereit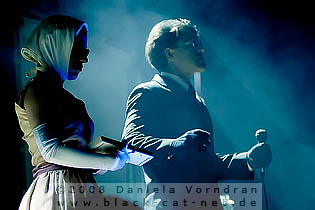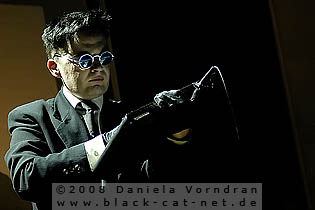 Music & Performance

At the start of the show some people who looked like WELLE:ERDBALL were on stage, but this were only doubles, the real members of WELLE:ERDBALL were carried to the stage like objects during the first song. The show started with the KRAFTWERK-cover 'Roboter' and fitting to the song, the band moved like robots on stage. As usually, the band built in some funny show elements into their performance: big balloons, big flags and an oil barrel which was used as a drum. Again one fan in the crowd could enjoy an old computer C64 which was given to the crowd often at W:E shows. The setlist included ten songs, the song 'Ich Bin Aus Plastik' was sang by Plastique. Altogether it was a good creative performance as anticipated.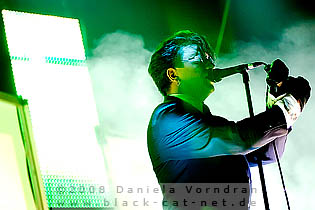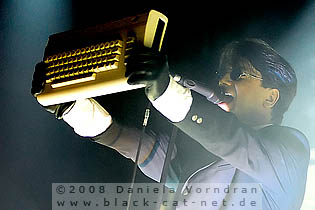 Setlist

01. Roboter (Kraftwerk)
02. Wir Wollen Keine Menschen Sein
03. Alphatier
04. Schweben, Fliegen, Fallen
05. Hoch Die Fahnen
06. Ich Bin Nicht Von Dieser Welt
07. Ich Bin Aus Plastik
08. Arbeit Adelt!
09. Starfighter F 104-G
10. Monoton und Minimal
Rating

Music: 8
Performance: 10
Sound: 8
Light: 9
Total: 8.8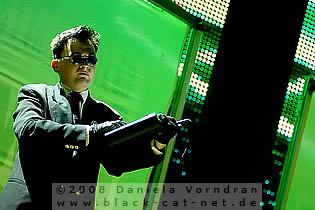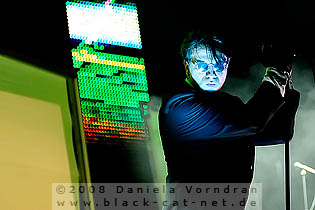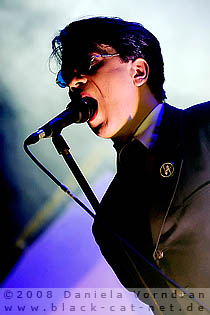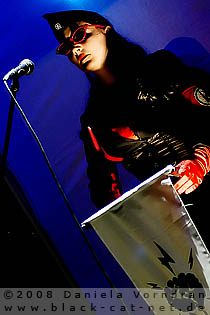 S.P.O.C.K. (S) - Kohlrabizirkus [CL]

S.P.O.C.K. (aka Star Pilot on Channel K) is a Swedish synth pop band which was formed around 1988. Their commercial success began in 1990 when the Swedish record label Accelerating Blue Fish published 'Silicon Dream' as a limited-edition 7" single. The lyrical subject matter of S.P.O.C.K's songs frequently centres on science fiction stories, (in particular, Star Trek). Other topics include alien-human relations and life in space. Current members are Android - Alexander Hofman (vocals), Krull-E - Christer Hermodsson (keyboard) and Yo-Haan - Johan Malmgren (keyboard).
http://www.subspace.se/spock
/
http://www.myspace.com/spockorbit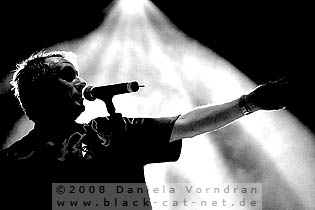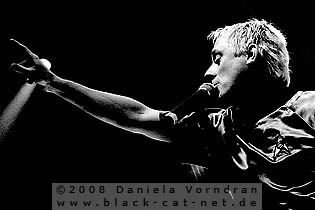 Music & Performance

After six long years, S.P.O.C.K were finally back in Germany and they're still so funny and crazy like in the past. People had waited a long time to see the space poppers again and so, the mood was extraordinary. Their old hits like 'Astrogirl' or 'Never Trust A Klingon' were heavily celebrated by the crowd and quickly the whole crowd was infected and was singing and dancing along, a part of them additional was waving with little Swedish flags you could see all over the venue. The band must have liked it a lot! Between the songs, Android did some jokes and at the start of 'All E.T:s aren't Nice' he shot the crowd with a big water gun. Altogether a funny and sweeping show - for me one of the highlights at this day. The set ran about 55 minutes and included twelve songs.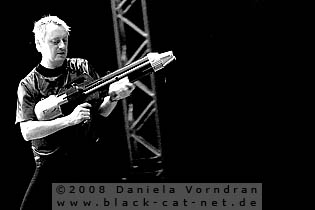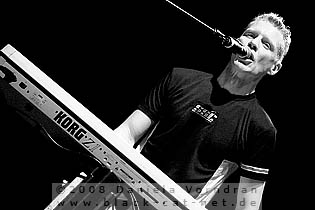 Setlist

01. Reactivated
02. E.T. Phone Home
03. Dr McCoy
04. Queen of Space
05. Astrogirl
06. I am an Android
07. All E.T:s aren't Nice
08. Not Human
09. Astrogirl's Secret
10. Out There
11. In Space no one can hear you Scream
---
12. Never Trust a Klingon
Rating

Music: 8
Performance: 10
Sound: 9
Light: 9
Total: 9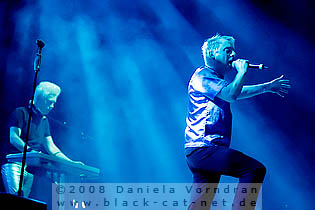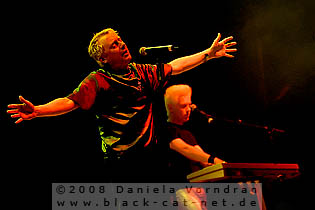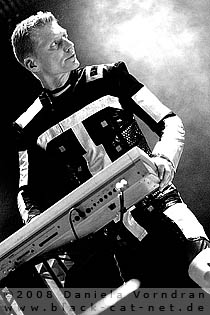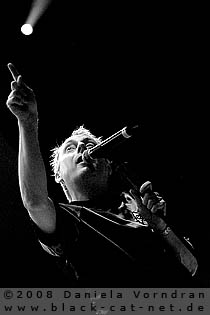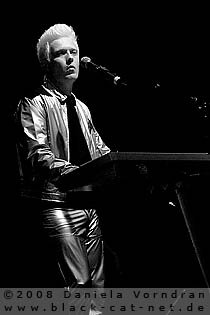 Mesh (GB) - Kohlrabizirkus [CL]

MESH from Bristol were founded in 1991 and consist of Mark Hockings and Richard Silverthorn nowadays. Neil Taylor, the third original member left the band in summer 2006 and was compensated by Geoff Pinckney. Live on stage MESH usual is supported by a live drummer and so it was this time too. MESH is still one of my favourite bands - it's ingeniously Synth pop with beautiful melodies, catchy refrains and significant lyrics. The last album called 'We Collide' and was released in 2006.
http://www.mesh.co.uk/
/
http://www.myspace.com/meshwecollide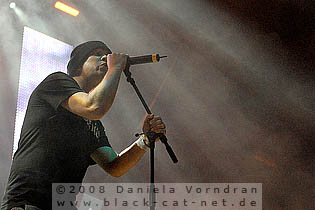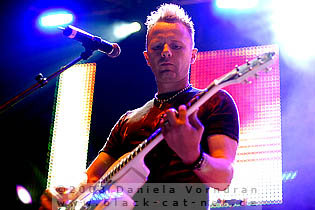 Music & Performance

Like usually, MESH on stage were supported by a live drummer and Richard and Mark played additional guitar during some songs. The setlist included thirteen songs, partly from the current album like 'Crash', 'Petrified' or 'My Hands Are Tied', partly older songs like 'Little Missile' or 'Friends Like These'. The dynamic, powerful performance, a fantastic lightshow and the great voice of Mark bewitched the crowd successfully and quickly the whole crowd did celebrate a big party and was dancing and singing along. The main set finished after about 55 minutes, but of course the crowd requested an encore which was given with 'Can You Mend Hearts' and 'Crash' before MESH left the stage finally.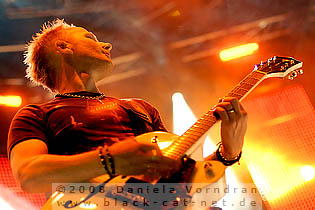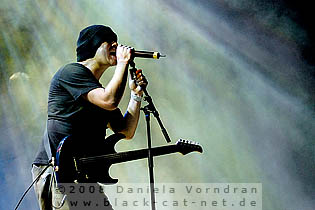 Setlist

01. Firefly
02. Petrified
03. This Is What You Wanted
04. Leave You Nothing
05. Little Missile
06. What Are You Scared Of
07. Friends like These
08. Safe with Me
09. Not Prepared
10. My Hands Are Tied
11. From This Height
---
12. Can You Mend Hearts
13. Crash
Rating
Music: 10
Performance: 9
Sound: 9
Light: 10
Total: 9.5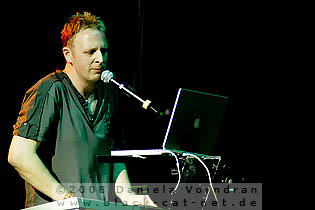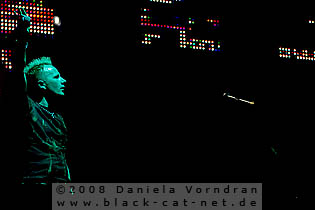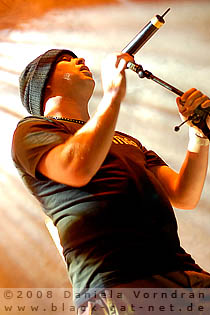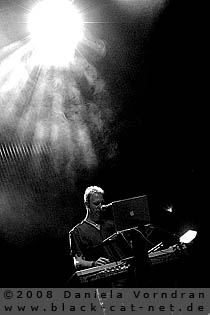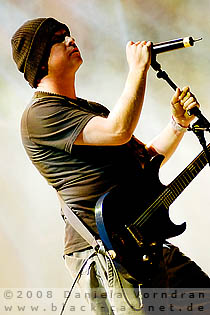 Fields of the Nephilim (GB) - Agra [CL]

Late in the night we switched to the AGRA area to experience one of the heroes of the Gothic scene live on stage - the headliner of the weekend: FILEDS OF THE NEPHILIM, a gothic rock band formed in 1984. The original line-up consisted of vocalist Carl McCoy, saxophonist Gary Whisker, Tony Pettitt on bass, guitarist Paul Wright and drummer Andrew "Nod" Wright. Following the release of the debut EP, Whisker left the band to be replaced by Peter Yates as second guitarist. The band's name refers to (magnetic) fields and a biblical race of giants or Angel/Human hybrids, known as the Nephilim. FIELDS OF THE NEPHILIM's initial sound incorporated elements of hard rock and psychedelic rock, and comprised a bass and guitar driven sound underpinned by McCoy's growled vocals.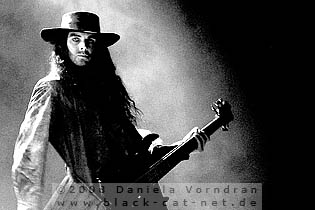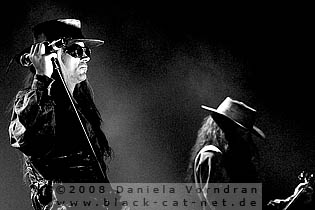 Front man Carl McCoy left the band in 1991 after paying the rest of the band's members for the rights to the Nephilim name and founded a new group called THE NEFILIM with guitarist Paul Miles, drummer Simon Rippin and bassist Cian Houchin. On August 15th 1998, Carl McCoy and Tony Pettitt held a press conference at the Zillo Festival in Germany, announcing their future plans to collaborate under two separate monikers, FIELDS OF THE NEPHILIM (along with the Wright brothers) and THE NEPHILIM (an altered spelling of McCoy's solo project). In 2005 Carl McCoy released 'Mourning Sun', his fourth full-length studio album under the name FIELDS OF THE NEPHILIM.
http://www.fields-of-the-nephilim.com/
/
http://www.myspace.com/fieldsofthenephilim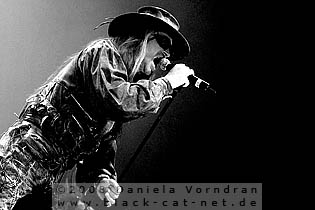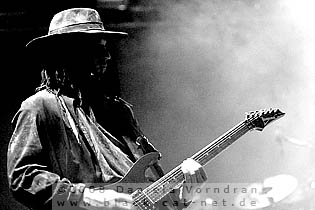 Music & Performance

The show of FIELDS OF THE NEPHILIM was a special impressive experience; I had never seen them before and was very impressed by the stately charisma and the stage presence of them. The pushing sound dominated by the guitars and perfected by the dark, raw and strong voice of Mc Coy filled the whole venue up to the last corner and nobody in the house could evade this sound. The lightshow was pleasing too and the crowd received the monumental gothic rock ballads appreciating. The show ran about 90 minutes, the main set included ten songs, and an encore was given with two more songs.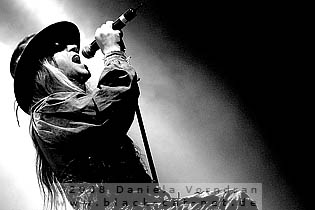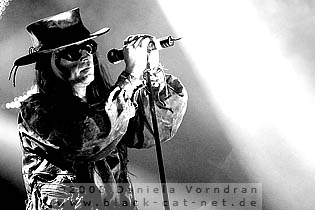 Setlist

01. Shroud
02. Straight to the Light
03. Penetration
04. Dawnrazor
05. Moonchild
06. Trees Come Down
07. Requiem
08. The Watchman
09. Zoon
10. Mourning Sun
---
11. Preacher Man
12. Last Exit for the Lost
Rating

Music: 9
Performance: 10
Sound: 9
Light: 10
Total: 9.5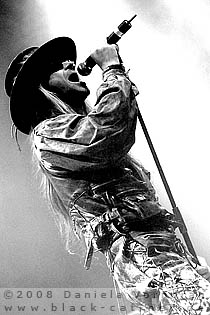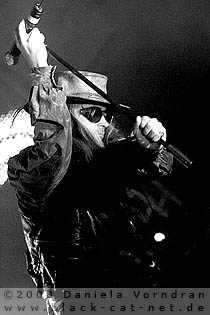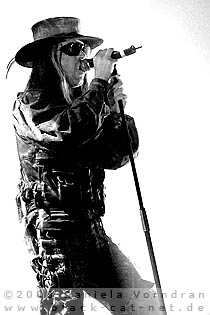 All pictures by Daniela Vorndran (
http://www.vorndranphotography.com/
/
http://www.black-cat-net.de/
/
www.myspace.com/vorndranphotography
) except festival impressions by Carsten Leopold
Daniela Vorndran [DV], Carsten Leopold [CL] and Sebastian Huhn (Band Introductions for Schallfaktor, DIN[A]TOD, Menticide, Kloq)
{jos_sb_discuss:18}