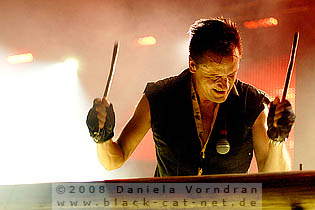 Leipzig, Germany
9th - 12th May 2008
Wave Gotik Treffen Day 4: Deviant UK (GB), Gothika (J), Militant Cheerleaders On The Move (S), Miss Construction (D), Spetsnaz (S), Nachtmahr (A), Absolute Body Control (B), Die Krupps (D)
This was the last day. After three long days with lots of concerts and short nights, we were pretty exhausted already. So we took it easy at the last day and started again with the usual breakfast at the MORITZBASTEI which we extended with some friends to some hours, sitting in the cosy place, until we finally went to the KOHLRABIZIRKUS where we spent the whole day and ended out festival.
Deviant UK (GB) - Kohlrabizirkus [CL]


DEVIANT UK come from UK and were formed in 2004 by mastermind, songwriter and singer Jay Smith. The debut album 'Barbed Wire Star' was released in September 2006. Live on stage Jay Smith was supported by two keyboard players - BJ Johnson and "the man known as Fitz".
http://www.myspace.com/deviantuk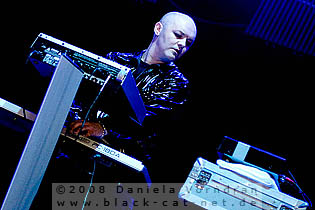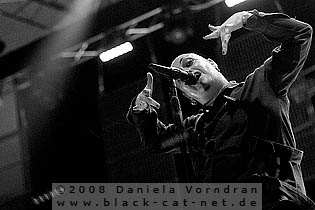 Music & Performance

DEVIANT UK opened the stage in the KOHLRABIZIRKUS on Monday and performed 30 minutes of danceable electro sound. The setlist included six songs and was highlighted by a nice cover version of the PROJECT PITCHFORK song 'Timekiller'. The venue was already pretty well filled and the band got a very positive response from the crowd. So, it was a good start of the day.
Setlist

01. Raptured Saints
02. My Black Heart
03. Timekiller (Project Pitchfork)
04. Access Denied!
05. Godlike
06. Me: Without You
Rating

Music: 7
Performance: 7
Sound: 8
Light: 7
Total: 7.2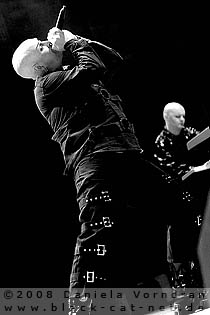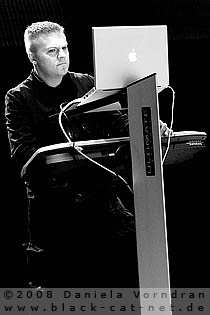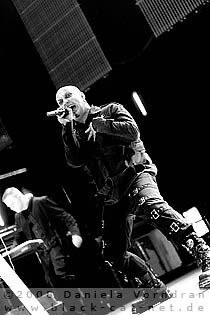 Gothika (J) - Kohlrabizirkus [CL]


GOTHIKA is a band from Japan, known for their strange live performance. Their first full album titled '120 Days of Sodom' and was released in September 2007. GOTHICA consists of Andro (vocals, programming) and 449 (synths, programming).
http://antimass.cool.ne.jp/
/
http://www.myspace.com/gothikatokyo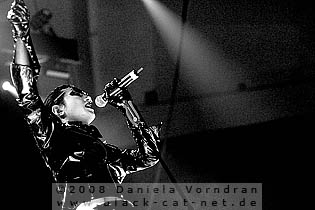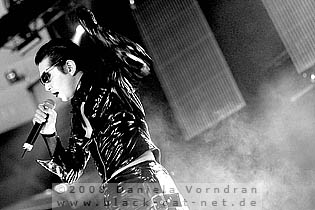 Music & Performance

GOTHIKA entered the stage in twos, both clothed in a varnish outfit. During the show the singer changed his outfit and was clothed later into a red kimono. The rhythmical melodic sound pleased me, but the vocal performance seemed a little bit too strange to me. The show ran about half an hour, highlight was the last song, a cover of the OMD-song 'Enola Gay'.
Rating

Music: 6
Performance: 8
Sound: 8
Light: 7
Total: 7.2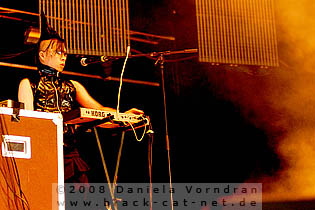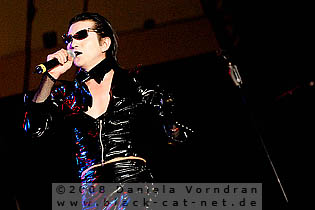 Militant Cheerleaders ON the Move (S) - Kohlrabizirkus [CL]


MILITANT CHEERLEADERS ON THE MOVE are a band from Sweden and consists of Jonatan Svärd and Pehr Herb. The first and current album is called 'Strike One' and was released in 2006.
http://www.militantcheerleadersonthemove.com/
/
http://www.myspace.com/militantcheerleadersonthemove
Music & Performance

MILITANT CHEERLEADERS ON THE MOVE performed a kind of hard and rhythmic electro sound with recitative vocals which remembered a little bit of NITZER EBB or D.A.F. In the background one of them operated the synths and an e-drum, the other guy sang and played bass additionally. The sound pleased the crowd and infected the legs to dance. During the show the singer lost his microphone and proceeded the show with the microphone of his partner. After six songs they left the stage, but surprisingly they came back and played an encore – probably part of the concept.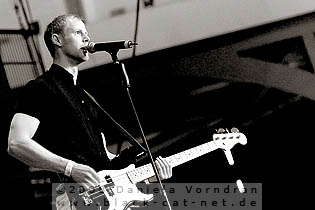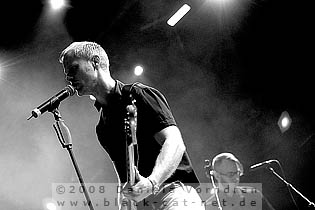 Setlist

01. Neuropa
02. Untitled A (new, not named)
03. Metropolis
04. Untitled B (new, not named)
05. Black Flag
06. War
---
07. Lover (extra)
Rating

Music: 8
Performance: 7
Sound: 8
Light: 7
Total: 7.5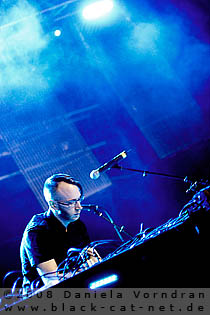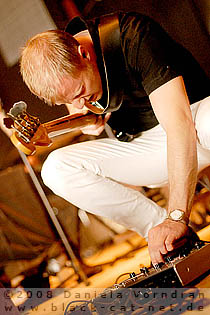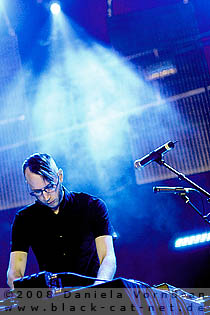 Miss Construction (D) - Kohlrabizirkus [KM]


The tumour is dead long live MISS CONSTRUCTION. This is how you could sum up the history of the project. After Chris Pohl, mastermind behind such projects as BLUTENGEL and TERMINAL CHOICE laid TUMOR to rest, he gave birth to a new monster: MISS CONSTRUXCTION and for that occasion he joined forces with his TERMINALL CHOICE band colleague Gordon M. who's delivering the vocals for the tracks. What came out of that collaboration you can now listen to on the first album 'Kunstprodukt'.
http://www.myspace.com/missconstruction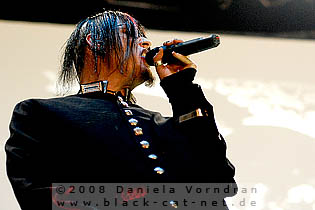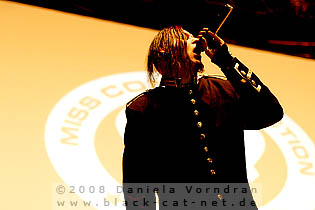 Music & Performance

At Wave Gotik Treffen they presented lots of sexually-related visuals, electro hard-hitting sounds and the expressive image (military uniforms, masks, crazy hairdos). Definitely the front man Gordon was doing his best to move the audience and to engage the people to dancing, in which he partly succeed: as the atmosphere was getting more and more heated I saw people cheering them loudly. As the last song was being played we could see Chris Pohl's and Gordon M's crazy antics presented as a visual. The music created by MISS CONSTRUCTION is a somewhat a combination of danceable, catchy electro rhythm served in a harsh and hard-hitting version - perfect for the dance floor.
Setlist

01. Intro
02. Pornostar
03. Slaughterhouse
04. Hass und Liebe
05. 1 und 2
06. Fuck you Bitch
07. Electro Beast
08. Kunstprodukt
09. Totes Fleisch
Rating

Music: 5
Performance: 6
Sound: 7
Light: 7
Total: 6.2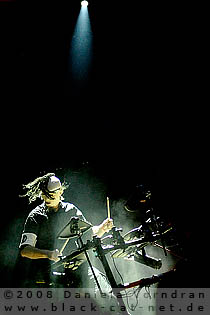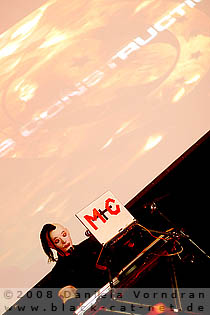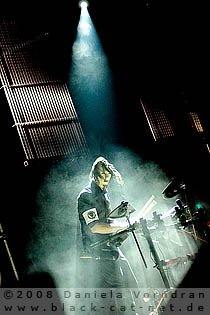 Spetsnaz (S) - Kohlrabizirkus [KM]


Swedish electro-berserkers SPETSNAZ were formed by Pontus Stålberg and Stefan Nilsson in Örebro, Sweden in the autumn of 2001. Both being fans of the electro scene for many years, they didn't like the tendency of all the old bands getting replaced by a style called Future-Pop and after their more or less serious individual involvements in other projects, they decided to form a single one to put all their power into. Some months of intense studio work followed, whose end result was the first 4-Track demo which was handed out to Swedish labels and promoters.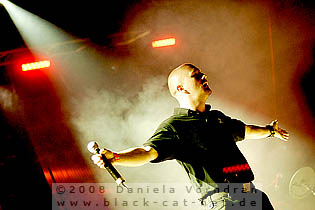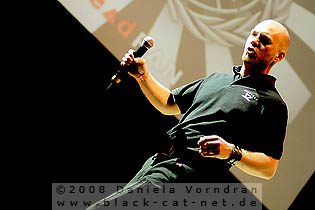 The duo's first album 'Grand Design' was the release by SubSpace Communications in 2003 and re-released by Out of Line in Germany a year later after the band attracted their attention with their intense and energetic live performances. The duo released two EPs - 'Perfect Body' and 'Degenerate Ones' - before the new long player 'Totalitär' unleashed a storm onto the crowd in 2006, just to get reinforced by another attack in the shape of the third album 'Deadpan' in 2007. SPETSNAZ is Pontus Stålberg (vocals) and Stefan Nilsson (synths, programming).
http://www.myspace.com/spetsnazebm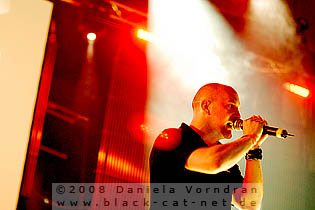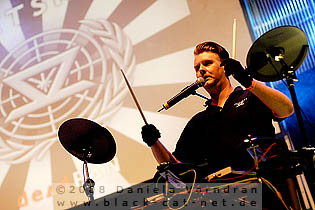 Music & Performance

What SPETSNAZ offered at Wave Gotik Treffen was a classic, rhythmical and very dynamic show that moved many people to dance. The atmosphere of the concert was fine and marked with a tinge of specific humour, especially when Pontus announced at the very start: "tonight we're playing some new songs, some old songs and some shit songs". The pieces of 'Deadpan' or older songs like 'Apathy' or 'That Perfect Body' stood for a great, lively show that many enjoyed, running wild by the stage and singing together with the band.
Rating

Music: 7
Performance: 7
Sound: 8
Light: 8
Total: 7.4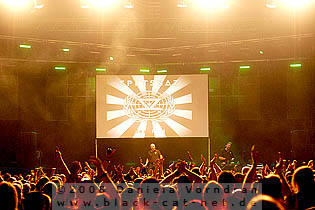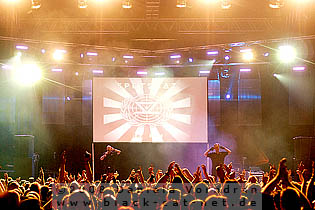 Nachtmahr (A) - Kohlrabizirkus [KM]

The only purpose of NACHTMAHR is to make people dance. The song 'BoomBoomBoom' makes that perfectly clear: "I don't care whether you live or die. I only want to see you dance". Thomas Rainer, known as a member of L'AME IMMORTELLE, unleashes a full force of Electro/Industrial beats on the clubs with his new project. The first EP 'Kunst ist Krieg' is meanwhile sold-out but the album 'Feuer Frei' will soon follow in its footsteps.
http://www.myspace.com/nachtmahrprojekt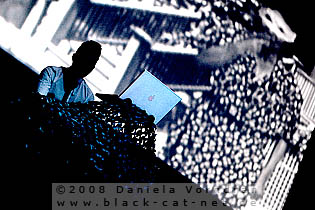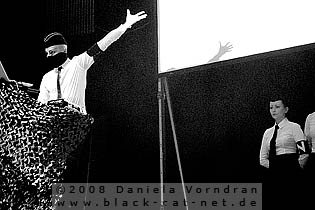 Music & Performance

The show of NACHTMAHR kept in a strictly military style (either 'outdoorsy' or 'battle' one) secured a fair dose of danceable and catchy electro/industrial sounds that stood for a perfect soundtrack for frenzy dancing. The amount of net, brainy quotations presented on visuals and distortions used during the said concert was enough to start a mini-rebellion among the audience. Apparently, the music offered by NACHTMAHR found the faithful soldieries at Wave Gotik Treffen because the reception was very well as far as I could see.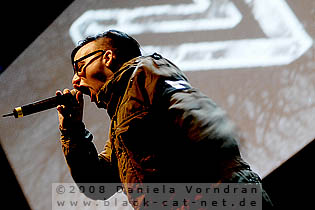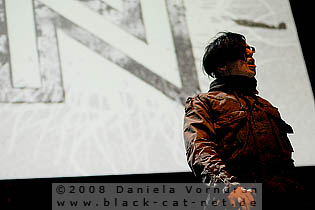 Setlist

01. Schwarzflug
02. Nachtmahr
03. BoomBoomBoom
04. Deus Ex Machina
05. Feuer frei!
06. Endzeitstimmung
07. Hochmut
08. Ich glaube
09. Katharsis
Rating

Music: 9
Performance: 8
Sound: 8
Light: 8
Total: 8.3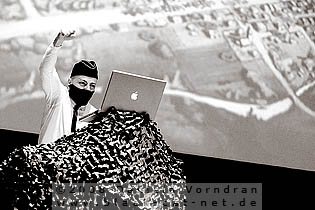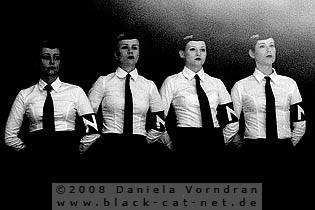 Absolute Body Control (B) - Kohlrabizirkus [KM/DV]


When you just mention the name Dirk Ivens, the one thing that comes to most people's minds is THE KLINIK, but before he became a member of that legendary electronic music project there was ABSOLUTE BODY CONTROL which he founded in early 1980 joined by Mark de Jonghe and Veerle de Schepper. Mark soon left the band after the release of a track on the 'Blitzpop 1' compilation and their first 7" single 'Is there an exit?' in 1981 and was replaced by Eric van Wonterghem who would remain Dirk's musical fellow for many years to follow. ABC appeared on several compilations and tapes before they decided to continue the project as a duo.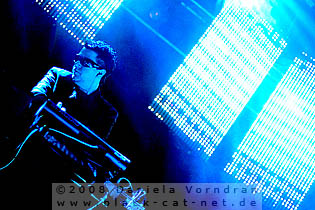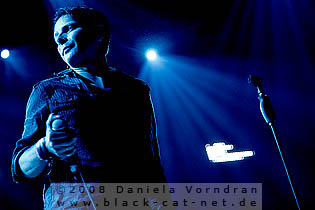 In 1984 both Dirk and Eric became members of THE KLINIK; the latter one left already after the second album and formed INSEKT. Their last tape 'Tracks' released in 1989 contained all their compilation contributions. The first and only CD 'Eat this' was released in 1993 because of the lasting public interest. After a long time of absence, they played some festival shows in Belgium and Sweden. An album called 'Wind (re)Wind' containing re-recorded tracks and a brand-new single 'Never seen' has been released on 21st March. ABSOLUTE BODY CONTROL is Dirk Ivens and Eric van Wonterghem.
http://www.dirkivens.com/
/
http://www.myspace.com/absolutebodycontrolbelgium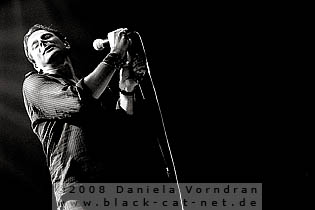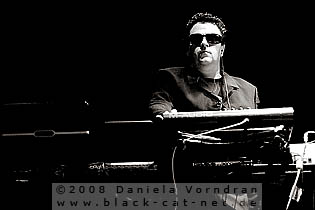 Music & Performance

Seeing Dirk Ivens on stage is always something very special. This time, I finally had the chance for an ABSOLUTE BODY CONTROL performance. The duo presented a vast amount of dynamically running sounds and a naturally sexy show (thanx to Dirk's natural manner) and in spite of initial problems with equipment they managed to play a very good concert that ended up with an encore. Dirk Ivens & Eric van Wonterghem played the material of the new EP 'Never seen', which was out in March, as well as the material of 'wind[re]wind'. Mostly all the old-school fans were celebrating this show which was one of my WGT highlights.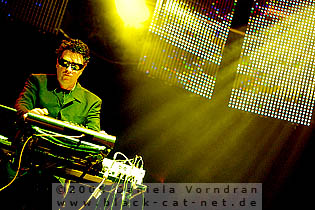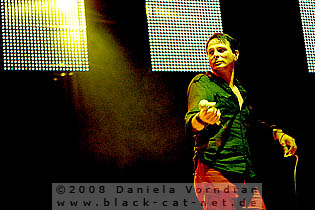 Setlist

01. Waving hands
02. I wasn't there
03. Love at first sight
04. Did you do it
05. Is there an exit?
06. Figures
07. So hard
08. Never seen
09. Give me your hands
10. Into the light
---
11. So obvious
Rating

Music: 9
Performance: 8
Sound: 8
Light: 9
Total: 8.5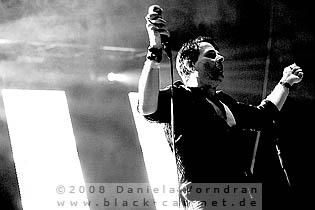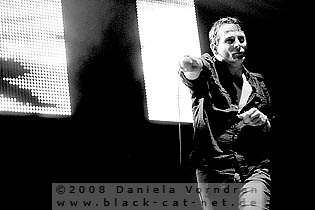 Die Krupps (D) - Kohlrabizirkus [DV]
DIE KRUPPS have been founded by Jürgen Engler and Ralf Doerper in 1981. Their first release was 'Stahlwerksinfonie', a two track mini-album which was the foundation stone for DIE KRUPPS' reputation as pioneers of Industrial and electronic music. The single 'Wahre Arbeit, Wahrer Lohn' was released during the same year and became one of the band's biggest hits. The single 'Goldfinger' and the album 'Volle Kraft Voraus' followed in 1982 and followed the same direction with a more danceable approach. Together with DAF (Deutsch Amerikanische Freundschaft) they gave birth to another new style which should become the 'Electronic Body Music' later. With the album 'One' released in 1992, they incorporated heavy guitars into their formerly purely electronic sound and perfected this style with the following album 'II - The Final Option'.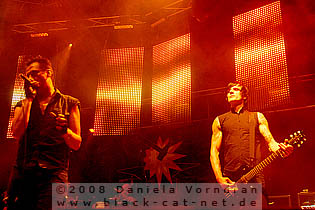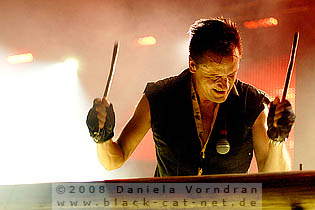 Much to the discontent of some fans, they continued to walk deeper and deeper into the Metal genre with the following albums 'III - Odyssey Of The Mind' and 'Paradise Now' and they lost some fans due to this. After 'Paradise Now' it remained silent around the band until 2005, when they celebrated their 25th anniversary, followed by various festival performances all across Europe. Two years later, 'Too Much History' was released, not a new album but a collection of re-recordings from almost every album the band has released together with some new and unreleased material and collaborations with Douglas McCarthy for example. A new album is planned for autumn 2008. DIE KRUPPS are: Jürgen Engler (vocals, guitars, keyboards, bass, steel percussion, programming), Ralf Doerper (samples), Marcel Zuercher (guitars) and Chris Lietz (engineering).
http://www.diekrupps.de/
/
http://www.myspace.com/diekrupps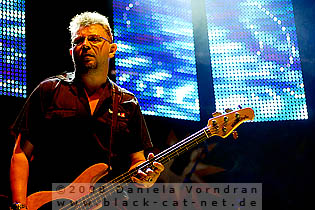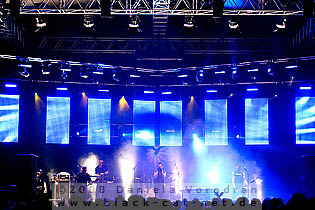 Music & Performance

With an explosion of energy and power, this WGT was going to end for me and what DIE KRUPPS delivered as headliner in the Kohlrabizirkus was one of my personal WGT highlights. Hard hitting beats, heavy guitars combined with electronics and the powerful voice of singer Jürgen made the venue moving heavily. The setlist left no wishes open, early classic hits like 'To the hilt', 'Germaniac' or 'Fatherland' were combined with some new songs, to be exact i.e. '5 Millionen' or 'Der Amboss' which was recorded together with British CLIENT. Another highlight of the show was surely the PROPAGANDA cover of 'Dr. Mabuse' which came in a total new dress. Great! Ending with 'Bloodsuckers' and supported by a fabulous light show with lots of LED elements in the background, this was a great final of the day.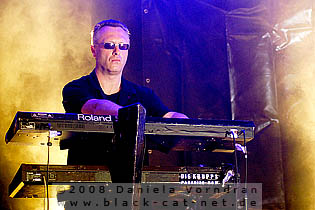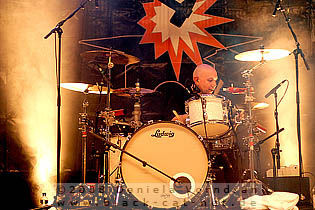 Setlist

01. Dawning of Doom
02. Crossfire
03. 5 Millionen
04. Germaniac
05. Der Amboss
06. 2 Herzen 1 Rhythmus
07. Tod und Teufel
08. High Tech Low Life
09. Alive
10. Scent
11. The great Divide
12. Dr. Mabuse (Propaganda Cover)
13. Machineries of Joy
14. Metal Machine Music
15. To the Hilt
16. Fatherland
---
17. Bloodsuckers
Rating

Music: 9
Performance: 10
Sound: 8
Light: 9
Total: 9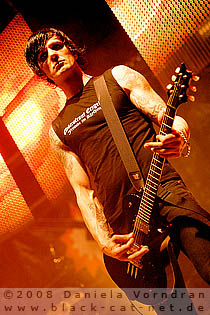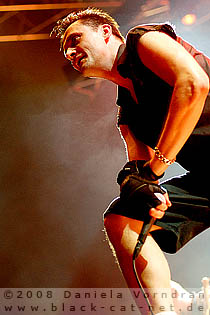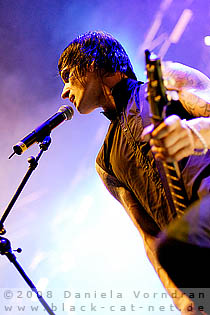 So, this was it again, the 17th WGT came to an end. Again we've seen so many bands, some great ones, some surprises and some disappointments. We met lots of friends we haven't seen for a long time. Deadly tired after these four long days I returned to the hotel right after the last concert before I headed home on early Tuesday morning…
All pictures by Daniela Vorndran (
http://www.vorndranphotography.com/
/
http://www.black-cat-net.de/
/
www.myspace.com/vorndranphotography
)
Daniela Vorndran [DV], Carsten Leopold [CL], Karolina Moszkowicz [KM] and Sebastian Huhn (Band Introductions except Deviant UK, Gothika, Militant…)
{jos_sb_discuss:18}