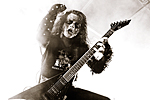 Amphitheater, Gelsenkirchen, Germany
9th to 11th May 2008
ROCK HARD Festival Day 1+2: Die Apokalyptischen Reiter, Testament, Moonsorrow, Helstar, Enslaved, Exciter, Amorphis, Exodus, Immortal


The Rock Hard Festival took place for the sixth time in a row this year and it was my first visit there, which turned out to be a fantastic idea and so I'm sure I'll be there next year, too. The festival history began in 2003 when famous Rock Hard magazine celebrated its 20th anniversary. Originally planned as a singular event, the great success of the performance led to a regular Rock Hard Festival, annually taking place on Whitsun. The location is the Amphitheater in Gelsenkirchen, quite an unusual place for a festival; it's a real amphitheatre directly next to the Rhein-Herne-Kanal. So good view for nearly everyone, you can sit down whenever you get tired of banging and crowd surfing, no mud in case of rain - which some people surely regret - and the water close-by always provides a cool breeze. So, all in all best conditions for a relaxed festival weekend.


The billing was also a quite interesting one, with great bands from different Metal genres such as DIE APOKALYPTISCHEN REITER, ENSLAVED, EXODUS, AMORPHIS, IMMORTAL, PARADISE LOST and ICED EARTH. Nevertheless, there had been one big disappointment in the run-up to the festival as the legendary CELTIC FROST had announced to disband just a few weeks before. They were replaced by the US Thrash veterans from TESTAMENT, which was a nice but surely not adequate substitute. This year's Rock Hard Festival was nearly sold out with over seven thousand visitors, who celebrated in a very peaceful and laid-back atmosphere. Unfortunately I didn't make it to Gelsenkirchen until early Friday evening, so I missed most of the bands on the first festival day. Y&T were just finishing their set when I finally stood in front of the Amphitheater stage. But I was looking forward to a lot more great musical stuff to come.
http://www.rockhardfestival.de/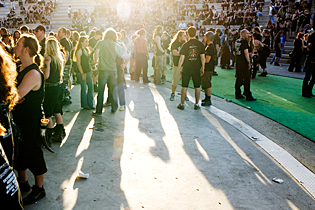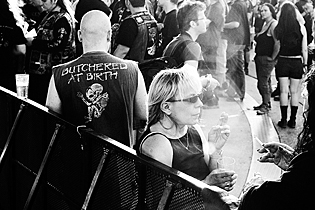 Friday, May 9th - Day 1

For me, the first festival evening started out with DIE APOKALYPTISCHEN REITER, the funny German Metal band which always delivers such a great show on festivals. At that time I had already lost out on acts such as STORMWARRIOR and LAKE OF TEARS. The weather was just fantastic, brilliant sun light and not too hot any more, and the room in front of the stage was well-filled, as vocalist Fuchs and his band mates promised a big party.
DIE APOKALYPTISCHEN REITER [D]

The Metal band from Weimar, Germany, has been founded in 1995 by Skelleton and Daniel Täumel, who today is the only founding member left in the band. Their sound can be best described as a mixture of different Metal genres such as Death or Thrash, but also Rock music and folklore. The band's latest release is this year's 'Tobsucht', a DVD with two live CDs. In June they will be releasing a small EP called 'Der Weg' exclusively via Nuclear Blast Mail-order, which is a little foretaste to their upcoming full-length 'Licht'.
http://www.reitermania.de/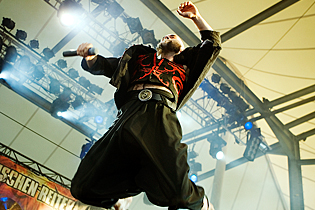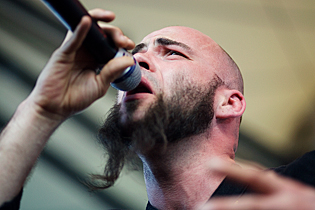 Music & Performance

What can I write about such a performance as the one delivered by DIE APOKALYPTISCHEN REITER? You just have to experience them live, best right in front of the stage in the middle of the frenzied crowd. As guitarist Pitrone has recently left the group to the regret of many fans, I was curious about how Lady Cat-Man, their new female guitarist, would fit in - and she did perfectly with her blond curls, her all-white varnish clothing and above all with her great playing. The five Germans are the perfect festival act, their show is very diversified and never boring.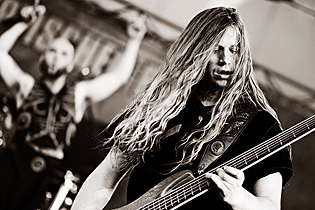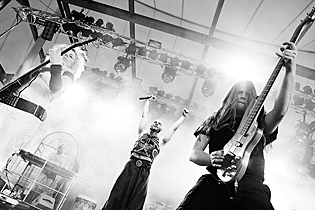 You could experience a good-humoured band performing hits like 'Riders On The Storm' or 'Metal Will Never Die', vocalist Fuchs as always talking a lot to the audience and being the perfect entertainer, and from time to time moving closer to the fans, shaking hands. Two "sailor brides" were called on stage, also a well-known ritual; one was chained next to keyboarder Dr. Pest in his cage, and the other was given a guitar to perform right next to Lady Cat-Man. For sure also the boat race wasn't missing, two guys made their way right to the top of the amphitheatre in rubber boats, though in quite different times, but both made it back to the stage. The nice evening light did its bit, too, to make this concert a memorable one.
Rating

Music: 7
Performance: 10
Sound: 8
Light: - (mainly daylight)
Total: 8-3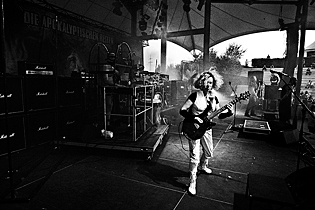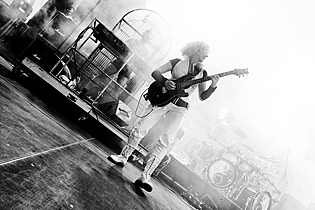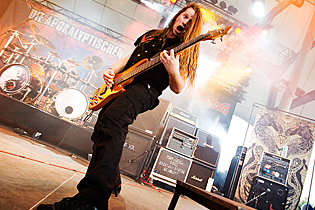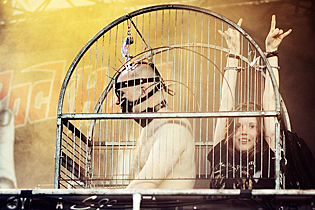 TESTAMENT [USA]

TESTAMENT is an American Thrash Metal band from California. Being one of the more influential American Thrash bands, they were perhaps the most popular band of that scene to not break into the mainstream and see the success that bands such as the METALLICA and SLAYER did. Founded in 1983 by guitarist Eric Peterson and his cousin, Derrick Ramirez, the band has experienced quite a lot of line-up changes in its long history and has released a dozen albums to date, their latest one being 'The Formation Of Damnation' from 2008.
http://www.testamentlegions.com/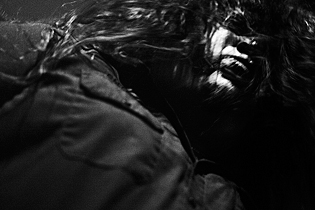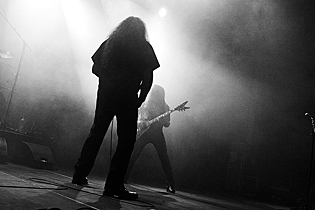 Music & Performance

TESTAMENT were announced as the band who has released this year's best Thrash album; 'Formation of Damnation' has indeed been received very well by the music press and critics. My initial doubts whether the US formation could chase away the feeling of disappointment CELTIC FROST had left were quickly dispelled; as passionately as theY had in one moment booed when CELTIC FROST were mentioned, they were in the next moment celebrating TESTAMENT. The Thrash veterans delivered an extremely energetic show, though with one drawback: guitarist Alex Skolnick was missing on stage. Nevertheless, the remaining four guys did a great job which was supported by a nice, though not too bright, light show and plenty of fog. The fans got to hear a lot of older songs like 'Reign Of Terror', 'The Preacher' or 'Alone in the Dark', but for sure also stuff from the new album. For 'The Curse of the Legions of Death' they had to start twice, but this did not at all spoil the fantastic spirit of the crowd.
Rating

Music: 8
Performance: 8
Sound: 5
Light: 7
Total: 7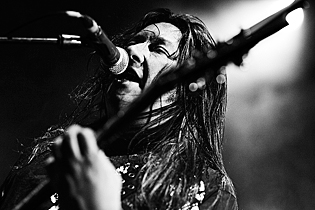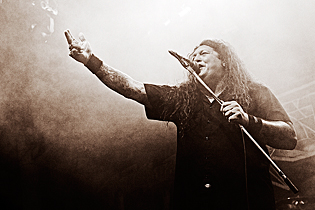 Saturday, May 10th - Day 2

The second day of this year's Rock Hard Festival started with really nice sunshine and luckily not too early. When we arrived at the Amphitheater, THE SORROW were just leaving stage and we were hoping we hadn't missed a great concert. Quite a few metal heads had already made it to the stage, but also quite a lot were sitting around and looking really peaky. At half past four that day a karaoke contest also started on the smaller Biergartenbühne (=beer garden stage); the band to support this was ROKKEN (
http://www.rokken-roll.org/
) from Germany. The karaoke took place in between the band performances on the main stage, and the winner was announced to be getting the chance to perform a song in front of the whole festival audience. For me this Saturday started out with some ingenious Finnish guys.
MOONSORROW [FI]

Moonsorrow are a Folk/Pagan Metal band formed in Helsinki, Finland in 1995. They are known for their extremely long songs, and for their epic, organic composition. The band calls their sound "Epic Heathen Metal" to distance themselves from the term "Viking Metal" due to their lyrics not concerning Vikings. Their lyrics are heavily based on Finnish and Scandinavian traditions, legends and poetry, even though they are written in Finnish. The guys' latest release is their first EP 'Tulimyrsky', which contains the title track lasting nearly half an hour - nothing unusual for MOONSORROW, and also two cover songs, among them one of METALLICA's 'For Whom The Bell Tolls'.
http://www.moonsorrow.com/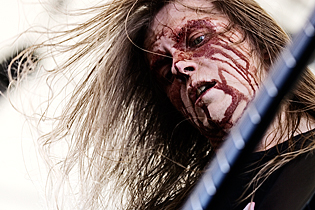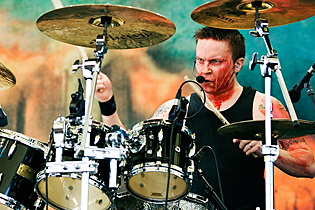 Music & Performance

It is always a great pleasure to listen to MOONSORROW songs, to dive into their diversified and strong compositions and into the stories their music seems to tell. And I am always surprised to see how good their stuff is working on stage. For sure their songs get changed, but somehow this seems to be just another facet of them. MOONSORROW started their set with the beginning of the new song 'Tulimyrsky' in bright afternoon sunshine and ended it with the ending of the same song. There were also songs audible from the 'Kivenkantaja' and 'Suden Uni' albums, all in all a perfect choice. Vocalist and bass player Ville Sorvali and his band mates come on stage with blood-red painting on their faces and despite the early daytime managed to get the initially quite reserved audience to move. And after their set you could hear calls for an encore everywhere.
Rating

Music: 10
Performance: 8
Sound: 8
Light: - (daylight)
Total: 8.7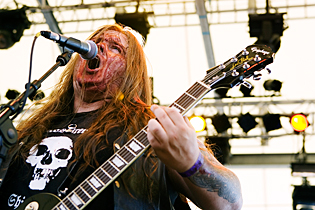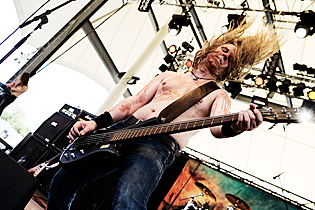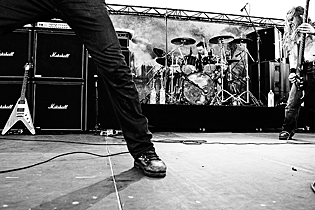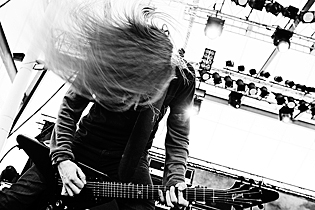 HELSTAR [USA]

HELSTAR is a Heavy Metal band from Houston, Texas, formed in 1982. Their musical style is considered technical Speed Metal. Their latest release is the 2007 full-length album 'Sins of the Past'.
Music & Performance

The band following the congenial Finnish group was quite a contrast musically. During the last years HELSTAR have made themselves rather scarce, but the many devoted fans in front of the stage showed that they have not at all been forgotten. After being separated for 19 years, not the original line-up, but almost the complete 'Remnants of War' line-up has reunited; the band has last consisted of these members in 1986. And although the guys on stage aren't the youngest ones any more, their show was so powerful and you could see how much fun the band had while they were playing their stuff and watching their fans who made such a great party in front of them.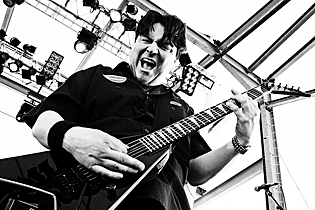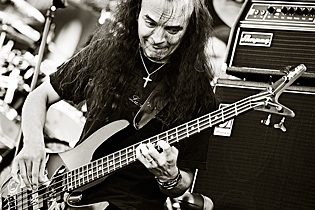 Setlist

01. The King is dead
02. Caress of the Dead
03. Suicidal Nightmare
04. Tormentor
05. Harker's Tale
06. Run with the Pack
07. Baptized in Blood
Rating

Music: 7
Performance: 7
Sound: 8
Light: - (daylight)
Total: 7.3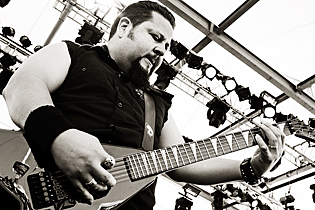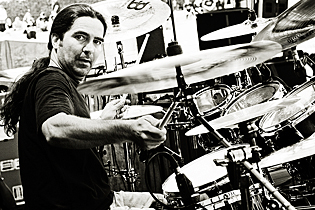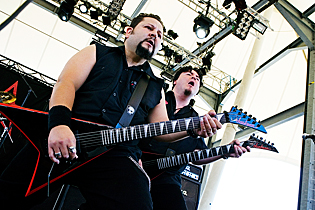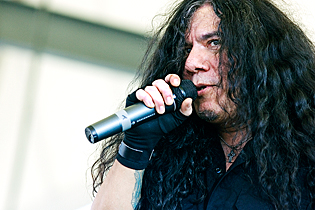 ENSLAVED [N]

ENSLAVED is a progressive Viking/Black Metal band formed in 1991 in Haugesund, Norway. They are considered to have been one of the most important formations in the upcoming Norwegian Black Metal scene. From their early days on they lyrically dealt with themes around the legends and myths of their forefathers and are therefore often seen as one of the originators of Viking Metal. Their latest sign of life is the 2006 full-length album 'Ruun'. They will come on a headliner tour around Europe in winter together with STONEGARD and KRAKOW.
http://enslaved.no/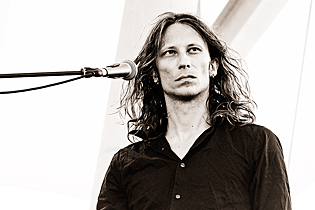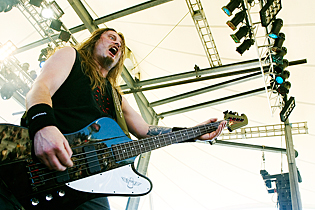 Music & Performance

Many of the ENSLAVED fans would surely affirm this: Bright sunshine definitely is not the best weather for this band. A dark, starry night maybe or at least some storm clouds in the sky would fit way better. But the fans wouldn't be ones if they wouldn't celebrate their heroes anyway, and so the place in front of the stage was filled with enthusiastic bangers. The rest of the attendees was taking a break or going for some cold beer. ENSLAVED saluted their audience with a friendly "Hallo Gelsenkirchen, wir sind aus Norwegen!"(=Hello Gelsenkirchen, we are from Norway!) and then started an experienced show. Again, their stuff stood in contrast to their forerunners, which brings me to a fact I really like about the Rock Hard Festival - you got a really diversified musical programme. The guys on stage gave their best and could really convince me.
Rating

Music: 8
Performance: 7
Sound: 8
Light: - (daylight)
Total: 7.7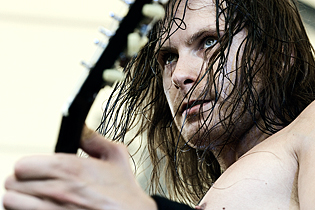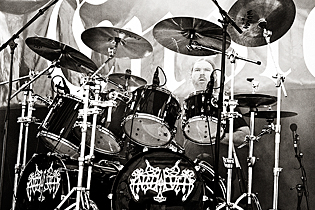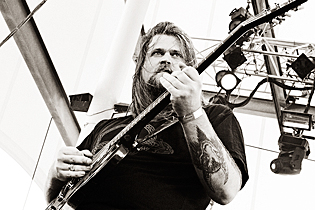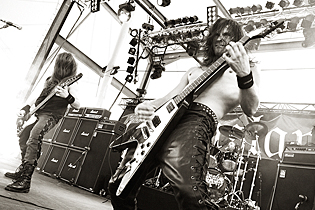 EXCITER [CDN]

EXCITER are a Thrash Metal band from Ottawa, Ontario, Canada. Despite many changes in personnel, they have managed to keep a small but dedicated following for nearly 20 years. The group is seen as one of the avant-garde in Thrash Metal, being an influence for many following bands. Their latest output is 'Thrash Speed Burn' (2008).
http://www.hemidata.se/exciter/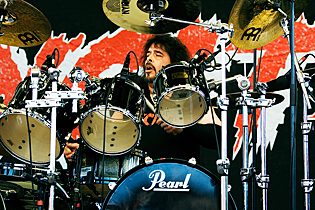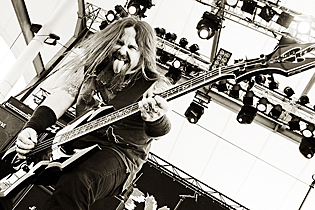 Music & Performance

Not for the first time in their long band history, EXCITER have had a grave line-up change in 2006: singer Rob Degroot left the band and was replaced by Kenny Winter, who is an interesting appearance on stage. Very small, but incredibly energetic, he convinces with his special, very high voice. The room in front of the stage was quite well-filled, and you could see the fans singing along passionately. Even the sound, which wasn't the best during the EXCITER set, could not trouble their good temper.
Rating

Music: 6
Performance: 7
Sound: 7
Light: - (daylight)
Total: 6.7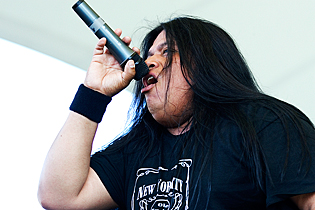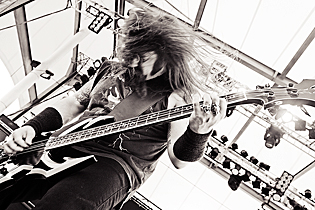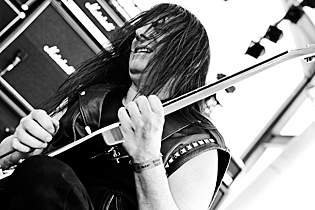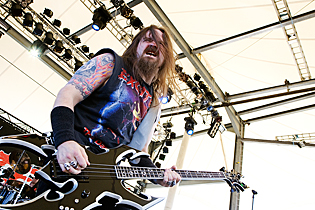 AMORPHIS [SF]

AMORPHIS is a Finnish Metal band started by Jan Rechberger, Tomi Koivusaari and Esa Holopainen in 1990. Initially, the band was a straightforward Death Metal act, but in later albums and through various line-up changes they evolved into playing other types of genres. The band is well known for their use of the Finnish national epic, the Kalevala, as a source for their lyrics. In 2007 they released their latest and eighth studio album 'Silent Waters'.
http://www.amorphis.net/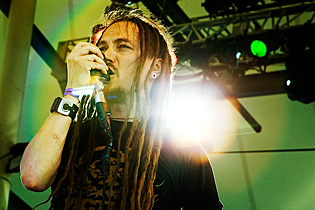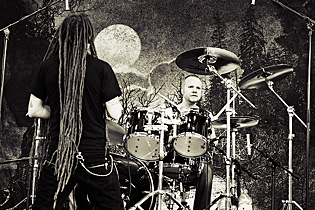 Music & Performance

When it was time for the Finnish guys to come on stage, the first tunes of 'I of Crimson Blood' from their latest release resounded through the Amphitheater and the fans gave AMORPHIS an enthused welcome. Luckily I have not experienced a bad performance from this band to date, and this one should make no exception. Tomi Joutsen and his band mates were good-humoured and likeable as ever, the sound was pretty good and they played right into the sunset with its warm colours and great atmosphere. So perfect conditions for fantastic songs like 'House of Sleep', 'Towards And Against' or 'The River'. The many fans were partying in front of the stage, singing along with great passion. With the last tunes from their instruments and the calls for an encore from the audience, AMORPHIS left us full of anticipation for their next gig.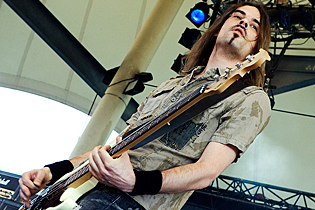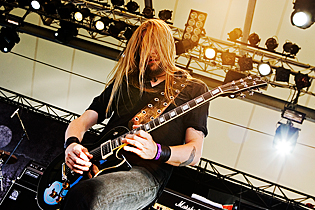 Setlist
01. I of Crimson Blood
02. Towards & Against
03. Drowned Maid
04. Better Unborn
05. Silent Waters
06. Vulgar Necrolatry
07. The Smoke
08. My Kantele
09. Alone
10. The Castaway
11. Leaves Scar
12. Black Winter Day
Rating

Music: 10
Performance: 8
Sound: 8
Light: - (daylight)
Total: 8.7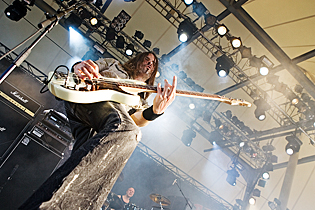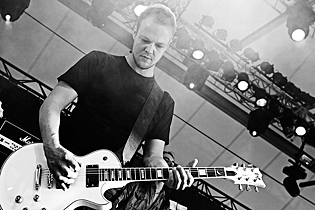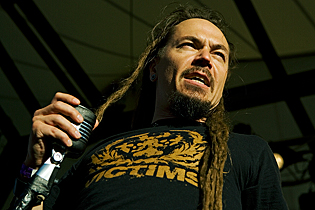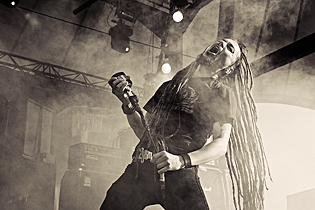 EXODUS [USA]

EXODUS is an American Thrash Metal band formed in 1980 in San Francisco, California by guitarist Kirk Hammett, guitarist Gary Holt, and singer/drummer Tom Hunting. Over the course of twenty-eight years, EXODUS has gone through countless line-up changes, two lengthy hiatuses, and experienced the deaths of two band members. With two live albums and one compilation, the band has released a total of eleven albums and remains one of the few early Thrash Metal bands that are still active. Last year their eighth studio album 'The Atrocity Exhibition... Exhibit A' appeared via Nuclear Blast Records; '...Exhibit B' will be released this year.
http://www.exodusattack.com/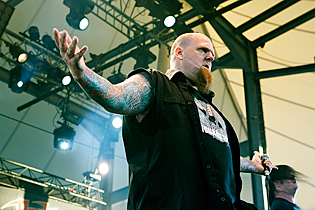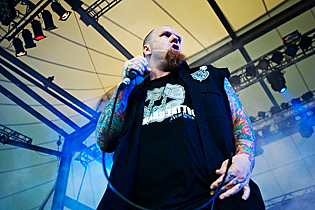 Music & Performance

EXODUS got a very warm welcome at the Rock Hard Festival, as many fans started to scream the band's name even before they entered the stage. The formation began its set with 'Bonded by Blood' and immediately won over the crowd. You could see crowd surfers everywhere and huge circle pits, and with 'War Is My Shepherd' even a wall of death. Thrash at its best, 'Impaler', 'A Lesson in Violence'; we got to hear mainly older stuff which has lost nothing of its power during the years. The end of their show was a little annoying though; in the middle of 'Strike Of The Beast' the power was turned off exactly at nine o'clock, which lead to Rob Dukes throwing his microphone to the floor and getting off the stage where you could still hear him scream. Anyway, a great gig and simply a big party for all the fans.
Rating

Music: 8
Performance: 7
Sound: 8
Light: - (daylight)
Total: 7.7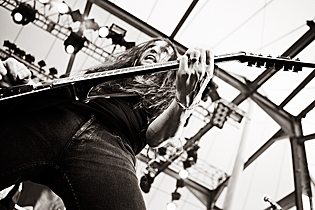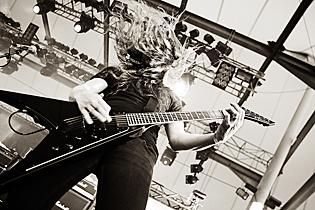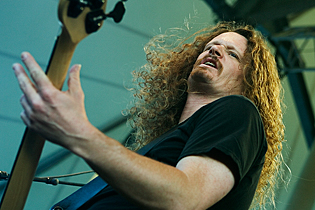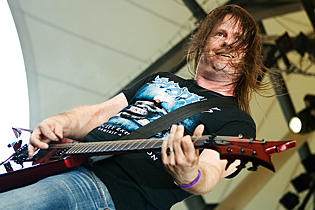 IMMORTAL [N]

IMMORTAL is a pioneering Black Metal band from Bergen, Norway. The band was formed from the remnants of AMPUTATION, a Death Metal band from 1989. The group's early full-length releases were of a traditional Black Metal style, but their acclaimed album 'At the Heart of Winter' saw the band begin to experiment with a complex fusion of Black Metal and Thrash Metal. After seven full-length albums, the latest being 'Sons Of Northern Darkness' from 2002, IMMORTAL decided to split during the summer of 2003 for various personal reasons of the band members. However, in mid-October 2005, Abbath, Demonaz, and original IMMORTAL drummer Armagedda reunited, and along with GORGOROTH bassist King ov Hell and ENSLAVED guitarist Ice Dale, they began work on a new project, dubbed I. This new band entered the studio at the end of April 2006 to record their debut album, 'Between Two Worlds', and was released November of 2006. After playing some shows together in 2007, IMMORTAL decided to reunite and the fans are waiting for their new album, which is announced for this year.
http://www.immortalofficial.com/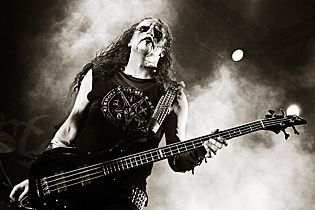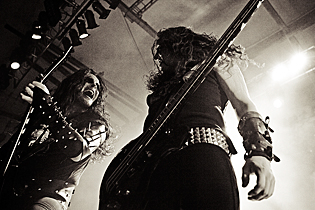 Music & Performance

Finally the sun had disappeared completely from the sky and we were all curious to see IMMORTAL enter the stage. And we were not disappointed, as we got a nearly perfect show. The stage was plunged into darkness and fog with atmospheric lighting. Abbath and Apollyon seemed to have a lot of fun playing and posing; their outfit, make-up and sometimes even their way to act on stage reminds me a little of KISS, but they - especially Abbath - are without doubt great entertainers. We got to hear classics like 'Sons of Northern Darkness' and 'Battles in the North', listened to 'Wrath From Above', 'Damned In Black' or 'Demonium'. Also 'Tyrants' wasn't missing, a song which seems to be very well received by the audience whenever they play it. In addition we got Abbath's obligatory fire breathing which was really impressive and very well fit in their show.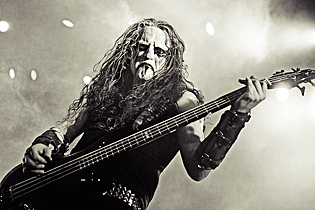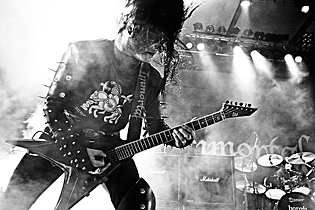 Not enough with this one fire, they also had some other pyro stuff from time to time, some of it igniting with a deafening bang. Some fans had brought a few stuffed panda bears which you could see banging directly in front of the stage; Abbath didn't take it too serious and commented: "Ah, the Pandas of Northern Darkness!" All in all a fantastic and really entertaining show with a perfect choice of songs.
Setlist

01. Intro
02. The Sun No Longer Rises
03. Withstand the Fall of Time
04. Solarfall
05. Sons of Northern Darkness
06. Tyrants
07. One by One
08. Damned in Black
09. Wrath From Above
10. Intro
11. Unholy Forces of Evil
12. Unsilent Storms
---
13. Intro
14. At The Heart Of Winter
15. Battles In The North
16. Blashyrkh
Rating

Music: 10
Performance: 10
Sound: 9
Light: 8
Total: 9.3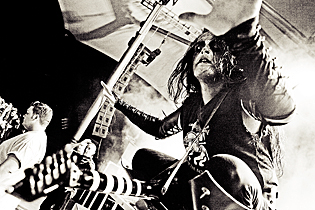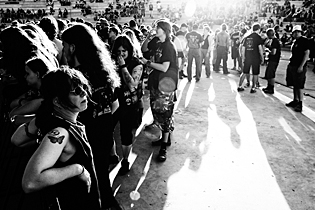 All pictures by Ruth Gräbeldinger (
http://www.alpha-photography.net/
)
{jos_sb_discuss:18}